It's no secret that San Diego boasts some of the most gorgeous dazzling white-sand beaches California offers. With sprawling panoramic views of the ocean across a vast stretch of crisp and beautiful coastline, it is a city known for perfect scenery.
So naturally, this is a concept grasped tightly by eager restauranteurs. You can easily find incredible beachfront eateries that sport views almost as killer as the food.
So you won't be short on options, whether you want to enjoy a sunset dinner, listen to the melody of crashing waves, or an early lunch where you can watch the bustle of beach-goers. San Diego proudly hosts some unbelievable waterfront eateries, and we're here to steer your ship towards the best they can offer.
Best Restaurants in San Diego With a View
Pacific Coast Grill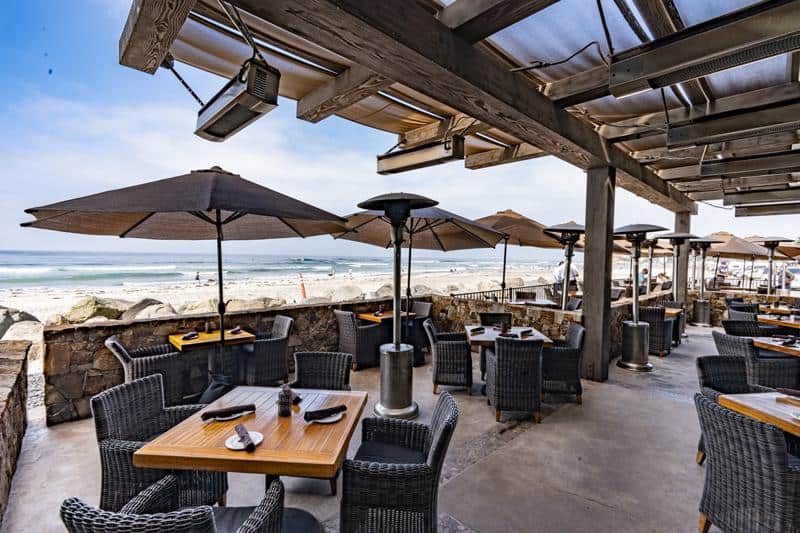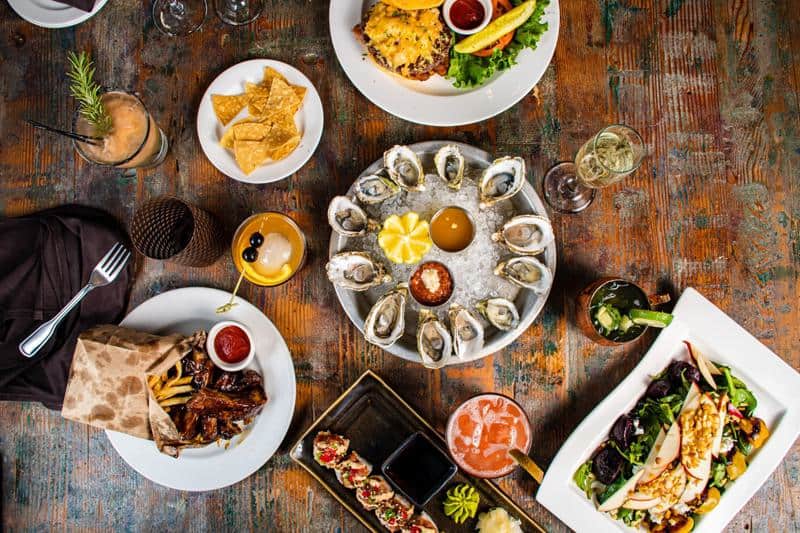 Location: 2526 S. Coast Hwy 101 Cardiff, CA
Price: $$$
Generally jam-packed with eager patrons, Pacific Coast Grill is bustling seaside seafood joint with incredible food and a lively atmosphere. The venue itself sits squarely on the shoreline, allowing diners an uninterrupted panoramic view of the pacific ocean.
The menu shares all the traits of a good grill in its options. However, seafood seems to overpower the theme, making up most of the available items. This is not to say you won't find succulent, juicy steaks tucked amidst the pages, as their onshore options range in choice-cut proteins. In addition, there is a meager accompaniment of sushi as a cold appetizer. The mains include options such as fresh seabass, salmon, and paella.
Jake's Del Mar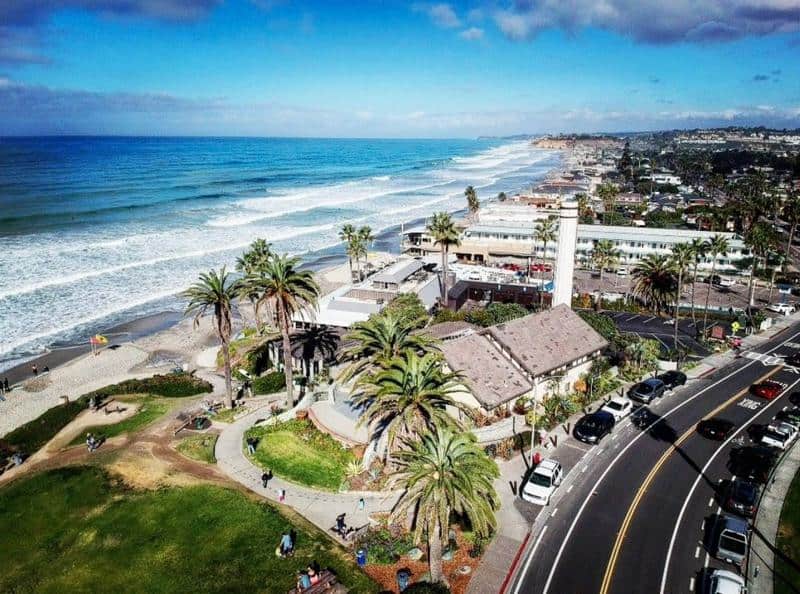 Location: 1660 Coast Blvd., Del Mar, California 92014
Price: $$
As far as pristine restaurant views, Jake's has created an intricate, romanticized environment, completely encapsulating the stunning sea view a mere stone's throw away. Diners can appreciate the natural beauty of their ambiance while looking through wall-to-wall windows that give them an excellent spot to enjoy the sunset.
The menu is a combination of the best land and sea dishes San Diego can offer, all expertly crafted and flavored for eager patrons to tuck into. There is no extensive range of options. Instead, they have chosen to keep the menu simplified to perfect the dishes they have available.
A divine array of protein cuts, both from the sea and from the land, are wrapped with taste. They also have a lengthy booze menu to select some of America's finest distillery crafts. Sundays are a day for brunches as well, with a specialized brunch menu being available from 10:00 am.
C Level Lounge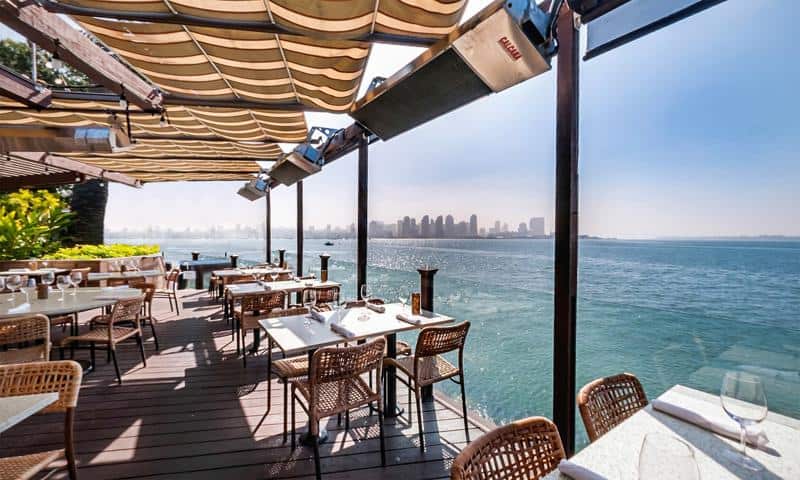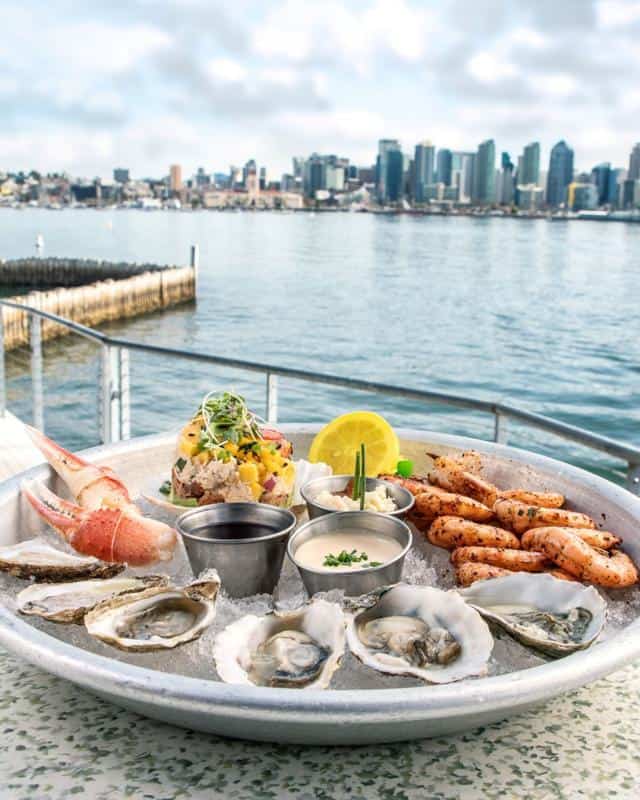 Location: 880 Harbor Island Dr. San Diego, CA
Price: $$$
C Level Lounge shares the same incredible location as Island Prime Restaurant. It makes patrons feel as though they're dining on the seven seas. Rolling waves flying under the extended deck is reminiscent of a sea voyage.
This bodes well for their menu, which hosts a menagerie of proteins from sea and land. Their dedicated chefs toil away to create divine dishes that are seasoned and flavored to perfection.
Undoubtedly, C Level Lounge's service and quality are impeccable and a huge drawing card for hungry patrons. The view is just an added bonus to gorgeous plates of delectable seafood and steak.
Related: Best Seafood Restaurants in San Diego
The Marine Room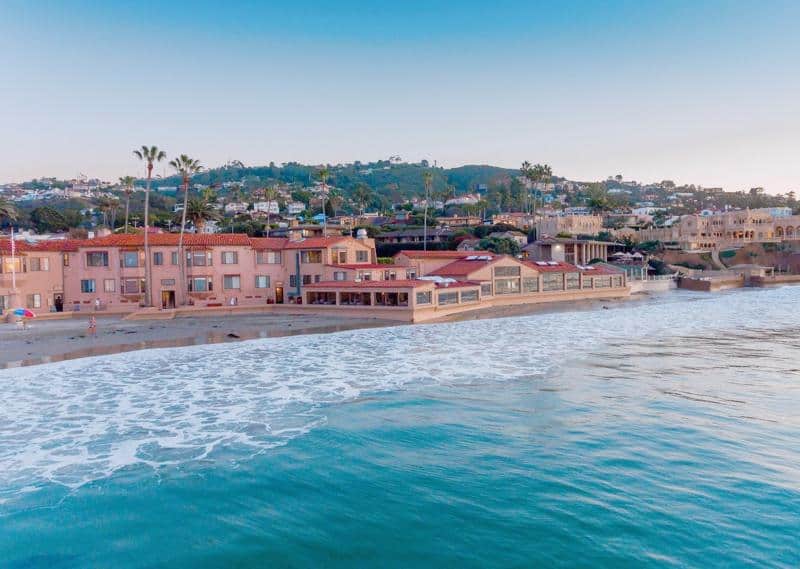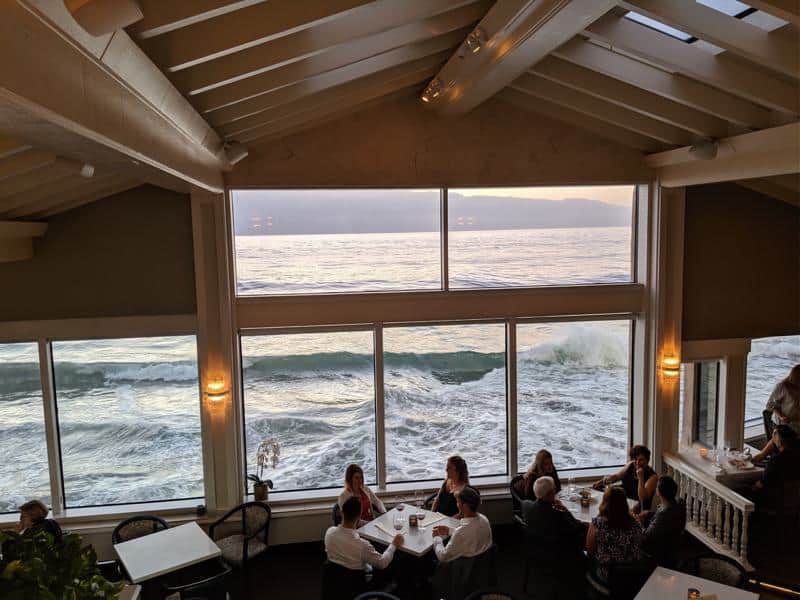 Location: 2000 Spindrift Dr, La Jolla, CA 92037
Price: $$$$
The Marine Room has experience and tradition under its belt. With over 80 years of service in San Diego, they are somewhat of a local hub! Their creations appeal to diners of all calibers and are often frequented by celebrities.
Their dishes are ingeniously paired with a stellar wine list. Featuring some of California's best alongside imports that pair delectably well with their seafood menu. The ingredients are fresh, locally-sourced, creating dishes that embody true Californian culture. The fish is subtle and delicious, and their steaks melt on the tongue.
Awarded Open Table's 100 Most Scenic Restaurants in America.
Tom Ham's Lighthouse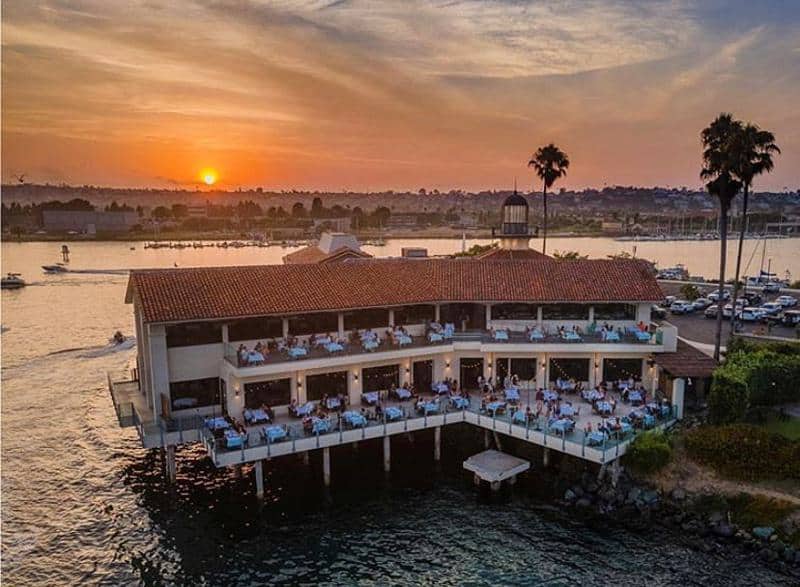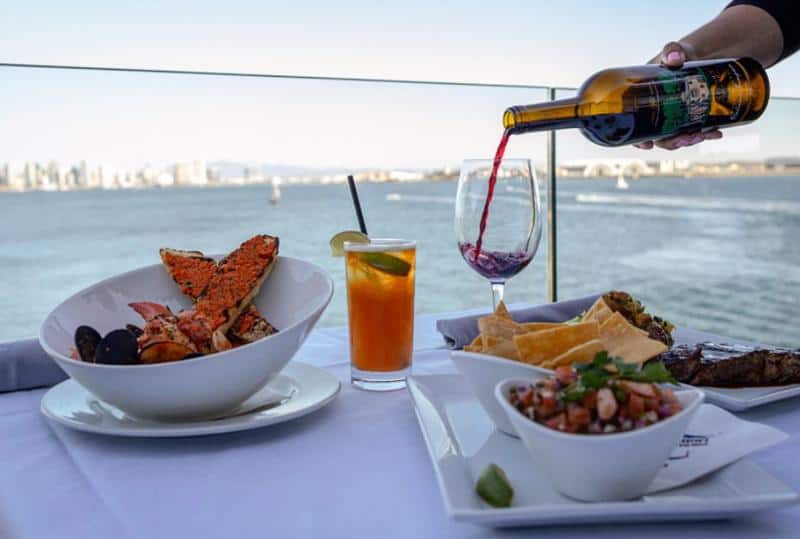 Location: 2150 Harbor Island Dr, San Diego, CA 92101
Price: $$$
Tom Ham's Lighthouse is perched directly on a dock overlooking the waters, with a beautiful, sprawling deck allowing diners the privilege of dinner with a view. The restaurant itself is rich in history, and the magnificent venue has helped many of its community make history, too, often hosting wedding parties and black tie events.
The talented chefs are experts in their field and create some of the most stringently divine seafood dishes that can be found in San Diego. The menu is predominantly seafood, with one or two steak and vegetarian options sprinkled in to cater to more.
Each cut and salting is executed to perfection, and their plates look more so like works of art than something edible. On Sundays, you can partake in a Brunch Buffett that serves quality and fresh meals for the whole family. They have a sterling reputation amongst their community, and with panoramic views like theirs, each moment is a stunning experience.
George's at the Cove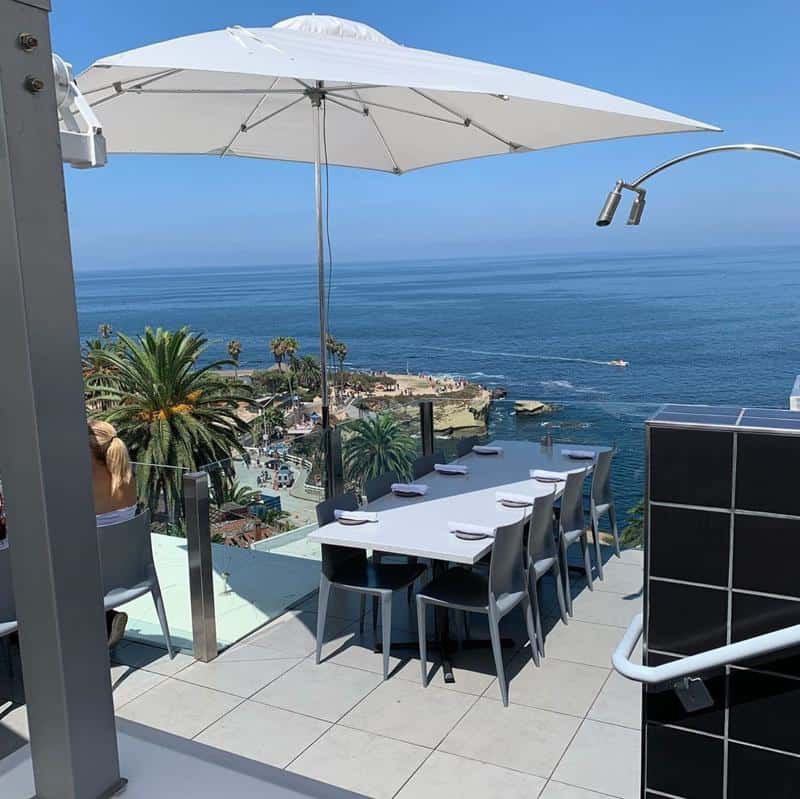 Location: 1250 Prospect St, La Jolla, CA 92037
Price: $$$$
George's at the Cove has been awarded as one of the Best restaurants featured in multiple categories, from cocktails to Al Fresco venue. Aside from this, they boast a Michelin Plate (2019) menu and phenomenal views that make them both scenic and luxurious.
They serve an array of dishes, from duck confit to a steak tartare, which has a mind-blowing quality. The meals are perfect for enjoying on the open-air terrace, with panoramic sea views that make your sundowners pop. The food is delicious, and the meticulous detail of the chefs is highly appreciated. Alongside a killer cocktail menu, we can see why they're so busy!
JRDN Restaurant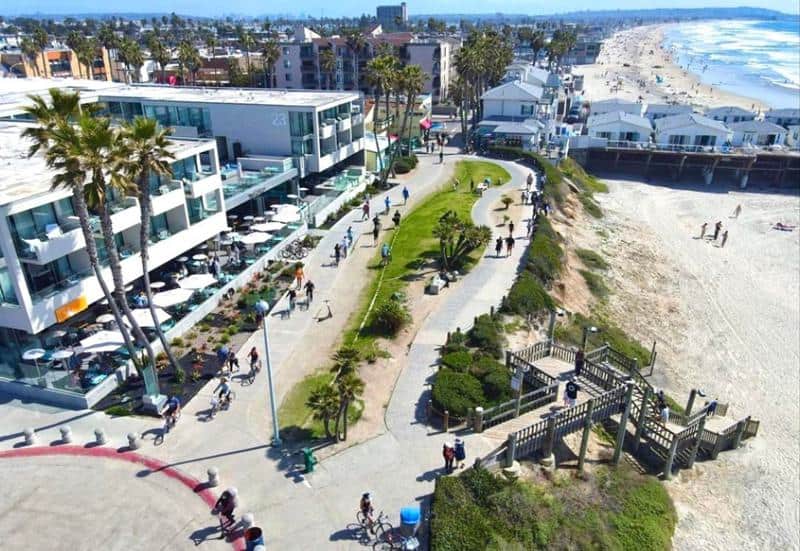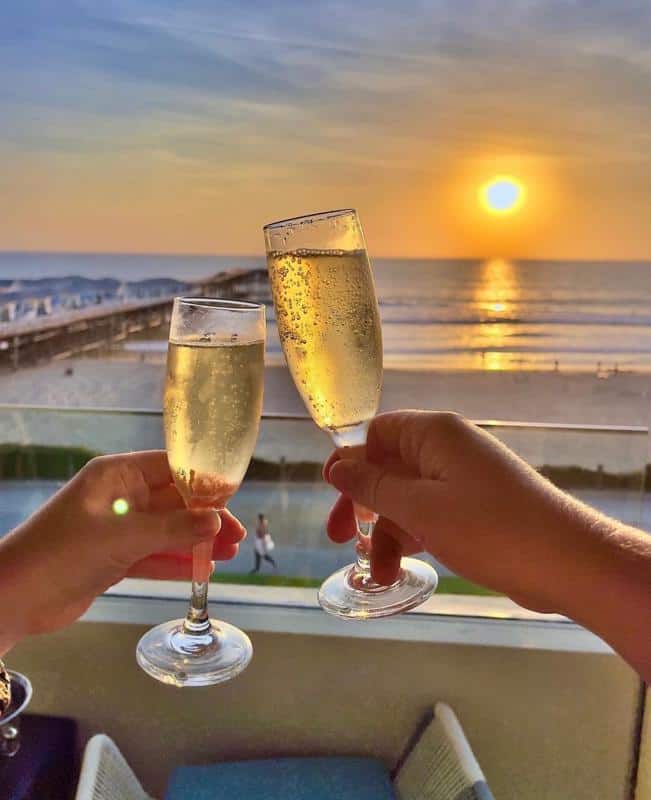 Location: 723 Felspar St, San Diego, CA 92109
Price: $$$
With executive chef Stephen Gage at the helm of JRDN Restaurant, they have been pumping out incredibly delicious all-day meals. The beachfront Hotel 23 allows them a unique scope on their dining experience, and guests can often be found with the sand between their toes chowing down on Ahi Tacos.
They serve many dishes and have a contemporary menu that includes all the best high-class meals you could want. The restaurant serves breakfast, lunch, and dinner, from sushi to prime rib eye. It has a beautiful spot on the pristine beachfront. It has both sit-down catering and the casual bonus of being able to dine on your beach towel a little closer to the ocean.
Monarch Ocean Pub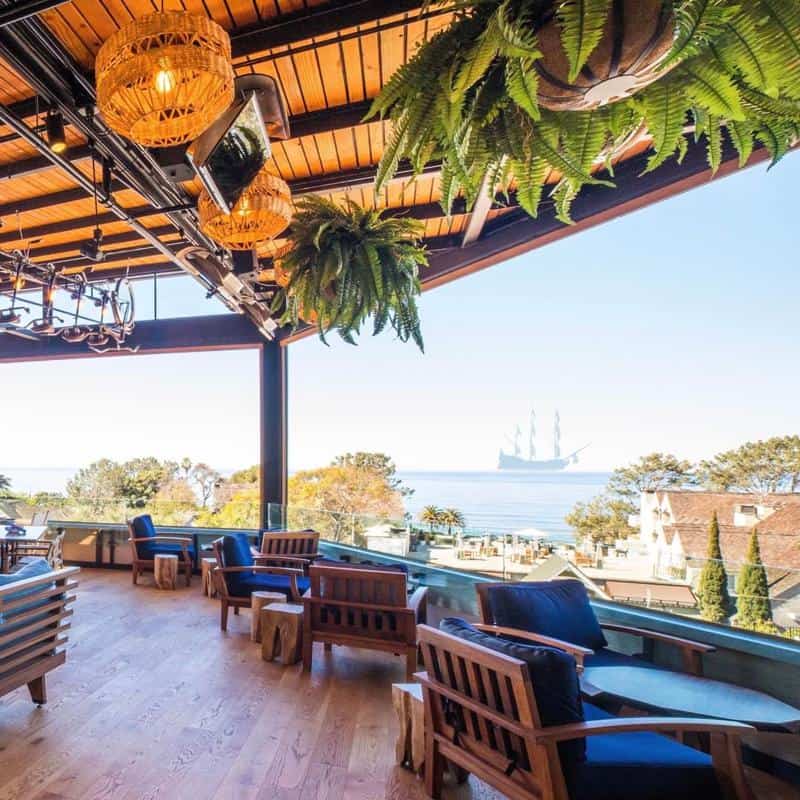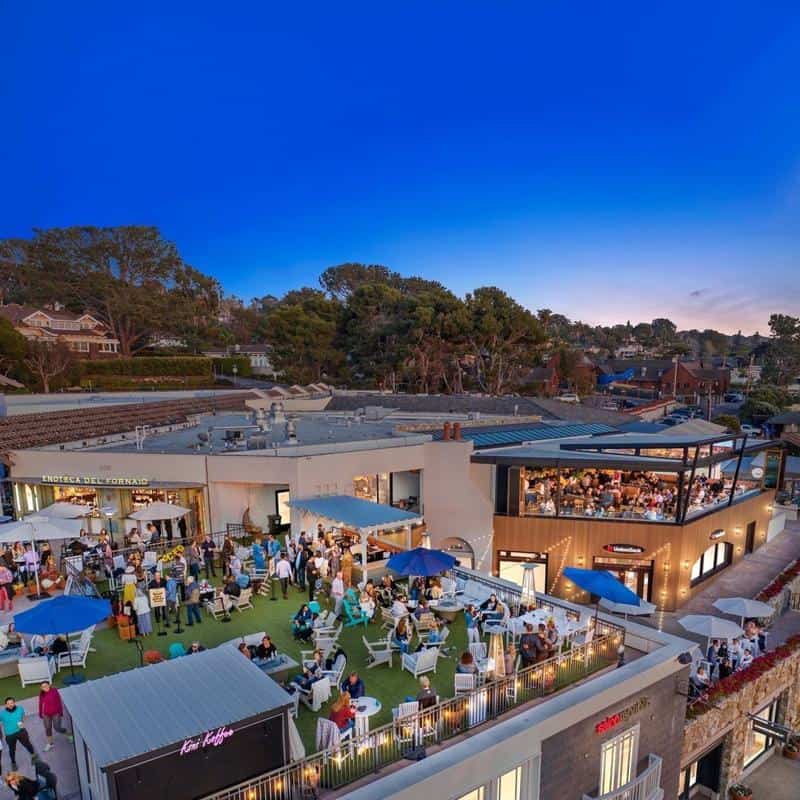 Location: 1555 Camino Del Mar Suite 322, Del Mar, CA 92014
Price: $$$
Where traditions lie bare in front of rolling tides is where you'll find Monarch Ocean Pub, a veteran bartender ringing his bell at sunset to read you an original poem as you cheer the day away. It is a casual eatery that brings its own unique character to the industry, and it's something we can't help but love. With a stunning sea view through their bright and airy venue, it's a beautiful venue to go out and enjoy yourself in.
The food is not your standard pub grub. While you can find the origins reminiscing in BBQ wings and a good tender steak, the class and caliber will not live up to what Monarch puts on their plate. Instead, they use non-traditional ingredients, fresh and delicious, to bring a new life to otherwise boring pub food.
Poseidon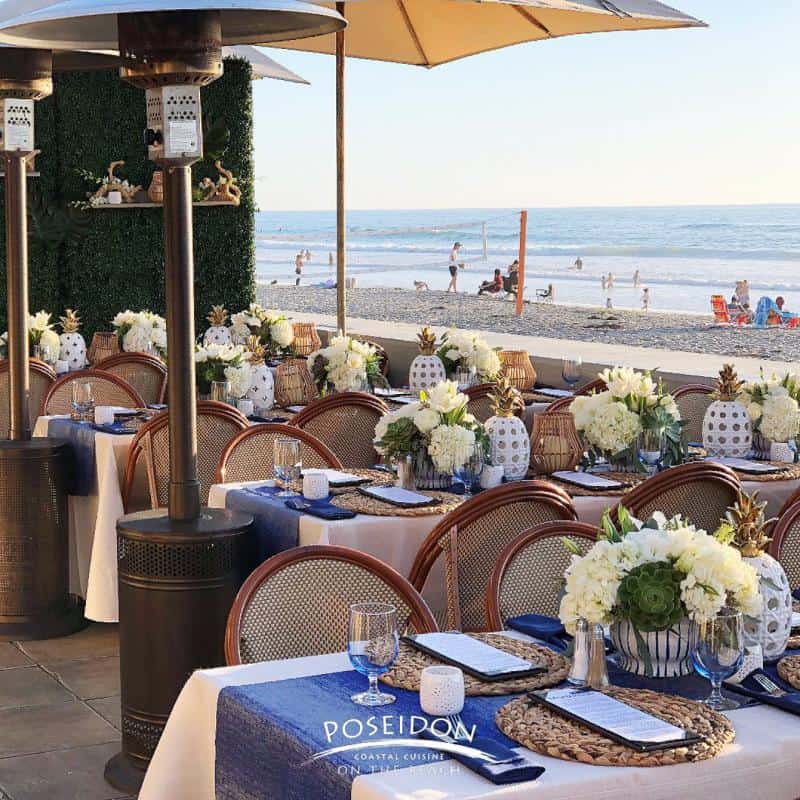 Location:1670 Coast Blvd, Del Mar, CA 92014
Price: $$$
A vibrant, bright, and airy hole-in-the-wall, scenic, oceanic views spanning across the open windows. Poseidon is always a lively and friendly environment, with an atmosphere that soaks away all your worries. They are open from breakfast all the way through to dinner, with all the quirks in between!
The pride and joy of their menu is the fresh, sustainably-sourced seafood. It's hand-picked and prepared with an incredible flavor profile that enhances the experience and makes your senses tingle. In addition, they have dedicated their menu to honoring the stunning location they occupy.
With a few options in between, allowing a mild break from the oceanic delicacies, but no less as incredibly tasty.
Serea San Diego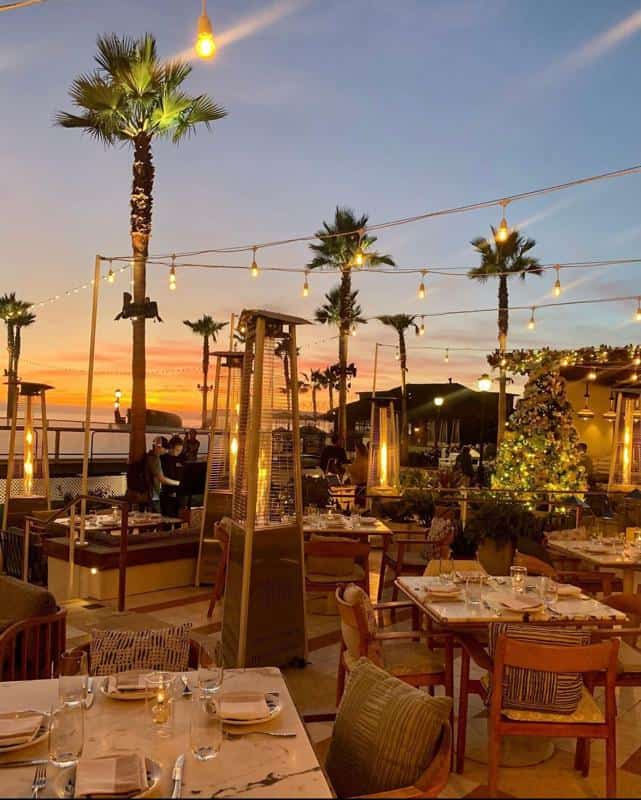 Location: 1500 Orange Ave, Coronado, CA 92118
Price: $$$
Serea is an upmarket eatery that has a sprawling sea view and plenty of space to accommodate the droves of eager diners. Serea is extraordinarily beautiful and promises an authentic true-to-San Diego seafood dining experience that will blow your mind.
The menu has a heavy focus on sustainably sourced delicacies, with all the incredibly fresh ingredients found locally on land and in the sea. They accentuate flavors and adorn the plates in such a way that every dish in the kitchen is a masterpiece.
You'll find fresh urchins, succulent oysters, and a school of daily caught fish. Their chefs prepare everything meticulously with a flair that can only be found at Serea.
Cannonball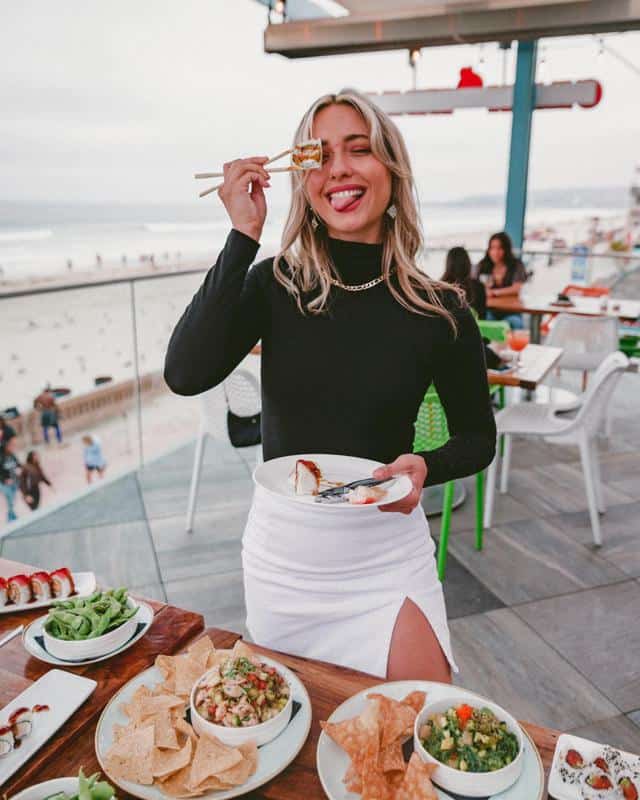 Location: 3105 Ocean Front Walk, San Diego, CA 92109
Price: $$
Sitting at Cannonball, you'll be pleasantly relaxed by the crashing of waves and salty sea breeze. Their panoramic views of the ocean are the main attraction that builds a perfect little nook for you to enjoy your lunch or dinner with style. The sunsets are majestic and only become more vibrant as acoustic artists perform for you to sway your evening away.
The menu is influenced by Pacific Rim cuisine. Sushi rolls fly out the kitchen throughout the day, mixed between plates of miso soup appetizers and Cannonball Burgers. A bustling vibrance is brought about by the passionate chefs and the lively atmosphere. Cannonball is a truly unique feature in San Diego.
Coasterra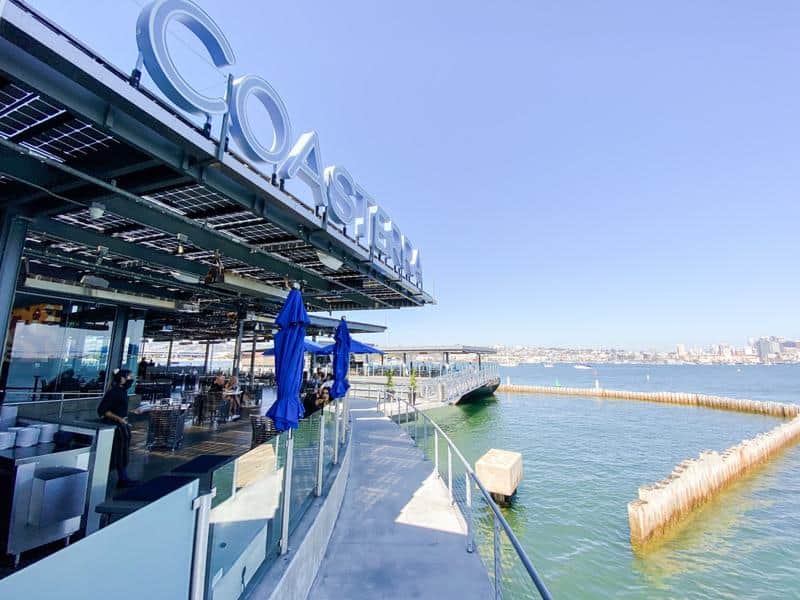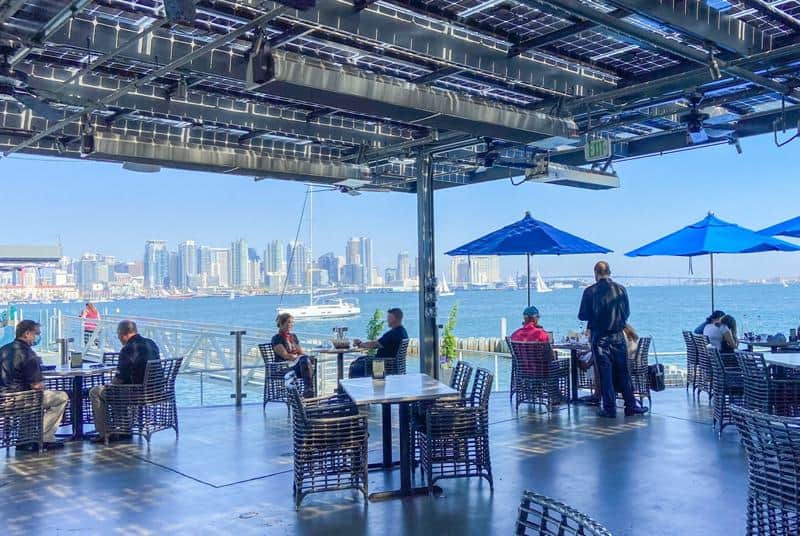 Location: 880 Harbor Island Dr, San Diego, CA 92101
Price: $$$
The water here laps under the restaurant Coasterra soothingly. It branches out and hangs over the bay to provide the most immensely beautiful waterfront dining experience. The lively and vibrant atmosphere is attributed to the incredible staff and general finesse this restaurant brings to the plate.
They are inspired by Mexican cuisine, and the flavor profile of each dish inherently explores these delicious meals with vigor. The array of tacos that flow from the kitchen smell heavenly and taste even more so. You can also find a few fusion dishes tucked between the pages, meaning everyone has something they can indulge in.
Valle Restaurant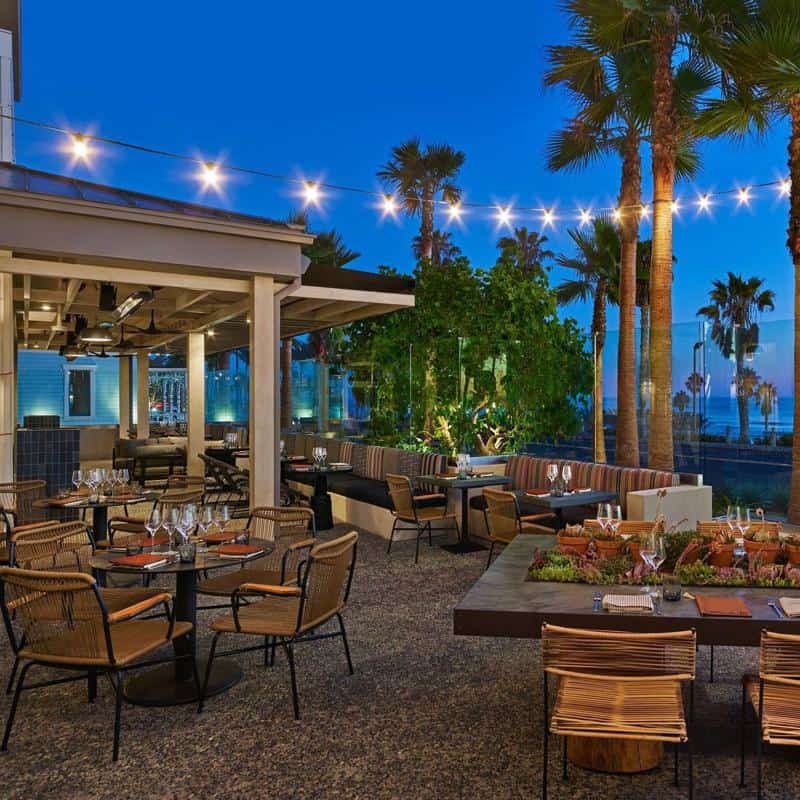 Location: 201 N Myers St, Oceanside, CA 92054
Price: $$$$
Chef Roberto Alcocer has created an indulgent experienced-based off of one of Mexico's most significant wine valleys. This oceanside kitchen is one of the most beautiful luxury tastes, with an incredible coastal view that enthralls guests.
The food is divine, incredible, and true to the region. It is not something you'd expect to find in California, which makes the experience even more incredible. They freshly prepare an incredible variety of traditional Mexican dishes, from picaña made using tender wagyu and an unbelievable ceviche. Their menu is ingenious. We can expect nothing less than excellence from this Michelin-star chef.
The Fish Market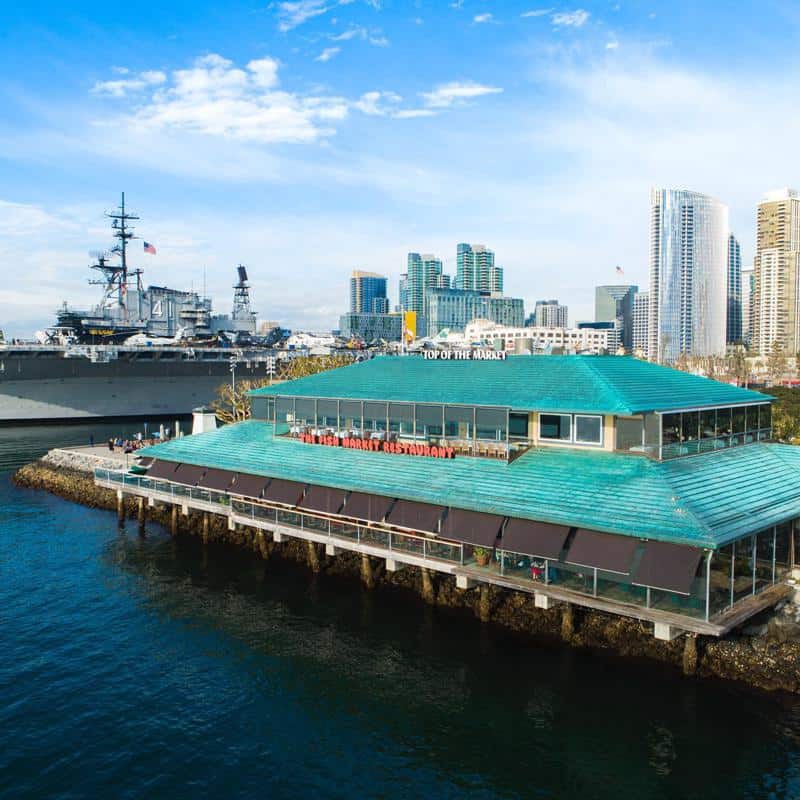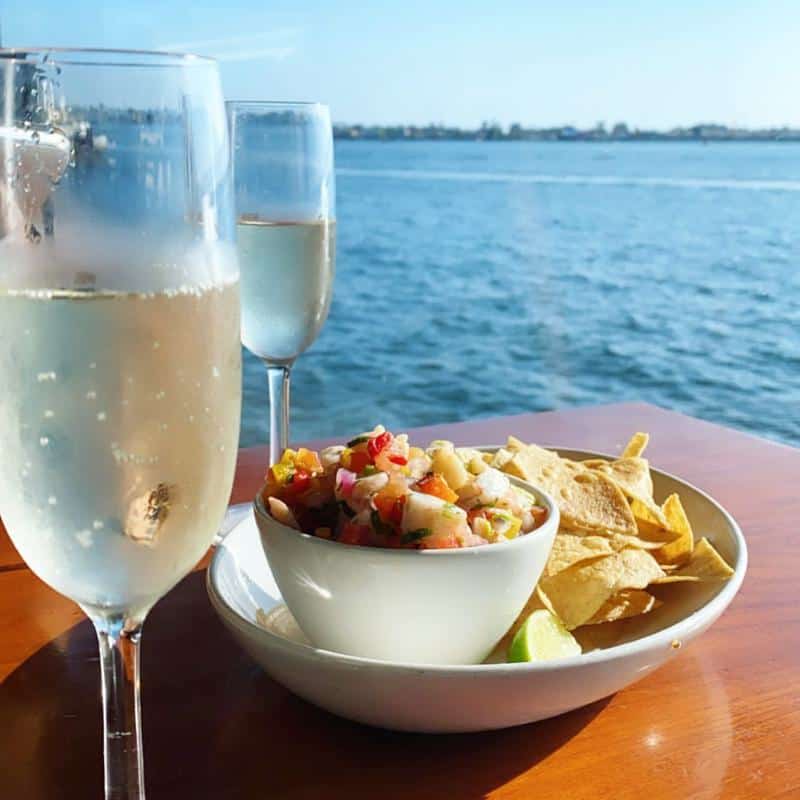 Location: 750 N Harbor Dr, San Diego, CA 92101
Price: $$
The Fish Market is a seafood restaurant tucked away on the glistening waters of the Pacific in San Diego. The restaurant has a stunning panoramic view of the bay. It incorporates itself into the scenery, with a predominantly seafood menu (of course). They are a family-based establishment and love assisting their community through their "Giving Sips" program.
You can find a plethora of delicious dishes in a variety of cuisine styles here. They've taken seafood to a new level whilst maintaining a sustainable balance and only sourcing products locally. The chefs carefully prepare each dish, using an array of different tastes to perfectly balance and enhance the flavors of the plate. You can eat shucked oysters and smoked fish cuts and even indulge yourself in their deliciously tender steaks.
We cannot recommend this venue enough. With ample seating, it can be a family affair and provides the added bonus of a stunning picturesque bay view found nowhere else in the world.
Bali Hai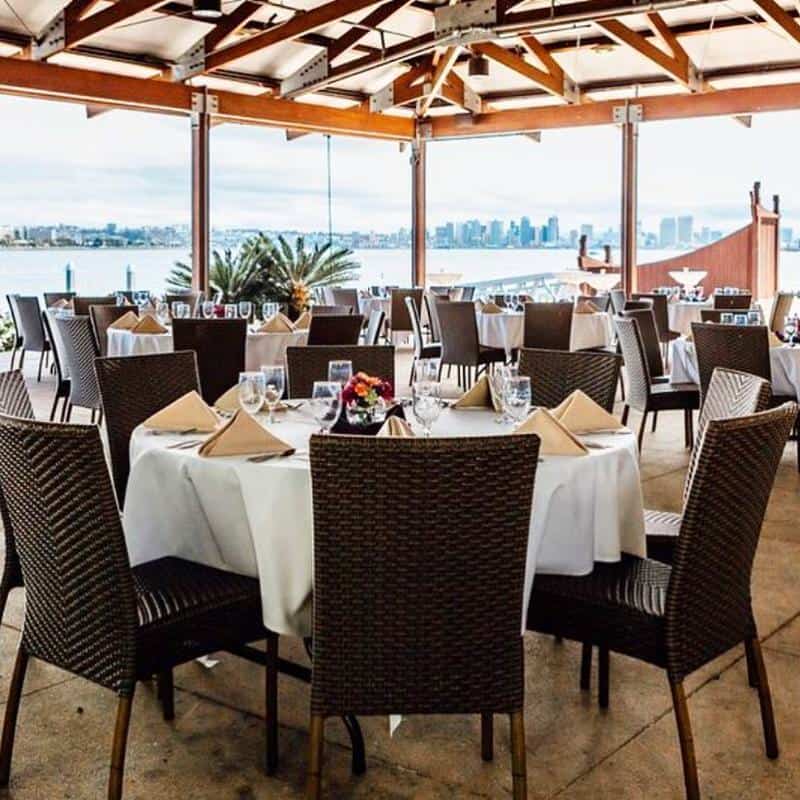 Location: 2230 Shelter Island Dr, San Diego, CA 92106
Price: $$$
Bali Hai is a rotunda restaurant that exploits its beautiful views in every way. The panoramic sea view has made Bali Hai a destination for auspicious occasions, with Wedding parties often choosing to use their facilities for celebrations to indulge in the picturesque scenery.
Their cuisine is mainly Indonesian, with some fusion flair thrown in, blending authentic tastes together to create something new and incredible. They use various fresh ingredients, creating dishes that are unlike anything else you can try anywhere else.
If anything, Bali Hai is a taste excursion, taking diners out of the usual parameters and helping them dive into something exciting.
Roy's San Diego Waterfront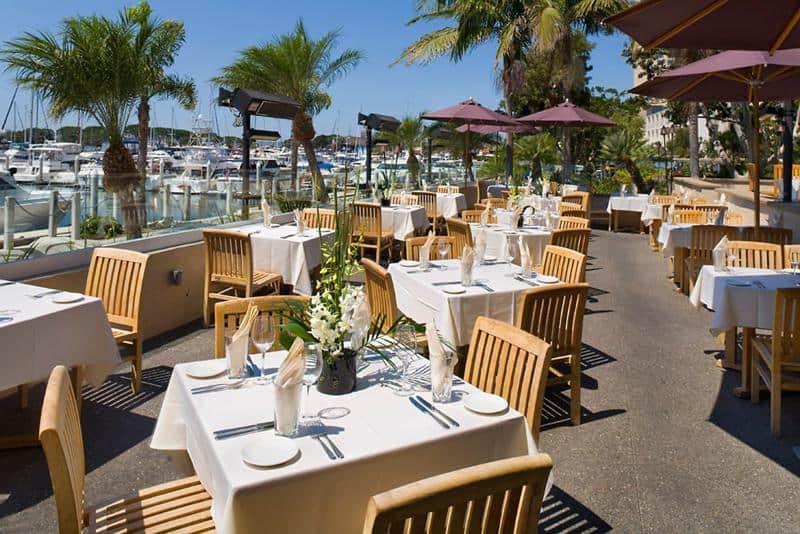 Location: 333 W Harbor Dr, San Diego, CA 92101
Price: $$$
Chef Blaine Vallish proudly sits to steer this branch of Roy's into San Diegan's hearts. The incredible atmosphere is only outmatched by the picturesque views of the Pacific.
Of course, this means nothing for the food, which is an experience in its own right and has attributed to the flourishing culinary empire that Roy's has built. Each ingredient is locally sourced and hand-picked by experienced chefs, which brings an air of quality we could only ever hope for.
Their sushi is crafted expertly and flourishes alongside other incredible land and sea dishes like crusted sea bass and filet mignon.
Edgewater Grill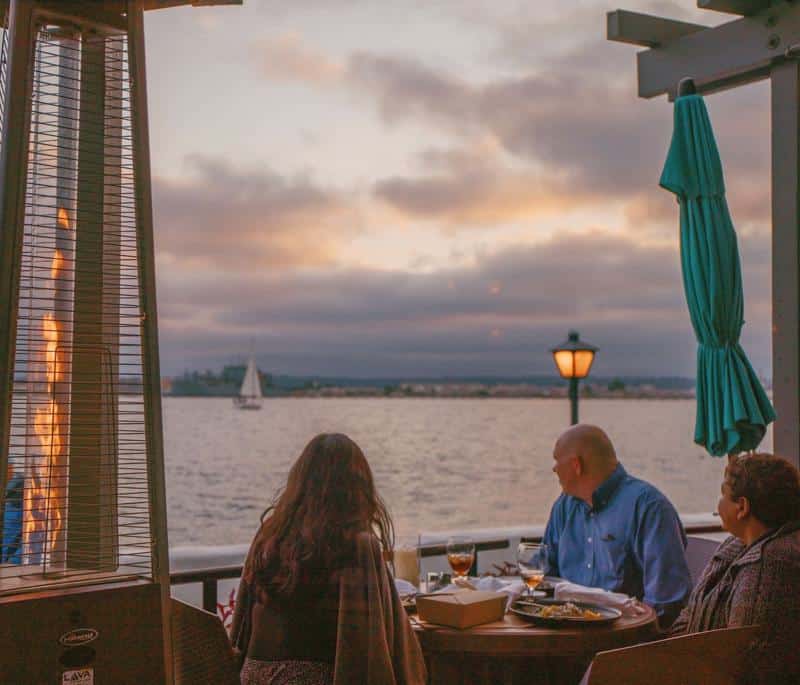 Location: 861 W Harbor Dr, San Diego, CA 92101
Price: $$
Edgewater Grill is a scenic restaurant with oceanic views and plenty of great family values. The restaurant has, after all, been owned and run by the same family for decades. Their trade secrets are guarded heavily and only available to those with keen taste.
The beautifully constructed menu has been perfected over many years and continuously grows and evolves with the times. Their pride is the All-American favorites that have locals going crazy for more. You can find a blend of authentic flavors transferred across a menagerie of delicious dishes, with prime, quality ingredients creating a taste sensation you'll never forget.
Read More:
Map of Best Restaurants in San Diego With a View
Conclusion
San Diego is a prime spot for seaside dining that offers exclusive panoramic pacific views worthy of their picturesque details. There are a gorgeous plethora of options prime for the picking to anybody who enjoys kicking back with a view and incredible food.
There may be an unprecedented amount of places to explore in this bustling metropolis. Still, personally, you'll find us at the beach, soaking up the sun and sucking back oysters from San Diego's finest.