Palm Springs is famous for its' laid-back, casual atmosphere. There is no big city hustle, and nothing is rushed. While plenty of restaurants are open for breakfast to cater to the early risers, brunch is king at the weekends.
Whether you are spending time downtown or hitting the shops on El Paseo, there are plenty of Breakfast and Brunch choices.
You can find everything from a hearty diner breakfast to upscale French cuisine; Palm Springs can offer something for every palette.
Here are our top picks for Brunch in Palm Springs:
Best Overall: EIGHT4NINE
Best Menu: Grand Central
Best Atmosphere: El Patio
Best Breakfast & Brunch in Palm Springs
EIGHT4NINE Restaurant & Lounge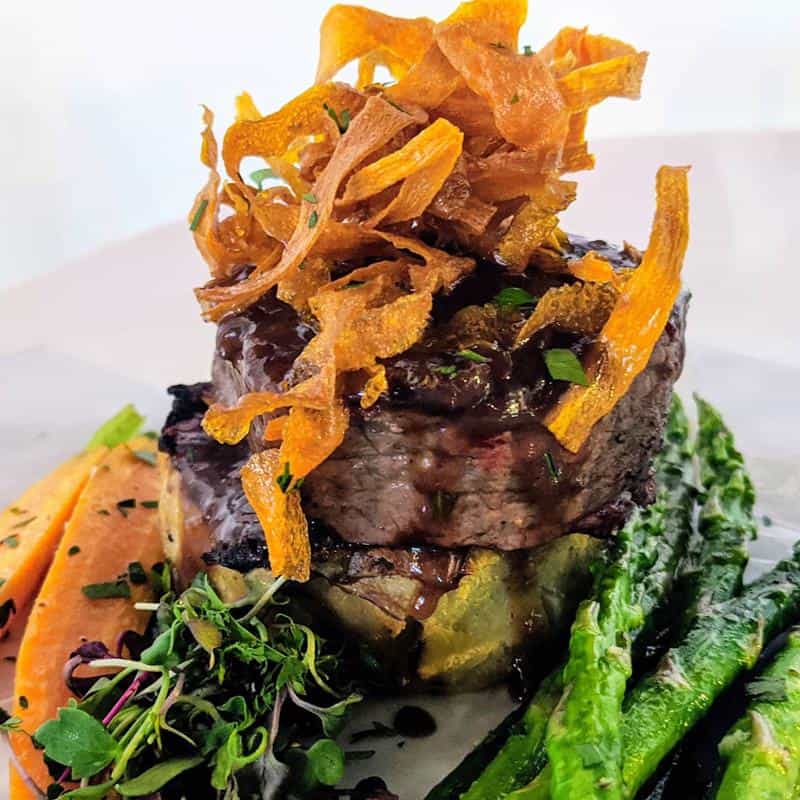 Address: 849 N Palm Canyon Dr. Palm Springs, CA 92262
Phone: +1 (760) 325-8490
Best known for: Incredible decor
EIGHT4NINE is in the fashionable Uptown Design District of Palm Springs and has a minimalist theme, accented by rustic farmhouse tables, modern tables, and contemporary chairs
Originally the Palm Springs Post Office, it is a dining experience destination. There are various-sized dining rooms, a Swanky lounge, and a patio with majestic views of the San Jacinto Mountains.
The décor is a cute mix of white and pink with mirrors, elaborate chairs in the lounge area, and the outdoor seating area has a wall of mirrors.
With this Place's sprawling size, you might feel intimidated as a solo diner. Still, the ambiance is on par with any intimate bistro.
The Brunch menu is not extensive but covers all the bases, French toast, biscuits and gravy, and plenty of egg-based dishes.
The "Between the breads" section brings burgers, fried chicken, and an open meatloaf sandwich.
The most "fun" dish is a Deep fried bacon Bloody Mary. Containing Vodka, tomato juice, Tabasco, horseradish, Worcestershire sauce, deep-fried bacon, jalapeno olives, and celery stick and is garnished with a lemon and lime and salt rim.
Worth a visit just to try it.
Grand Central Palm Springs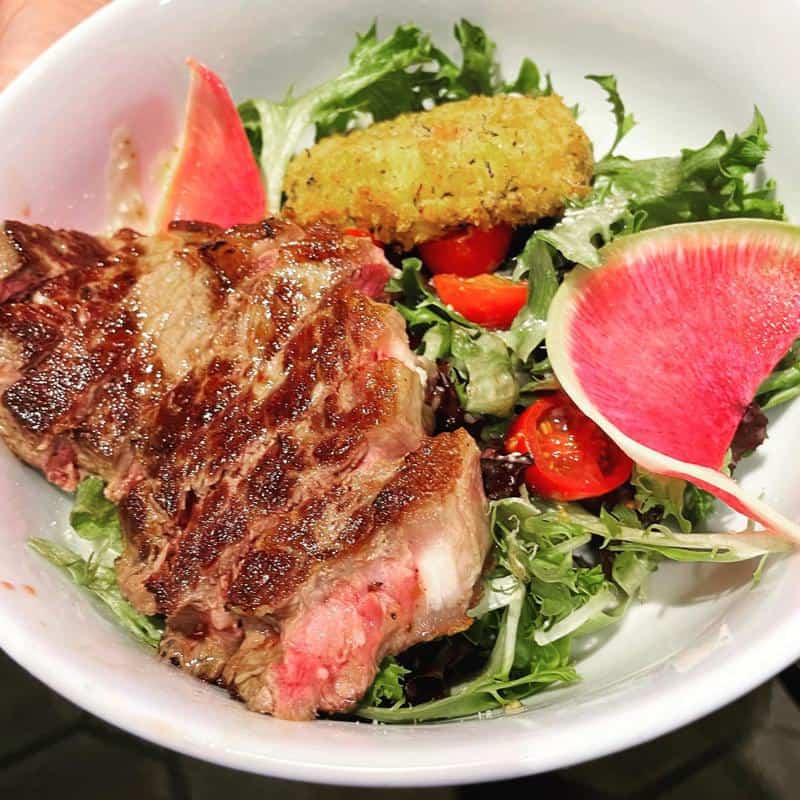 Address: 160 La Plz Palm Springs, CA 92262
Phone: +1 (760) 699-7185
Best known for: Large Brunch Menu
The Grand Central opened in 2018 and has gone on to win multiple awards. The restaurant is in the building which housed Desmond's department store from 1936 to 2005.
There is an open, modern dining space, attractive bar, and open views into the kitchen. They also have outdoor seating.
The Grand Central was named from the practice of meeting "under the clock," which was popular in cities and train stations over the years.
The owners wanted to recreate an ambiance where you can take a breath, take some time, relax and enjoy food, drink, and good company.
The restaurant specializes in Brunch, lunch, dinner, hand-crafted cocktails, and coffee.
The brunch menu has 17 options, including sandwiches, soups, and salads. The menu includes many familiar breakfast and brunch dishes, but some have a nice twist.
There are staples such as waffles, French toast, and breakfast bowls. Then for something more substantial, Brad's Breakfast, of eggs, bacon or sausage, toast & breakfast potatoes, will suffice.
The Salmon Benedict is a fantastic take on the standard Eggs Benedict with the addition of smoked salmon and sautéed spinach.
The Grand Central is open seven days a week from 7:30 am – 3:00 pm Sunday and Monday, and 7:30 am – 9:00 pm the other days.
El Patio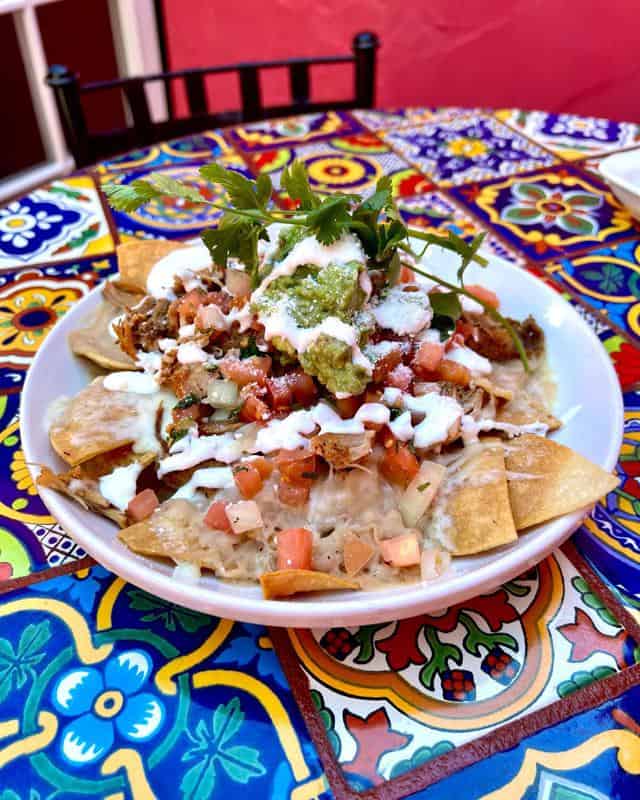 Address: 139 E Andreas Rd Palm Springs, CA 92262
Phone: +1 (760) 832-6332
Best known for: Authentic Mexican and Fabulous Atmosphere
El Patio is a family owned and run restaurant serving Guadalajara-inspired dishes.
There is indoor seating, with each area running through a different, fun theme.
There is a shaded patio with lovely trees, bright colors, and mist sprayers to keep you comfortable in the blazing Palm Springs heat.
In the Winter, the patio has a fire pit and heat lamps to keep you comfortable, and the patio is dog friendly. The ambiance is authentically Mexican and has a nice vibe with "musica Mexicana" playing.
There is something about Mexican food that allows it to cross the boundaries of Breakfast and Lunch easier than other cuisines. In fact, I don't think there is a Mexican dish that is unsuitable for Brunch.
The Brunch Menu at El Patio is as you would expect. Still, the breakfast menu has a few traditional dishes thrown in for good measure.
You are tempted by Mexican staples such as Chilaquiles, Chile Verde, and Enfrijoladas. But then the US fights back with traditional Eggs Benedict, a Breakfast sandwich, and Smoked Salmon Bagel. There are some tough choices ahead.
Sugar lovers can opt for French toast or pancakes, while egg lovers could go Mexican again with Huevos Rancheros.
They have a good range of cocktails to wash everything down and are open from 11 am Monday to Friday and from 9 am at weekends.
FARM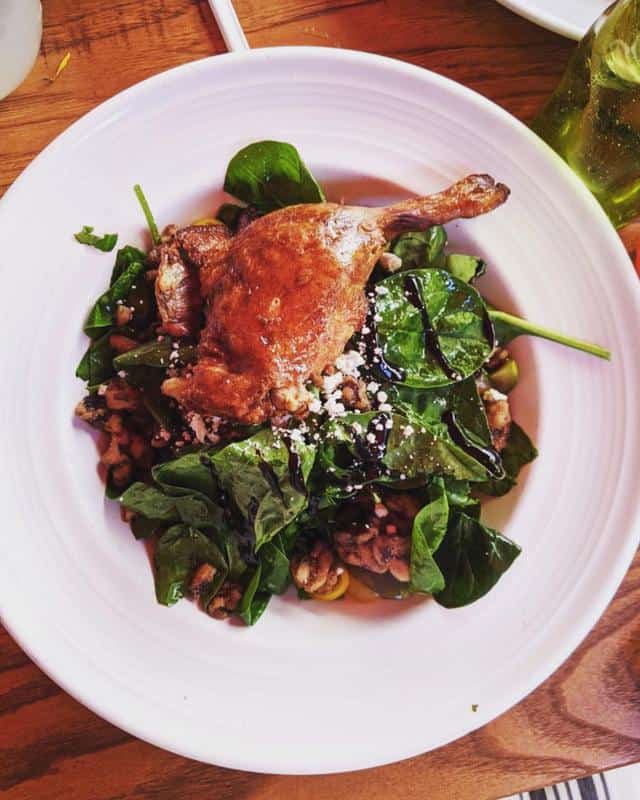 Address: 6 La Plz Palm Springs, CA 92262
Phone: +1 (760) 322-2724
Best known for: French Chic
FARM is Located in the courtyard of Historical La Plaza in Downtown Palm Springs. It has been providing casual Southern French-style breakfast and lunch since 2013.
The restaurant is a traditional Provencal-style café open daily from 8 am to 2 pm for Breakfast and Brunch.
It has an historic charm and is set away from the traffic, so you can enjoy a meal on the patio and take in the ambiance of being out of the city.
The menu comprises traditional French dishes from locally sourced produce and artisanal meats.
The jams are all house-made, and every dish is made to order, increasing waiting times during busy periods.
The French-influenced menu has Sweet Crepes and Savory Crepes. Omelets are served with mixed greens, sherry vinaigrette, or oven-roasted potatoes.
They have Brioche French Toast, some excellent salads, and sandwiches. Traditional Baked Brie served with hazelnuts, brown sugar, fresh Baguette, house-made Date jam, and fresh pear sounds delightful to share.
Of interest is the Spanish Migas. Chorizo, scrambled eggs, mixed bell peppers, sautéed onions, avocado, fried tortillas, salsa verde, mixed greens, and a sherry vinaigrette.
FARM points out that they cannot accommodate vegans due to their cooking style.
Am authentic taste of the South of France!
Wilma & Frieda's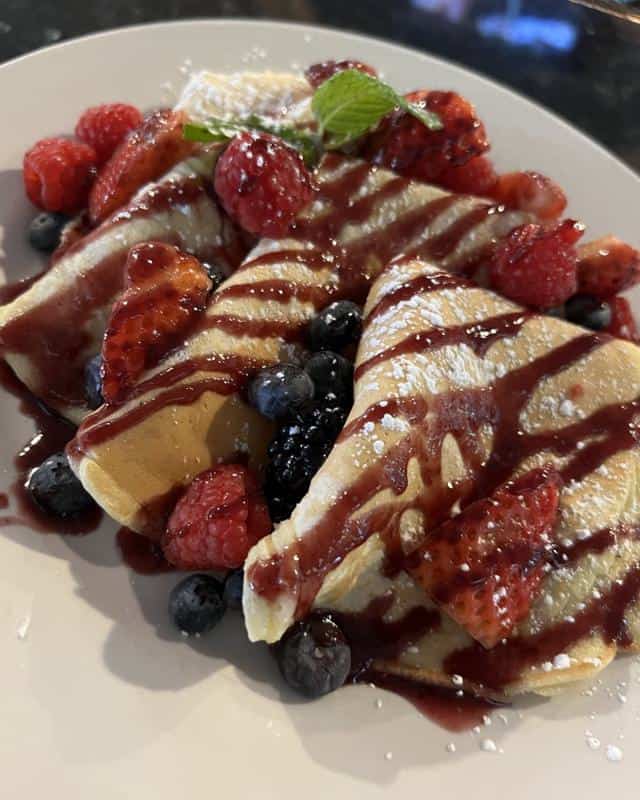 Address: 155 S Palm Canyon Dr. Ste A21-A27 Palm Springs, CA 92262
Phone: +1 (760) 992-5080
Best known for: Eeny, Meany, Miney, Mo, and Homemade Pop Tarts
Wilma and Frieda were the Grandmothers of the current owners and were renowned for their homely cooking.
The restaurant is on the 2nd floor of the building. It has indoor seating and cute balconies overlooking Palm Canyon Drive for outdoor dining.
It is located in the heart of downtown Palm Springs with ample parking nearby.
The interior has a classy, modern feel, and the bar is clad in wood with an industrial-style tin roof, which is very pleasing.
The menu is vast.
Starting it off is the EENY, MEANY, MINEY, MO. A build-it-yourself breakfast ensemble with eggs, hash browns, bacon, sausage, fruit muffins, and so on.
Those with a sweet tooth have options of waffles, French toast, and the delicious sounding Blackberry custard French toast and pancakes.
You could opt for the "build your own scramble," a salad, a sandwich, a melt, or a burger.
The menu doesn't end there, though.
With over 15 specialties such as Meatloaf and Eggs, Shrimp and Grits, and options for vegetarians, you may be spoilt for choice.
Wilma and Frieda is open 8am – 2pm daily.
Elmer's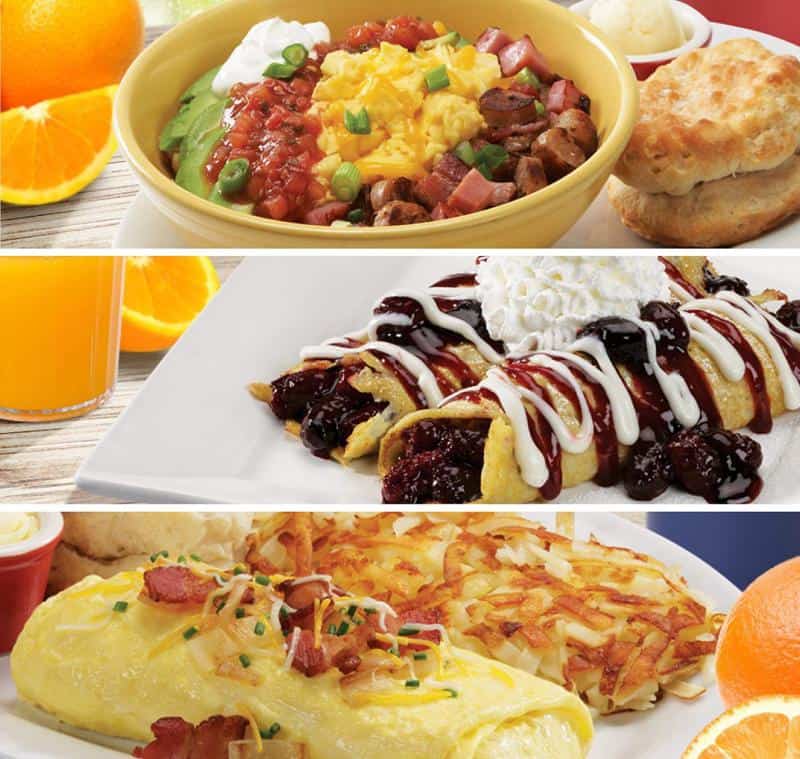 Address: 1030 E Palm Canyon Dr. Palm Springs, CA 92264
Phone: +1 (760) 327-8419
Best known for: Giant German Pancakes
Elmer's is a small chain of 29 restaurants, the first of which opened in 1960. The Palm Springs restaurant has an old-school diner vibe inside, has an outdoor pet-friendly patio area, and is open 6 am – 9 pm.
Elmer's are famous for their buttermilk pancakes; the original recipe for pancake batter was purchased for $1,000, and the rumor that Walt Elmer kept it locked in his safe. The exact recipe is used today.
The food is really no frills, typical breakfast food with guests commenting on the enormous portions.
Let's start with the German Pancakes. These are light and eggy, with a brioche-like flavor, and come topped with melted butter and your choice of fresh lemon, strawberries, or lingonberry jam.
The rest of the menu is standard Diner breakfast fare. However, Elmer's states they only use locally sourced ingredients; everything is cooked from scratch.
You can choose from seven Hand-Rolled Omelets, a customizable Ranch breakfast, steak and eggs, hash browns, benedicts, and other traditional favorites.
Those who prefer a sweeter choice can go for any of the Crepes, Waffles, Pancakes, or French Toast.
The breakfast menu is served every opening hour, and with a range of Mimosas, Brunch awaits at Elmer's.
L'Atelier Café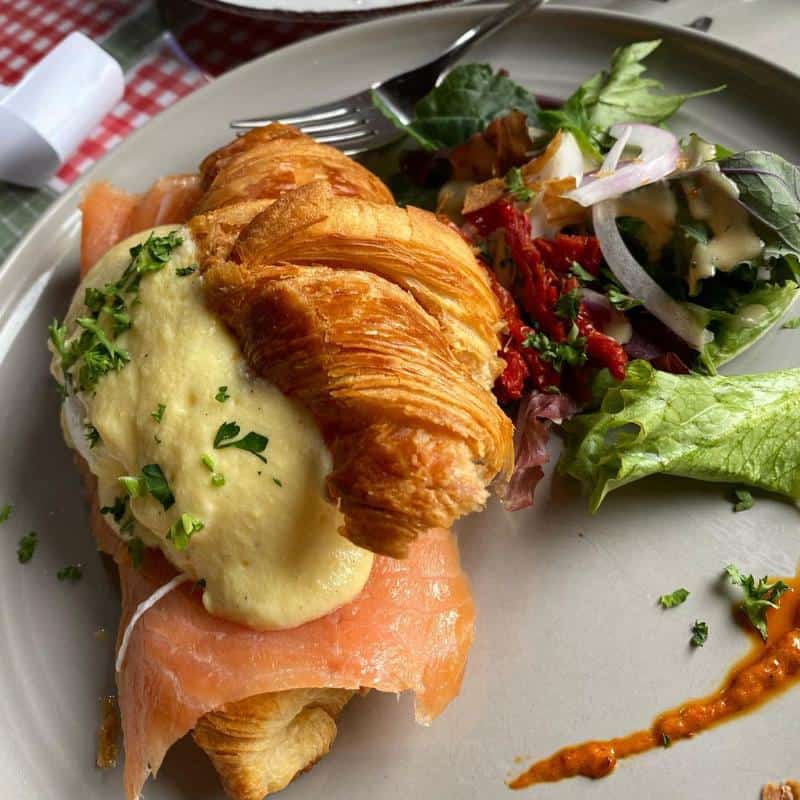 Address: 129 La Plaza, Palm Springs, CA 92262
Phone: +1 (760) 778-7895
Best known for: French Café Culture
L'Atelier Cafe is an authentic French Bistro in the heart of Palm Springs, located in the historic plaza.
This family-run business established itself in 2013, and the two working owners are proud of their French roots.
This Bistro Café displays a bit of Europe and has a shabby chic reminiscent of back street Paris cafés. There is indoor seating and a small amount of outdoor seating.
You can enjoy breakfast or Brunch of French-inspired homemade dishes while French music gently plays in the background.
The menu is a paradise of French café' culture with so many homemade dishes. Pastries and desserts, crêpes, tarts, croissants, pan de chocolat, omelettes, quiches and soups. You get the idea.
There is a range of French-influenced sandwiches and house specialties. Maybe stop by for a bite with a Bellini or Mimosa; Franck and Jose will welcome you warmly.
L'Atelier Cafe is open from 07.30 – 2.30, Thursday to Monday.
Sam's Place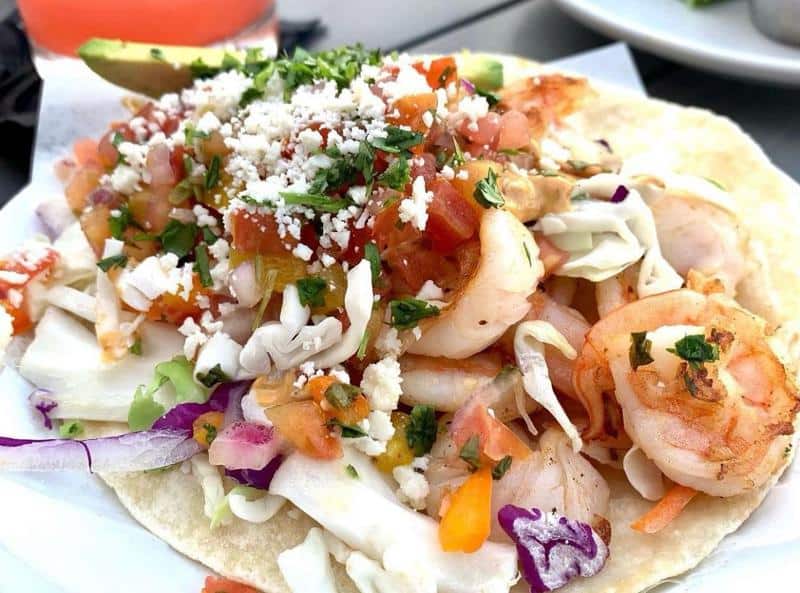 Address: 155 S Palm Canyon Dr. Ste A6 Palm Springs, CA 92262
Phone: +1 (760) 464-0024
Best known for: Modern Brunch Menu
Sam's Place is based in the center of downtown Palm Springs and is a new addition to the Palm Springs food scene.
The interior is modern and moody, with large colorful artworks hung on the walls. Outside, there are large terraces giving plenty of opportunity to people watch.
Brunch is served until 3 pm, and the menu involves all the usual suspects and a few curve balls. The Beignets are up for a particular mention as reviewers and commentators rave about them.
There are pancakes and French toast, as well as savory omelets. One worth noting is the Roasted Veggie omelet with mushroom, roasted zucchini, spinach, onions, bell peppers, Pico De Gallo and a
Cheddar & Jack Cheese mix. Great to see vegetarian dishes that sound tasty.
There is a nod south of the border with Breakfast Burrito, Steak Chilaquiles and Huevos Rancheros, and US brunch favorites.
Again, plant-based food is showcased with Avocado Toast made from Hand Sliced Sourdough Batard Grilled with Herbed Olive Oil, Avocado, a Black Sesame Seed Medley, and Roasted Cherry Tomatoes. Who says plant-based isn't tasty?
Sam's Place is open from 8 am, and Happy Hour starts at 1 pm Monday to Friday, so go easy on the cocktails.
See Also: Best Restaurants in Palm Desert, CA
The Tropicale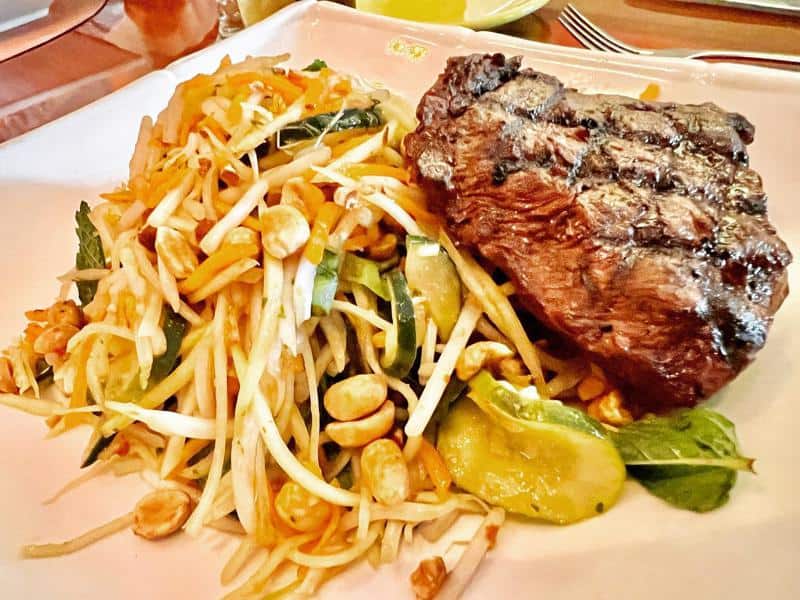 Address: 330 E Amado Rd Palm Springs, CA 92262
Phone: +1 (760) 866-1952
Best known for: Chic style and interesting menu
The Tropicale is a chic and sophisticated dining experience in Palm Springs. It offers cuisine with an exotic feel and emphasis on Pacific Rim specialties. It has a kitsch 60's elegant atmosphere, high-backed semicircular banquettes, and black leather bar stools. It is reminiscent of the upbeat lounges of old Palm Springs.
The menu brings some exciting ideas to a brunch and is not dominated by sweet items. The only sweet dish is Blueberry Waffle­s with Lemon Ricotta Cream.
The menu seems to provide substantial fare, such as Mary's Farm Herbed Chicken Hash & Poached Eggs served with scallions, red peppers, potatoes, parsnips, and Hollandaise.
There is traditional Smoked ham and eggs Benedict but also salmon and a grilled Prime Flat Iron steak & eggs Benedict.
There is an acceptable range of cocktails and bottomless sparkling wine from $18. Happy hour is 4 pm-7 pm.
Boozehounds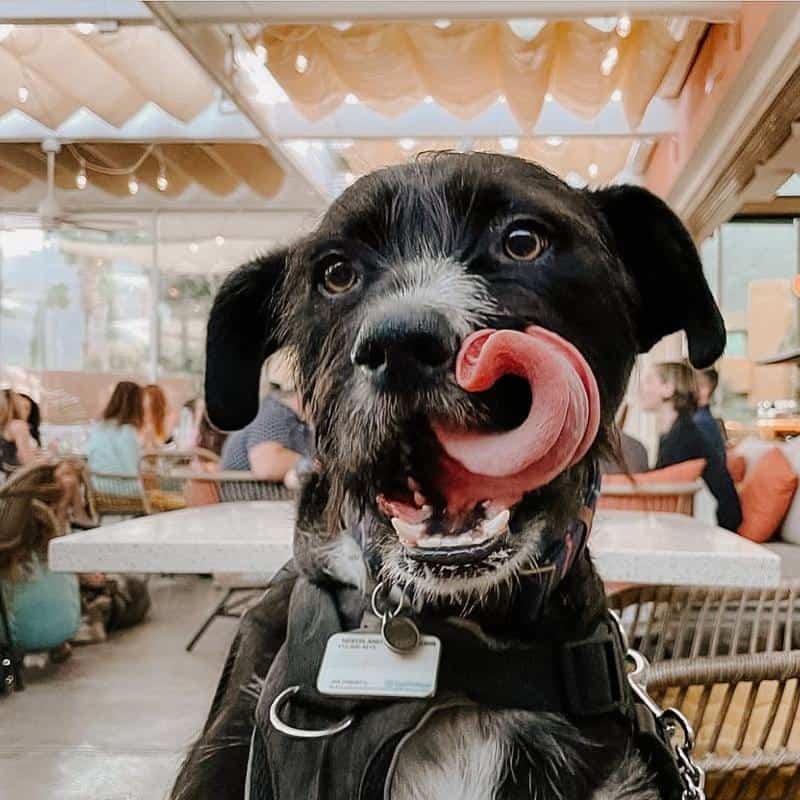 Address: 2080 N Palm Canyon Dr. Palm Springs, CA 92262
Phone: +1 (760) 656-0067
Best known for: Dog Friendly
Boozehounds exist for one simple reason, people who love dogs!
The 7000 sq. ft. venue features a dog-friendly open-air atrium and a cabana bar and patio. The main indoor dining room, bar, and lounge face the picturesque San Jacinto Mountain Range.
The menu is a fusion of Southern California with a Japanese influence. Yes, there is a menu designed especially for dogs!
The menu is undoubtedly eclectic, with old-school favorites that have been updated and plenty of options for both vegetarians and vegans.
A good cocktail menu is available, and the Brunch service is open Friday, Saturday & Sunday, 10 am – 2 pm.
If you love your "doggo," you've got to go.
Read More:
Conclusion
Palm Springs has been famous since the 1930s, when the movie stars of the time came in large numbers.
Evidently, they knew something back then, as the fantastic weather alone would not have been enough.
Maybe back then, the restaurants serving Brunch attracted them to the area.
Moving on to today, it is no different. Fantastic brunch menus, bottomless drinks, and great memories. Palm Springs is a "must visit" destination for Brunch.