The quaint city of Belmont exudes beauty with its lush greenery, rolling hills, and trickling banks. Offering wondrous sightseeing opportunities to visitors, the town also has a diverse food industry with numerous local and chain restaurants.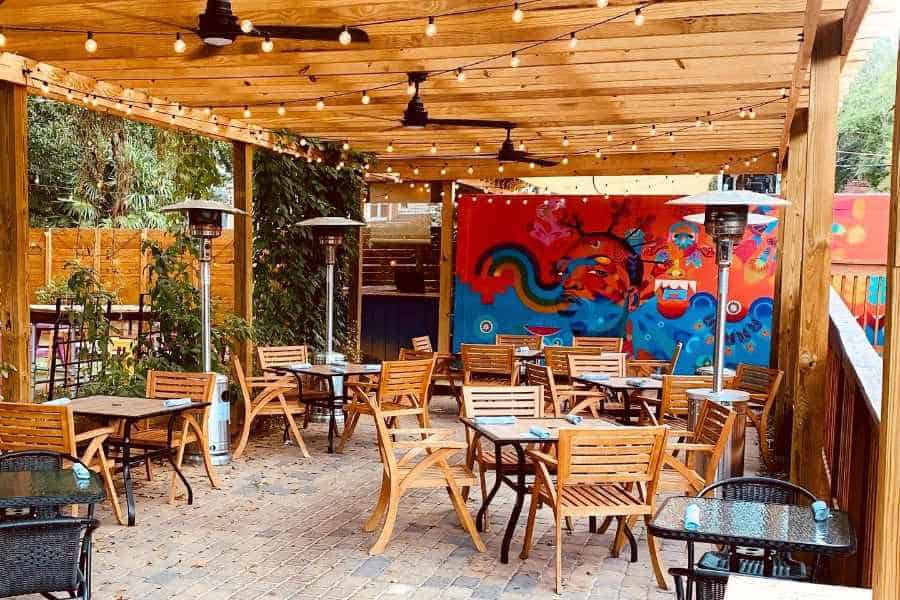 The small suburban setting offers an intimate dining experience with amorous surroundings. Find the best restaurants in Belmont on our list, ranging from cozy and laid-back eateries to upbeat and vibrant spots.
Best Overall Restaurant: The Bottle Tree
Best Fine Dining Restaurant: Heirloom
Best Affordable Restaurant: Cherub's Café
Best Belmont Restaurants, NC
The Bottle Tree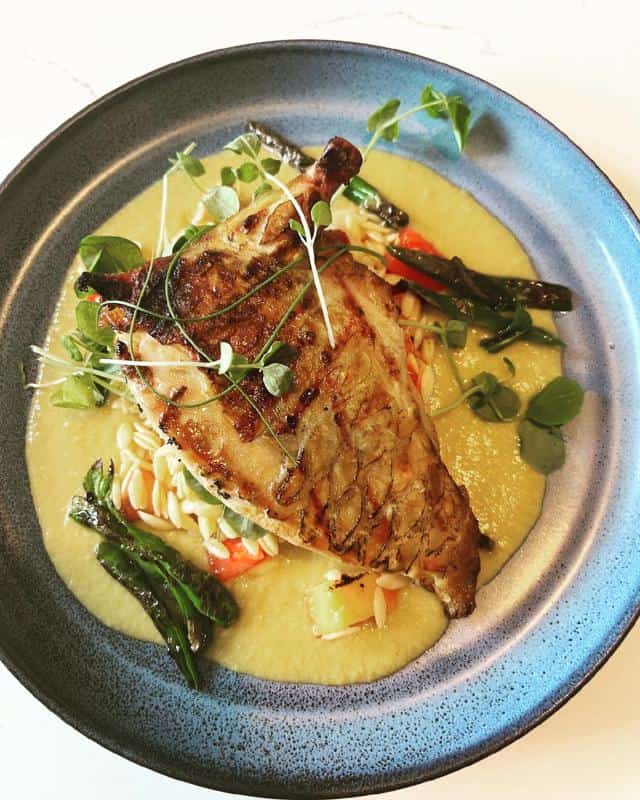 Address: 102 Davis St, Belmont, NC 28012
Known for: Globally-inspired dishes and an extensive list of cocktails and wines.
Indulge in an unpretentious fine dining experience at The Bottle Tree. The inviting ambiance has beautiful and classy accents with a large patio setting and an extensive wine list.
The globally-inspired flavors offer a diverse selection seasoned with fresh Southern ingredients. The restaurant also serves an impressive range of craft cocktails, craft beer, and wines.
The dinner menu features Small Plates with shareable appetizers including the juicy Tandoori Venison Kabob, Hanoi BBQ Board, and Brisket Spanakopita. The Smoked Peri Peri Chicken is one of their best dishes on the entrée with grilled peach and orzo salad on a corn nage.
The restaurant also hosts weekend brunch with boozy drinks and a Build-Your-Own-Mimosa Picher.
Heirloom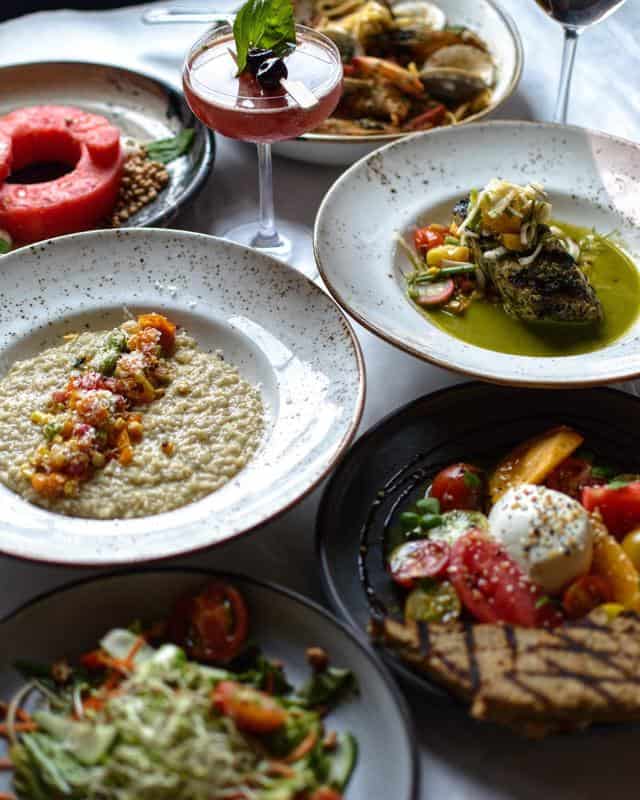 Address: 33 Glenway St, Belmont, NC 28012
Known for: Rustic fine dining restaurant with elegant 3-course meals.
The romantic and intimate Heirloom is a rustic fine dining establishment with classy plank walls and an upscale layout. The restaurant serves creative farm-to-table dishes with special offers on 3-course meals.
Enjoy a refined evening in the dimly lit dining area with their 3-course tasting menu for $50. This includes an appetizer, entrée, and dessert of your choice, but if you are feeling a bit adventurous, you can opt for the "Feeling Lucky" option where the chef chooses something delicious for you.
They also run weekly specials so keep your eyes peeled for your favorites. The extensive cocktail menu pairs perfectly with their inspired dishes.
Cherubs Café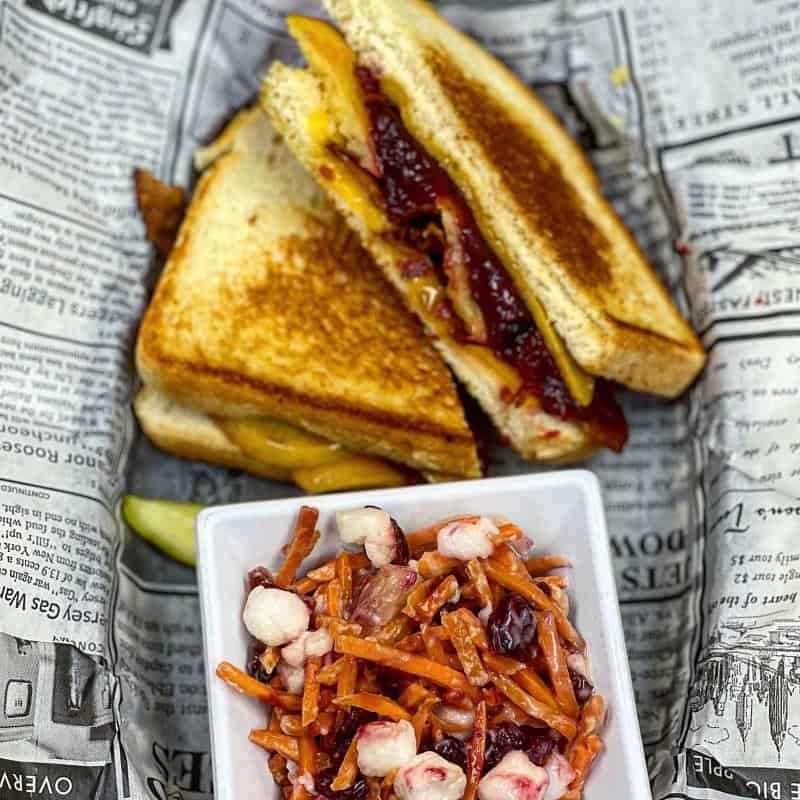 Address: 23 N Main St, Belmont, NC 28012
Known for: Upbeat café offering affordable American breakfast and lunch.
The joyous and merry Cherub's Café is celebrating its 25th year in the imposing and historic downtown Belmont. It works on the motto of enriching communities by employing differently able, and the café has received top ratings on Tripadvisor and Yelp.
They are open for breakfast and lunch every day, offering delicious and affordable American treats and beverages. The Chicken Salad Sandwich is quite famous, and the café is also known for its hearty bowls of soup to warm you up on a chilly day.
If you stop by early, the Big Start is the perfect breakfast fix to fill you up with delectable pancakes, sandwiches, and eggs. Don't forget to get some cookies and an ice cream cone on your way out!
The Lodge Tavern and Tap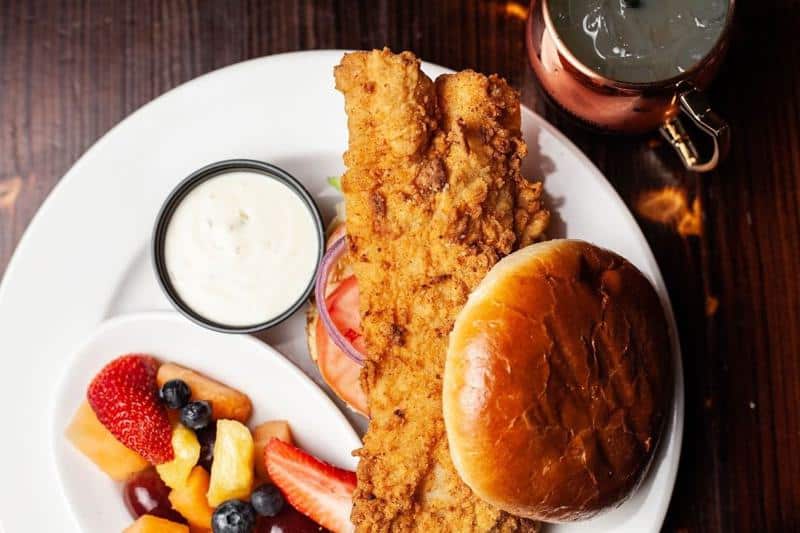 Address: 101 Kenwood St, Belmont, NC 28012
Known for: Laid-back ambiance with comfort food and friendly service.
Get a taste of life as a local with a chilled, laid-back ambiance at the Lodge Tavern and Tap. The beloved restaurant is located in downtown Belmont and serves an eclectic variety of food and drinks with wild game offerings like duck, bison, and venison.
The quaint wooden interiors set a warm and welcoming atmosphere with friendly service. Start your meals with a Mexican twist by ordering the tasty Chicken Quesadilla with juicy chicken and mixed cheese.
The restaurant is quite famous for its burgers, and they come in a huge variety with a Build-Your-Own-Burger option. Try the Bad Ass Fish Sandwich with deep-fried grouper, or a meaty Duck Reuben with pulled duck confit.
Nellie's Southern Kitchen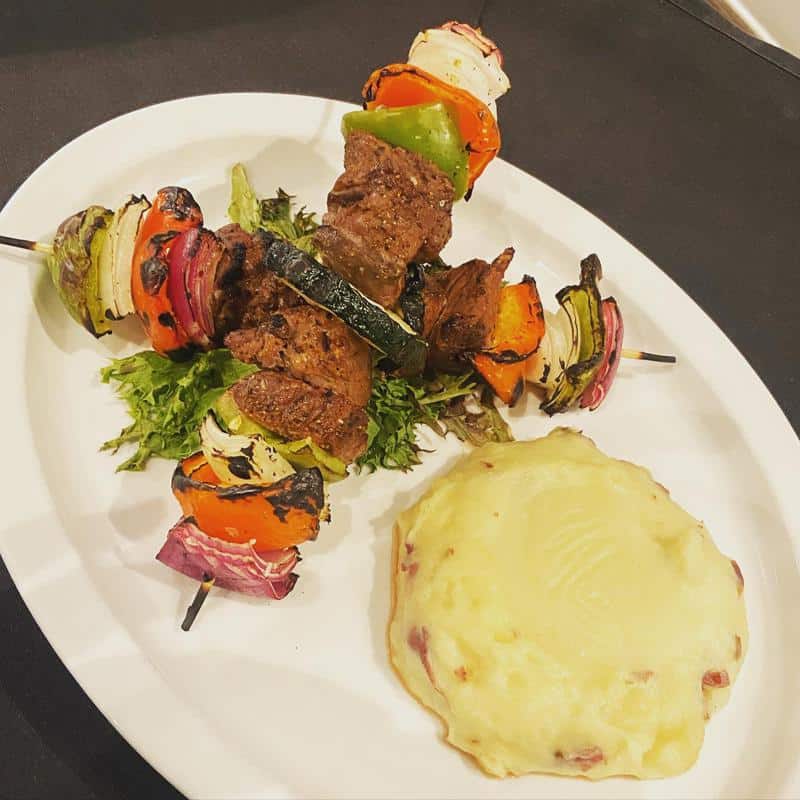 Address: 36 N Main St, Belmont, NC 28012
Known for: Belmont special Steak Kabobs, Southern cuisines, and a rooftop bar.
Nellie's Southern Kitchen has many branches in North Carolina, and the one in Belmont comes with a swanky rooftop bar. The restaurant takes pride in its seamless southern hospitality and a variety of Southern dishes.
While there are many popular dishes at Nellie's, the succulent Steak Kabobs are a Belmont Special. Perfectly char-grilled with juicy vegetables and a side of your choice, the dish hits all the right spots.
Other notable entrees on their menu include Nellie's Chicken and Dumplings cooked in a heavenly rich broth and Chef Mario's Shrimp and Grits with crispy grit cakes and jumbo shrimp in a Cajun cream sauce.
Move to the rooftop bar for end-of-dinner drinks with a lovely view awaiting your welcome.
Estia's Kouzina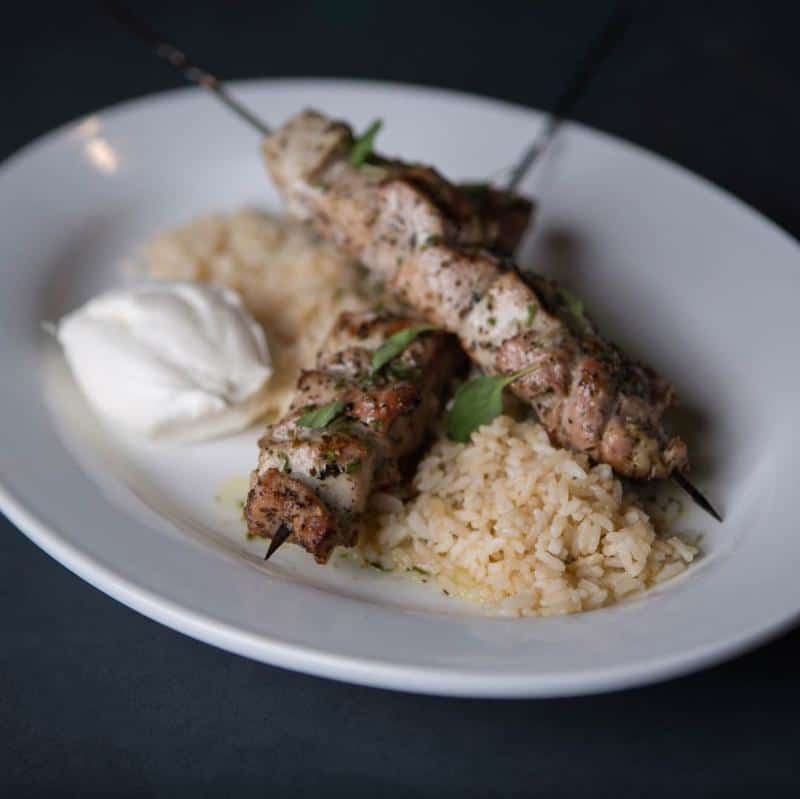 Address: 609 N Main St, Belmont, NC 28012
Known for: Greek-influenced traditional meals in a spacious setting with a patio.
Enjoy a hearty Greek feast in a spacious and chic setting with a large patio at Estia's Kouzina.
The name of the restaurant is inspired by Greek mythology, with Estia being the goddess of the hearth, while kouzina is the Greek word for kitchen.
The upscale Greek/Mediterranean restaurant offers healthy treats without compromising on flavor. Start with the delicious house-made spreads made with traditional recipes, like the authentic Greek cucumber yogurt 'Tzatziki' served with cucumbers and house-made pita bread.
They have a good variety of soups and salads, and the Gyros include Veggie, Chicken, Falafel, Steak, and Lamb with hummus, tomatoes, and onions. For large plates, they have succulent Lamb Chops, Moussaka, Pastitsio, Rotisserie Chicken, and other Mediterranean delights.
Old Stone Steakhouse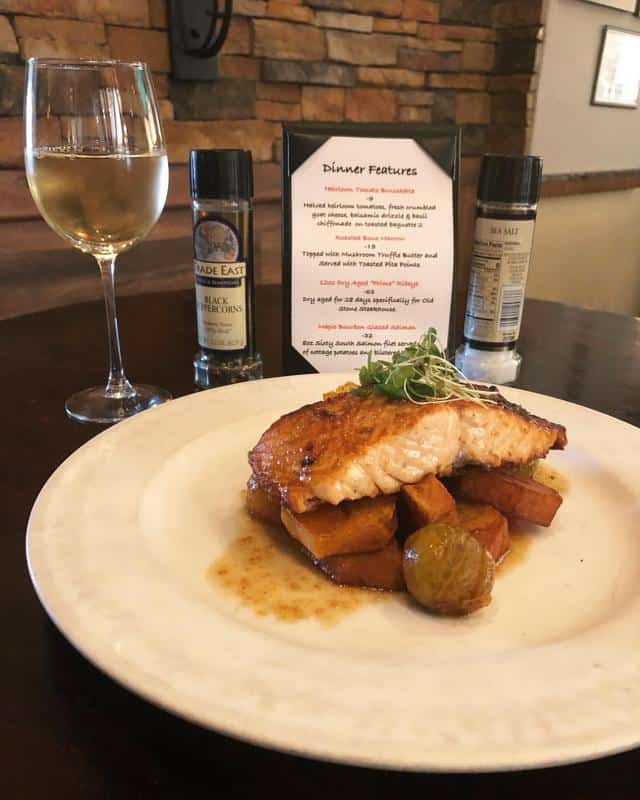 Address: 23 S Main St, Belmont, NC 28012
Known for: Rustic ambiance with delicious steaks and seafood.
The cozy wood-beamed setting of Old Stone Steakhouse invites you to an intimate evening filled with delicious steaks and drinks. Set in historic downtown Belmont, the restaurant has a rustic location within a restored Belmont Police Department.
Besides steaks, the restaurant also serves a variety of seafood dishes, pasta, sandwiches, and burgers. Try the Crispy Pork Belly served on a bed of collards with sweet jalapeno jam, or the famous Bacon Wrapped Scallops generously doused in the restaurant's signature Cheerwine BBQ sauce.
The USDA 'Choice' Steaks are the main highlight of their menu, and you can choose your cut and style while ordering. From the seafood menu, the Maple Bourbon Glazed Salmon is a classy choice.
The String Bean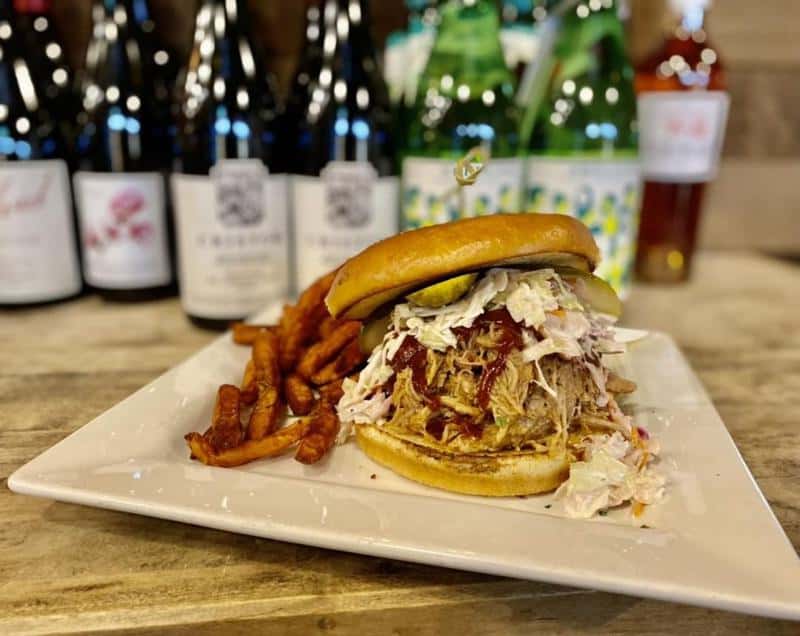 Address: 106 N Main St, Belmont, NC 28012
Known for: Delicious burgers and a huge wine list.
The classy and chic String Bean is a relaxed bistro offering elevated Southern cuisine and burgers, with meats directly sourced from the in-house butcher. The restaurant has a comforting layout with shaded outdoor seating available.
If you enjoy fine wine, this is a great spot to get a little tipsy with their astounding collection of wines. The outdoor fireside table sets the perfect ambiance to grab a bite with your favorite drink on a star-lit evening.
For a casual dining experience, get their generously portioned burgers. The BBQ Pork Sammy is a clear winner on the list, and you can also try the Flatbread Pizzas for a lighter option.
Taxco Mexican Grill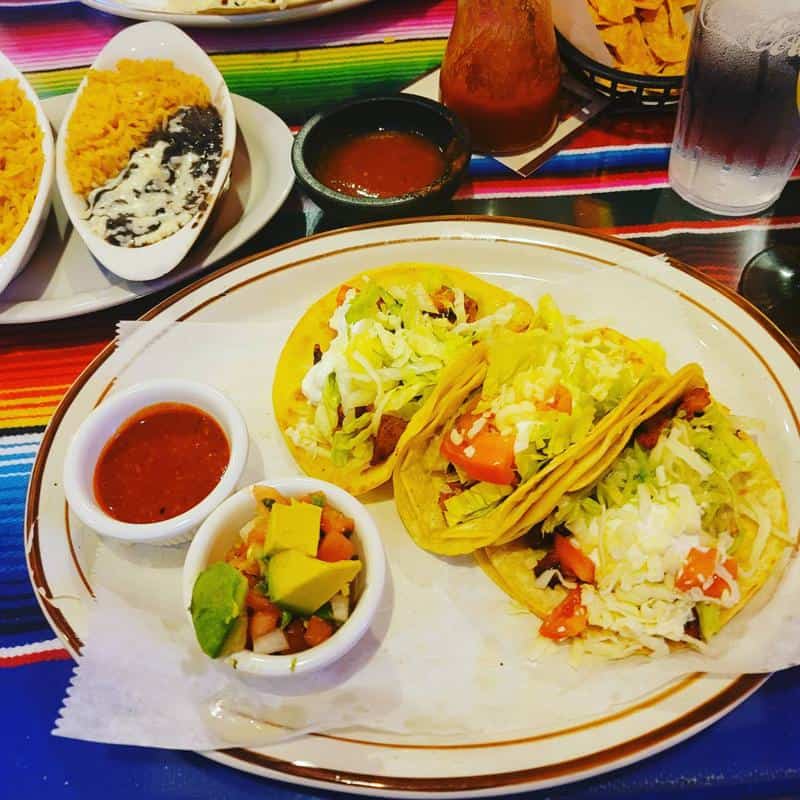 Address: 6418 Wilkinson Blvd, Belmont, NC 28012
Known for: Authentic Mexican fare and margaritas.
Head to the Taxco Mexican Grill for an authentic and traditional Mexican dining experience in Belmont. The humble and unpretentious ambiance invites you to indulge in their extensive menu of classic Mexican delights and seafood.
There are a lot of options on their menu, with Fajitas, Seafood, Enchiladas, Burritos, Steaks and Chicken, Lunch Specials, A la Carte, Sides, and Desserts. Get a classic order of Tacos and Quesadillas with beef or chicken, and pair it with their refreshing Margaritas.
The Taxco special variety includes Flag Taquitos, Chilaquiles Mexicanos, and the Special Dinner Combo with Chalupa, Chile Poblano, Taco, Enchilada, and Tamale served with rice and beans.
Sammy's Neighborhood Pub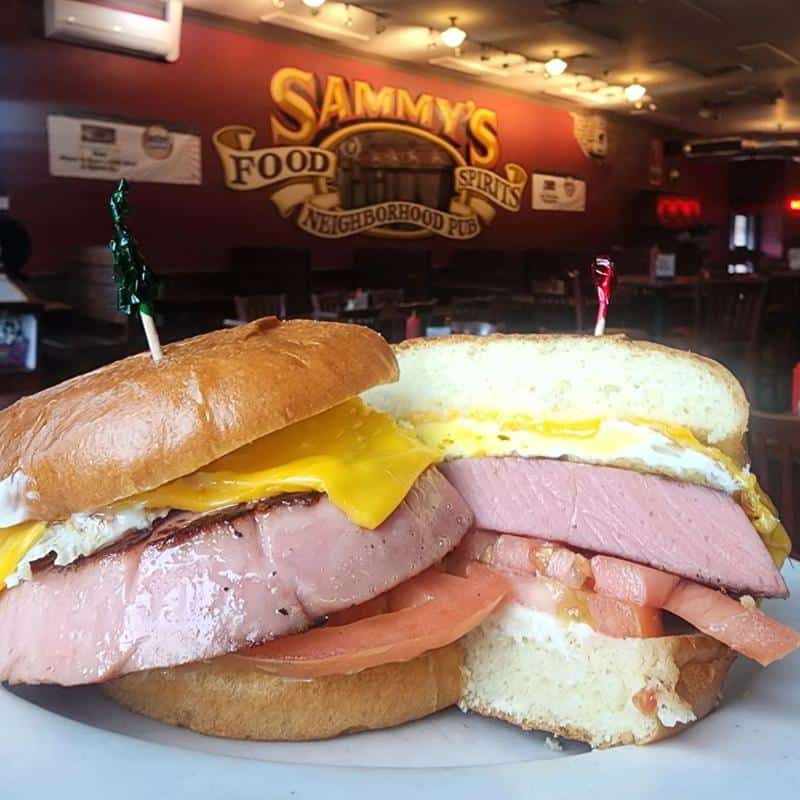 Address: 25 S Main St, Belmont, NC 28012
Known for: Classic Southern comfort food with a relaxed ambiance.
Kick back and relax with a chilled beer while enjoying your favorite match on the TV at Sammy's Pub. The quaint down-to-earth pub allows you to unwind and relax, making it a perfect spot to hang out with friends on a Friday night.
The dishes are made with a classic Southern home-style twist in hearty portions. It is a local's favorite and they love it for the tantalizing burgers, fried fish, and pulled pork.
Try Sammy's Sampler with stuffed jalapenos, Buffalo wings, cheese quesadilla, and fried mozzarella with sour cream, salsa, warm marinara, and celery. The Pub-Style Nachos and Southwestern Eggrolls are other great sharing appetizers for a group of friends.
Read More:
Conclusion
The top picks of Belmont await your welcome, with quality and variety that suits every palate. Whether you are looking for an unpretentious local's favorite or a refined fine dining restaurant, our list has got you covered.