With a population of over 1.4 million, San Diego is the oldest town in California and is considered the seafood capital of California. The extensive coastline is a source of various ingredients used to make mouthwatering seafood delicacies.
According to The Daily Meal, San Diego in California is the number one state in the United States where you can get all kinds of seafood meals. The 70 miles of San Diego coastline provides bountiful options from swordfish to rockfish, mackerel, spider crab, yellowtail, sea urchin, tuna, white seabass, and the regular kinds of seafood.
Read on to get to know where the freshest produce is used to create innovative and pristine dishes in San Diego. Get to know of the most critically acclaimed seafood restaurants and a few hidden gems on the coastline. Proximity to the sea means you won't miss a great view of the sunset over the dripping sea in one of these venues.
Best Seafood Restaurants in San Diego
1. Fish 101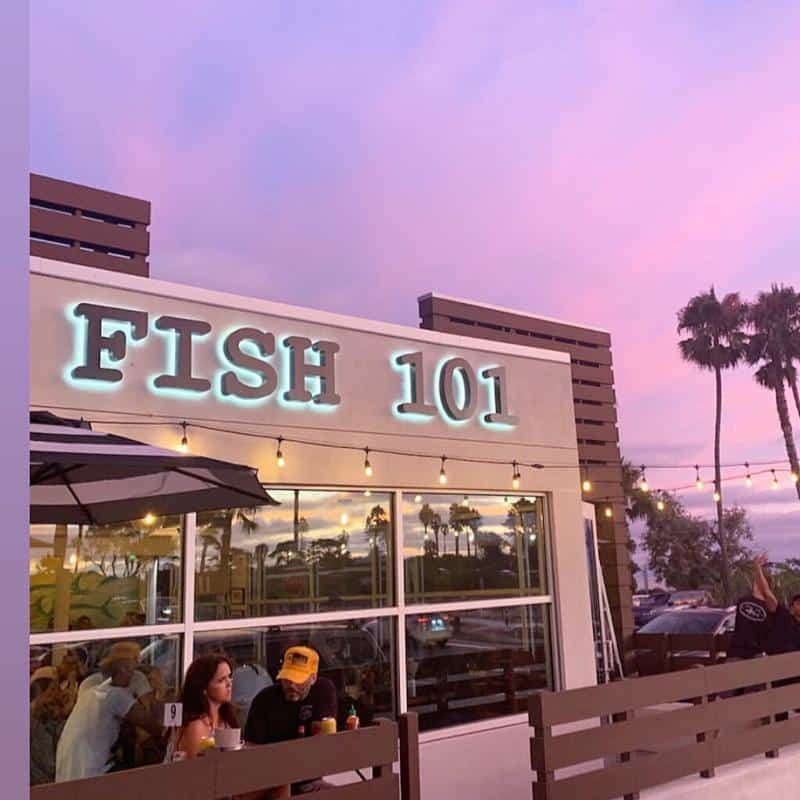 Address: 2101 San Elijo Avenue, Cardiff, CA 92007
Known for: California-style seafood with local flavors
Fish 101 has two locations, one in Cardiff and another in Leucadia. The Cardiff Fish 101 is closed on Monday but is open all other days of the week to serve the guests its casual California-style seafood platters. There is also a bar in the backyard where you can pair your meals with some fruity refreshments.
The seafood curry special is one of our favorites. Try the dish with its yellow coconut curry, fish, carrots, shrimp, cauliflower, potatoes, and an assortment of vegetables like kale. The veggie curry is a must-try for vegans with its yellow coconut curry, carrots, potatoes, cauliflower, and kale. All are gluten-free.
We recommend you start with the grilled shrimp cocktail with nine pieces of the dish served with house-made cocktail sauce. Follow up with the grilled shrimp bowl with brown or white rice and black beans. You may also opt for the grilled fish plate with 6 oz. Fillet, lemon wedge, and tartar sauce.
2. Jake's Del Mar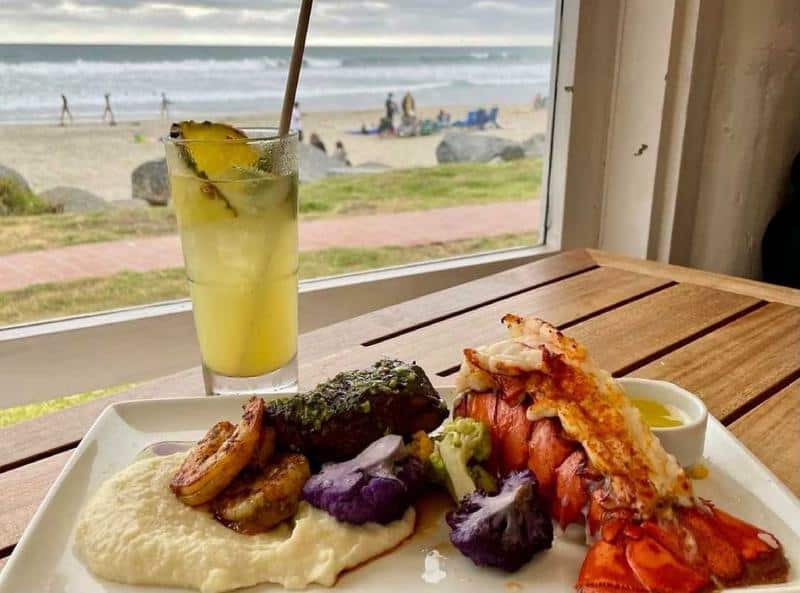 Address: 1660 Coast Boulevard, Del Mar, CA 92014
Known for: oceanfront dining
Jake's Del Mar puts you in a dining space just a few steps away from the beach. It is an excellent location for soaking in the violet hour with soft lighting and spectacular colors from the sun-bleached wooden beams of the venue. The waves are mere steps away, setting a romantic and enchanting scene during dinner time.
The menu is tailored around coastal fare and craft cocktail offerings. Dinner takes you through sea favorites from the ahi poke stack to the ceviche, then the crispy calamari and the grilled prawns with basil & prosciutto wraps.
I recommend you start by ordering the Caesar Salad with creamy dressing and an appetizer like the crispy calamari. Baked Halibut is a great entrée served over asparagus and barley. Have a taste of the house favorite hula pie for dessert with chocolate cookie crust and macadamia nut ice cream.
3. Ironside Fish & Oyster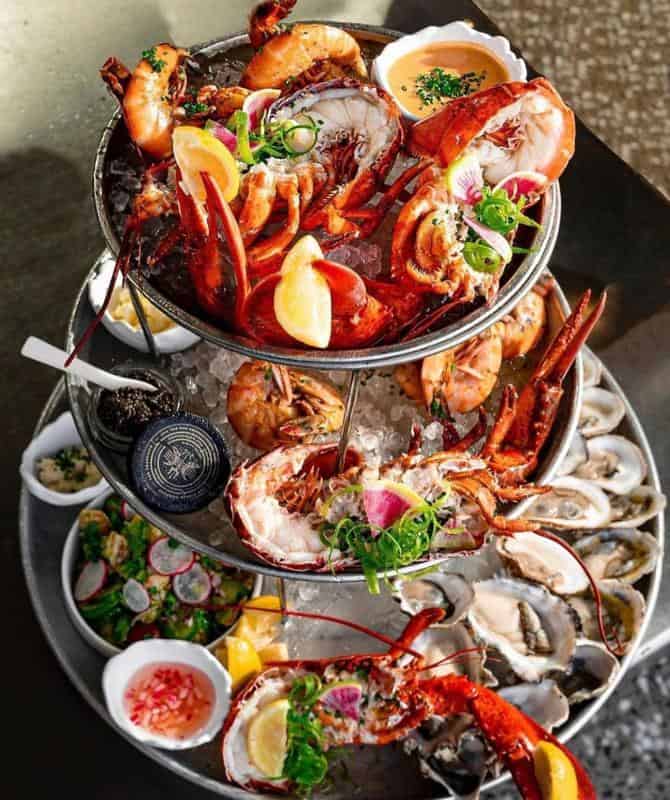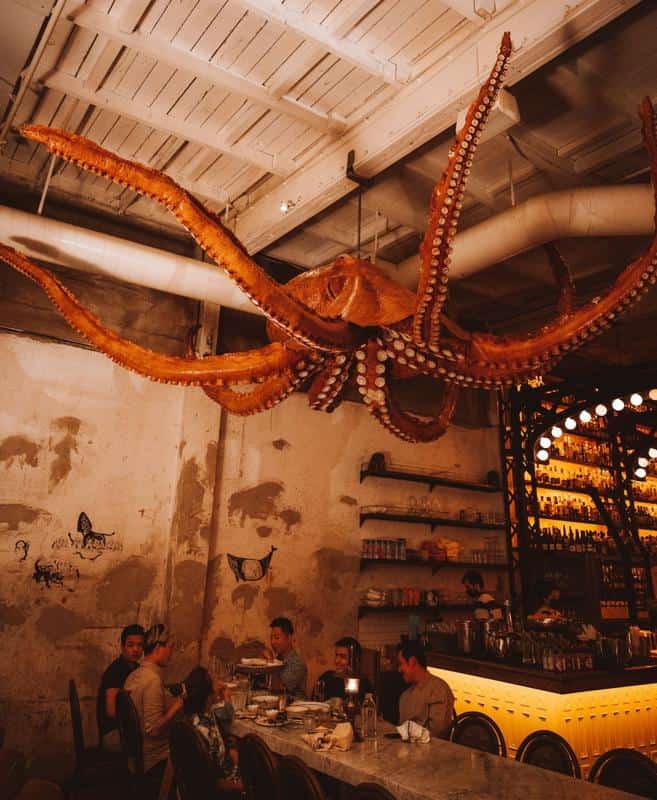 Address: 1654 India Street, San Diego, CA 92101
Known for: hosting hipsters with a love of art and culture
The Michelin Star restaurant embraces a quirky maritime theme in its interiors and décor. The wide open doors allow the sea's cold breeze to roar inside. The interior boasts brass portholes and anchor-shaped bar hooks that bring in the sea theme of the restaurant. It is no wonder it attracts a very hipster and artistic-centric clientele.
The menu at Ironside changes every day depending on what is available from the sea to give the freshest ingredients for an irresistible meal every time.
Small plates include the clam chowder, octopus a la plancha with sherry, olives, & chorizo. The smoked black bass toast is a popular option with radish, poached egg, and bearnaise.
Are you really feeling hungry? Try the Ironside platters, which include the Holy Shit biggest of the biggest plate with 2 oz white sturgeon caviar, 24 oysters, 12 shrimp, rockfish ceviche, kanpachi crudo, shrimp aguachile, ironside bread, and 2 pounds of chilled Maine lobster.
4. Point Loma Seafoods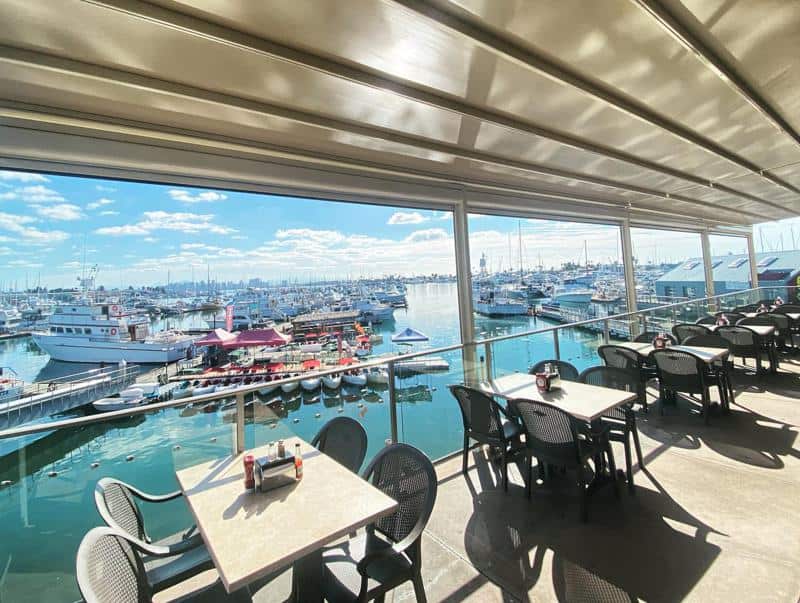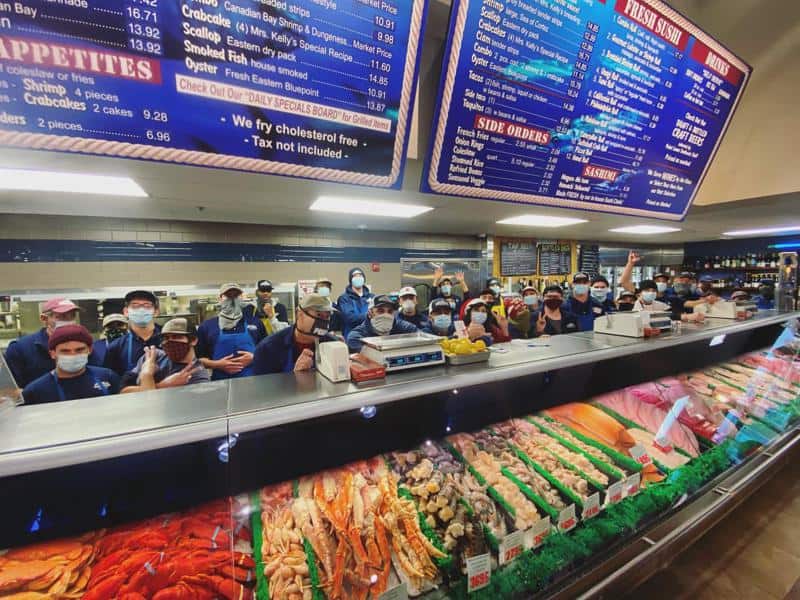 Address: 2805 Emerson Street, San Diego, CA 92106
Known for: spectacular views of the sea and charted fishing boats
Point Loma Seafoods is a family-owned business that was started by the Christianson family in 1963. The current establishment is a 2010 renovated venue built on the same footing as the original one.
It has an upper patio from where you can have panoramic views of the bay and San Diego cityscape. The finest and freshest seafood is the order of the day in this beloved restaurant that has served San Diego for over 60 years.
Cuisines include the usual sashimi dishes to the favored sushi meals, seafood cocktails, sushi rolls, tacos, and seafood sandwiches. Try the oyster sandwich with lightly breaded fresh Eastern Bluepoint and served between fresh sourdough bread.
Also Read: Best Sushi in San Diego
5. Mitch's Seafood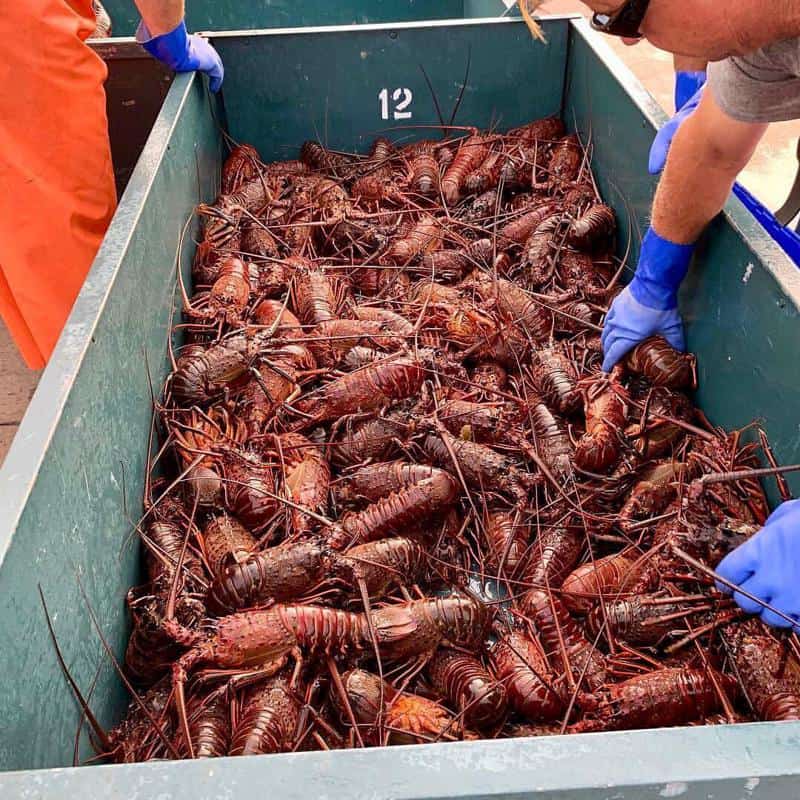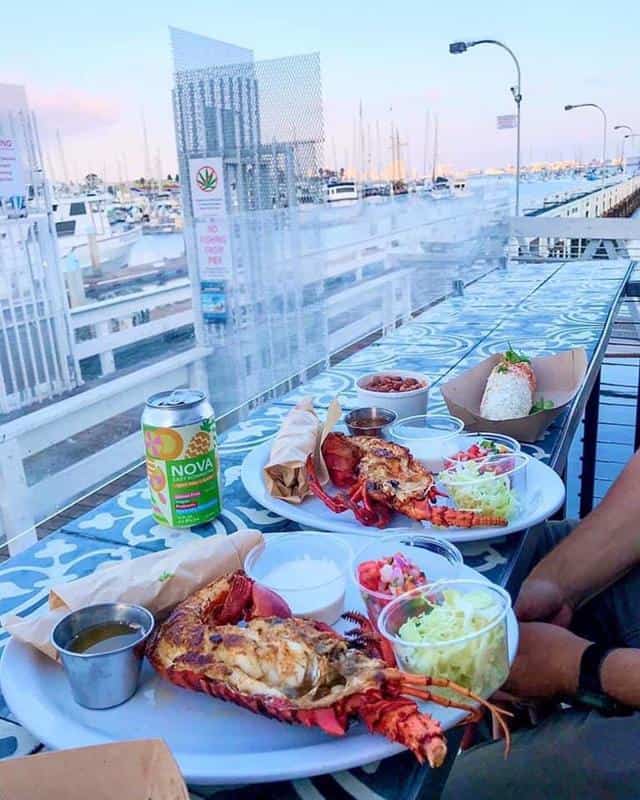 Address: 1403 Scott Street, San Diego, CA 92106
Known for: Fish tacos from local fish from local fishermen
Most fish and other seafood caught in Mitch's Seafood dishes are caught by local fishermen or Mitch's catchers. The ingredients are sourced primarily from two regions, the Baja waters in the north and the San Diego coastline.
Mitch's seafood began serving the bay in 2008 when three families joined hands to offer fresh and locally sourced meals. The menu is sizeable with raw bar & chilled seafood, tacos, tostadas, shareable plates, grilled market fish, steamed kinds of seafood, and sandwiches.
The Baja-style seafood cocktails are popular with options like the shrimp cocktail for $11.75, the &16 Dungeness crab, and the $17.75 Campechana, which is a combination of oysters, octopus, crab, and shrimp.
6. Blue Water Seafood Market & Grill
Address: 3667 India Street, San Diego, CA 92103
Known for: Fish tacos on the docks in Ensenada
Blue Water Seafood has two locations; one on Santa Monica Avenue and the main location on India Street. The restaurant serves some of the first unique items in San Diego, including fish tacos, ahi sashimi made from same-day produce, and grilled sea bass from the Baja surf.
Dinner is amazing with the special menu item grilled grouper and seabass that comes with jasmine rice, vinaigrette, and green salad. Most guests love the track shrimp taco with unique flavors and delectable toppings.
7. The Fishery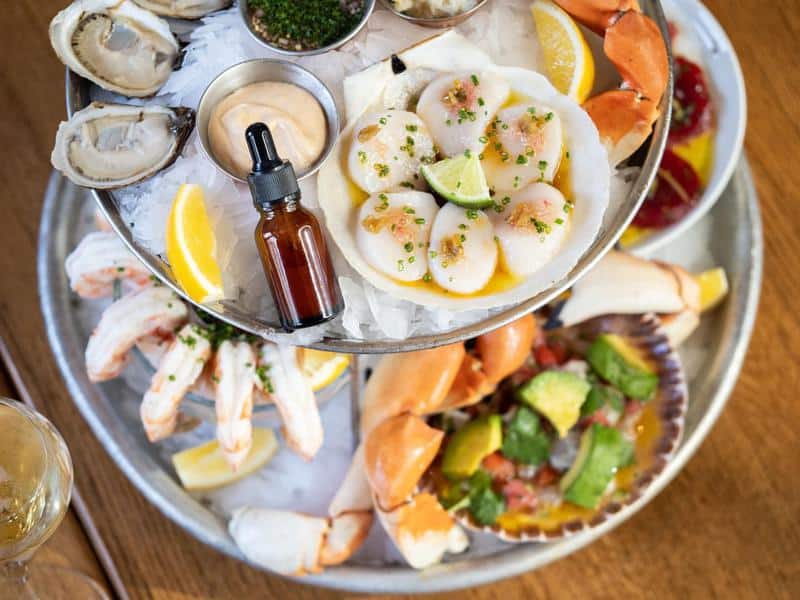 Address: 5040 Cass Street, San Diego, CA 92109
Known for: Premier seafood market inside the restaurant
The Fishery is easily located a few blocks from the Ocean. It is owned and operated by Marry Anne and Judd, who established the venue decades ago in 1996. Judd has been able to turn his passion for seafood into multiple businesses incorporated under the same roof: a seafood restaurant, a seafood market, and a distribution enterprise.
Chef Mike Reidy ensures the menu is seasonal to keep up with the changing market to provide the highest quality and freshest seafood. Ingredients are sourced only from the peak of the season from the local produce.
On a dinner date, try the grilled oysters as a starter. The main course goes well with the Alaskan Halibut and chips with French fries. You can also try the Pacific swordfish with ricotta gnocchi and melted roasted mushrooms.
8. George's at the Cove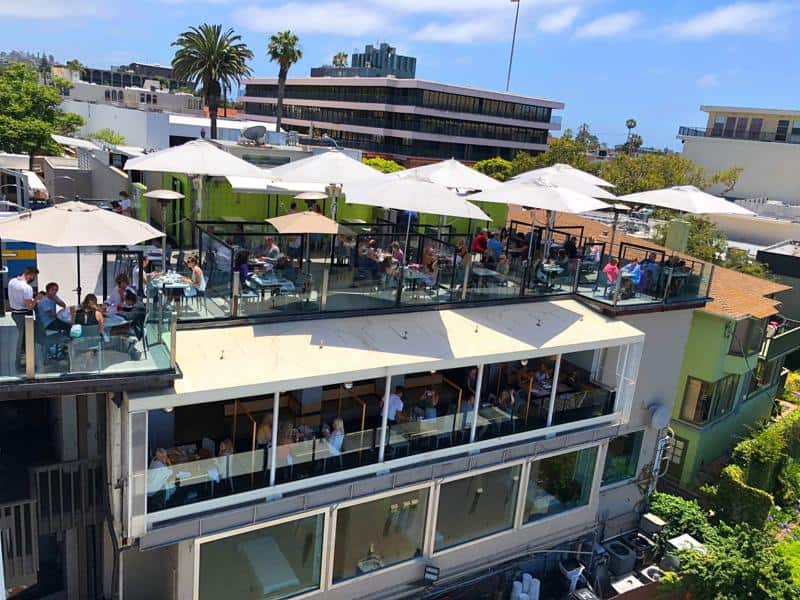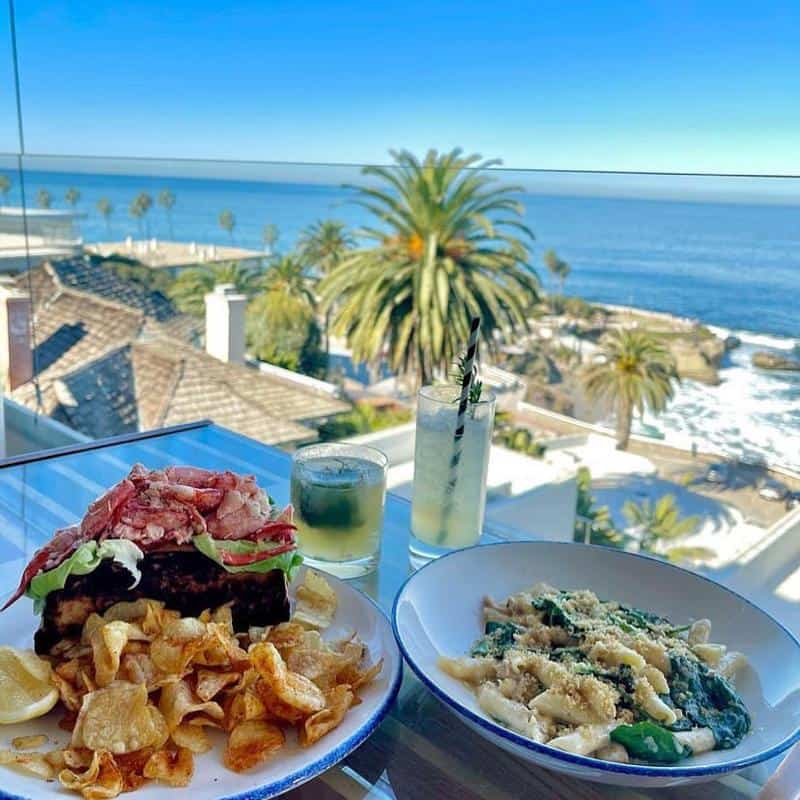 Address: 1250 Prospect Street, La Jolla, CA 92037
Known for: Panoramic views of La Jolla
George's at the Cove is a rare gem of San Diego as it offers stunning views of the San Diego skyline and the Cove at La Jolla from any part of the Ocean Terrace and Level 2 section. The California Modern section is also on the ground floor, with an ocean view from the dining room.
The 2019 edition of the Michelin Guide named George's Cove a Michelin Plate restaurant, and Open Table has ranked the Ocean Terrace as one of the "Top 100 Best Al Fresco Dining Restaurants in America".
The menu is full of popular seafood salads and sandwiches. We recommend you try the yellowtail tacos or a crispy halibut sandwich during lunch. Grilled salmon is a great choice for a dinner meal.
9. El Pescador Fish Market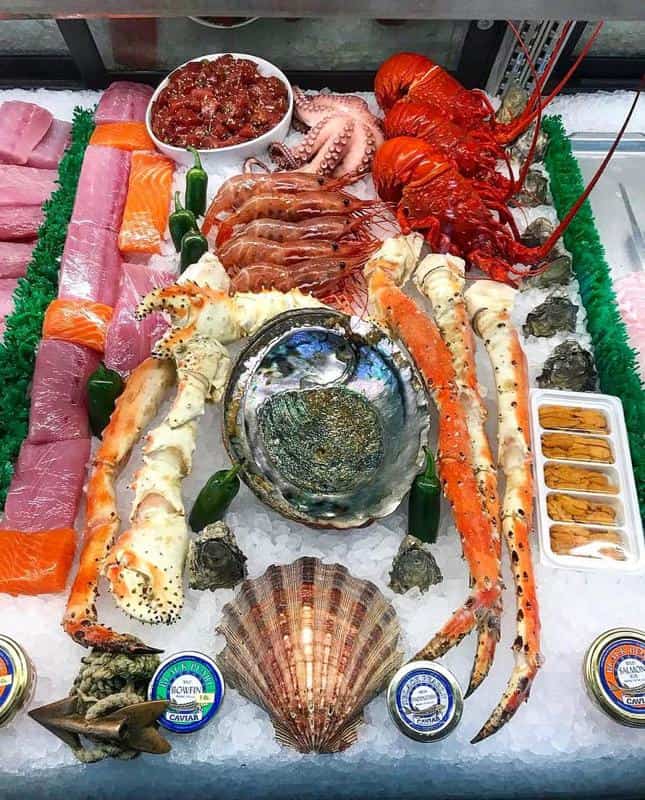 Address: 634 Pearl Street, La Jolla, CA 92037
Known for: Fish sandwiches
The venue serves as a casual seafood dining area and fish market. El Pescador has over 40 years of history in the San Diego Bay, where it has served its creative plating. The environment is relaxing with a cool breeze and is just a few minutes from all of San Diego's famous beaches.
El Pescador has beautiful presentations of its meals, from the soups & salads to the seafood cocktails & oysters and sashimi plates. It is known for its seafood sandwiches that are served on a toasted torta roll with isle dressing, lettuce, red onion, lettuce, and tartar sauce.
Seafood burritos are also our favorites, served on a flour tortilla with yogurt sauce, black beans, and spinach.
10. JRDN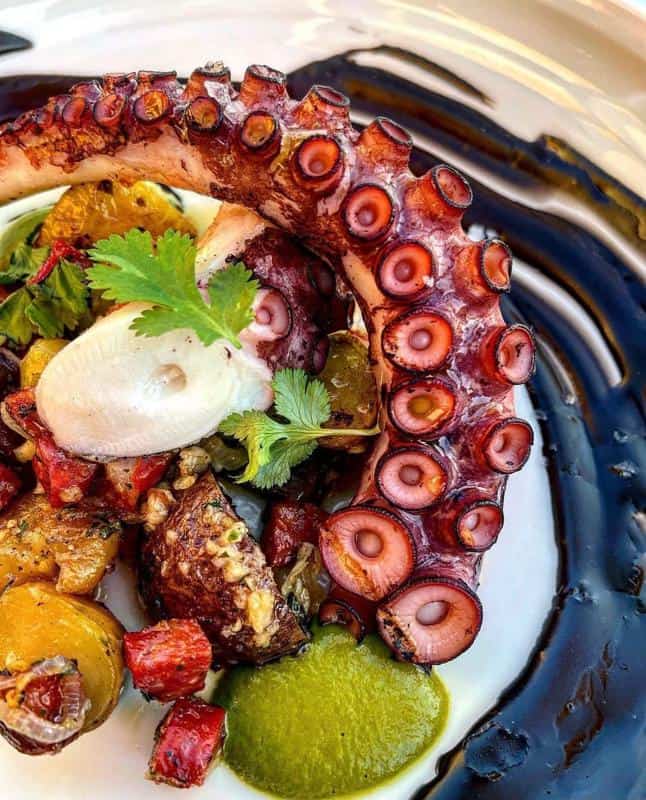 Address: 723 Felspar Street, San Diego, CA 92109
Known for: the local Chef Stephan, who brings local produce to his best dishes
JRDN in San Diego is run by the 2022 James Beard nominee, executive Chef Stephan Gage who works with locals to curate a dynamic menu that brings out the seasonal delicacies and Stephan's creativity. He is a local San Diego Culinary Institute graduate and is dedicated to providing a warm touch to the hometown culinary scene.
Dinner is presented with a multitude of fish options, and we recommend you try the ahi tuna nachos with crispy wonton chips, avocado, mango, sriracha aioli, and sesame seeds. The grilled Hamachi collar with scallion pancakes and sweet chili ponzu is another great fish offering.
11. C Level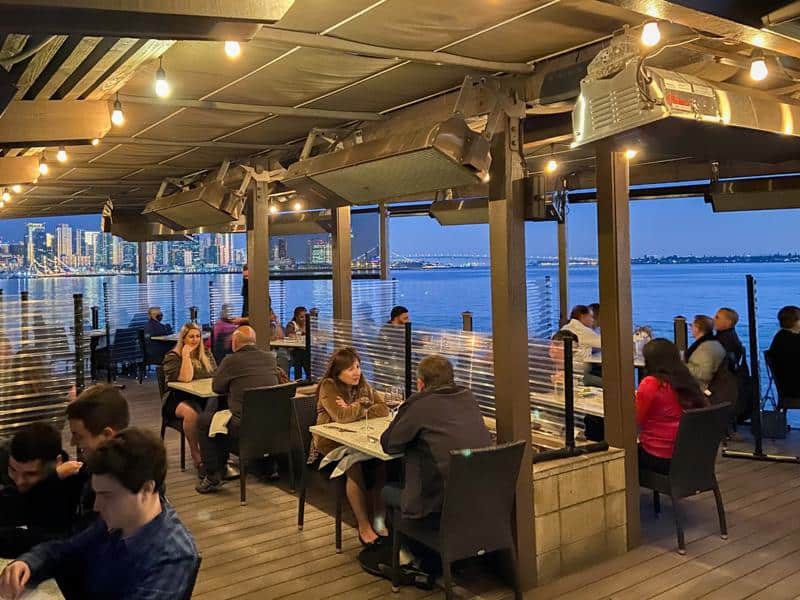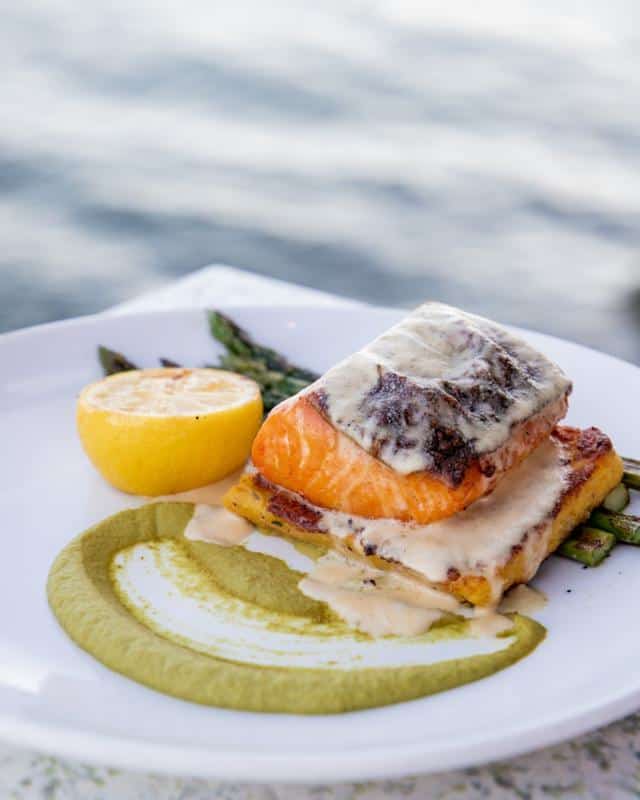 Address: 880 Harbour Island Dr, San Diego, CA 92101
Known for: panoramic views of the San Diego city skyline and Coronado
The amazing views and impressionable atmosphere have earned C-Level awards and accolades from big players like the Wine Spectator and OpenTable. C Level is situated on Harbor Island side by side with the popular Island Prime restaurant.
The menu is impressive with must-try shellfish offerings like the seafood platter that comes with ½ dozen oysters, ½ pound bay peel, mahi ahi stack, salmon tartare, and shrimp.
Try Chef Deb's "Fuel for a Healthier Lifestyle" bowl that has Mediterranean options. Thai Chicken bowls and the Hawaiian Ahi & Salmon poke.
12. Tom Ham's Lighthouse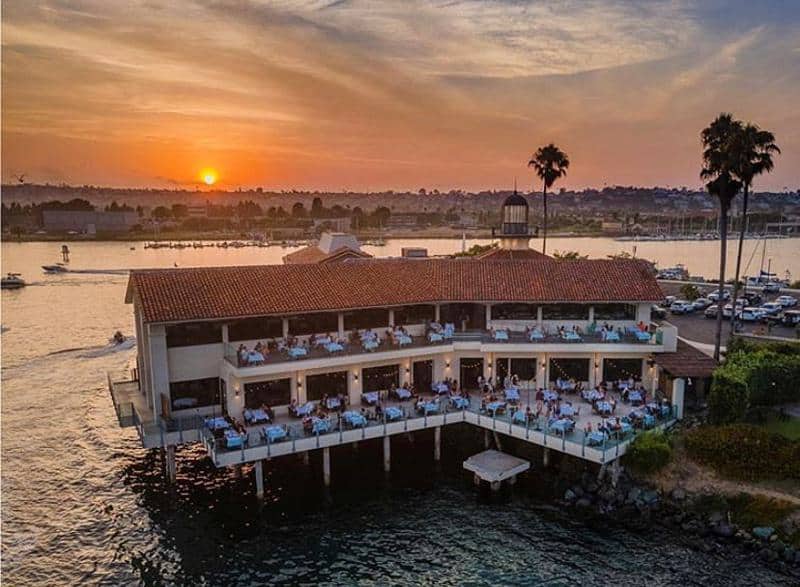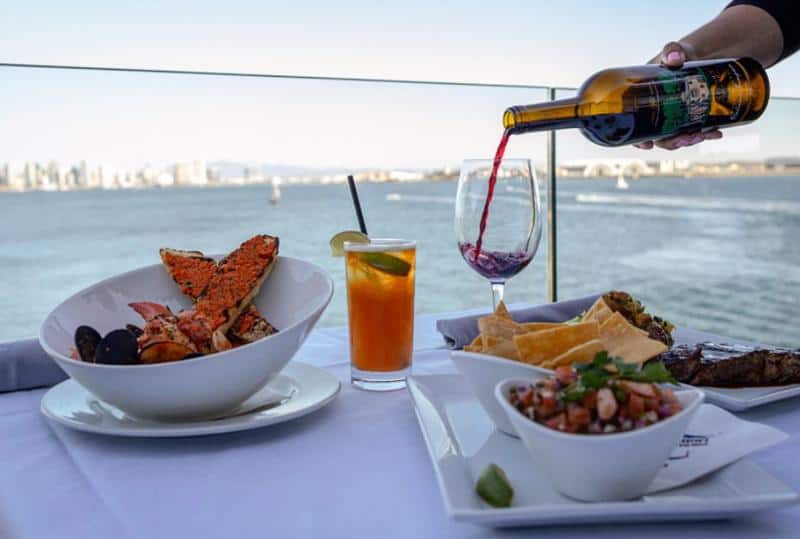 Address: 2150 Harbor Island Dr, San Diego, CA 92101
Known for: Bayside dining with a good view of the San Diego Downtown skyline
Tom Ham, a renowned historian and a graduate of UCLA, opened the Lighthouse in 1971 to fulfill his dream. He acquired Beacon #9 lighthouse and transformed it into a seafood restaurant.
Decades later, the Lighthouse has become a San Diego landmark with his children ensuring San Diego gets to experience its stunning scenery as well as fine dining and top-of-the-line culinary experiences.
The Lighthouse, as locals call it, has excellent shellfish platters you may want to try. Feast on the Chef's Dozen Oyster with three different types of oysters for $30 or on the $135 platter that comes with nine oysters, four clams, four-bay scallops, twelve jumbo shrimps, 10 P.E.I mussels, and half Maine Lobster.
13. Oscar Mexican Seafood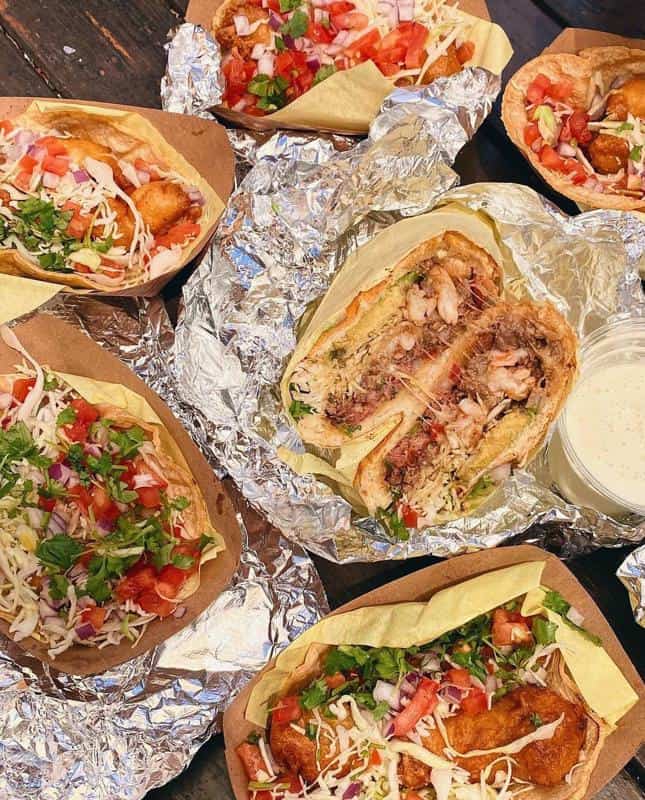 Address: Original Location (703 Turquoise Street, San Diego, CA 92109)
Known for: Affordable but still incredible fish tacos
Oscar Mexican Seafood has three locations, the original one in North Pacific Beach, another in Pacific Beach, and the last one in hillcrest.
The North Pacific Beach Oscar Mexican is a receiver of the highly acclaimed Michelin Star. It opened back in 2011 and has since been a staple in providing seafood-centric Mexican dishes.
The venue has limited sitting in the dining area and bar section if you want to dine in a large venue. Tacos are the main item on the menu, with various creations using fish and shrimp. There is the option of upgrading the regular tacos to the large burritos, but the grilled octopus is by far the unique item.
We recommend you try the Torta De Oscar taco with smoked fish, spicy shrimp, and skirt steak. The Fisherman's torta is another beloved item with smoked & grilled fish, spicy shrimp, and scallops.
14. Eddie V's Prime Seafood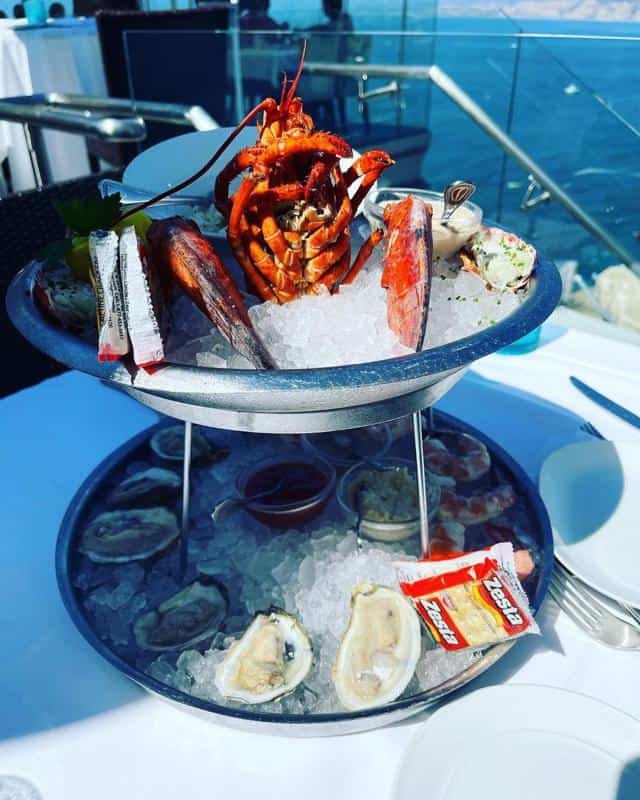 Address: 1270 Prospect Street, La Jolla, CA 92037
Known for: Live jazz music and gorgeous cocktail lounge
Apart from La Jolla, The Eddie V's Prime seafood has a second location in Marina Park North. The steakhouse and seafood restaurant is famous for its uplifting environment, with live music playing all day and night. The happy hour offers are incredible and will keep you lounging in the cocktail lounge for hours.
The must-try item on the menu is the dinner East Coast oysters that come on the ice with a cocktail and mignonette sauces.
Do not forget the signature steak tartare prepared tableside and comes with hand-chopped filet and fresh egg yolk alongside capers and EVOO. Maine lobster bisque makes for a great second-course meal with its cream and Cognac.
15. The Fish Market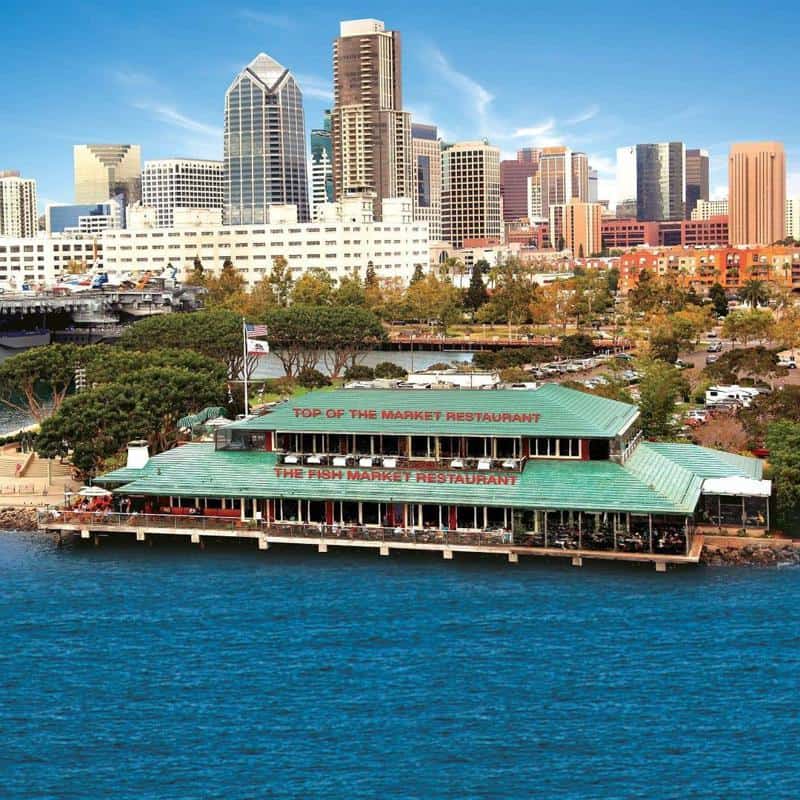 Address: 750 N Harbour Dr, San Diego, CA 92132
Known for: a fish market with fresh daily produce
Fish Market doubles as a restaurant and market for the highest quality and fresh seafood in San Diego. The market is open from 11:30 am to 6 pm, with daily caught selections from Monday to Sunday.
The restaurant is open every day from 11:30 am and offers indoor and waterfront dining where you can feel the breeze and eat from the plentiful menu.
16. Water Grill San Diego
Address: 615 J St, San Diego, CA 92101
Known for: a diverse menu from fresh and sustainable seafood
Water Grill San Diego is just a few steps from the center of Downtown San Diego in Petro Park. The family owned seafood restaurant has been in operation for over 30 years, offering San Diego residents standout plates of seafood like the cioppino; a seafood stew loaded with scallops, mussels, clams, shrimp, and fish all coupled in savory tomato broth.
The menu features a wide range of seafood dishes made with only the freshest ingredients. The raw bar is a standout feature, with a selection of oysters, clams, shrimp, and other shellfish that are expertly prepared and served on ice. The crab and lobster are also popular options, with both steamed and grilled preparations available.
The wine list at Water Grill is extensive, featuring a selection of both domestic and international wines. The restaurant also offers a variety of cocktails and spirits, including an impressive selection of scotch and whiskey.
Read More:
Honorable Mentions
Even though we have arraigned the best of the best, San Diego has much more to offer with its less popular or top-of-the-line restaurants.
We have curated a list of must-visit locations that will offer something that is worth a try to the seafood lovers. Here are other seafood restaurants that are worth a glance:
The marine room
Herringbone
Sally's Fish House & Bar
Crab Hut
Ketch Grill and Taps
Gaslamp Fish House
Brigantine Seafood
Tin Fish
Top of the Market