Searching for a hot drink to warm you up? There is no better place in this world to enjoy a tasty hot drink than the legendary Starbucks. With more than 33, 000 stores all across the world, this American multinational chain of coffeehouses offers an amazing range of hot drinks.
Whether you wish to stick to the classics like Caffè Americano, Chai Tea Latte, and Caramel Macchiato or wish to try unique offerings such as Caramel Apple Spice and Honey Citrus Mint Tea, Starbucks offers a substantial hot drinks menu with something for everyone.
To help you decide what to get, we've put together a list of our favorite hot drinks from Starbucks.
Best Hot Drinks at Starbucks
1. Caramel Macchiato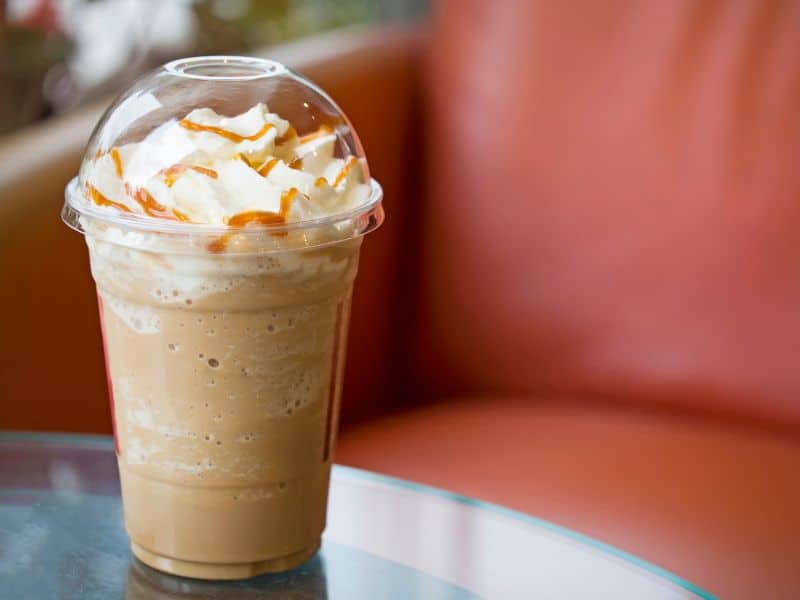 One of the most popular drinks in Starbucks, the Caramel Macchiato is a rich and creamy coffee drink made with steamed milk, caramel syrup, and brewed espresso. This creamy upside-down latte with a delightful caramel flavor has been on the menu at Starbucks for decades.
How do they make Caramel Macchiato at Starbucks? The vanilla-flavored syrup is added to the steamed milk and an espresso shop is poured over the drink. The sweetness of the drink comes from the caramel drizzle.
If you want to make your Caramel Macchiato sweeter, feel free to ask for some whipped cream. You can also add an extra shot of espresso when ordering Caramel Macchiato from Starbucks.
2. Caffè Americano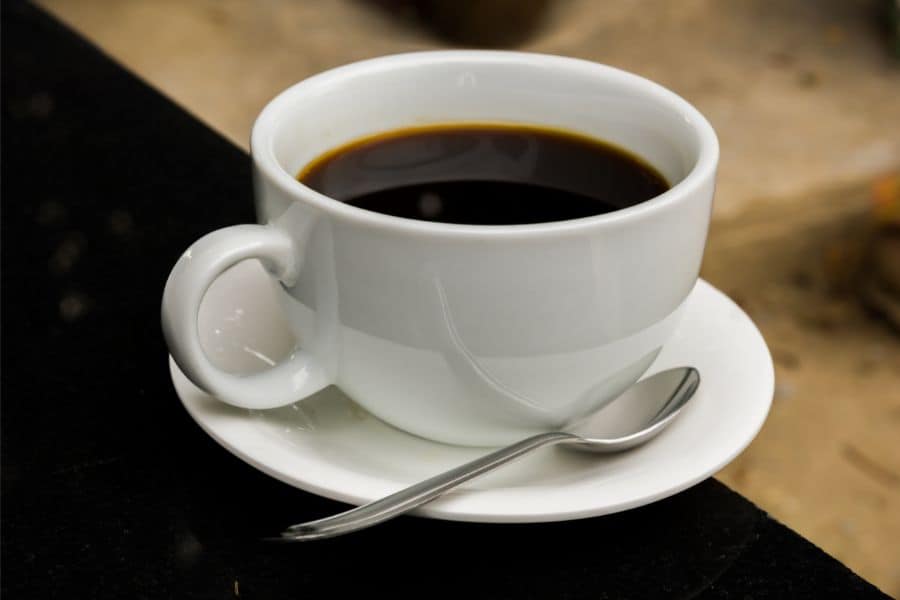 Not a fan of sugary and milky hot drinks? Try Café Americano, one of the signature drinks at Starbucks. This is a simple drink with just an espresso and hot water poured on top.
It is a perfect Starbucks drink for people who wish to avoid calories and sugar. If you are on a keto diet, the Starbucks Americano is a great choice.
Caffè Americano is slightly smoother than drip coffee from Starbucks and contains 150 mg of caffeine. To make it even stronger, add an extra espresso shot. We should also mention that you can always customize your Caffe Americano by adding things like sugar, cream, and milk.
3. White Chocolate Mocha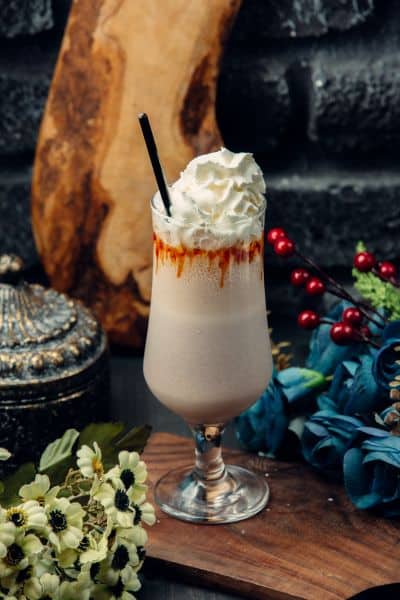 Next on our list of the best hot drinks at Starbucks is the delicious White Chocolate Mocha. It's a drink for those looking for a sugar and caffeine boost. Made by blending steamed milk, chocolate syrup, and espresso, the Starbucks white mocha is quite rich and high in calories. The drink is topped with whipped cream and chocolate curls.
Customers like Starbucks' signature white chocolate syrup and say how this drink is more of a dessert than a coffee. White Chocolate Mocha is, without a doubt, one of the sweetest drinks on the Starbucks menu. It contains 150mg of caffeine, 49 grams of sugar, and about 400 calories.
Customers can order their White Chocolate Mocha with whole milk and enjoy the flavors of espresso paired with chocolate.
4. Pumpkin Spice Latte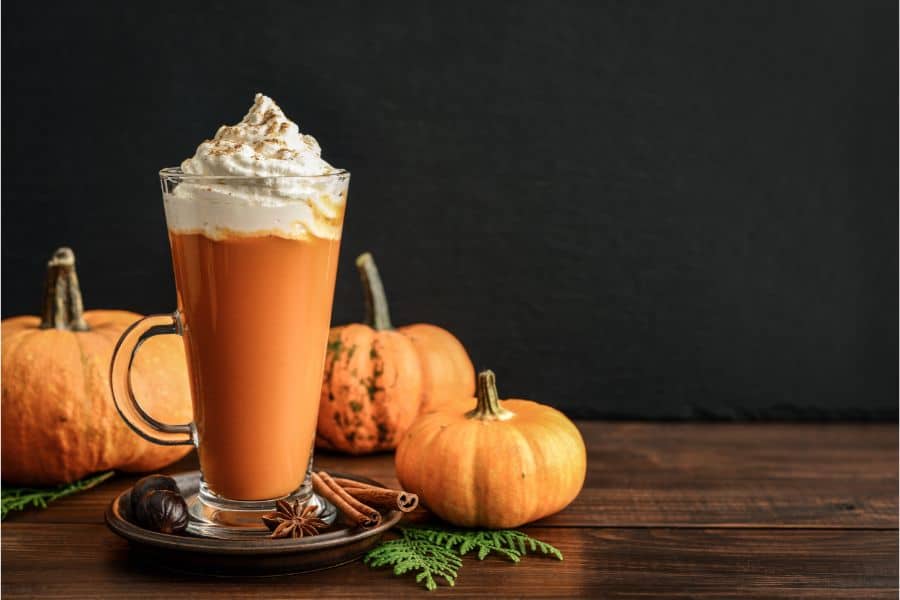 On the Starbucks drinks menu since 2003, PSL (Pumpkin Spice Latte) is a refreshing beverage made from pumpkin syrup, espresso, steamed milk, and spices like nutmeg, clove, and cinnamon. This fall-infused drink is topped with a whipped cream topping and contains 250mg of caffeine.
You can also order Pumpkin Spice Latte with almond milk which pairs perfectly with the pumpkin flavoring. What really makes this drink special is the pumpkin spice which is a combo of clove, nutmeg, cinnamon, and pumpkin.
An interesting fact is that at first, Pumpkin Spice Latte only contained spices and no actual pumpkin. In 2015, Starbucks decided to include real pumpkin puree without artificial flavors.
5. Hot Chocolate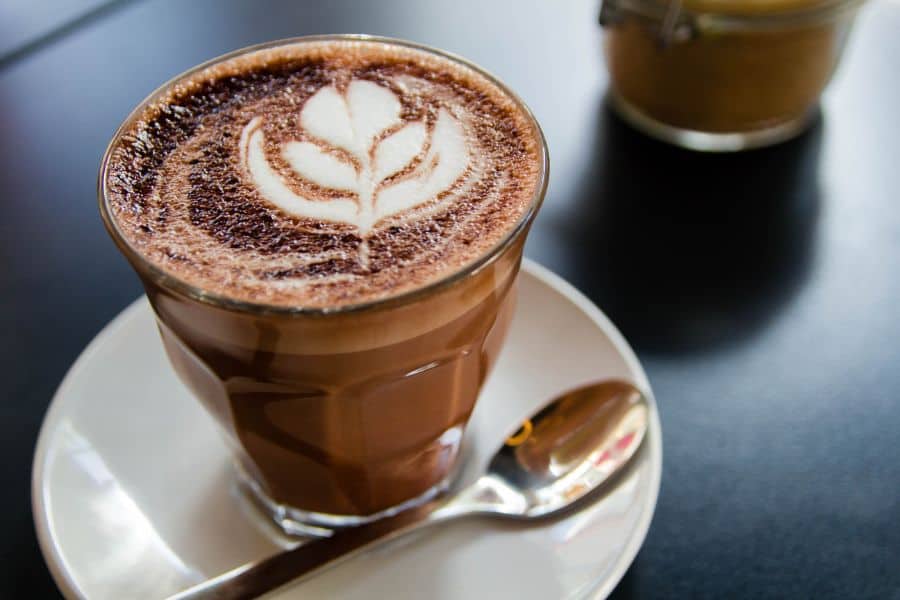 No list of hot drinks at Starbucks would be complete without mentioning the legendary Hot Chocolate. If you are searching for a tasty hot drink to warm you up during the winter season, look no further than this Starbucks signature beverage.
Rich in flavor, Hot Chocolate at Starbucks is made with mocha sauce and steamed milk. Customers can add a drizzle of chocolate and top the drink off with some whipped cream.
This timeless Starbucks classic comes in different sizes ( 8 fl oz to 20 fl oz) and contains 370 calories.
6. Chai Tea Latte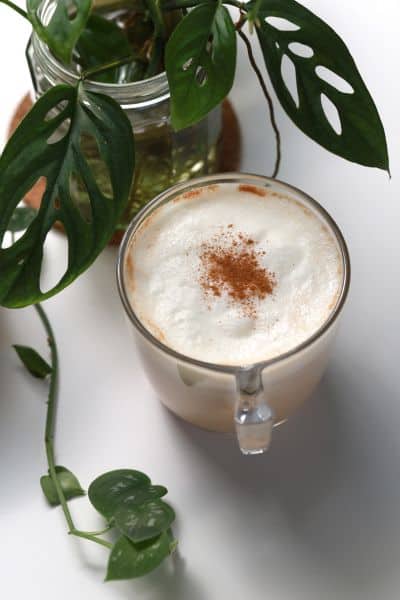 Tea lovers will definitely want to try the legendary Chai Tea Latte when paying a visit to Starbucks. It is one of the very few non-coffee Starbucks drinks with a significant amount of caffeine.
Made with steamed milk of your choice, spices like cloves and cinnamon, and topped with creamy foam, this spiced black tea is known for its unique flavor and texture. Because of the steamed milk and foam, the drink has a similar texture to a latte.
Wish to make this drink taste more like coffee? For an extra kick, feel free to add a shot of espresso to your Chai Tea Latte. The coffee version of this tea is also known as "Dirty Chai". One serving of Chai Tea Latte includes 240 calories, 42 grams of sugar, and 95mg of caffeine.
7. Cinnamon Dolce Latte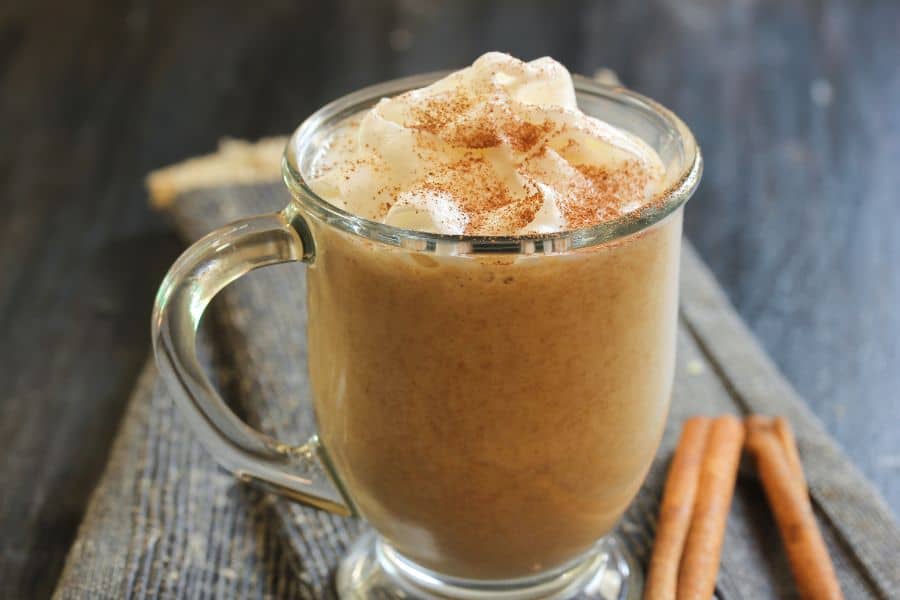 Searching for a super sweet hot drink from Starbucks? Try Cinnamon Dolce Latte, a decadent treat prepared with steamed milk combined with cinnamon dolce syrup and freshly brewed shots of espresso. Cinnamon Dolce Latte is topped with whipped cream and cinnamon dolce sprinkles.
You will notice the heavy milky texture of the latte while sipping on Cinnamon Dolce Latte. This refreshing beverage from Starbucks comes in short, tall, grande, and venti sizes. For instance, the grand size contains 340 calories and 150 mg of caffeine.
Customers with a sweet tooth will definitely fall in love with this hot Starbucks drink known for its unique cinnamon-sugar blend.
8. Cappuccino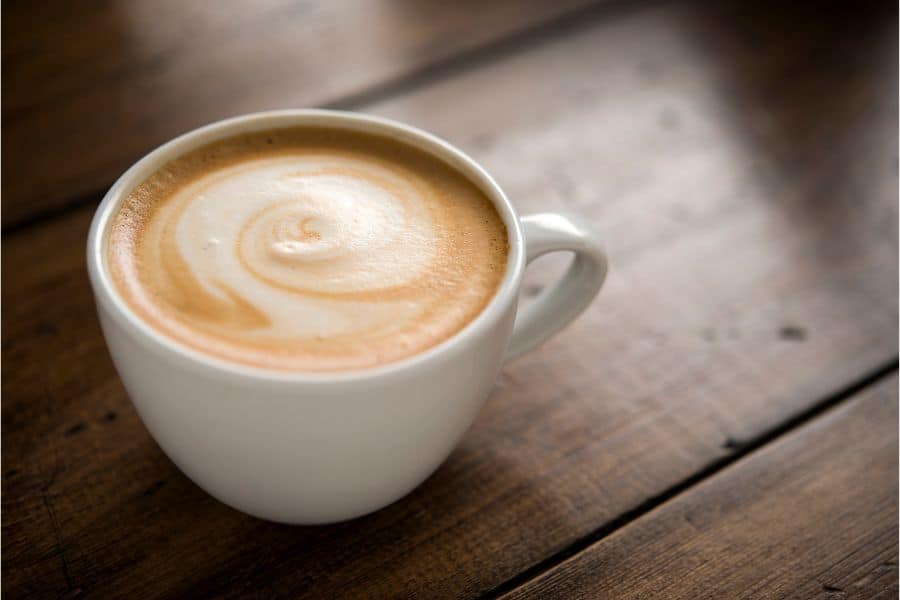 A beloved Starbucks classic, Cappuccino is one of the most popular hot coffee beverages in the world. Available in every Starbucks shop year-round, this well-known hot coffee drink is made with espresso, steamed milk, and a layer of milk foam.
At Starbucks, you can order your Cappuccino dry or wet. Dry Cappuccino means more foam and less milk, while the wet version gives you less foam and more milk. This popular Starbucks drink has a slightly bitter taste, but you can choose to add sugar to sweeten it.
For a more flavorful taste, you can always customize your Cappuccino by adding things like caramel or whipped cream.
9. Flat White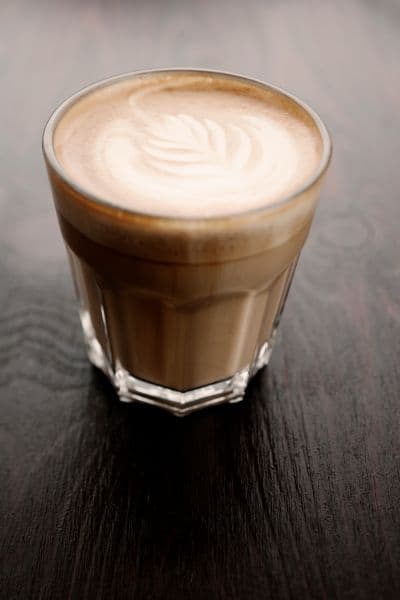 Flat White at Starbucks is a smooth-tasting hot coffee drink served without any added sugars or sweeteners. This creamy and foamy treat is made with steamed whole milk and espresso.
Many places around the world use full shots of espresso for a Flat White, but Starbucks actually uses ristretto shots for their version of Flat White. For those who don't know, ristretto is stronger than espresso and has a less bitter flavor.
Although this drink has no sugar, you will feel a natural sweetness because Flat White is made with whole milk instead of 2%.
10. Blonde Vanilla Latte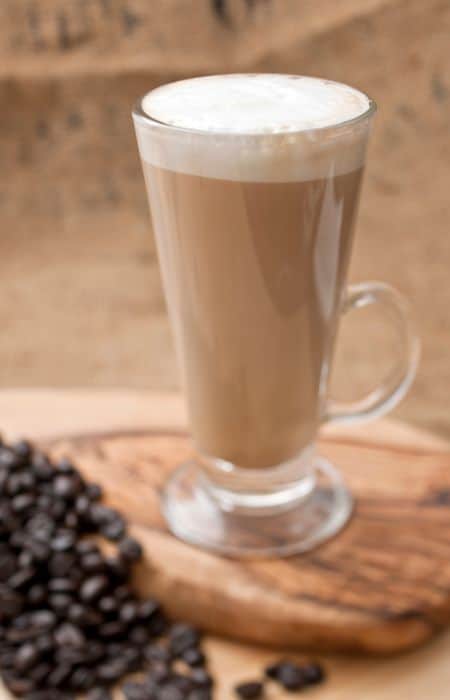 A sweet and simple hot coffee drink, Blonde Vanilla Latte is one of those classic and beloved Starbucks drinks. If you are a fan of a classic latte, make sure to try this light roast blonde espresso combined with delicious vanilla syrup and creamy milk foam.
If you have a sweet tooth, you can add a layer of whipped cream on top too. There is also the option of replacing the vanilla syrup with the brown sugar syrup when ordering a Blonde Vanilla Latte. In a standard-size blonde espresso vanilla latte, you will find 190 calories, 18 grams of sugar, and 170mg of caffeine.
We should also mention the Blonde Espresso. On the Starbucks hot drinks menu from 2017, Blonde Espresso is one of the newest additions to the company's extensive menu of coffee and tea drinks.
11. Honey Citrus Mint Tea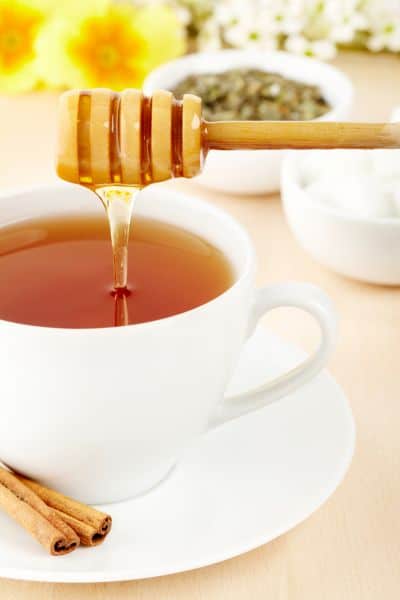 Tea lovers will want to try the vitamin-packed Honey Citrus Mint Tea at Starbucks. Also known as the "Medicine Ball, this hot beverage definitely has a unique flavor and is not for everyone.
Honey Citrus Mint Tea used to be a secret menu item, but because it became popular, Starbucks decided to put this hot tea beverage on its regular menu.
So, what is Honey Citrus Mint Tea? It is made with two tea bags including a citrus mint green tea and peach herbal tea. The drink is infused with orange, honey blend sweetener, and steamed lemonade. Honey Citrus Mint Tea has only 15mg of caffeine and delivers a minty and slightly sweet taste.
12. Peppermint Hot Chocolate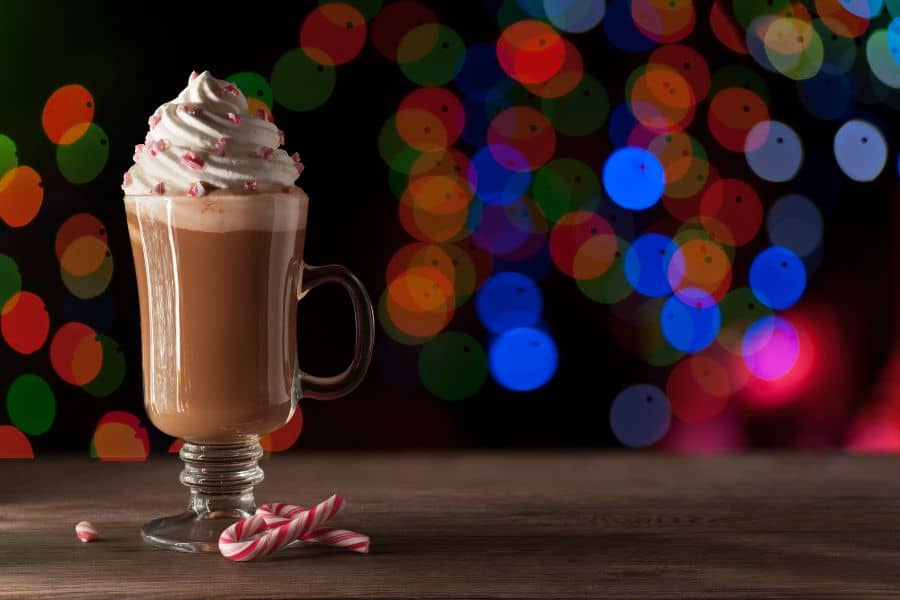 A delicious alternative to a regular Starbucks hot chocolate, Peppermint Hot Chocolate is one of the must-try hot drinks for all you folks looking for that cocoa fix. If you like chocolate and are a fan of a minty flavor, you'll probably go crazy over this drink.
We have to mention that Peppermint Hot Chocolate at Starbucks is a limited-edition drink that is not available at all times. This Christmasy drink is usually offered around November and December.
Made by blending peppermint syrup and mocha sauce with steamed milk, the Starbucks peppermint hot chocolate is topped with chocolate curls and whipped cream. It contains around 440 calories but has no caffeine at all. If you wish to cut out the dairy, you can choose a different type of milk for your Peppermint Hot Chocolate.
13. Caramel Apple Spice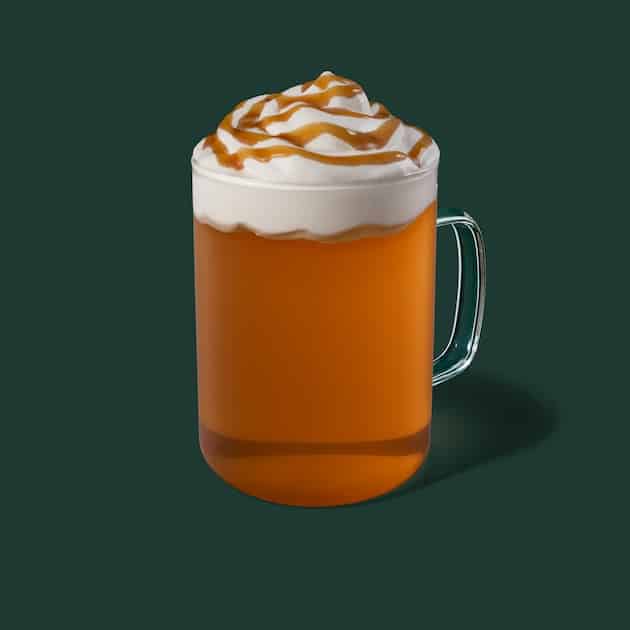 A classic Starbucks drink available year-round, Caramel Apple Spice is refreshing and sweet. It has more than 70 grams of sugar, making it one of the sweetest hot drinks at Starbucks. However, Caramel Apple Spice has no caffeine at all, which means that your kids can even have it.
This popular Starbucks drink is made from steamed apple juice and sweetened with cinnamon syrup. Caramel Apple Spice is then topped with whipped cream and a caramel sauce drizzle. It actually resembles an apple cider. The only difference is that this Starbucks drink is served hot.
This refreshing beverage at Starbucks is available in kids, short, tall, grande, and venti sizes. A grande Caramel Apple Spice has about 380 calories. Want to make your Caramel Apple Spice even more interesting? Customize the drink by adding freeze-dried pineapple or dragonfruit.
14. Pistachio Latte
One of the newest items on the hot drinks menu at Starbucks, Pistachio Latte is definitely something that will satisfy your taste buds. It is a blend of coffee, vanilla syrup, steamed milk, and pistachio syrup.
Customers are blown away by the sweet richness of pistachio nuts and say how this drink practically melts in your mouth. Want to try this drink without caffeine? Order the tasty Pistachio Steamer.
The pistachio nuts flavor has become quite popular at Starbucks. Therefore, they decided to add a few cold options on the menu like the Pistachio Cream Cold Brew, the Pistachio Iced Latte, and the Pistachio Frappuccino.
15. London Fog Tea Latte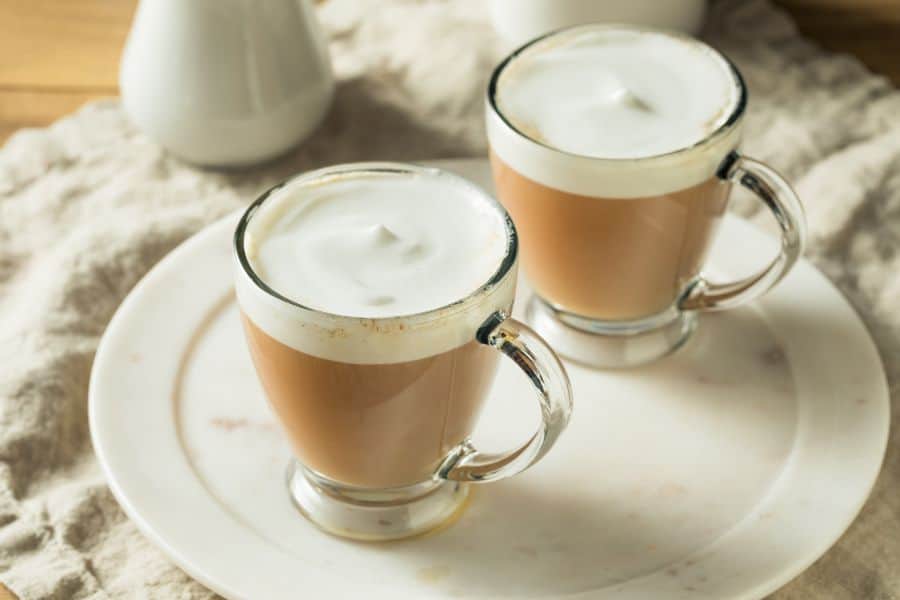 Searching for a unique off-the-radar drink at Starbucks? Try the London Fog Tea Latte, a black tea infused with lavender flowers and bergamot essence.
For sweetness, there is vanilla syrup. As for the creamy texture, Starbucks adds steamed milk to this original Starbucks drink.
London Fog Tea Latte has a moderate amount of caffeine and offers floral and citrusy flavors. A grand serving of this drink has 40mg of caffeine and 180 calories in total.
16. Espresso Con Panna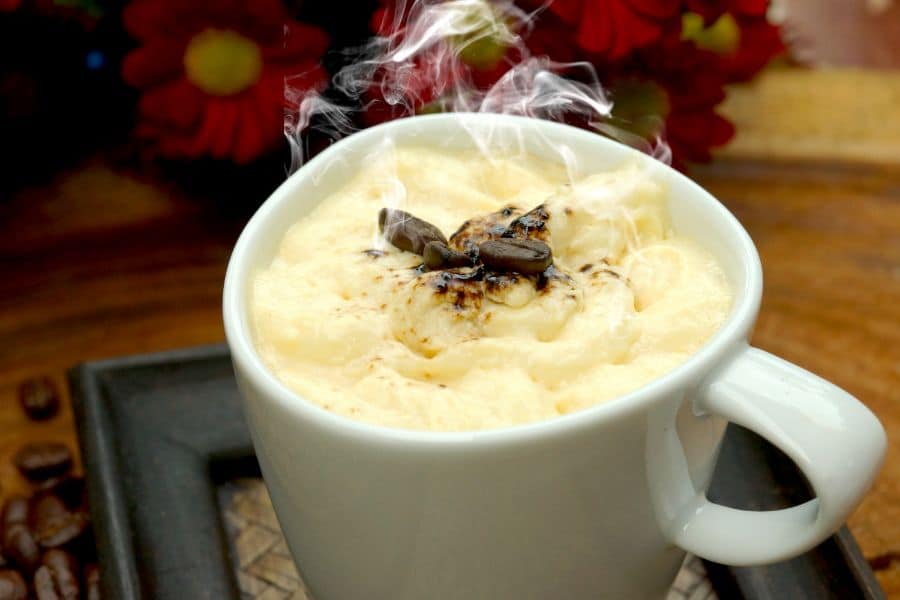 Wish to enjoy a cup of espresso but with a few additions? Last on our list of the best hot drinks at Starbucks is a delicious beverage made up of two shots of espresso, lightly sweetened whipped cream, and a dusting of cocoa powder. This delicious Starbucks beverage is also known as Espresso Con Panna.
A drink with a creamy texture and some bitter and bold coffee notes, Espresso Con Panna is perfect for customers who are not fans of super sugary drinks.
You can also add things like hazelnut and caramel to this beloved classic espresso-based beverage at Starbucks.
Also Read:
Final Thoughts
What we like about Starbucks is the fact that there is no shortage of hot drinks available here. Whether you are looking for a classic coffee drink like a Cappuccino or an Espresso, wish to try unique teas, or are a fan of creamy drinks and lattes, there is so much to choose from here at Starbucks. Another great feature is that most of the hot drinks at Starbucks can be customized.