Asheville is the largest city in Western North Carolina. Located in the Blue Ridge Mountains, the city perfectly combines nature and modern urban experiences. The Art Deco City Hall, Biltmore Estate, and the Basilica of St. Lawrence are just a few sites that attract many visitors year-round.
Yet, another exciting thing about Asheville is its incredible food scene. The city is a heaven for those who appreciate good food and craft drinks. Here you'll find everything – from pubs and street food to luxurious high-end restaurants and bars.
And if you're a sushi enthusiast, better come hungry, as Asheville has a lot to offer. There are many downtown spots and some places scattered around the city. To make it easier for you, here's our list of 11 locations with the best sushi in Asheville.
Best Sushi in Asheville, NC
The Madness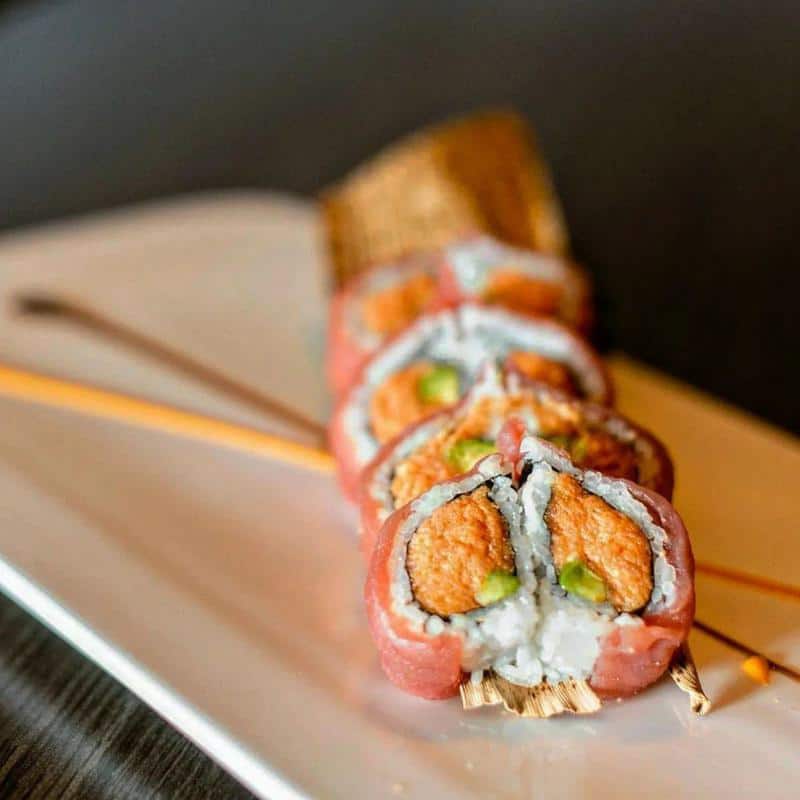 Location: 1020 Merrimon Ave Suite 104, Asheville, NC 28804
Are you looking for a fun and delicious mix of American classics and delicious sushi? Then The Madness is the right place.
The menu offers classic and creative burgers, bento boxes, and sushi – classic and unique specialty rolls. This trendy and a bit hipster place is a perfect option for a lunch or dinner in town.
The restaurant is a bit pricey compared to some of the places on our list. Yet, the food is top-notch and worth every penny spent. Come here for a laid-back atmosphere and a delicious food experience.
One of the spot's signatures is a bento box that offers a little bit of everything. You'll get a burger slider, a 4-piece roll set, some veggies, and a salad.
The Madness has a full bar with local craft beers on tap and delicious mixed drinks with unique options like sake margarita.
Yum Sushi Burrito & Poke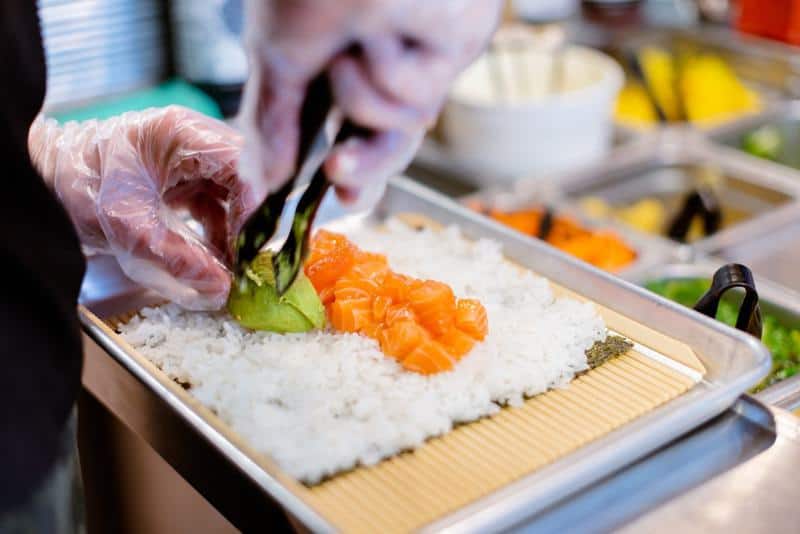 Location: 45 Asheland Ave, Asheville, NC 28801
Yum Sushi Burrito & Poke is the definition of a healthy and affordable meal. The restaurant offers poke-based Hawaiian-style dishes, and they also make the biggest sushi roll in town. Their main goal is to help you eat healthy without waiting for ages and breaking the bank.
This restaurant is a fresh addition to Asheville's food scene. Yet, they already have many satisfied customers and frequent visitors.
This restaurant's specialty is creating a poke bowl from scratch. Think of poke as all sushi ingredients served in a bowl. You can choose rice or salad as your base and pick the freshest proteins and veggies. There are many healthy and delicious options to add to your bowl, all with Japanese influence.
Since our article is about sushi, this spot makes a sushi burrito – all delicious items wrapped in nori. There's a wide variety on offer, and everyone will find their match. It's a unique offer you won't find anywhere else in Asheville.
Miyako House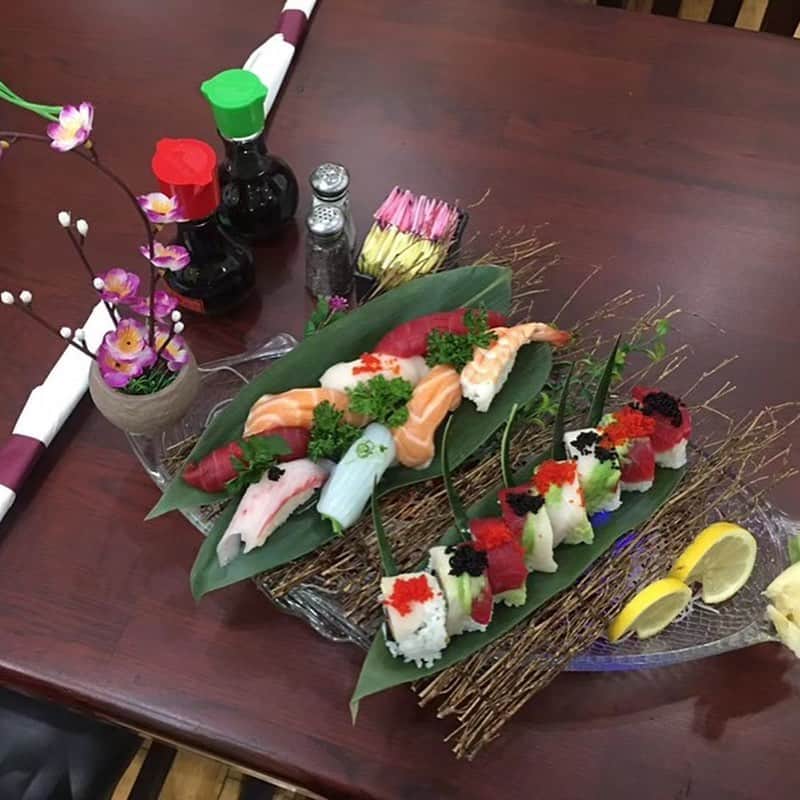 Location: 122 College St, Asheville, NC 28801
If you are searching for the freshest and most delicious sushi in town, Miyako House is the right place. This eatery has just recently opened up and has already won the hearts of locals and visitors. People already say it's the best in Western North Carolina!
You'll find Miyako House in Downtown Asheville within a few minutes from Pack Square. They serve the freshest seafood, meat, and veggies for lunch and dinner.
The vast menu offers plenty of tasty options, such as hibachi filet mignon, noodles, Thai curries, and teriyaki plates. Yet, sushi is the highlight of the restaurant's menu. The sushi chef, Raymond Li, has 15 years of experience, and he'll make your sushi order unforgettable.
As for drinks, you can opt for classics or try some of their specialties, such as honey ginger tea.
All food comes in great sizes for reasonable prices. The restaurant's staff is always lovely and prompt.
Wasabi Japanese Restaurant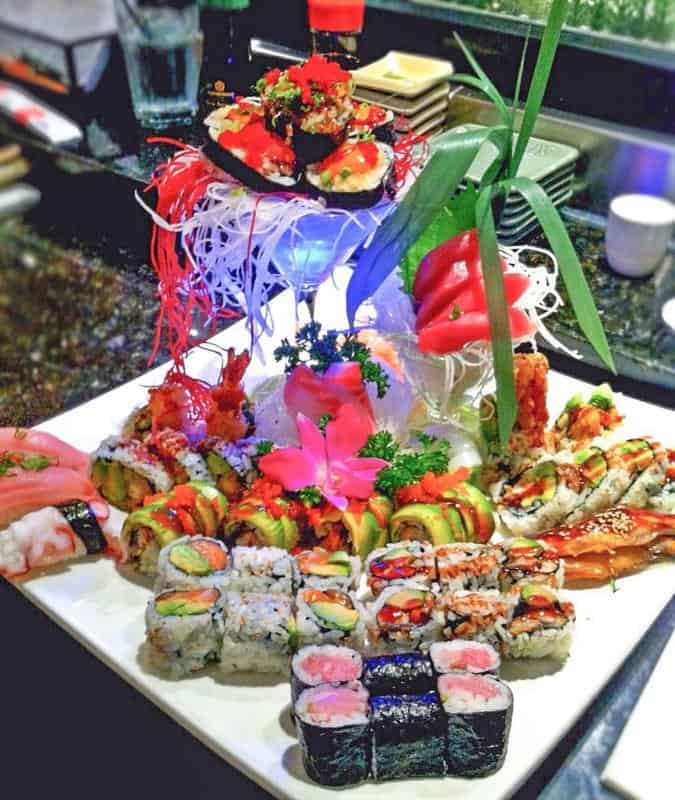 Location: 19 Broadway St, Asheville, NC 28801
Hidden in a bustling area of Downtown Asheville, Wasabi is an award-winning restaurant. Everyone loves it from the first bite. Wasabi has been serving authentic Japanese meals for over a decade.
This place is all about choosing local produce and offering the freshest seafood. They make daily fish orders and change their sushi menus to serve new and original dishes.
To make your dinner even better, try one of Wasabi's drinks. Their menu has a wide selection of sake, wine, and spirits.
Having sushi at Wasabi is an ultimate delight and an exciting experience you can't miss. Sitting down at the sushi bar, you'll watch skillful chefs cook your delicious order on the spot.
Apart from sushi, Wasabi serves lots of other excellent options. Try their specialty dumplings, miso soup, teriyaki dishes, shrimp, or fried rice. Don't forget to leave space for dessert and enjoy a unique fried cheesecake.
Udon Sushi & Noodle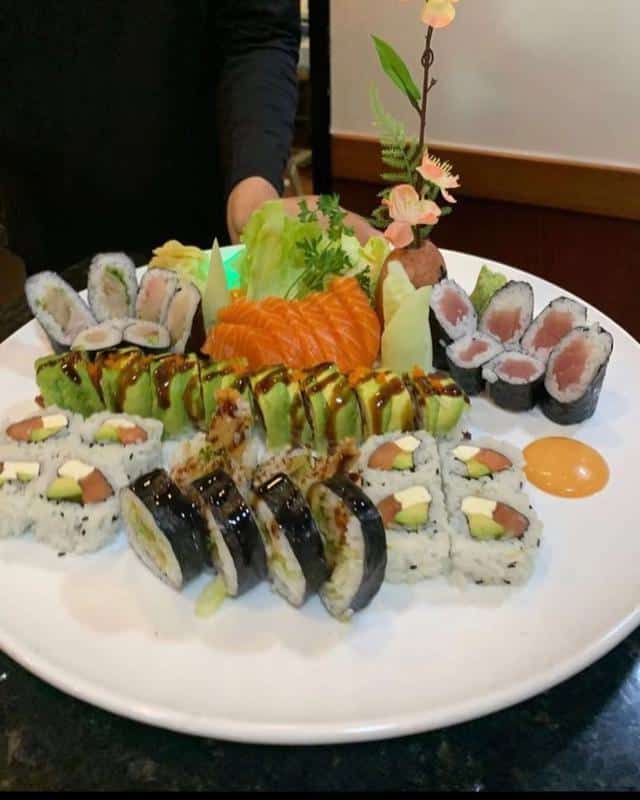 Location: 129 Bleachery Blvd, Asheville, NC 28805
Udon Sushi & Noodle is a new spot recently opened in Asheville. The place hides in the strip mall, but don't let it stop you from trying one of the best sushi in town.
The restaurant has a pleasant location with both regular and bar seating. Many people come here not only for the delicious food but also for impeccable service. The restaurant's staff is very knowledgeable and passionate about what they do.
The other distinction about this spot is that they serve their sushi as works of art. You'll be in awe of the sauce paintings and flowers on your plate. Don't forget to take a picture!
Together with mouthwatering sushi (vegan, too), you'll find many tasty dishes on the menu. Try one of their soups – Thai coconut, miso – or noodles and dumplings.
Holy Water Seltzer Brew Pub & Sushi
Location: 20 Gala Dr #101, Asheville, NC 28803
This restaurant is a new concept by a well-known Thirsty Monk Brewery. With an impressive reputation, Holy Water Seltzer Brew Pub & Sushi will not disappoint. In addition, they offer premium beers, award-winning cocktails, and splendid sushi.
The signature distinction of this sushi place is that they offer keto-friendly dishes. One of their signature low-carb sushis is the cauliflower-rice rolls with parmesan, but there are many other options. The spot also provides traditional rice-based sushi to please any hungry customer. Two expert sushi chefs are responsible for the treats on the menu.
To enhance your food experience, try their award-winning mulled wine-like Holy Water. If you're watching your figure, enjoy low-calorie drinks like Monk Lite beer and diet seltzers.
Asheville Sushi & Hibachi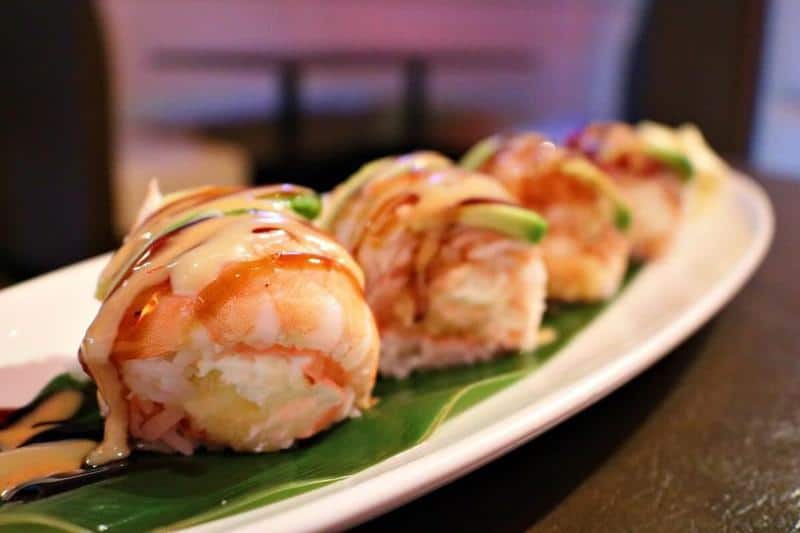 Location: 1636 Hendersonville Rd #175, Asheville, NC 28803
If you'd like to visit a place that focuses on local and organic food, Asheville Sushi & Hibachi is here for you. With the freshest ingredients, they offer Japanese, Chinese, and Thai cuisine. The place has a cozy atmosphere and will make your visit a pleasure.
Here you can treat yourself to a vast variety of sushi, all made with wild-caught fish. You can also try other tasty dishes like chicken teriyaki, shrimp katsu, or sweet potato tempura rolls. There are a few specialties for spicy food lovers.
If you are not sure of what to choose, give a bento box a try. It's a combination of a dumpling, a maki roll, and an entree. All of these are of your choice. Grab a hot sake to go with your meal and have a fantastic experience.
Zen Sushi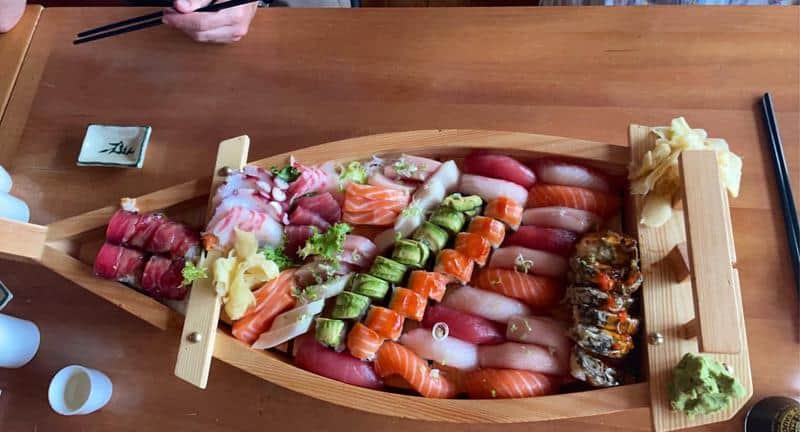 Location: 640 Merrimon Ave, Asheville, NC 28804
Zen Sushi is a place cherished by many locals. That's because it has been on the market for a while and serves the most delicious sushi and sashimi.
Rated as the best Japanese restaurant in the northern part of Asheville, it has a righteous place on our list. In the spring, summer, and fall, you can enjoy your meal in the fresh air on the restaurant's outdoor patio.
Zen Sushi is especially great for lunch, as they offer lunch specials, which are under 10$. For this affordable price, you can get a bowl of soup, a salad, and a few sushi rolls.
With tasty sushi (try the sushi boat!), get a taste of their other signatures, such as crispy fried calamari or a Tempura banana split.
Green Tea Sushi Japanese Restaurant
Location: 2 Regent Park Blvd, Asheville, NC 28806
Green Tea is a well-known and popular Japanese restaurant in Asheville. A talented Chef Tony Liu and his team run the restaurant and serve outstanding sushi.
Locals and tourists love this place for its intimate atmosphere and friendly service. There's also outdoor seating for enjoying your plate under a pleasant breeze.
For its vibe and, most importantly, high-quality food, Green Tea is a solid winner of many Best in Western North Carolina awards. Try their spicy tuna or fried oyster rolls to see for yourself.
They also have a wide selection of authentic Japanese teas and original desserts, such as sweet tempura cheesecake.
Red Ginger Dimsum & Tapas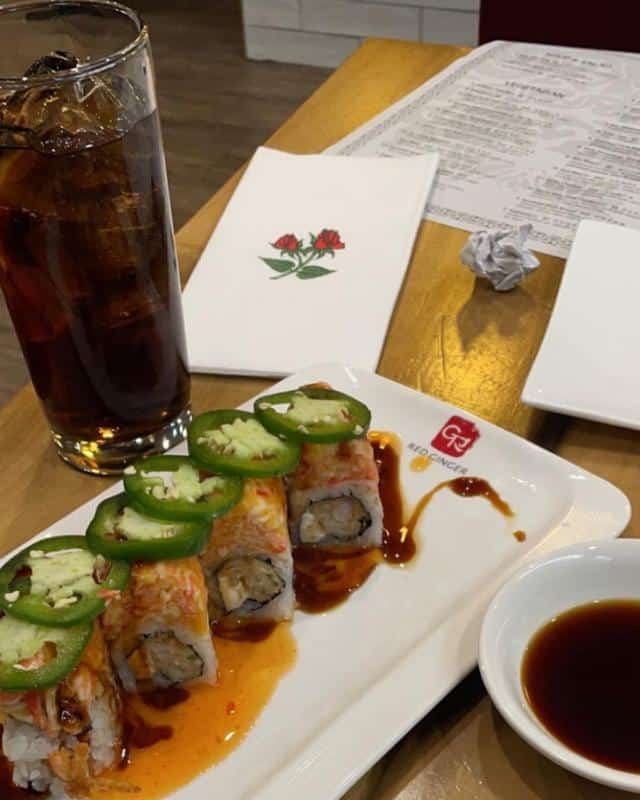 Location: 82 Patton Ave Suite 100, Asheville, NC 28801
Located in Downtown Asheville, Red Ginger Dimsum & Tapas is a solid place, loved by locals and out-of-towners alike. The restaurant offers authentic Chinese cuisine. It received "The Best Chinese Restaurant" in Asheville award for six years.
All menu items are traditional and healthy. There is an excellent choice of food for vegetarians and vegans. The restaurant's primary goal is to serve dishes made with locally-grown ingredients.
Here you'll see a beautiful open kitchen where you can watch talented chefs prepare your order. As for sushi, there are many options to choose from, including specialties like mango sushi.
If you'd like to add a sophisticated flair to your dinner, order some foon zao or black truffle dumplings. Enjoy both small and large plates on offer.
Mr. Sushi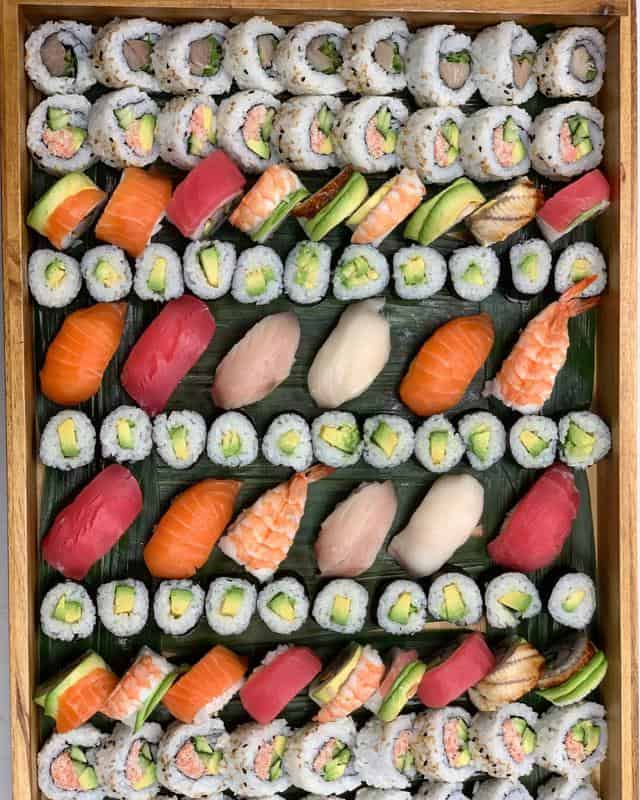 Location: 354 Merrimon Ave, Asheville, NC 28801
The restaurant's unusual location might trick you into skipping this option. Trust us, don't miss out on Mr. Sushi as they offer the highest quality and most delicious sushi in Asheville. The spot looks a bit small from the outside, but it's bustling with people inside.
The restaurant's signature dish is sushi of all kinds and flavors. Here you can sit at a sushi bar and enjoy a live show of sushi creation. If you're lucky, a guest chef might be visiting, so you can order some limited-offer entrees.
Mr. Sushi has won many hearts with its top-notch sushi and Japanese Hibachi Grill dishes. All prices are affordable, and the service is impressive.
Heiwa Shokudo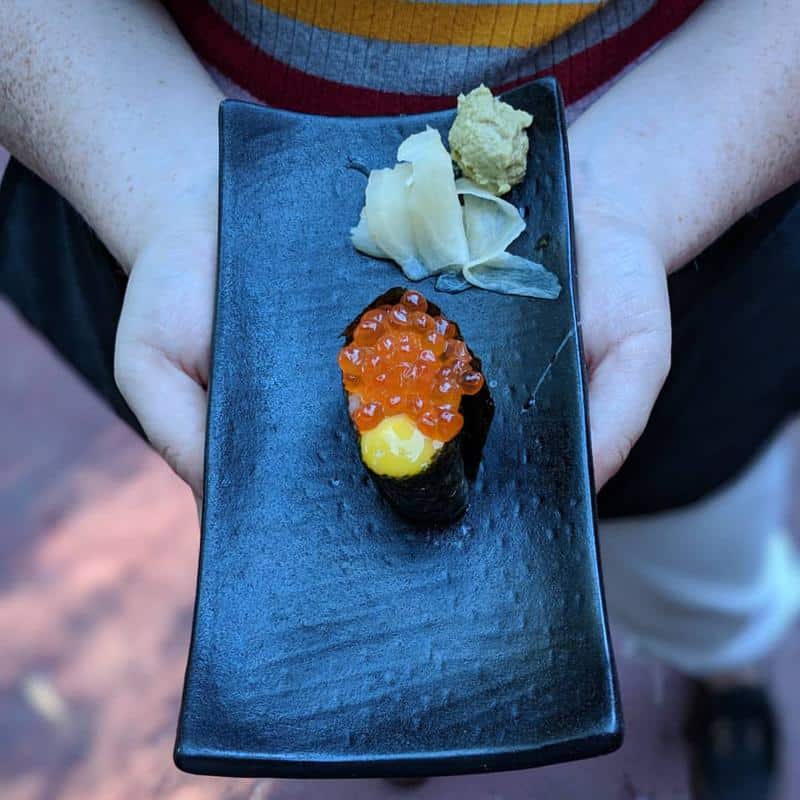 Location: 87 N Lexington Ave, Asheville, NC 28801
Heiwa Shokudo is an authentic Japanese bistro with a cozy vibe and an extensive menu. You can come here as a group or solo and enjoy some divine organic food.
Made from non-GMO ingredients, the sushi on the menu will pleasantly surprise you. For a unique experience, order their sashimi lunch boxes or a Salmon Skin handroll. Other than the beautifully prepared sushi, there are other treats like salmon katsu or noodle bowls.
Heiwa Shokudo is where you can enjoy a casual dinner or a quick lunch. There's an outdoor patio where you can taste premium sakes, wines, and beers to go with your splendid meals.
Read More: Best Sushi Restaurants in Charlotte, NC
Conclusion
As you can see, Asheville is the right place if you are looking for fresh and delicious sushi. Here you'll find Japanese, Chinese, Thai, and even Hawaiian cuisines. Asheville will surely satisfy your every craving.
The city's food scene offers something for everyone. You can visit some chic and sophisticated restaurants or choose casual eateries and cozy cafes. And if you feel like enjoying a takeout in the comfort of your home, Asheville has many locations.
The chefs and restaurant owners support local farmers and offer only the freshest and most exquisite meals. So do not hesitate and give Asheville's sushi a try!