San Diego is a beautiful and lively coastal city that thrives on the hustle and bustle of everyday life. They're a metropolis of attractions, from gorgeous beaches, family fun, and their immaculate zoos and Seaworld. They certainly have a lot to be proud of.
With locals having an appetite for nothing but excellence, they have a keen eye for good and quality food. Sushi has never been an exception to the rule. Being so close to the ocean, the freshest and best are well provided for. It's a growing industry worldwide, but San Diego has had it on its plates for a while.
With time and practice, many of their sushi restaurants have thrived. So it's no wonder people can't get enough of the stuff. Well. Almost. You might find yourself struggling through another mouthful with all-you-can-eat sushi restaurants like these.
That's okay. Let's see what's on the menu.
Our Top Picks
Best venue: Little Sakana Japanese Sushi and Grill
Most family-orientated: 100's Seafood Grill Buffet
Most innovative restaurant: Mikami Bar and Revolving Sushi
Best All You Can Eat Sushi in San Diego
Little Sakana Japanese Sushi Bar & Grill
Location: 8270-E Mira Mesa Blvd, San Diego, CA 92126
Hours: 12:00pm to 9:30pm, 12:00pm to 10:30pm (Friday and Saturday)
Price: $$$
While it may have "Little" in the name, this place has a big personality! They have reached a near-perfect trifecta of great food, vibrant space, and exceptional service to put them in contention with the best sushi spots in San Diego.
With specialty rolls named Heart Attack, you know you're in for a good time. The only downside is the limit of 2 hours to demolish your way through an all-you-can-eat menu. The upside is for those with small stomachs, you can also pick items ala carte. There's plenty on their menus, everything from deep-fried sushi to sashimi included.
The restaurant itself is a vibrant and swanky place with an open ceiling, giving it a bit of a modern industrial appeal. Pendants hang from the ceiling, and it offers enough space and comfort to make your dining experience as intimate as you want it to be.
100's Seafood Grill Buffet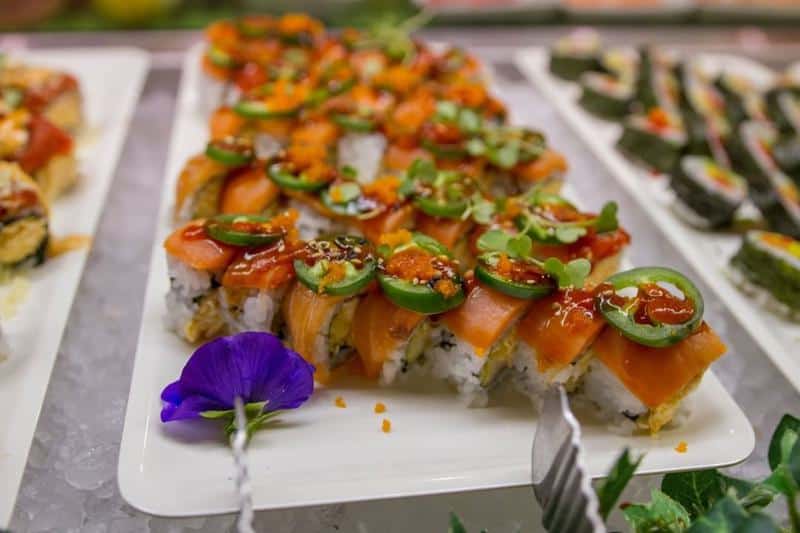 Location: 2828 Camino del Rio S, San Diego, CA 92108
Hours: Closed Tuesdays, 4:00pm to 9:00pm, 12:00pm to 9:00pm (Saturday and Sunday)
Price: $$$
100's Seafood Grill Buffet is a thoroughfare of activity. It's a whirlwind from start to finish Asian cuisine! It provides an array of options in a buffet-style setting where your eyes are sure to be bigger than your stomach.
Serving everything from Hibachi specialty to sushi, their menu is a plethora of meal choices that won't disappoint. The buffet costs $39.99 per person, falling on the pricier side of buffet eateries, but it's well worth the cost with food like this.
You'll be greeted by trays of freshly prepared sushi made daily by expert sushi chefs. Unlimited sushi lunch for only $16.99 Mon-Fri from 11am-3pm. Nothing stops there. They offer other meal selections in true buffet style, too. From warm dishes that melt in your mouth to desserts, you can never be dissatisfied!
The restaurant itself is spacious, with dining areas flanking the buffet bar and plenty of room to move about and browse. They've kept the decor simple but effectively created a cozy and family-friendly atmosphere.
Also Read: Best Seafood Restaurants in Los Angeles
Mikami Bar and Revolving Sushi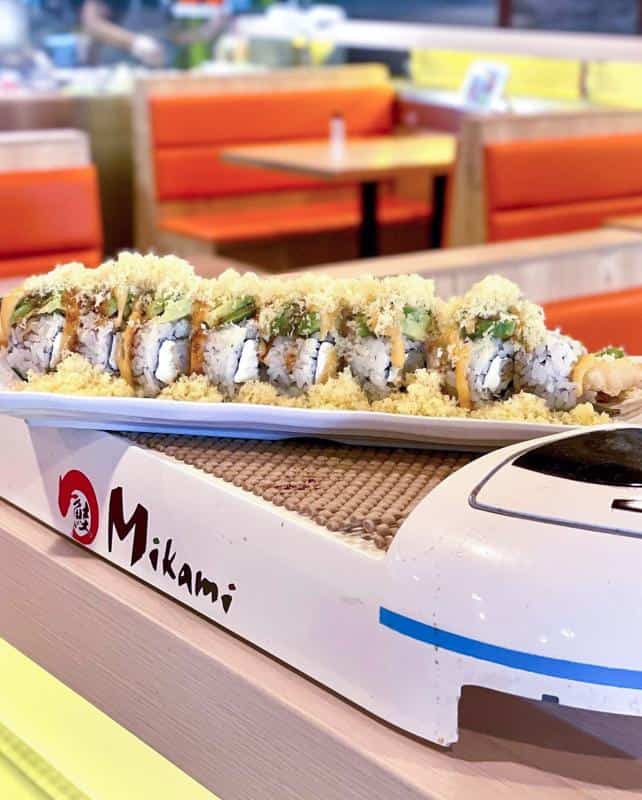 Location: 7319 Clairemont Mesa Blvd, San Diego, CA 92111
Hours: 11:00am to 9:00pm
Price: $
What better combination is there than great sushi and a selection of crafted drinks? Mikami Bar and Revolving Sushi definitely cornered the market here, celebrating the best of both. It's a fun-filled event every time.
You are charged by plate color, taking a new twist to all you can eat. Each plate has a different color depending on the type of sushi it is, with the most expensive being $3. The difference here is everything is made to order. You get what you pay for.
With generous portions and delicious dishes, you'll definitely still be well within the means of $30. You can choose three ordering methods: you can collect it from the constant supply on the revolving sushi bar, order through staff, or self-service at your table.
Their innovative approach has led them to include some very unique little traits including an iPad with an automated ordering system so you can create as quiet of a dining experience as you want. If you're socially awkward and don't want to deal with people, it's quite easy here.
Wasabi Sushi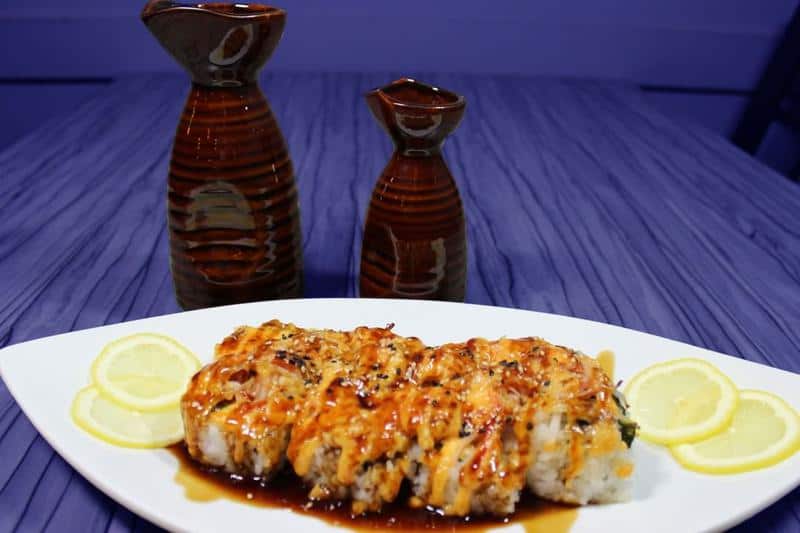 Location: 2662 Garnet Ave, San Diego, CA 92109
Hours: 3:00pm to 9:00pm
Price: $$
Wasabi Sushi is a quaint little restaurant that has been described by many avid visitors as heavenly. From chefs to waiters, their staff is passionate about Japanese cuisine, adding to the comfort of good food.
Their menu leaves little to the imagination, with various meals from noodles to soups, but the sushi is the show stopper here. With variations of styles and satisfyingly refreshing ingredients, you can find some of the best sushi in San Diego through these doors. It's definitely within budget, with an all-you-can-eat option putting you out for $26.95.
The venue is small, simple, and stylish, with an interior taking a page from traditional Minka's. You'll be feeling right at home from door to table. The staff are friendly and committed, meaning it's an easy dining experience you won't soon forget.
PB Sushi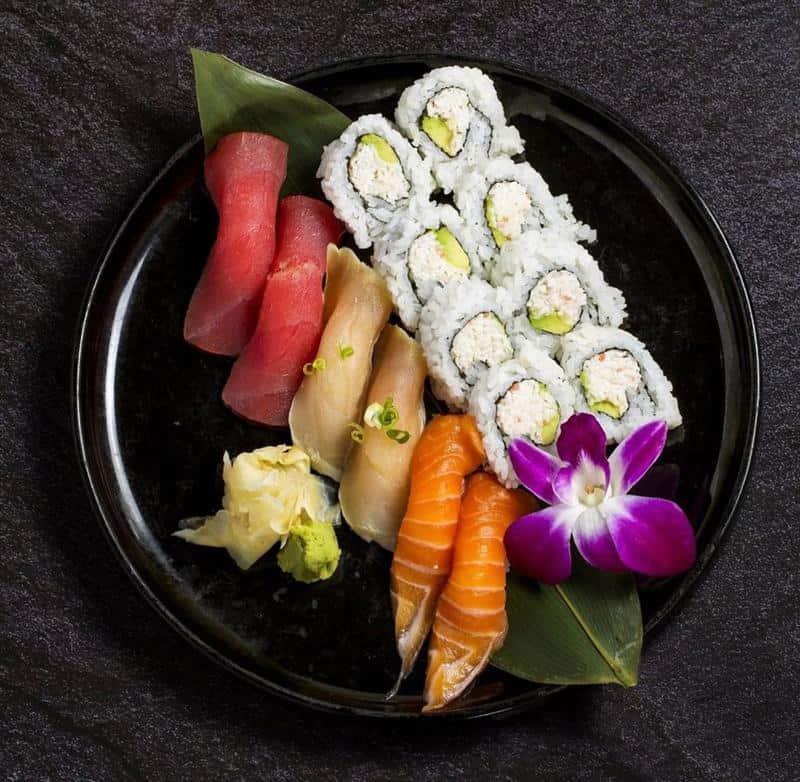 Location: 1203 Garnet Ave, San Diego, CA 92109
Hours: 12:00pm to 9:30p, 12:00pm to 10:30pm (Thursday, Friday and Saturday)
Price: $$
PB Sushi is a start-up sushi empire with two branches in San Diego and no doubt future plans to expand further. When you're this much of a success, why not take it further. With their casual approach to good food and atmosphere, you don't feel pressured into anything but enjoy great food and excellent company.
Their extensive and delicious range of sushi rolls has the best fusion creativity to offer. They compiled a variety of specialty rolls using fresh seafood from salmon to eel using fresh ingredients. Combining multiple picks of the ocean to bring delectable plates. They're incredibly affordable, and for the quality of food and service, it's an all-around winner.
They boast ample seating in the Japanese meets American diner, with a large sushi bar for you to sit and receive the pleasure of watching master chefs in their craft. It's a fun, colorful, and happy place to be. A great environment to meet with good company and enjoy some excellent food on a dime.
Sunrise Buffet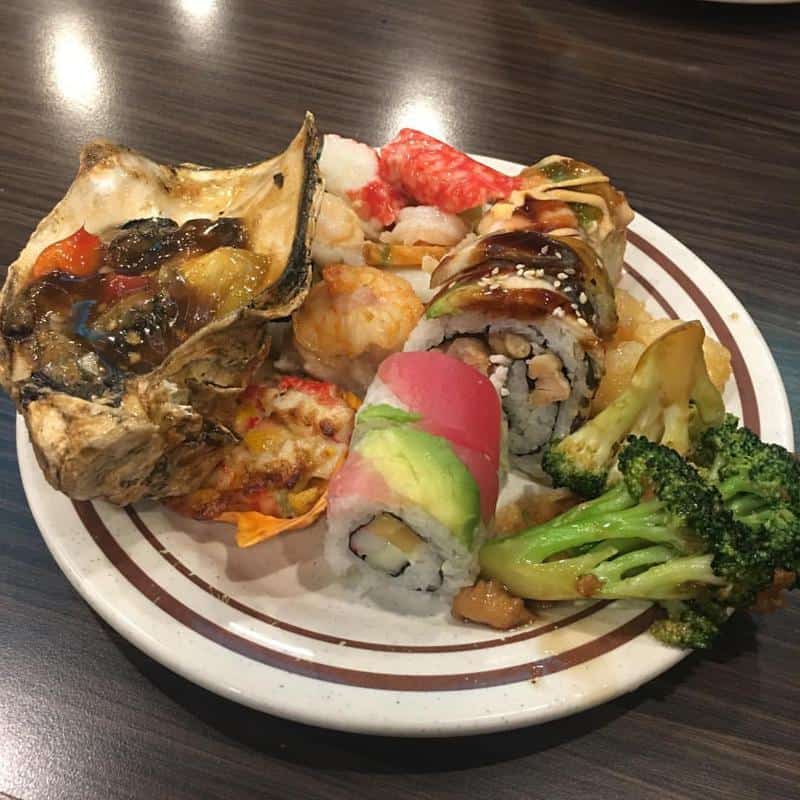 Location: 3860 Convoy St, San Diego, CA 92111
Hours: 11:00am to 9:00pm
Price: $$
Sunrise Buffet is a dine-in Asian experience that's sure to satisfy your cravings. With expert chefs at the helm, they use the freshest ingredients to prepare daily lunch and dinner buffet options.
Their buffet options are far from limited, from sushi to Chinese food. Everything is ripe for the picking. You'll be greeted by expansive buffet counters with plates laid out amongst the delicacies for you to choose your dining preference.
It's incredibly affordable, with lunch buffets at $14.99 and dinner at $19.99. Additionally, if you choose to only eat their sushi, it's a bargain! Fresh, delicious seafood masterfully crafted daily in true Japanese styles. What's not to love?
It's a stylish-looking buffet with Asian-themed accents throughout. With plenty of seating in varieties of sizes, this space is suitable for extensive functions or smaller, more intimate gatherings.
Tokyo Sushi Loha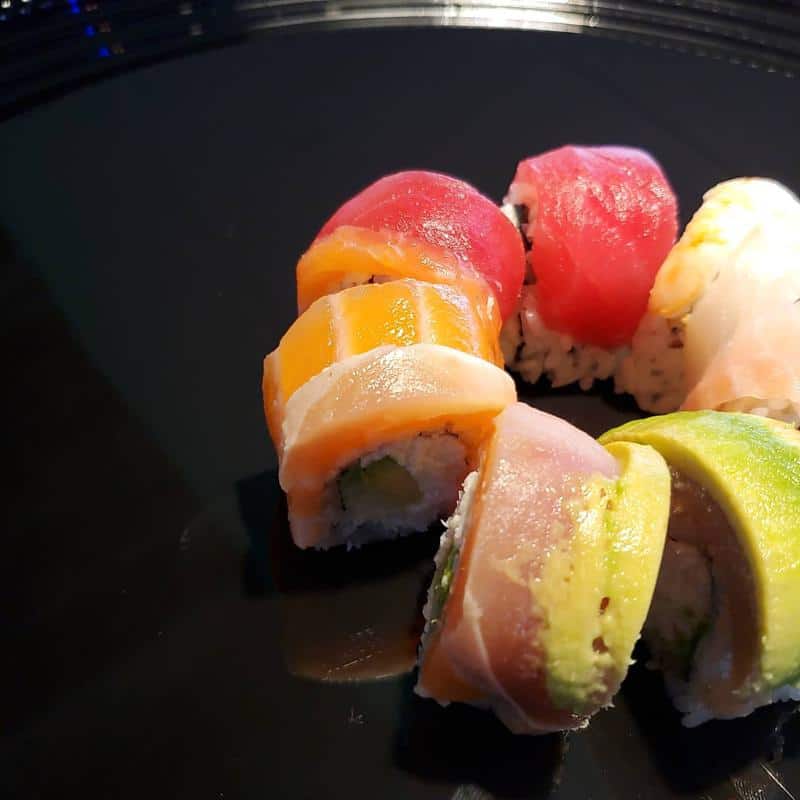 Location: 6502 El Cajon Blvd, San Diego, CA 92115
Price: $$
Tokyo Sushi Loha is a modern take on Japanese cuisine. They were executed artfully through their skilled chefs and swept towards eager patrons by passionate and attentive staff. They're there to create an incredible dining experience, and they've done just that.
Their menu is a fusion wonderland, with sushi nigiri and makis made from the freshest ingredients. And it's not all raw seafood, either. They include other Japanese delicacies like quail egg and bean curd and infuse it into delicious sushi dishes. They run regular specials that include all you can eat and, in doing so, have built a great identity for special occasions.
They're an intimate space, tiny, and better for special, more personal dining experiences with family or loved ones. It's a great place to ease away those sushi blues.
Also Read: Best Sushi in San Diego
Natsumi Sushi & Seafood Buffet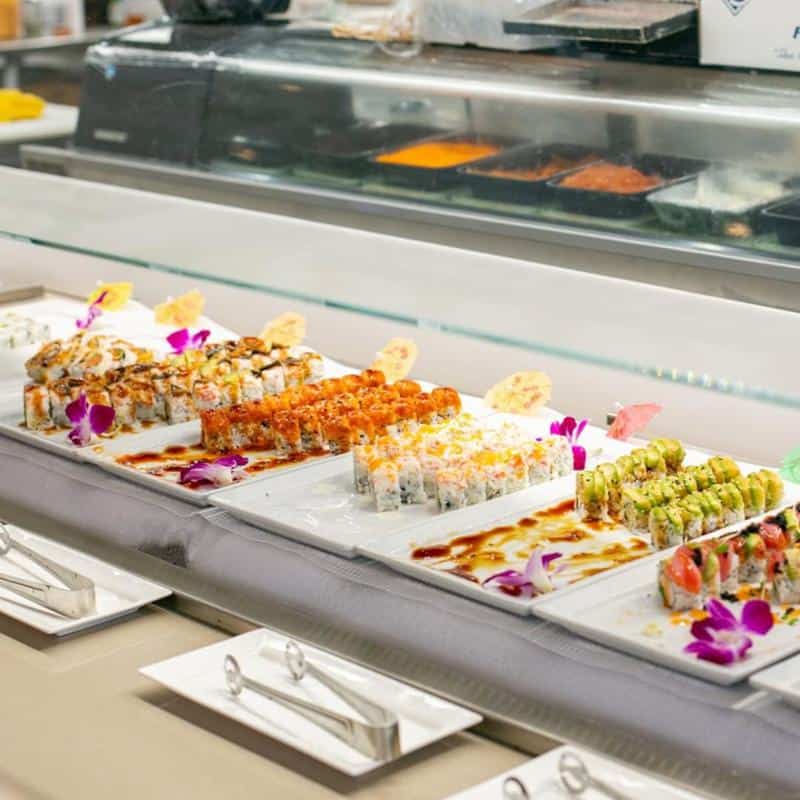 Location: 7040 Miramar Rd, San Diego, CA 92121
Hours: Closed Tuesday, 11:00am to 8:30pm (closes at 9:00pm Friday and Saturday)
Price: $$
Natsumi Sushi & Seafood Buffet is a mixture of Asian cuisines that'll have you reeling from the options. Freshly made daily, they have both lunch and dinner options in the dozens for you to pick from. Laid out in true buffet style, you get to select from a vibrant array of delicious meals.
Their sushi is a star attraction, making up a good half of their menu. It comes in many shapes and sizes. It's prepared from the freshest ingredients and includes everything from sashimi to specialty maki.
They've definitely invested in bringing you an all-you-can-eat sushi buffet to write home about, all for under $30! They thrive on bringing excellent food, and you'll find that here in abundance.
If sushi isn't necessarily your pick of the day, they also dapple in Mongolian dishes. And at the end of your binge, don't forget to grab some Japanese-inspired desserts; it's all included.
RB Sushi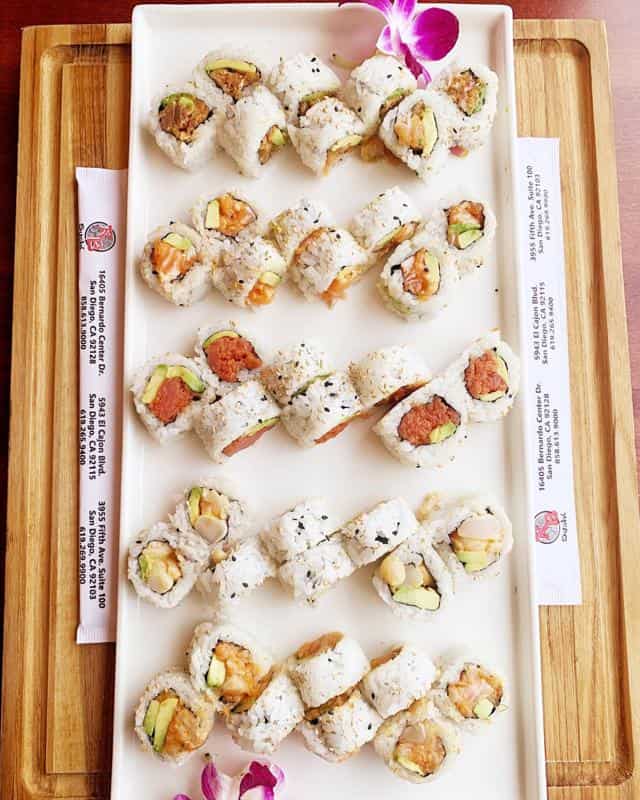 Location: 3955 Fifth Ave #100, San Diego, CA 92103
Hours: 11:30am to 8:30pm
Price: $$
RB Sushi is a budding sushi franchise with two growing branches in San Diego. They're definitely a crowd-pleaser with experienced chefs, quality ingredients, and a very casual atmosphere. Making it a pleasant experience for the ever-eager sushi defeaters out there!
Their sushi is a colorful celebration on a plate, with specialty rolls packed with flavor and nigiri a-plenty. There's so much to choose from on their menu. They use fusion techniques to create exciting and unique sushi rolls that are definitely worth the try. The best part of their all you can eat? No time limit. And for close to $30 dollars, you can sit and indulge for hours.
Their decor takes inspiration from Japanese minkas, with furnishings sharing that screen door characteristic and the beautiful wooden finish. There's ample seating, meaning you have plenty of space for extended family and large functions if you want. It transports you to a local eatery in a quaint Japanese town.
Mister Sushi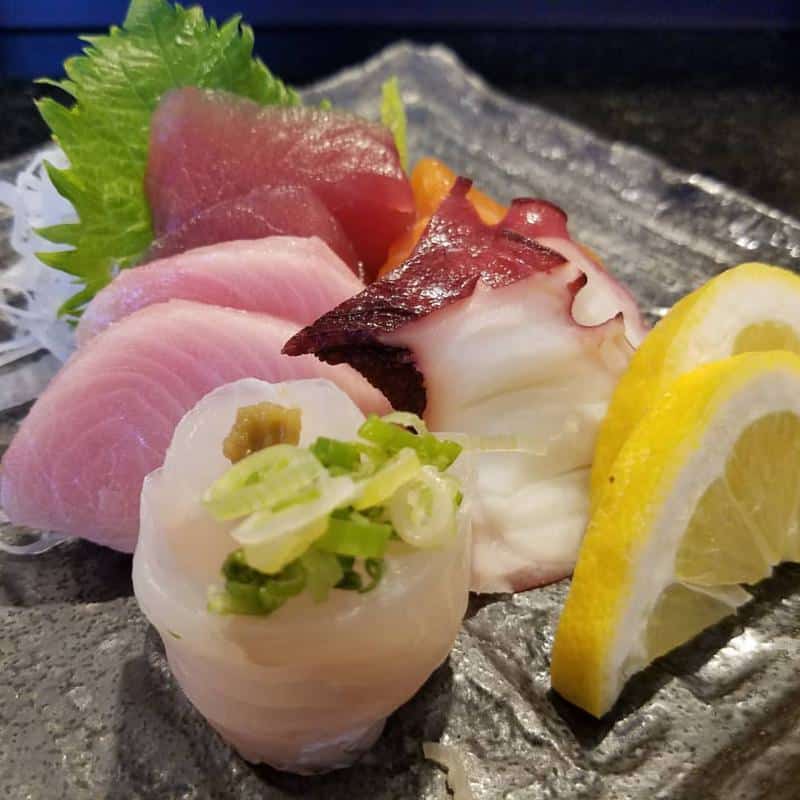 Location: 1535 Garnet Ave, San Diego, CA 92109
Price: $$$
Mister Sushi is a down-to-earth sushi restaurant that's family own and run since 1986. They've kept a high-standing reputation amongst the locals as being one of the best sushi places in town. Mister sushi is a simple and renowned sushi spot that deserves some praise.
Their menu is further along the track to being traditional. While it may lack the plethora of specialty rolls other places are known for, they put their hearts and souls into the limited selection.
From nigiri to sashimi, they source their ingredients locally and from international waters and definitely don't skimp on quality. With all you can eat setting you back about $35, it's easy to see why it's popular.
Their venue is simplistic and comfortable. With a small amount of seating, it's worthwhile to reserve your place. Their intimate and passionate approach to food makes up for what the venue lacks in decor, so don't be fooled by bare walls.
Kampai Sushi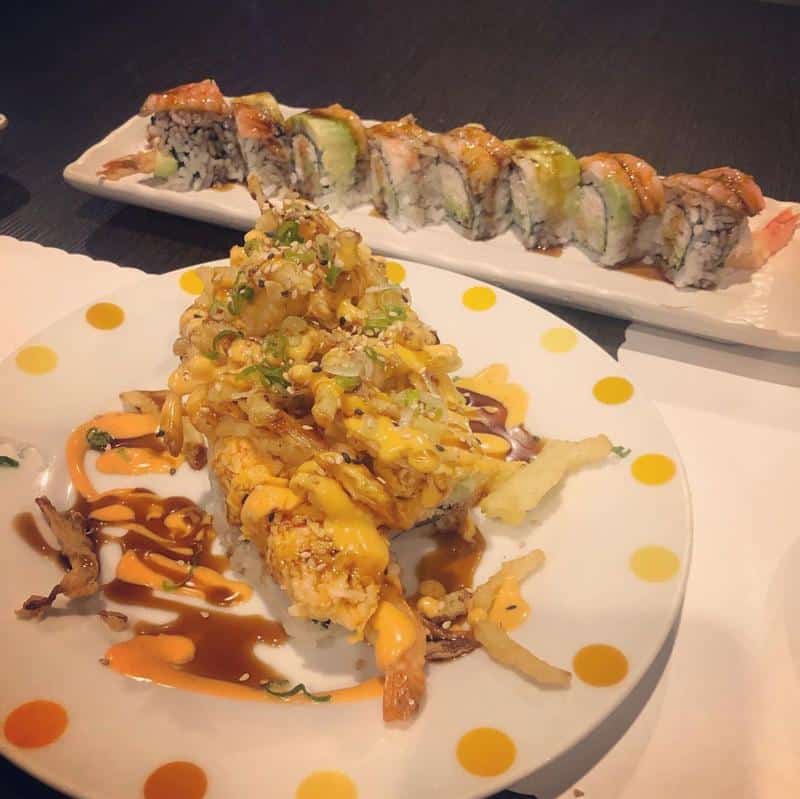 Location: 1906 Oceanside Blvd, San Diego, CA 92054
Hours: 11:00 am to 8:40 pm
Price: $$
Kampai Sushi is your unassuming neighborhood restaurant that's not much to look at from the outside, but boy, do they shine in their culinary skill. It's a small, hole-in-the-wall type of place that may get overlooked, though anyone who stops by is blown away by the great food.
Having passionate chefs in the kitchen sure helps. They pour everything into an array of sushi types that'll blow your mind (and tastebuds) away. Using locally sourced, fresh seafood ingredients, you can try a variety of sashimi and chef's special rolls. With their all-you-can-eat special costing about $35, it's definitely worth your while.
RK Sushi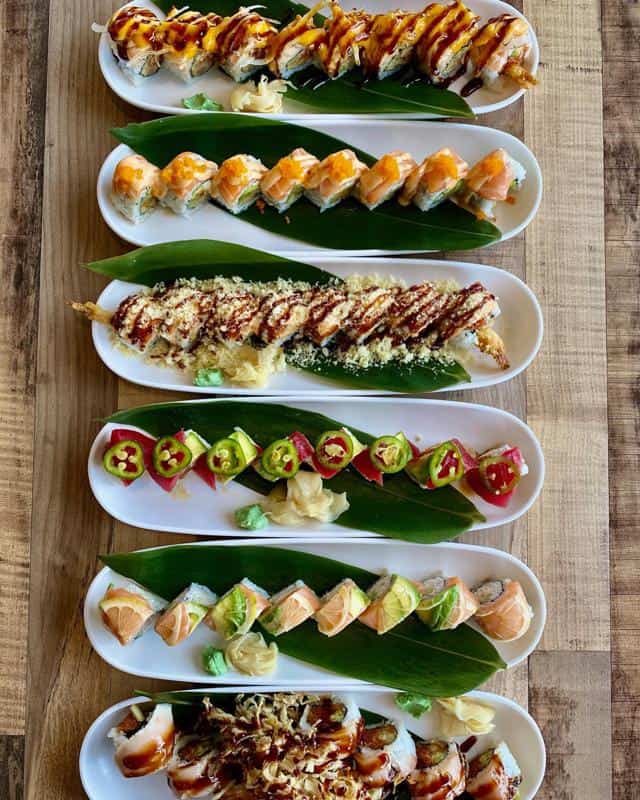 Location: 334 W Washington St, San Diego, CA 92103
Hours: 12:00pm to 9:00pm, Closed on Sunday
Price: $$
RK Sushi is a cute little sushi restaurant that hosts all the fun ins and outs of modern Japanese culture without stepping on tradition.
With an adorable little restaurant mascot to ease you into your meal, you'll browse through an array of traditional-type sushis. However, they're very conservative and include only the bare minimum in fusion sushi. This means simply that they've discovered the trick to life. Less is more. With daily specials, some including all-you-can-eat, it's a budget-friendly sushi paradise.
The venue itself seems like a bit of an outpost, but don't let looks fool you. Inside is a warm and welcoming environment with friendly servers and passionate chefs at your beckoning. It's a comfortable space to enjoy your meal with good friends around you. They even have a patio!
Also Read:
Conclusion
San Diego is a bustling metropolis of fun-filled family living, and its sushi restaurants reflect that to their fullest. They thrive on bringing fresh fish to the table in everyone's favorite form of Japanese cuisine.
They have plenty of excellent all-you-can-eat sushi spots, and the best part is they're all family-friendly and budget-friendly. So you'll hardly be disappointed when seeking the best all-you-can-eat sushi in San Diego.