Del Mar restaurants offer award-winning cuisine as well as breathtaking ocean views. It's ideal for a weekend getaway in a surf-loving environment with an air of sophistication while remaining casual and charming.
What makes it even better is the abundance of restaurants serving cuisines from all over the world. You will be treated to a fusion of traditional seafood, American cuisines, European, Mediterranean, and Asian cuisines. You will enjoy everything from fine dining to casual brunch and steakhouses.
In this article we have selected some of the best restaurants to visit in Del Mar. So here we go.
Best Restaurants in Del Mar
1. Jake's Del Mar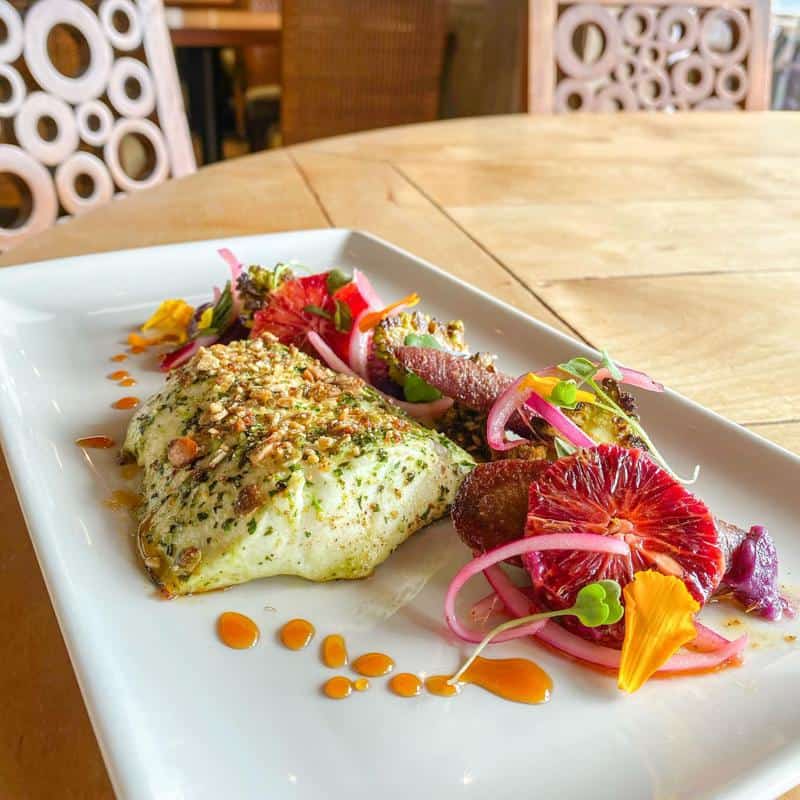 Address: 1660 Coast Highway, Del Mar
Known for: Seafood Themed Menu, Steak, creative desserts
Nestled a few steps from Powerhouse Park & Beach is a popular foodie joint- Jake's Del Mar. The restaurant's strategic location offers stunning views of the oceanfront, memorable sunsets, and spectacular wave action from enthusiastic surfers.
Experience dining with a difference at this spot with a beach-themed interior décor, which provides a relaxed atmosphere for both indoor and outdoor dining. The menu includes some of the best seafood dishes in the area.
We recommend making reservations to enjoy your meals at Jake's Del Mar, which is open all day. The menu's unique items will entice you to try almost everything, as it is categorized in two themed sections; "Set Sail, By Sea, or By Land."
You can have a full-fledged "sea affair" or "stay on land" for their delectable range of steak cuisines.
Try the Mixed Seafood Pot, which is filled with fresh fish, scallops, and shrimp in a tasty veggie potage and served with a risotto cake.
For the Land options, go with the Crispy Calamari steak, the fried Macadamia nut served with hot n'Sweet, sour sauce. The beef goes well with a blend of fresh tropical salads; a bit of roasted beetroot, baby kale, and avocado sprinkled with goat cheese and a dash of apple cider vinegar.
For dessert, try the house special; the Hula Pie, a heavenly blend of chocolate cookie crust, hot fudge, mac nuts, ice cream, and whipped cream. It's enough for two.
2. Pacifica Del Mar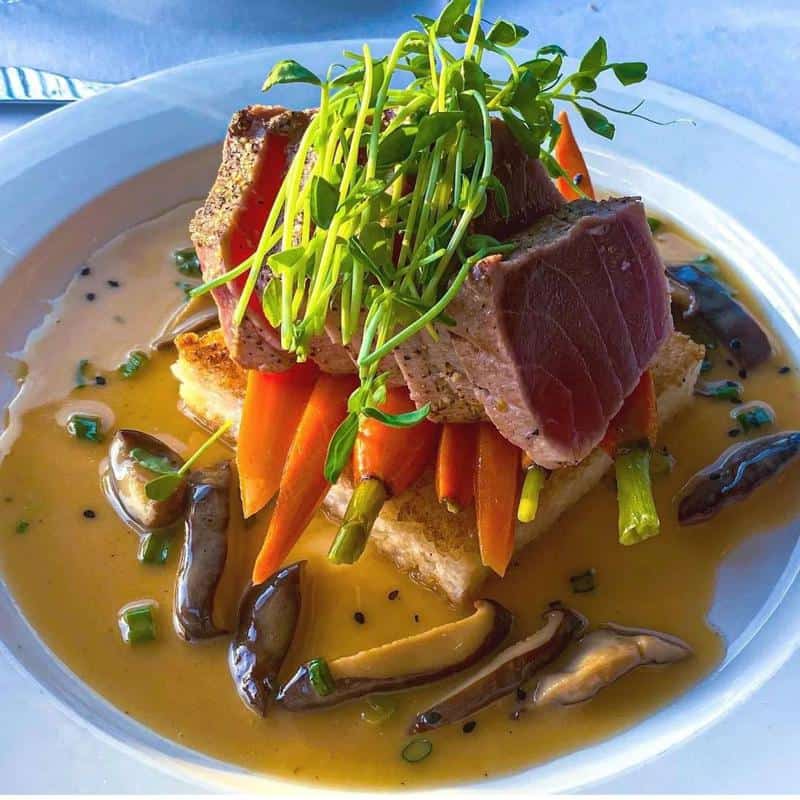 Address: 1555 Camino Del Mar, Del Mar
Known for: Seafood cuisines, Taco Tuesdays
Rested on the crest of Del Mar Plaza with a fantastic ocean view, Pacifica Del Mar lives for sea cuisine with their bold theme "Seafood is our passion." This upscale establishment is an absolute appetite teaser, having served diverse visitors for over 30 years with the finest seafood.
It has an outdoor courtyard with a charming beachfront view of the Ocean. The indoor dining includes two open dining areas and three private dining rooms for special occasions like weddings, birthday parties, and corporate events.
The menu includes a blend of hot and chilled seafood, steaks, salads, and small plates. You can start with the Warm Olive Sourdough with butter. It's sweet & sour and gives you a steady start for the rest of your meal choices.
Try their branzino, also known as the European sea bass, an Italian mild white fish famous in Del mar. It's herb-roasted and served with a mix of fresh veggies.
You can also try the Alaskan halibut, an enjoyable artistic dish – moist and tender on the inside and charred on the outside.
Other unique options include pan-roasted Chilean Halibut, the sweet n' spiced Verlasso Salmon, grilled Swordfish, or the Filet Mignon with roasted potato wedges.
If you love Tacos, they have Taco Tuesdays ($5) on offer and half-price wine bottles on Thursdays.
3. Poseidon Restaurant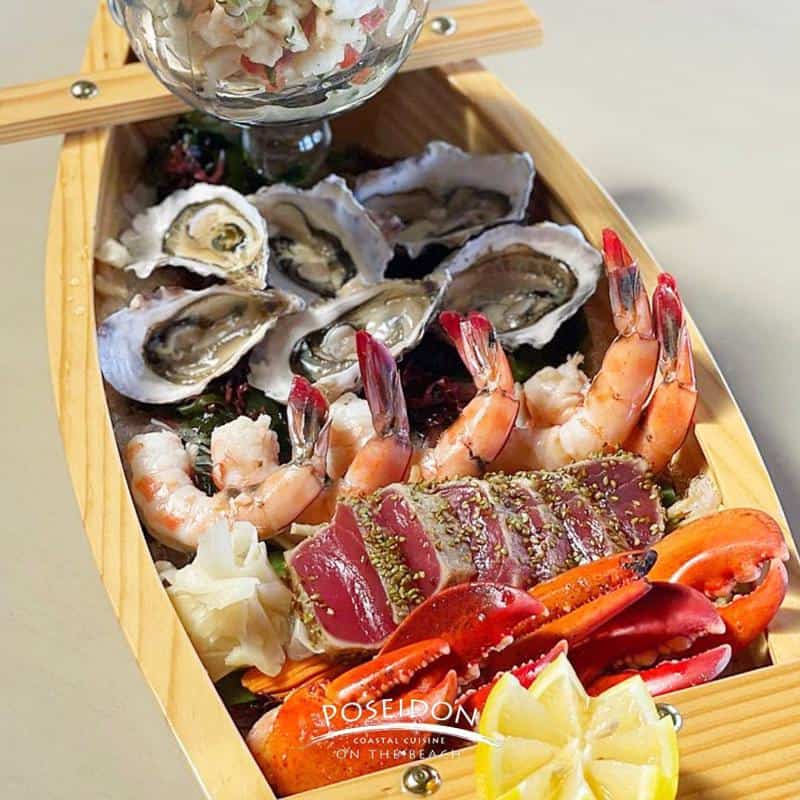 Address: 1670 Coast Blvd., Del Mar
Known for: Seafood favorites, brunch, happy hour
Another restaurant located near Powerhouse Park & Beach in Del mar offers potful exquisite dishes. Poseidon has served guests since 1961 with its sweet seafood and traditional American cuisines.
It's an excellent spot for a romantic date night due to its casual beach vibe. The outdoor seating offers incredible views from the patio; you can still get a perfect view of the Ocean from the indoor seating, thanks to the restaurant's open-air design.
As a relaxing beachfront spot, Poseidon Restaurant offers some of the best meals with an abundance of seafood dishes in a casual beach atmosphere that is perfect for guests of all ages. No formalities are required.
Just go and eat!
They have fantastic Macadamia-Coconut French Toast served on Sunday brunch. Romantic dinners have many guests streaming in for their delicious twin lobster tails, paired with a California Chardonnay over stunning sunset views.
Other fabulous options include the daily fresh-catch Seafood specials or the amazing Prime Beef Short Ribs. If you prefer lunchtime meals, go for their amazing Taco treats with a long Manhattan cocktail or a French 75.
Check out their amazing dessert cakes like the Sorbet Swirl with a shot of Espresso Martini, or indulge in their charming cheesecakes topped with flavorful treats of your choice. They have a fantastic half-price on wines by the bottle offer on Wednesdays & Thursdays.
4. Sbicca Del Mar
Address: 215 15th Street, Del Mar // (858) 481-1001
Known for: Brunch with daily chef creations; BYOB wine every Tue & Thurs
Named after its long-serving owner, Sbicca has been around in Del Mar for over 20 years. Come and dine here for the spectacular views and happy hour, offering amazing food and drink prices.
Dining on the second floor has a magical experience to it. The vast Pacific Ocean view and the beach activities are a sight worth every dollar spent at this lovely restaurant.
The restaurant is most vibrant during mid-morning to late afternoon hours, where guests pour in for lunch or weekend brunch after a night of partying—a common feature in Del mar.
The menu has numerous options, and you can take advantage of the shared plates to maximize tasting every available dish on your preferred budget. Try the daily Chef's Creations, the Crispy Calamari Strips with a yummy glaze and arugula.
Go for the Crab Cakes with fruit fusion, the heavenly delicious Cajun aioli, and Meyer lemon for a fantastic dining experience. Other lovely options include the Jalapeno and sweet soy or the Crunchy Shrimp Dumplings with scallions.
Sbicca has a traditional "no corkage fee for BYOB wine." bottled wine is half-price on Tuesdays and Thursdays. Other daily offers are the sweet Mimosas from $3 to $5 each.
5. Beeside Balcony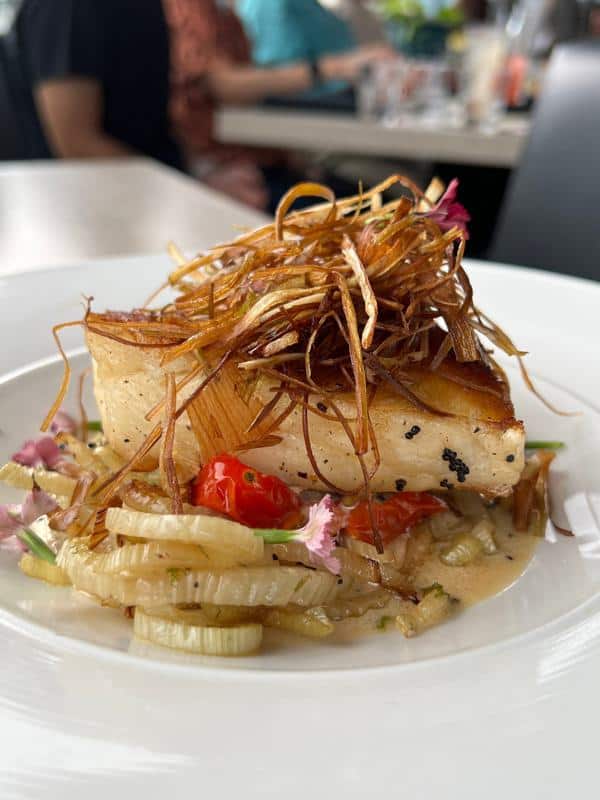 Address: 1201 Camino Del Mar /300, Del Mar // (858) 481-9889
Known for: Mediterranean cuisine, rooftop balcony view, seafood
Beeside Balcony quickly passes as a lovely "hidden gem" in Del Mar, a laid-back restaurant with a distinctive coastal ambiance, stunning views, and exceptional Service. The owner, Christophe prides himself on using locally-sourced ingredients, grass-fed beef, and fresh daily catch seafood to prepare Mediterranean-inspired dishes.
Cocktails like the Mint to Bee, Prickly Lady, and Lavender's Bee Knees are good to try. You can also order some starters & salads to share as a family/group for a chance to taste various dishes.
The Grilled Spanish Octopus and the "Chef's Special Crab cake" are big winners at this spot. You can also sample their Lamb Gyro, the tender, and juicy lamb leg, with red onions, arugula, tomatoes, and tzatziki.
Beeside Balcony is an exceptional place to try out, it's actually one of the newest restaurants on the beachfront.
6. Coya Peruvian Secret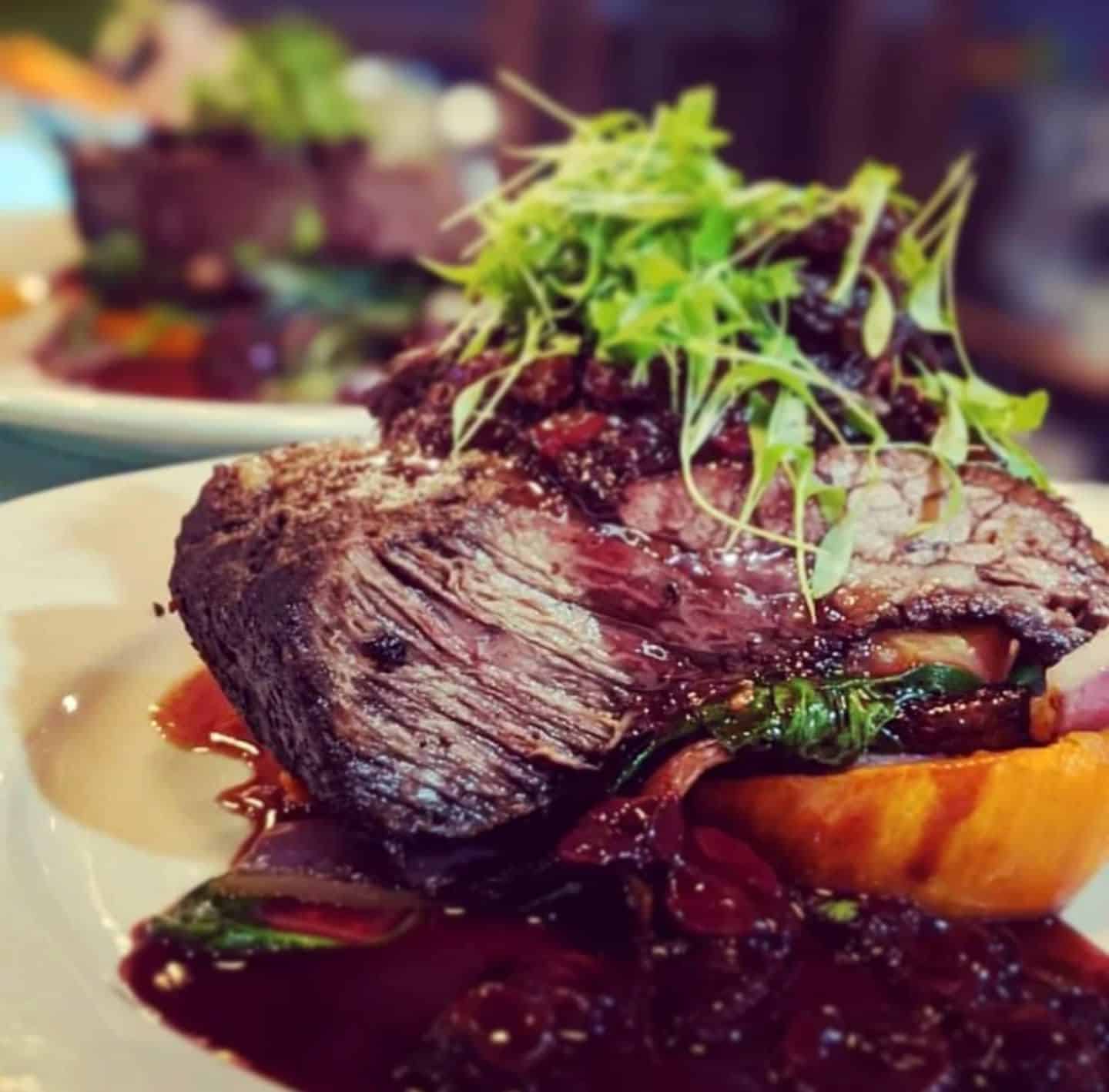 Address: 1140 Camino Del Mar // (858) 792-0821
Known for: Cottage style ambiance, Steak specials, short ribs
Located in a comfy chalet retreat in the heart of Del Mar near the beach, Coya is a real game changer with its unique fusion of international and Peruvian cuisine lists on its menu. Hidden away from the street, the outdoor seating offers an exquisite peaceful ambiance surrounded by a garden of flowers, providing tranquility all around the place.
You can start with the Mexican Ceviche with avocado. For the mains, go for the empanada or the finger-licking stir-fried Peruvian steak (Lomo Saltado on the menu). It is made with seasoned filet mignon, mixed with French fries, onions, tomatoes, and served with garlic rice. Paired with a San Simeon California Cabernet Sauvignon, Lomo Saltado is the perfect family meal at the Coya Peruvian Secret in Del Mar!
You can also try the carafe, sangria, and Coya, which are flavorful cocktails. Overall, the service is excellent, and the portions are large enough to share with large groups.
The ambiance is casual and friendly, with outdoor tables under a roof and a short walk to the beach if you want to take a stroll after dinner.
7. Americana Restaurant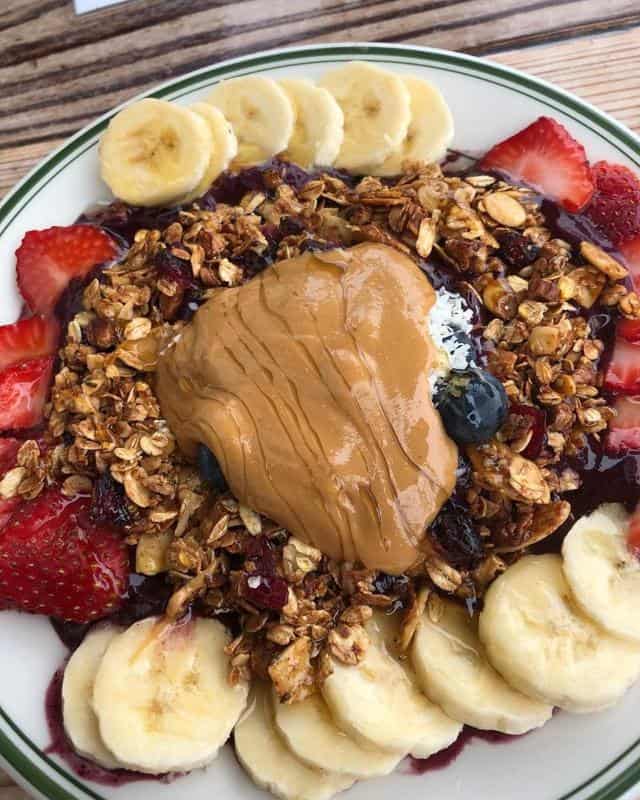 Address: 1454 Camino Del Mar, Del Mar, CA 92014-2510
Known for: Breakfast, American, and Vegetarian Friendly
Americana is in a prime location near the Del Mar Plaza, across the street, a half-mile south of the Del Mar Fairgrounds/ Race Track and two blocks west of Powerhouse Park, with grassy gardens overlooking the Pacific Ocean.
It's a lovely, cozy restaurant with an outdoor patio and tables on the sidewalk. It has a lovely ambiance, and the dining room kept warm with heaters on during the winter.
Also, in the interior hallway, there is a historical picture gallery of the Del Mar area,with nostalgic pictures of celebrity influence on the town over the years.
The menu offers fewer options, unlike other neighboring restaurants, but sufficient all the same. The best time to visit is during breakfast (creative menu options) and lunch for tuna, sandwiches and burgers.
They have great egg options, Del Mar Powerhouse breakfast, Burritos, Banana split, Smoked Salmon, and other meal choices for breakfast.
Lunch includes Chicken Salad, Americana BLT, Tuna Salad, Turkey Club, burgers, and grilled sandwiches. They also have kiddie menus both at breakfast and lunch.
8. Market Restaurant & Bar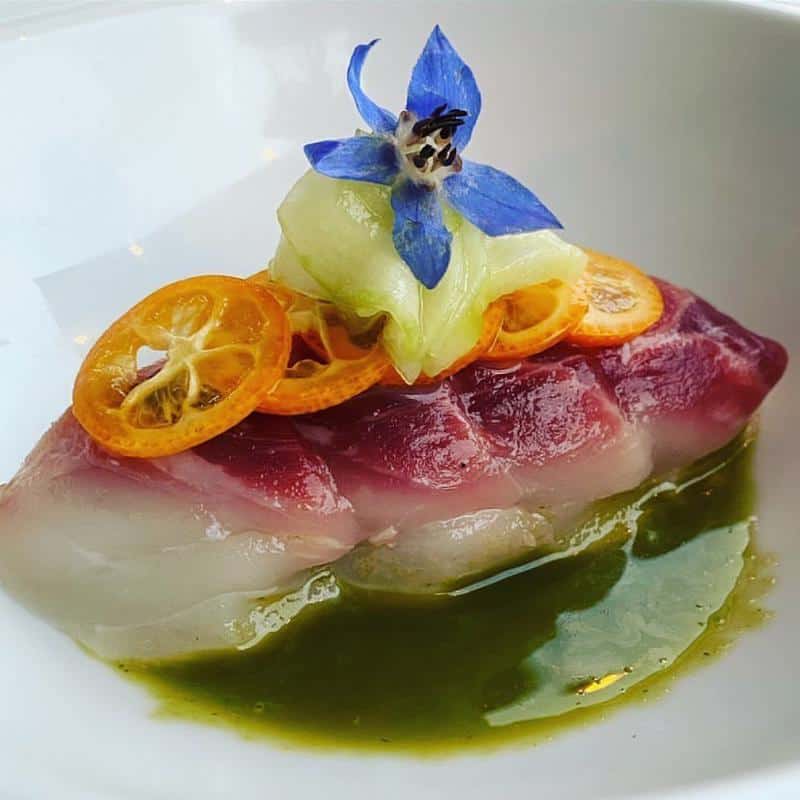 Address: 3702 via De La Valle, Del Mar, CA 92014
Known for: Sushi Bar, Sashimi specials, seafood
Market Restaurant & Bar is just a few steps away from the horse riding field at San Diego Show Park, and parking is strictly valet only. It's a fantastic classy restaurant with a stylish ambiance of low lighting, the ideal setting for a romantic dining experience.
If you're in Del Mar, California, this is the place to go for Sashimi and Sushi from a genuine Sushi Bar and Lounge. Absolutely delicious!
Other dishes on their menu include: starters like the Hamachi sashimi & sesame-nori crackers, baby beets & burrito cheese, and chilled Dungeness crab salad. Then, try the Crispy Eggplant & Sweet Pea Tortellini, the juicy swordfish, or the Bluefin tuna.
After dinner, indulge in their Hazelnut-Praline Mousse dessert cake, which is magnificent! All the ingredients from their menu have a distinct taste and structure and are prepared to perfection.
The food presentation is meticulous, and so is the service delivery. Everything's top-notch and not cheap—worth every dime, though.
9. Brigantine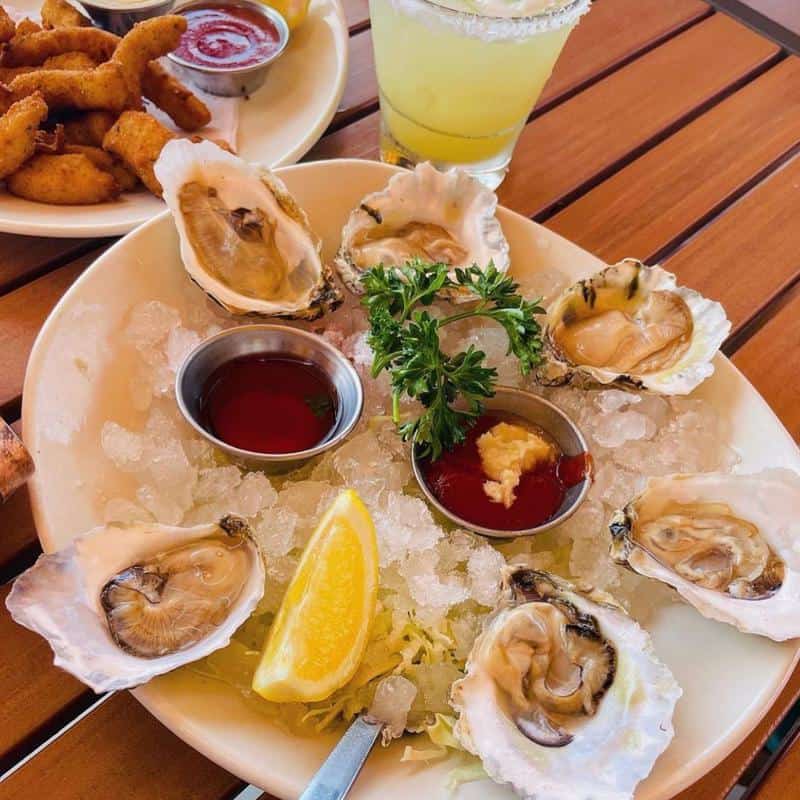 Address: 3263 Camino Del Mar/ Del Mar, CA 92014
Known for: Brunch, Seafood, Oyster Bar
Considered one of the best restaurants in Del Mar, just minutes from the San Dieguito River, Brigantine is located right off the coast highway. It is near the Del Mar horse track to the East, a seafaring-looking restaurant overlooking a gorgeous whirl from the surf.
The scenery and decor are stunning, with fire pits to keep you warm on cold nights. You can enjoy your meals and drinks on the backside lawn from their ground floor outdoor seating.
Head to the upper decks for spectacular views of the Del Mar beach, the race track, and south to La Jolla. During the horse racing season, both seating areas have mounted TV screens so that patrons can watch the game while eating and drinking.
The restaurant serves the best seafood in classic San Diego style to its customers. Relax in this casual club atmosphere while enjoying a variety of seafood, gluten-free and vegan-friendly dishes.
They have a beautiful oyster bar where they serve delicious Oysters Rockefeller and Napa Valley Nachos. On weekends, Brigantine serves the best Tiger Shrimp & Grits, Chicken Cordon Bleu, Parmesan Crusted Sautéed Sand Dabs, and Crispy Lobster Tempura Tacos.
10. CUCINA enoteca Del Mar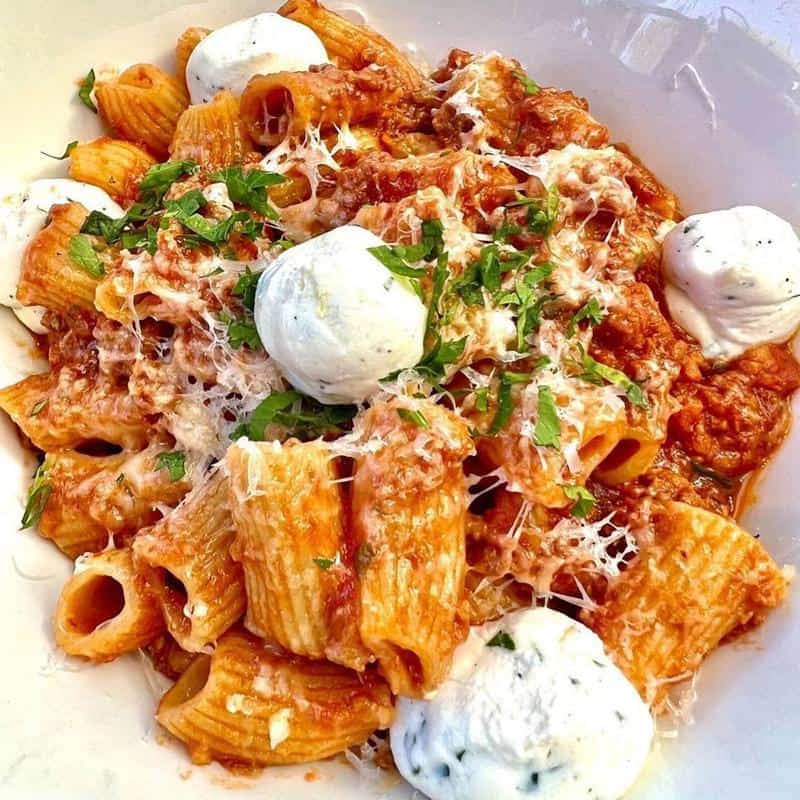 Address: 2730 De La Valle/1906, Del Mar, CA 92014
Known for: Italian cuisines, Seafood, wine shop
Cucina's stylish, yet whimsical atmosphere combines a modern Italian kitchen with creative, relaxed vibes, and gets you in the mood for authentic Italian delicacies.
This amazing spot, located in the Flower Promenade Mall, has a lovely expansive bar and outdoor patio, as well as a retail wine shop inside the restaurant. The upstairs is well-organized, with tables that are well-spaced and heaters to keep you warm on cold nights.
Their menu offers gluten-free pasta and vegan dishes for those with specific dietary preferences. All the appetizers are fanciful: Carpaccio, Spanish octopus, and squash blossoms.
Some popular main dish options are the Brandt Beef Bullseye Steak, whole roasted Branzino, Rigatoni Bolognese, Shrimp, Clam, and Squid Ink Linguine. These entrees taste great with an Oaxacan Sunset cocktail or a Lavender Lemonade.
Try their flavored chocolate mousse dessert with a cup of cappuccino: excellent food and attentive service team in a lovely Italian setting.
11. Del Mar Rendezvous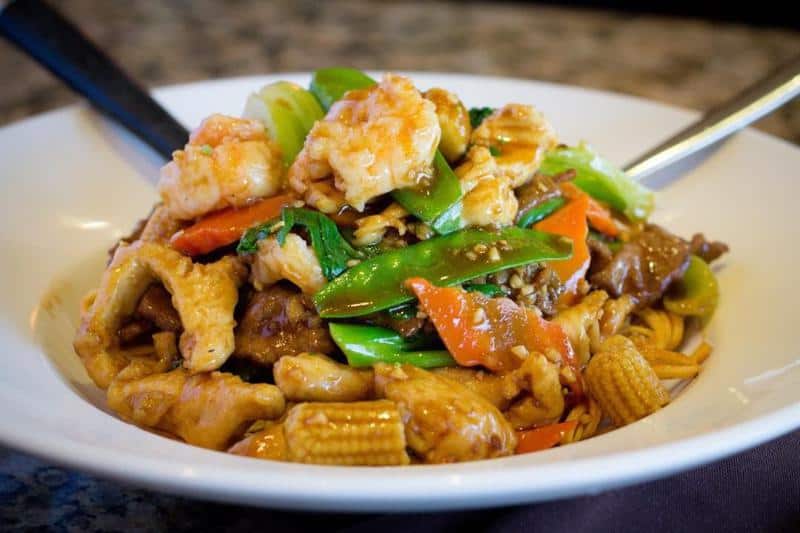 Address: 1555 Camino Del Mar/ 102, Del Mar/ CA 92014
Known for: Chinese, Seafood
Nestled within Del Mar Plaza, this is one of the best restaurants in Del Mar, California, offering quality upscale Chinese cuisine.
It has a comfy mood for a casual dinner with a loved one/ones. Their menu offers plenty of gluten-free, vegan, and vegetarian options.
Try their Tangerine Chicken, Kung Pao Filet Mignon, Shanghai Noodles, and Vegetable Lo Mein.
You can combine these entrees with Scallion Bread, Egg Fried Rice, or Yu Hsiang Eggplant on the side.
Try their Xiangjiao, an egg roll rolled in cinnamon and stuffed with banana cheesecake for dessert.
12. Snooze, an A.M. Eatery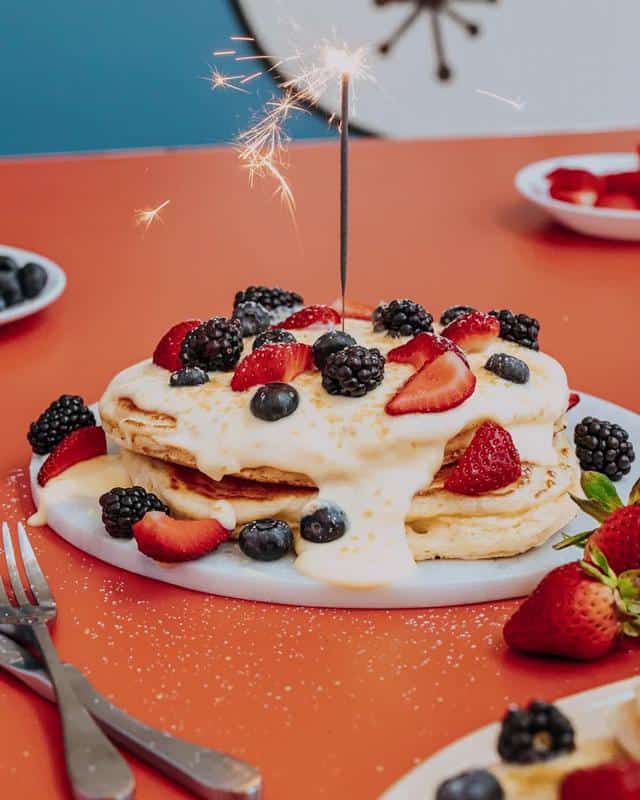 Address: 3435 Del Mar Heights Road D3/ San Diego, CA 92130
Known for: Breakfast Burritos, Brunch, near shopping mall
The Warm ambiance welcomes you to this awesome spot! Plenty of vegetarian and vegan options. Located within Del Mar Highlands Town Center Shopping Mall, Snooze is a casual breakfast restaurant with a vibrant, old-fashioned appeal. It's one of the best places to enjoy breakfast/brunch in Del Mar, California.
You will enjoy every meal with a wide variety of creative dishes, so come hungry and with a phat appetite to boost. Garden Harvest Omelet, Huevos Tostados, Crème Brûlée pancakes, or Habanero Pork Belly Benny with bacon, fresh fruit, and hash browns on the side are some trendy favorites.
Breakfast tacos with tofu, two with soyrizo, and corn tortillas are also options to try.
Recharge your energy in the morning with a stimulating Spicy Bloody, Brewmosa, a sweet Vanilla Almond Matcha Tea Latte, or a half-and-half blend of hibiscus and regular iced tea.
The owners of Snooze are passionate about supporting local charitable organizations with food projects, making it a favorite spot in Pompano for a healthy, charming breakfast experience.
Also Read:
Final Thoughts
Del Mar is a wonderful place to enjoy different flavorful cuisine on the shores of the finest beaches by the Pacific Ocean. Experience a wide selection of seafood, American as well as international delicacies.
Share your dining experiences in your best Del Mar, California restaurants in the comments section below.