Korean BBQ or "gogi-gui" is a popular culinary experience all across America. It basically translates to being a "meat roast," and we are certainly ones to enjoy indulging in an array of deliciously prepared meats in their tantalizing variety. The cuisine is simplistic, and perhaps that adds to their popularity. But you can't go wrong!
Of course, San Diego, being a hub of international cuisine and incredible taste, has some of the best Korean BBQ spots around. They're centralized, and all have something unique and excellent to bring to the plate.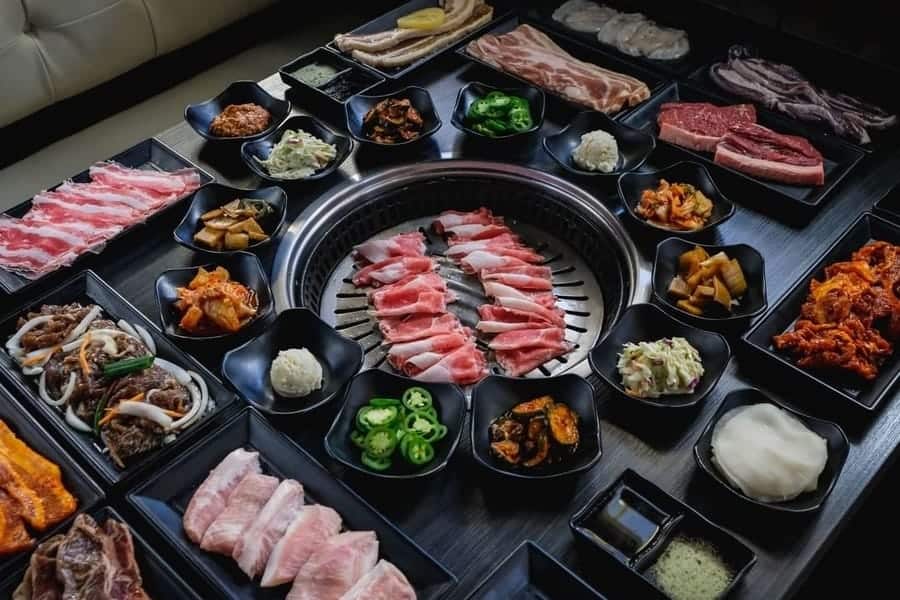 Whether it be a new twist on the traditional or an amazing atmosphere that draws patrons in, they each bring something exciting to the table. So here you go, wear your loosest pair of jeans and buckle up for the best Korean BBQ in San Diego.
Best Korean BBQ in San Diego
Taegukgi Korean BBQ House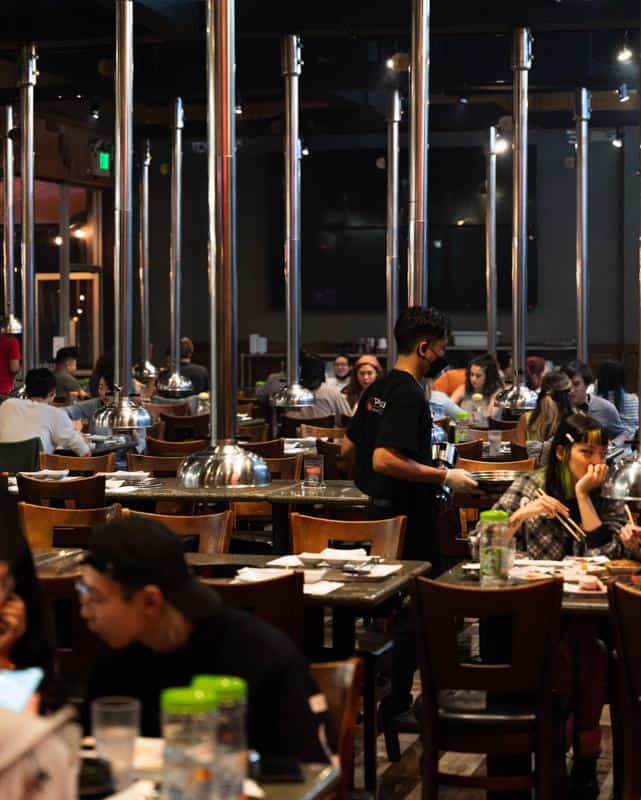 Location: 7655 Clairemont Mesa Blvd. Ste. 501, San Diego, CA 92111
Price: $$
When it comes to a lively atmosphere, Taegukgi is unbeatable. The vibrancy of the neon lights compared with the walls of Arcade games add a new rendition to a dining experience unique to Taegukgi Korean BBQ House! It's reminiscent of a Frat Boy's wet dream, and we are here for it.
Alongside your tower beers, you can enjoy the variety of Korean BBQ served for your selection.
You can choose from various proteins, dipping sauces, and sides, each more flavorful than the next, and truly enjoy a thrilling culinary experience!
The menus range from a premium menu all the way through to an all-you-can-eat option, costing a mere $24.99. So get ready for the meat sweats. We can promise you won't leave here in any other way. They are extremely reasonable, and their pricing is no reflection on the quality you receive, which is out of this world.
Gen Korean BBQ House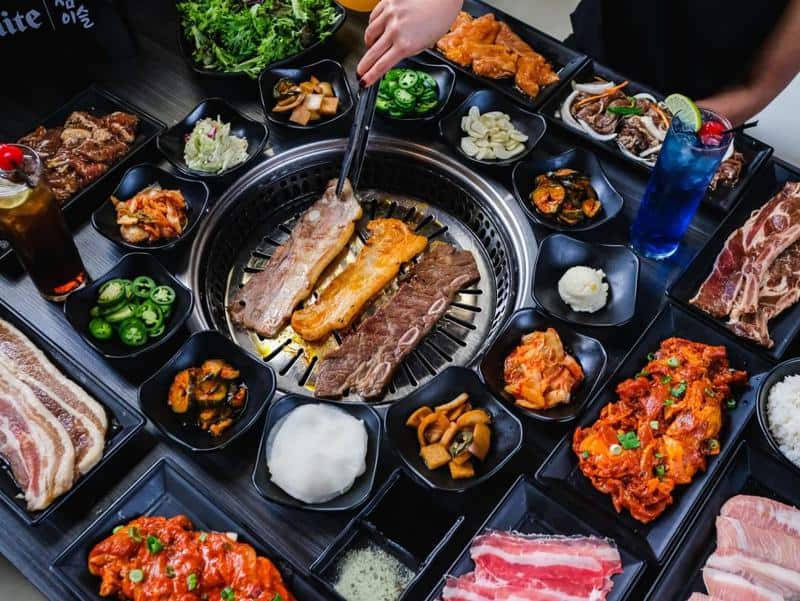 Location: 10765 Westview Pkwy, San Diego, CA 92126
Price: $$
Gen Korean BBQ House is a popular option as far as Korean BBQ goes. They are a quality dining establishment whose popularity has allowed them to spread their reach across multiple states. The quality of food and service is exceptional and has played a show-stopping part in their ever-growing influence on their community.
They maintain their boundaries by trying to keep their options as close to traditional as possible. While their only limiting factor is where their ingredients are sourced from, you'll be pleased to know everything is locally grown and sustainably sourced. This brings a unique San Diegan fusion to this Gen branch, creating flavor complexity and quality you won't experience elsewhere.
They have an unbeatable range of high-quality meats and seafood, vegetables, and other traditional sides, bringing the taste of Korea to your doorstep.
Manna Heaven BBQ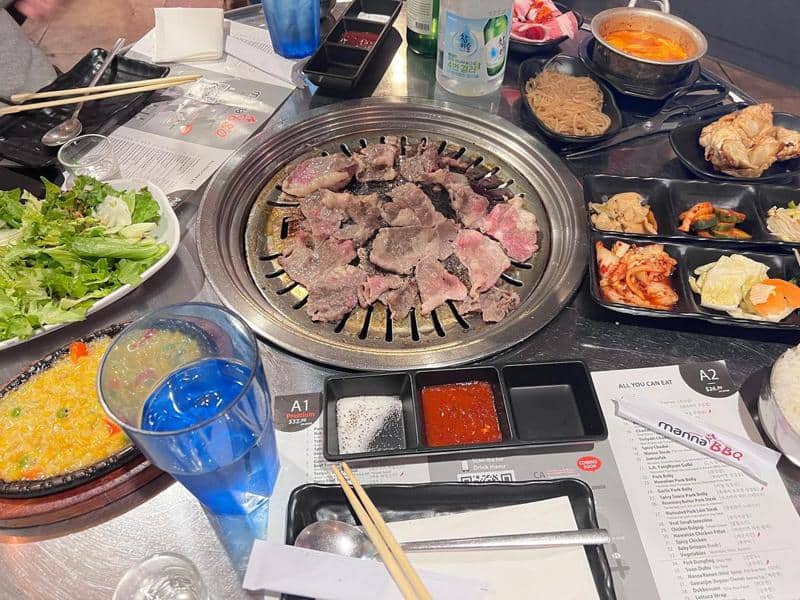 Location: 8188 Mira Mesa Blvd, San Diego, CA 92126
Price: $$
Manna is a hole-in-the-wall type restaurant that sprung into existence in 2010 and has built a thriving empire since then. With multiple branches open (two in San Diego alone), they are extremely popular. We highly recommend ensuring you reserve a table to experience their food. Still, if you don't mind a wait, it's definitely worth it.
They serve in an all-you-can-eat fashion, with two main pricing options, black and gold. The difference here is the type of meat, with premium options fitting under the gold category. They try to prevent sharing, so your party must make a decision ahead of time to ensure you all stick to the same pricing category.
They have an array of meat options, seafood, vegetables, and sides, with incredibly tasty dipping sauces to add that extra power at the end of your sizzle session. You can choose to enjoy choice cuts like beef tongue, butter rosemary pork, or for the black option, fresh baby octopus and beef belly. Sliced thinly and easy to cook.
Buga BBQ Korean Restaurant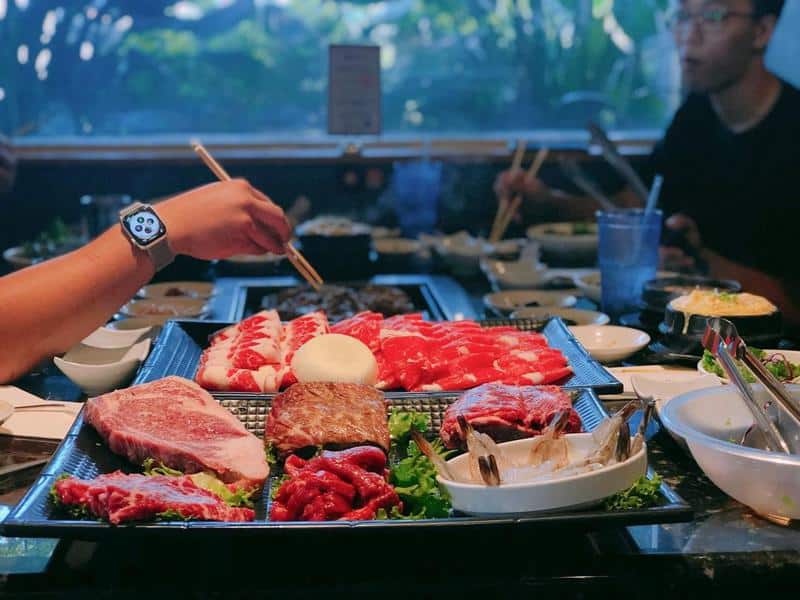 Location: 5580 Clairemont Mesa Blvd, San Diego, CA 92117
Price: $$$
Buga Korean Restaurant is not a place for the faint of heart. However, they deliver stellar cuts of protein in the best way possible, all you can eat. The portions are not small, and we highly recommend you come there starving, as their leftover clause might cost you an extra penny.
For quality and quantity, the dining options range from two regular menus at $29 and $34, respectively, with a premium menu costing around $39. We wouldn't have anything but premium, as the marinated short rib brisket is something so indulgent and flavorful that it's worth the extra charge. This isn't to say the regular menus are something to be laughed at, with meats ranging from beef to chicken. As any veteran buffet goer will say, try and avoid appetizers. Still, in this case, the dumplings are not to be forgotten.
Overall the food is beautiful, quality, and some of the best you'll find in San Diego, all wrapped into a welcoming and casual environment. While not as frugal as some of its competitors, the price reflects what you get.
356 Korean BBQ Bar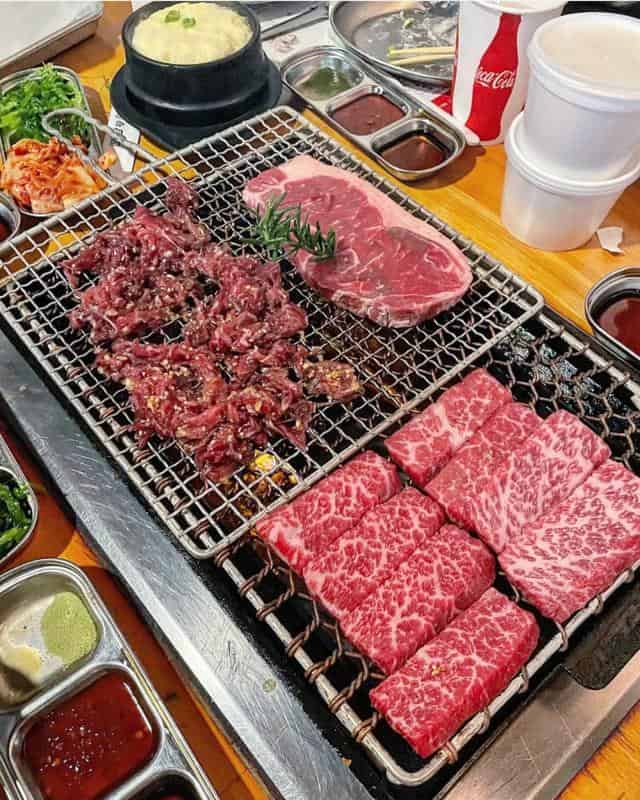 Location: 1640 Camino Del Rio North FSU12, San Diego, CA 92108
Price: $$$$
356 Korean BBQ Bar doesn't hold patronage to its competitors as much as one would like. Instead, they bring about a new and unique twist to their approach to Korean BBQ. Everything from the industrial style of the restaurant to the incorporation of sports bar-type features sets them apart.
Unfortunately, they are not an all-you-can-eat establishment, opting to improve the quality of what they serve with high-end cuts like wagyu beef. The ingredients are a mix between traditional Korean BBQ-style cuisine and All-American flavor, meaning you can have a side of fries and dip those prime cuts in cheese fondue. They cater to all types, and the menu isn't restricting you to Korean BBQ with some options that are out of the box with some pub grub thrown in there for good measure.
It's a welcoming and friendly environment that boasts plenty of features to make you stay. While they may be a bit pricey, they are extremely popular, and bookings are a must. In addition, they have plenty of seating and an outdoor patio, making them a stunning venue for special occasions.
Jeong Won BBQ Buffet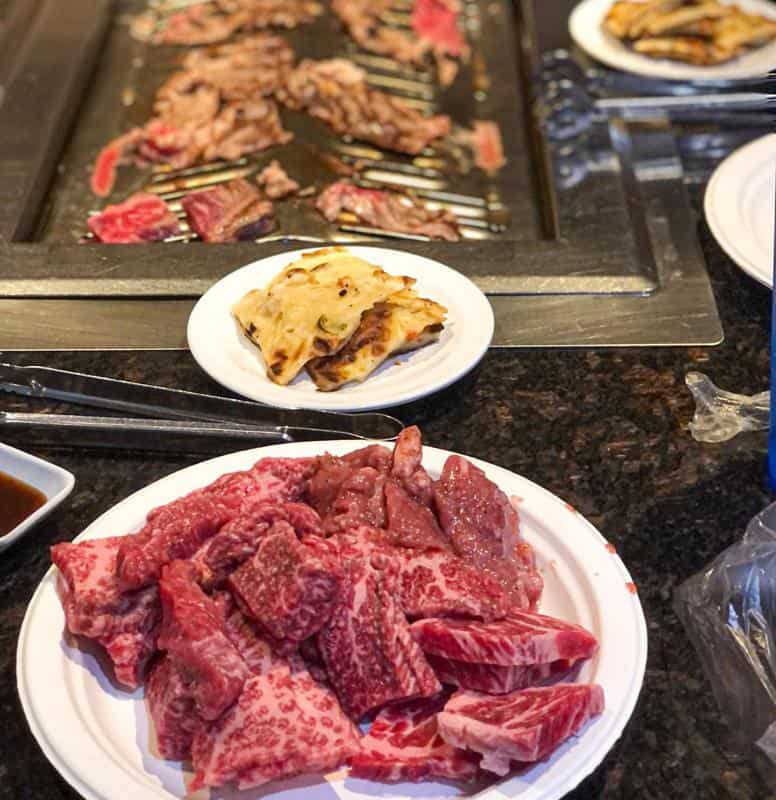 Location: 4690 Convoy St #104, San Diego, CA 92111
Price: $$
Jeong Won BBQ Buffet is a trendy little Kpop-and-mom venue. Its welcoming interior is made even more so by the abundance of cutesy little quotes that litter the walls. We'd like to think that these are meant more as inspiration to keep eating when they're a key feature of what makes Jeong Won's unique and lively atmosphere.
The menu features a similar variety of meats and cuts to what most of its competitors do, with a little Jeong Won flair to build your experience and make it unique. The flavor profiles are enhanced by the selections of sides and vegetables. The accommodating staff is always at hand to give tips and tricks to build the tastiest and true-to-tradition Korean flavor.
They use fresh and hand-picked ingredients that the in-house chefs meticulously prepare to ensure that diners can easily build and cook their favorites! As a result, the portion and quality are incredible, and for a steal of a price, making them affordable for all.
Prime Grill Korean BBQ and Restaurant
Location: 4620 Convoy St, San Diego, CA 92111
Price: $$
Prime Grill offers an authentic Korean culinary experience and has been a pillar to their community for years. Their menu is a true reflection of Korean dining. It presents an array of dishes from appetizers to Korean BBQ that are bound to get you drooling.
They have a rather advanced menu that features and incorporates variety and flavor profiles in abundance. While they were once an AYCE venue, the unfortunate Lockdown has changed this. While they still include their delicious Korean BBQ, you order from various combinations of your favorites.
The cut and preparation of the food are done expertly and create an easy-going and interactive dining experience that patrons simply love. In addition, they feature all-American cuts, like short rib and New York steak, meaning there is an added flair of fusion.
Dae Jung Keum Korean BBQ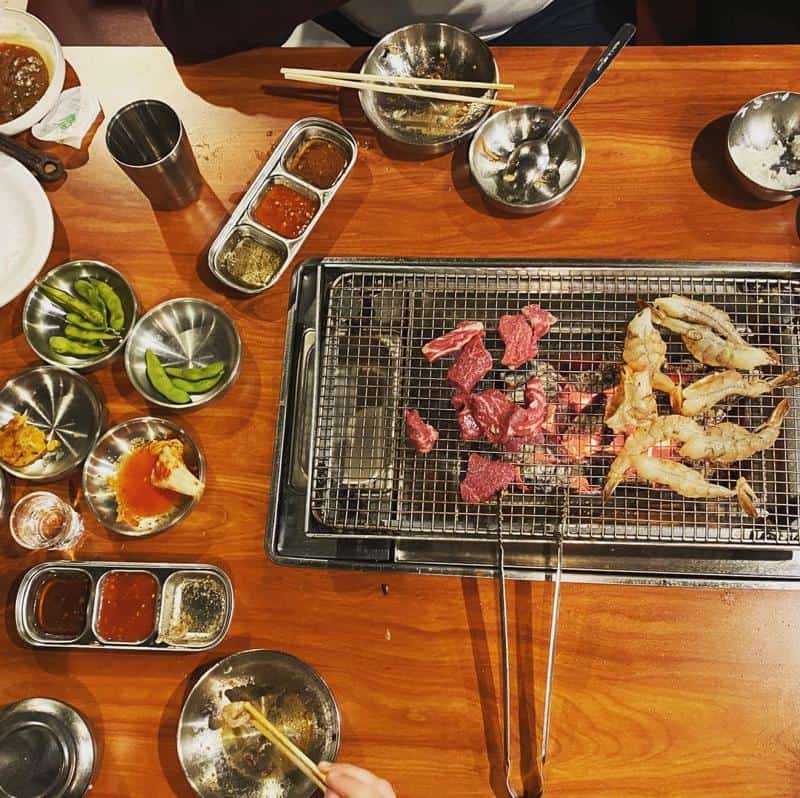 Location: 7905 Engineer Rd., San Diego, CA 92111
Price: $$
Dae Jung Keum is your friendly-neighborhood Korean BBQ spot, bringing a lively vibrance to your dining experience. It is owned by a Korean national, and the food reflects authentic Korean tastes, using the truest-to-origin ingredients that can be locally sourced in San Diego.
The pricing is relative and allows diners to select from various choices. The proteins include delicacies such as beef tongue, thinly sliced and ready to cook and duck with vegetable options ranging from zucchini to sweet potato.
Although there is a predominant focus on their delicious Korean BBQ options, they also share space with other incredible Korean delicacies that we highly recommend trying. They pay homage through their cuisine to their origin. Creating a traditional experience you don't want to miss.
Chon Ju Jip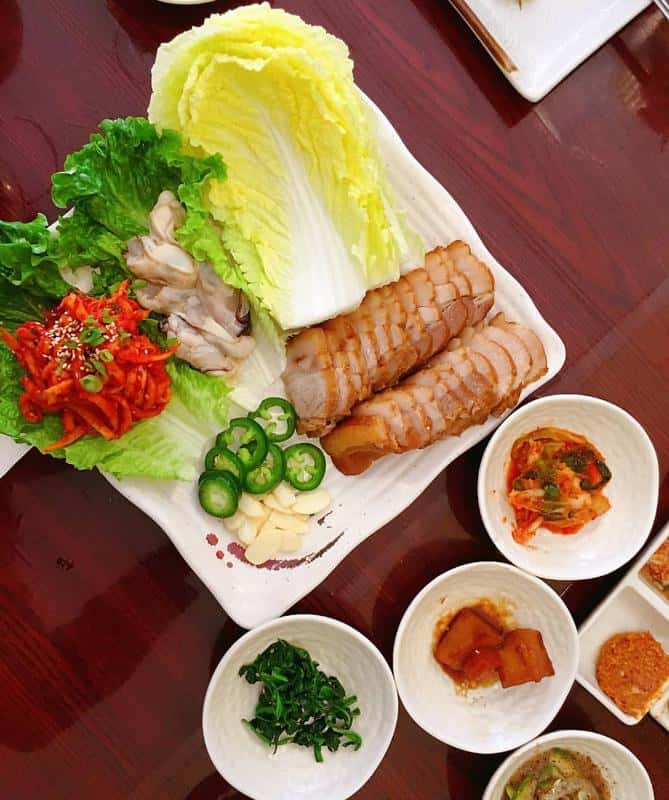 Location: 4373 Convoy St, San Diego, CA 92111
Price: $$$
Chon Ju Jip is an unassuming neighborhood restaurant serving up some mean traditional Korean meals. They are a local favorite and are a no-frills venue that has a bare focus on excellent food and quality. The superb service allows diners to truly transport themselves to a new realm of culinary wonderlands.
The Korean BBQ options are, unfortunately, not all you can eat. However, you can order combos that include some of the most popular cuts of meat, vegetables, and sides to try. It's an opportunity to get out of your comfort zone and truly experience a meal unlike anything you would have regularly chosen.
The portion sizes are incredibly generous and are perhaps the reason for the lack of AYCE. Alongside this, you can find a variety of dumplings, soups, and other delicious delicacies that truly indulge the senses. It's a quaint, special spot that definitely deserves some praise.
Kogi BBQ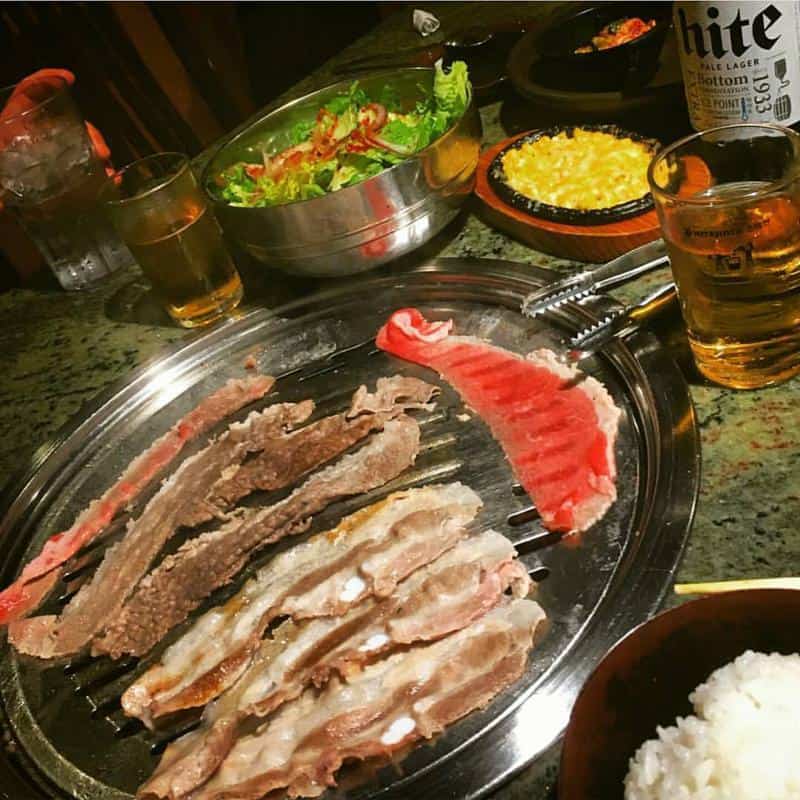 Location: 5447 Kearny Villa Rd A, San Diego, CA 92123
Price: $$
Kogi BBQ presents a fun and welcoming environment for any and all curious patrons to sit and enjoy an authentic Korean BBQ experience. They are a packed venue and popular too, so we highly recommend making a reservation to come to dine here. It's a place of celebration and sharing, so bring your friends and family too.
They use prime cuts of meat and locally sourced seafood to produce a wonderful array of easily prepared meals for diners to choose from. The best part about Korean BBQ is that diners have the added bonus of an interactive experience with their meal.
While the chefs meticulously prepare incredible, tasty seasonings and marinades, cutting their meats to perfection and preparing all the fresh, beautiful ingredients to present to patrons. This is a culinary experience you may not want to miss.
Read More:
Korean BBQ in San Diego: FAQs
What makes Korean BBQ special?
Korean BBQ allows patrons to both cook and dine in the same overall experience. It is a traditional sharing method used in South Korea, using fine cuts of meat, various seafood, and vegetables, which you can cook to your liking and enjoy with your favorite pan-Asian dipping sauce.
What is the traditional sauce used?
The traditional sauce used in Korean BBQ restaurants is called "Ssamjang," which is a chunky and delightful mixture of Korean soy-bean paste, gochujang, sesame, scallions, and garlic!
Conclusion
San Diego has always had an international attraction, so we will certainly never be left wanting when it comes to global cuisines. The Korean BBQ spots are incredible and a celebration of cuisine and friendship. You'll find no lack of quality and service from the smallest hole-in-the-wall venue to the fanciest dining restaurant.
The best part is that Korean BBQ offers an interactive dining experience that immerses patrons in culture and tradition. There is entertainment abound when sitting around a built-in grill with family and friends, cooking thinly sliced meats to your leisure, and just enjoying good times.