The wonderful beach town of Dana Point is a great spot for seafood lovers. The California Coast brings the freshest variety and its locally sourced ingredients give way to a wide array of restaurants in the town.
Eat to your hearts' delight whilst marveling at the soothing west coast and refreshing beach vibes. The idyllic cliffs beautifying its tranquil waters become the perfect backdrop to enjoy the city's scrumptious coastal cuisine.
Here's our list of the 13 best Dana Point restaurants to indulge in during your next beach trip.
Best Overall Dana Point Restaurant: Harpoon Henry's Seafood Restaurant
Best Dana Point Restaurant with a View: Bourbon Steak Orange County
Best Romantic Dana Point Restaurant: Luciana's Ristorante
Best Dana Point Restaurants
Harpoon Henry's Seafood Restaurant
Location: 34555 Golden Lantern, Dana Point, CA 92629
You can't enjoy the whole coastal city experience without dining at Harpoon Henrys. Rated as one of the best Dana Point restaurants, it truly exudes a refreshing beach vibe with its unwinding waterfront location and excellent seafood prepared fresh every day with 44 years of dedicated service.
Rows upon rows of docked yachts glistening with sunlight welcome you on their indoor or outdoor patio. Every table offers a lovely view of the harbor as you sit and enjoy the calm and soothing vibes of the ocean.
The menu is hearty and affordable, satiating your seafood cravings to the brim. The coconut shrimps are tender and appetizing, and pair exceptionally well with the Bread Bowl filled up with Clam Chowder.
Enjoy your favorite entrees with a side of chilled Mai Tai or Margarita and you will be thanking your lucky stars for winding up at Harpoon Henry's!
Highlights:
Spectacular harbor side location with indoor and outdoor patio seating.
Refreshing coastal theme.
Delectable seafood and tropical drinks.
Bourbon Steak Orange County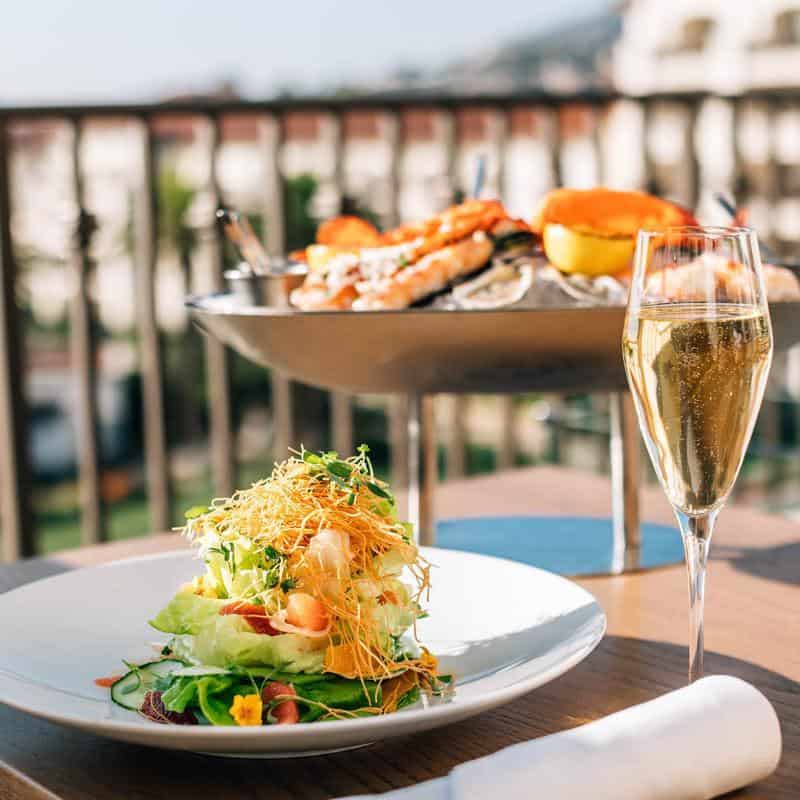 Location: 1 Monarch Beach Resort N, Dana Point, CA 92629
Located in the heart of Monarch Beach Resort, Bourbon Steak Orange County combines enchanting ocean views with mouthwatering cuisines, delivering the perfect package to its visitors. It is a fancy steakhouse that's quite popular for its wonderfully succulent steaks, as well as fresh seafood and wine.
We love the refined layout of the restaurant with high ceilings and soft accents of wood and beige hues. The regal chandeliers welcome you to dine in an imperial atmosphere with magical views, making for a perfect date night.
For seafood lovers, we recommend the generous serving of Maine lobster cooked to perfection.
However, when in a steakhouse, ordering steak is a must! And in case of doubt, always go for their big and mighty Prime Porterhouse with a side of your favorite wine.
Highlights:
Breathtaking views in a beachfront location.
A regal atmosphere with a fancy layout.
Appetizing steaks and seafood.
Luciana's Ristorante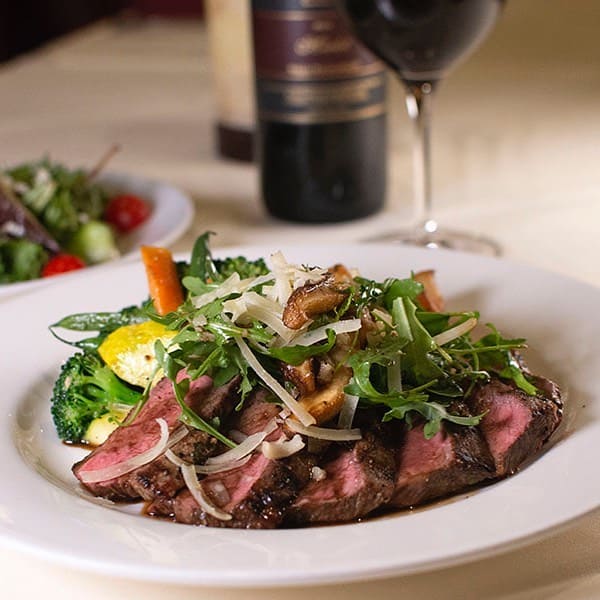 Location: 24312 Del Prado Ave, Dana Point, CA 92629
Luciana's is an Italian food staple at Dana Point, and one of the most elegant restaurants in town. The romantic ambiance is intensified with a cottage-like setup, upholstering seating, and wooden accents.
Glistening with old-school charm and classic Italian recipes, it is one of the best spots for date nights and anniversaries.
If you want to impress your beau, be sure to book a table out on the patio with wonderful views under a starlit sky, or the cozy fireplace on a chilly night.
The food is as sophisticated as it gets, with Linguine Vongole drenched in white wine sauce and a side of Bruschetta. Don't forget to get an Italian Gelato with two spoons and you will be ending the evening on a sweet note.
Highlights:
Beautiful décor and layout.
The outdoor patio and fireplace are ideal for a romantic evening.
Authentic Italian cuisine.
Wind & Sea Restaurant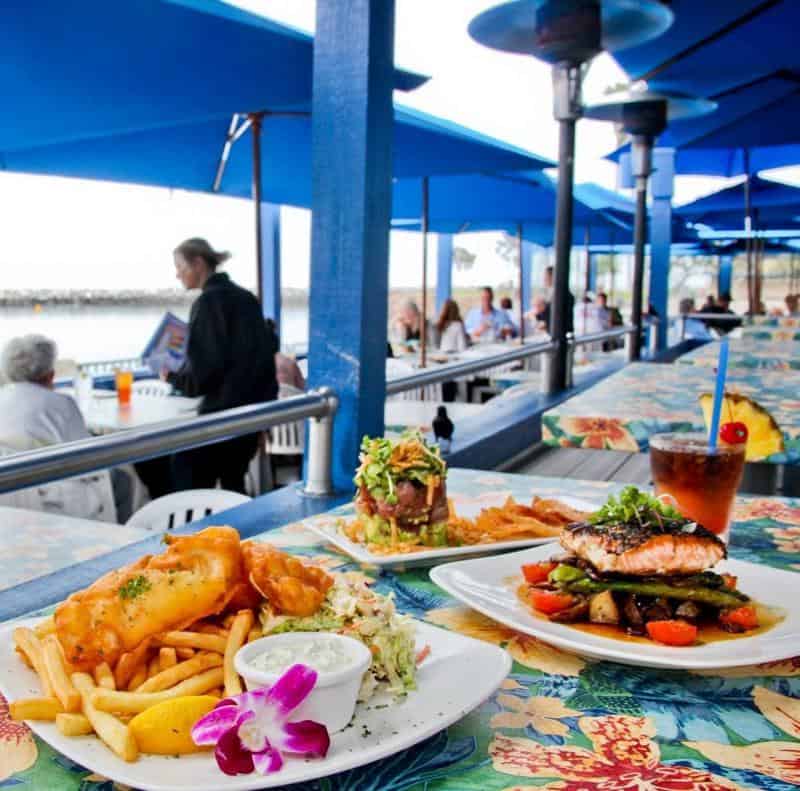 Location: 34699 Golden Lantern, Dana Point, CA 92629
Located right on the water in the serene Dana Point Harbor, Wind & Sea is a lovely restaurant with refreshing views.
Relish in fresh seafood with a great selection of dishes ranging from lobster tail and king prawns to Alaskan King Crab Legs and a variety of fishes.
They also have vegetarian options as well as juicy steaks and plates of pasta. They also host a fun-filled 'Hawaiian Happy Hour' through the week filled with booze and food! Try the traditional Mai Tai's or kick in with some good old craft beer.
While we highly suggest the spacious patio on the waterfront for dining, the indoor seating allows for live entrainment and plasma TV views for a more intimate setting.
It is an ideal date night spot to get some drinks and desserts as the moon makes the mighty waters twinkle on a starlit night.
Highlights:
Wonderful waterfront location with mesmeric views.
Fresh seafood and other varieties.
Hawaiian happy hour and live entertainment.
Harbor Grill Restaurant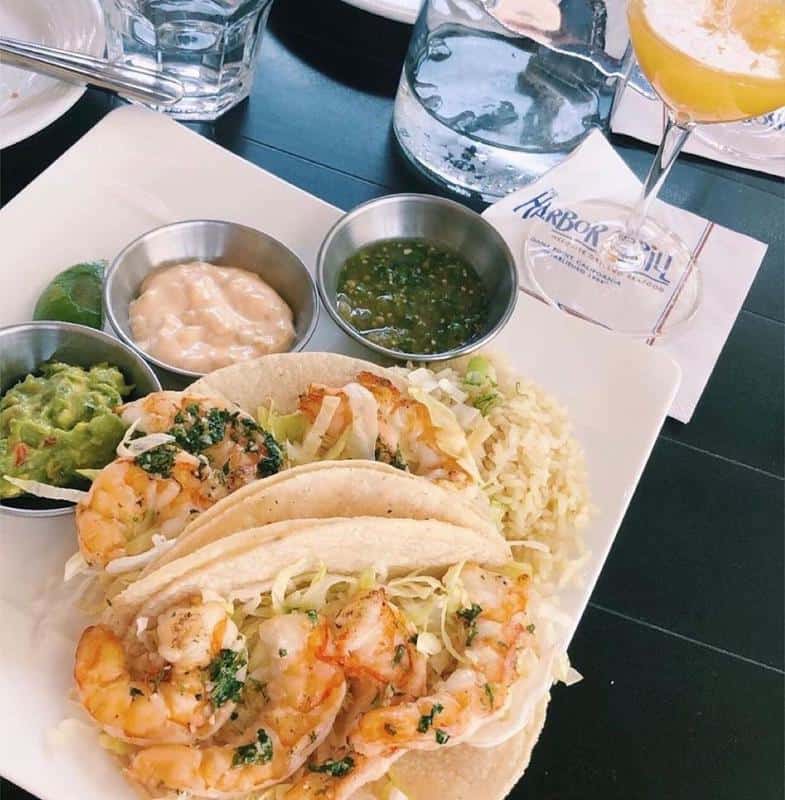 Location: 34499 Golden Lantern, Dana Point, CA 92629
Proudly owning 'We know seafood' as their motto, you know you've hit the jackpot when you dine at Harbor Grill.
The rustic and charming restaurant is known for its mesquite grilled seafood and people pour in from all over town to try their specialties. Nestled along the waterfront, the restaurant serves hearty lunch and dinner every day with a special Sunday breakfast featuring Mimosas and bottomless champagne.
For lunch, they have a wonderful setup with an enclosed patio that keeps the heat away while still letting you in all on the sunny beach goodness as you enjoy your food.
We highly suggest their delectable Caribbean Spice Rubbed Mahi Mahi grilled to perfection. Sitting atop a fresh Brioche Bun, the dish has just the perfect amount of seasoning with mouthwatering Dungeness Crab Louie Salad and a glass of Babich Sauvignon Blanc flawlessly tying up the meal.
Highlights:
Lovely patio seating with views.
Known for its mesquite grilled seafood variety.
Laidback ambiance and Sunday champagne breakfast.
Jimmy's Famous American Tavern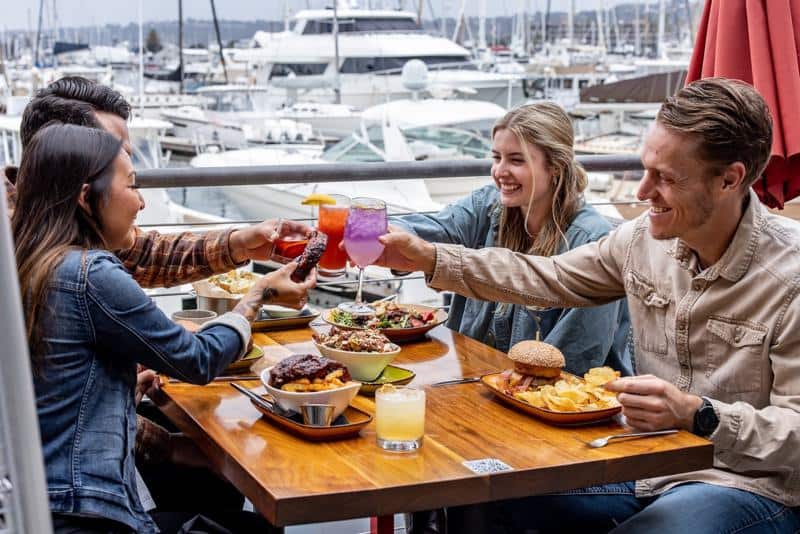 Location: 25001 Dana Point Harbor Dr, Dana Point, CA 92629
The unpretentious vibe at Jimmy's is perfect to grab your favorites without having to suit up for it. The laid-back restaurant and tavern enjoy a fine spot at Dana Marina Plaza along the Dana Wharf.
The layout of the restaurant is quite refreshing with minimalistic modern furnishing and wood accents that give it a warm and welcoming look.
Bring your friends and order a large platter of appetizers around the table. The Beer Battered Onion Rings are all the rage and go amazingly well with Fried Fish and Shrimps. The infamous 'Tavern Bowl' features juicy grilled chicken or shrimp and goes perfectly with chilled beer.
They also have a variety of burgers and sandwiches and their delectable dips like Serrano and Poblano guacamole and Pimento cheese dip make everything taste infinitely better.
Highlights:
Laidback and casual dining spot.
Comforting ambiance with booth-style seating.
Delicious variety of seafood and American cuisine.
Coastal Kitchen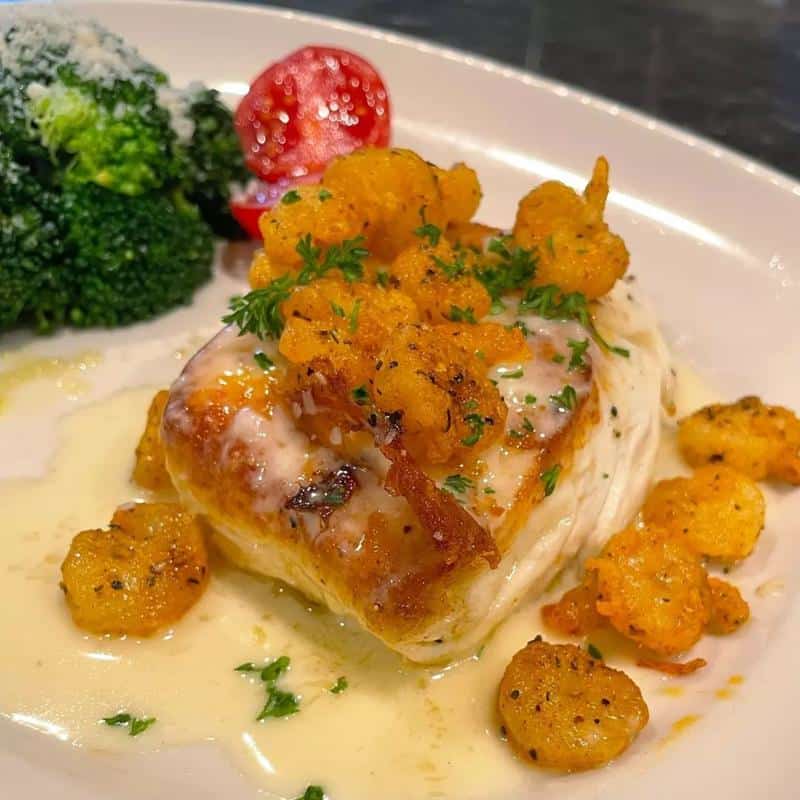 Location: 34091 CA-1, Dana Point, CA 92629
Delve deep into the culture and history of Dana Point with your visit to Coastal Kitchen. Set up in a historic building from the 1920s, the restaurant has a wonderful location with harbor views and is crowded with locals, so we suggest you head there early to secure a seat.
We love the tranquil white and navy color theme inspired by the marine vibes that surround it, thanks to the Southern California beach gracing it with its mighty presence.
The fresh and inventive dishes make use of plenty of seafood varieties, from crab meat to shrimp and fish in all sorts of preparations. Try their jumbo crab with a side of crab cake salad, citrusy grapefruit wedges, and arugula doused with champagne vinaigrette.
They also have a good variety of sandwiches with red cabbage slaw. One can't say no to their rich and hearty New England clam chowder either. Finish off strong with a slice of their fresh homemade key lime pie.
Highlights:
Lovely nautical accents with a white and navy color theme.
Harbor views.
Wide range of New American dishes with fresh seafood.
Maison Cafe & Market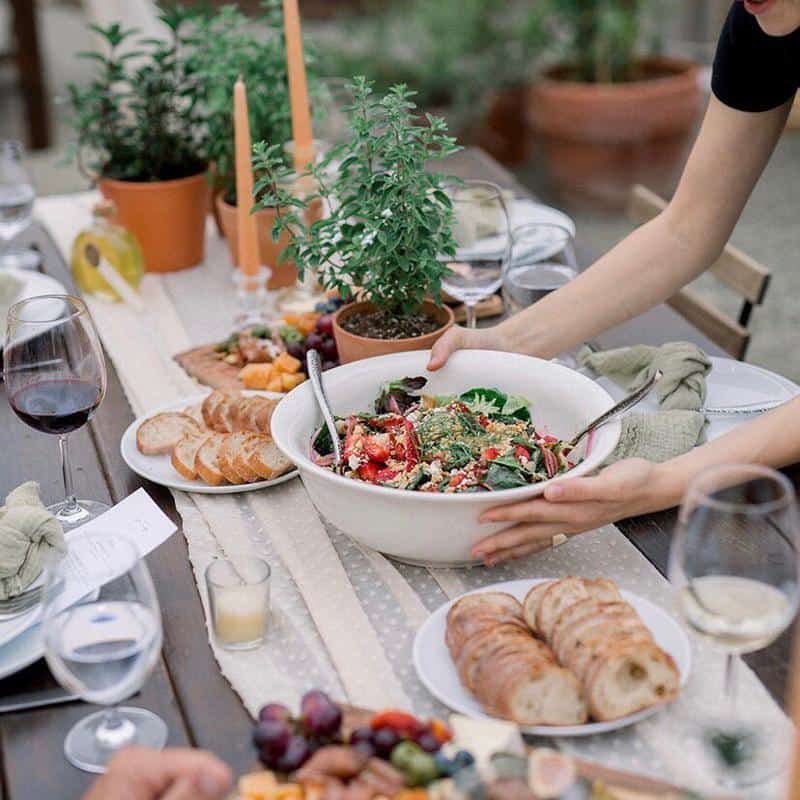 Location: 34320 CA-1 H, Dana Point, CA 92629
Though not exactly a restaurant, Maison Café has a charming European vibe that deserves a spot on our list.
The vibrant and upscale venue opens up the best of Dana Point with a café serving scrumptious seasonal plates and wine, brunch, and a sprawling market.
The all-day bakery and café have an amiable vibe with a casual atmosphere to grab a bite as you head out to the market.
The contemporary café is ideal to stop by for morning meals and start your day right with the heavenly Baies Melangees Avocado Toast loaded with cheese, herbs, and seasonal berries and fruits.
They also concoct wonderful coffee delivering the perfect caffeine boost, but you can also keep things light and order freshly squeezed orange juice.
Highlights:
Charming and lively café and bakery.
Delicious buffet and drinks.
Located in a strip mall.
Salt Creek Grille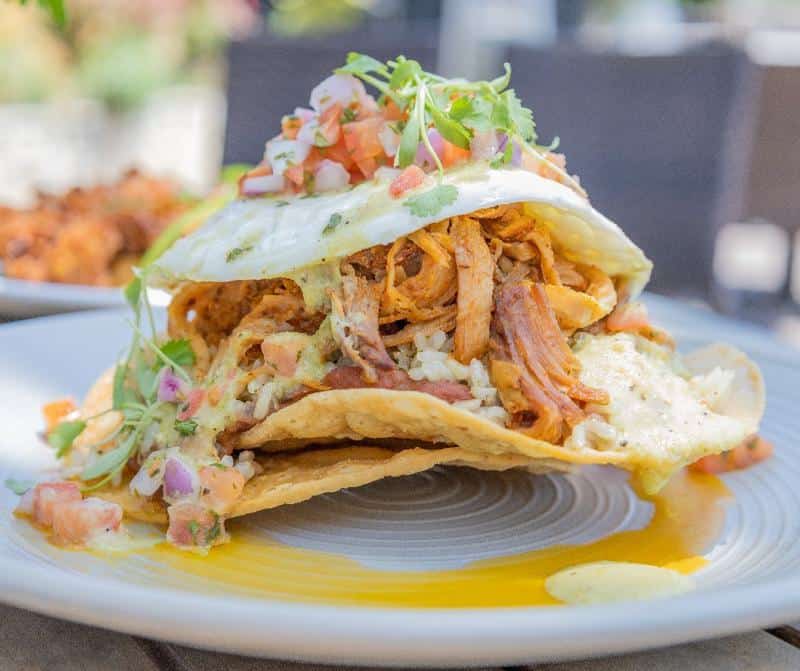 Location: 4 Bingham Ave, Rumson, NJ 07760
Warm and cozy Salt Creek Grille welcomes you to indulge in contemporary American cuisine with timeless hospitality in Monarch Bay Plaza.
The rustic restaurant has a cottage-style indoor sitting as well as spacious courtyard dining, making your visit intimate and refined with a soothing country ambiance.
Take pleasure in the simplest orders of Creek Flatbread and relish in a variety of seafood and steak options loaded with sides of fresh farmer market vegetables.
If you are looking for something light, get their sandwiches or burgers. They also have a good selection of seafood chowder. However, we highly recommend getting a seafood entrée to truly get a taste of their amicable preparations and service.
The mighty fillet is served with mushrooms, Brussels sprouts, butternut squash, and dollops of mashed potatoes. The steaks are also prepared scrumptiously well and aptly grilled.
Highlights:
Beautiful rustic setup.
Consistently great service.
A fresh variety of seafood and classic American delights.
Luxe Restaurant and Bar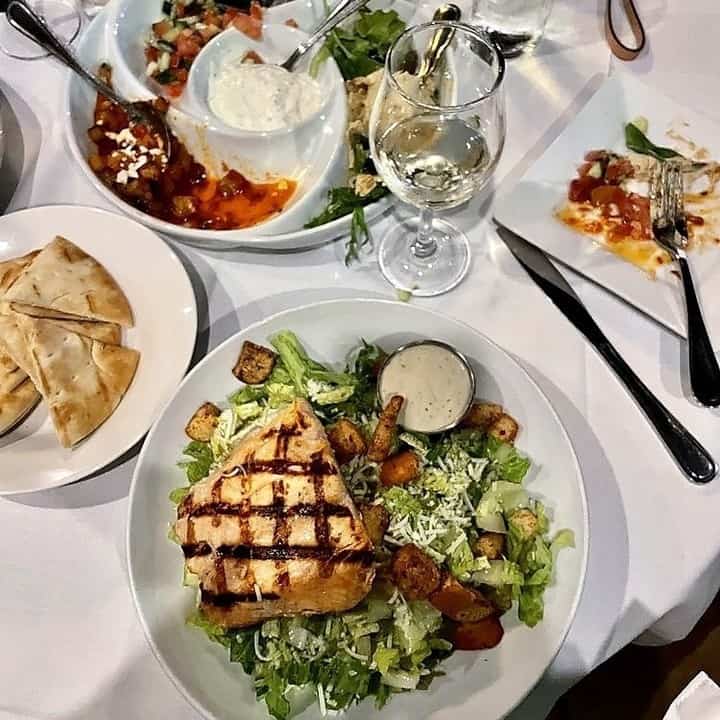 Location: 24582 Del Prado Ave, Dana Point, CA 92629
Luxe is another great Italian restaurant with a top-notch Martini bar to curb your cravings for Italian cuisine in Dana Point. The cushy lounge area offers elegant yet comfortable indoor seating in a warm and sophisticated setting.
For open-air dining, they have a large patio as well. The restaurant offers live entertainment with local bands performing as you feast on your favorite dishes.
Deviating a little from classic and traditional Italian food, the restaurant sets a fusion menu with Italian-inspired sharing plates. We appreciate the efforts to provide a blended menu with a bit of everything while still staying close to Italian roots. They also serve juicy steaks and seafood alongside Italian delights.
Get their delicious Lobster Bisque to start the evening and try the scrumptious and generously served Rib eye and Shrimp Scampi combo doused in white wine sauce as the main course.
Their Mascarpone Creme Brulee will transport you to the cobbled streets of Italy, and the huge list of drinks in their full bar is the perfect way to end the night.
Highlights:
Classic and fusion Italian dishes.
Live entertainment.
Top-notch martini bar.
Raya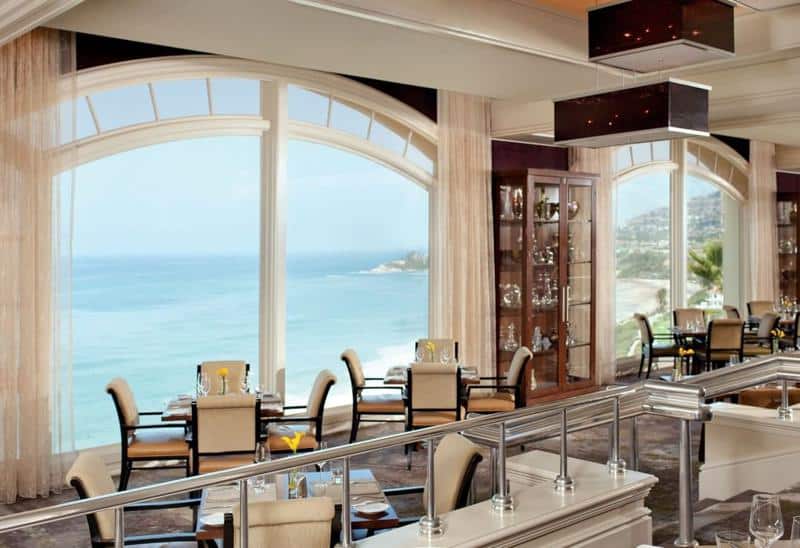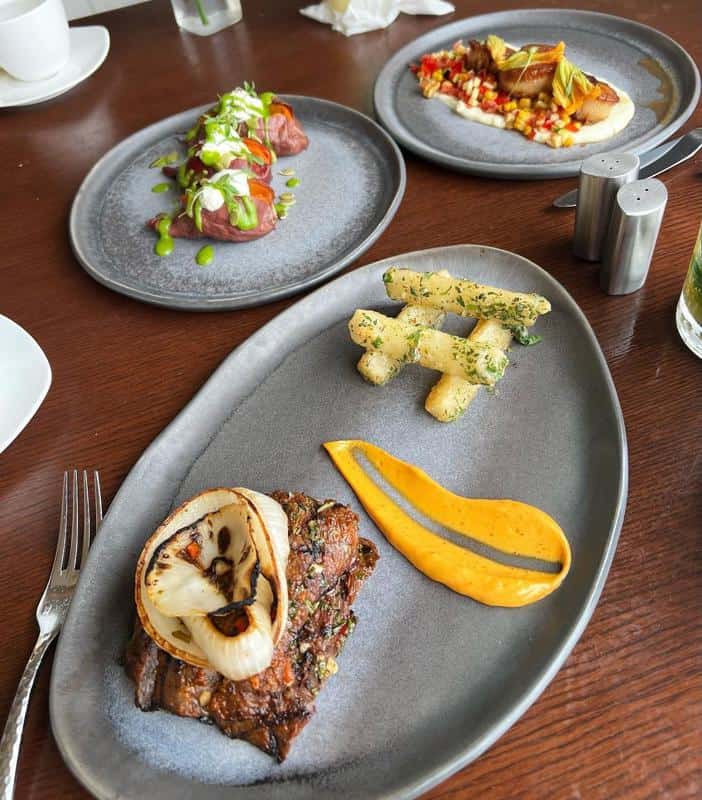 Location: 1 Ritz Carlton Dr, Dana Point, CA 92629
You will get the ultimate fine dining experience at Raya. The Sleek and stylish restaurant is located in The Ritz-Carlton, Laguna Niguel and overlooks the sprawling sea. The splendid views blend in perfectly with the Pan-Latin seafood served here.
From high ceilings and floor-to-ceiling windows to comfortable and luxurious lounge chairs, the restaurant interiors are truly regal. There is good variety on their menu but seafood items are their specialty so make sure you get at least one seafood based dish.
The Ceviche Tasting platter is a great appetizer for sharing with ahi tuna and sea bass. You can also go for the hearty Raya Seafood Sample loaded with shrimp, tuna, mussels and oysters. Pair it with your favorite wine from their refined selection.
Highlights:
Mesmeric views of the ocean.
Fresh and delicious Pan-Latin seafood variety.
A fine dining experience.
Gen Kai Sushi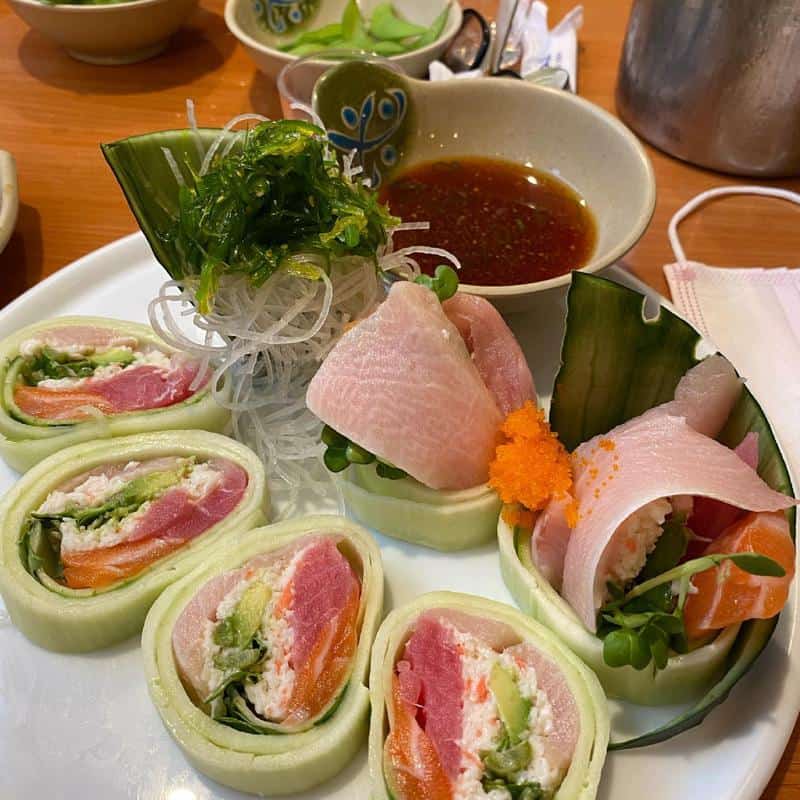 Location: 34143 CA-1, Dana Point, CA 92629
Get a taste of the finest Japanese cuisines at Gen Kai. The lovely little spot keeps things minimal yet chic, so you can enjoy traditional sushi in an unassuming atmosphere.
The large menu looks quite promising and makes the restaurant a must-visit for every foodie. There are tons of sushi rolls ranging from standard to traditional hand rolls and unique varieties made from the freshest ingredients.
We recommend their Jumbo Crunchy Roll which is stuffed with succulent crab meat and baked snow crab leg. The Shabu Shabu beef with vegetables is also quite delicious, and the refreshing sake and ale pair well with the classy Japanese fare.
Highlights:
Unassuming traditional Japanese cuisine.
Relaxed ambiance.
Good variety of rolls and drinks.
Read More:
Harvest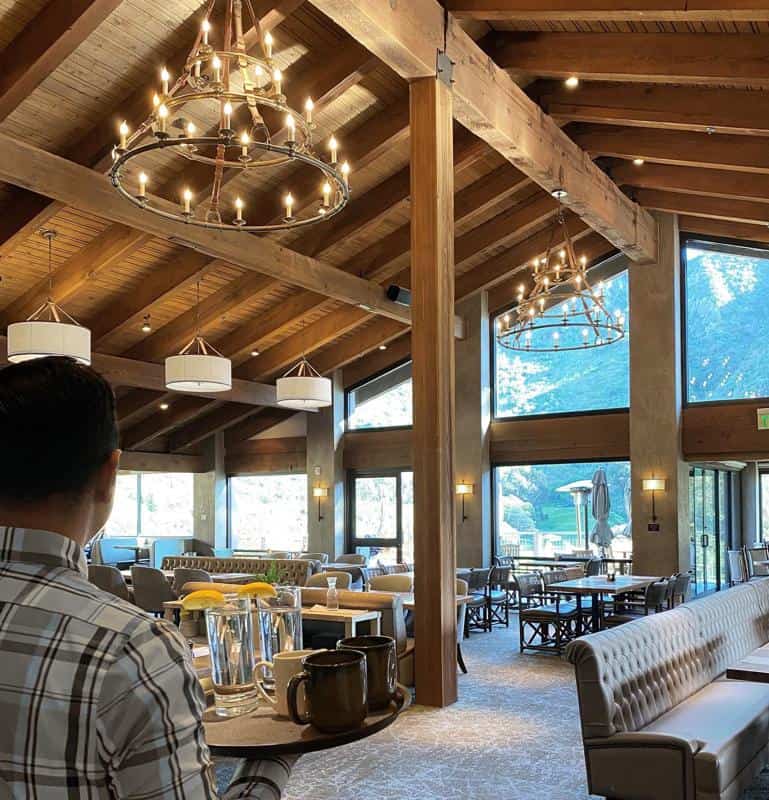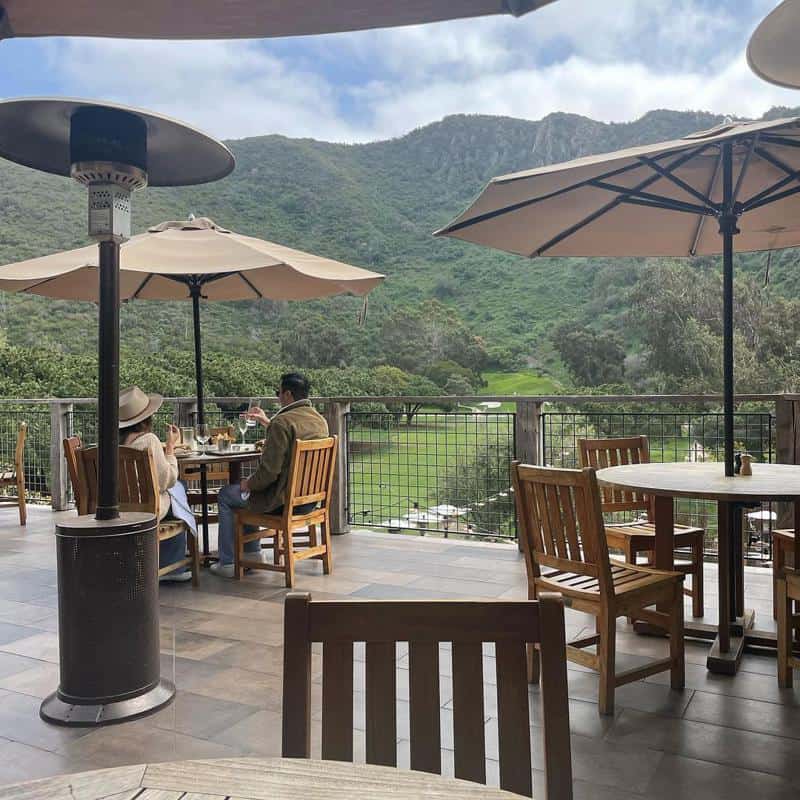 Location: The Ranch at, 31106 Coast Hwy, Laguna Beach, CA 92651
The elegant and graceful Harvest invites you to feast on fresh and organic meals with a tranquil setup promised to make your troubles fade away.
The dim lighting, wooden accents, and a stone fireplace make indoor dining extremely comfortable, while the outdoor patio opens up to a sprawling golf course and Aliso Canyon.
Get their classic Shrimp Cocktail or huge Seafood Platter for sharing with wild Baja shrimp cocktail, market fish ceviche, and west coast oysters.
The Pasture Bird Half Fried Chicken is perfectly tender and bursting with flavors in blistered tomato Panzanella, and the Grass Fed Beef and Pork Bolognese and Whales Cove Mussels are perfect for sharing.
Highlights:
Organic and fresh American dishes.
Gorgeous and cozy setup.
Outdoor patio with views.
Map of
Best Restaurants in Dana Point
Conclusion
No matter what you crave, you can find it at Dana Point. The lovely coastal vibes add charm to refreshing seafood dishes, and the unparalleled views make your dining experience infinitely better. Whether you are looking for a casual place to hang out with tons of food, or a fancy feast to share with your beau, you will find the perfect Dana Point restaurant on our list.