From high-class sushi places like Yoshino and Icca to small-scale restaurants like Gouie, New York is not short of great sushi eateries. However, only five sushi restaurants in New York offer the much craved after all-you-can-eat sushi menu.
Las Vegas is one of the states that is filled with multiple AYCE sushi, and New York, albeit a master in Japanese cuisines, pales in comparison.
According to Osaka Japanese Bistro, a world-renowned sushi restaurant, the main reason why most restaurants opt out of AYCE sushi is because of the freshness of the fish. AYCE sushi restaurants require a bulk purchase of ingredients which makes it hard for fresh fish to be used if the initial purchase is stored for long.
So, if your favorite sushi restaurant doesn't have AYCE, it may be good for you.
That does not mean the available AYCE sushi restaurants in New York offer bad sushi meals. New York has one of the most strict sushi preparation policies every restaurant must meet.
Restaurants failing to comply with the strict policies can be subject to up to $2000 for every reported violation.
Needless to say, you may rest easy when taking a look at the best all-you-can-eat sushi restaurants in New York. Kumo Sushi is an example with its $27.95 all-you-can-eat menu.
But, like most AYCE restaurants, you may need to call in advance for more details on the offers as they may be seasonal. We have linked their contacts for you.
Best All You Can Eat Sushi in NYC
1. Kumo Sushi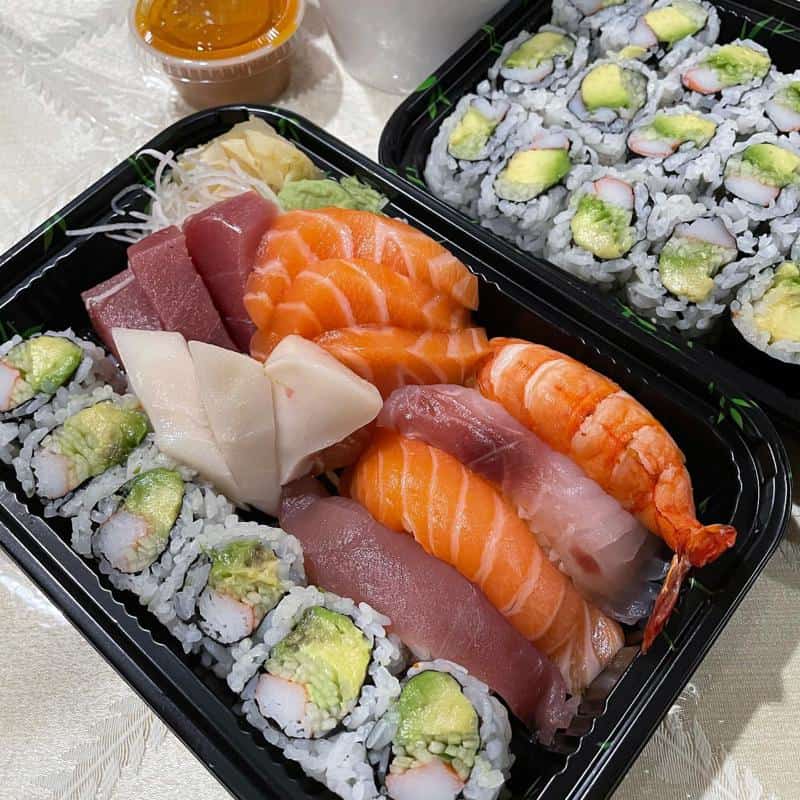 Address: 165 W 72nd St, New York, NY 10023
Phone: 212 580 5900
AYCE Price: $27.95
Kumo Sushi offers an innovative modern interpretation of classic sushi dishes and other delectable ones like noodle soups, tempura, pan-fried noodles, and various rolls of various types.
Lunch specials on the menu include the sushi lunch available from Monday to Sunday at 11:30 am, where you can have a $17 sushi meal with 7 pieces of sushi and a California roll. You can also get 3 rolls for $14.
One other thing that makes Kumo Sushi stand out is the various available specials. Kumo offers you free edamame if you purchase meals of $60 or more. Additionally, you can get free harumaki if you purchase dishes that cost or exceed $50.
The ambiance of the diner is great, with warm lighting and a relaxed atmosphere. The staff is great and friendly with a keen eye on helping you make the best purchase. The food ordering process is one of the most praised parts as you get to make all your choices from an iPad; how convenient.
2. Kikoo Sushi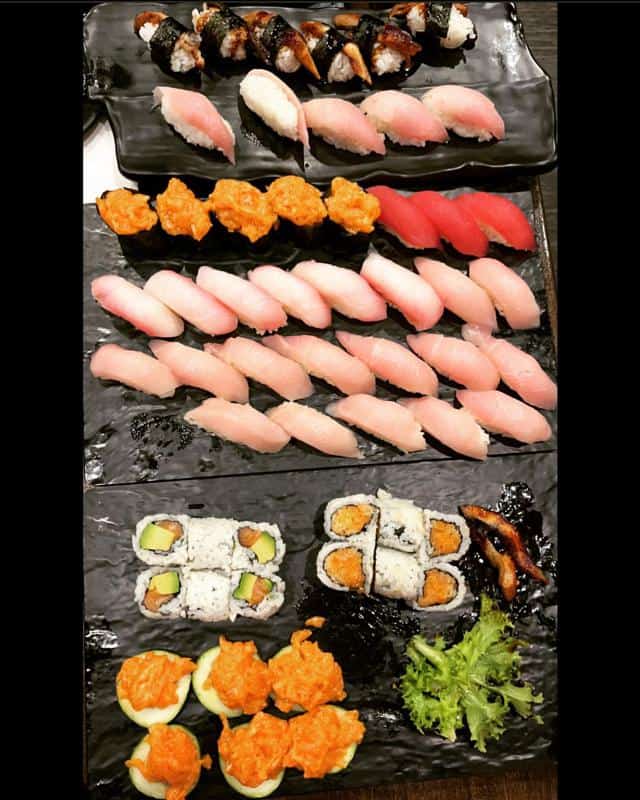 Address: 141 1st Avenue, New York, NY 10003
Phone: 212 533 3888
Price: $38
Have all the sushi you want in the $38 AYCE offer that runs for two hours with only one menu option. The location at the heart of New York is a beloved spot among sushi lovers as it offers multiple promotions and specials throughout the year.
The menu to choose from has various Japanese cuisines, from teriyaki to sashimi and nigiri. Contemporary tempura is one of the famed dishes of Kikoo Sushi, but it does not top the unlimited sake bombs that are on the unlimited drinks menu. Get to dine in the venue or get take-out and delivery before 10 pm every day.
Kikoo Sushi has dragon rolls of every color, adding to the huge assortment of new-style entrees and traditional sashimi. The venue's contemporary atmosphere had served many New Yorkers well since 2015 when the spot opened.
It is an excellent venue for large groups with its large tables. You are guaranteed to get all your money's worth when coming in groups as they offer various discounts.
3. Rakuzen AYCE Sushi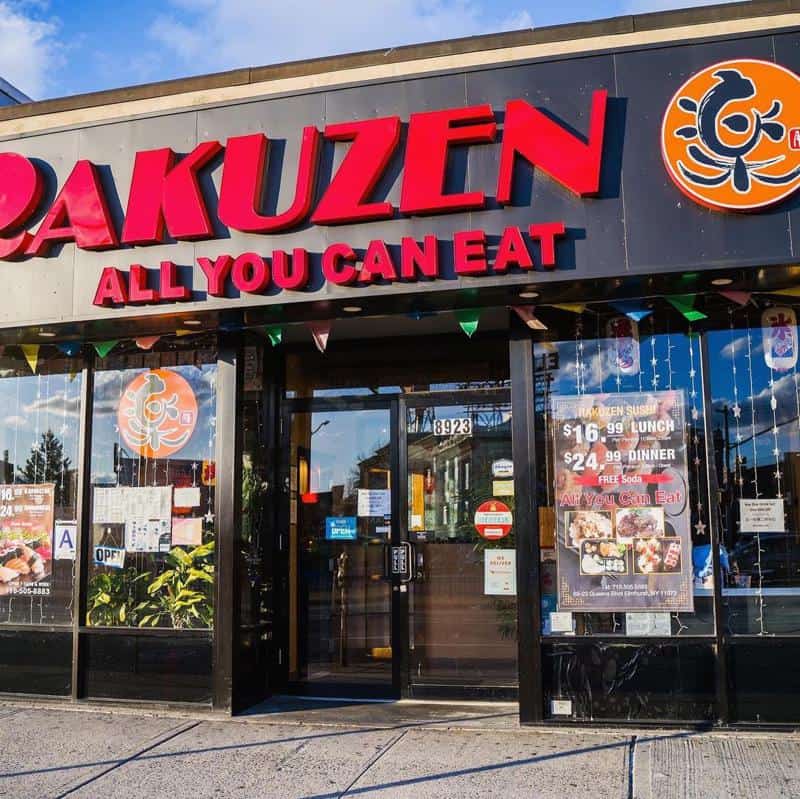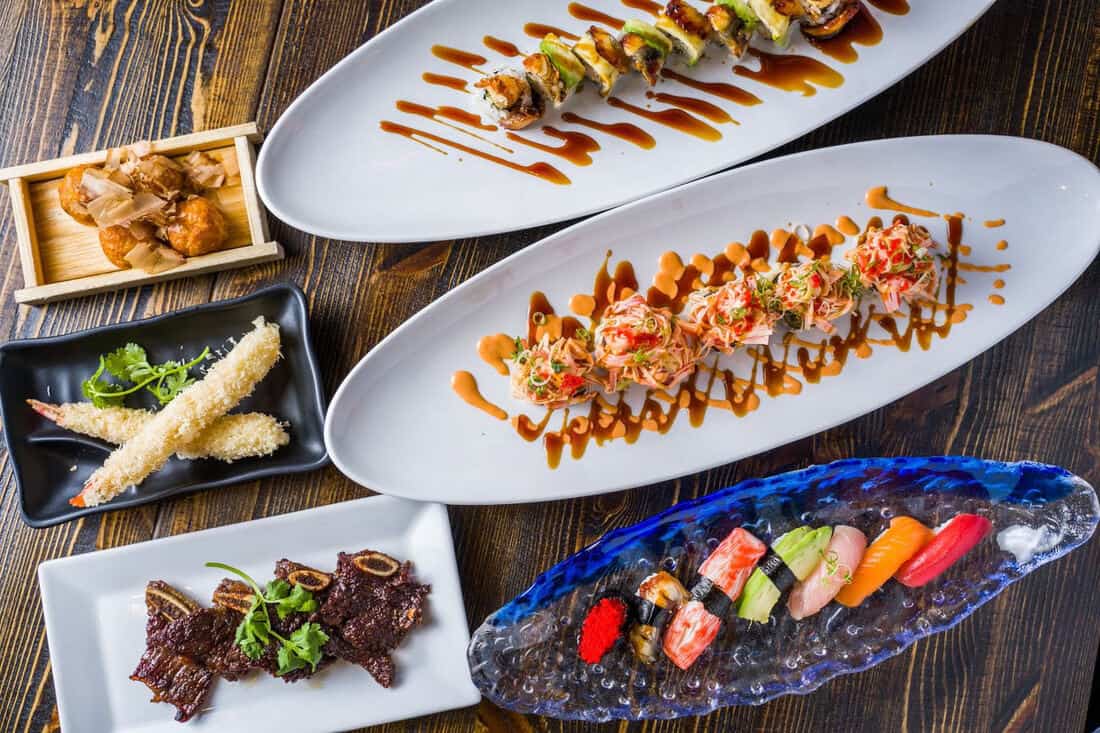 Address: 6408 Fort Hamilton Parkway Brooklyn, NY 11219 and 89-23 Queens Boulevard Elmhurst, NY 11373
Phone: 718 238 0008 and 718 505 8883
Price: $29 – $36
Rakuzen has two locations, one in Elmhurst and another in Brooklyn. They both offer all-you-can-eat sushi every day, all day. It costs $29.99 per person in Elmhurst and $30.99 in Brooklyn. It is important to remember that you can also get $35.99 for all-you-can-eat sashimi per person in the Elmhurst location.
The modern AYCE venue offers Asian fusion delicacies ranging from various kitchen appetizers to the famed sushi dishes. There is a $24.99 mix & match menu that provides customers with 6 item picks, one special roll, a soda, and one sushi bar appetizer.
Rakuzen has eclectic dishes from the Kani salad to the kalbi beef, fried oysters, fried shumai, age tofu, edamame, ped Thai, seaweed salad, and much more.
Special rolls are in plenty, from the spider roll to the dragon roll, fancy shrimp tempura, double dragon roll, white house roll, and the fancy salmon roll. Try their range of appetizers, from the salmon sashimi to the Tako salad and pepper tuna tataki.
Also See: Best Sushi Restaurants in Brooklyn
4. Akino in Elmhurst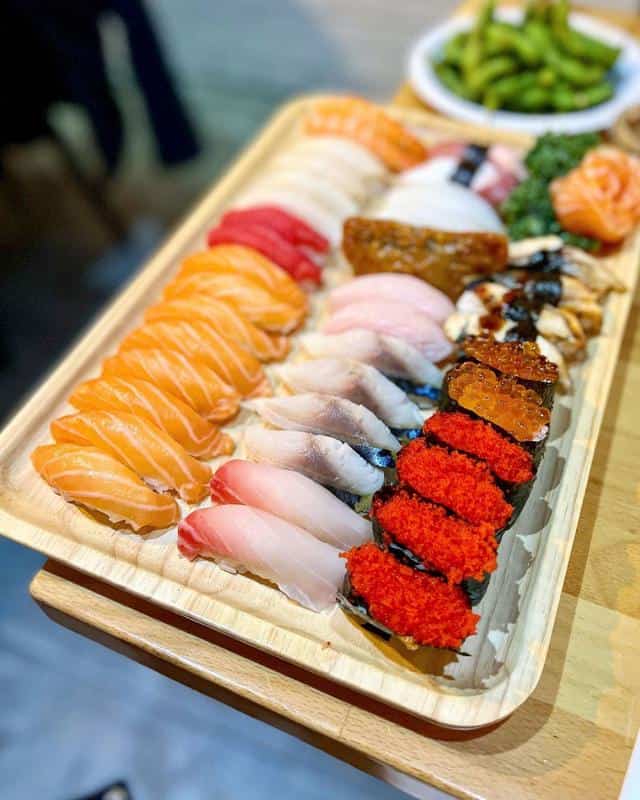 Address: 82-80 Broadway, Queens, NY 11373
Phone: 718 779 8280
Price: $17 – $28.99
Akino closes its doors every day at 10:30 pm. The AYCE restaurant is known for its wide selection of Japanese foods, from the teriyaki to donburi, udon, sashimi, special rolls, sushi, and much more. The sushi bar is inviting with a selection of sushi pizza, the red snapper jalapeno, and not to mention the dragon ball.
AYCE menu price varies from lunch to dinner and weekday to weekends. Eat all the sushi you want for lunch at just $16.99 on the weekdays and $17.99 on the weekend. Dinners cost $27.99 on weekdays and $28.99 during the weekend.
Get any two rolls during lunch for just $9 or $13 for three rolls. Signature rolls include the $14 Akino roll, which has spicy akini, cucumber topped with eel, tobiko, avocado, spicy mayo, and potato crisps. You may also like to try the rainbow roll with Kani, avocado, and topped with assorted fish.
5. Yuka Japanese Restaurant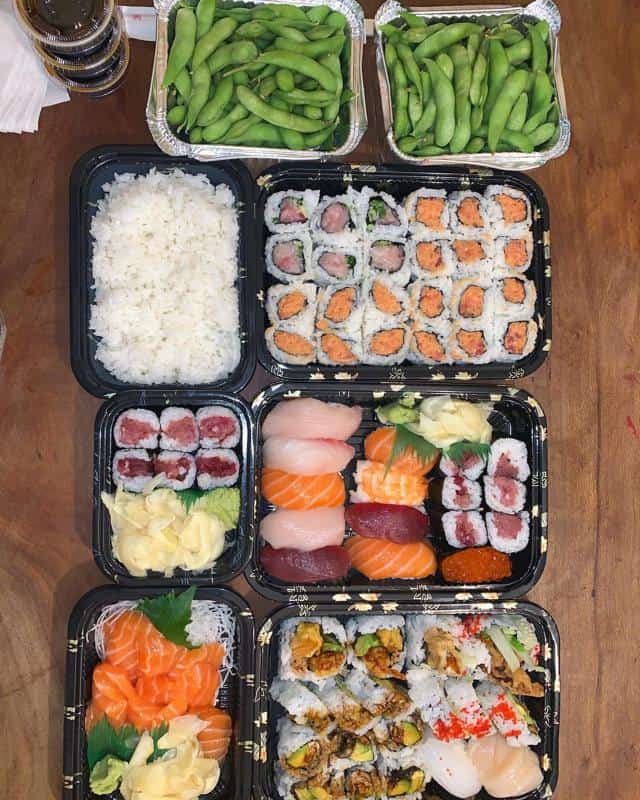 Address: 1557 2nd Avenue, New York, 10028
Phone: 212 772 9675
Price: $28.95
Many New Yorkers do not know Yuka. It is one of the least glamorous places to dine in, but they offer the cheapest AYCE sushi menu you can ever hope to find in New York. The menu consists of the usual, from special rolls to hand rolls, sashimi & shrimp appetizers, tuna options, and salmon dishes.
The AYCE offer is for one person; any person seen sharing will be charged extra for that other person. Moreover, the dining seating is limited. Therefore you are requested to keep the meal session to less than 1 hour and 45 minutes. The appetizers include boneless fried chicken, fried dumplings, and fried vegetable spring rolls.
You can choose between 6 pieces of cut roll or one hand roll per order. The various options in that section include the snow crab, tuna salad, Yuka hand roll, cooked seaweed, crab stick, yellowtail, tuna, salmon, and shrimp tempura. You also get to pick one sushi piece per order, including seared salmon or tuna option, small caviar, or the salmon caviar.
Apart from the incredible AYCE menu, get to try the Sushi Sashimi for two. It comes with four sushi pieces, a California roll, and incredible seventeen pieces of sashimi. All of this for a small price of $28, all made from fresh ingredients.
Also Read:
Final Thoughts
Another place you may want to check out for unlimited sushi and other Japanese cuisines is the buffets in New York. One example is The Buffet, where you get to dine for 1.5 hours and taste a huge assortment of hot lunches and dinners.
In case you are looking for other AYCE eat places, for example, for AYCE crabs, then check out the Crab House; the restaurant offers $69.95 AYCE where you can order as many crab items as you want.