A quaint city teeming with sandy beaches, sporting events, and luscious lagoons, Carlsbad is a hidden gem of Southern California. An ideal vacation spot for its relaxing atmosphere and appealing attractions, Carlsbad boasts an abundance of high-quality seafood restaurants waiting to be visited and each dish savored.
Start off the night's meal with a Baja Seafood Cocktail at Ponto Lago or end the night with a four-course meal at Jeune et Jolie. The choice is yours and the options are endless. Be prepared to step into Via Vai Cucina Italiana for delectable homemade Lobster Ravioli or take a seat at Barrel Republic Carlsbad to enjoy an appetizer of the Ahi Nachos.
Either way, each restaurant we've listed below has been proven to live up the standards of high-quality seafood-based dishes, exemplary customer service, and a vibrant setting to be enjoyed.
Seafood Restaurants in Carlsbad
Ponto Lago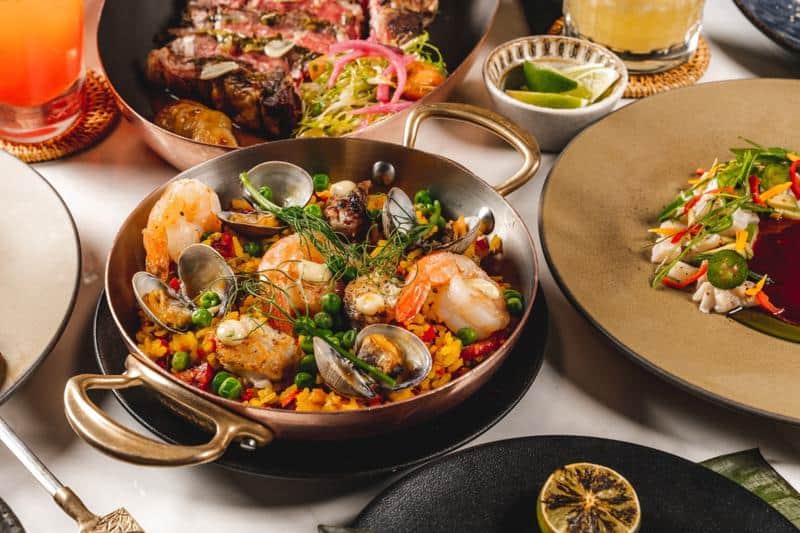 A fine-dining experience, Ponto Lago rests in a high-class hotel. It features a coastal flair of locally-sourced cuisine.
Ponto Lago provides a multitude of exquisite dishes, many of them being seafood-based. Begin the night with the Baja Seafood Cocktail, paired with avocado, shrimp, tapioca chicharron, and octopus for a superb start to the evening. For a more spiced and fruitier starter dish for the evening, order the Kampachi Ceviche that combines mezcal pineapple, coconut paleta, and fresno chile into one enticing treat.
The main course recommendations include the Seafood Spear and the Whole Baja Striped Bass. The Seafood Spear combines the catch of the day, shrimp, passion fruit, octopus, and burnt carrot escabeche for one powerful and filling dinner. The Whole Baja Striped Bass is paired with garlic chips and pickled manzana chile for a scrumptious seasoned and spiced dish.
Diner's Note: Live music at Ponto Lago is on Wednesdays and Sundays, 6 PM-9 PM.
Jeune et Jolie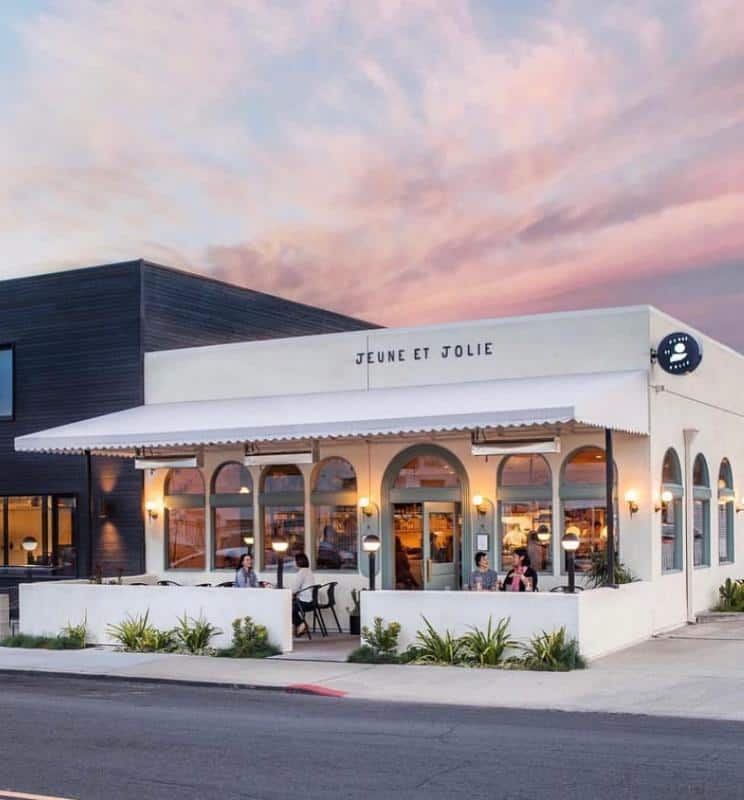 Jeune et Jolie is a culinary experience that offers a 4-course menu selection of French-inspired cuisine with unforgettable views of the Southern California landscape.
Start out the night with a delectable first-course option. The Crudo appetizer features Asian pear, amberjack, yuzu, and yellow pepper for a savory and fresh start to the evening. Or, for land-based meat, order the Tartar. It includes kohlrabi, lamb tartare, spruce, and spring onion.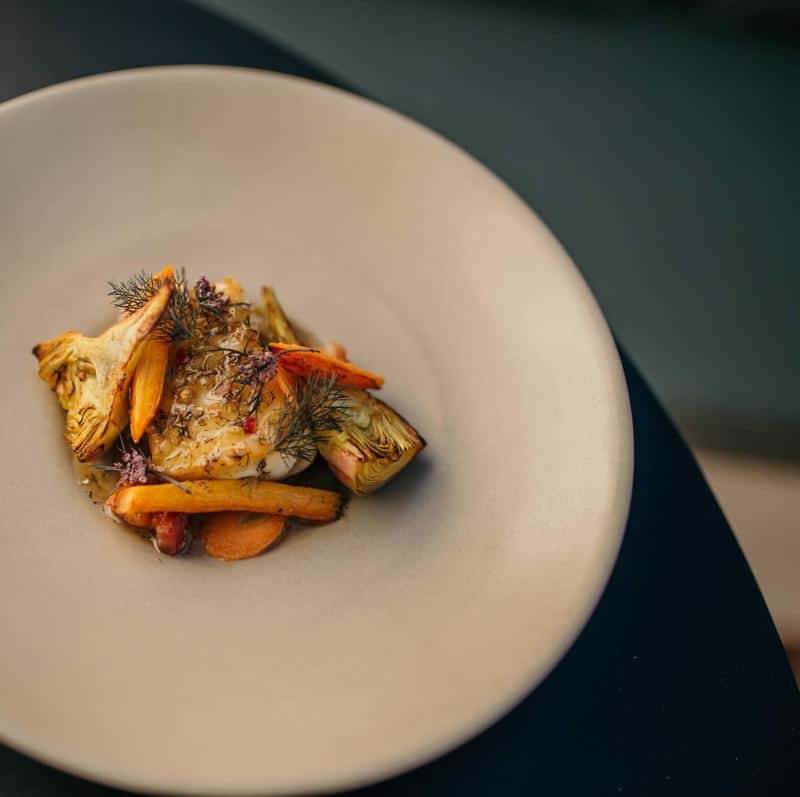 In the second course, a seafood-based option includes the Saint Jacques. This course option includes scallop, spinach, salsify, clam, and walnut. There is an upcharge option for regiis ova caviar at the request of the customer. For a vegetarian option, we recommend the Potiron, an earthy selection of apple, egg, butternut squash, winter mushroom, pepita, and an upcharge option of black winter truffle.
For course three we highly recommend the Lotte. This delectable option offers pork trotters, monkfish, sorrel, and king trumpet mushrooms.
And then, lastly, for course four, get a taste of the Fromage or the Argumes. The Fromage is an exquisite combination of new crop potato, epoisse, and sunflower. Another option is the Argumes, which combines fennel, Meyer lemon, and white chocolate for a decadent and rich ending to the night's 4-course meal.
Diner's Note: Walk-in guests have available seating at the lounge and bar where an à la carte menu is offered.
Via Vai Cucina Italiana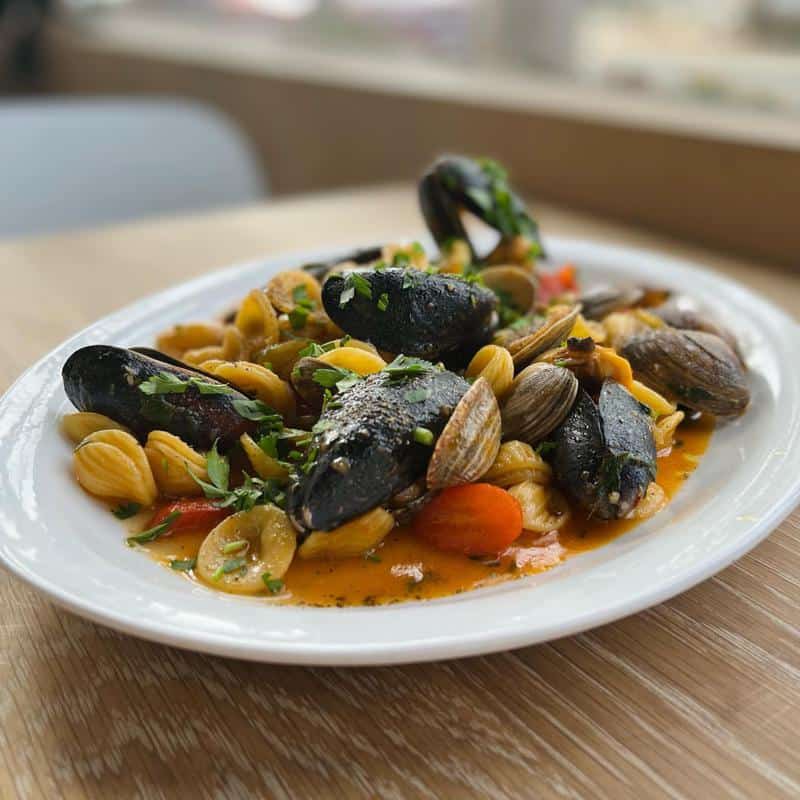 Via Vai Cucina Italiana serves authentic dishes and cuisines of Italy in their lovely restaurant located in Carlsbad, California.
The Salmone Affumicato appetizer perfectly marinates salmon in citrus fruit before being gently settled over top Stracciatella cheese. Another appetizer, the Cozze E Vongole, serves expertly sauteed clams and mussels in zucchini sauce.
Dinner is served! The Pink Sauce & Shrimp boasts a hand-made and homemade pasta of your choice with tomato cream sauce, arugula, and shrimp. The Lobster Ravioli perfectly folds the lobster ravioli before serving in saffron and shrimp sauce.
Other notable dishes include the Cioppino, a fish soup served Mediterranean style with clams, calamari, mussels, shrimp and the catch of the day. And then lastly, but definitely still as scrumptious as the rest, is the Salmone Zafferano–salmon filet served in creamy saffron sauce with shrimp and a side of asparagus risotto.
Diner's Note: Reservations can be made online or by calling Via Vai Cucina Italiana.
Vigilucci's Seafood & Steakhouse
Boasting seaside views of the tranquil Pacific Ocean, Vigilucci's Seafood & Steakhouse features an award-winning wine list and an Italian flair to only the freshest and highest quality seafood and certified prime steaks.
Soak in the ocean backdrop or, if you time it right, a stunning sunset before eating freshly prepared cuisine.
While basking in the unforgettable views, order antipasti di Pesce (fish appetizers). The Ostriche Fresche is served with a half-dozen fresh, chilled oysters on the half-shell and is paired with horseradish and cocktail sauce. Or, an absolute favorite is the Capesante ai Porcini—pan-seared diver scallops paired with porcini mushrooms and fresh chopped tomatoes and topped with a white wine-truffle sauce over top crispy polenta.
Popular dinner options include the Tonno al Sesamo and the Salmone con Macadamia. The Tonno al Sesamo highlights delectable sesame-crushed, sashimi-grade ahi tuna that is seared rare with a garlic-chili jumbo prawn and paired with caramelized baby Bok choy in a miso broth, black organic rice, and topped with a drizzle of Thai sauce. The Salmone con Macadamia accentuates King salmon crusted with macadamia nut-panko and is served with garlic spinach, roasted potatoes, rock shrimp, and a savory lemon-butter sauce.
Diner's Note: Happy Hour at Vigilucci's Seafood & Steakhouse is 3 PM-6 PM and is limited to the bar area. During Happy Hour, customers can enjoy $10 wine specials, $6 beer selections, $9 well drinks, and $12 drink specials!
Paon Restaurant & Bar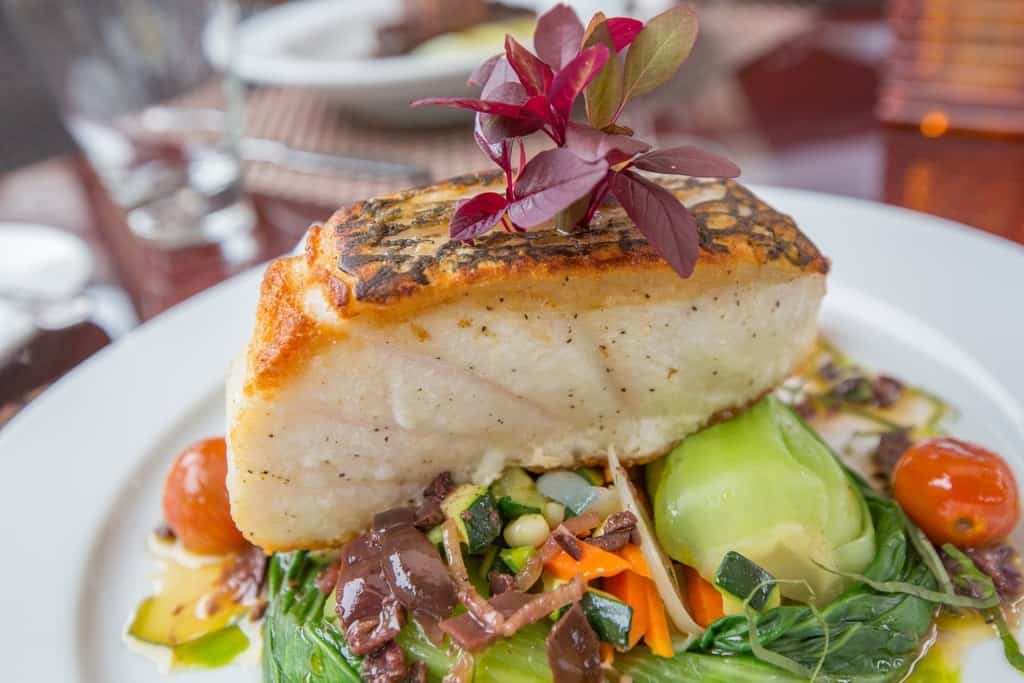 Featuring French cuisine with a bit of California-based influence, Paon Restaurant & Bar accentuates an intimate setting with elegant Art Deco decor and a menu that is dedicated to organic and locally-grown produce, prime meats, game, and fish.
The lounge area at Paon Restaurant & Bar presents an old Hollywood setting made to bask in conversation with a glass of wine or a cocktail in hand. The patio area overlooks Carlsbad Village, a quaint downtown that intrigues an introspective ambiance to be enjoyed while people watching.
For recommended seafood-based starters, we recommend the Black Pearl American Paddle Fish Caviar and the Duo of King Salmon & Yellowfin Tuna Tartare. The Black Pearl American Paddle Fish Caviar boasts traditional garnitures and crème fraiché. The Duo of King Salmon & Yellowfin Tuna Tartare uses signature fresh herbs, capers, sun-dried tomato, lemon, and crème fraiché for a delightful appetizing treat.
Top dinner options include the Seared Rare Hawaiian Yellowfin Tuna and the Pan Seared Maine Diver Scallops. The Seared Rare Hawaiian Yellowfin Tuna features roasted fingerling potatoes, organic haricot verts, oven-dried tomatoes, asparagus, and the perfect drizzle of truffle vinaigrette.
The Pan Seared Maine Diver Scallops combines Maine lobster, ragoût of organic vegetables, and potato purée for a delectable treat served right to your table (and mouth)!
Diner's Note: We highly recommend pairing one of the high-quality wine selections with your food selection or the creme brûlée dessert to end dinner with a scrumptious note.
Barrel Republic Carlsbad
Offering 52 beer taps and 6 wine taps at their Carlsbad location, Barrel Republic is dedicated to supporting the local beer community and sharing their passion to pour, share, and compare with other craft beer enthusiasts.
Barrel Republic's innovating system includes a self-pour system to defeat those long unbearable lines often experienced at bars. The food menu at Barrel Republic is committed to all-American bar fare that ranges from starters, burgers, sandwiches, and flatbreads.
For seafood-based starters, try out the Smoked Shrimp Chowder, House Smoked Salmon Stack, or the Warm Blue Crab Dip.
The Smoked Shrimp Chowder is a creamy chowder soup combining fresh corn, onion, sherry, celery, and potato for a warm and soothing start to your meal. The Warm Blue Crab Dip is oh-so-delicious and paired with homemade tortilla chips and the House Smoked Salmon Stack stacks on the unrivaled flavor pairings with lemon dill cream cheese, tomato, red onion, avocado, crostini, and capers.
For dinner, order the Smoked Salmon Flatbread, Garlic Shrimp Tacos, or the Smoked Salmon Roll.
The Smoked Salmon Flatbread is wonderfully chewy, crispy, and packed with flavor with dill seasoning, red onion, white cheddar sauce, capers, and mozzarella. The Garlic Shrimp Tacos include three tacos, each stacked with lettuce, tomatoes, cilantro, and poblano oil.
And then, finally, the Smoked Salmon Roll powered with celery, tomatoes, green onion, avocado, cucumber, tossed in light lemon mayo and then served on a lobster roll bun for the ultimate drool-worthy dish.
Diner's Note: Barrel Republic Carlsbad is pet-friendly so don't be afraid to bring your favorite pupper! They also accept reservations which are always welcome.
Mondays are "Burger Monday" at Barrel Republic Carlsbad, which means $8 burger and fries all day long!
Looking to explore more beach cities in CA? Check out our lists of best seafood restaurants in Newport Beach and best seafood restaurants in Los Angeles.
Bantam's Roost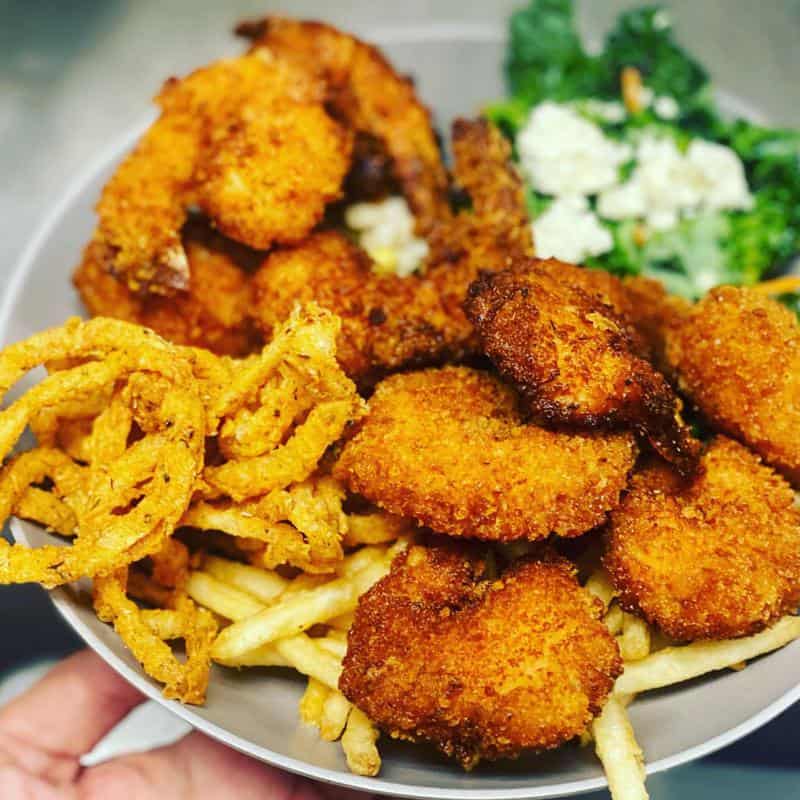 Bantam's Roost brings forth Southern-inspired fresh Californian cuisine in a chill atmosphere with bangin' dishes and great customer service.
Share seafood-based appetizers with the Crispy Shrimp paired with spicy cocktail sauce. Or get a bite of the Ahi Nachos that stacks on blue corn tortilla chips, diced jalapenos, spicy mayo, sesame seeds, and cucumber for a bangin' batch of nachos.
Main courses that are highly recommended include the Ahi Bowl and the Crispy Shrimp Sandwich paired with a choice of house greens or fries. The Ahi Bowl brings together cucumber, ahi tuna, house brown rice, jalapeno, spicy mayo, ginger, and sesame seeds in a bowl of fresh and tasty ingredients.
The Crispy Shrimp Sandwich is made Bahn mi-style, stacked with umami mayo, jalapeno, pickled cucumber, carrot, and cilantro.
Diner's Note: Bantam's Roost has indoor and outdoor patio seating available.
Also Read:
Finals Thoughts
Carlsbad boasts a range of different seafood restaurants all catering to a customized style of serving through seasoning, cuisine-style, atmosphere, or homemade personalization. Yet every dish brings on the flavor to keep bringing customers back for more!
Whether at Paon Restaurant & Bar for a serving of the Seared Rare Hawaiian Yellowfin Tuna or at Vigilucci's Seafood & Steakhouse for an order of the Salmone con Macadamia, Carlsbad knows how to serve mouthwatering seafood with a perfect flare of flavor and style.