Danville is a town known for its artistic spirit and creativity which is reflected in its food and entertainment options. The downtown area, in particular, is as vibrant and upbeat as it gets and is loaded with a myriad of delectable restaurants to try out.
We love the sheer range that allows one to explore their options and find something they'll truly enjoy.
For instance, a luxurious wooded neighborhood can be relished in all its tranquility with both casual and fine dining options, as well as a good variety of cuisines.
Pamper yourself amidst the laidback northern Californian atmosphere and enjoy our top picks of the Best Danville Restaurants.
Best Danville Restaurants
Bridges Restaurant & Bar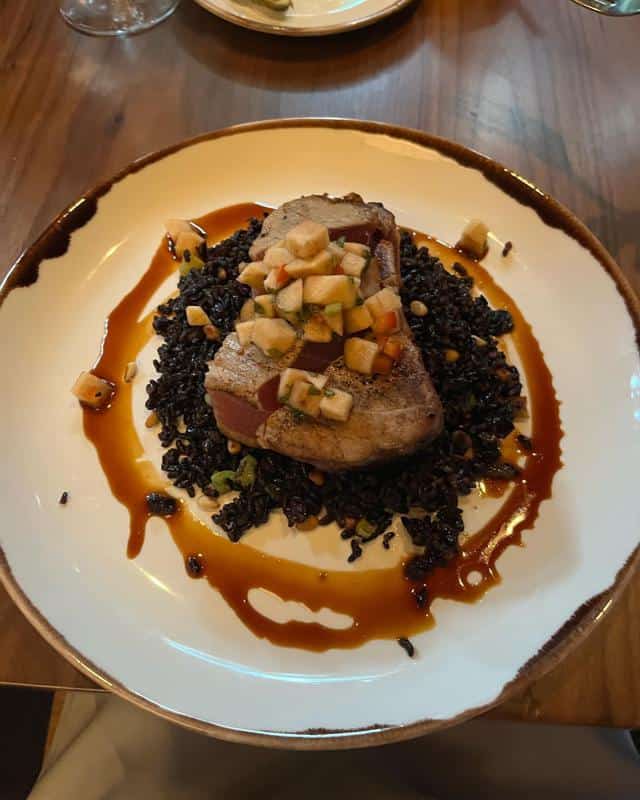 Location: 44 Church St, Danville, CA 94526
The intimate and romantic Bridges Restaurant and Bar enjoy a fine spot near Hartz Avenue Downtown. It is one of the best Danville Restaurants, widely popular for hosting the dramatic 'reveal' sequence of Mrs. Doubtfire in 1993.
However, it wouldn't be fair to not give credit to the wonderful service and heavenly dishes of the restaurant for its success and popularity.
The idyllic pergola-shaded patio, intimate table setting with panels and heated lamps, and swaying trees in the surroundings make Bridges a perfect spot for romantic evenings.
Classic American dishes stay true to authentic flavors while also adding variety with fusion Asian meals. We love the sheer amount of choices on their menu.
The Pan-Roasted Pork Chop and Sirloin Steak win hearts with their rich and tender preparation. If you are craving something with a little more spicy kick to it, try their stir-fried Mexican Prawns drenched in Thai Red Curry Sauce.
Highlights:
Dreamy patio and indoor dining for aromatic dinners.
Classic American fare along with fusion Asian dishes.
Good variety and intimate ambiance.
The Peasant and the Pear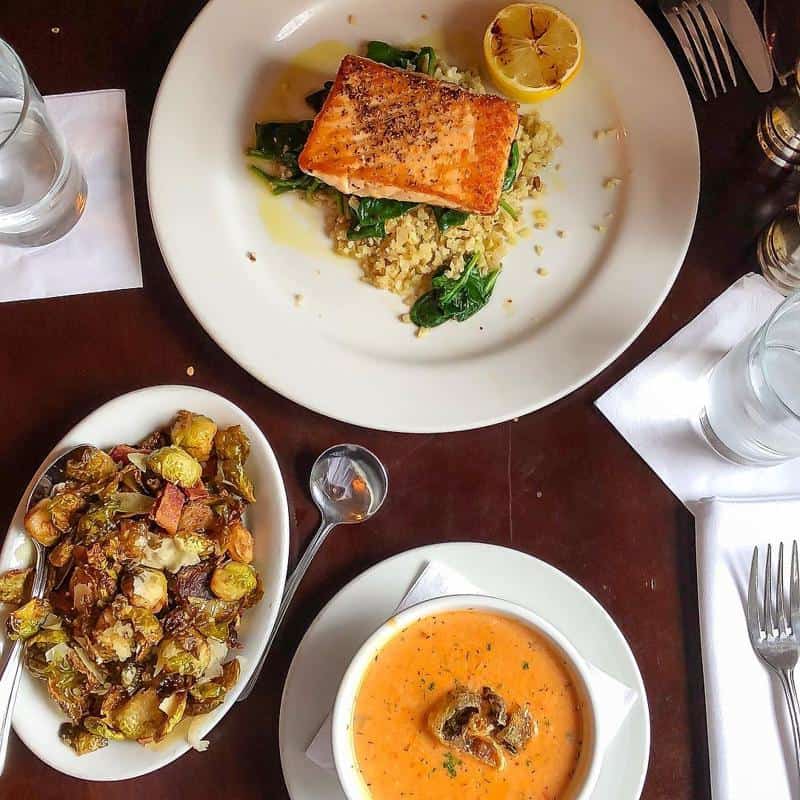 Location: 111 W Prospect Ave, Danville, CA 94526
It's always sunny in California, especially at The Peasant and the Pear. The lovely spot instantly lifts up one's spirits with yellow hues welcoming you to their bright and cozy patio and a comfortable café with cushy seating and generous servings of your favorite food.
It is one of the seven restraints owned and run by The Pear Restaurant Group, and Chef Rodney Worth has many awards to his name for his delicious menu and preparations.
The restaurant serves fusion Californian and Mediterranean cuisine with some classic delights to warm you up on rainy days.
You'll be doing a disservice to yourself by not ordering the Zinfandel Braised Short Ribs served on a bed of mashed potatoes and seasonal veggies. Pair the palatable entrees with their signature cocktails like Spiced Peartini and Prickly Pear Martini.
Highlights:
Warm and sunny ambiance with a cozy dining area.
Lovely patio for outdoor dining.
Delicious Californian delights with specialty cocktails.
Revel Kitchen & Bar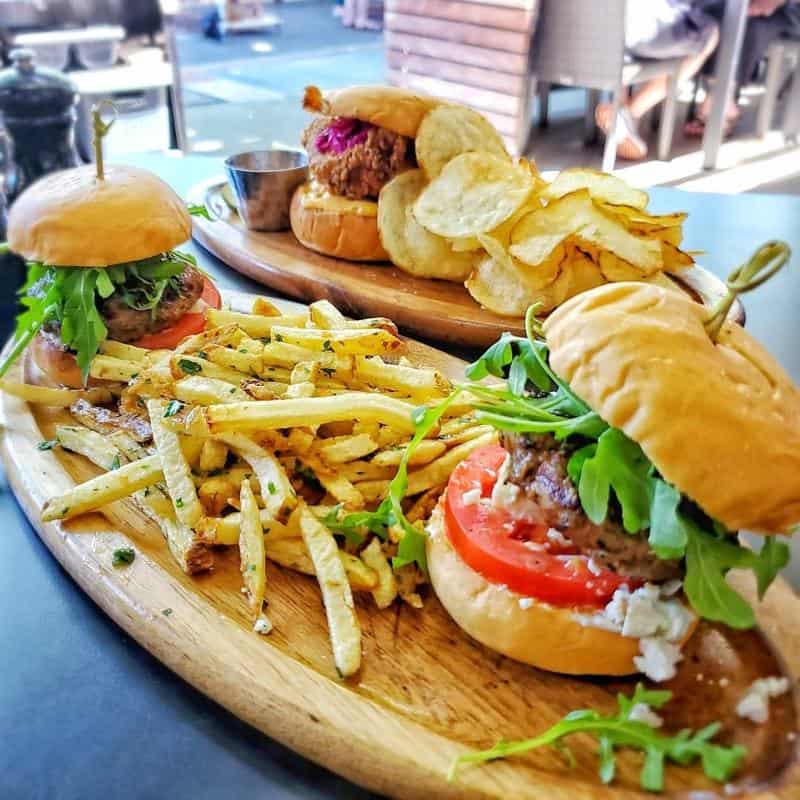 Location: 331 Hartz Ave, Danville, CA 94526
The laidback and casual Revel Kitchen & Bar is a cool little spot on Hartz Ave with large windows flooding the place with natural light.
The seamlessly modern look and minimalistic layout with neutral colors make the space look spacious and airy, and the full bar in the center serves a wide range of libations.
The casual dining restaurant serves classic American delights with locally sourced, natural ingredients.
The mouthwatering sliders are a highly popular and most ordered item from their menu. We highly recommend the juicy and tender Mediterranean lamb sliders with a side of truffle fries.
They also have Cob and Fried Mary's Chicken Breast sliders with divine buttermilk biscuits doused in cheddar cheese and red pepper jelly and served with crisp house-made chips. Pair your favorite dishes with a cocktail from their impressive drinks menu.
Highlights:
Laidback and cool ambiance.
Spacious seating with a full bar.
Delicious sliders and other American classics.
Esin Restaurant & Bar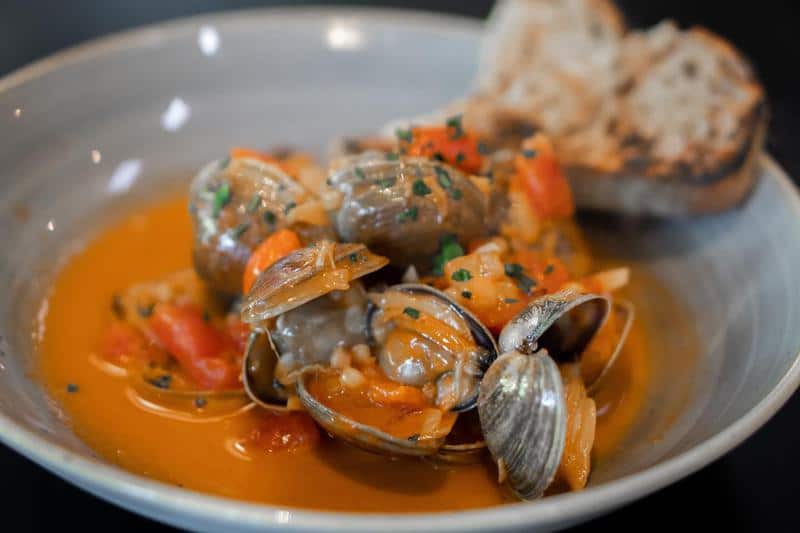 Location: 750 Camino Ramon, Danville, CA 94526
The warm glow and sophisticated interiors of Esin really invite you to indulge in its fine dining ambiance. While the restaurant excels in its fusion of Asian and Mediterranean cuisine, we particularly admire the amazing wine list featured in its full bar.
Named after the owner and chef Esin and Curtis deCarion, you are guaranteed to feel at home with top-notch service and seamless hospitality.
Amongst a huge variety of dishes on their menu, the Manila Clams stand out with a rich tomato base and fregola served in hearty harissa broth and a side of grilled country bread.
Sunday's special slow-roasted Certified Angus Beef Prime Rib is also a great option and goes really well with generous amounts of garlic mashed potatoes and seasonal vegetables.
The wine is sourced from different countries and is quite affordable. The lovely outdoor patio makes dining all the more enjoyable.
Highlights:
Elegant fine dining with patio.
A delectable variety of Mediterranean cuisine.
Excellent wine selection.
Danville Harvest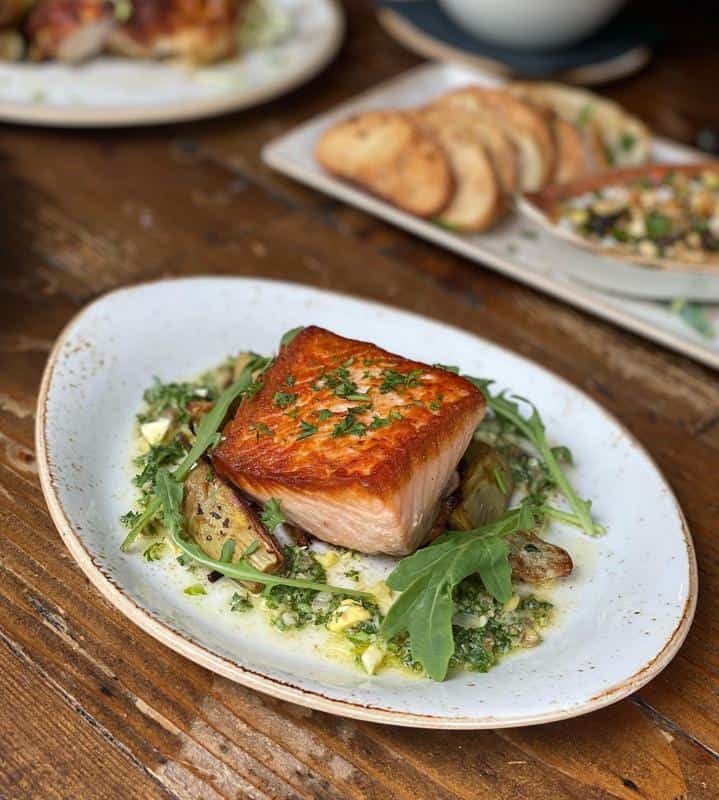 Location: 500 Hartz Ave, Danville, CA 94526
Danville Harvest is a warm and welcoming restaurant with something for everyone. Keeping up with the Whole30 diet menu apart from their standard delights makes it a great option for health-conscious people.
Chef Paul Durias pours his heart and soul into serving the diners with freshest, organic, and locally sourced ingredients bursting with natural earthy flavors. We love that they keep rotating the menu to fit seasonal delicacies and offer something new and exciting every time you visit.
They are quite creative with their food as well. Get the hearty and refreshing Farmer's Super Food Salad. With a colorful presentation and healthy ingredients, you will get all the healthy greens, protein, and berries along with seeds and nuts in one go. The same goes for their filling acai bowls.
For more variety, get the flavorful Curry Chicken Lettuce Cups or the super delectable Chicken Cashew Salad with a cucumber-flavored drink.
Highlights:
Healthy dining options with the Whole30 diet menu.
Laidback and welcoming ambiance.
Fresh and organic ingredients.
Piatti
Location: 100 Sycamore Valley Rd W, Danville, CA 94526
With a quaint and scenic location, Piatti wins over with its mesmeric outdoor seating giving you the perfect slice of Italy right in Danville. The beautiful Italian restaurant is one of the best places to satiate your cravings for classic Italian delights.
Take a break from your busy schedule to enjoy refreshing outdoor lunch on the patio on a sunny day. You will be welcomed with perfectly trimmed bushes and flowers with a traditional Italian café setup.
Piatta's pizza menu is a big hit amongst locals and puts an artistic twist on traditional bar snacks. Delivered right on your plate from the stone hearth ovens, some of the best flavors they serve include Spicy Salami and Salsicci with fennel sausage and tomatoes.
Moving away from pizzas, visitors also enjoy the Wood Oven Salmon served with sweet corn ragout and roasted Yukon gold potatoes with a divine pesto dip and succulent Grilled Flat Iron Steak.
Highlights:
Idyllic outdoor patio.
Traditional Italian ambiance.
Italian delights with range and quality.
Incontro Ristorante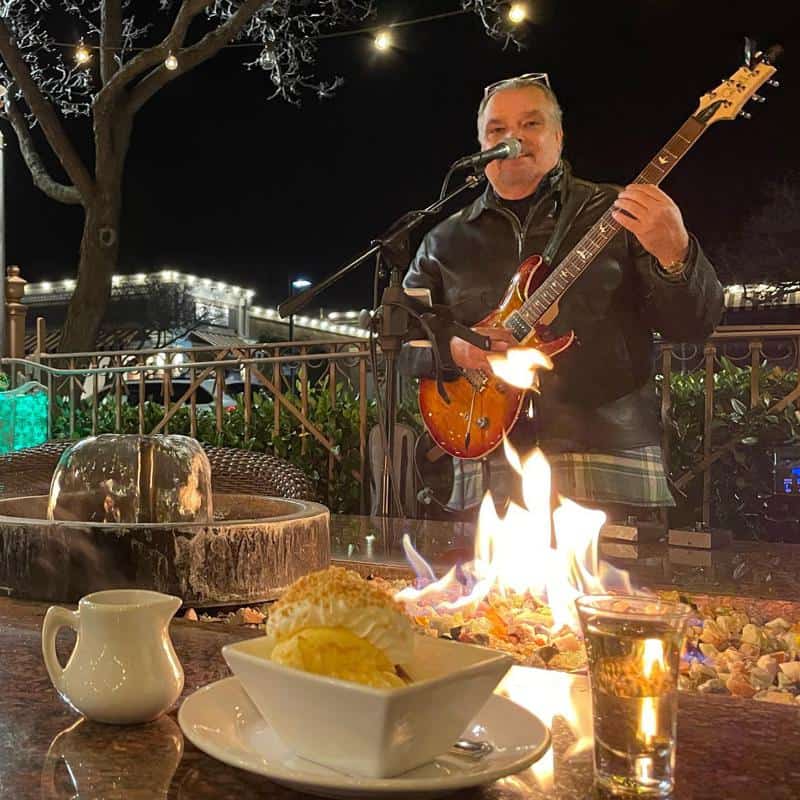 Location: 455 Hartz Ave, Danville, CA 94526
With nominations, every year for OpenTable's Diner's Choice Award Incontro is a remarkable Italian restaurant in Danville.
Relish in traditional Italian dishes masterfully prepared under the guidance of Head Chef Sanchez.
From the highest quality to freshness, every dish is authentically crafted with Italian flavors we all know and love. The décor is beautified with warm, neutral hues and gleaming environs with exposed stone.
Start off with their generous appetizer platters with a bit of everything to tantalize your palates. The indulgent and super-rich Gnocchi is made from scratch and is a perfect meal to transport yourself to the tranquil floral pathways of Italy.
The cheesy Lasagna is another great entrée made with beef ragu and béchamel and generously loaded with heaps of mozzarella.
For desserts, we recommend their special Italian bread pudding – Bourbon Panettone served with vanilla gelato.
Highlights:
Quaint Italian eatery.
Lovely outdoor seating.
Delicious Italian fare.
Thai House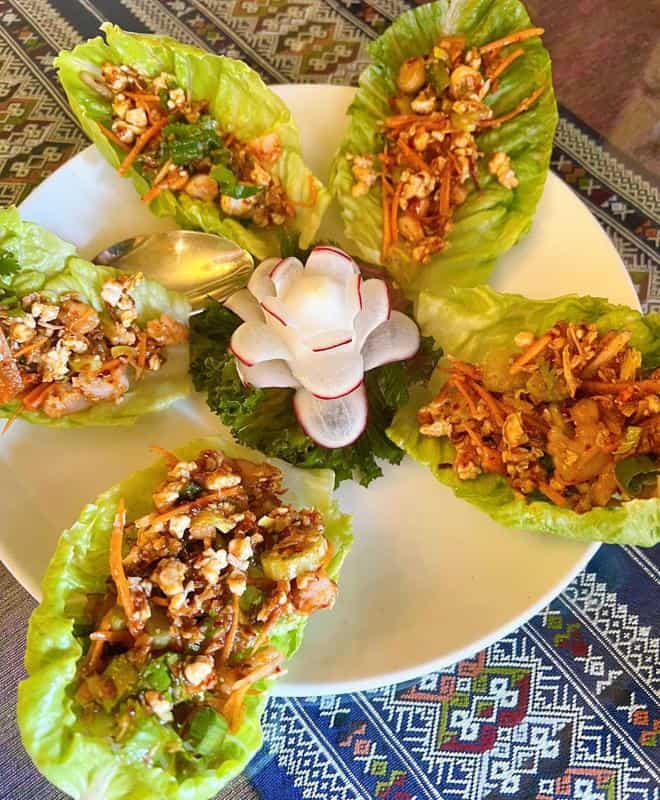 Location: 254 Rose St #3318, Danville, CA 94526
Dine in an idyllic converted cottage with flowers poking in from every corner, majestic chandeliers, and wood carvings welcoming you to Thai House.
The restaurant delivers a Thai food experience unlike any other, with kind and thoughtful service and a great range of Thai cuisines. It has been rated a Bib Gourmand by Michelin since 2011 and has a very pocket-friendly menu.
Get everything your heart desires from the sprawling Thai menu covering all the traditional and authentic Thai dishes.
Start with appetizers specially crafted by Chef's special menu. The Lemon Grass Wrapped features juicy shrimps and ground chicken with coconut flakes, cilantro, carrot, celery, and lemongrass in a divine sweet chili sauce, all wrapped up neatly in romaine lettuce.
The a al carte menu also features Chef's specials with deep-fried Flounder Fish, BBQ Pork Spare Ribs, and hearty servings of Lobster and Scallops steamed with ground chicken, cilantro, onion, and tomatoes in red curry sauce.
They also have a good range of vegetarian menus, special kids' meals, and traditional beer.
Highlights:
Quaint cottage setting with beautiful décor.
Authentic Thai fare.
Affordable prices.
The Growler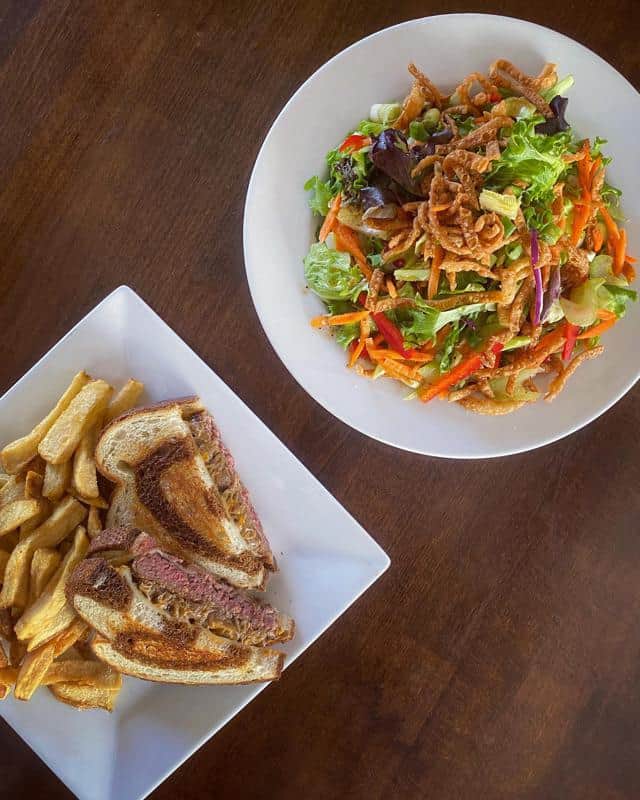 Location: 515 San Ramon Valley Blvd, Danville, CA 94526
Starting out as a bar serving craft beer, The Growler has come a long way over the years and is now one of the top neighborhood restaurants and pubs in Danville. The cozy and warm ambiance is perfect for cheering you up on a rainy day and satiating your cravings for classic comfort food.
The appetizers come in the form of 'Share Plates', so it is a great place to come with friends for some great food and after-work drinks. The delectable House made Sausage Platter has bratwurst and hotlink doused in spicy mustard with a side of pickled vegetables.
The lengthy Burger and Sandwich menu has Grilled Chicken Pesto and BBQ Bacon Cheeseburger as its most delectable items.
They also have the beloved Fish and Chips with tartar sauce and hearty servings of Jambalaya made with traditional spices and bursting with flavors. Enjoy a wide range of cocktails and chilled beers with your order.
Highlights:
Warm and cozy ambiance.
Comfort food with a homely feel.
A large variety of drinks.
Cielito Cocina Mexicana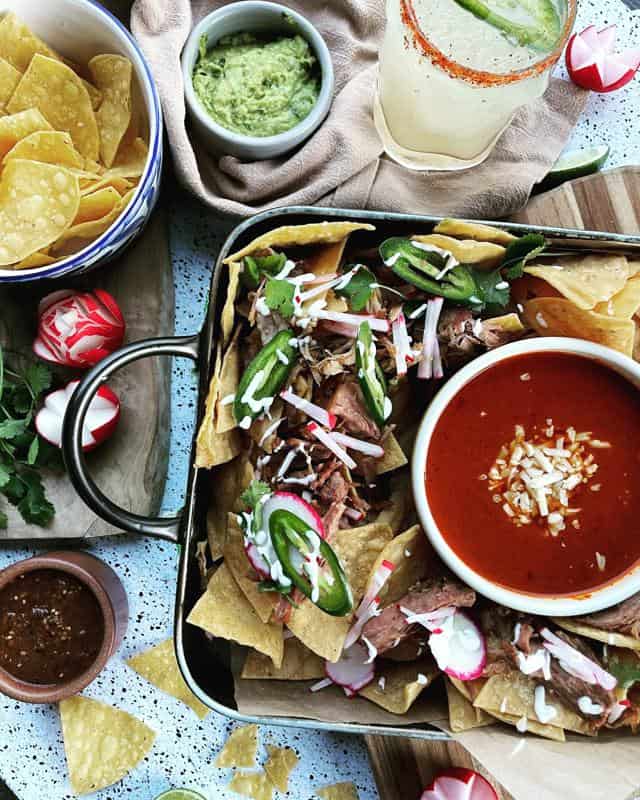 Location: 445 Railroad Ave, Danville, CA 94526
The swanky and upscale Cielito serves traditional Mexican cuisine in a spacious and pleasing setup. The comforting hues of beige and blue invite you to indulge in regional dishes from Oaxaca and Puebla.
They also have a full bar serving exceptional concoctions of specialty cocktails. The mescal and tequila collection is quite impressive and they also serve local microbrews on tap as well as California wines.
Most ingredients are locally sourced and prepared fresh every day. Starting with the good-old tacos, you will get the authentic Mexican taste with delicious wood-grilled and house-made corn tortillas.
The Pollo Al Pastor Taco is one of the best on the list and comes generously loaded with tender chicken, guacamole, onions, cilantro, radish, and molcajete salsa. Also, try their delicious platters that are excellent for sharing.
Highlights:
Traditional Mexican food.
Comforting and laidback ambiance.
Full bar serving a huge variety of drinks.
Locanda Ravello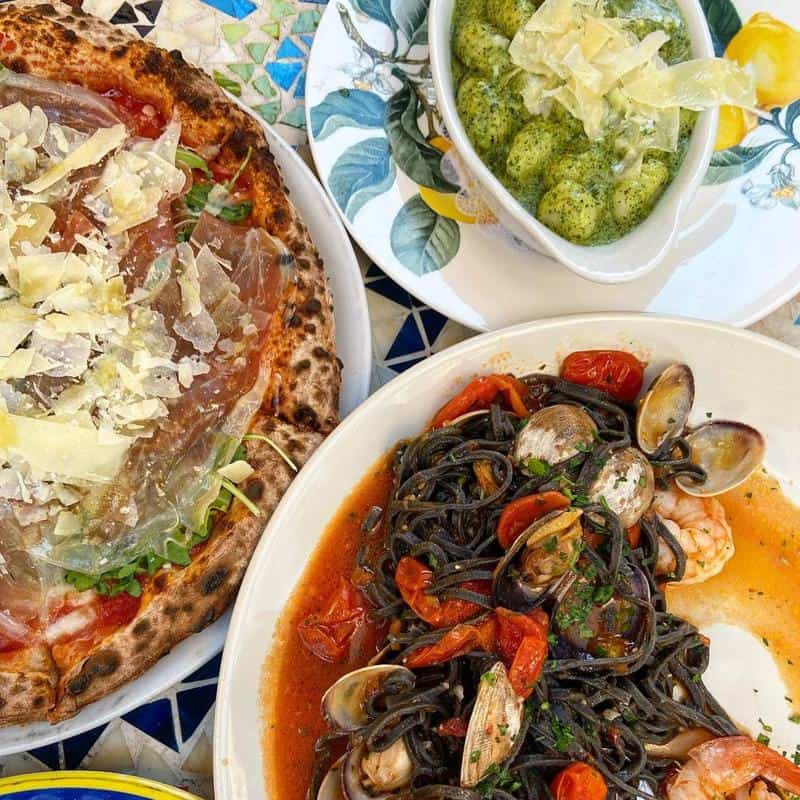 Location: 172 E Prospect Ave, Danville, CA 94526
The quaint and intimate Locanda Ravello is a humble pizzeria for Neapolitan pies. The rustic interiors and a laidback outdoor dining area offer a lovely seating arrangement for visitors.
Enjoy authentic Italian fare in traditional flavors and affordable pricing. The bright and fresh space offers good variety and quality.
For starters, get their rich and delectable Mamma Carmela's Meatballs cooked in tomato sauce, Parmigiano-Reggiano, and house-made Crostini. If you are in the mood for seafood, they also have lip-smacking Fritto Misto consisting of tiger prawns and calamari.
For the main course, the obvious choice is their well-loved pizzas. The Salsiccia Porcini is quite a hit, with a loaded topping of Italian sausage and porcini mushroom. Don't forget to get assorted Artisanal Gelato and Sorbet for sharing at the end of your meal.
Highlights:
Quaint little spot with beautiful outdoor seating.
Authentic Italian fare.
Widely popular for their pizzas.
Forbes Mill Steakhouse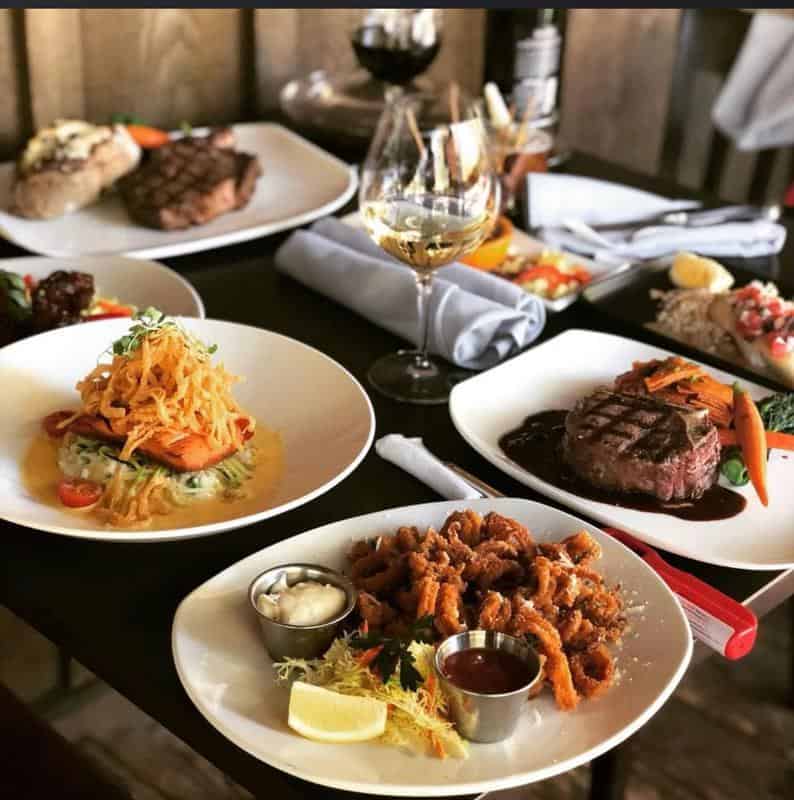 Location: 200 Sycamore Valley Rd W, Danville, CA 94526
Indulge in luscious prime cuts in a well-lit and upscale setting at Forbes Mill. The award-winning steakhouse holds a lot of charm, especially its Danville branch offering a high-quality selection of meat and Certified Angus Beef Prime and Wagyu.
There's also seafood prepared fresh daily and a creative spin on salads and classic side dishes. Complement your meals with your favorite wine from their award-winning wine list.
Their seafood appetizers are simply divine, especially the Furikake Hawaiian Ahi Tuna with papaya and mango slaw and Jumbo Prawn Cocktail.
For sharing, they have a beautifully assembled Charcuterie Board. Of course, you can't leave Forbes Mill without trying their mouthwatering steaks! Get the mighty Prime Porterhouse with au gratin potatoes or get the Surf & Turf to share it alongside a Lobster Tail with your beau.
Highlights:
Award-winning steakhouse.
Lovely set up for fine dining.
Succulent steaks and fresh seafood.
Read More:
Map of Best Danville Restaurants

Conclusion
Immersive yourself in the creative and artistic soul of Denver along this culinary journey, and pick the restaurant that best suits your preference from our list. We promise that the ambiance and food will be enough to satiate your cravings and warm up your heart! Be it solo lunches or celebratory dinners, you will find the perfect spot on our list.