Washington, DC is home to a good portion of the United State's heritage and history. It is a magnificent and ethereal place where modern living and antiquity collide. It is DC's number one place to be, with many activities, from baseball games at Nationals Park to summer concerts and a host of national monuments.
While in the nation's capital, you can also enjoy plenty of delicious food. As a matter of fact, it can be quite overwhelming. The cuisine is international, and the smells wafting from busy kitchens can really weigh in on your choices!
But, fear not because we've meticulously searched high and low to find the best restaurants in Navy Yard for you.
Batter up and get ready for the best Navy Yard has to offer.
Best Restaurants in Navy Yard, DC
Cranes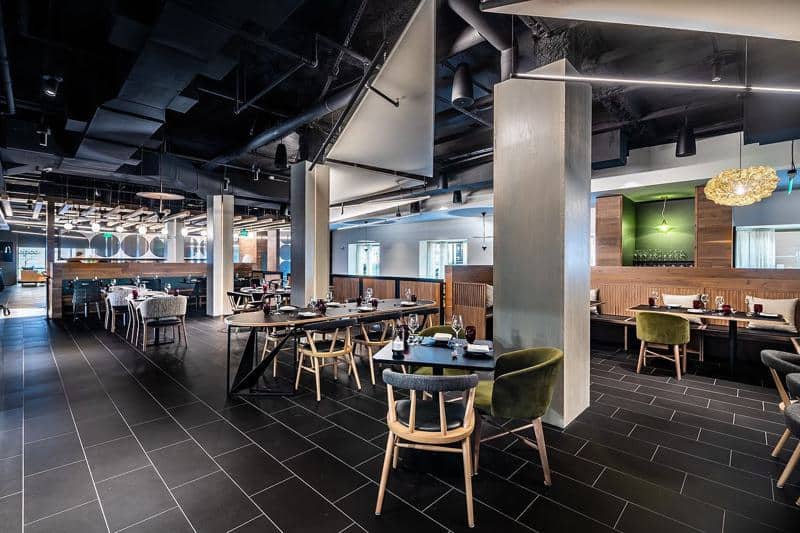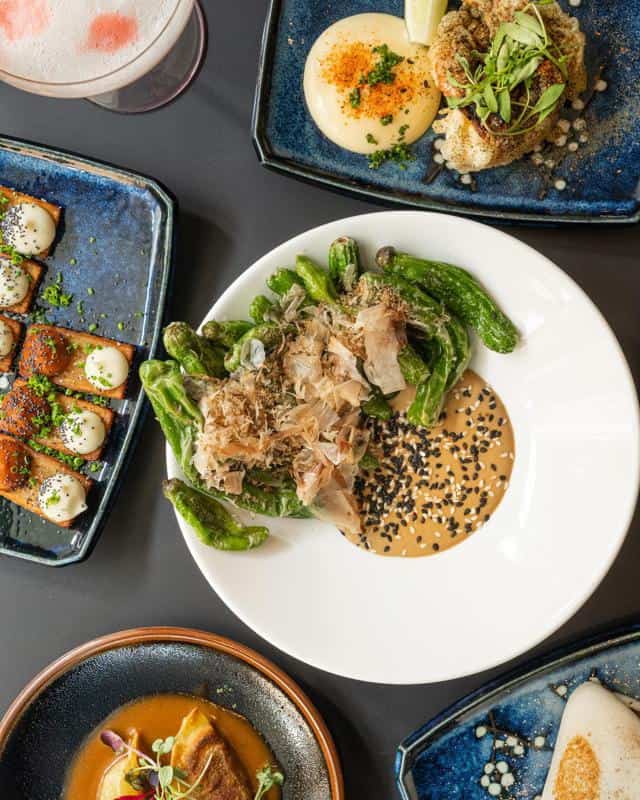 Location: 724 9th St NW, Washington, DC 20001
Known For: Unusual culinary fusion, Michelin star, and trendy venue
Price: $$$$
Some things in life cannot be recreated. However, Cranes is a restaurant unlike any other, with a beautiful and unusual approach to cuisine. It has undoubtedly and unapologetically earned its numerous awards, and we expect to see another Michelin star in the future.
Regarding culinary mashups, we would never have put Spanish and Japanese cuisine in the same category. But, Chef Moncayo has noticed similarities between the two and built a concept around a flavor fusion we won't soon forget.
Spanish cuisine's bold, dramatic tastes meet the light and fresh fare of Japanese delicacies to create something truly inspiring. The menu takes a seasonal twist and is constantly changing. Your best bet here is to trust the chef. He certainly knows best.
Albi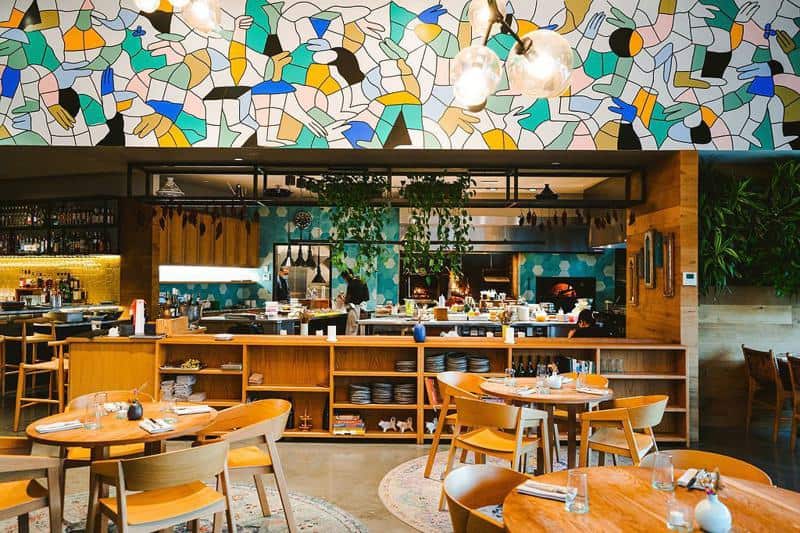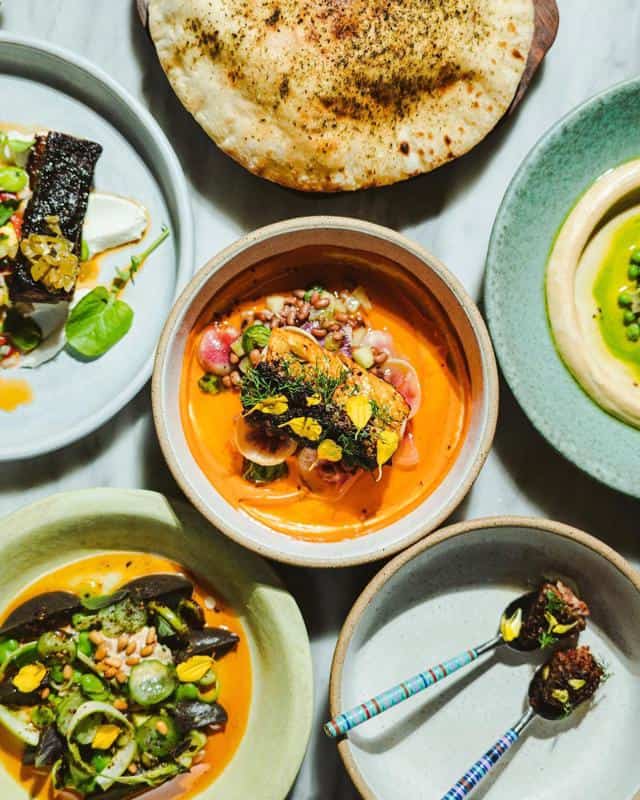 Location: 1346 4th St SE, Washington, DC 20003
Known For: Middle-Eastern cuisine, Michelin star rating,
Price: $$$$
Achievements abound, in Albi's very short time on the Navy Yard scene is nothing short of spectacular. Already sporting a Michelin star to its name, this Middle-Eastern restaurant has stolen hearts! Of course, the roaring flames illuminating the interior or the stunning outdoor dining area may have something to do with it.
But we'd be fools to deny the tender influence of the aromatic flavors that embody their menu. It is niche and serves only a handful of items. It sticks closely to traditional dishes too. It whisks you away to starry nights around burning fires. The intense smells and unforgettable taste sensations will make you beg for more.
Jackie American Bistro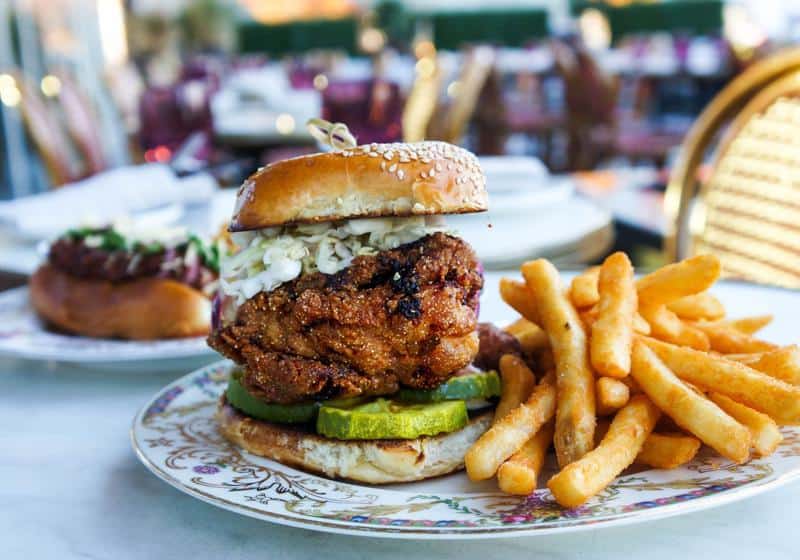 Location: 79 Potomac Ave SE, Washington, DC 20003
Known For: Beer garden, river views, and American food.
Price: $$$
Jackie's is a mere stone's throw away from National Stadium and has the facilities to host the droves of excitable fans! Packing a beer garden to host just under a thousand and a restaurant that lives up to high standards means they can handle the crowds easily! It's no wonder they are listed as the number one bistro in DC!
Their small menu is dedicated to excellent creations that are entirely satisfying! The meals are decidedly fast and focus on infusing global tastes with timeless American classics. In addition, they have a seasonal variety based on the freshest local ingredients they can possibly get. The quality is unbeatable, and the range of flavors is surprisingly interesting for such a focused menu.
The Salt Line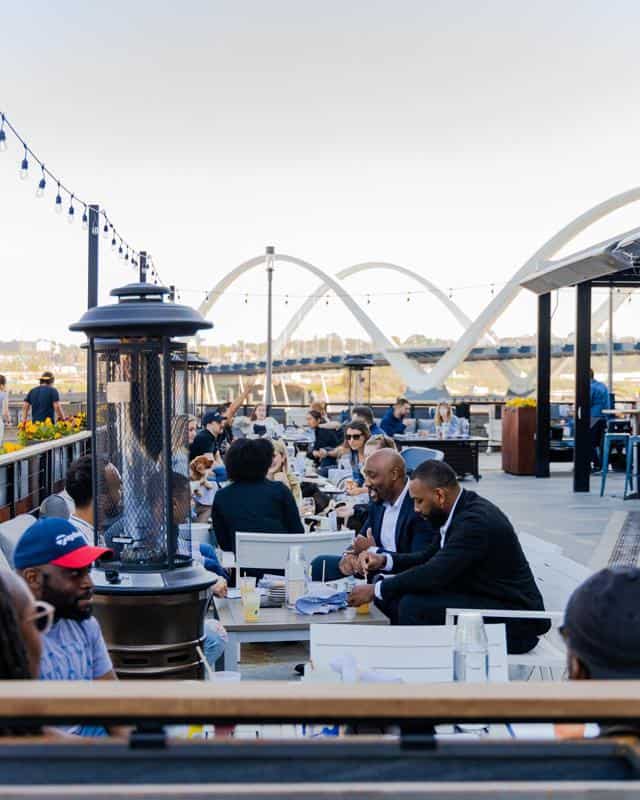 Location: 79 Potomac Ave SE, Washington, DC 20003
Known For: New England flavors, Riverfront location and seafood
Price: $$$
The Salt Line marks a border point where the river meets the shore. Their nautical-themed restaurant breathes a New England vibrance into the heart of the Navy Yard, perfectly accentuating the venue's concept! Upon wandering into the establishment, once you pick your seat in the picturesque outdoor section, you can select your food, fresh from the counter, for chefs to prepare.
The menu is inherently favoring seafood and highlights New England-style food. Their raw bar serves up a one-of-a-kind oyster, Cthulu Deeps, which can only be found in Salt Line's kitchen. You'll be sitting in the lap of oceanic luxury, with platters piled with the best!
The entrees are a bevy of fish and a few choice cuts of beef flavored to perfection and cooked to that succulent melt-in-your-mouth texture we cannot get enough of.
Chloe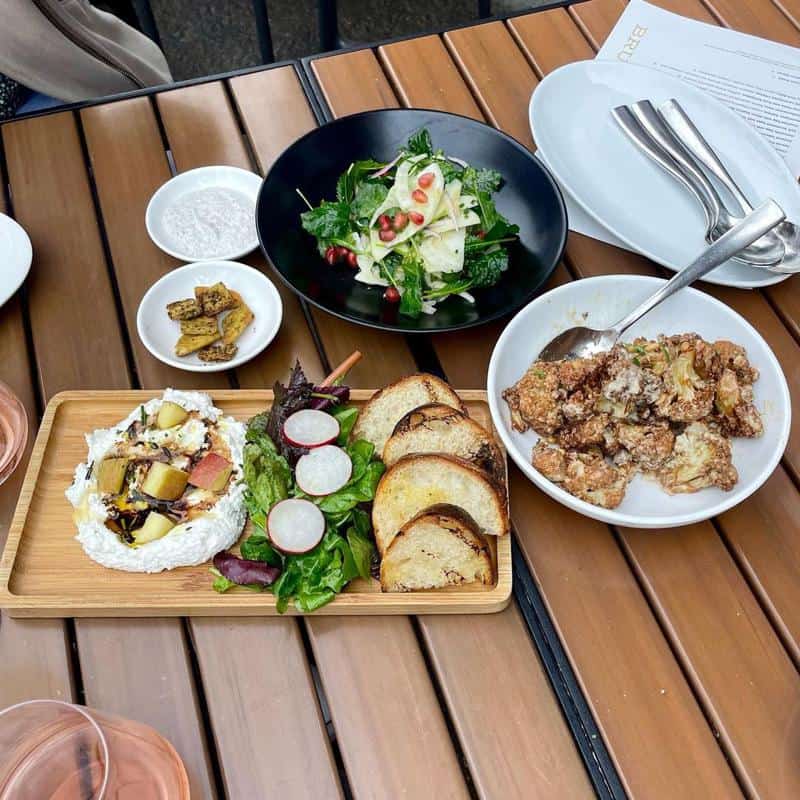 Location: 1331 4th St SE, Washington, DC 20003
Known For: International fare, hip, and trendy bar, Michelin Star status
Price: $$
After years of experience in the industry, amongst multiple culinary facets, Chef Haidar Karoum opened the doors to Chloe. It exhibits a culinary journey and features influences from across the globe, mingling flavors to create something unique to the venue. It is a modern, cozy restaurant with a bar-like feel and outdoor seating for the warmer months.
The combination of bold international flavors has produced dishes worthy of 2021 awarded Michelin star. Whilst the menu may not host overwhelming options, the ones they do have are sensational! Everything from appetizers to desserts is prepared and plated to portray a story on a plate. The intermingling flavors condense to build one extraordinary adventure of taste and texture.
Rasa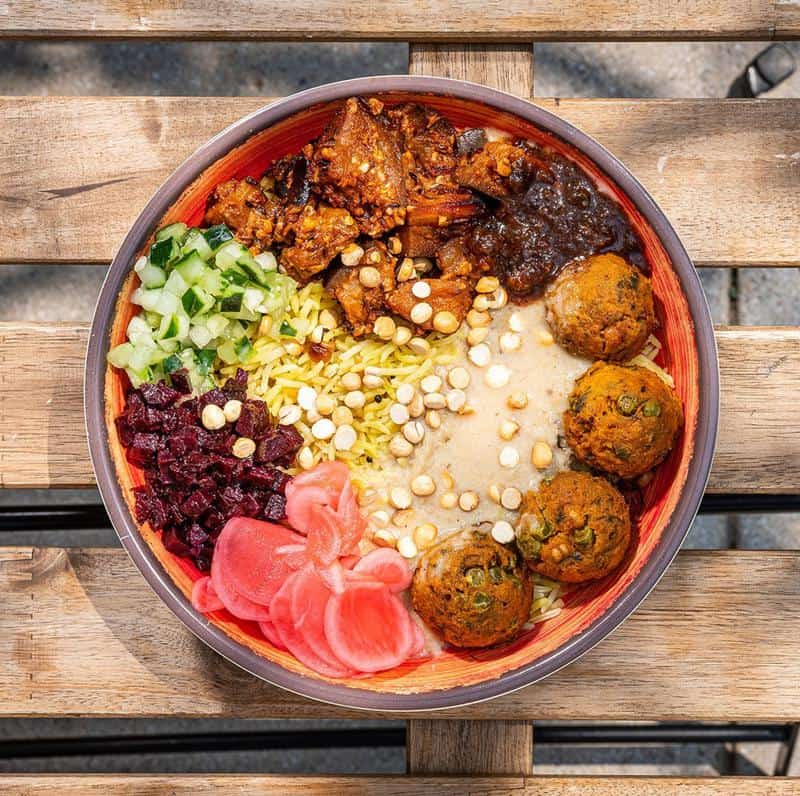 Location: 1247 First St SE, Washington, DC 20003
Known For: Indian fare, trendy and vibrant venue
Price: $$
Rasa was designed to blow misconceptions about Indian cuisine out of the water. From humble beginnings, two friends have built an outstanding restaurant. In addition, they have managed to build a fan base from very skeptical diners who can no longer see their lives without the diverse flavors of incredible curries.
The owners are determined to stick to their roots, having taken influence directly from India to bring honest-to-goodness cuisine to the table. Everything is authentic, sustainable, and fresh, enhancing powerful flavors and spice fusions to bring you an array of classic dishes!
Don't worry. If you don't like a lot of heat to your food, the diversity displayed on the menu allows you to enjoy the exotic experience without melting your palate!
Circa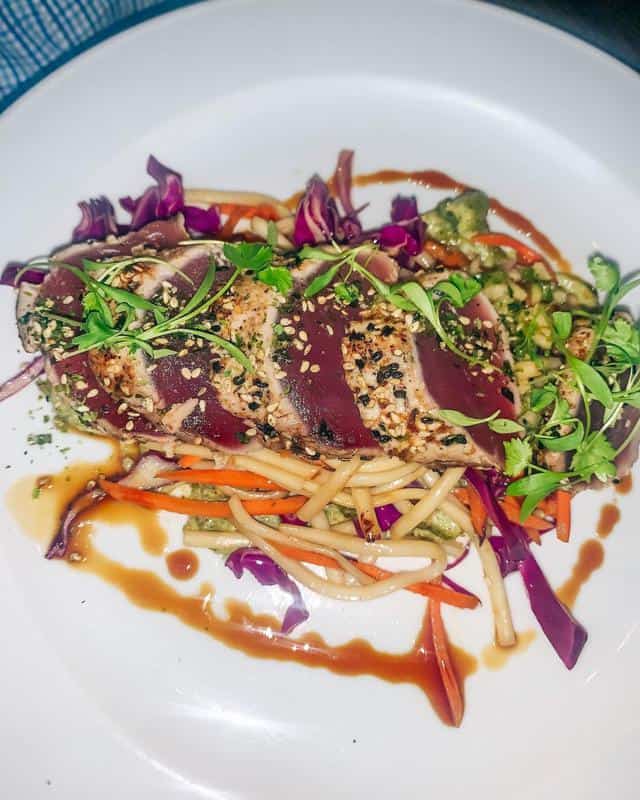 Location: 99 M St SE #100, Washington, DC 20003
Known For: Seasonal menus, outdoor dining, new American dining
Price: $$
Personally, we enjoy sitting and enjoying the scenes passing by while we dine. Circa embodies this vision, and all their venues are hand-selected for the outdoor dining experience that goes along with it! Navy Yard is one of three branches. The hip and modern establishment let a beautiful atmosphere bleed onto the surrounding streets.
Circa understands that a meal is not only enjoyed through taste alone, and their colorful takes on American favorites are divine, to say the least. They take everything with a pinch of salt. They have expertly combined new American flavors with classic dishes to bring something enticing to the table.
Whether it be the crispy crunch of a fried chicken sandwich or the bold flavors of jambalaya, Circa certainly doesn't lack selection either!
All-Purpose Riverfront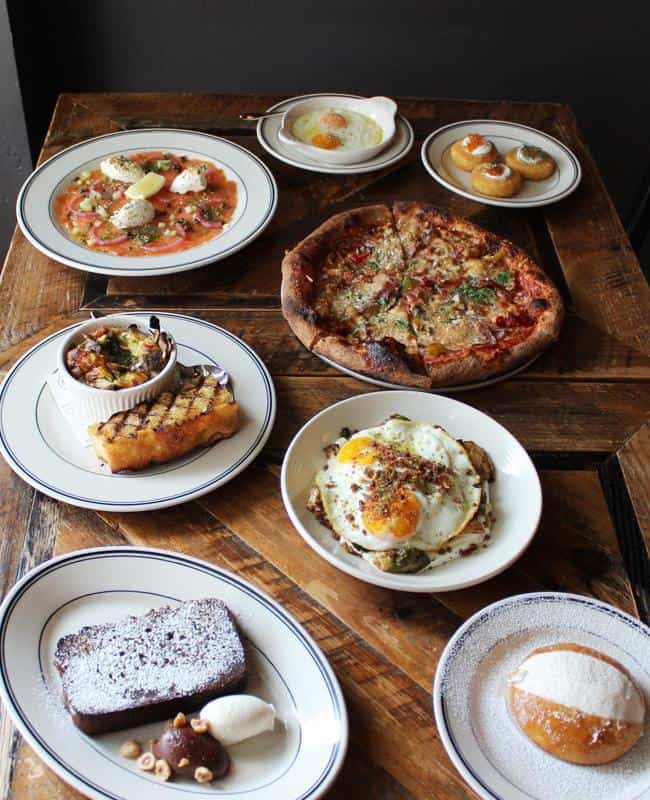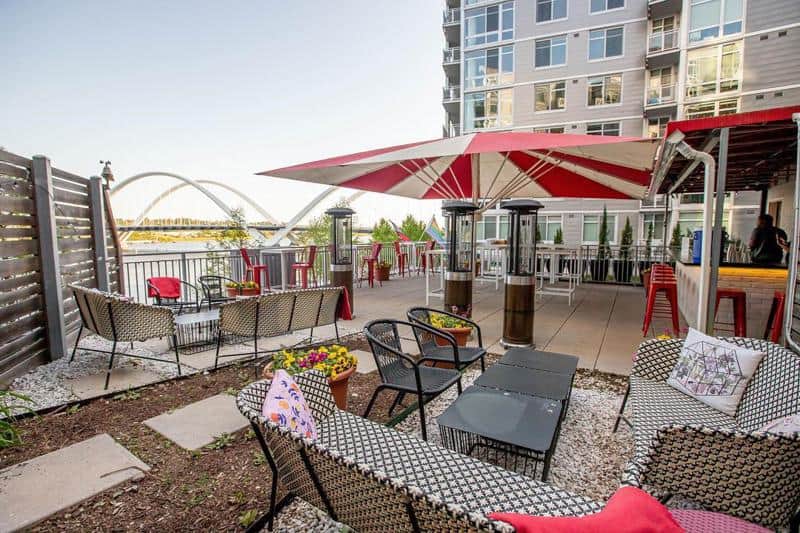 Location: 79 Potomac Ave SE, Washington, DC 20003
Known For: Pizza, waterfront location, Italian-American fare
One can simply never have enough of All-Purpose pizza! Located directly across from the wandering waters of the Anacostia River, it is a picture-perfect scene indeed! The ambiance is always lively, and the venue is an innovative collaboration that takes inspiration from the Eastern coast and Italian seaboard.
Grab a seat on the patio and browse through a fine-tuned menu. Remember that pizza is the specialty as you won't find any other options for an entree. The appetizers consist of small plates, our favorite being the cheesiest of the lot with deep-fried mozzarella! The pizzas are out-of-the-ordinary and are generously topped with careful selections of ingredients to bring out bold flavors. However, they still maintain that crisp crust and a stringy trait we all crave.
Osteria Morini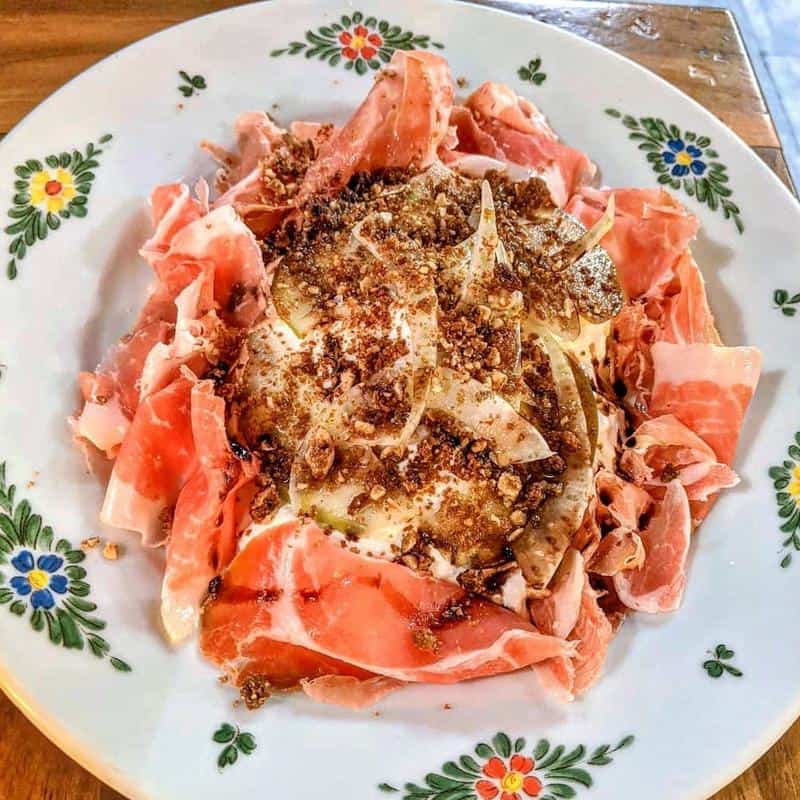 Location: 301 Water St SE, Washington, DC 20003
Known For: Italian cuisine, kerbside dining, wine selection
Price: $$$$
Italian cuisine is, simply put, the best comfort food. Osteria Morini is one of the best Italian restaurants you can visit and is recognized by its many branches across the states, not just Navy Yard. Each individual branch has its own unique way of bringing the warmth and comfort of genuine Italian cooking to its patrons. The best thing they have in common is incredible outdoor spaces!
From pasta to pizza, they have it all! The menu alters seasonally, bringing new and fresh flavors to the scene using the finest quality ingredients. Each meal can be paired with a select wine from local wineries, and if you catch them on a wine and dine night, we can promise you'll have the best time! The meticulous effort by the chefs produces delicacies even Ramsay can't take a swing at!
GATSBY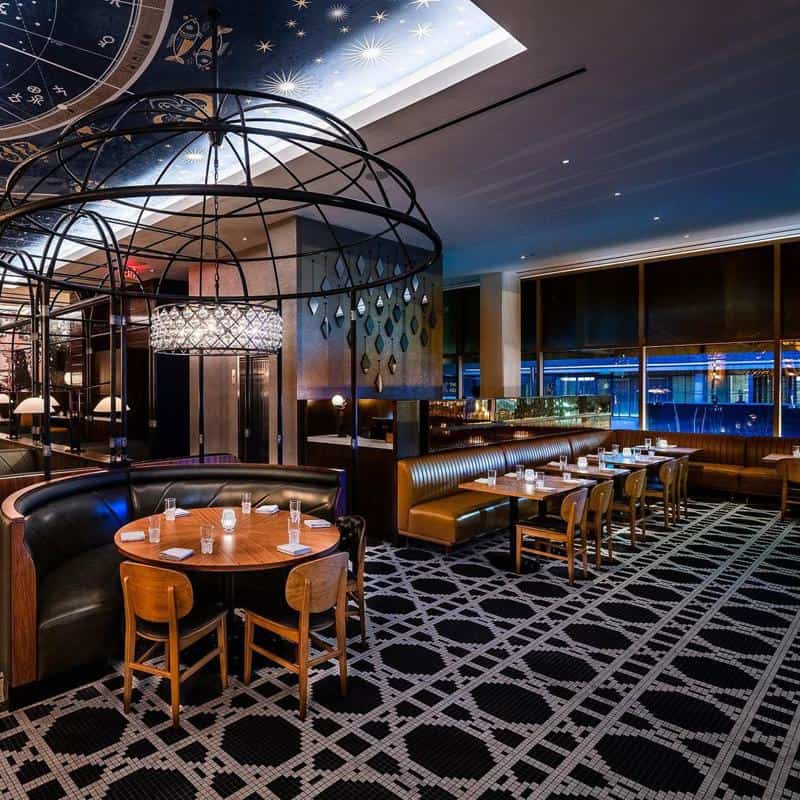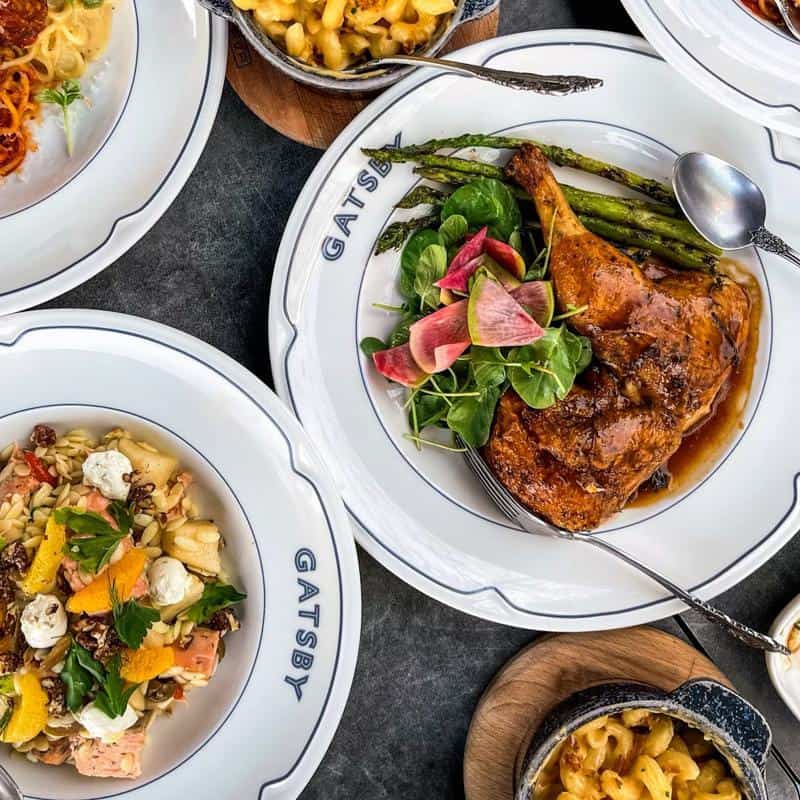 Location: 1205 Half St SE Suite #105, Washington, DC 20003
Known For: Upscale dining, cocktail bar, and bakery!
Price: $$
GATSBY is bound to be eccentric and lavish if the book character is anything to go by. Of course, we expect nothing less, and upon entering, you're immediately taken aback by the modern and luxurious feel. We won't blame you for double-checking the price tag. We can't believe it either. It certainly exudes excessive energy!
The cocktail bar is a thriving section of the business; for a good reason, they're impeccable! The food is not to be overlooked. The dishes vary, and all share one common trait, they are sensationally delicious.
This upscale venue serves trendy and tasteful dishes from the all-day breakfast to the succulent steak dinner. Add the impeccable bakery with wafting sweet scents that draw in curious passers-by, and they've hit the trifecta of contemporary America!
Shilling Canning Company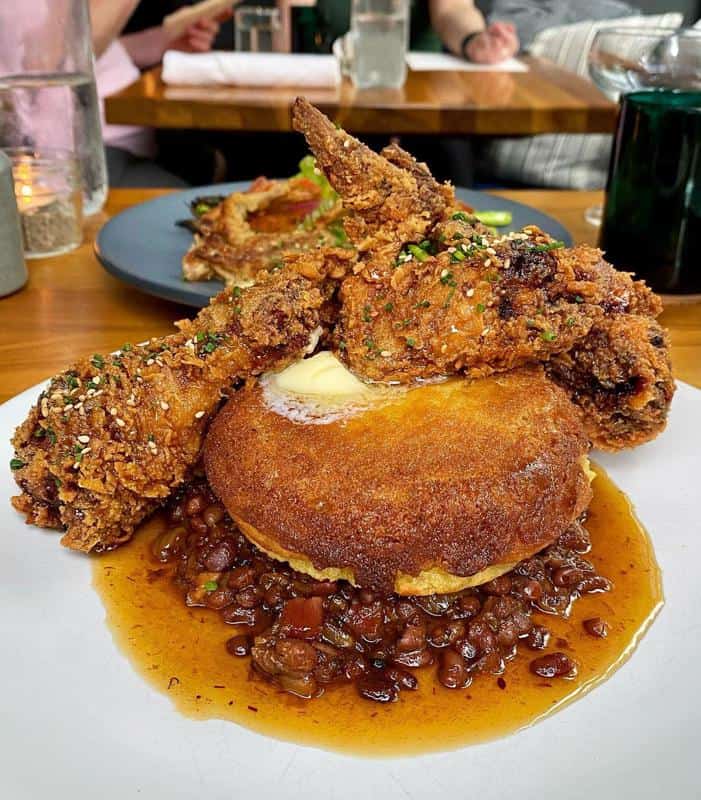 Location: 360 Water St SE, Washington, DC 20003
Known For: New American cuisine, tasting menus, family-friendly!
Price: $$$$
A concept since 1935, Shilling Canning Company is a distinct and historic part of the Navy Yard district! They're a tribute to the Chesapeake region and work on seasonal menus commanding the trust of their patrons as the menus are a fixed feature.
What does this mean? Well, you can choose a 3-course ala carte menu ($65) or, if you truly have faith in the kitchen, a 7-course tasting menu (seasonal price). They're a sustainable business and only source locally, which gives a lot of leeway as Summer turns to Autumn. The dishes are delicious, and we fully sacrifice all our faith in the chefs. They are culinary masters!
Due South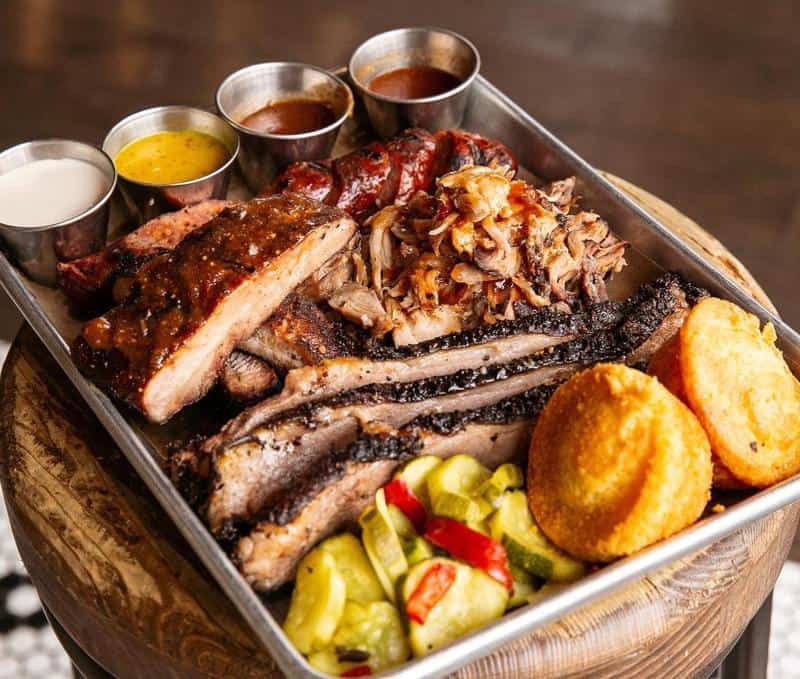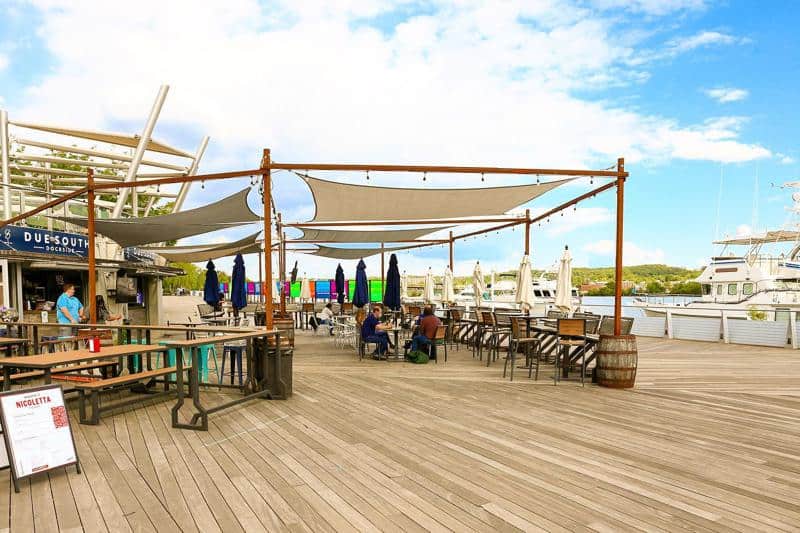 Location: 301 Water St SE, Washington, DC 20003
Known For: Southern-style food, Dockside venue, Craft brews
Price: $$
Southern hospitality has hit the eastern states with flair. Due South sits nestled in a pristine ball-park-centric location tucked amongst neighboring restaurants, although they're no competition. There's nothing better than good old heartwarming comfort food, and Southern cuisine is the best of the bunch.
It's challenging to decide what to order from Chef Rusty Coleman's mouthwatering menu. There is something whimsical about that perfect crunch to chicken tenders. But that's not what Due South is known for. Instead, it's the smoked BBQ brisket. 12 hours on the flame leads to some juicy, delicious meat!
Though that's not all, you're spoiled for choice! Ample indoor and outdoor seating is available at this beautiful and stylish venue. A perfect spot to enjoy a good meal! Due South has a stunning view of Yard Park, with outdoor seating to enjoy the sunshine and fresh breeze rolling through the streets.
Also Read:
Navy Yard Restaurants: FAQs
Have any questions about the dining scene in Navy Yard? Check here!
What is the most popular cuisine in Navy Yard?
Navy Yard boasts many unique restaurants exploring global and local cuisine. You'll find, however, that a good portion of them prefer a contemporary American approach, serving delicious classics that are close to home! Even the exotic restaurants can't deny that nothing beats a good burger!
When is the busiest time to visit a Navy Yard restaurant?
Heads up, watch out for Game Days! With Navy Yard being known for hosting Nationals Park Stadium, game days can be chaotic throughout. If you don't mind crowds, then have at it, but if you prefer a quiet night out, you might want to skip going out when there's a local baseball game.
Whether it be fans waiting to enter the stadium, sports goers who don't have tickets, or a celebration of a win afterward, this can be the busiest day for any Navy Yard restaurant!
Where can I find local brews in Navy Yard?
There's no need to search high and low. The majority of the restaurants in the area are all for supporting locals. So alongside big brand names, you can find locally brewed beers, distilled wines, and much more lining the shelves of restaurants around Navy Yard. You won't have to look far to find exactly what you want! And it's all competitively priced!
Conclusion
Navy Yard sports incredible attractions throughout, from historic to modern and everything in between! There's always something happening. Luckily for us, there are ample options for restaurants to rest and refuel!
You'll find a wide selection of amazing options, and the best advice we can give you is to close your eyes and follow your nose. The streets are alive, with enticing scents from the restaurants that stretch across miles. You just need to relax and let your stomach be your guide!