Tustin is well known for its pleasant weather, beautiful scenery, stunning coastline views, and the nearby Saddleback Mountains.
It is also known for having plenty of attractions for visitors. Tourists can enjoy this great area with museums, parks, and a diverse selection of restaurants offering dishes from around the world.
Here are our top picks for restaurants in Tustin, CA:
Best Restaurant: Chaak
Best Restaurant for Wine lovers: The Winery Restaurant & Wine Bar
Best Casual Restaurant: Peter's Gourmade Burgers
Best Tustin Restaurants
Roma D' Italia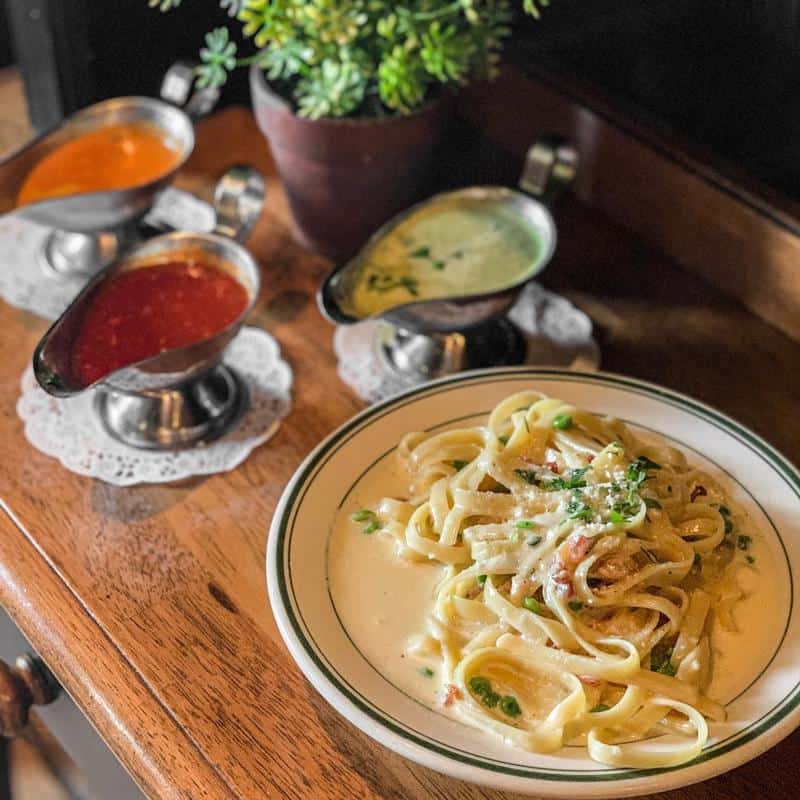 Address: 611 El Camino Real, Tustin, CA 92780-4309
Phone: +1 714-544-0273
Best known for: Classic Italian
Roma D' Italia is a family-owned restaurant that has been serving since 1961.
The interior décor and exterior are reminiscent of a Tuscan villa amongst the hilltops of Italy.
They have indoor seating with the tables covered in cute red and white checker cloth and plenty of outdoor space to enjoy the ambiance.
They have a different lunch and dinner menu, with the lunch menu consisting primarily of pasta and hot sandwiches.
The dinner menu is extensive with a full range of appetizers, a wide choice of delicious-sounding salads, fresh seafood, specialty, traditional, baked plates of pasta, and New York-style pizzas.
Spaghetti Roma D'Italia is their signature dish. It comprises spaghetti baked with mushrooms and ricotta cheese, then topped with meat sauce and mozzarella.
Roma D'Italia is open from 11am every day.
Rutabegorz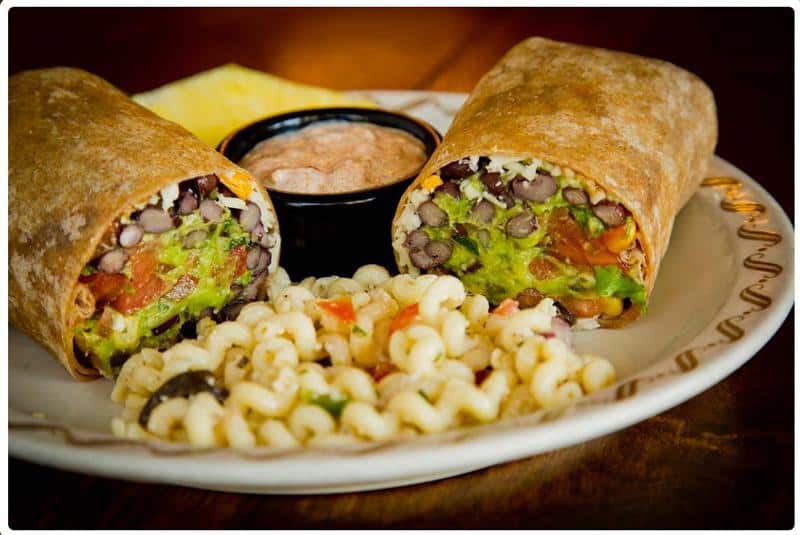 Address: 158 W Main St, Tustin, CA 92780
Phone: +1 714-731-9807
Best known for: Health Food
Back in 1978, a small "hippie joint" opened its doors in Tustin, and it was called Rutabegorz. Originally a coffee shop, it is now a full restaurant focusing on healthy eating.
They offer a unique menu and casual, cheerful vibe dining.
The ethics of this restaurant is to provide good wholesome, natural foods with an emphasis on homemade, low-fat alternatives.
This is not a vegetarian restaurant, but the menu has the majority of dishes that are designed to be vegetarian. But there is the option to add animal protein, which is a great way to be inclusive.
The menu is extensive, and it would be difficult to choose. For example, there are over twenty salad options to choose from.
But do not be put off if you like your meat because they have it covered. They have a choice of meat-based wraps and sandwiches, including turkey, salami, and shrimp, to name a few ingredients.
Ruta's is open from 11am every day and is worth the visit.
Christakis Greek Cuisine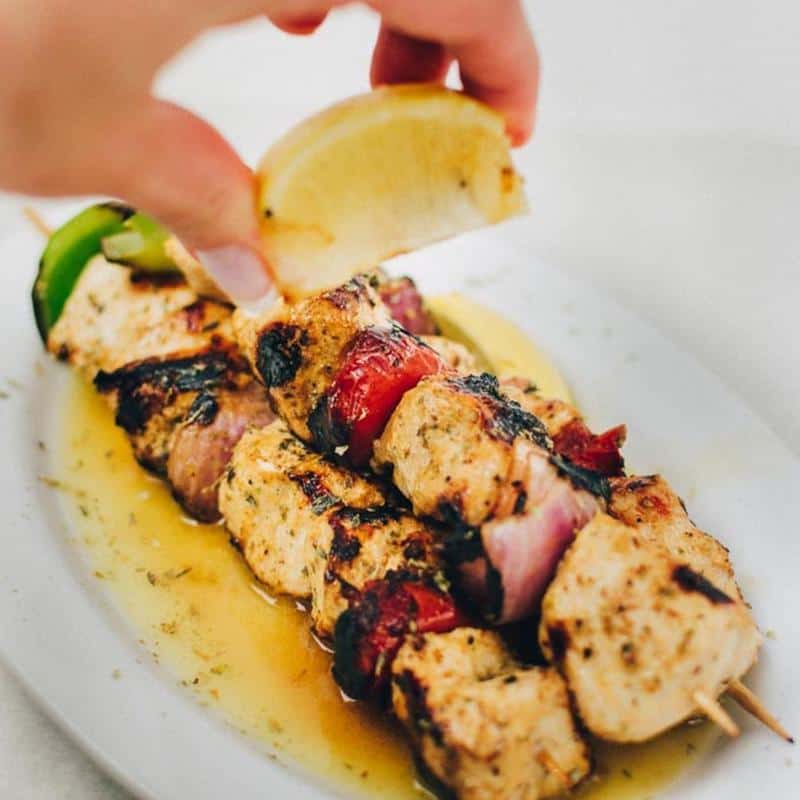 Address: 13011 Newport Ave, Tustin, CA 92780-3524
Phone: +1 714-731-6600
Best known for: Traditional Greek Cuisine
Christakis Greek Cuisine has brought Greece's spirit and authentic warmth to Orange County since 1996.
Entering the restaurant, you are immediately transported to the Meditteranean, with Greek-inspired blues and crisp white tablecloths.
The lunch menu is light, with all the dishes expected of a Greek taverna. Appetizers, salads, sandwiches, gyros, and house specialties.
The dinner menu is more extensive and has more meat and fish incorporated.
You have traditional Moussaka and Souvlaki, but the Chicken Athenian caught my eye. An all-natural breast stuffed with spinach, feta, and fresh dill, topped with fresh mushrooms served with a chardonnay & light cream sauce.
They also have an excellent wine list, including Greek wines.
Christakis is open Monday to Saturday, 11.30am – 2.30pm for Lunch, and Monday to Sunday, 5pm – 9pm for Dinner.
The Winery Restaurant & Wine Bar
Address: 2647 Park Ave, Tustin, CA 92782-2707
Phone: +1 714-258-7600
Best known for: Upscale Californian Food and 600+ bottle wine list
The Winery Restaurant & Wine Bar offers a cultured, hip, and vibrant setting for an innovative dining experience.
The Winery has the vibe of an upscale supper club, allied to the best Californian fayre and a wine list of more than 600 hundred-plus bottles.
The restaurant has an 800-square-foot visible, climate-controlled cellar that holds up to 6,500 bottles and, since opening in 2007, has won multiple awards.
The menu is a journey through fine ingredients and top-quality techniques. There is a delicate balance between seafood and meats and some classic sides.
The Chef also features a Nightly Special of fresh wild Game or Fowl. This includes organic New Zealand venison, Elk, All-Natural Buffalo, Louisiana alligator, rabbit, pheasant, quail, squab, or partridge.
The Winery is open from 11am Monday to Friday, from 4pm Saturday and 5pm Sunday.
Lucille's Smokehouse BBQ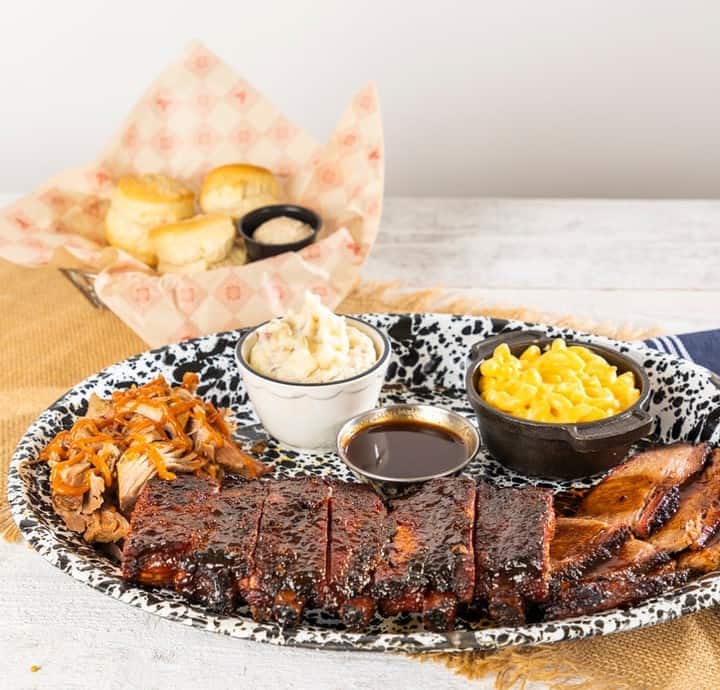 Address: 2550 Park Ave The District at Tustin Legacy, Tustin, CA 92782-2712
Phone: +1 714-259-1227
Best known for: Southern Style Bar-B-Que
Lucille's is an authentic Southern Bar-B-Que restaurant that holds to Bar-B-Que cooking. Everything is scratch cooked every morning, including the buttermilk biscuits, sides, and desserts.
In true southern style, you can't rush good smoked meats, so everything is marinated for 12 hours or more and smoked for up to 24 hours. Perfection takes time!
We all know what to expect from a Bar-B-Que menu, and Lucille's doesn't disappoint.
The "Build your own Bar-B-Que Combo" allows you to customize your meal with the meats you want. There is Lucille's Super Feast, served family style for 12 or more people if you are with a hungry group.
It is a sign that a restaurant is in touch with its clientele when a southern Bar-B-Que restaurant has a good selection of plant-based dishes.
Lucille's is open from 11am every day.
American Grub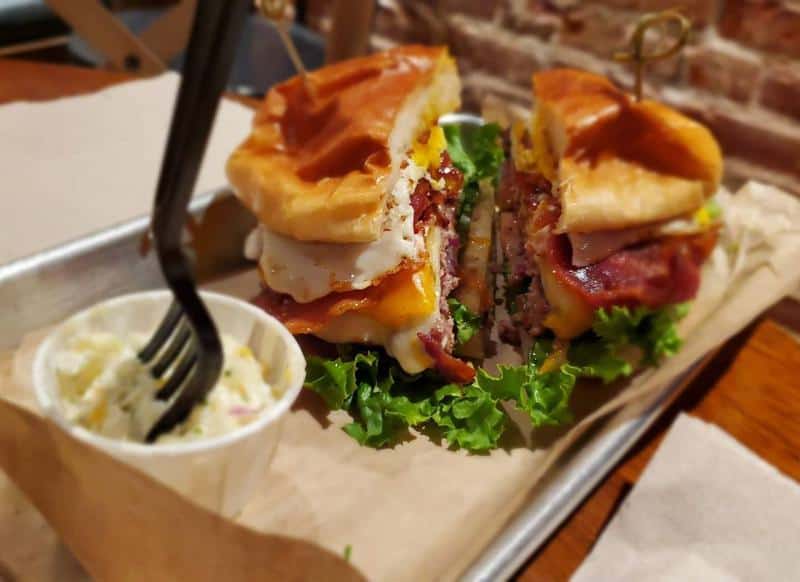 Address: 365 El Camino Real, Tustin, CA 92780-3605
Phone: +1 714-505-3500
Best known for: Great All-American Food
American Grub is one of the trendiest full-service restaurants in Tustin.
This family-friendly, all-American restaurant opened in 2016 and has been a smash since then.
The interior is inspired by New York restaurants. They have a beautiful patio to enjoy the Old Town Tustin atmosphere.
If you want all-American classic food and beverages, head down to 365 El Camino Real.
The menu includes juicy burgers, tasty sandwiches, salads, wings, sliders, and classic sides.
The Guilty Burger consists of an Angus beef patty, applewood-smoked bacon, cheddar, pepper-jack cheese, swiss, applewood-smoke bacon, fried egg, and spicy mayo on a toasted brioche bun. It doesn't have to be a guilty pleasure.
Plant-based choices are available, which is excellent for this type of Burger Café.
American Grub is open from 11am every day.
Peter's Gourmade Burgers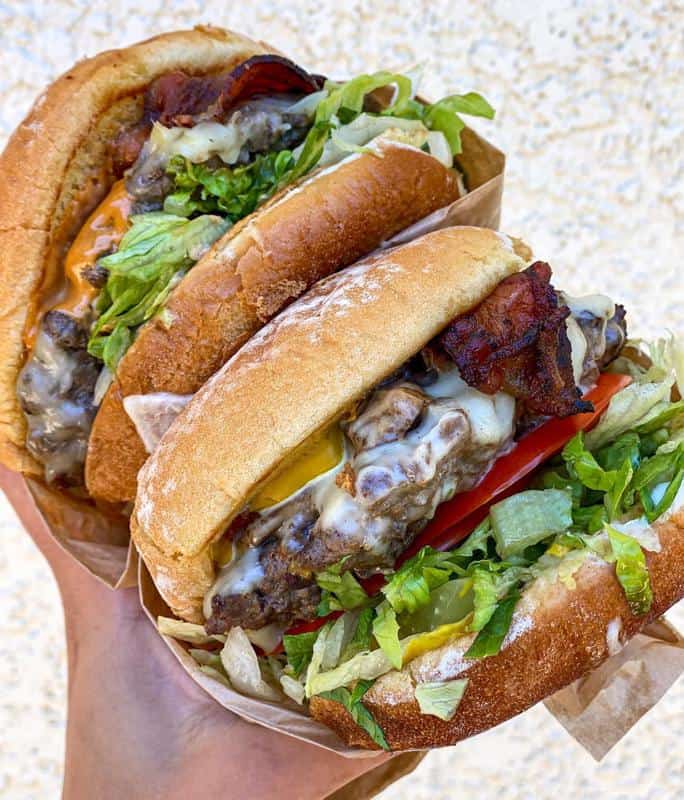 Address: 14311 Newport Ave Ste A Tustin, CA 92780
Phone: +1 714-832-2099
Best known for: Old School Burger Joint
Peter's Gourmade Burgers is a family-run burger joint that has been open since 2012. The name is a portmanteau of gourmet and made to generate gourmade!
At Peter's, they treat everyone as family; they view every customer as an extension of their family, and it shows with their fantastic reviews.
They use all the original recipes from when they first opened but now with new additions that have a twist.
They believe they can make you the tastiest, juiciest, and most mouth-watering burgers in Orange County.
There is indoor seating but no table service, order from the counter and take a seat or have it to-go.
The menu has burger joint staples of burgers, sandwiches, and salads. Still, there is an overriding greek influence with feta cheese and gyro meat used regularly. Sounds delicious.
This burger joint is open from 11am every day.
Barolo Italian Cafe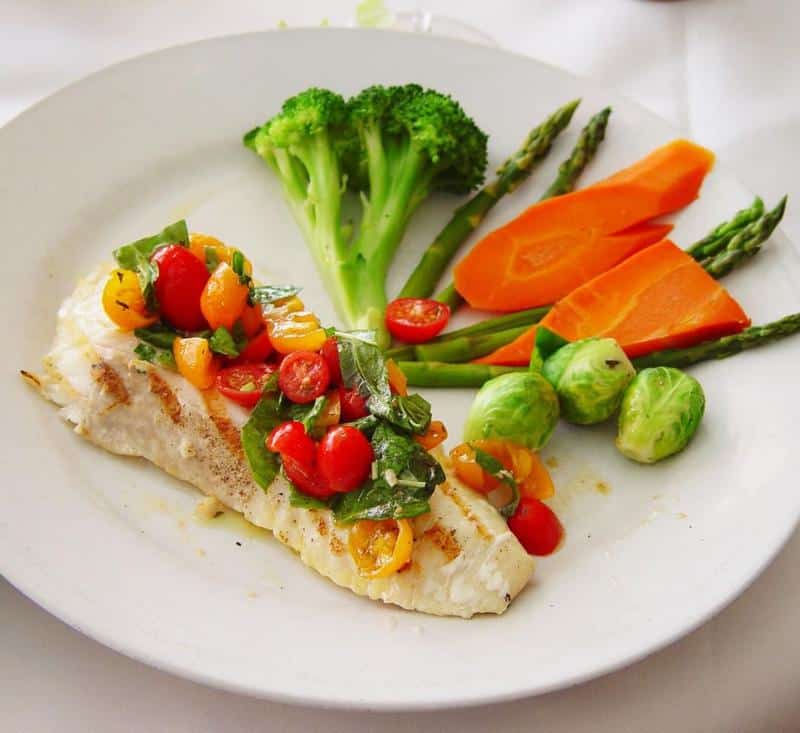 Address: 13771 Newport Ave Ste 9, Tustin, CA 92780-4692
Phone: +1 714-734-8882
Best known for: Italian Flair
Located in a strip mall on the corner of Newport Avenue and East Main Street, you will find Barolo Cafe.
Despite the humble surrounding, there is nothing modest about this classical Italian restaurant. This "hidden gem" is known for innovative cuisine and an extensive wine list.
The restaurant is decorated in muted creams and browns, giving it a classy feel without losing the homeliness of an authentic Italian restaurant.
Established in 1992, this neighborhood favorite offers a variety of specialties such as Osso Buco, Cioppin, Homemade Ravioli, Veal Chop, Risotto, and much more.
Giuseppe, the Chef and owner from Salerno in Italy will create or adapt dishes to meet your palette to ensure your meal is delectable.
Barolo Café is open from 11am Tuesday to Friday and from 5pm at weekends.
Off The Boat Fish Grill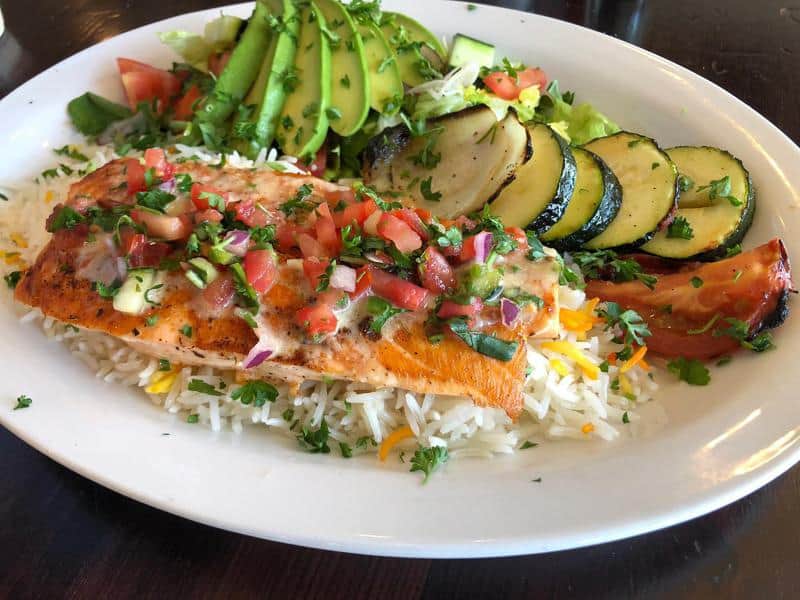 Address: 17582 17th St Suite 105, Tustin, CA 92780-1973
Phone: +1 714-544-1900
Best known for: Mexican Fusion
Off The Boat Fish Grill is a fusion restaurant serving food from the Mediterranean to the coasts of Baja, Mexico, with a heavy focus on fresh seafood and healthier eating.
The use of dark woods and pale colors make the inside almost classical, and there is space for outside dining.
Trying to be as sustainable as possible, everything that can be is made in-house, and the fish are wild caught, not farmed.
To continue the healthy ethos, they do not use artificial preservatives or butter and only use the minimal oil needed.
The menu is fish-heavy, but meat eaters and those on plant-based diets are well looked after. An excellent option is cauliflower rice as an alternative for those on low-carb diets.
Daily specials such as barramundi and carnitas are available. They have Happy Hour meal specials every day from 3 – 6pm.
Chaak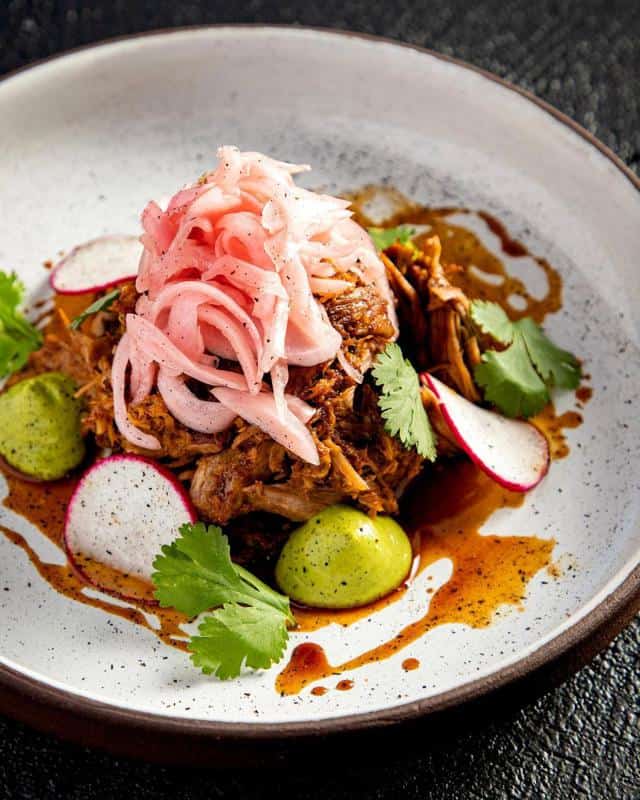 Address: 215 El Camino Real, Tustin, CA 92780-3603
Phone: +1 657-699-3019
Best known for: Unique Mayan Cuisine
Chaak is a Bib Gourmand Award winner issued by the Michelin Guide.
The restaurant is stunning, with a retractable roof, patio dining, and a sleek modern interior emphasizing food presentation.
The food is based in the Yucatán peninsula and has deep roots in Mayan culture.
The food differs from Mexican cuisine as it is littered with Spanish, Caribbean, and Mediterranean influences, and the region has a dense tropical climate.
Creative, innovative, and delicious, Chaak's family-style foods are intended to be shared, tried, and tasted by several. It is excellent to bring a group and taste the distinctive flavors together.
Diners regularly praise the roasted cauliflower with citrus mojo de ajo, chile aioli and pistachio dukkah, and the flavorful Duck tacos.
Dinner is served Tuesday to Sunday from 5pm. Friday and Saturday Lunch and Sunday Brunch are served from 11am.
Honda-YA Japanese Restaurant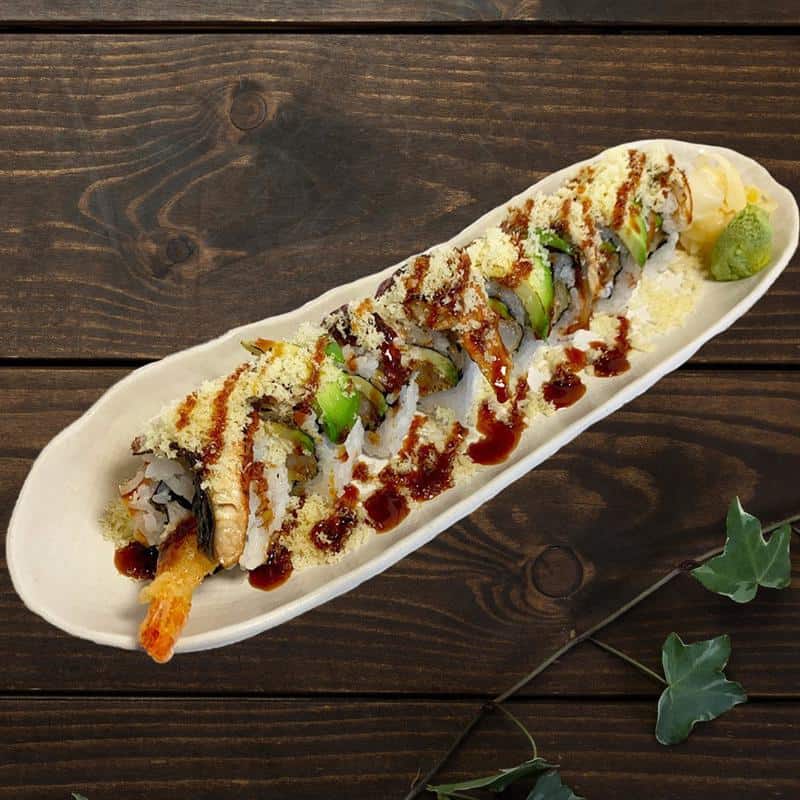 Address: 556 El Camino Real, Tustin, CA 92780-4308
Phone: +1 714-832-0081
Best known for: Authentic Yakitori
Honda-YA Japanese Restaurant offers an authentic Japanese Izakaya experience in Orange Country. You're greeted by a full-sized samurai armor suit when you walk in, which sets the mood.
For those who want to feel that they are in Japan for the evening, there is a section of the restaurant where you can take your shoes off, sit on the floor, and dine as the traditional Japanese do.
Honda-Ya opened in 1993 and has been extending its' menu ever since. It now offers over 300 dishes, so there will be something for everyone.
This restaurant gets bustling, and wait times are long if you have not booked, but guests always comment that the wait is worth it.
Handa-Ya in Tustin is open from 5pm Monday to Thursday and from 4.30pm on all other days.
Bronx Sandwich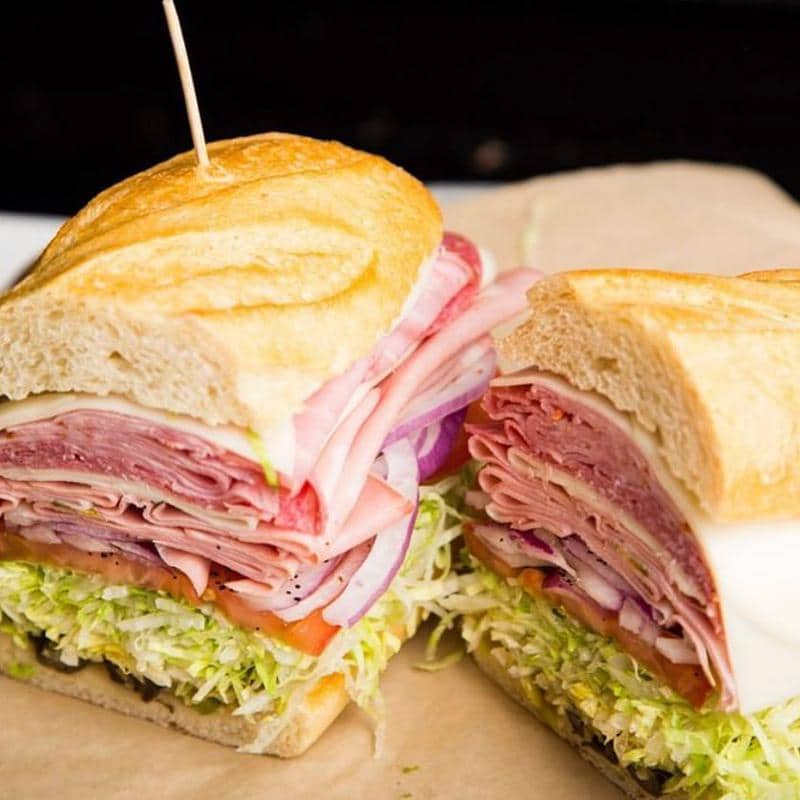 Address: 13041 Newport Ave, Tustin, CA 92780-3536
Phone: +1 714-505-9100
Best known for: Pastrami
Bronx Sandwich aims to bring you New York deli quality sandwiches to Tustin, CA.
Piled high and stuffed with premium meats and cheeses, you can be sure of a top-class sandwich.
They have an excellent range of hot and cold sandwiches, some with mob association names.
Everything is served on a choice of Baguette, Rye, Wheat, Sourdough, or as a Lettuce wrap.
All pieces of bread are served cold or toasted to your preference.
The Street Fries are freshly made; you can choose spicy Baja Chicken, Philly cheese, and Texas BBQ brisket versions.
Bronx Sandwich is open from 10am every day.
Read More:
Final Thoughts
Tustin epitomizes California with the diversity of dining options.
Healthy eating is very prominent, which is shown in the sheer number of Japanese and healthy food restaurants.
But those wanting to find a great burger or influences from South America and other parts of Asia will be delighted with the offerings in Tustin, CA.
Why not post your thoughts on Restaurants in Tustin, CA, in the comments section?