Palm Desert is the place to be in Coachella Valley. It's a playground for the rich and famous, offering exclusivity and a fair amount of privacy from the public eye.
The city rises from stunning scenery and encapsulates perfect desert living under colorful sunsets. Among all of California's desert communities, it's a thriving cultural and retail center with plenty of unique experiences hidden throughout!
They are known for being a cultural capital, and nothing speaks better for culture than exquisite food! There are restaurants waiting to be found that dish up the most delectable meals and provide unforgettable experiences!
We know how overwhelming it can be to try and decide, which is why we've compiled a list of all the best places in Palm Desert to eat. Let's see what's on the menu in Palm Desert, California!
Best Restaurants in Palm Desert
Cork Tree Restaurant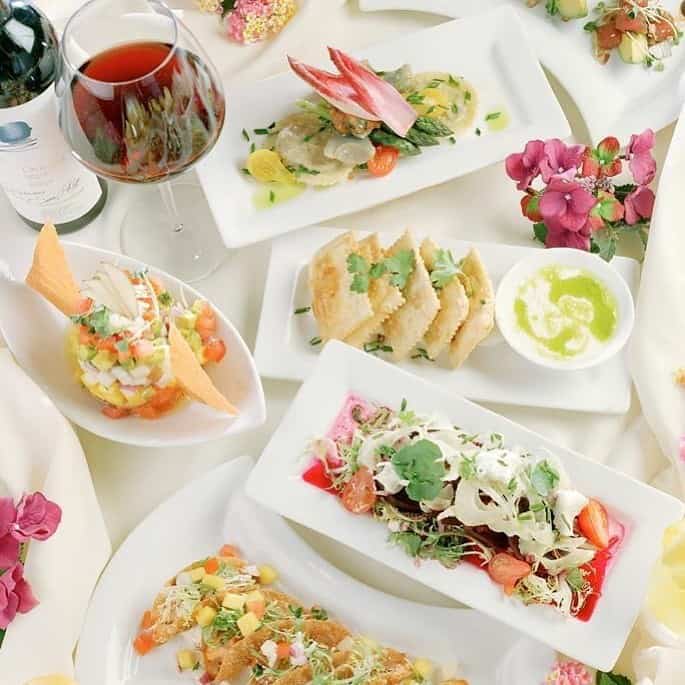 Location: 74950 Country Club Dr, Palm Desert, CA 92260
Known For: Diner's Choice Award 2022;
Price: $$$
Palm Desert is a Californian oasis, where luxury and decadence thrive. The Cork Tree Restaurant is a perfect example, providing a luxurious and romantic dining experience for a very unassuming venue. They're a classic showcase of fine Californian cuisine that offers a superb experience for their guests.
Their food is an eclectic collection of some of the best meals land and sea have to offer. Their ingredients are fresh and pack a powerful punch through their divine combination of flavors. From the drinks selection, there's a variety of classic cocktails and Californian-farmed wines. Dine in style in their beautifully decorated interior, or enjoy the remaining sunlight on the outdoor veranda.
Pacifica Seafood Restaurant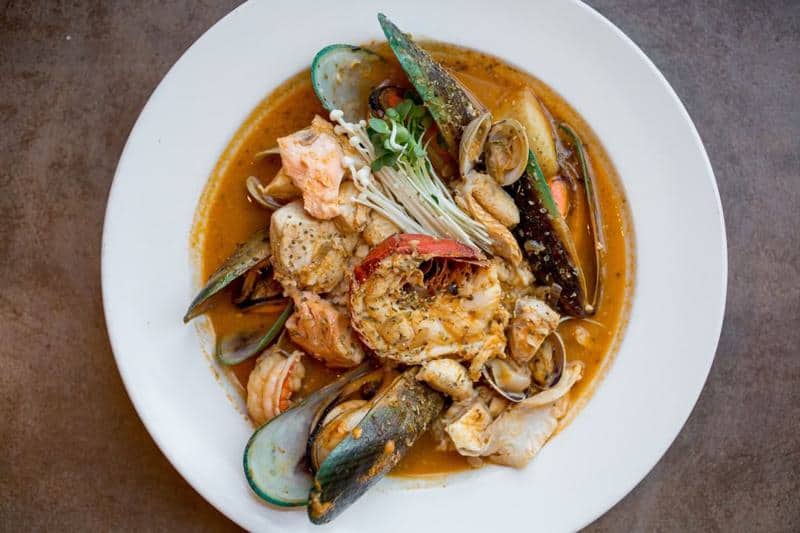 Location: 73505 El Paseo, Palm Desert, CA 92260
Known For: Seafood, outdoor seating, Sunset Dinners ($25)
Price: $$$$
Dinner with a view doesn't get much better than Pacifica Seafood Restaurant. They have a generous outdoor patio with panoramic views of the mountainous desert and can accommodate well for large gatherings! With more than a decade under their belt, they truly have a special place in Californian hearts.
Oceanic flavors are their specialty, with their menu being unapologetically dedicated to vast amounts of fish and shellfish dishes. All sourced from the American oceans and incredibly fresh. They season each dish to perfectly enhance the natural essence of the ingredients. Everything is prepared to perfection, melting on your tongue with each loaded forkful. It's no wonder they've generated such an enthusiastic following!
Also Read: Best Seafood Restaurants in Los Angeles
La Spiga Ristorante Italiano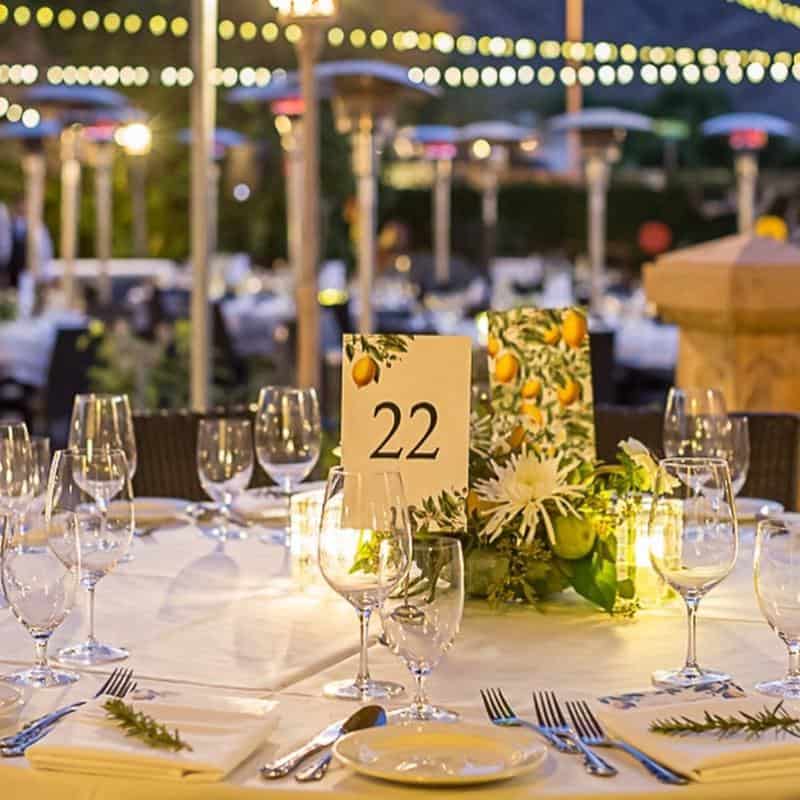 Location: 72557 CA-111, Palm Desert, CA 92260
Known For: Classic Italian cuisine, stunning venue
Price: $$$$
We all dream of a Tuscan getaway, but La Spiga Ristorante brings the destination to your doorstep. Tucked into a superb villa-styled venue, with fruit trees and a magnificent outdoor dining section. It's whimsical and wonderful, a true dining treat, and we haven't even mentioned the food yet!
Everything is done traditionally, with Chef Vince Cultraro ensuring no stone is left unturned. His award-winning approach to Italian cuisine embodies the entire experience. Everything is as natural as possible and prepared daily, from the sausages to the infused oils. Authenticity doesn't get better than this, and each meal is an ode to the incredible culture of Italy.
French Rotisserie Cafe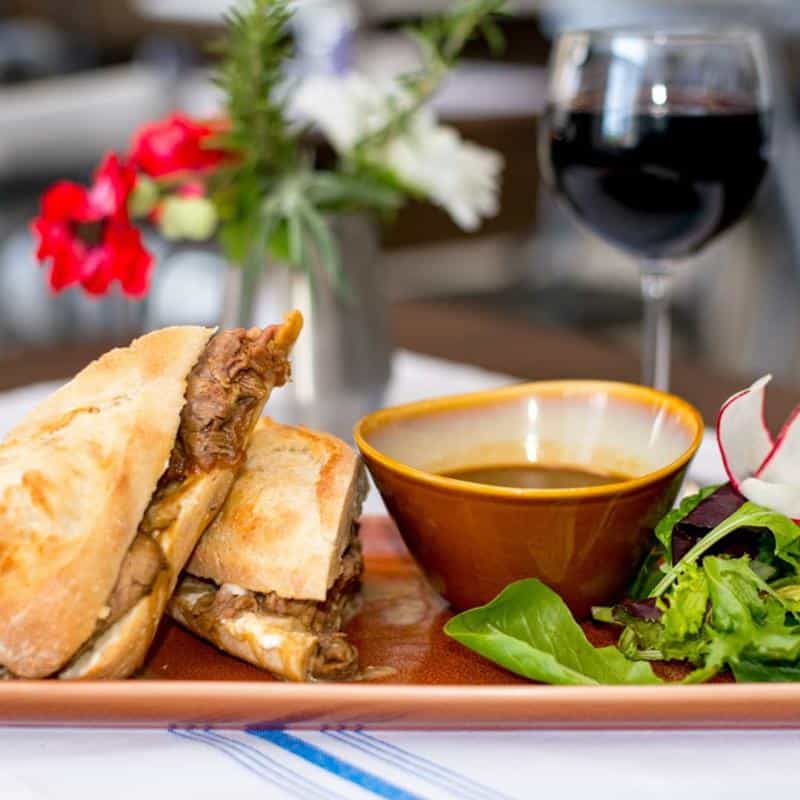 Location: 44489 Town Center Way STE G, Palm Desert, CA 92260
Known For: French Cuisine, Authentic flavors
Price: $$$
Authenticity abundant, French Rotisserie Cafe is a culinary adventure! You may as well have whipped out your passport and flown to Paris. The owner and her family have spent decades perfecting their craft, and while this venue might be new to the Palm Desert scene, it displays generational experience!
The cozy interior is alive with the delicate scents of a French bistro. Ingredients have been meticulously selected for the depth of flavor and undeniable quality. It bodes well for traditional, honest-to-goodness French cuisine. Each dish can be paired wonderfully with imported and local wines, carefully chosen by co-owner Luiz.
Oceana Restaurant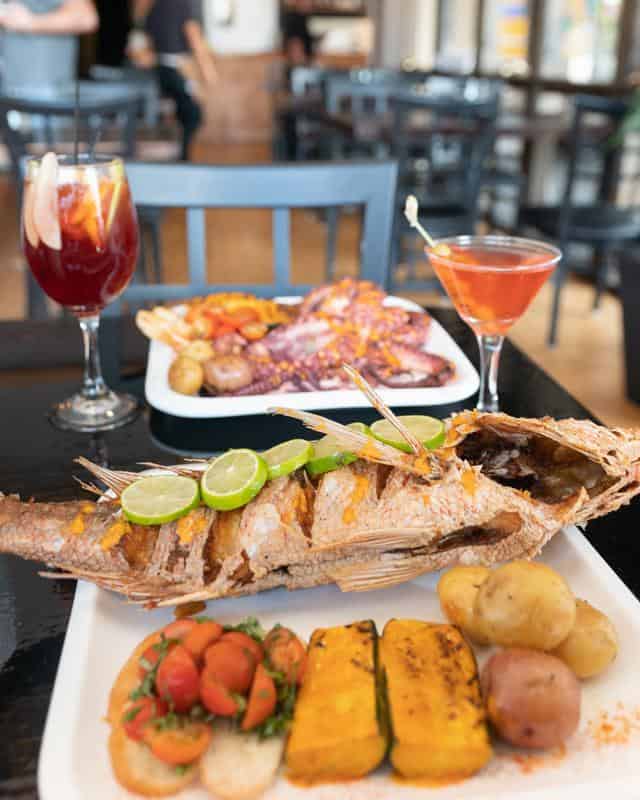 Location: 77932 Country Club Dr #2-4, Palm Desert, CA 92211
Known For: Seafood,
Price: $$
Oceana Restaurant provides a refreshing approach to dining in Palm Desert. The trendy and casual venue is comfortable while providing a fun atmosphere that's attracted the eye of a vibrant and young crowd! It creates a lively experience. This by no means takes away from the air of fine dining. The food holds exemplary amounts of sophistication!
Their dishes are chic, with inspiration taken from global cuisines to add to their Californian flare. Every bite is flavorful and impactful, from the starters to the mains. What's better is the options seem limitless, and host everything from raw oysters to a delicious surf and turf. The international influence is easy to see, with seafood tacos and a divine shrimp chipotle hiding in the mix of wonderfully adventurous dishes!
Read More: Best Seafood Restaurants in San Diego, CA
Mastro's Steakhouse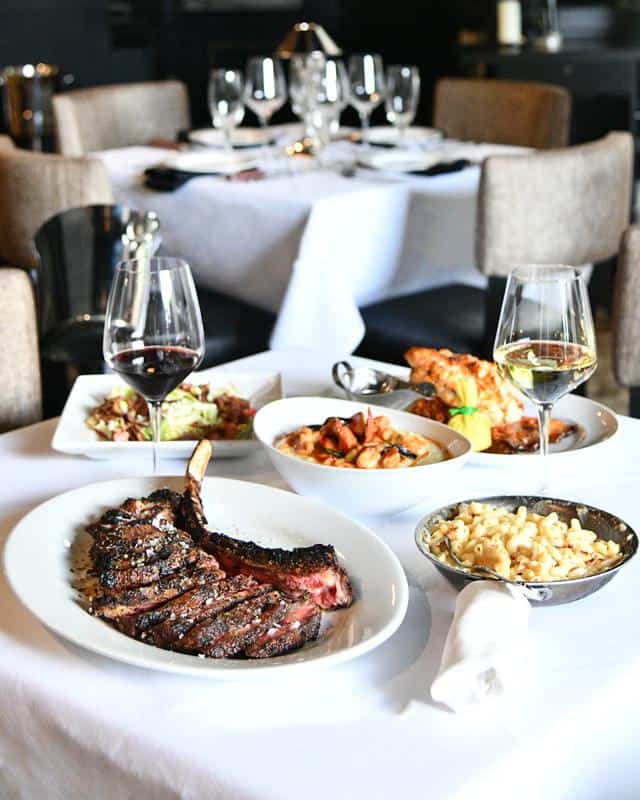 Location: 73405 El Paseo Suite 120, Palm Desert, CA 92260
Known For: American cuisine, fine-dining
Price: $$$$
Mastro's Steakhouse breathes new life into classic American dining. They add decadence to every occasion! On the right evening, you can be lulled through your meal by tasteful live music, which adds to the ambiance! The venue is expansive, with a private wine cellar stocked with a stunning selection of local and imported vino!
Once you witness the menu, your high expectations will be blown out of the water! The menu boasts a variety of choice cuts. American cuisine at its finest, highlighted by the heavenly melt-in-your-mouth wagyu cuts. The kitchen chefs ingeniously enhance each dish's flavor, with a neo-classic approach to creating appetizing art on a plate. We highly recommend reserving a table, as this is one restaurant you won't want to miss out on.
Grill-A-Burger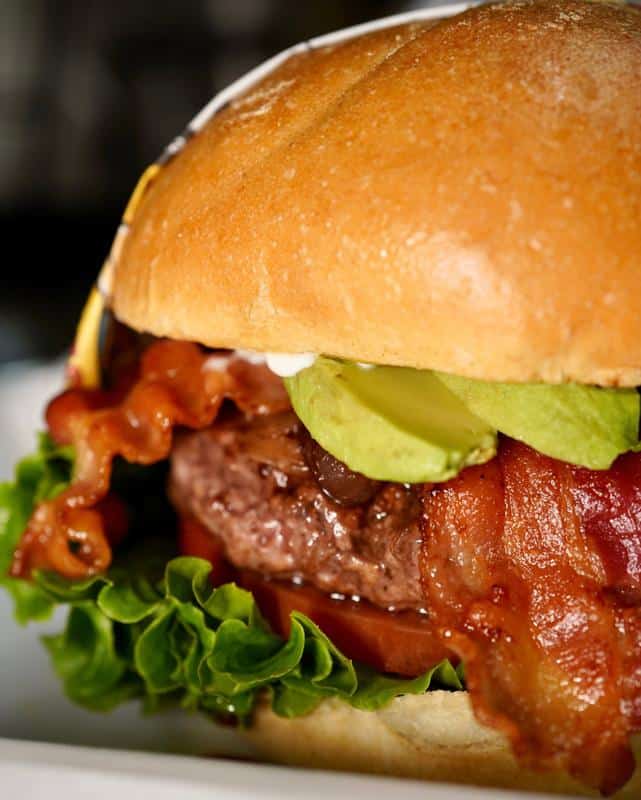 Location: 73091 Country Club Dr, Palm Desert, CA 92260
Known For Diner's Drive-ins and Dives appearance, burgers
Price: $$$
Even Guy Fieri couldn't resist the exciting prospect of a burger from Grill-A-Burger! They are highly awarded for being something reminiscent of a fast-food joint. The garish decor is a bit of a shock to the system but can certainly be forgiven. The staff is fun-loving, enthusiastic, and ready to serve up some of the best burgers in Coachella Valley!
The menu will certainly never disappoint. The options seem endless, which means there's definitely something tucked amongst the variety for even the fussiest of diners! From hot dogs to Palm Desert's spiciest burger, it's a paradise for lovers of beef and cheese (or poultry if you'd prefer). The food is incredibly delicious and packed with flavor, perfect for satisfying any appetite!
Wildest Restaurant & Bar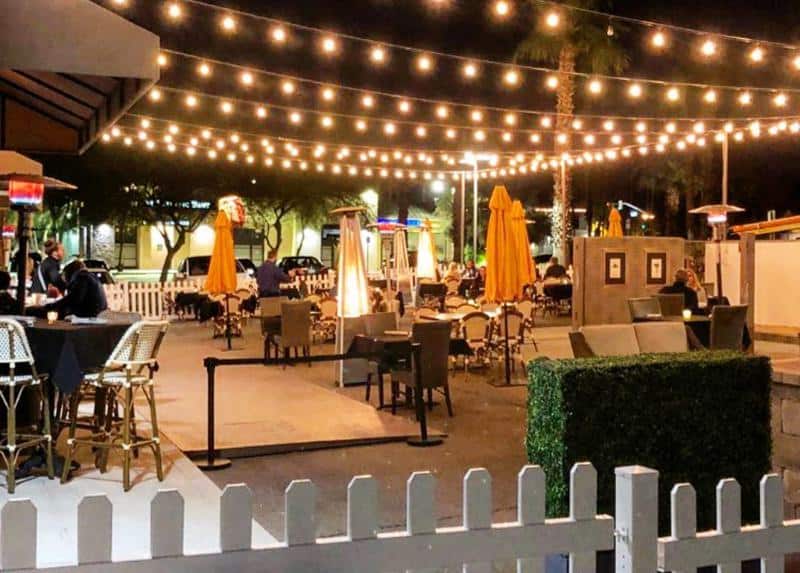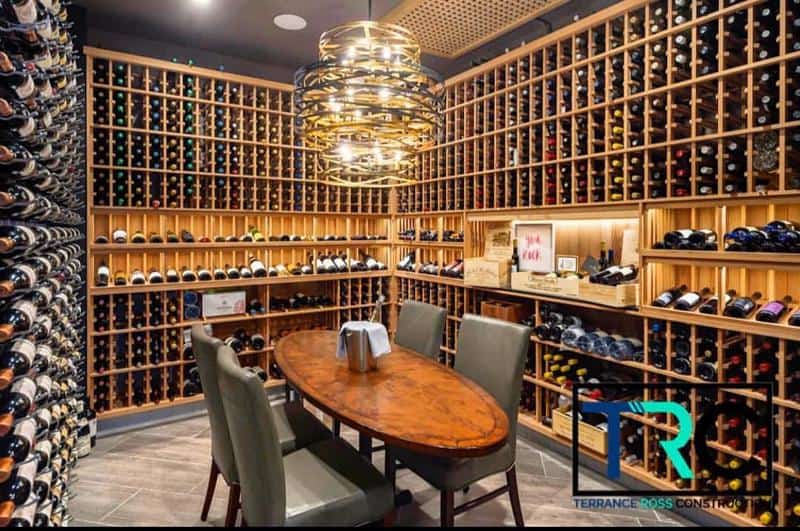 Location: 72990 El Paseo #3, Palm Desert, CA 92260
Known For: Global cuisine, Art-deco venue, bar, outdoor patio
Price: $$$
Wildest Restaurant & Bar takes an experimental and stripped approach to cuisine. The artistic restaurant has won multiple awards, including a Diner's Choice award for 2022. From the truly unbeatable design of the venue to the soft and delicate flavors of their food, Wildest is certainly a trendsetter. Hosting live music in their exquisite indoor-outdoor venue nightly too!
The menu revolves around bringing natural flavor to the plate! The ingredients are sourced locally from meticulously selected farms to ensure the utmost quality. Once it's in the capable hands of the chefs, however, something that seems bland is transformed into something bursting with flavor. The tastes are harmonious and synchronize to encapsulate even the most subtle of ingredients to bring them to the forefront in some truly inventive dishes.
Piero's Pizzavino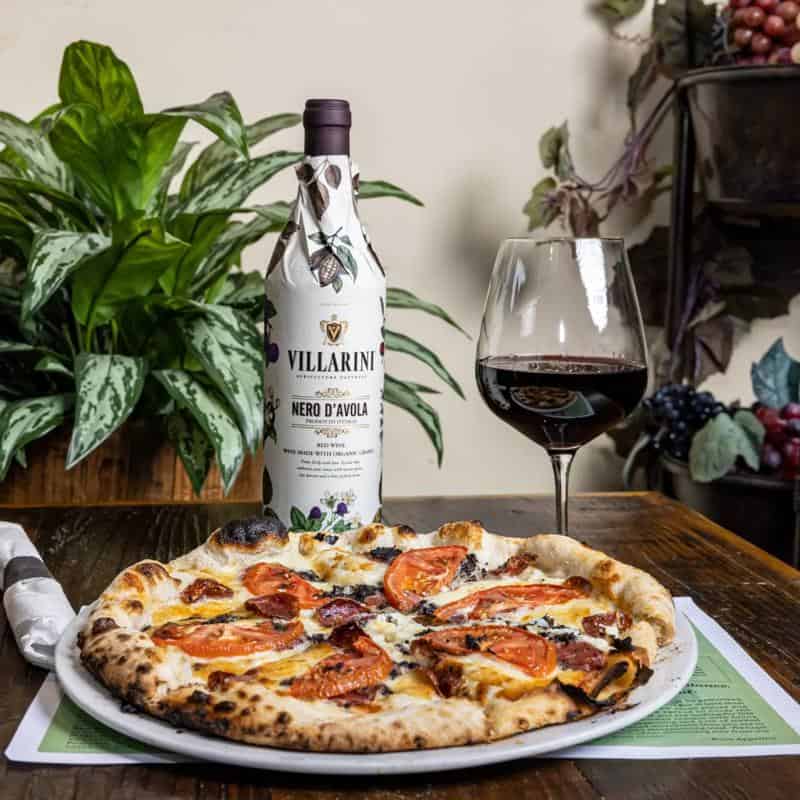 Location: 73722 El Paseo #1, Palm Desert, CA 92260
Known For: Italian cuisine, Pizza
Price: $$
Owner, Sheri Pierattoni, developed Piero's Pizzavino as a way to bring authentic Italian food to the Californian desert. Set amongst a backdrop of a neo-traditional venue, you'll feel the comfort of an Italian home without sacrificing the luxury of a modern aesthetic. It's large and can host any occasion with ease!
The recipes are generations old and bring a genuine Tuscan flare to your plate. The pizzas are nothing like your standard pizzeria either! Hand-crafted from the finest imported and locally-sourced ingredients.
Each dish on their menu can be paired with the perfect wine from their cellar, which constantly changes with the season. We recommend making reservations, as they can get fairly busy around dinner time! With food like this, who can blame them?
Solano's Bar & Grill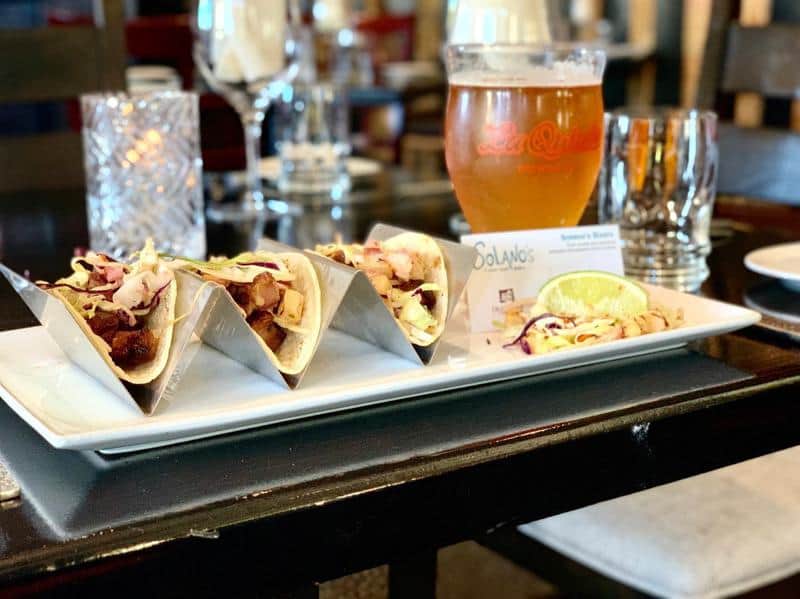 Location: 37029 Cook St, Palm Desert, CA 92211
Known For: Classic American cuisine, new-style pub grub.
Price: $$
Solano's Bar & Grill is a celebration of the West Coast. The trendy and upmarket bar and restaurant provide the best in local flavors! The dedicated staff is pleasant, enthusiastic, and well-versed in the ways of their venue, bringing a fresh vibrance to the already lively atmosphere.
There are two dedicated aspects to the kitchen, providing mouth-watering meals and doubling as a scratch kitchen, pumping out delicious nouveau pub grub. The stars of the menu are the prime cuts of perfectly selected beef, paired with incredible sides that mesh to create a taste explosion. It's an unforgettable dining experience, offering some of the finest quality, whole-heartedly American cuisine in Palm Desert.
Ristorante Mamma Gina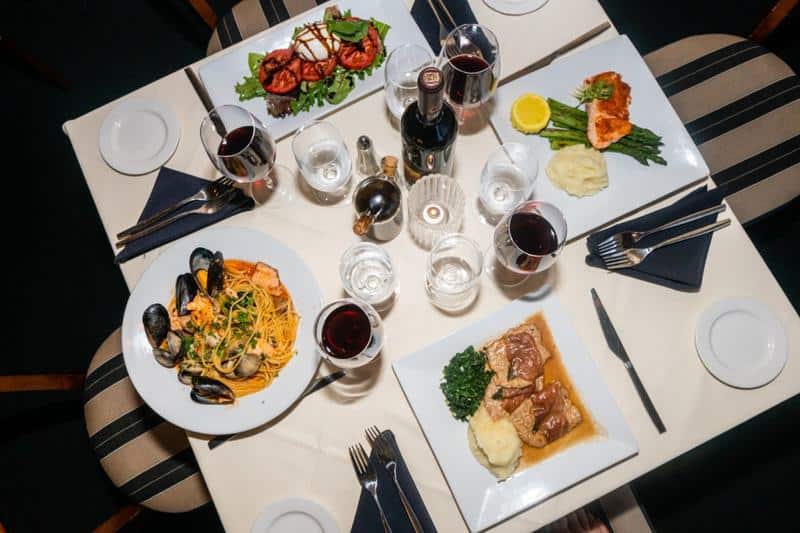 Location: 73705 El Paseo, Palm Desert, CA 92260
Known For: Italian cuisine, Enoteca bar, Outdoor eating
Price: $$$
For many Palm Desert locals, Ristorante Mamma Gina is the place to go for delectable Italian food. Alongside a vibrant atmosphere, where the tunes of old Italy softly play above the busy tables, they have a vivacious Enoteca bar!
The meals take a different spin on classic Italian dishes, adding in some West Coast flair and making them truly unique. The restaurant has been around for decades, and its experience reflects entirely in the quality of meals placed before its guests. Helpful servers are seen flying from the kitchen with saucy pasta and tasty dishes. The venue is happy to accommodate all occasions, from birthdays to a romantic evening for two.
Wilma and Frieda's Cafe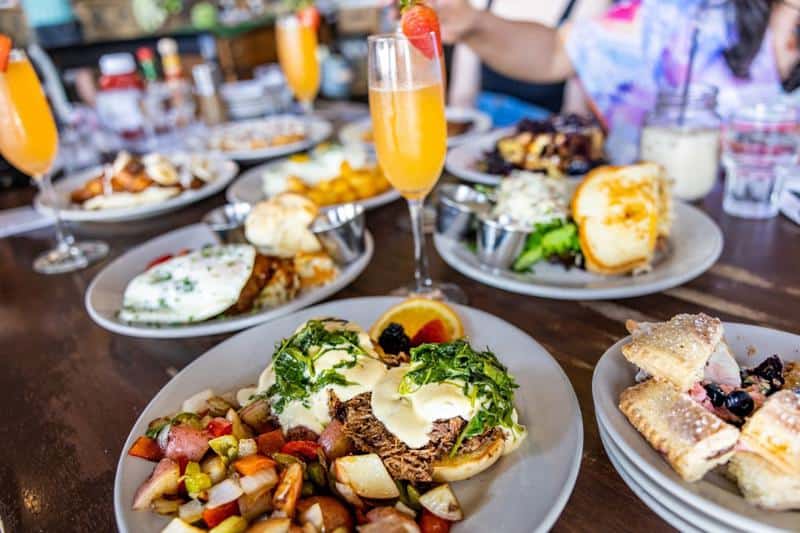 Location: 73575 El Paseo #2310, Palm Desert, CA 92260
Known For: Comfort food, Brunch venue, farmhouse kitchen
Price: $$
A pleasant break from the usual cuisine found around Palm Desert, Wilma and Frieda's cafe is a family-operated farmhouse kitchen. Their genuine approach to bringing delectable comfort food has made them a much-beloved part of their community. Or perhaps it's because everyone is a sucker for reminiscing over their childhood.
They serve up powerfully inventive brunch dishes; it's the best of both worlds. Their sweet meals are definitely a fan favorite; nobody can resist the urge to order a sticky sweet waffle topped with fresh berries. And their savories? Oh boy! Everything from a simple scrambled egg to a heartier and more filling meatloaf can be found on the menu. You'll leave soul-soothed and aching to come back again!
Cafe Des Beaux-Arts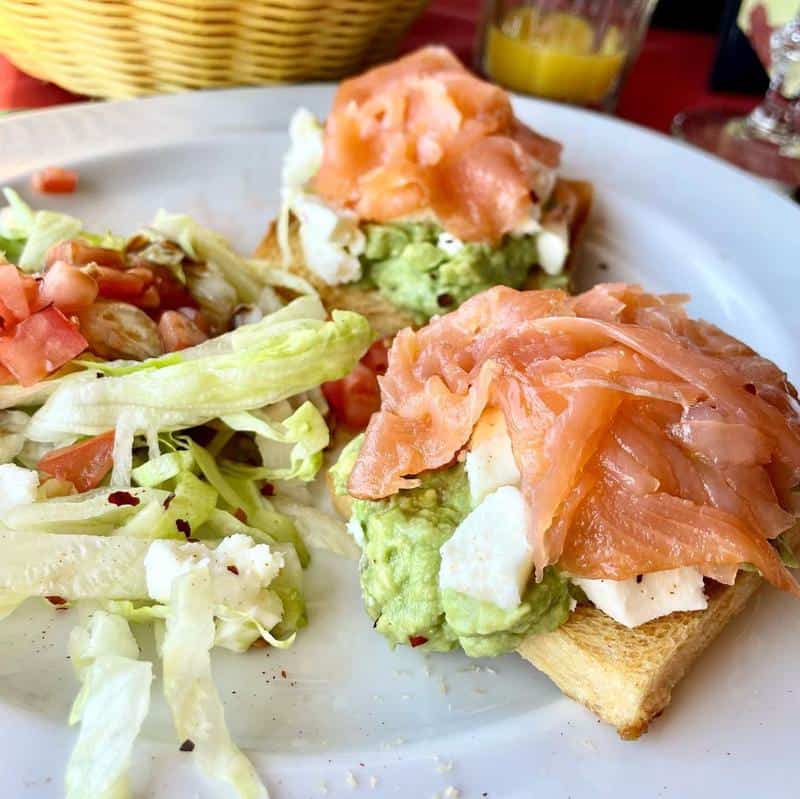 Location: 73-640 El Paseo, Palm Desert, CA 92260
Known For: French cuisine, Live entertainment
Price: $$
Cafe Des Beaux-Arts stands out amongst its rivals, perfectly mirroring a Parisian cafe. From the outside, you'd be confused. It doesn't fit into its surroundings with ease. Once you take your first step inside, you'll immediately feel transported. Sit back and enjoy the live music with bustling street views from the outdoor patio, or be comforted by the cozy and warm interior.
They are open for breakfast, lunch, and dinner. Bringing in a trendy approach to French-West Coast fusion. From a brie and prosciutto omelet to shrimp crepes, you're given a range of excellent choices. Everything is flavorful, from the savory to the sweet, and the prices are ridiculously affordable for the quality! We implore you to ask your servers to help you find the perfect glass of bubbly to settle your stomach after a meal!
Read More:
Conclusion
Palm Desert is a favorite for wary celebrities and star-struck wanderers looking for something new to experience. It's a land of global influence, from retail to restaurants!
The food prepared by Palm Desert restaurants is creative. It ingeniously utilizes the incredible resources provided to them by local farms. Everything is fresh and quality, from the brews to the beef, and no matter where you choose, you'll leave with a full belly and satisfied taste buds!