Virginia Beach is a beautiful coastal city in southeastern Virginia. It lies where the Chesapeake Bay meets the Atlantic offering stunning ocean views. With its three-mile boardwalk along the beach and several historical and other attractions, Virginia Beach is the perfect holiday destination. However, it is also a city with a fantastic culinary scene that everyone should explore.
Making the most of what the sea has to offer, Virginia Beach has some of the best seafood that is locally sourced, always fresh, and topped with seasonal ingredients. You can find seafood that is literally fished from the water beneath your table, sliced by a Tokyo-trained sashimi master, or grilled fresh at a dockside bar.
Furthermore, the Southern influence on Virginia Beach's culinary scene is strong. Be it while at brunch, at a seafood eatery, or at an American bistro, you will certainly come across the Southern charm of mouthwatering dishes.
Keep on reading to find out the best 15 restaurants in Virginia Beach.
Best Virginia Beach Restaurants
Waterman's Surfside Grille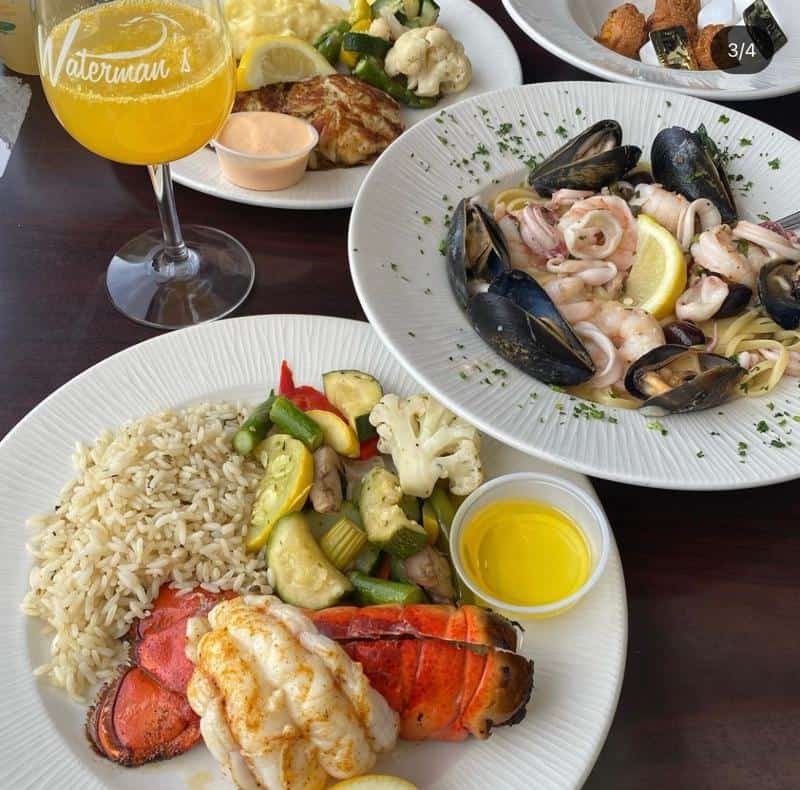 Address: 415 Atlantic Ave, Virginia Beach, VA 23451
Phone: +1 757 428 3644
Known For: delicious seafood meals and beautiful beach views
Waterman's Surfside Grille is a family-owned since 1981 and is a favorite for locals and visitors due to its delicious large portions of seafood meals. Furthermore, if you are looking for the perfect spot for a romantic date at an elegant eatery with gorgeous waterfront views of the ocean, this is the ideal spot.
This restaurant is also home to Virginia Beach's signature drink, the famous Orange Crush. So, if you are visiting Virginia Beach, you have to order an Orange Crush. Just sit back and relax on the deck of Waterman's and enjoy the Atlantic Ocean with a tasty and refreshing drink and meal.
The crab dip and crab cakes are the most popular options. Another favorite meal is the Coconut Shrimp Wrap, but Waterman's also offers burgers, salads, and pasta for those who prefer something else.
Bay Local Eatery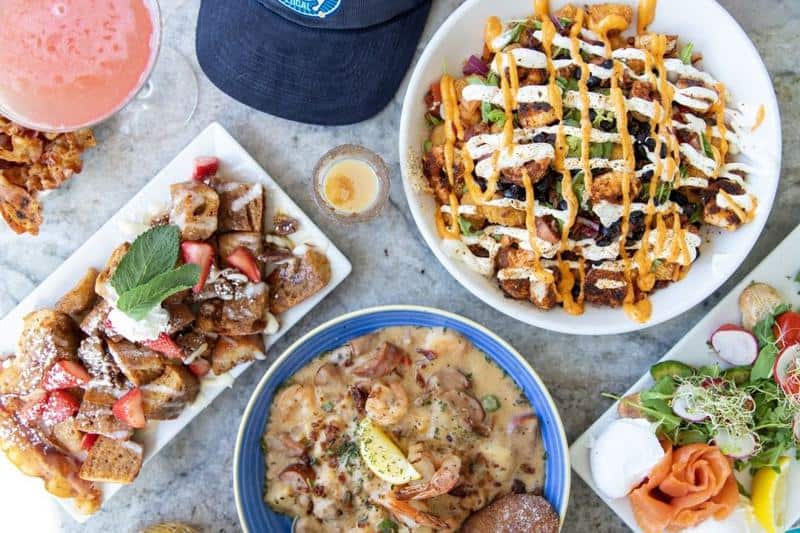 Address: 972 Laskin Rd, Virginia Beach, VA 23451
Phone: +1 757 962 0044
Known For: gorgeous rustic-modern interior
Bay Local is a fantastic destination for delicious seafood dishes, traditional American favorites, and an Instagram-able rustic-modern interior. It is truly the perfect spot for elegant dates for couples and capturing the perfect holiday photos.
Southern and seafood combined, Bay Local has all the dishes you crave and even food you never knew existed. The menu is extensive, covering all bases and offering only the best quality. Also, brunch is served all day with tempting drinks.
For the perfect dining experience, make sure to try the Pan-Seared African Pompano. It comes with Newport potatoes in a roasted pepper puree that will make your palate swoon with delight. Add mozzarella into the mix to get the feeling of tasting perfection.
Commune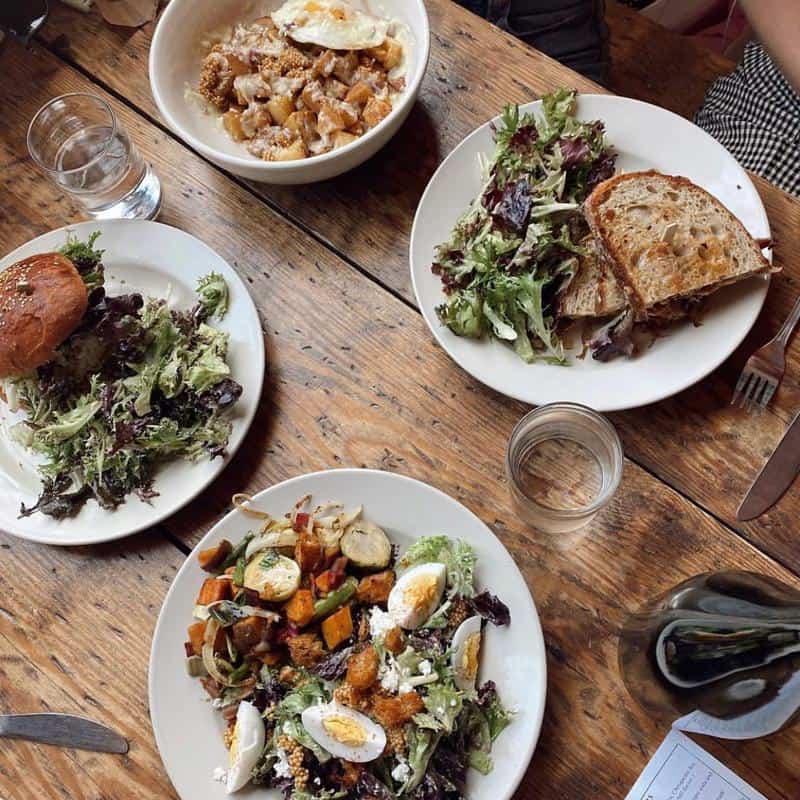 Address: 501 Virginia Beach Blvd suite b, Virginia Beach, VA 23451
Phone: +1 757 963 8985
Known For: seasonal menu
Commune specializes in New American cuisine with a seasonal menu that changes all the time to keep things interesting. Furthermore, its food is absolutely incredible, hence it makes you want to come back again and again to try something new.
The restaurant is near the Virginia Beach Oceanfront public beach, just southeast of the Virginia Beach Convention Center. This gives the restaurant the perfect location for a relaxing dining experience before or after swimming in the beautiful ocean waters.
Using mainly locally sourced ingredients, Commune always serves fresh and delicious plates. Its menu features mouthwatering dishes that will satiate any cravings you may have. Furthermore, whether you prefer guilty pleasure food or healthy green options Commune has it all.
Repeal Bourbon and Burgers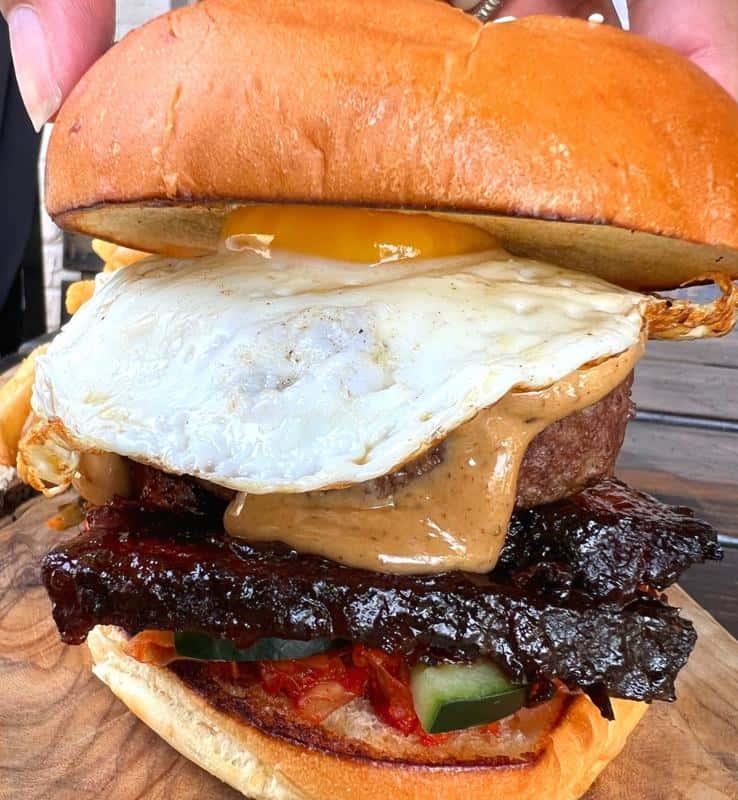 Address: 202 22nd St, Virginia Beach, VA 23451
Phone: +1 757 321 8885
Known For: mouthwatering handmade burgers and other pub meals
Repeal Bourbon and Burgers is perhaps the best burger place in the city for anyone craving one. It is a prohibition-themed hamburger shop and one of the coolest hangout spots for a drink.
The restaurant offers the top dining experience, serving dishes made with homemade ingredients from its own backyard. With everything made from scratch, you will surely taste only incredible flavors that stand out in Virginia Beach's culinary landscape.
The Repeal serves only perfectly crafted burgers, making you feel impossible to put down once you've started. Once here, be sure to try the Prohibition Burger. It is a beef and bacon burger served in a brioche bun that will definitely sate your cravings for meat. Add the egg and lettuce into the mix, and you get a burger that will truly delight your palate.
Doc Taylor's Restaurant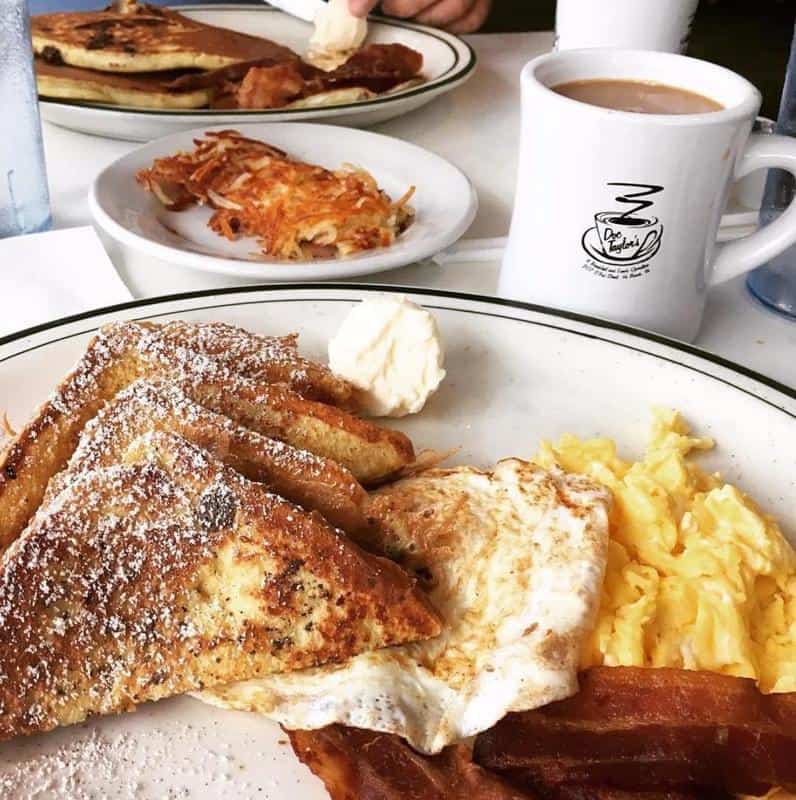 Address: 207 23rd St, Virginia Beach, VA 23451
Phone: +1 757 425 1960
Known For: affordable oceanfront restaurant
Doc Taylor's is a popular restaurant around Virginia Beach thanks to its incredibly delicious brunch menu. It is set in an old-time cottage with a cozy and homey ambiance, with beautiful ocean views.
This is one of the most affordable restaurants on the Virginia Beach oceanfront. And although they make simple dishes, they are all delicious home-cooked favorites. Some of the favorite dishes among guests are the breakfast burrito, their chocolate chip pancakes, and all of their omelets.
Doc Taylor's is open all year round from Wednesday to Sunday and serves breakfast and lunch all day until 2pm. After a filling breakfast, check out Doc Taylor's off 23rd Street near Jungle Golf of Virginia Beach and The Ocean Sands Resort for a fun day near the beach.
The Bee and The Biscuit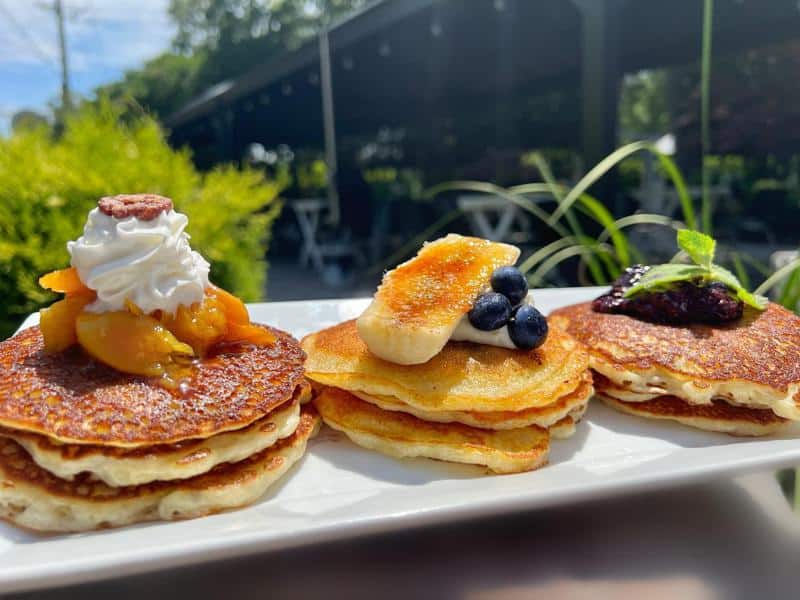 Address: 1785 Princess Anne Rd, Virginia Beach, VA 23456
Phone: +1 757 800 5959
Known For: housed in a cottage built in 1919
Located within the walls of a 1919 cottage, The Bee and The Biscuit is one of the best restaurants downtown. It follows a farm-to-table philosophy and serves incredible New American dishes.
The restaurant has a lovely ambiance with beautiful plants hanging on the flawless white walls. Though, its exterior is what makes it unique. It is filled with lush greenery keeping you company while you eat.
However, what makes The Bee and The Biscuit a favorite restaurant for locals and visitors, is their exquisite food. To stimulate your taste buds, try the Farmer's Wrap. The scrambled eggs mixed with apple cider bacon are brimming with a flavorful taste, while the savory sausage gravy makes the dish a culinary masterpiece.
ShoreBreak Pizza and Taphouse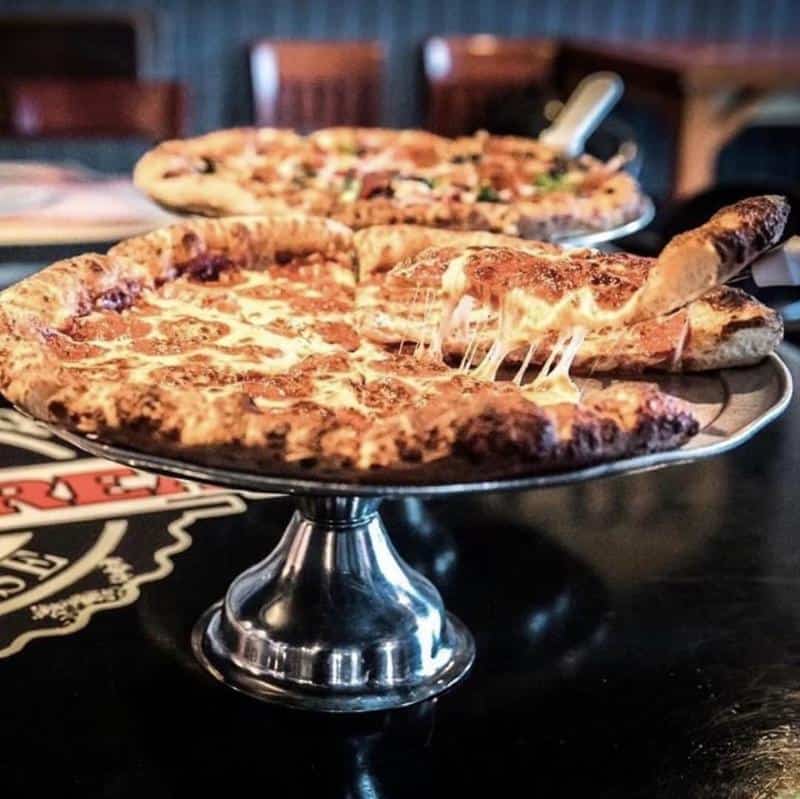 Address: 2941 Shore Dr, Virginia Beach, VA 23451
Phone: +1 757 481 9393
Known For: casual spot with amazing pub food and drinks
ShoreBreak Pizza and Taphouse is in the city center and is one of the best restaurants in Virginia Beach that serve delicious pub grub, such as burgers and pizzas, as well as beer and wine.
The eatery has a cozy ambiance with fun vibes. Here, you can challenge your friends to a game of pool while waiting for those superb dishes to arrive. Or you can watch an exciting sports match at the bar and enjoy tasty drinks.
When at ShoreBreak, make sure to try the Whiskey Burger. The Applewood smoked bacon crisped to perfection on that soft brioche bun will delight your palate. Furthermore, the whiskey sauce on top adds that barbecue flavor that makes the dish a gastronomic treat.
Blue Pete's Restaurant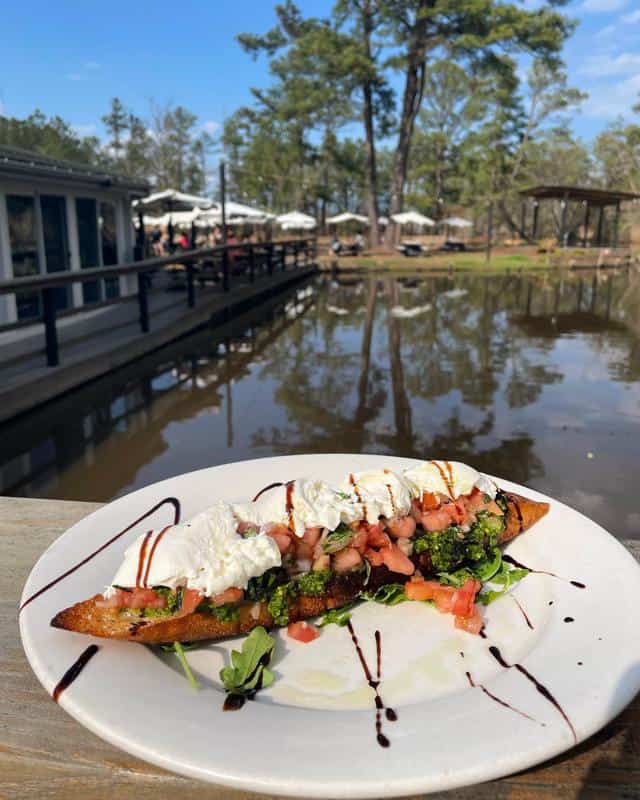 Address: 1400 N Muddy Creek Rd, Virginia Beach, VA 23456
Phone: +1 757 426 2278
Known For: waterfront diner with casual ambiance
Blue Pete's Restaurant is a family-owned small marina and fish house operating since 1972. Located in the peaceful Back Bay, it offers traditional and innovative award-winning seafood dishes. It is a great place to unwind in a casual waterfront setting.
Known as the local's secret, Blue Pete's is a hidden gem serving the freshest seafood for breakfast, lunch, and dinner. During summer, you can expect to enjoy some live music while enjoying delectable food and ocean views. Also, it is a pet and family-friendly restaurant and a perfect place to enjoy the simple life in Virginia Beach.
Additionally, it is one of the most reasonably priced seafood restaurants in Virginia Beach. Order all-you-can-eat blue crabs or the crab dip, crispy calamari, and she-crap soup. All their dishes are so incredible and flavorful that they will make you addicted and want to go again and again.
Steinhilber's Restaurant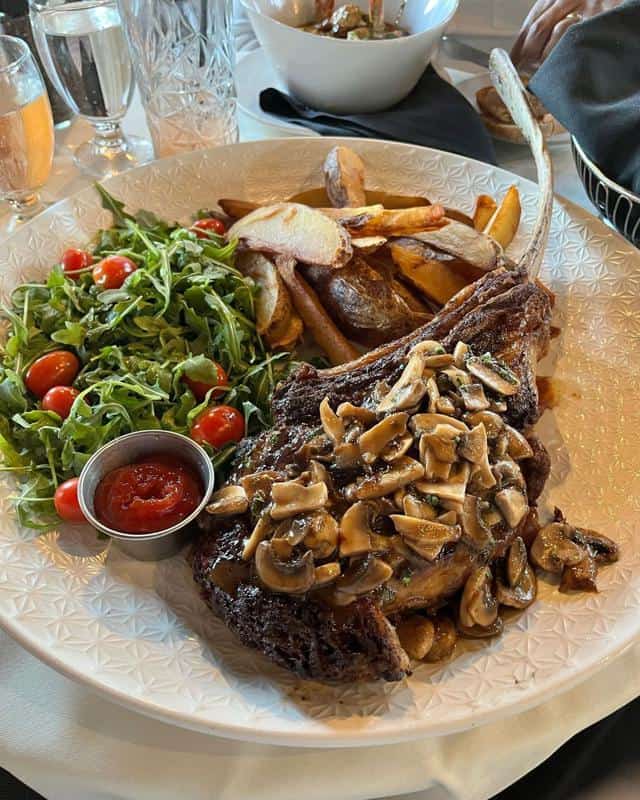 Address: 653 Thalia Rd, Virginia Beach, VA 23452
Phone: +1 757 340 1156
Known For: housed in a cabin-like 1939 building
Steinhilber's Restaurant is housed in a 1939 building and is one of Virginia Beach's best culinary spots due to its amazing seafood and meat dishes, plus cocktails and wine.
The restaurant offers a unique dining experience not only because of its food but also because of its interior and exterior decoration. Its cabin-like structure with gorgeous wooden walls and floors will make your visual sense delightful. Dining outdoors is also a marvelous experience since you can eat while surrounded by beautiful trees.
Their most popular dish is Chicken Tarragon. It is a flavorful chicken breast and leg roasted to perfection in a tarragon pan sauce with creamy and meaty flavors that will delight your taste buds. The onions, garlic, and paprika on top give the dish fresh flavors that will remain in your memory forever.
The Atlantic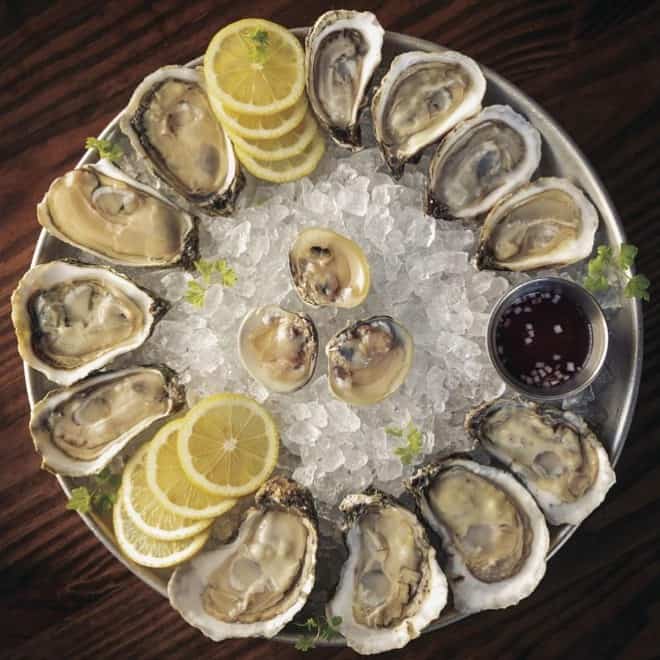 Address: 3004 Pacific Ave, Virginia Beach, VA 23451
Phone: +1 757 422 2122
Known For: tropical ambiance
The Atlantic is an oceanfront restaurant with charming tropical vibes making it a favorite for locals and visitors. Its interior features tropical plants and sea decor, and the cozy blue booths enhance the feeling of a relaxing tropical ocean and holiday ambiance.
The restaurant is an oyster and craft cocktail bar featuring a fantastic menu with various excellent seafood dishes, as well as steaks, cold plates, and an exceptional wine selection. Their seafood is derived from local, regional businesses meaning their food is always fresh and delicious.
While at the Atlantic, you should definitely taste the exquisite Steamed Green Curry Mussels. The coconut milk as a base gives the seafood a creamy flavor making it a culinary delicacy, while the aromatic herbs make the dish a gastronomic delight.
Lager Heads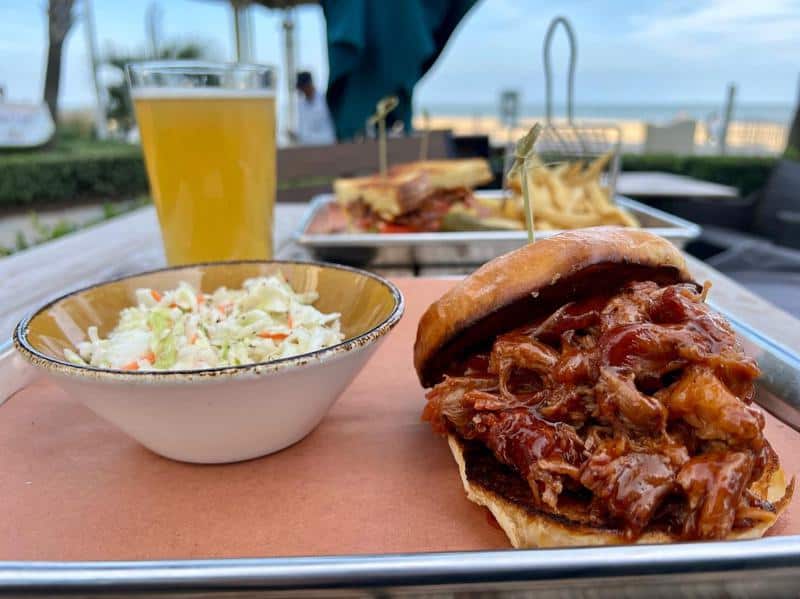 Address: 3315 Atlantic Ave, Virginia Beach, VA 23451
Phone: +1 757 995 1400
Known For: handmade burgers and 20 beers on tap
Lager Heads has a vibrant atmosphere and is the place to be for a taste of delicious handmade burgers, seafood dishes, and 20 beers on tap. It is a fun place perfect for a relaxing weekend with friends.
Savor delicious flavors while listening to talented local artists perform live.
Or, if you're a sports fan, head to the bar and cheer on your favorite team while having a beer with other diners around you and tasting delicious pub food.
Don't miss the opportunity to taste the Fire Burger. It will literally take your breath away. It is an exquisite beef burger mixed with pickled jalapeno that will set your taste buds on fire. With the sriracha in the mix, you will surely have the ultimate fiery experience.
Il Giardino Ristorante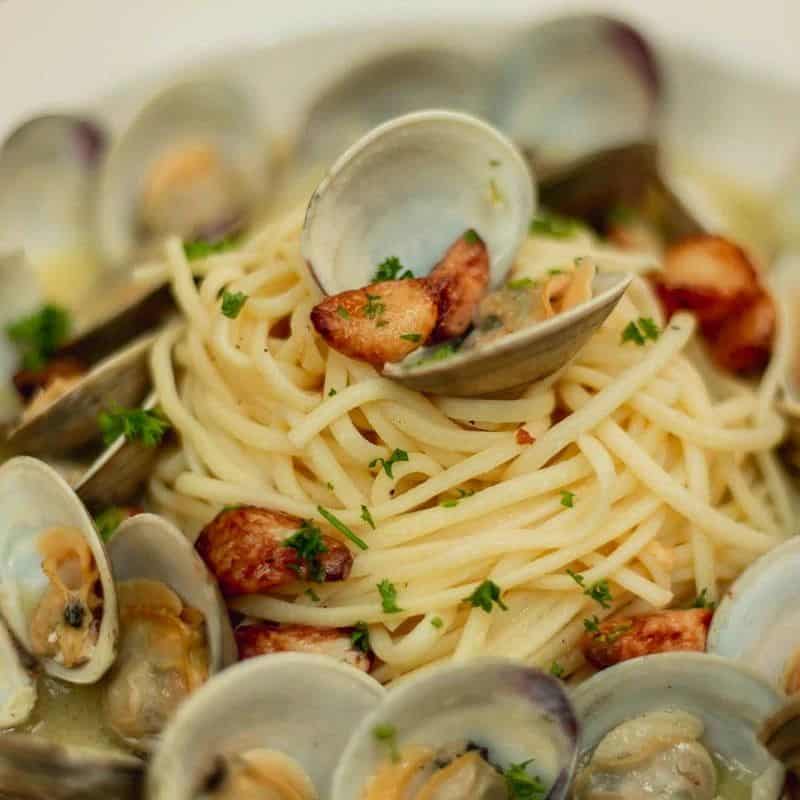 Address: 910 Atlantic Ave, Virginia Beach, VA 23451
Phone: +1 757 422 6464
Known For: authentic Italian cuisine
Il Giardino Ristorante is one of the best Italian restaurants in Virginia Beach. The locals favor it due to its authenticity, freshness, and even location. It is on the city's oceanfront strip giving the restaurant all the ocean freshness vibes you might be looking for.
The restaurant serves authentic Italian cuisine, and frankly, it is so good you would think you are at a restaurant in Italy with the Mediterranean Sea as the view. All the dishes are made from scratch using only the freshest ingredients.
Il Giardino is known for its high-quality Italian dishes that include all the favorite kinds of pasta, seafood and steaks, and plenty of vegetarian options too. It is highly recommended to have a negroni to sip on while you peruse the menu. Also, make sure to save room for one of the pastry chef's in-house bakers.
Firebrew Bar and Grill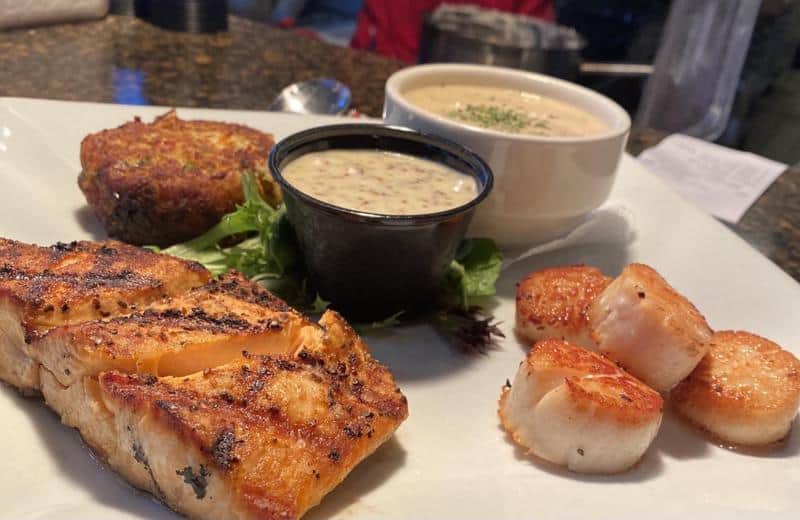 Address: 1253 Nimmo Pkwy Suite 117, Virginia Beach, VA 23456
Phone: +1 757 689 2800
Known For: laid-back ambiance serving American cuisine
Firebrew Bar and Grill is a locally-owned restaurant serving delectable American cuisine in a cozy and laid-back environment. Its friendly ambiance and excellent service make the restaurant one of the best spots for parties and gatherings.
Specifically, FireBrew has a fully-covered open-air patio that can host up to 35 people. Thus, it is perfect for large gatherings. Furthermore, they offer a self-service wine station, so you won't run out of drinks during your celebration.
Their must-try dish is the Bacon and Blue Steak Pasta. It is a fusion of meaty and creamy flavors, with a flat-iron steak topped with parmesan cheese. Toss in the blue cheese cream sauce, and the dish is perfect.
Hot Tuna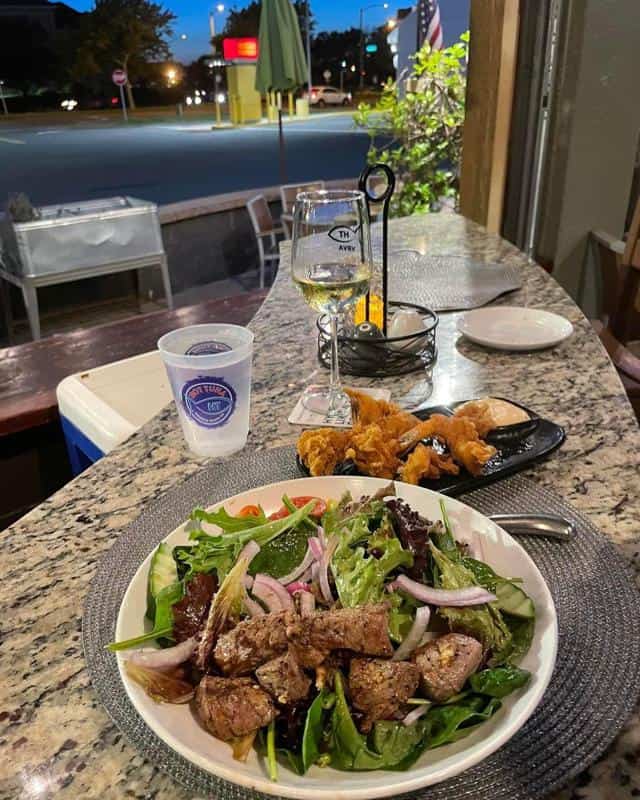 Address: 2817 Shore Dr, Virginia Beach, VA 23451
Phone: +1 757 481 2888
Known For: American coastal cuisine
Hot Tuna has a bustling vibe making it one of the best restaurants in Virginia Beach for a fun and relaxing dining experience. It offers incredible American coastal cuisine, as well as specialty cocktails, wine, and beer.
At Hot Tuna, you can indulge in delicious flavors while you listen to DJs hitting up rhythmic music that will make you want to dance. Or you can hang out with friends you haven't seen for a while by the bar over drinks.
While at Hot Tuna, you should not miss out on the Big Bleu Burger. This juicy beef and Applewood-smoked bacon on a soft brioche bun will definitely fill any meat cravings you might have. With its creamy bleu cheese, the burger is hands down the best you'll find in Virginia Beach.
The Route 58 Deli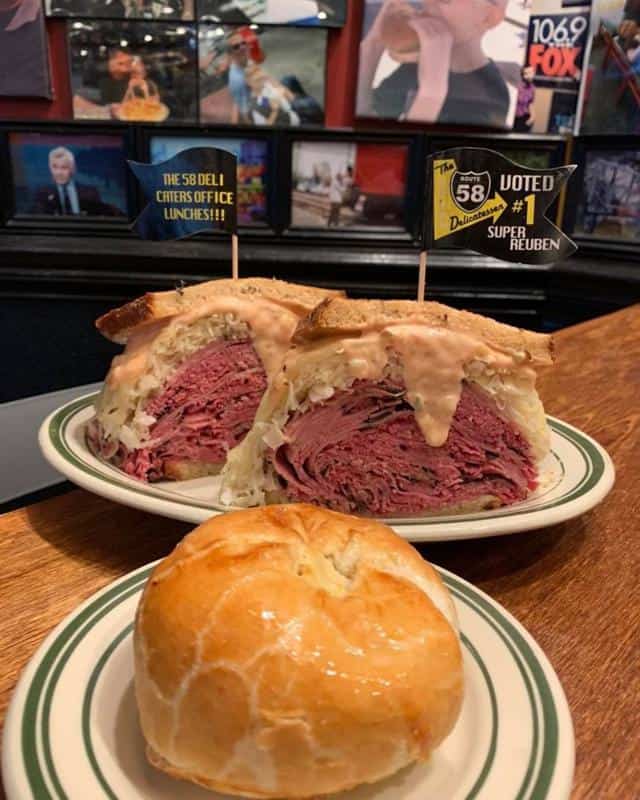 Address: 4000 Virginia Beach Blvd, Virginia Beach, VA 23452
Phone: +1 757 227 5868
Known For: New York-style deli
Located in Loehmann's Plaza. The Route 58 Deli is a New York-style deli serving incredible sandwiches, hotdogs, and sides. With its unique interior and ambiance, Route 58 offers a museum-like space that adds up to its unique dining experience.
Once you enter, you will immediately notice beautiful images illustrating the place's rich history on every wall in the dining area. Alongside the images, the red and yellow walls will give you a visual nirvana making you appreciate their food and philosophy even more.
While at this deli, make sure to try the Super Reuben, an award-winning plate. It consists of corned beef and pastrami on grilled rye bread, with melted Swiss cheese giving the sandwich an exquisite creamy flavor. Once you taste it, you will know why it is worthy of every praise.
Read More:
Map of Best Virginia Beach Restaurants
Final Thoughts
Virginia Beach is a lovely city with many things to do and see. Whether you're coming for a long weekend or staying for a while, it means you can explore the city's diverse and exciting culinary scene.
Virginia Beach offers a variety of foods to fit everyone's tastes and desires. From staple restaurants to unique local eateries of traditional dishes and alternative or international cuisines.