If you are craving seafood as you arrive in Los Angeles, you are in for a treat. In fact, it seems that everywhere you turn in this city, there is some kind of establishment offering seafood. From bustling seafood markets, over colorful hole-in-the-wall joints, to posh modern hideouts and high-end dining spots, LA has it all.
So where should one start in all this variety? That, of course, depends on what kind of experience you are looking for. In terms of food on offer, you should know there is an abundance of options here.
While locally-sourced seafood delicacies are to be found in select places, seafood imported from the East Coast is very popular (and good too).
To try and showcase the reality of LA, this list tries to include the full range of options. From laid-back cafes to the most upscale establishments serving outrageous tasting menus, there is something for every taste.
Best Seafood Restaurants in Los Angeles
Found Oyster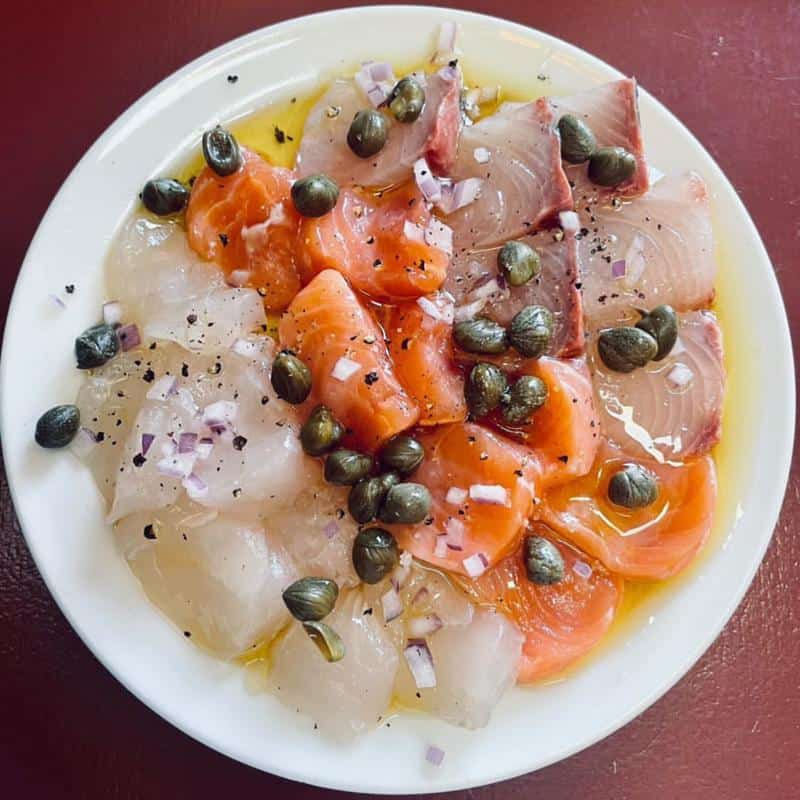 Hours: Mondays, Thursdays, and Fridays 4 pm – 10 pm; Saturdays and Sundays 12 pm – 10 pm
Address: 4880 Fountain Ave, Los Angeles, CA 90029
Website: www.foundoyster.com
Price: $$
Perfect for: Casual dinner, celebrations, fun night out
The Found Oyster Bar is yet another one of those unassuming places. With only 26 indoors and some more on the patio, this hole-in-the-wall type place is easy to miss, but it would be a shame to walk past without stopping by.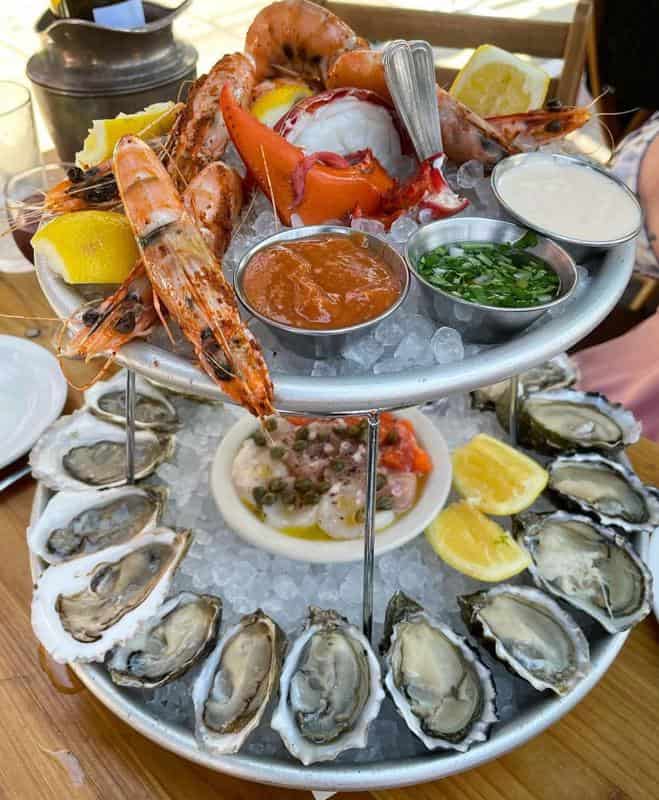 The main reason to come here are, of course, the oysters. Reliably fresh and impeccably prepared, they pair perfectly with a glass of wine from the carefully curated wine list.
Still, the short but sweet menu offers no shortage of other options for those who would rather skip the oysters: from the unique Santa Barbara sea urchin to lobster bisque rolls and clam chowder.
The Found Oyster is no longer taking reservations. Only walk-ins are accepted on a first come first serve basis, but they have a dedicated zone to enjoy some drinks while you wait for a table.
Providence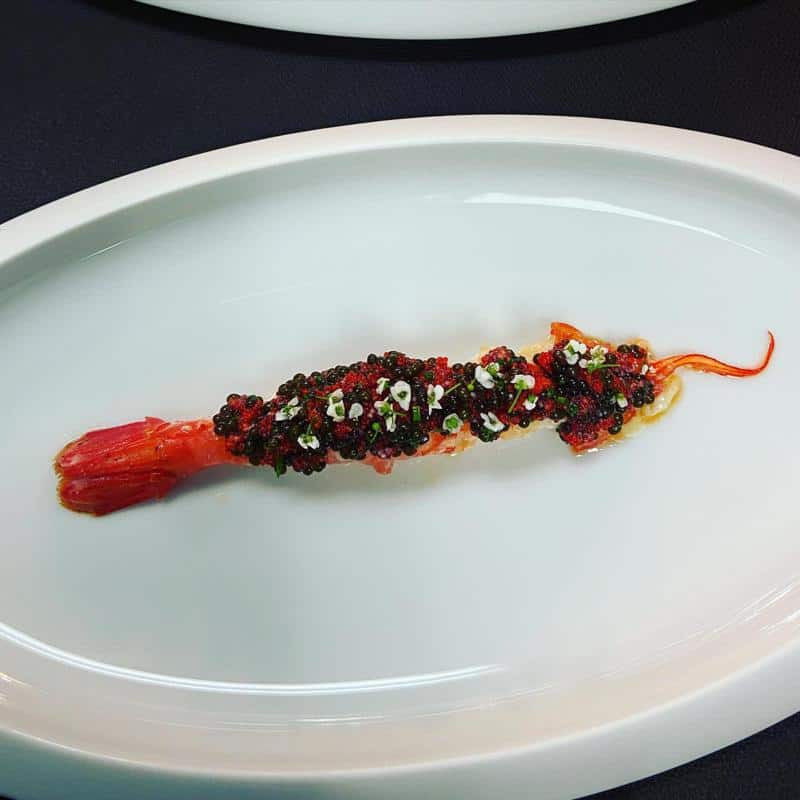 Hours: 5:30/6 pm – 9 pm; closed on Sundays and Mondays
Address: 5955 Melrose Ave, Los Angeles, CA 90038
Website: providencela.com
Price: $$$$
Perfect for: Special occasions, elegant dinners
Not much needs to be said about providence. This Hollywood restaurant has a big reputation, and 2 Michelin stars to confirm it. If you want to treat yourself to a top-notch culinary experience, this is the place to go.
Created by award-winning chef Michael Cimarusti, Providence strives (and succeeds at it) to offer the best, freshest, and sustainably acquired seafood. Starting from the finest possible ingredients, each plate is prepared with lots of creativity and perfectionism.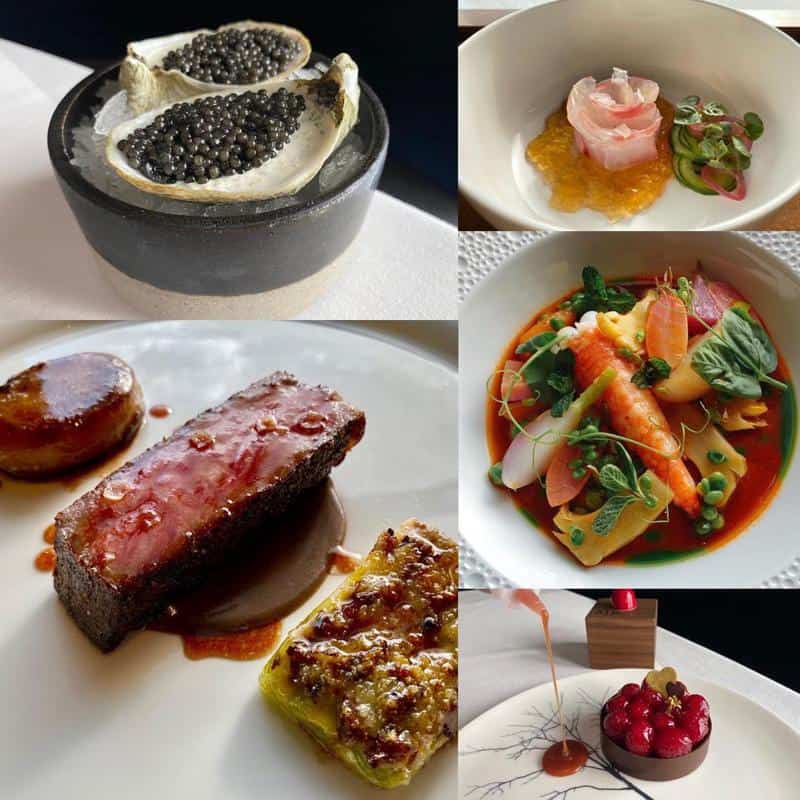 To have the full Providence experience, you should take part in the chef's 8-course tasting menu with wine pairings to match. Yes, the experience is expensive, but you'll know what you are paying for as soon as you taste it.
Providence accepts reservations 2 months in advance, and it is recommended to book early. The free spots, especially for the weekends, get snatched up quickly.
Looking to explore more? In about 270 miles is the Sin City Las Vegas! Here are some best seafood restaurants in Las Vegas.
Fishing With Dynamite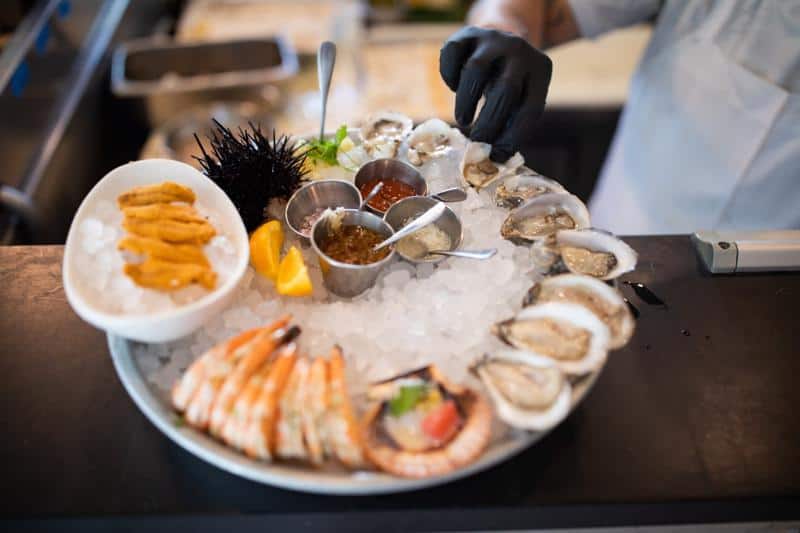 Hours: 11:30 am – 9 pm
Address: 1148 Manhattan Ave, Manhattan Beach, CA 90266
Website: www.eatfwd.com
Price: $$$
Perfect for: Lunch and dinner, date nights and small celebrations
With its location two blocks away from Manhattan Beach Pier and its bright dining room with retro decor, Fishing With Dynamite simply exudes summer vibes.
Coincidentally, the spot is also only a 15-minute drive away from LAX with many a knowledgeable traveler making it the first stop upon landing into town. And who could skip the feast of scrumptious and fresh seafood that FWD creates for every guest?
Truth be told, FWD is not as popular now as it was when it first opened in 2013. However, they are still the palace to go when looking for consistently awesome seafood with faithful clientele going back year after year.
It's easier to get a table at FWD these days too, but that's not so much due to the lack of demand, but due to the fact that they have expanded their dining room onto an outdoor patio which has greatly increased the seating capacity of the restaurant.
It's difficult to recommend one dish to try at FWD. Everything they make is of awesome quality. From their raw bar and impressive seafood towers, over comforting cups of clam chowder to an outstanding Koshikikari rice, pretty much everything on their menu is worth trying.
Santa Monica Seafood Market & Cafe
Hours: 9am – 8pm
Address: 1000 Wilshire Blvd, Santa Monica, CA 90401
Website: smseafoodmarket.com
Price: $
Perfect for: Casual meals, fun outings
The Santa Monica Seafood Market is really something else. Yes, it is a fish market, often busy and bustling with customers looking for the best cuts of fish. But it also contains a charming cafe that will serve you the freshest, most delightful seafood dishes.
If you are looking for an authentic place, and don't mind the hustle and bustle around you, get ready for this market to amaze you with some great meals.
Starting from a raw bar with fresh mussels and clams, everything you order here is top quality and fairly priced. And you can get any seafood delight imaginable: lobster rolls, fish and chips, spicy salmon burgers, clam chowder or mahi mahi sliders.. It's all there.
Angler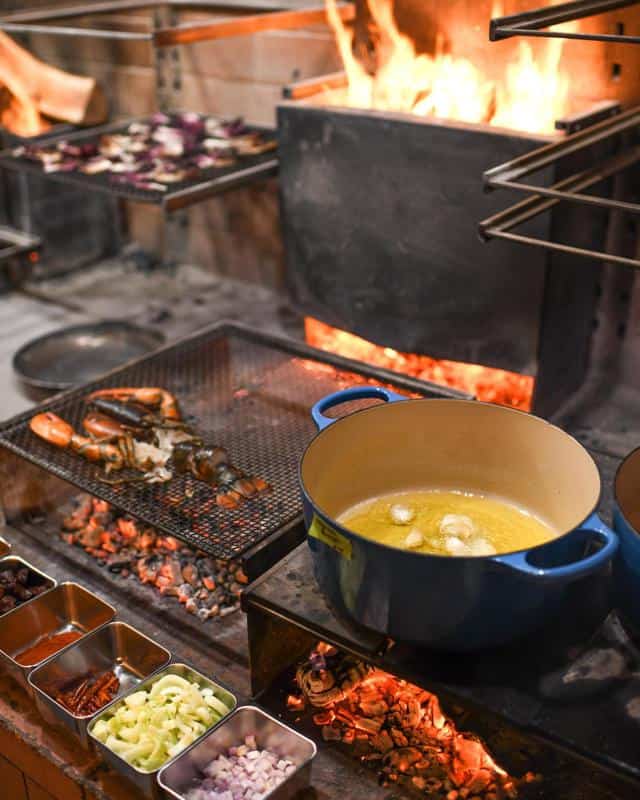 Hours: 6 pm – 9 pm (closed on Mondays)
Address: 8500 Beverly Blvd Suite 117, Los Angeles, CA 90048
Website: www.anglerrestaurants.com
Price: $$$
Perfect for: Special occasions, upscale dining with a small group
Angler is perhaps the seafood restaurant in LA with the most unique character. The interior which is somehow both elegant and rustic combined with the open kitchen focused around a wood fire and tanks with live fish and mollusks create an atmosphere which is difficult to describe.
Everything, even down to the soundtrack played, is designed to set the scene for the main experience – which is, of course, the food.
Chef Joshua Skenes, the creator of this restaurant, is known for his engagement in San Francisco's Saison, a restaurant famous for the most outrageous tasting menus. Angler certainly incorporates some of this spirit, but is also more down-to-earth and approachable.
The key idea Angler is based on is offering the best of locally sourced food. The menu changes constantly, and it's created as a work of art each day to bring out the best from the locally available, fresh ingredients.
Although the menu changes, some dishes have remained constant and gained somewhat of a cult status: we mean mainly the caviar on a banana pancake and the "Radicchio with Radicchio X.O." salad. Definitely something you haven't tried before.
Connie & Ted's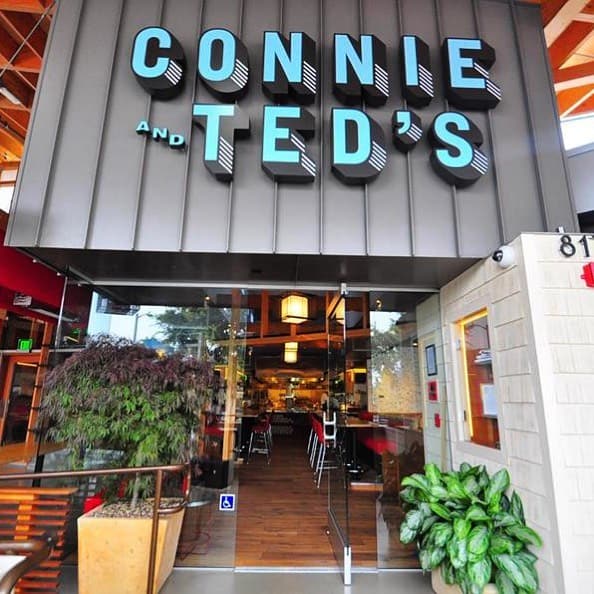 Hours: 5 pm – 9/10 pm each day; also open from 11:30 am till 3 pm on Fridays, Saturdays, and Sundays. Closed on Mondays and Tuesdays.
Address: 8171 Santa Monica Blvd, West Hollywood, CA 90046
Website: www.connieandteds.com
Price: $$$
Perfect for: Family dinners and semi-casual outings brunch on weekends
If you find yourself craving the New England seafood classics, just head over to Connie & Ted's. While it might be true that one does not really come to LA to look for the fresh seafood specialties of the coast of Maine, this laid back eatery in West Hollywood will take you right there.
Simple, fresh, and hearty, the menu of Connie & Ted's is the perfect representation of comfort food from the sea. Batter-dipped and deep fried cod, lobster rolls or fried clam baskets, the food at this joint is tasty and approachable. It's really hard not to like it.
And if you are looking for clam chowder, you are in for a treat. Connie & Ted's actually offers all 3 kinds of Chowda' – New England, Manhattan, and Rhode Island clear clam chowder. You can even order a sampler of all 3 and compare the differences.
Holbox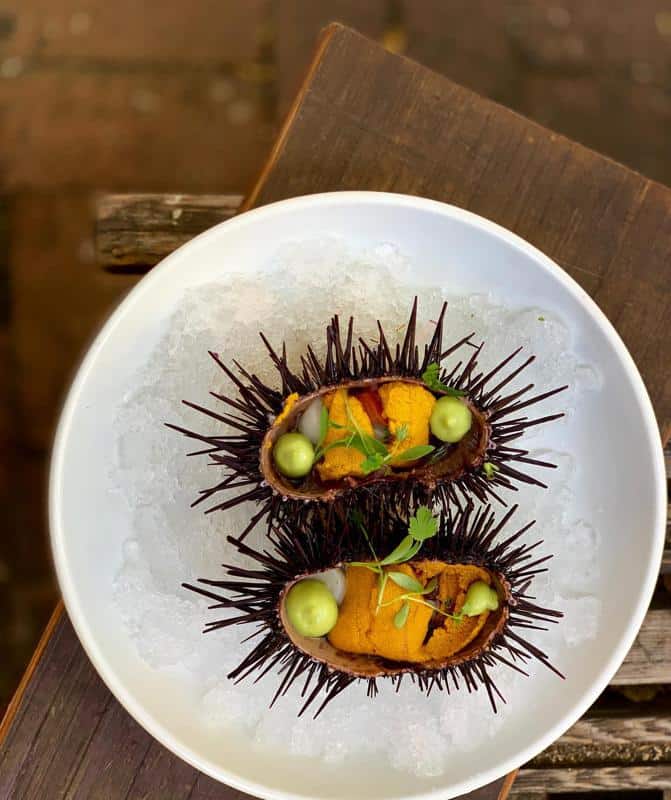 Hours: 11:30 am – 8 pm; closed on Mondays
Address: 3655 S Grand Ave #C9, Los Angeles, CA 90007, Inside Mercado la Paloma
Website:www.holboxla.com
Price: $$
Perfect for: Grabbing a quick but amazing meal, any time.
Holbox is actually more of a seafood stand than a restaurant, but you can still grab a seat at the bar and enjoy watching the chef prepare the delicacies fresh for you. Located inside the Mercado La Paloma, this spot is an inevitable part of the LA seafood scene.
Created by Mexican born chef Gilberto Certina (who also created the Chiche Itza joint located nearby), Holbox showcases quality seafood and vibrant flavors of the south. The thing that makes Holbox stand out from any other seafood joint is the amazing balance of each meal.
The flavors are always fresh and interesting, but never overpowering so the seafood remains at center stage. That, along with the consistent quality of the food is what got Holbox a spot in the Bib Gourmand section of the Michelin guide.
So what should you expect to find at Holbox? A surprisingly rich offer. A variety of ceviches, a whole range of amazing fish tacos, and filling entrees including, among other things, the local spiny lobster.
Ceviche Project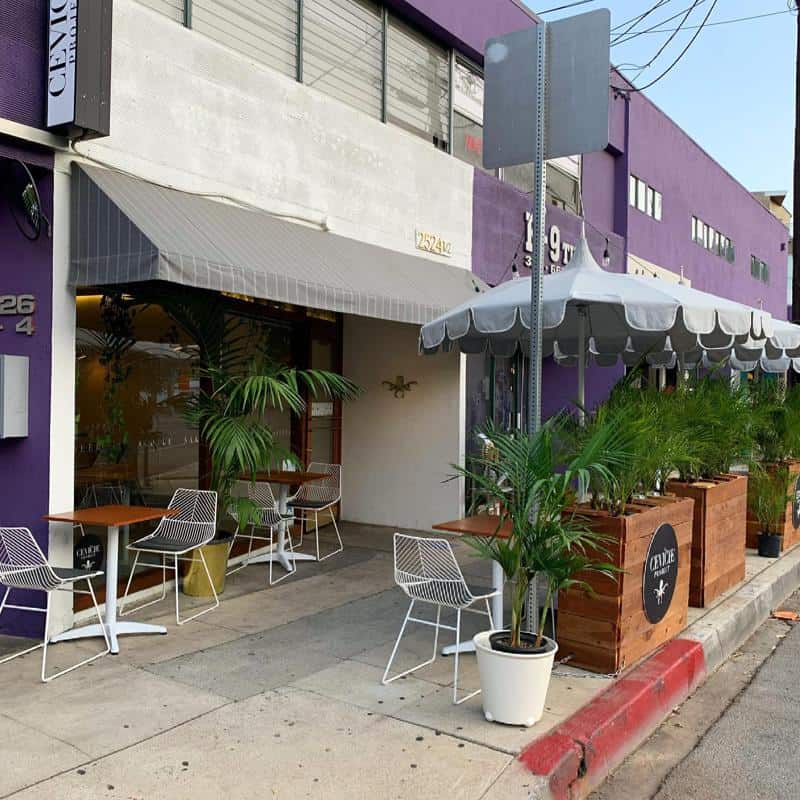 Hours: 4 pm – 9 pm, Wednesday through Saturday
Address: 2524 1/2 Hyperion Ave, Los Angeles, CA 90027
Website: www.cevicheproject.com
Price: $$$
Perfect for: Date night, light dinner, happy hour
If there is one thing that should be said about the Ceviche Project is that it's a place with soul. You know you are getting the real deal when the person who conceptualized the restaurant also works there, which is the case with chef Octavio Olivas.
What's more peculiar perhaps is the story of this man: 10 years ago Olivas decided to ditch his career in law and start and become a chef instead.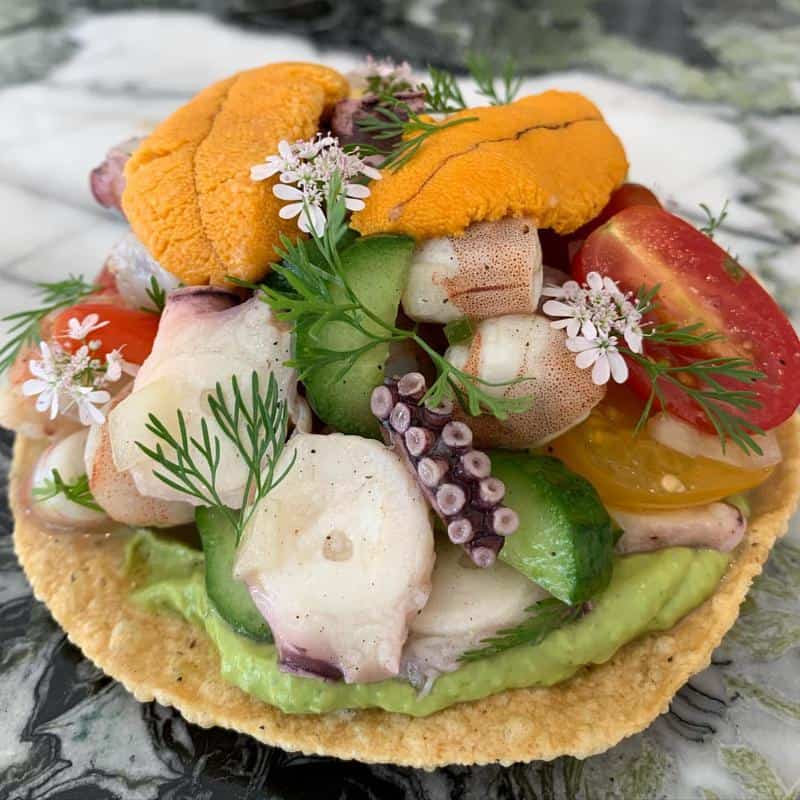 The Ceviche Project started as a traveling pop-up, showcasing fresh and exciting ceviche creations in various locations in L.A. and Mexico. This part of the project was a success, and eventually Olivas decided to give it a permanent residence on Hyperion Avenue near Silver Lake.
The Ceviche Project is now an intimate, informal seafood bar with 28 seats only. With fresh decor and a stylish bossa nova soundtrack, the place feels like you have been instantly transported to an exotic location. Reservations are not possible, keeping up with the casual spirit of the place, walk-ins only.
Son of a Gun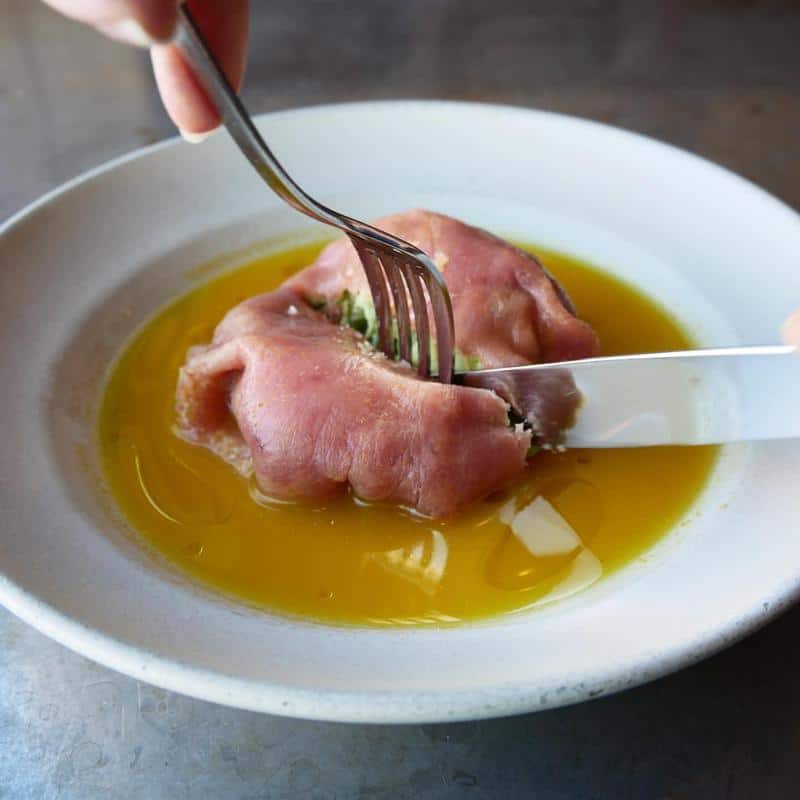 Perfect for: Casual lunch, family outings, groups.
Son of a Gun is a part of a family of restaurants, including, perhaps better known Animal as well as Jon & Winnys. From those 3, Son of a Gun is the one focused on seafood, and the one with the warmest interior.
The feel of this restaurant is fun and casual. The food could be also described that way, but don't get us wrong – each dish on the Son of a Gun menu is quite sophisticated too. Perhaps that's the reason why Son of a Gun got the 'Bib Gourmet' title from the Micheline guide indicating quality food at decent prices.
The menu here is full of crowd favorites like the shrimp toast sandwich or the lobster rolls (the Son of a Gun fried chicken sandwich is also quite famous, but that's not our topic today). The smoked mahi dip is also quite popular and getting raving reviews.
Note: Son of a Gun has instituted a policy where they charge an 18% service fee, which is added at the end to each check. This is written at the bottom of the menu, but customers often overlook this, which has lead to some negative reviews.
La Cevicheria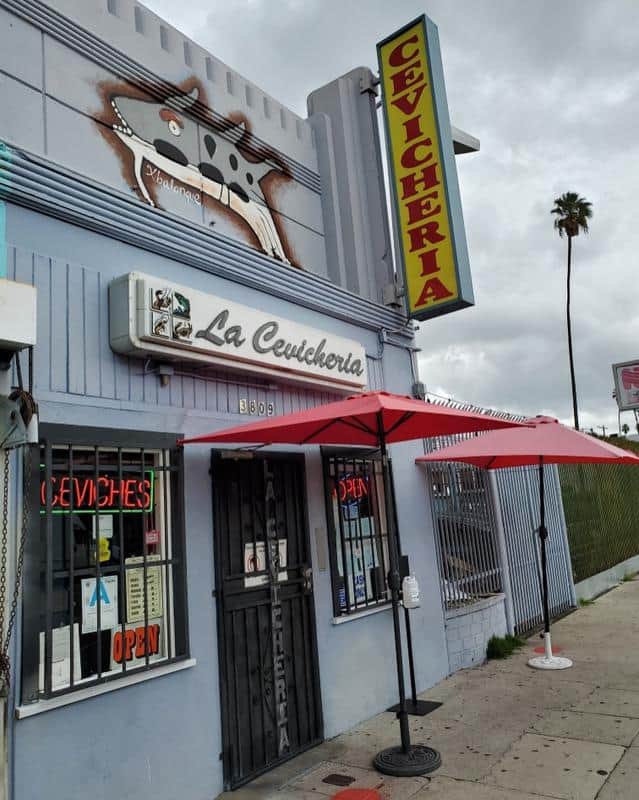 Hours: 11 am – 9 pm; closed on Mondays and Tuesdays
Address: 3809 W Pico Blvd, Los Angeles, CA 90019
Price: $
Perfect for: Grabbing a quick meal
Have you ever tasted real Guatemalan ceviche? If not, head over to Pico Boulevard and try it. And if yes, well, head over there anywhere because their ceviche is simply amazing.
This small, family-run joint in Koreatown is the type of place where everyone feels welcome. Always swarming with locals coming over for their lunch breaks.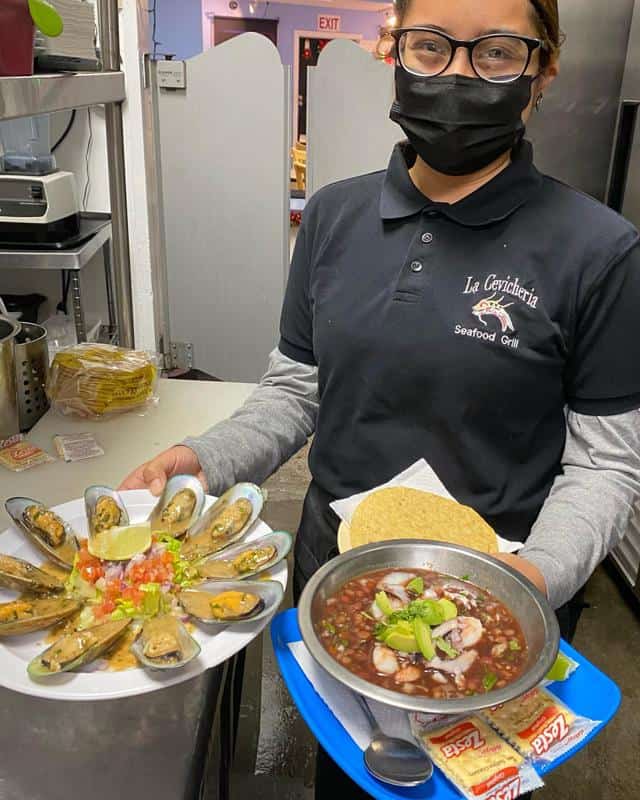 The main thing to order is, of course, ceviche, particularly the one with bloody clams or the chapín ceviche with chopped octopus, shrim, and crab garnished with mint, among other things.
However, it would be a shame not to try their awesome Baja-style tacos with seafood too.
Read More: Best Seafood Restaurants in Santa Cruz
Seafood Restaurants in Los Angeles: FAQs
Which LA seafood restaurants are in the Michelin guide?
When thinking about Michelin stars and seafood in LA, Providence is surely the first thing to come to mind for most connoisseurs. This high-end dining gem proudly carries two Michelin stars. The other two restaurants in LA with two Michelin stars (Hayato and n/naka) also feature lots of seafood, but not exclusively.
There are three seafood restaurants with 1 Michelin star, and all of them are, interestingly, focused on sushi: Q Sushi, Morihiro, and Mori Sushi.
Finally, the Michelin guide for LA also features a number of restaurants awarded the Bib Gourmand label indicating awesome food at good prices. Those listed include La Cevicheria, Holbox, and Son of a Gun.
Does LA have good seafood?
Yes. If you are a fan of seafood, LA is definitely a place you'll love exploring. Due to its location, LA has been a hotspot for the fishing industry for ages, which today translates to an incredibly vibrant seafood restaurant scene. From the local specialties to different world cuisines, LA has some of the best seafood restaurants in the world.
What seafood is local to Los Angeles?
With the seafood market becoming increasingly globalized, it becomes difficult to find seafood that's actually local. Luckily, there is an increased awareness of this issue in LA and some restaurants do put an accent on sourcing their seafood locally.
Local specialties in LA include the California spiny lobsters, Santa Barbara spot prawns, California market squid, and, perhaps most notably, sea urchin. The Dungeness crab is another delicacy to look out for.
Also Read: