Alabama is known for its shoreline and popular beach towns Gulf Shores and Orange Beach, which are home to a number of exceptional restaurants for every budget and preference. Whether you are looking for an all-in-one entertainment venue and restaurant or a quiet place to enjoy a meal with friends and family, Gulf Shores has got you covered!
Chain restaurants that can be found in any old American town have been purposely excluded from our list, and instead, we've chosen to highlight local establishments in Gulf Shores.
Here is our list of 15 noteworthy restaurants in the Gulf Shores area, selected by popularity amongst locals. Whether it's your first or one-hundredth visit to Gulf shores, give any of these places a try!
Easy Going Restaurants in Gulf Shores
Customers looking for quick and delicious southern comfort foods in a relaxed and casual environment, should consider these restaurants for breakfast, lunch, or dinner.
We included a healthy range of prices for those looking to adhere to a budget during their vacation. All restaurants on this list have numerous appetizers, drinks, and entrees for $20 or less!
The Beach House Kitchen and Cocktails
Location: 1154 W Beach Blvd #6200, Gulf Shores, AL 36542
Hours: Every day, 11 AM to 10 PM
Located directly on the beach, this casual restaurant features a patio for outdoor seating. When you come to The Beach House, you can choose from tacos, salads, burgers, sandwiches, and desserts. All of which are reasonably priced at less than $20. Locals recommend ordering their tacos and sipping cocktails on the outdoor patio.
Highlights:
Hidden gem away from the crowds
Beachfront views
Outdoor seating
De Soto's Seafood Kitchen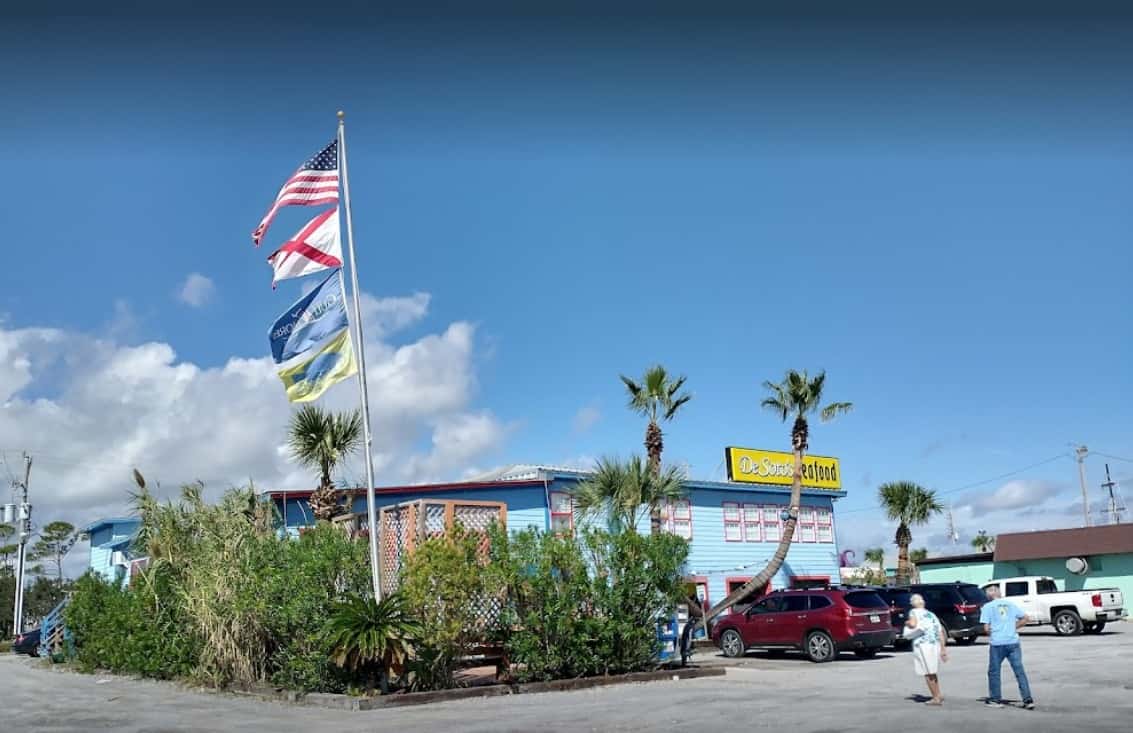 Hours: Every day, 11 AM to 10 PM
Location: 138 W 1st Ave, Gulf Shores, AL 36542
De Soto's offers an array of cocktails, burgers, sandwiches, and of course seafood on both their lunch and dinner menus! You probably want to stop by for one of their seafood plates, all of which are under $30. If you're traveling with senior citizens or children, De Soto's has menus for both – portion sizes and prices are reduced.
Highlights:
Voted the best lunch and dinner restaurant 14 years in a row
Voted people's choice for friendliest staff
All menus are prepared from scratch daily – no frozen or premade ready menus served
Dedicated senior citizen and children's menus
Fish River Grill #3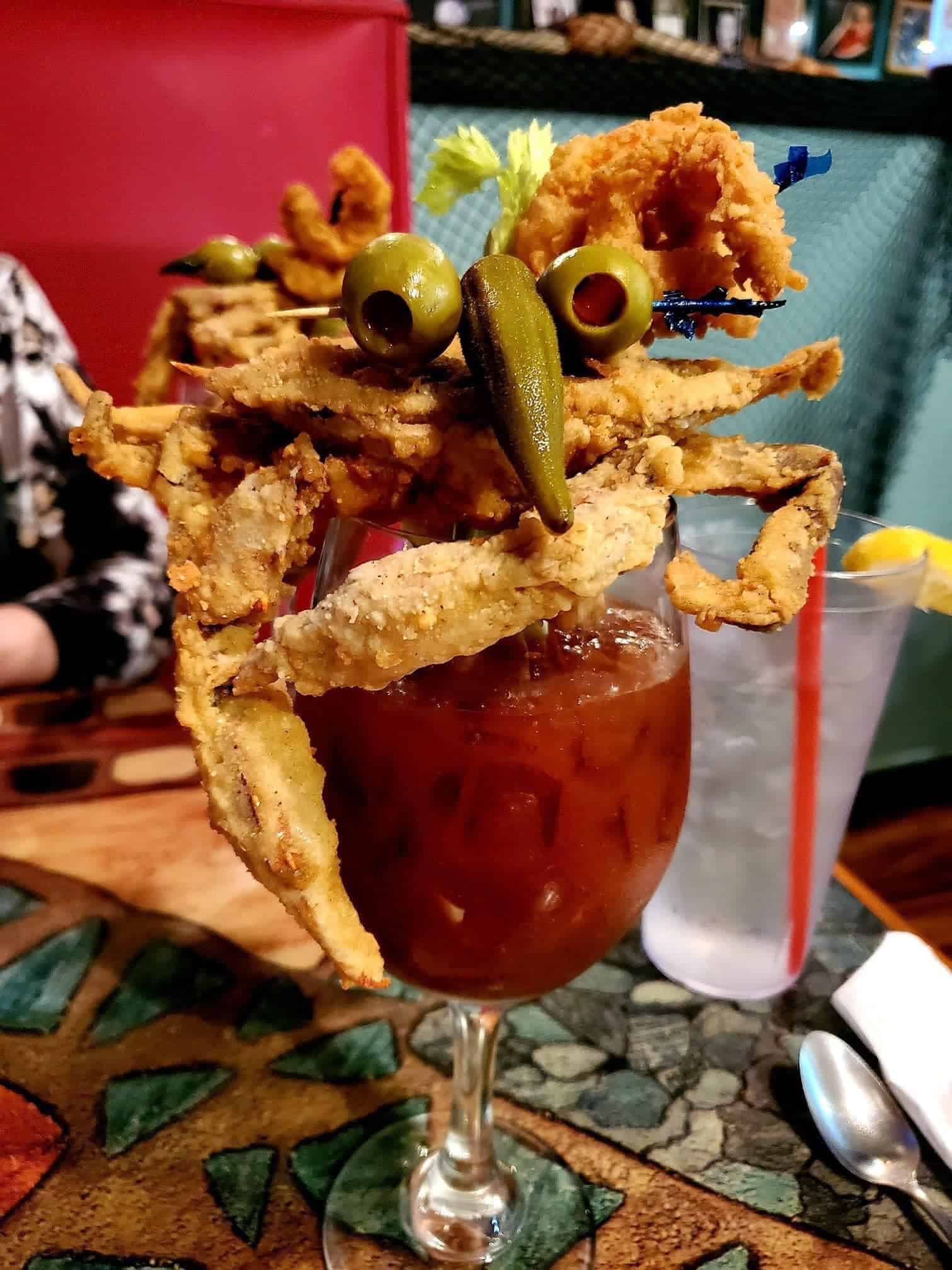 Hours: Every day, 10:30 AM to 9 PM
Location: 1545 Gulf Shores Pkwy, Gulf Shores, AL 36542
The Fish River Grill is a no-frills restaurant offering a variety of southern favorites: burgers, sandwiches, and Po'Boys!
Nothing special to look at from the outside, the decor is rustic and simplistic – perfect for a quick bite to eat or a casual lunch with friends. Everything on the menu is under $18, including fish and seafood. We recommend having a taste of their local Swamp Soup or traditional shrimp Po'Boy sandwich.
Highlights:
More than seven different Po'Boy sandwiches to choose from
Senior citizen and kid-friendly portion sizes
More than 15 distinctive cocktails and alcoholic beverages
A Chef's favorite menu to help customers decide on their next meal
Homemade soups such as the Swamp Soup
Hog Wild BBQ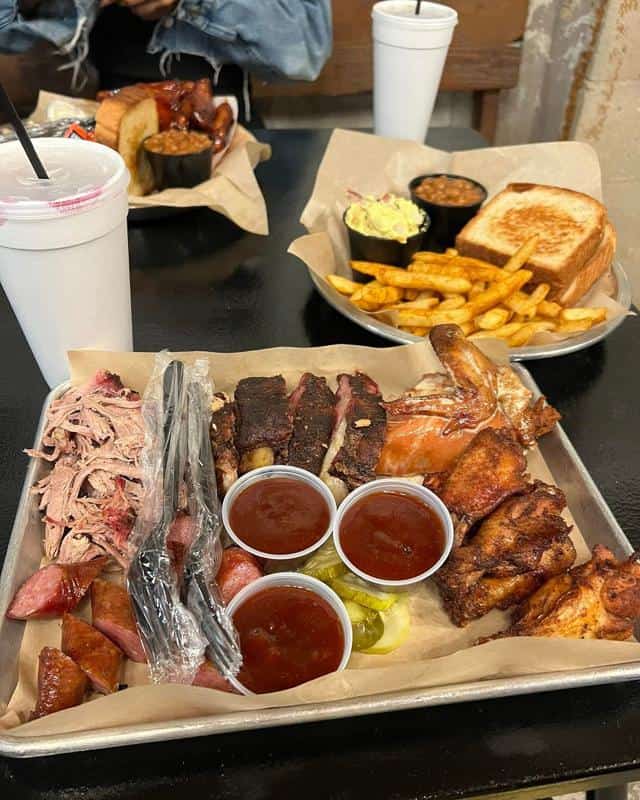 Hours: Every day, 11 AM to 9 PM
Location: 911 Gulf Shores Pkwy, Gulf Shores, AL 36542
One of the best BBQ restaurants in town. Choose from any of their BBQ sandwiches, small plates, or order one of their supersized BBQ plates. They serve everything from pulled pork, pulled chicken, brisket, turkey, and wings. Small plates are priced at under $20, whereas larger servings range upwards of $100, and are big enough to feed an entire family.
One of the only restaurants on our list that offers family plates, Hog Wild BBQ is a great choice for those wanting to share meals with friends and family or save a few extra dollars. We recommend trying the brisket ($17) or their Big Daddy Pack ($220).
Highlights:
Family Plates
An array of different BBQ meats (pork, chicken, turkey, and more!)
Locally and family owned for eight years
Kitty's Kafe
Hours: Every day, 7 AM to 2 PM
Location: 3800 Gulf Shores Pkwy #100, Gulf Shores, AL 36542
Kitty's Kafe isn't any ole country-style cafe. Located in the heart of Gulf Shores, Kitty Kafe features mouth-watering southern-style country breakfasts at an easily affordable price.
Kitty's Kafe predominantly serves breakfast and lunch and is closed before dinner time. We recommend their Po-Boy shrimp sandwich for $12 or their Chicken and Dumplings for $8.
Kitty Kafe is conveniently located in Pelican Place shopping center. Once you finish your meal, go shopping at the nearby Target, Tambos Surf Shack, or Books-A-Million. Entertainment options are within walking distance of the restaurant. From Kitty's Kafe, you can go miniature golfing at Jurassic Golf or play games at XIT Escape Room.
Highlights:
All-day breakfast
Almost everything is under $10
Southern comfort foods such as Po-Boys, Biscuit and Gravy, and Fried Okra
Great location and near shopping options
The Original Oyster House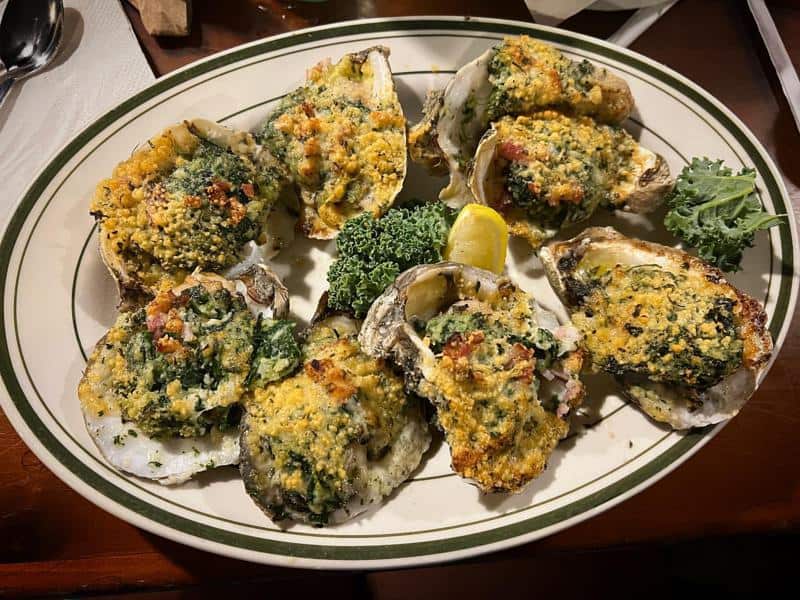 Hours: Every day, 11 AM to 9 PM
Location: 701 Gulf Shores Pkwy, Gulf Shores, AL 36542
Do not let the name fool you. The Original Oyster House has more than just oysters. Choose from their extensive selection of gumbos, fried fish, and oysters for a reasonable and affordable price. We recommend sampling a cup of their gumbo for $6 or Hushpuppies for $7 to start, and then working your way up to their delicious Butter Pecan House Flounder and Shrimp Au Gratin for $13.
Highlights:
Abundance of oysters – what Gulf Shores is known for
An abundance of inexpensive menu items
Scenic lake views
Picnic Beach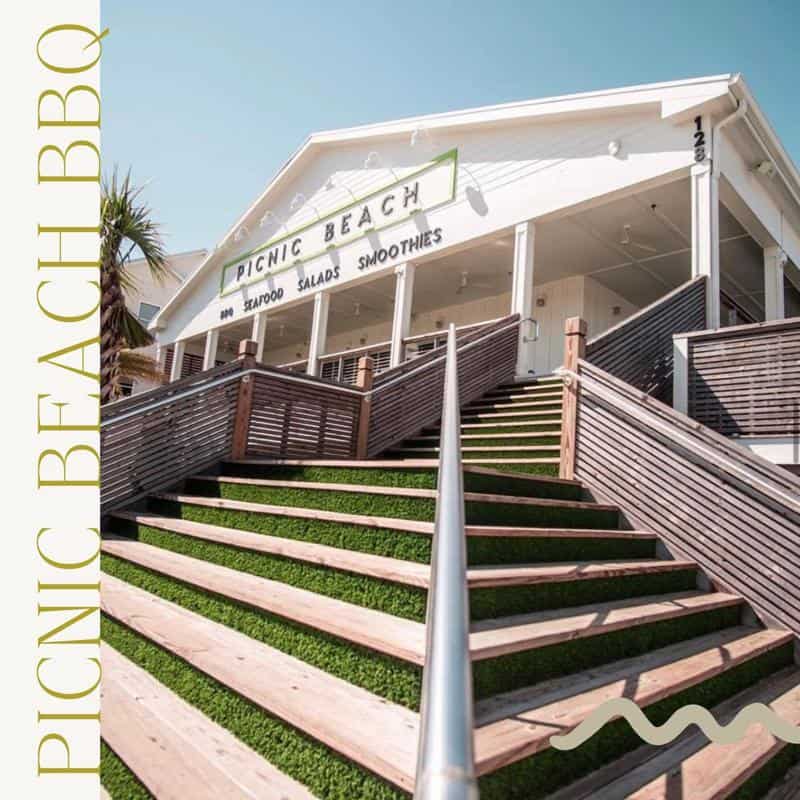 Hours: Every day, 11 AM to 8 PM
Location: 128 East 1st Ave Gulf Shores, AL 36542
Picnic Beach features plastic chairs and tables and parts of the floor are covered with synthetic grass to emulate the outdoors. All in all, this establishment makes you feel like you're on an eloquent picnic with friends and family!
The restaurant is located directly across from the beach. There's no dress code in this eatery, so feel free to walk in with your swimsuits and beach towels. The atmosphere is relaxed and casual.
Picnic Beach features a mixture of local-favorite foods such as a cheeseburger and French fries, and healthier vegetarian and salad options. When you visit Picnic Beach, try their vegan bowl with added Tofu or their Fried Gulf Shrimp Basket for a taste of local seafood. You may also want to stick to their quick and easy All American Burger or Hot Chicken Sandwich.
Meals are moderately priced at roughly $10-25 per item.
Highlights:
Vegan and vegetarian options
Healthy meals for under $13
Unique decor and picnic-themed ambiance
Fusion dining options – American, Asian, Carbeiann, Medietarrian
Taste of local seafood for under $30
Related: Best Seafood in Gulf Shores & Orange Beach
Shrimp Basket Gulf Shores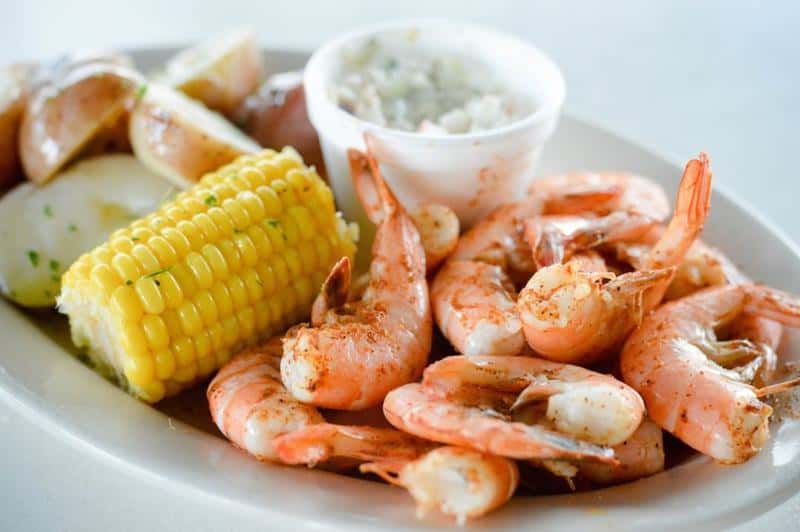 Hours: Every day, 11 AM to 9 PM
Location: 301 AL-59, Gulf Shores, AL 36542
The Shrimp Basket was founded in 1993 and is a small restaurant, only a few blocks from the beach that specializes in all matters of seafood: grilled, fried, and boiled. Nothing special to look at from the outside, this restaurant has some of the best seafood in Gulf Shores. Their mission is to provide a family friendly atmosphere where families can dine together year-round on seafood.
Highlights:
Family friendly
Relaxed environment away from the crowds at the beach, but still within walking distance
Sunset Cork Room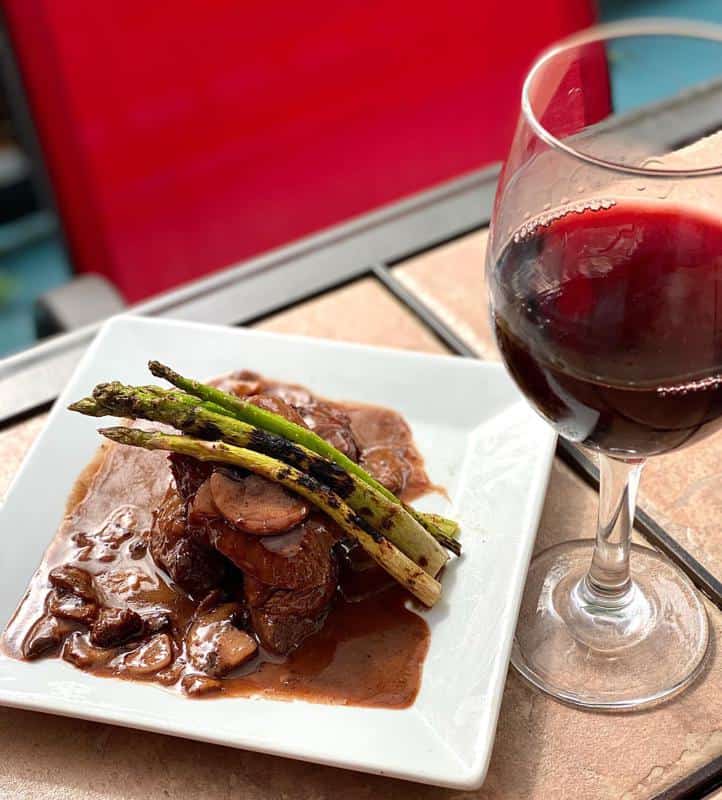 Hours: Tuesday to Saturday, 4 PM to 9 PM
Location: 225 E 16th Ave, Gulf Shores, AL 36542-3507
The Sunset Cork Room is not far from Shelby Lake and Gulf Shores Beach. This restaurant is best for those looking for a quiet dinner in a small corner of town, away from the beach but still within a few minutes drive to the scenic beach areas.
The Sunset Cork Room has a limited number of items on its menu and instead chooses to specialize in pasta, salad, meat, and fish. Items are fairly priced at $8-39, not including drinks. We recommend you sample their New Zealand Lollipops of Lamb for $39 or their Grilled Scottish Salmon for $25
Highlights:
Parties and private event bookings are available
Quiet and suitable for a date or family nights
Treat yourself to delicious lamb, grilled fish, and salads. Burgers and fries are not the focus of this restaurant
The Ugly Diner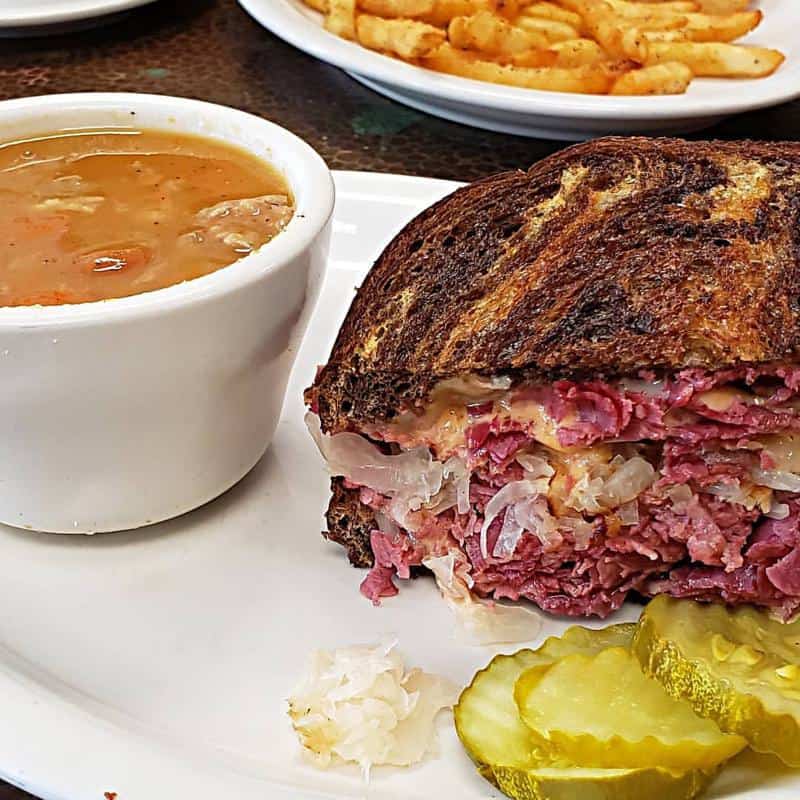 Hours: Every day, 7 AM – 2 PM
Location: 2200 E 2nd St, Gulf Shores, AL 36542
Offering downtown and laid back vibes, this local diner is famous for its delicious yet simple menu of soups, burgers, sandwiches, and salads.
Drop by for their Reuben sandwich or their breakfast Biscuits and Gravy Plate. When visiting the Ugly Diner, we recommend keeping your selection simple and enjoying cooked to perfection southern cuisine.
Everything at the Ugly Diner is reasonably priced, with breakfast plates starting as low as $7. The Ugly Diner has limited hours of operation, so ensure you stop by for only breakfast and lunch.
Highlights:
The relaxed and cozy dining atmosphere
Open at 7 AM, so suitable for customers looking for an early breakfast
Wide selection of southern favorites such as briskets and gravy, fried okra, and fried fish
Entertainment and Dining in Gulf Shores
Patrons looking for entertainment with their meal should look no further than our list of recommendations below. Here are some of the most common features you'll find below: live music, family activities, bar, or seafood delicious enough to fill your tummies and empty your wallets.
Bahama Bob's Beach Side Cafe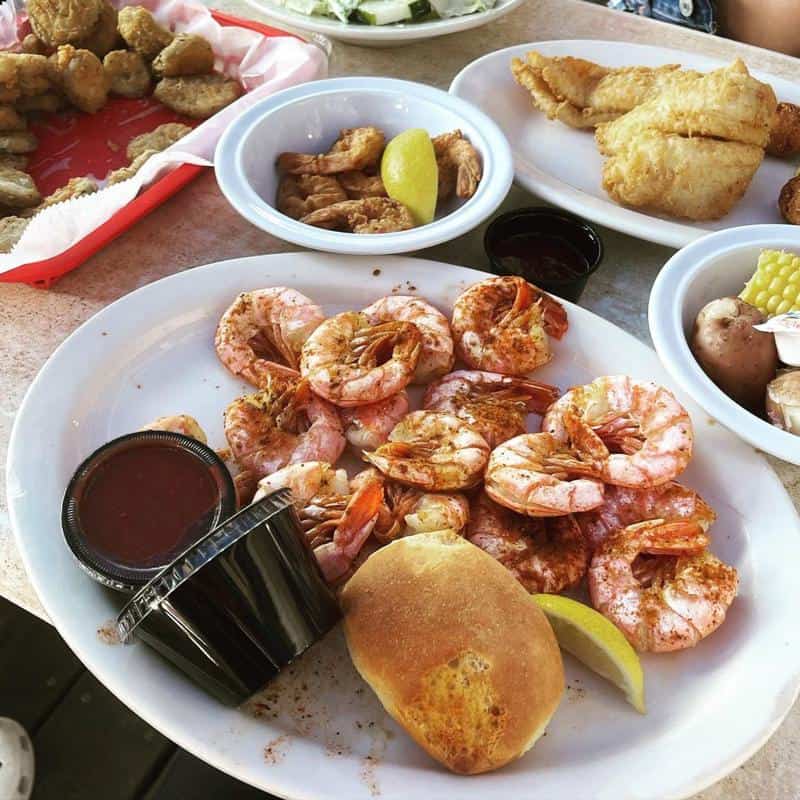 Hours: Every day, 11 AM to 10 PM
Location: 601 W Beach Blvd, Gulf Shores, AL 36542
Bahama Bob's is located right on the beach. Serving a fusion of Caribbean food and southern cuisine, Bahama Bob's has everything you need for a chill and casual dining experience after a long day swimming or suntanning by the sea.
We recommend Bahama Bob's because of its wide selection of wine, beer, and frozen alcoholic beverages. Before grabbing a beer or a glass, taste their Paradise Island Fried Pecan Flounder or Crabby Patty Sandwich.
Highlights:
Scenic views and proximity to the beach
Fusion cuisine that offers a taste of the islands and southern shore
Numerous alcoholic beverages to be enjoyed right on the beach
The Flying Harpoon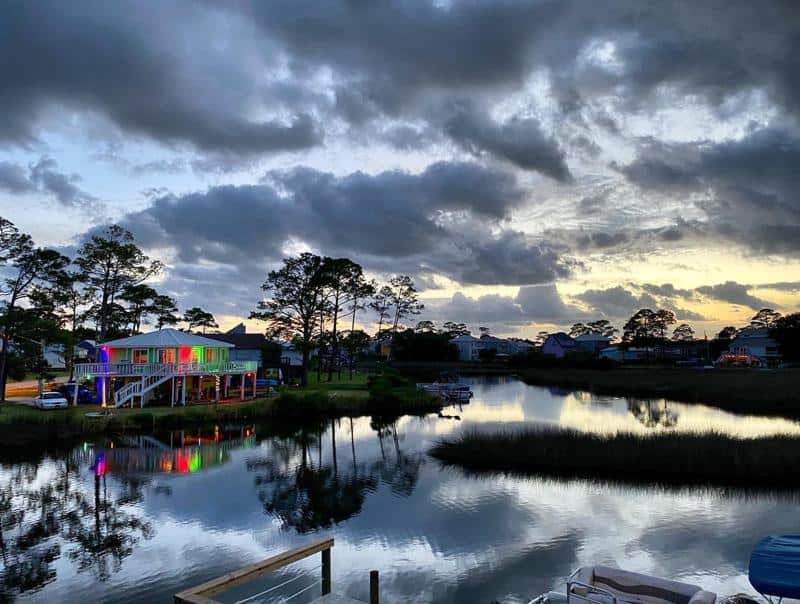 Hours: Every day, 11 AM to 2 AM (Kitchen service stops at 1 AM)
Location: 23479 Perdido Beach Blvd. Orange Beach, AL 36561
The Flying Harpoon is known for its Po'Boys and Bayou-style sandwiches. Come to the restaurant during the weekend for their live music events and stay until late for their all-night full-service bar.
When you eat at the Flying Harpoon, select from one of their signature libations (cocktails) or browse their menu for burgers, french fries, and sandwiches.
Items on their menu range from just $10-25, not including drinks or their signature libations. At the Flying Harpoon, we recommend you try their Flounder Basket for $17 or their shrimp Po'Boy for $13.
Highlights:
Live music
Views of the water
All-night bar with unique cocktails
Raw Oyster Bar
Parties and Private event bookings are available
The Hangout Gulf Shores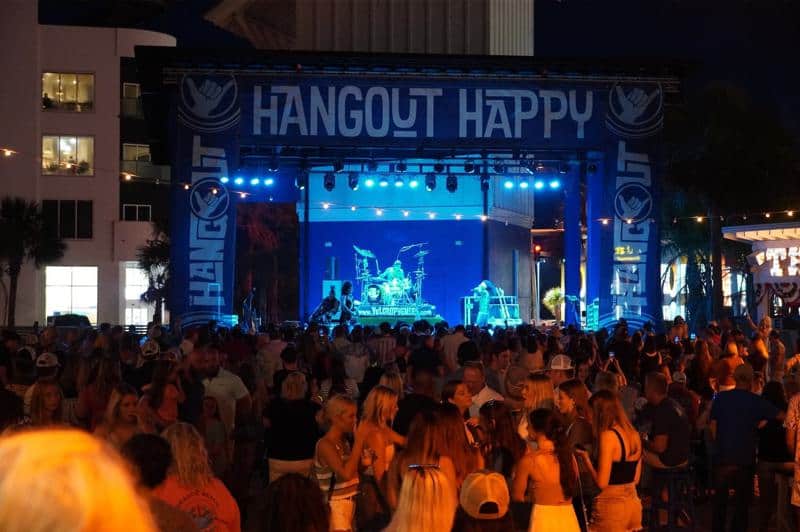 Hours: Every day, 8 AM to 11 PM
Location: 601 W Beach Blvd, Gulf Shores, AL 36542
Another one-stop entertainment and dining destination, The Hangout Gulf Shores offers oyster cook-offs, live music, and entertainment for the entire family.
The hangout lives up to its name as it is an open-air establishment with extremely relaxed and casual vibes. Perfect for a Saturday lunch or dinner with the children or friends, you'd be overwhelmed by the selection of deliciously crafted cocktails, seafood, soups, and salads – all while watching one of their live performances and shows!
Highlights:
Live music
Live performances
Open-air and outdoor seating
LuLu's Beach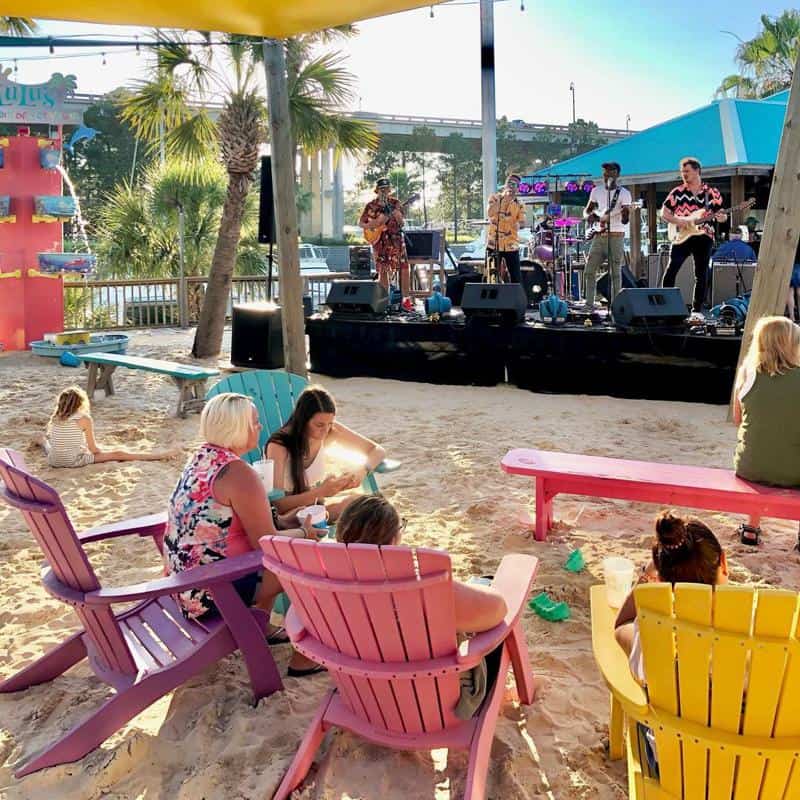 Hours: Every day, 11 AM to 10 PM
Location: 200 East 25th Avenue Gulf Shores, AL 36542
Lulu's is an entertaining time for the entire family! Featuring live music, events, shows, and a playground for the children, Lulu's is your one-spot destination for a pleasant afternoon of fun. Lulu's has several destinations across the southern United States, so if you run out of time to visit their Gulf Shores location, see their website to find the LuLu's Beach nearest to you.
When you dine here, you can expect to find sandwiches, salads, seafood, Mexican food, and more! Lulu's menu is extensive. You can find several soy, gluten, dairy, seafood, and shellfish-free entrees to accommodate any allergies you may have.
Most entrees on the menu average $15-18, but you can find lower-cost entrees such as their Greek Salad or Fried Green Tomato BLT for just $12. You can also splurge on their Fresh Fried Blue Crab Claws for $38.
Note that Lulu's is a popular destination; therefore, customers report extensive waiting times for services during peak hours. If you wish to sample all that Lulu's Beach has to offer, we recommend coming during the weekday or the time in-between meal times to receive faster service.
Highlights:
Live music
Rope Courses
Hair Braiding and Henna services
Beach Arcades
Gluten, diary, seafood, and shellfish free items for those with allergies or diet restrictions
Papa Rocco's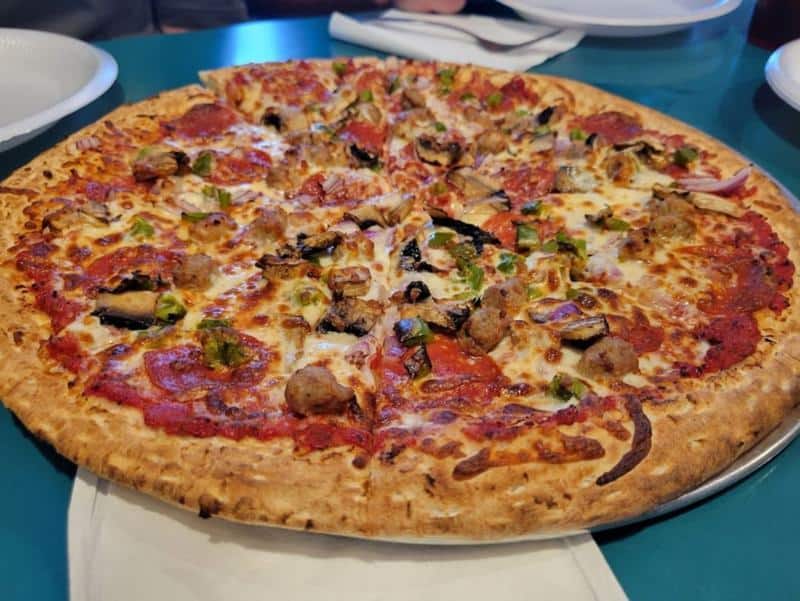 Hours: Every day, 11 AM to 12 AM
Location:101 W 6th Ave, Gulf Shores, AL 36542
Papa Roco's is the only restaurant on this list that provides pizza and oysters, as well as pasta and sandwiches. According to locals, Papa Rooco's has some of the best pizza in town and was voted the best pizza restaurant for several years, as well as the best oyster bar the People's Choice Award. Looking for a lively night out? Come by during one of their live music shows, starting at 7 PM nightly.
Highlights:
Live music featuring local musicians
Homemade pizzas
Oyster bar
Read More:
Conclusion
Stay away from nationwide favorites such as McDonald's or KFC on your visit to Gulf Shores, and instead of heading straight to local spots near or right on the beach!
All of the restaurants we included on this list are favorites amongst locals for their pricing, atmosphere (live music, performances, and more), and delicious burgers and seafood.
There's no cuisine that is quite as unique as what's found in the southern United States. On your visit to Gulf Shores, check out any of the restaurants we recommended for an interesting and uniquely southern dining experience.
Frequently Asked Questions
Are any restaurants vegetarian or vegan-friendly?
Those new to southern food should know that it is not typically vegetarian or vegan-friendly. Even boiled collard greens are occasionally cooked in pork fat for taste, so ensure you inquire with your waitress to learn about their cooking methods and which options are safe for you to consume under your diet.
What seafood is Gulf Shores Alabama known for?
Oysters! Oysters may come raw, cooked, or even fried. We included a few restaurants on this list that specialize in oysters, such as The Original Oyster House.
What foods should I try in Gulf Shores?
Definitely order shrimp and grits, raw oysters at any of the oyster bars we recommended, low country boils, Po'Boys, and gumbo.
What is the Difference Between Orange Beach and Gulf Shores?
Gulf Shores is more well-established and is an older town along Alabama's coastline. Orange Beach is newer and less popular; however, locals report that the area is becoming more lively each year and is quickly becoming just as popular and beloved as Gulf Shores. Most of the restaurants on this list are in Gulf Shores.