Miami is blessed with a sunny climate, beautiful beaches, tropical seas and a laidback vibe, and the vibrant culinary scene means you're spoiled for choice when it comes to exceptional seafood restaurants too.
If you're a fan of fish, crab, lobster, shellfish and everything else that comes from the sea, you're in for a real treat in Miami because there's truly something for all tastes and all budgets.
However, knowing where to eat can be a problem since there are so many choices – so here are our top seven picks for best seafood restaurant in Miami to give you an idea of where to start.
Our Top Picks
Best value pick – Cod Seafood
Best upmarket pick – Truluck's Ocean's Finest Seafood and Crab
Best stone crab – Joe's Stone Crab
Best cocktails – Stiltsville Fish Bar
Best Seafood Restaurants in Miami
Cod Seafood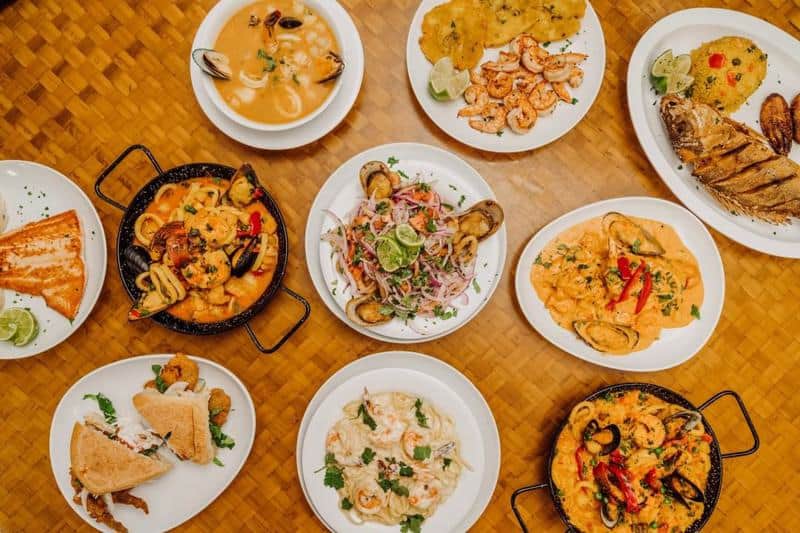 We chose this place as our top pick for Best Value, but we could also have made it our favorite hidden gem too – because that's exactly what it is.
If you like your seafood restaurants simple and unpretentious, then this is the kind of place that should appeal.
Rather than trying to do anything fancy, they let the food do all the talking. It's fresh, perfectly prepared and utterly delicious – and it all comes at a very reasonable low price too.
On the menu, you'll find a range of entrées and mains as well as sandwiches and appetizers.
All the classics are there like jumbo shrimp scampi or grilled tuna, but you'll also find more creative options such as Brasil Special, the house specialty, and several different ceviche dishes.
Since they open from early in the morning, they also serve breakfast, with several tasty combos to choose from. On weekdays, they also have a daily specials list that's available until 3pm, so that's always worth checking out for the best deals.
The staff, led by a husband-and-wife team, are super-helpful, the service is always friendly and efficient, and the food comes out quickly after you order, so you won't be kept waiting.
The atmosphere is lively too, so for a delicious seafood meal in a bustling locale, this place is hard to beat – especially at these kinds of prices.
Since this restaurant is attached to a seafood market, the food is always as fresh as you could want. You can also pick up some fresh seafood to take home with you after your meal, making it doubly worth the trip.
In short, if you're looking for somewhere to enjoy some great seafood in Miami and want to get the best value around, Cod Seafood is a restaurant that won't let you down.
Diners' note: The opening times have changed recently, in part due to covid. The restaurant's website has conflicting information about opening times, so for the most up-to-date info, it might be worth giving the restaurant a call before you visit.
Opening times: Mon-Thu 8am-6pm, Fri 8am-7pm, Sat 9am-7pm, Sun 9am-6pm
Address: 5881 NW 37th Ave, Miami, FL 33142
Website: www.codseafood.com
Price: $
Joe's Stone Crab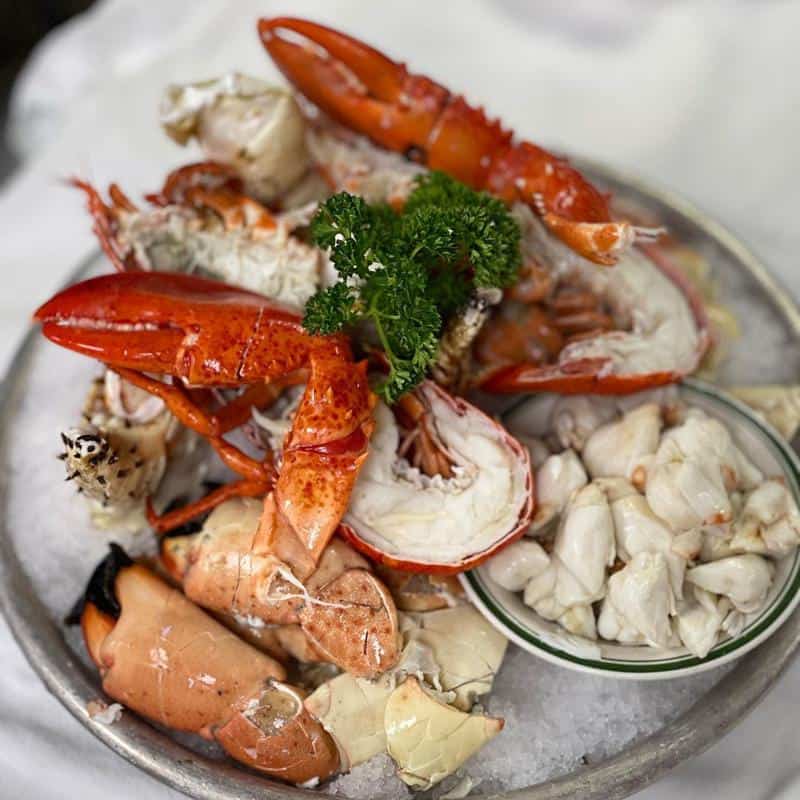 Miami is renowned for its seafood options, and Joe's Stone Crab is without doubt among the best-known restaurants in town, so for fans of everything from the sea, this is a place that simply can't be missed.
Joe's has now been open for over a century, and in that time, this iconic restaurant has become part of the very fabric of the city.
Back when they first started serving stone crabs here, nobody even knew you could eat them, but nowadays people come from far and wide just to sample this local delicacy that's become so inextricably linked with Miami – and with Joe's.
Stone crab season runs from October to May, so that's the best time of year to visit if you want to sample the crab claws that made the restaurant's name.
However, if you visit outside of this period – or perhaps even if you just feel like eating something else – there's no shortage of other dishes to tempt you, including a whole range of seafood as well as meat and poultry if that's more your thing.
Of course, for food of this quality – and with a superstar reputation to match – don't expect your meal at Joe's to come cheap.
However, no visit to Miami is complete without sampling the snow crabs in the restaurant that first served them over a hundred years ago, and if you decide to splash out and go there too, you're unlikely to have any regrets.
For many years, Joe's was as notorious for interminable queue times as it was for crab claws due to their no-reservations policy. The good news is that they now accept limited reservations through Resy – so if you're planning to eat at Joe's, you can skip the line by booking ahead.
However, note that the reservation slot is only held for ten minutes before being passed to the waitlist, and you won't be seated until your whole party is there – so make sure everyone arrives on time!
Opening times: Lunch Thu-Sun 11:30am-2:30pm; Dinner Sun-Thu 5pm-10pm, Fri & Sat 5pm-11pm
Address: 11 Washington Ave, Miami Beach, FL 33139
Website: joesstonecrab.com
Price: $$$
The River Oyster Bar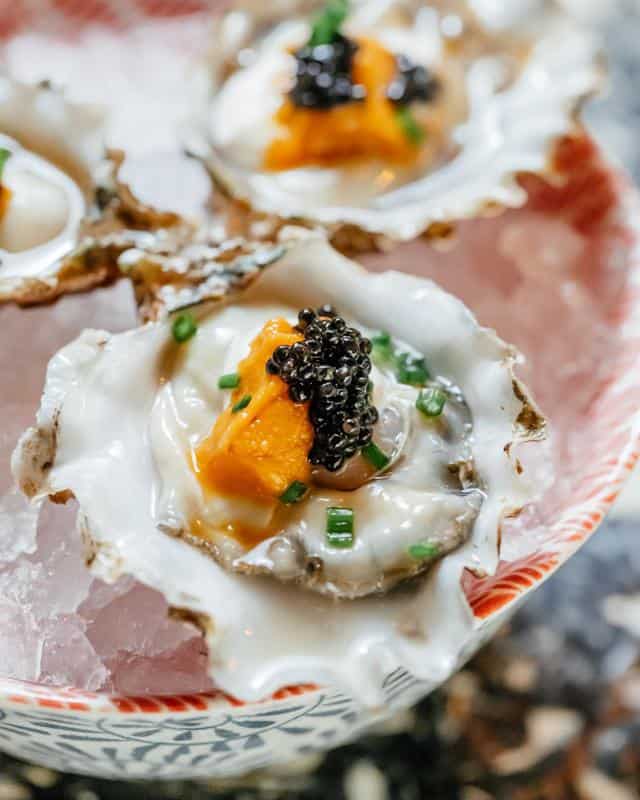 Unsurprisingly, given the name, this restaurant specializes in oysters, and they have a great selection of them flown in fresh from around the US every day, allowing you to sample and compare the best the country has to offer.
However, there's more to it than just oysters, and the restaurant boasts extensive lunch and dinner menus with a whole range of fish and seafood to suit just about any taste.
Look out for appetizers like snapper tartare, Hamachi sashimi or mixed ceviche while the raw bar serves clams on the half shell, oyster shooters and high-end caviar to name but a few.
If you prefer to keep it simple, you can order a main of fish a la plancha for lunch or dinner, and during the dinner sitting, you can also ask for it baked.
For the more adventurous, there's a whole range of more original creations, including mussels in a pot served in a Thai-style broth of coconut milk, ginger and lemongrass.
The sweet and spicy king salmon or the Chinese-style whole fried yellowtail snapper are also among the more intriguing choices.
For those less keen on cuisine from the sea, you'll find enticing dishes such as the Peruvian-style roasted organic chicken or the Brassetown Ranch prime strip steak, and there are plenty of delectable vegetarian options too.
The restaurant itself is chic with a minimalist vibe, the atmosphere is vibrant, and the prices are extremely reasonable for the quality – all of which adds up to another top pick if you're looking to satisfy your cravings for seafood in Miami.
Diners' note: For an even better deal, drop by during happy hour when selected oysters sell for half price and you can drink classic cocktails for just $8 a go.
Opening times: Lunch Daily 12pm-3pm; Dinner Sun-Thu 6pm-10:30pm, Fri & Sat 6pm-11pm; Happy hour daily from 4:30pm to 7pm.
Address: 33 SE 7th St Suite 100, Miami, FL 33131
Website: www.therivermiami.com
Price: $$
Mignonette Downtown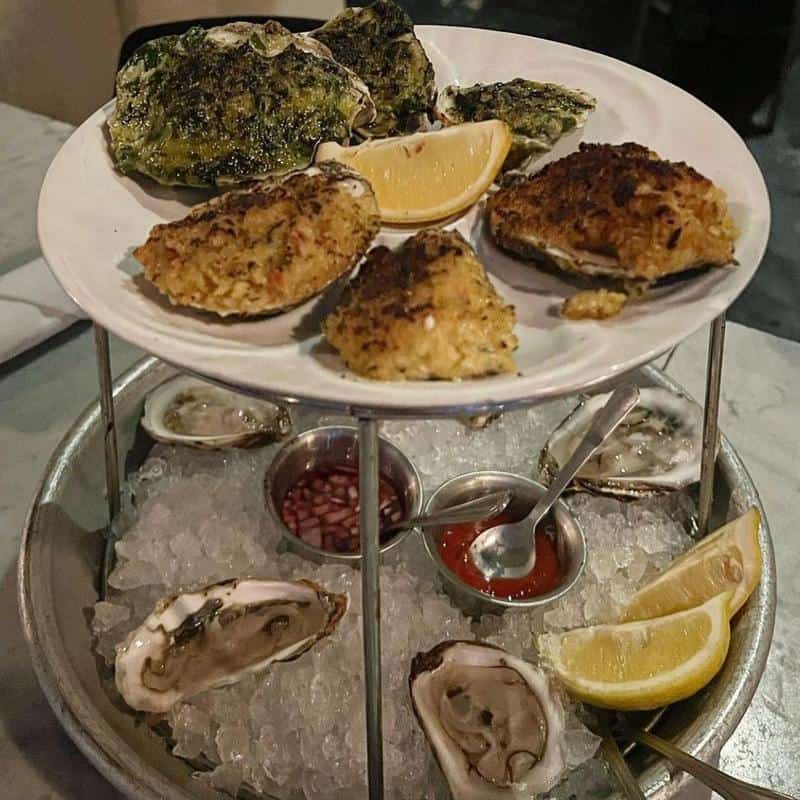 Another place for oyster connoisseurs, Mignonette styles itself as a "casual but classy" eating establishment where you can enjoy fresh seafood in trendy yet laidback surroundings.
At Mignonette, they take their oysters seriously, and there are always several varieties to try from both the East and the West Coast.
They offer a rotating selection for you to sample, and if you're not sure what to order, you can go for the flight of oysters prepared raw, chargrilled and Rockefeller, allowing you to compare the three different styles.
Other notable menu items include indulgent treats such as lobster deviled eggs, charred octopus, South African lobster tails or scallops in butter – and if you feel like something really special, they also serve several different types of caviar.
This place is all about keeping things simple, so the menu isn't as extensive as in some other restaurants. However, everything they do, they do exceptionally well, which explains why this is one of the most popular oyster bars in town.
Diners' note: The catch of the day and daily specials are listed behind the bar along with the oyster varieties currently available, so be sure to check them out before ordering for some great deals and some more unusual offerings.
Opening times: Sun-Thu 5pm-10pm, Fri & Sat 5pm-11pm
Address: 210 NE 18th St, Miami, FL 33132
Website: www.mignonettemiami.com
Price: $$
Related Read: Best Seafood Restaurants in Fort Lauderdale
The Lobster Shack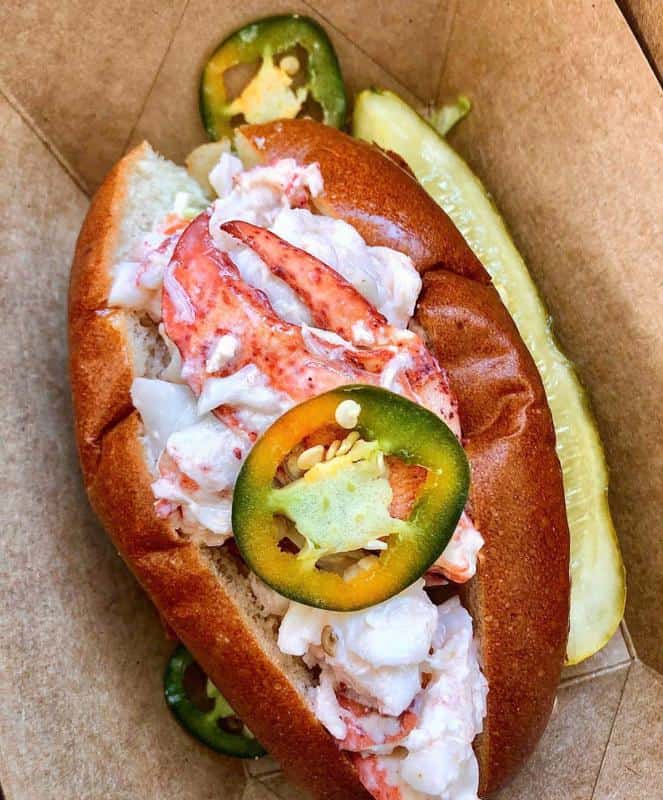 If you're looking to fill up on delicious seafood but don't want to spend a fortune in a fancy venue, The Lobster Shack is probably the kind of place you're looking for.
The vibe is more "casual" than "fancy restaurant", but if you're more interested in having a good meal at a reasonable price than five-star service, this place won't let you down.
Needless to say, their specialty is lobster, and it comes in a range of rolls – choose from "classic", "naked", "Cajun", "spicy" and more – and if you don't want lobster, they also do rolls with snow crab or shrimp.
Along with the rolls, they also serve seafood tacos, and the seafood bar offers oysters prepared in several ways along with stone crab, snow crab, seared tuna and yes, more lobster.
If anyone in your party doesn't eat seafood, all-American classics such as burgers and hotdogs are available, and they also have kids' options, so it's suitable for a family meal.
Another great thing about this restaurant is the fact that it's open late, which makes it ideal if you suddenly find yourself having cravings for seafood after most other places have closed.
The drinks menu is extensive too, and you can choose from a range of interesting cocktails and a decent selection of wines. Alternatively, you can simply order a bucket of beers or a draft pitcher to share among friends.
In a town that boasts many upmarket seafood restaurants, places like this can slip beneath the radar, but if you're partial to a lobster roll, The Lobster Shack should be high on your list of places to visit.
Opening times: Daily 11am-12am
Address: 40 South Pointe Dr #104, Miami Beach, FL 33139
Website: www.lobstershackmiami.com
Price: $
Truluck's Ocean's Finest Seafood and Crab
If you're looking to celebrate a special occasion or are hoping for a particularly memorable dining experience, this exclusive upmarket restaurant should be of interest.
Their menu consists of seafood of the highest quality, both caught locally and flown in from around the world. However, everything served in the restaurant is sustainably captured, and no overfished species are on offer, something Truluck's takes pride in and values highly.
To start, you can choose from exquisite appetizers such as the chef's daily oyster selection accompanied by horseradish, cocktail sauce and champagne mignonette, Hawaiian tuna crudo with grape and cherry tomato medley or a crab Louie cocktail.
The mains include miso-glazed seabass and Ōra king salmon flown in from New Zealand – as well as the local specialty of chilled stone crab claws, which arrive on your table less than 24 hours after being caught and cooked.
They also offer three different types of Petrossian caviar served with blinis – or you don't know which one to order, a trio of all three.
As you would expect, the restaurant also serves a range of classic and original cocktails along with an extensive selection of bourbons, whiskeys, tequilas and brandies, and they also have a selection of excellent wines chosen to pair perfectly with whatever you order.
Truluck's is unashamedly stylish and elegant, and this means there's a strict dress code if you want to eat there. You'll need to dress smartly, and full details of the kind of thing that's not permitted can be found on the website.
This restaurant has been chosen as one of Open Table's Top 100 in America, and it is, without a doubt, one of Miami's finest – so if you're looking for the perfect place to spend a special evening, Truluck's is worth considering.
Truluck's makes a point of never serving crab claws out of season because that would require them to be frozen.
That means if you want to sample this Miami seafood classic, you have to make sure you go there at the right time of year – but at least you can be sure that the food on your table is as fresh as it comes.
Opening times: Mon-Thu 12pm-10pm Fri 12pm-10:30pm, Sat 5pm-10:30pm, Sun 5pm-10pm
Address: 777 Brickell Ave, Miami, FL 33131
Website: trulucks.com
Price: $$$
Stiltsville Fish Bar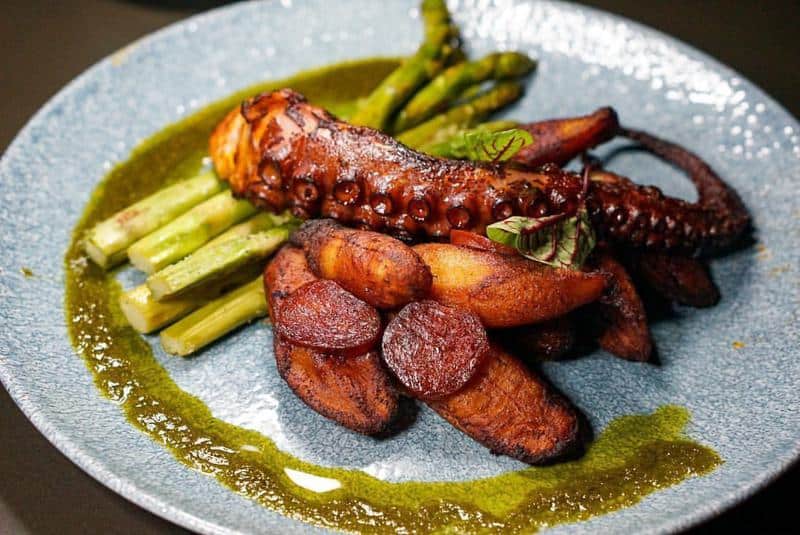 Serving brunch, lunch and dinner and boasting a beautiful waterside location, Stiltsville Fish Bar is a laidback, casual place where you can indulge in meticulously prepared fresh fish and seafood, all washed down with a few Key West-inspired drinks.
Whatever time of day you go, the menu is extensive – sometimes, it can be a challenge just deciding what to order. Thankfully, the knowledgeable staff are always on hand with suggestions, helping you choose the best dishes from their selection.
The food on offer provides just the right balance between popular favorites and original house specialties, but everything bears a distinctive touch of flair that sets this restaurant apart from much of the competition.
Among the many highlights are the raw oysters, the peel and eat royal red shrimp and the tuna ceviche.
For those who feel like something altogether more extravagant, the so-called Treasure Chest will be hard to resist – an array of delights including caviar, elyx vodka raw oyster shooters and king crab legs, it could hardly be more aptly named.
Even after you've eaten your fill, the cocktails in Stiltsville are a particular highlight, so it's the kind of place you'll want to linger a little longer to sip a drink or two more as the sun slowly makes its way towards the horizon.
Diners' note: Happy hour is on weekdays from 3pm to 7pm and gives you the chance to enjoy beer, wine, cocktails and selected food items for reduced prices, making this a great time to drop by.
Opening times: Lunch Mon-Fri 12pm-4pm; Dinner Sun-Thu 4pm-10pm Fri & Sat 4pm-11pm
Address: 1787 Purdy Ave, Miami Beach, FL 33139
Website: stiltsvillefishbar.com
Price: $$$
More Eats in Florida:
A Bewildering Range of Outstanding Restaurants
As you can see, whether you're looking for an upmarket restaurant to splurge for a big occasion or if you prefer something a little more low-key where simple but fresh and delicious seafood is king, in Miami, there's no lack of options.
You can fill up on lobster, enjoy some of the freshest oysters, tuck into succulent whole fish or treat yourself to a plate of stone crab claws, and for many visitors, the hardest part can be deciding which restaurant to head to first.