Sushi has become more popular in recent years. It seems more people are exploring this exquisite Japanese delicacy and people are even indulging in sushi parties. Additionally, sushi has become more accessible with some grocery chains boasting sushi bars. Still, many sushi lovers are indulging in making their own variations with a host of different toppings and fillings.
If you're thinking of hosting a sushi party, you might be looking for a few fun and tasty fillings to add to your sushi platters. In that case, this article is for you. We've compiled a list of the most popular, fun and tasty fillings and toppings that will be a real treat to your guests. From protein-packed salmon to baked sweet potato – we have a filling for every appetite!
Sushi Fillings Make All the Difference
Sushi is very versatile in that you can make it for lunch or dinner. You can even serve it as an appetizer or you can simply be in the mood for a sushi night with a few friends. Whatever you're planning with your sushi, our traditional, tasty, fun and even vegan filling and topping options will have everyone's taste buds begging for more. Keep reading as we delve into a real flavor explosion.
1. Japanese Cucumbers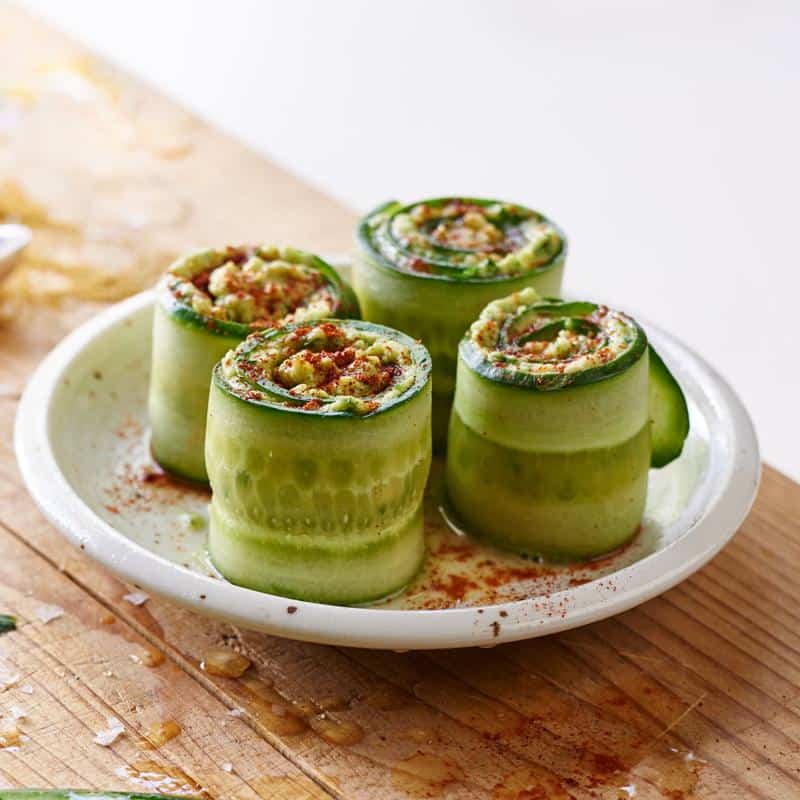 If you enjoy that crunchy taste that you find in some restaurant sushi, cucumbers are the secret. As the most common sushi filling, Japanese cucumbers provide a fresh and crispy taste to sushi.
Most sushi makers prefer Japanese cucumbers because they feature less seeds, but any type of cucumber will do. Simply remove the seeds and cut the cucumber into small sections that will fit into your rice-filled sushi roll. Many fillings have cucumber as a go-to addition along with a host of other ingredients. Cucumbers are an absolute must on your sushi tray!
2. Salmon & Avocado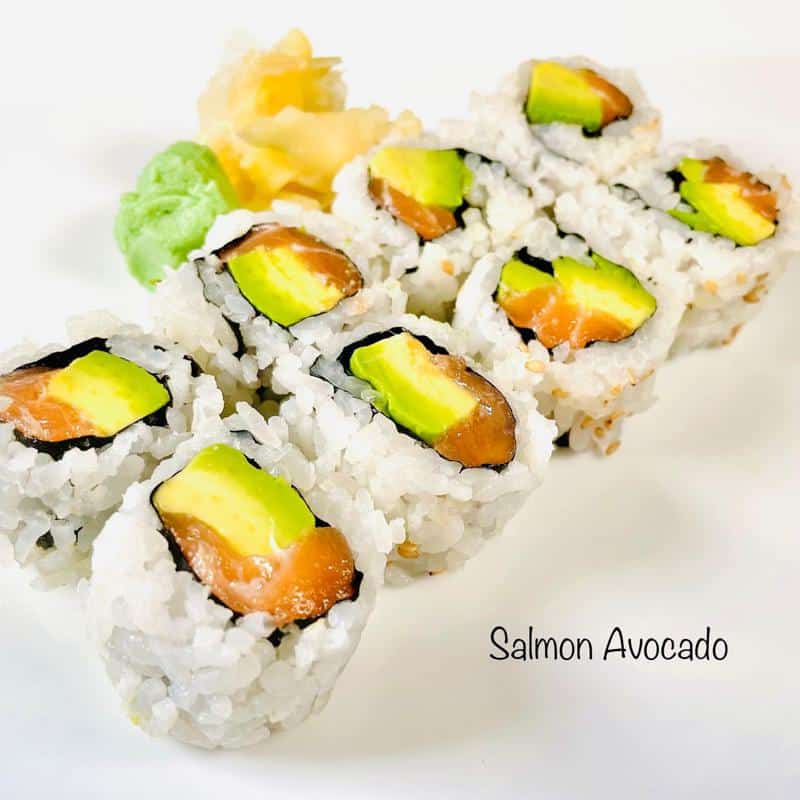 Another traditional sushi filling is a salmon and avocado combination. The creamy flavor from the avocado and the fresh, crispy salmon create a tasty combination that your taste buds will find most appealing. It's not only light but rich in omega-3.
Also Read: What is a Dragon Roll Made of?
3. Crumbed Prawn & Salad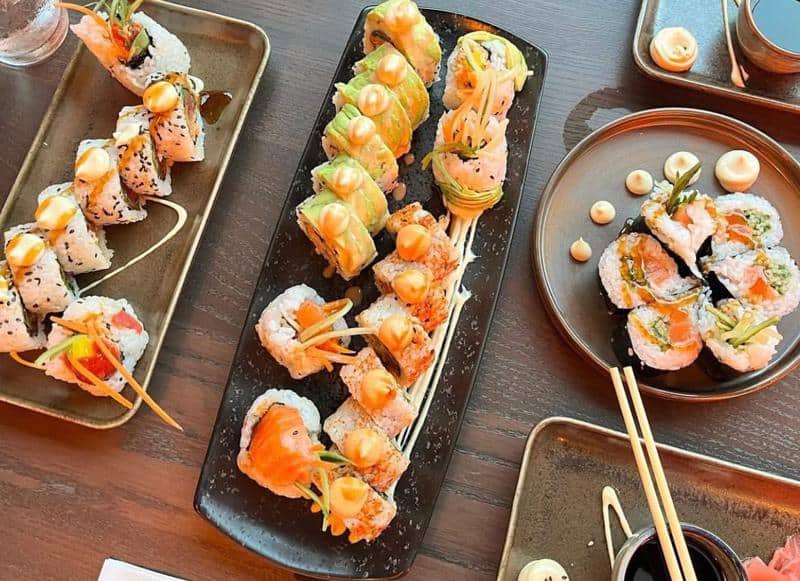 Japanese deep-fried prawn or shrimp (Ebi fry) involves crumbing the meat with breadcrumbs and then deep-frying until crunchy. Add some green salad around your meat and add to your vinegar rice. Wrap with a nori sheet and enjoy this highly nutritional snack in one bite.
4. Baked Sweet Potato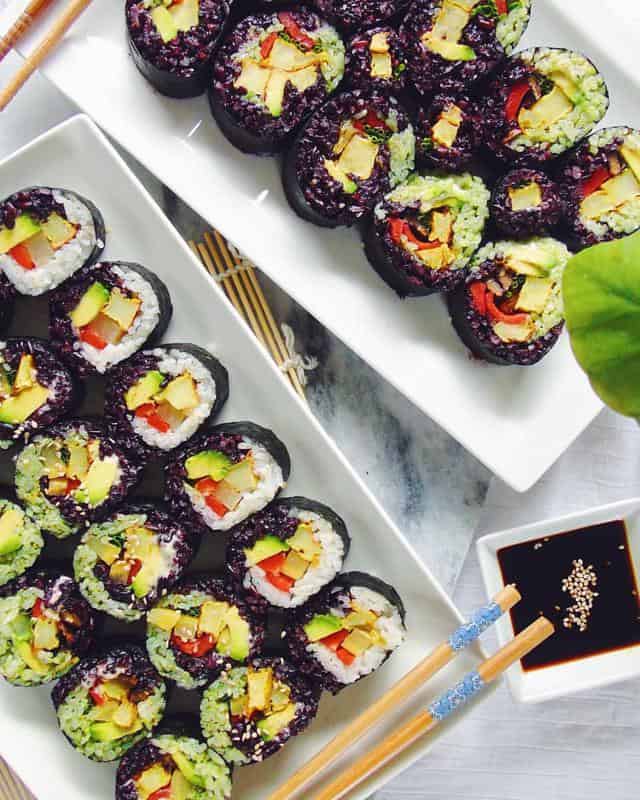 Peel the skin off a baked sweet potato (yams) and cut it into thin strips. Combine the sweet potato with some cucumber to balance the sweetness of the potato. You can add a sliver of salmon for a well-rounded version.
5. Pickle Cucumber & Egg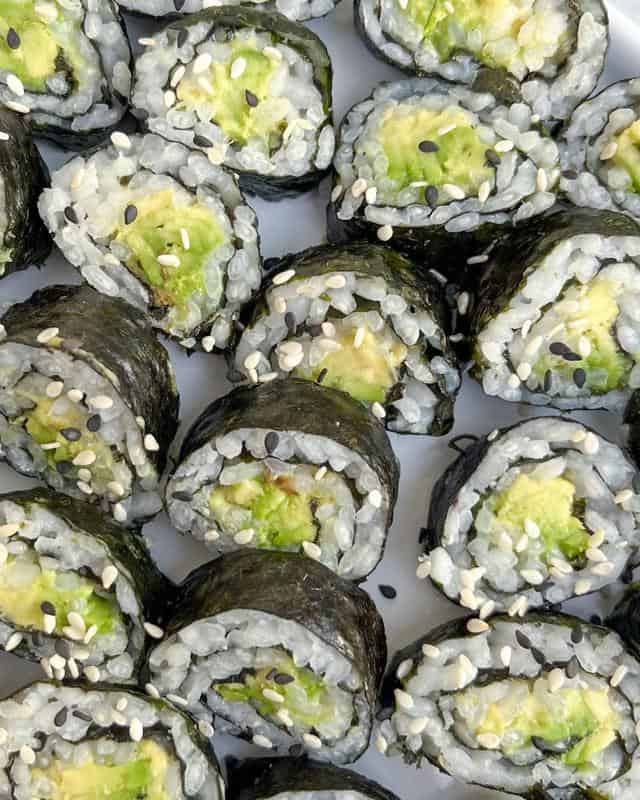 Sweet egg omelet and pickled cucumber or Tamagoyaki as it's called is a tasty combination of sweet and sour. This is a popular filling to use in Futomaki sushi where vinegar rice is combined with your filling of choice and slice into bite-sized pieces. Aside from tasting great, it's a colorful addition to your plate.
6. Avocado, Masago & Shrimp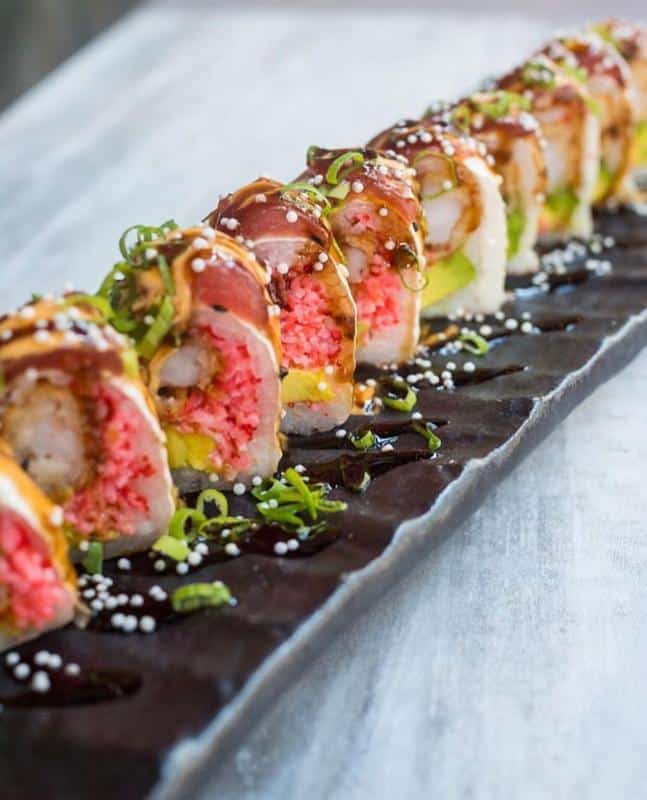 When you're opting for shrimp, it's a good idea to opt for medium-sized shrimp. Serve them raw or steamed if you prefer them slightly tender. Line the shrimps to cover the nori sheet, placing medium-sliced avocado slices over it. Then sprinkle some masago for a flavor burst.
7. Cucumber & Barbecued Eel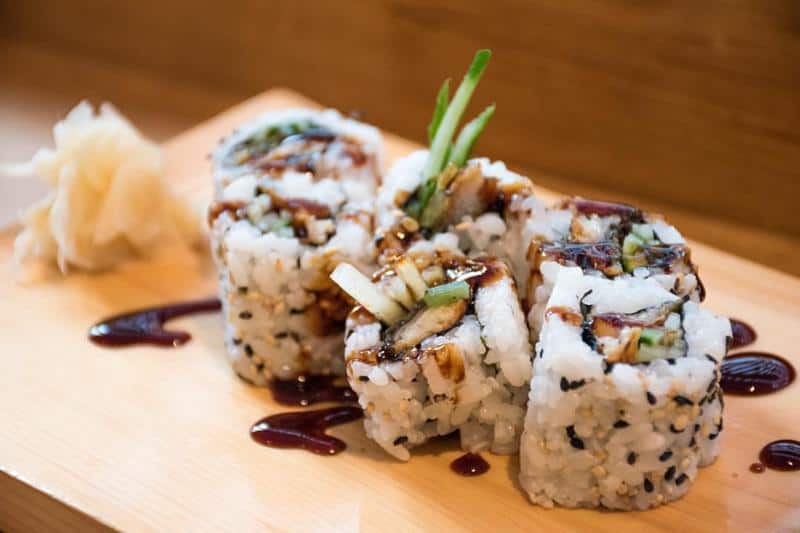 If you want to make unagi sushi, then cucumber and barbecued eel are simply perfect. Cut a peeled cucumber into thick strips and combine them with thinner slices of barbecued eel. You'll have a slightly fishy flavor with the crispness of the cucumber.
8. Imitation Crab Sticks, Avocado & Cucumber
Imitation crab sticks are an equally popular addition to sushi because they contain crab, egg and a variety of fish flavorings. Cut the cucumbers and avocados into thin slices and combine them with the crab sticks. You can cut the crab sticks fine or use them cut in halves if you prefer.
9. Fried Egg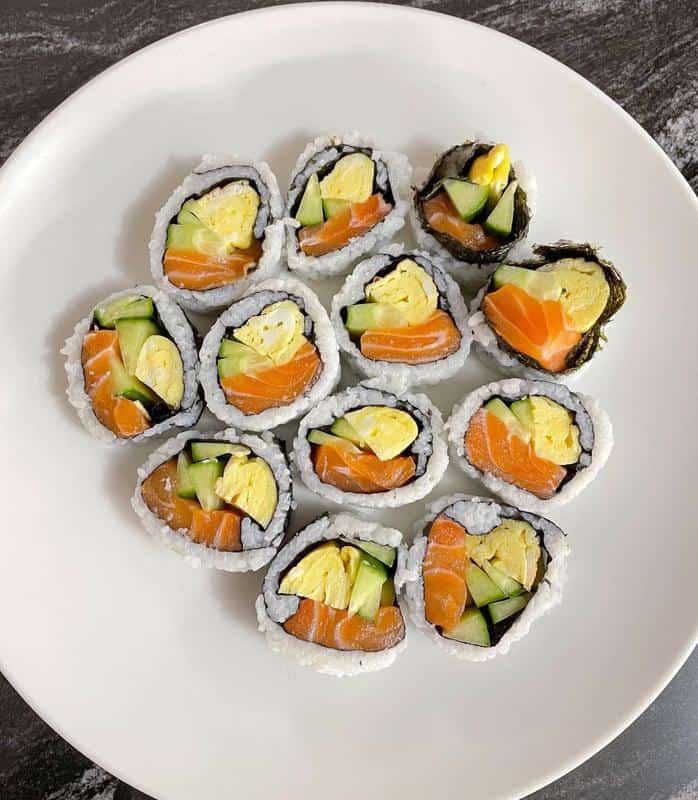 Sushi toppings don't have to be a complex mixture of flavors. Egg sushi (Tamago sushi) is made of an egg omelet with a light texture and sweet taste wrapped around a nori sheet.
The vinegar flavor from the sushi rice complements the sweetness of the egg. Another great option for anyone not loving fish sushi.
10. Cucumber, Hamachi Yellowtail & Green Onions
For a really "fishy" sushi option, cut thin sashimi-style slices of fish such as the Hamachi yellowtail to cover the top of your sushi. Mince a few spoons of flesh to add to the filling.
Make thin matchstick-sized cucumber slivers and chop the green onion. Mix the fish flesh, onion and spicy mayonnaise with Sriracha sauce. Mix and use as the filling. Stick the cucumber sticks into the filling.
Read More: What is Sushi-Grade Fish?
11. Tuna, Spinach Leaves & Cole Sprouts
A sushi platter won't be complete without a few tuna fillings. For this one, add some pepper to one side of a tuna steak and crushed sesame seeds to the other side, adding some texture to the tuna.
Add some coconut oil to a frying pan and fry the tuna covered for about 2 minutes. The tuna should be white and the sesame seeds brown. Once cooled, cut the tuna into thick strips. Add Cole sprouts and fresh green spinach leaves to make a delicious filling.
12. Pickle Seaweed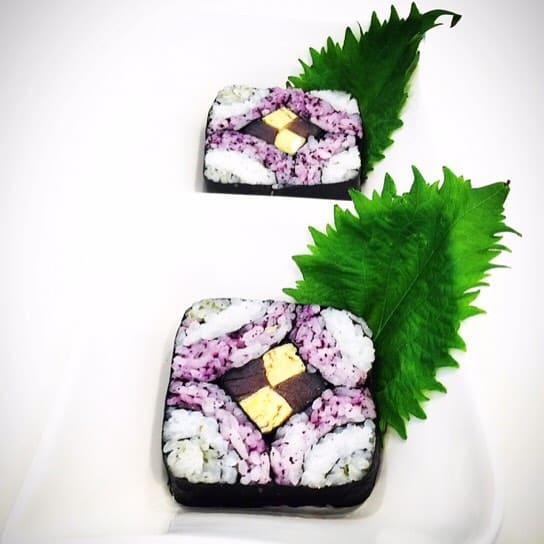 For your vegan guests, there's always this delicious, pickled seaweed filling. Simply wrap some seaweed into a nori sheet and sprinkle with sesame seeds. Since this seaweed is loaded with nutritional value, it's not only scrumptious but healthy as well.
13. Pulled Pork & Coleslaw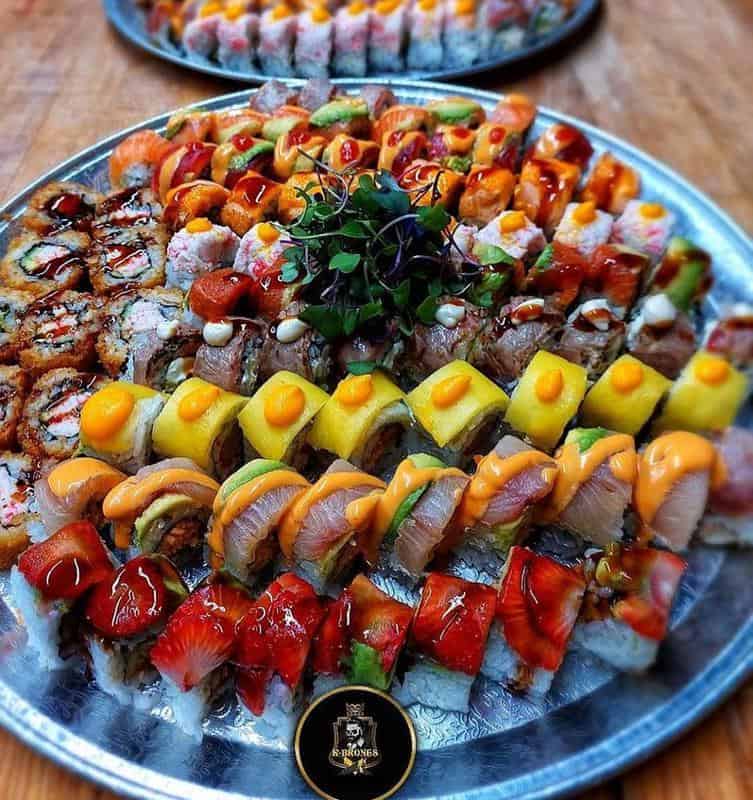 While this is not a traditional Sushi filling, it's more of a western spin on an eastern favorite. Using pulled pork rather than seafood allows red meat lovers the opportunity to enjoy some sushi.
Combine coleslaw with slivers of savory or smoked pork to your vinegar rice and wrap in the nori sheet. The colors of the coleslaw provide a pop of color while the pork makes for a wonderful flavor combo.
14. Fish Roe & Cucumber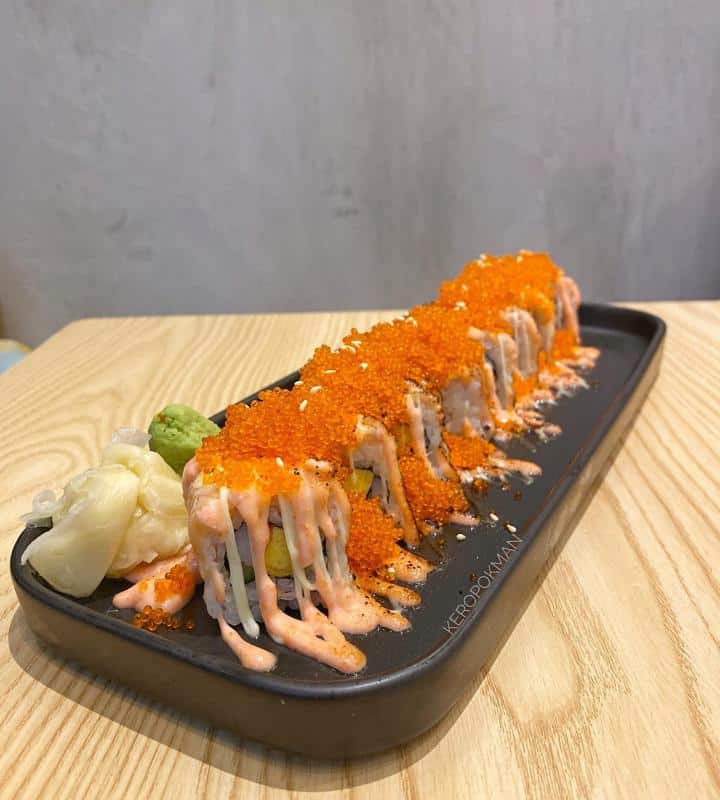 Flying fish roe or Tobiko is an immensely popular and most recognized sushi filling. The tiny red-orange clustered eggs boast a salty and somewhat smoky taste with a lingering sweetness.
Its crunchy texture makes it a common sushi topping. Simply lay it over some clumped sushi rice that's been tied together with seaweed. Add some cucumber on top.
15. Beef & Red Onion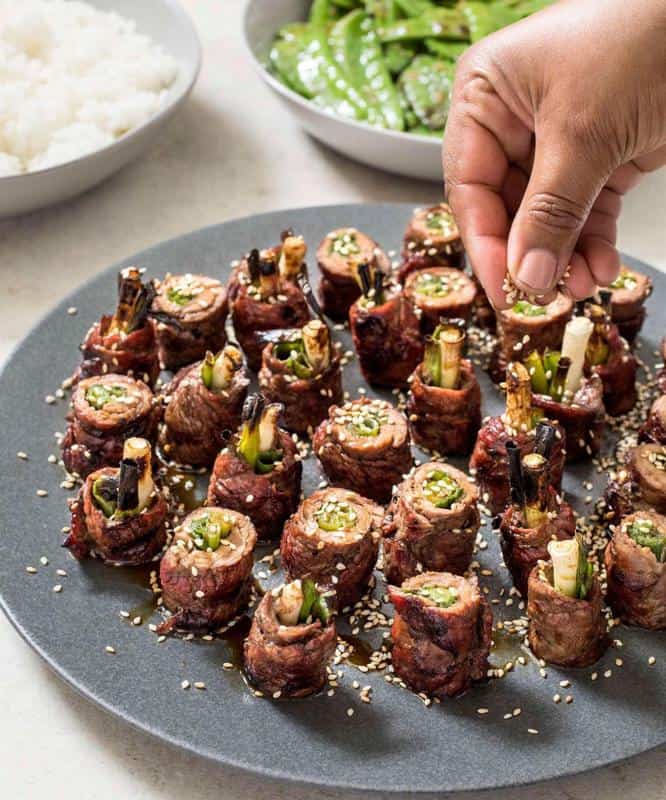 Beef lovers will be happy to know that they'll also have something to eat on your sushi night. Negimaki sushi (beef sushi) is made of beef that's been seared to feature a crispy, brown appearance.
To intensify the beef flavor, wrap the beef with some red onion and teriyaki sauce. It's a wonderful seafood alternative with a flavorsome taste.
16. Shrimp Tempura, Fish Roe, Cucumber & Avocado
Shrimp tempura is always a great flavor burst to any sushi filling. It also tastes great with a variety of vegetables. In this instance, add strips of cucumber and avocado with the shrimp tempura.
For some added color, and crunchy flavor, top off with a spoonful of fish roe. If you prefer to enjoy the tastiness of the tempura, leave out the avocado and cucumber.
17. Spicy Crab & Masago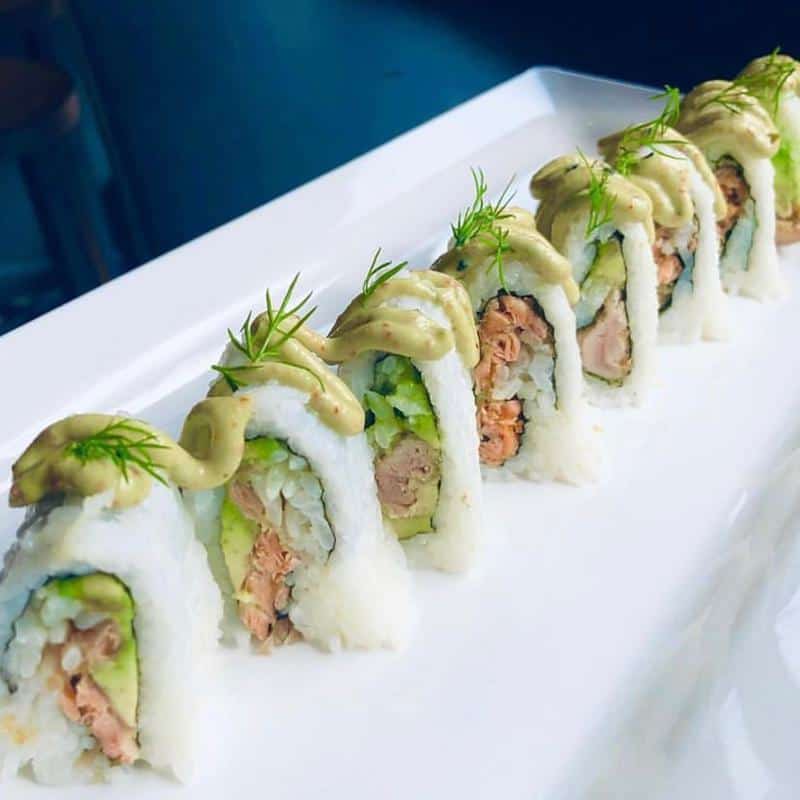 For sushi lovers who enjoy a little added spiciness, this is an ideal filling. Combine imitation crab sticks, Sriracha hot sauce and mayonnaise.
Note: here you want the crab sticks to be very thin.
Place the crab sticks into a bowl and mix the deliciously hot Sriracha sauce with it. Add some mayonnaise and place the filling in the fridge for about 15 minutes. This will give the flavors time to mix, creating a hot and flavorsome aroma. Top of with some Masago.
18. Salmon, Cheese, Avocado & Cucumber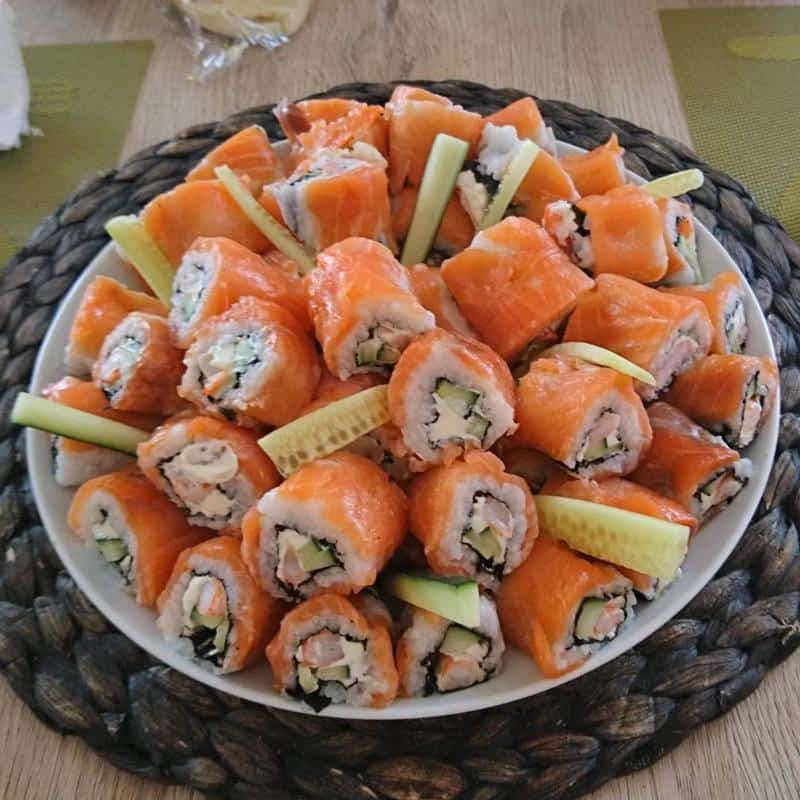 You might not often associate cheese with sushi, but if you're feeling adventurous, this one is for you. Slice sushi-grade salmon into thin strips and avocado into thicker slices or chunks. Use a layer of cream cheese to enhance the flavor of the raw fish and avocado.
19. Tiger Prawns, Fish Roe, Lettuce & Mayonnaise
Tiger prawns are another party favorite when it comes to sushi fillings.
Note: a pro tip here is to thread a skewer through them to make sure they're straight rather than curled up.
Cook the prawns on both sides for about 4 minutes. Allow to cool.
Mix the row and mayonnaise. You line up two tiger prawns on the bed of sushi rice. Add cucumber for crunch. Place the washed lettuce leaves on top of the prawn mix and spoon some fish roe on top. For added creaminess, consider adding some avocado and for added color, use a few slivers of carrot.
20. Soft-shell Crabs, Green or Purple Onions & Avocado
Season soft shell crabs with salt and black pepper. Dust the crabs with flour and fry in canola oil for about 3 minutes. Once the crab have cooled down, slice and combine it with your onion of choice.
Add avocado for a creamy splash of flavor or cucumber for extra crunch.
Also Read: Top Cooked Sushi Rolls to Order or Make at Home
21. Sea Bass, Salmon, Tuna, Carrot Sticks & Avocado
If you're making a rainbow sushi roll, this option will make excellent toppings. When you've used a plain filling such as cucumber or egg, you can use these three fish selections as toppings to add color, flavor and texture.
Ensure all the fish are sushi-grade and while the tuna and salmon are the main ingredients, you can substitute the sea bass with shrimp or prawn pieces. Cut the three types of fish into thin slices and place them on the sushi roll. Add avocado and thin carrot sticks. Remember, the point here is to make a wide variety of colors.
22. Carrots & Cucumbers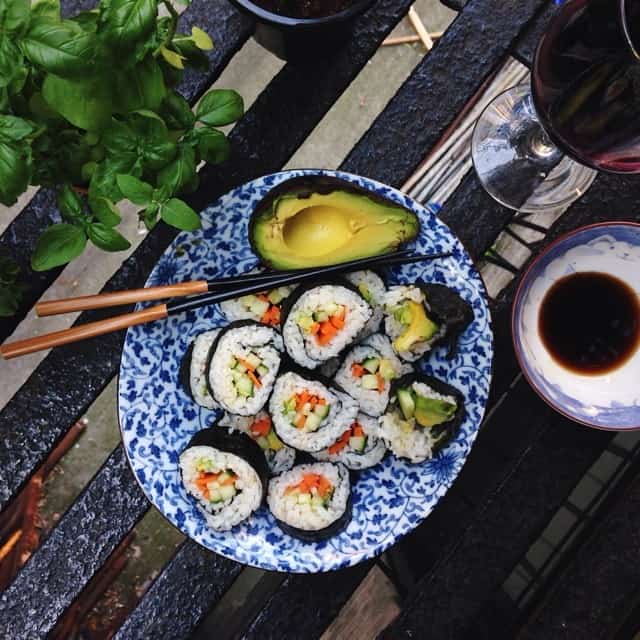 For a simple and bright filling, opt for a carrot and cucumber combination. Aside from adding a delicious crunch, they're healthy and easy on the palate. It's a great filling for your vegetarian guests.
Simply julienne the carrots at about 2" long and ¼ " thick. Cut the cucumbers into long, slightly thicker strips and stick them into the rice filling. It's a crunchy, clean filling great for enjoying between all the fish options.
23. Pickled Daikon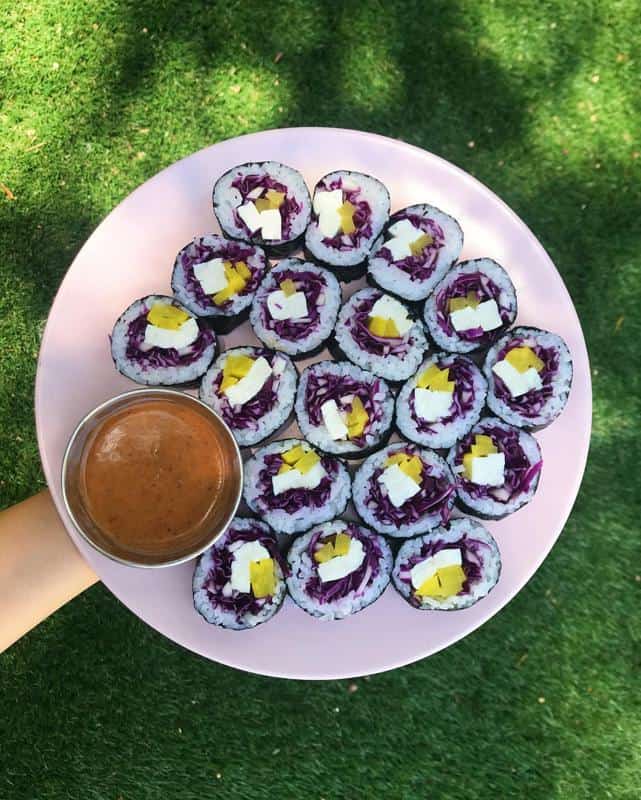 Commonly known as oshinko, daikon is essentially pickled radish. And it's a perfect example to show that fruits and vegetables can make wonderfully tasty fillings. Daikon looks similar to a white carrot and turns yellow when pickled with salt.
It's so flavorful that you can add it to rice and nori without any other veggies. If you want a pop of color, you can add a trusty slice of cucumber.
24. Spicy Tuna (using canned tuna)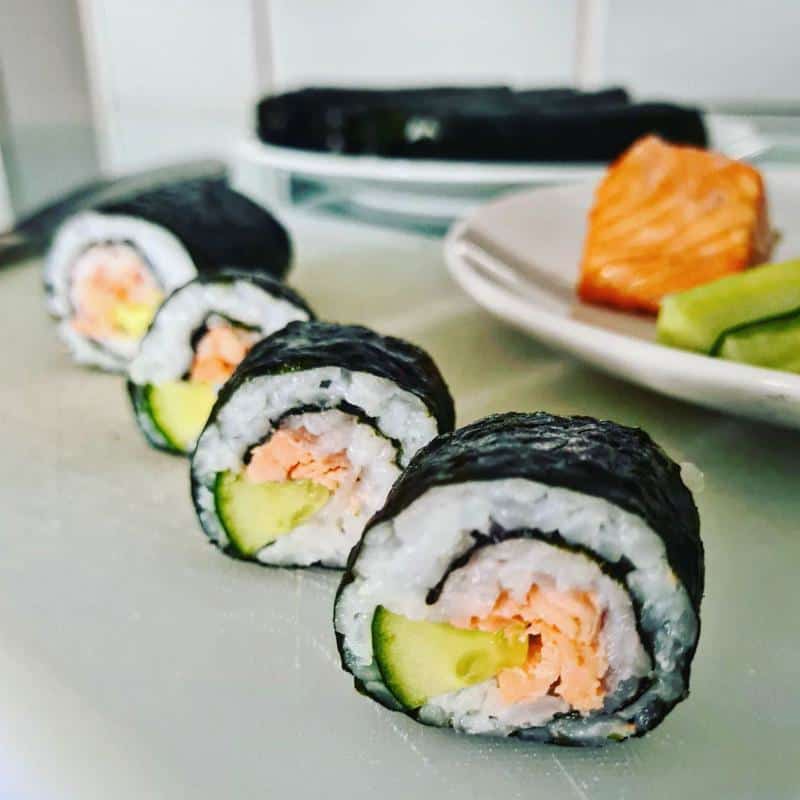 If you've run out of tuna steak with some of our other filling ideas, the good news is you can make a delicious spicy tuna filling with canned tuna. Often referred to as the poor man's sushi, canned tuna is a wonderful supplement.
For the filling, you'll need 1 or 2 cans of tuna, green onion thinly sliced or even chopped, mayonnaise, and some Sriracha hot sauce. Simply mix the ingredients, add some salt and pepper and voila! For color and crunch, you can add medium-sized cucumber or carrot slices. Since bell peppers can be thinly sliced, you could use a very thin slice of the yellow or red for a pop of color.
25. Mango & Cucumber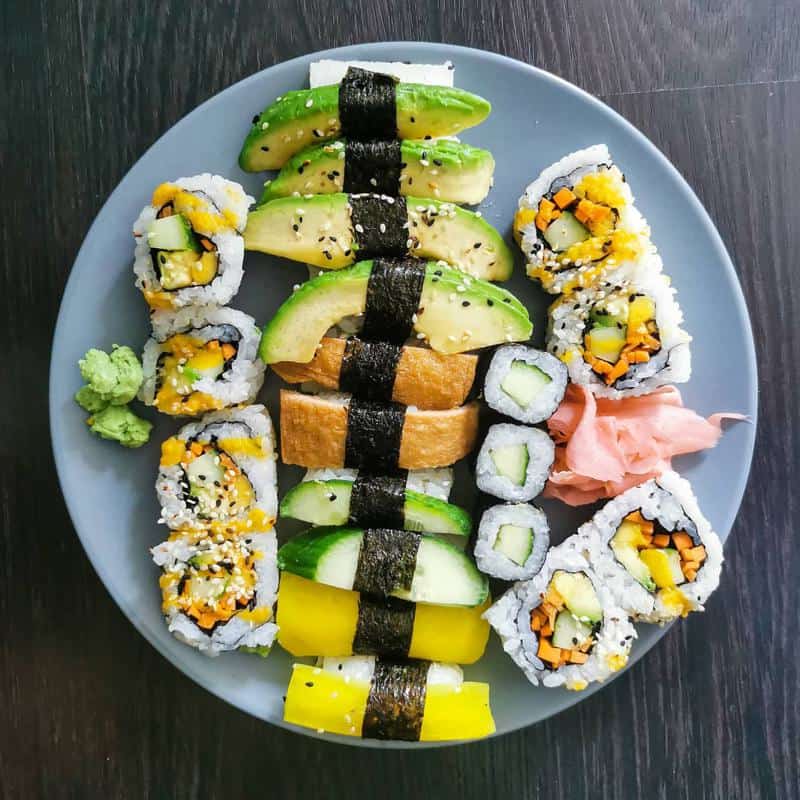 Mango is a common addition to sushi because it not only adds a brilliant color but also provides a unique flavor. The trick is to pick a ripe but firm mango to be able to cut thin slices without it being too mushy.
Combine your mango with a few slices of trusted cucumber to balance the color and of course to provide that sought-after crunch. The cucumber balances out the sweetness of the mango.
26. Cucumber, Avocado, Cabbage, Tomato & Red Onion
Raw veggies make wonderful additions to fillings. In instances like this, the right selections not only add texture but provide color and a blast of nutrition. Simply slice the veggies into different thicknesses and mix it up. Adding some soy or Sriracha sauce will add a spicy twist.
27. Spicy Scallops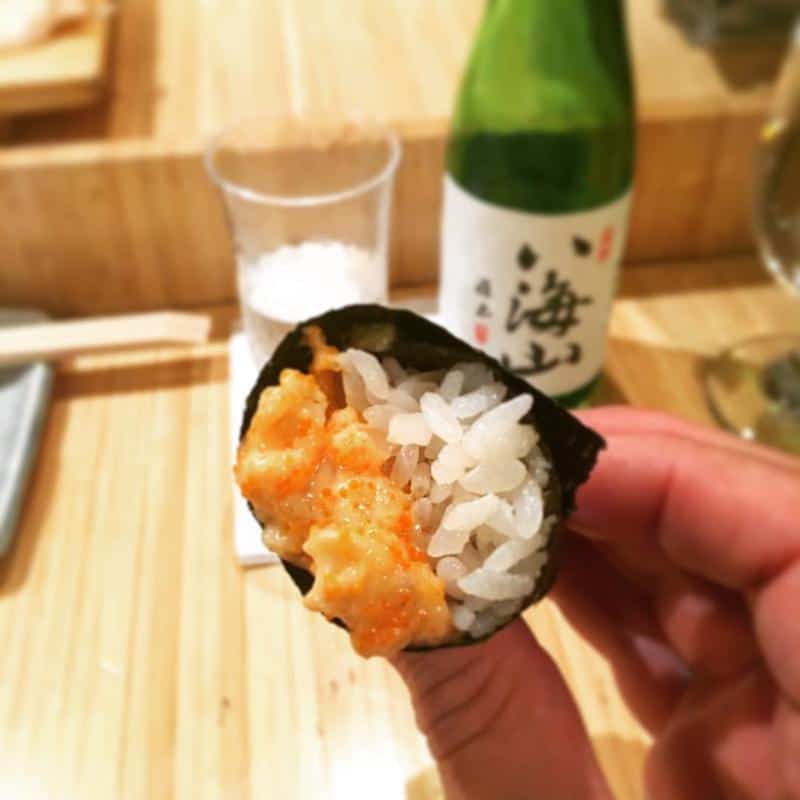 Another filling that doesn't require too many ingredients and extraordinarily little effort is a spicy scallop filling. Simply add Sriracha sauce to some scallops.
If you prefer a less spicy version, substitute the Sriracha for regular mayonnaise. As with the other fillings, add a few slices of cucumber for crunch and texture.
Read More: 14 Must-Try Onigiri Fillings Ideas
28. Fish Cake, Cucumber, Pickled Radish & Eggs
Essentially, any fish can be sliced or chopped up to make a filling. The only rule is that raw options must be sushi-grade. If not, it's best to cook the fish before using it as a filling. Have some fish cakes in the freezer? Simply prepare and slice. Use a sprinkle of soy sauce for added flavor.
Peel and julienne the veggies into slices of varying thickness. For the eggs, make an omelet and cut them into strips. Alternatively, scramble and lay out on your nori with the veggies.
29. Fermented Soybean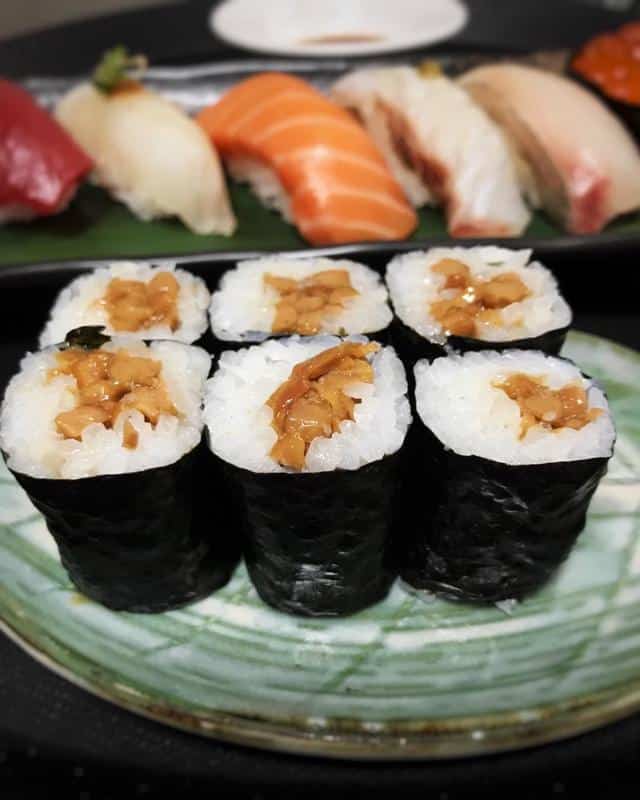 If you want to have a few traditional fillings on your sushi platter, you might want to consider fermented soybean. Known as Natto Maki, this filling is made with steamed soybeans that have been fermented for several days. It's important to note that this taste and smell is acquired and might not be for everyone!
30. Shiitake Mushrooms, Carrots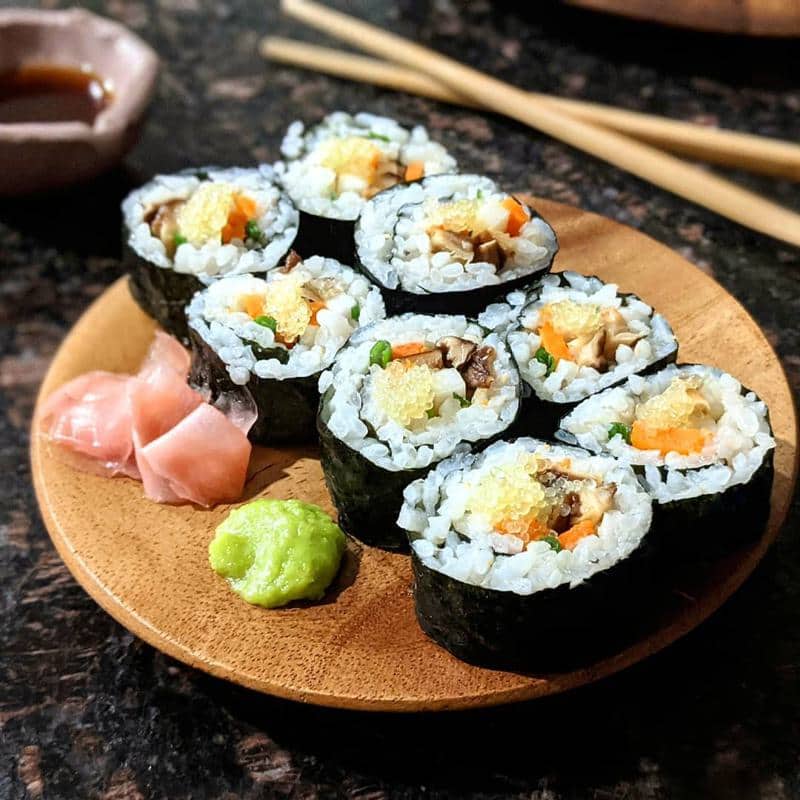 Shiitake mushrooms are another ingredient that you often find in more traditional fillings. If you're opting for the dried version, simply rehydrate and slice into thin strips.
Add the mushrooms and carrots to a saucepan and add some salt and Japanese soy sauce (shoyu – regular soy sauce will work if you don't have the Japanese version). Cook for about 5 minutes until the liquid disappears. Once cooled add on top of your sushi rice.
31. Salmon, Bell Pepper, Avocado & Cucumber
This filling can be made without the salmon if you prefer a vegetarian version. Simply cut all the ingredients into strips of varying thicknesses and layer them onto the rice. For a spicy twist, add some Sriracha sauce.
32. Black and Green Olives, Avocado, Cucumbers & Carrots
Many sushi lovers enjoy the combination of these flavors. Slice ingredients into strips and place them on the nori sheet. The olives are best cut into 4 slices and layered along with the filling. If you love the salty bitterness of the olives, feel free to add a few more. With this filling, you can easily add a few slices of tuna or salmon to add a twist of flavor.
33. Nigiri With Squid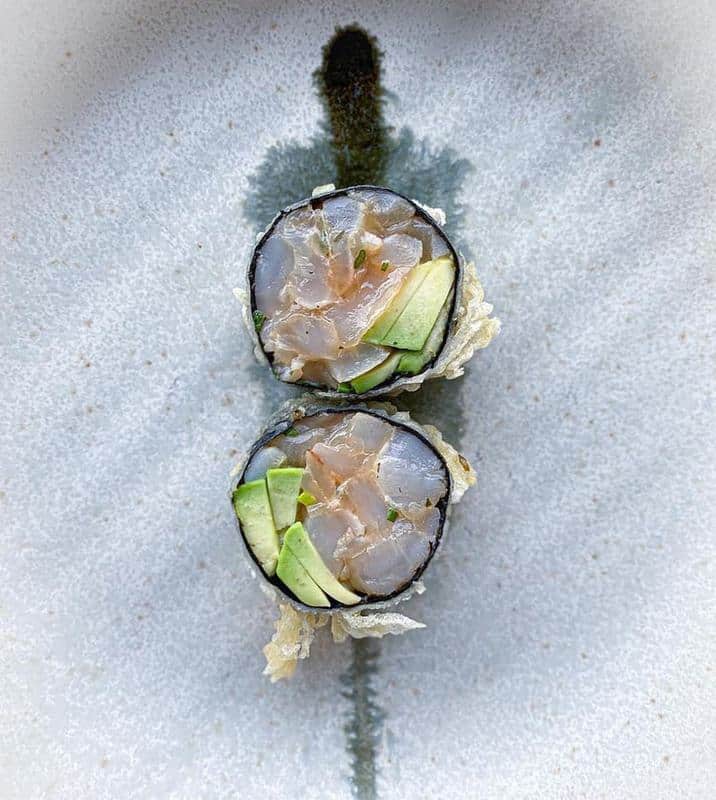 This particular filling will be loved by the avid seafood lovers at your dinner party. Here you're going to use calamari tubes brushed with wasabi sauce. Place these tubes on the bed of rice. The vinegar in the rice will soften the squid. You could add a few thinly sliced cucumber slivers for color and crunch.
34. Carrots, Asparagus & Shimeji Mushrooms
Many of our fillings contain raw vegetables but this one lets you stir-fry your veggies in some coconut oil. Cut the mushrooms, asparagus and carrots into thin strips suitable for stir-frying. Season with salt and black pepper and add 2 or 3 cloves of garlic for added flavor. Sauté the veggies for about 5 minutes, removing each one from the pan as they become tender. Let the veggies cool and add as filling.
For a variation on this filling, you can add a few thinly sliced beef or tuna steak strips.
35. Smoked Tofu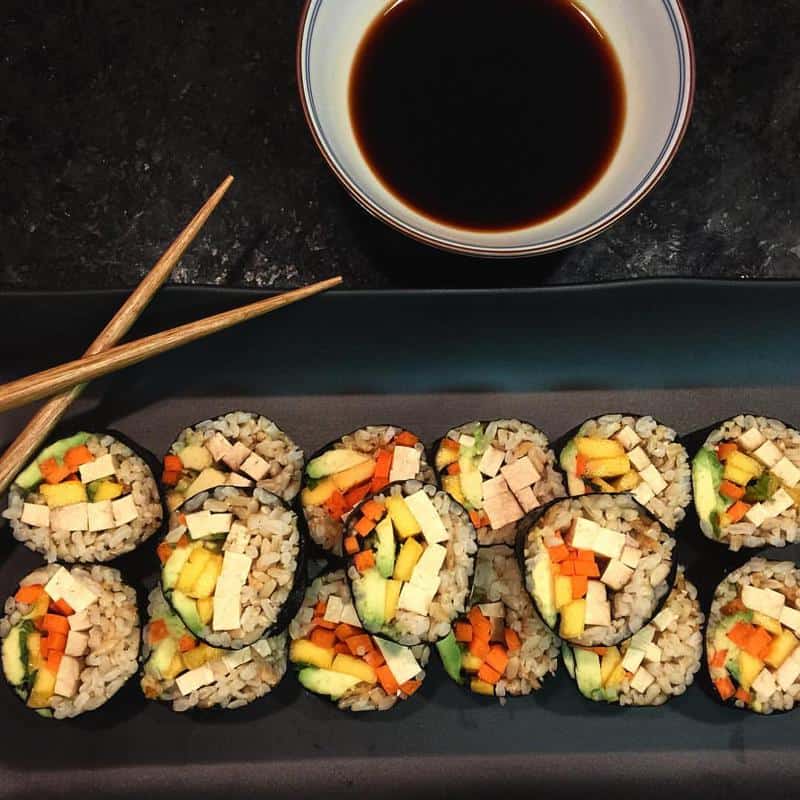 For the ultimate vegetarian sushi filling, smoked tofu is worth considering. Drain and press tofu for about 15 minutes. Create thin slices of tofu and marinade with canola oil, sesame oil, soy sauce and rice vinegar. Cook the tofu strips over medium heat until they're brown. Layer with avocado and cucumber slices for a flavorsome filling.
Read More:
Final Thought
From the variety of ingredients on our list, it's clear that extraordinarily little is off-limits when it comes to creating a new and fun filling. By playing around with ingredients and offering options that don't contain fish or seafood, you'll be able to host a sushi night that has something for everyone!