Las Vegas, affectionately known as "Sin City," it's a wonderland and paradise for kids and adults alike. At night, the strip is alive with flashing lights, music, and the familiar chatter of slots machines loudly announcing a win. During the day, it's a thriving wonderland, with plenty of fun and unusual activity to attract a crowd.
It's a prime getaway destination and draws the attention of millions of tourists yearly, hoping to get one of those "What happens in Vegas" nights. People from all walks of life have flocked to the brightly lit boulevards for eons, and this had at one point presented a prime opportunity to innovative cuisine enthusiasts.
When you're catering to people from all walks of life, why not make an eatery that features everything?
Thus, the concept of Las Vegas buffets was born, and like everything in Vegas, it's going big or going home. So, while you're out there adding sins to your list, you might as well pay Glutton a visit and go experience some of the best buffets Las Vegas has to offer this year.
Las Vegas Buffet Prices & Hours Comparison Chart:
Buffet
Price
Hours
The Wicked Spoon, Cosmopolitan
$38 Breakfast
$45 Lunch
$49 Brunch
Kids 5-10 Half-Price
8:00am – 3:00pm
(Mon – Fri)
9:00am – 4:00pm
(Sat – Sun)
MGM Grand Buffet
$27.99
(Mon-Thu)
$36.99
(Fri – Sun)
8:00am – 3:00pm
Bellagio Buffet
Mon – Thur, $41.99
Fri – Sun, $49.99
(Brunch)
Wed – Thur, $59.99
Fri – Sun, $64.99
(Dinner)
Kids(6-11) Half-price
8:00 am to 9:00 pm
Wynn Buffet
$38.99 (Breakfast)
$45.99 (Brunch)
$64.99 (Dinner)
$49.99 (Gourmet Brunch)
$69.99 (Gourmet Dinner)
Kids(3-9) half-price
8:00am – 9:00pm
Bacchanal Buffet,
Caesers Palace
$64.99 (Brunch)
$79.99 (Dinner)
9:00am – 10:00pm
(Fri – Sun)4:00pm – 10:00pm
(Mon – Thur)
Garden Buffet,
South Point
$13.95 (Breakfast)
$17.95 (Lunch)
$25.95 (Brunch)
$42.95 (Seafood Night)
7:00am – 9:00pm
Buffet at Luxor
$26.99 Weekdays
$29.99 Weekends
$15.99/$16.99 (Kids 5-11)
8:00am – 3:00pm
Excalibur Buffet
$26.99 (Adults)
$14.99 (Kids)
(Weekday)
$29.99 (Adults)
$15.99 (Kids)
(Weekend)
8:00am – 3:00pm
Garden Court Buffet,
Main Street Station
$20.99 (Brunch)
$28.99 (Dinner)
Kids(4-10) half-price
8:00am – 2:00pm
(Daily)
4:00 pm to 9:00 pm
(Fri – Sat)
Circus Buffet
$22 – $26
$18 – $19 (Kids 4-10)
(Brunch)$25 – $28
$20 – $21.00 (Kids 4-10)
(Dinner)
7:00am – 9:00pm
A.Y.C.E. Buffet
8-11am: $24.99/$12.99*
4-9pm: $36.99/$21.99*
Mon, Tue, Thur
8-11am: $24.99/$12.99*
4-9pm: $64.99/$54.99*
Wen
8-11am: $24.99/$12.99*
4-10pm: $42.99/$29.99*
Fri
9am-4pm: $32.99/$19.99*
Weekend
5-10pm: $36.99/$21.99*
Sat Dinner
5-9pm: $36.99/$21.99*
Sun Dinner
Fresh Buffet
$27.99
7:00am – 9:00pm
(Thur – Sun)
*Check the detail hours and prices below
Best Buffets Open in Las Vegas
The Wicked Spoon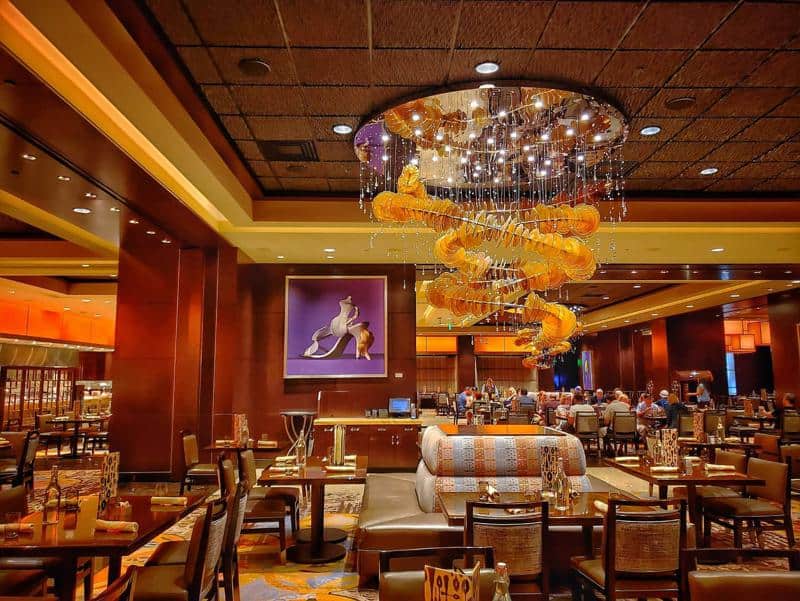 Location: Level 2, The Chelsea Tower, The Cosmopolitan
Price: $$
When one walks into the Wicked Spoon, they expect troughs of food to be laid out for people to duke it out over the prime cuts. However, you might be pleasantly surprised to find that The Wicked Spoon doesn't roll like that. Raved about by cynical buffet critics, they're a cut above the rest both in service and quality.
While you might argue that it doesn't qualify as a buffet, you'd be wrong. They are all-you-can-eat and have a set price that's only dependent on the time of day. The food itself is incredible and doesn't just tackle your stereotypical buffet-style dishes. It buries them.
Each meal is prepared in small servings to order. Because of this key factor, The Wicked Spoon can create a highly inclusive menu that even throws in dishes that trough-service isn't suited for.
Serving cuisine on a global scale, you may not be able to afford the airfare, but your tastebuds will definitely become well-traveled. From Asian to Greek, seafood to steak, the options are endless.
Their service is efficient and quick. It brings a buffet's wonderful and beloved authenticity to your table. All you need to do is tuck in. It's kid-friendly, with kids under 11 eating for half.
Hours & Price:
Breakfast
Mon – Fri
8 – 11AM
$38 adults
$19 kids* (ages 5 – 10)
Lunch
Mon – Fri
11AM – 3PM
$45 adults
$22.50 kids* (ages 5 – 10)
Brunch
Sat & Sun
9AM – 4PM
$49 adults
$24 kids* (ages 5 – 10)
Bottomless Mimosas, Champagne, Bloody Marys or Bud Light Draft packages are available for an additional $24 per person (2-hour limit)
MGM Grand Buffet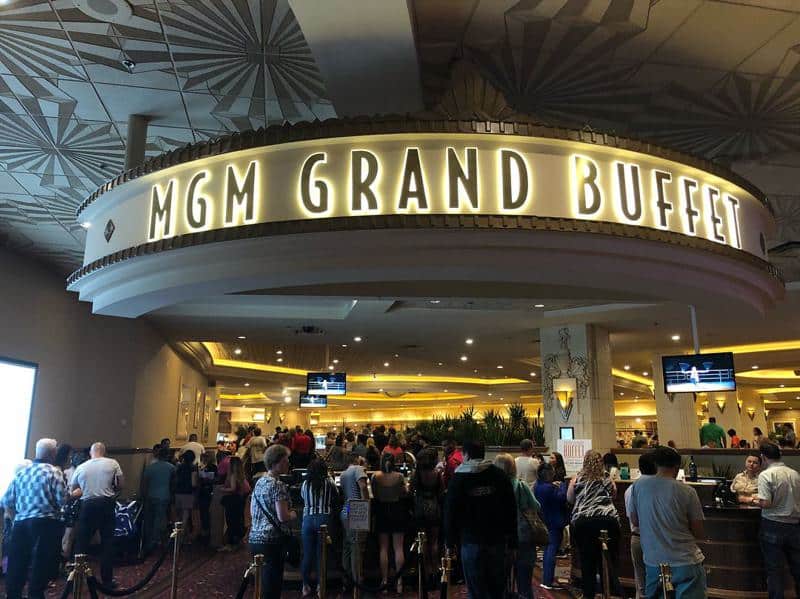 Location: MGM Grand
Price: $$
The MGM Grand Buffet has been a Las Vegas favorite for years and has bounced back from the effects of COVID, eager to please and ready to plate. They're extensive and cover a broad spectrum of delicious foods, so we certainly hope you're starving on your way in.
The chefs in the kitchen throw all their passion into the dishes that hit the floor. Making them flavorful and a pleasure to experience.
They serve only breakfasts, brunch, and lunch, meaning they're more catering to the early risers. That's okay, though. While they don't need to put as much pronounced flavor into their meals, they sure make up for it in hearty taste and unlimited portions.
For example, their breakfast includes a variety of eggs, hash browns, and sweet treats in the form of warm pancakes and muffins. For those looking for a healthier bite, the cold bar serves a selection of fruits and cereals.
You'd be hard-pressed to find something to dislike with lunch, and the seafood section is as heavenly as it gets. They serve everything from snow crab to steak, and in abundance, that'll have you going back for seconds.
The carving station features everyone's favorite, prime rib. Along the troughs, you'll find an array of sandwiches, chicken, sides, and gravy to weigh down your plate. And did we mention the unlimited drinks, from juices to champagne? It's a perfect spot for a champagne brunch.
They have troughs in abundance that are placed on a central serving floor with enough space to handle busy nights. You won't find a long wait, but they might want to add a few more tables with gaining popularity.
Hours & Prices:
Mon-Thu
8:00am – 3:00pm
$27.99
Fri – Sun
8:00am – 3:00pm
$36.99
*kids 5 years of age and under free
Bellagio Buffet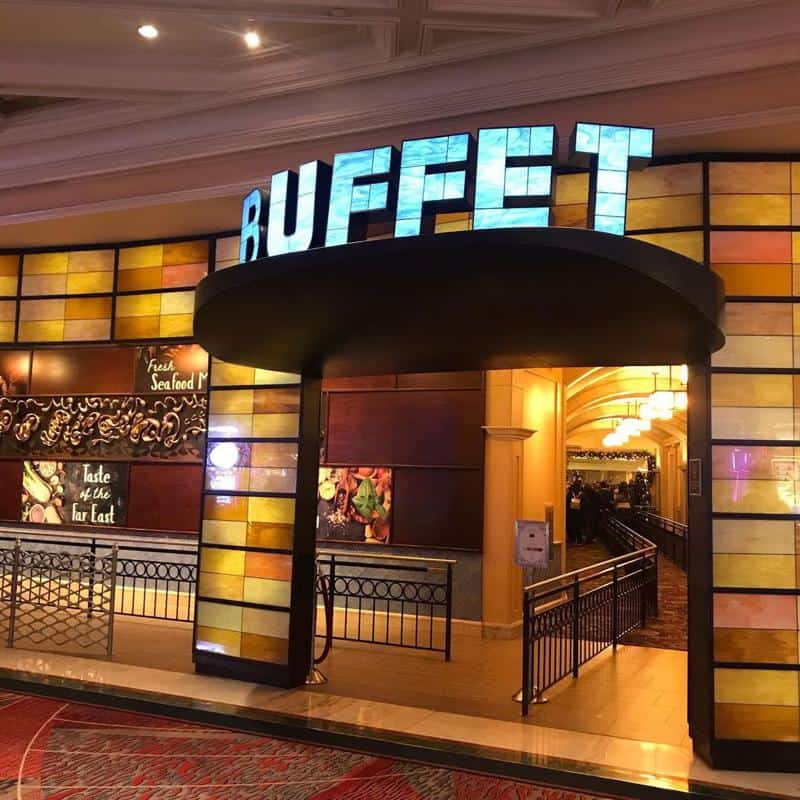 Location: Bellagio Hotel and Casino
Price: $$$
Bellagio buffet, as one of the first luxury buffets you'll run into on the strip and popular, you'll feel intimidated seeing the line that bursts through the door sometimes. However, it's not as long as you may think, so all you have to do is fall in line and slowly drum up a list of food you'll be rushing to collect. It's breakfast and lunch with a few self-serve troughs and dedicated chefs to construct plates from the other stations.
There are decadent breakfast options available that are both filling and flavorful. They offer so much selection; it's a breakfast-lovers paradise. You can forget everything else and head directly to that omelet station.
Their impressive variety of toppings means you can create somewhat of a monstrous omelet, and you may just want to. On the lighter side, you can pick up items like Eggs Benedict, bagels, crepes, and pancakes. With a cold bar serving muesli and a variety of fruit and topping options to give it that extra kick.
But the artfully prepared lunch is where the real fun lies, and in terms of the cost is definitely worth it. They don't skimp on luxury items just because they're a buffet. You'll find yourself hoarding the likes of mussels, shrimp, and other assorted seafood.
Their carving station cannot be missed, serving prime rib, lychee pork, and a rotisserie chicken that critics dream about. The troughs are filled with goodies galore. You'll find an impressive salad bar, potato in variety (man's true best friend), bread, and other fantastically flavorful feasts.
You wouldn't want to skimp on the specialty bars for the price, so throw in as much of the expensive goods as you want. You deserve it. There's ample seating and a cozy dining area, so you'll definitely have room to fit the entire family. As luxury goes, they're certainly in the running.
Hours & Prices:
Brunch
Daily 8:00am – 3:00pm
Mon – Thur, $41.99
Fri – Sun, $49.99
Dinner
Wed – Sun
5:00pm – 9:00pm
Wed – Thur, $59.99
Fri – Sun, $64.99
Beverage Package
Daily
$24.99
*Kids(6-11) half price; Beverage Package limited to 2 hours.
Related: Best Bellagio Restaurants Las Vegas
Wynn Buffet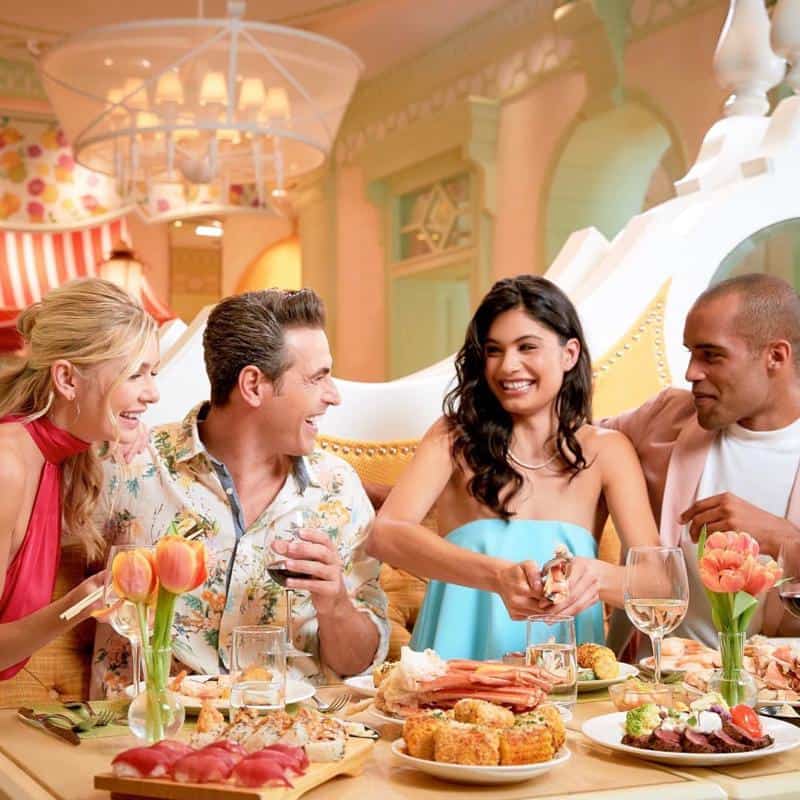 Location: Wynn Las Vegas
Price: $$$
If the Tim Burton "Alice in Wonderland" could have a visual twin, the Wynn Buffet would be it. It's a luxury buffet that's worth every penny spent and combines fanciful and fantastic topiaries, glittering white "marble," and antique-styled furnishings to build an out-of-this-world experience. You'll find yourself transported from the door to the table. It's a wonder they're so popular.
They're an all-day buffet that serves breakfast to dinner. They feature 16 live-action cooking stations, so you know the quality and freshness of the food you can pick isn't faltering. In fact, they're one of the most top-quality buffets on the strip.
After all, they have appearances to live up to. Breakfast includes egg variety and an omelet bar, bagels, and breakfast donuts. Basically, everything from sweet to savory your little heart desires.
The feature acts change for lunch and dinner, and you'll find yourself tucking into incredibly cooked meats and vegetables. As mentioned, there are 16 live-action stations which means the carving station isn't the only one to look out for.
It's expansive, and the variety seems endless. With new dishes being added since their opening, they keep finding ways to bring their customers back for more. And it's been working.
Hours & Prices:
Breakfast
Mon-Thur
8:00am – 9:00am
$38.99
Brunch
Mon-Thur
9:00am – 3:00pm
$45.99
Dinner
Mon-Thur
3:00pm – 9:00pm
$64.99
Gourmet Brunch
Mon-Thur
8:00am – 3:00pm
$49.99
Gourmet Dinner
Mon-Thur
3:00pm – 9:00pm
$69.99
*Kids(ages 3-9) half price; Endless Pours package $29.99 (cocktails, mimosas, wines, and beers)
Related: Best Wynn Encore Las Vegas Restaurants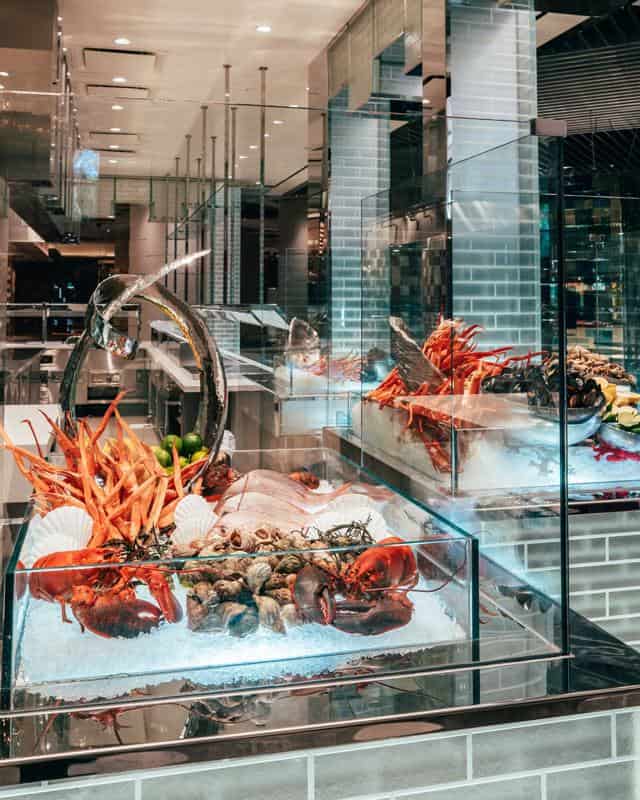 Location: Caesars Palace
Price: $$$
The Bacchanal Buffet at Caesers Palace is a popular option for your daily intake of buffet fuel. They're as quality as the establishment they reside in and have been well-loved in their community and by tourists for years. They've bounced back from COVID and are ready to bring their delicious foods back to your plates with very little room for disappointment.
There's a spectacular range from breakfast to dinner, and there's so much time to try it all, so make sure you're hungry. Early risers will have your all-American breakfast options and some small little additions that just pop on the plate. Flavor-wise, you can't go wrong! Lunch wavers in around 11 am, and slowly they start phasing onto a new menu.
You'll find delicacies from pizza to limited carvings and everything in between. But, of course, the main attraction will always be dinner, featuring all the best of carving station feastings and more. Seafood, steak, potatoes, or roast vegetables? No pressure, but there's a lot to choose from.
The venue itself has ample seating and space for steady traffic. However, its modern interior leaves nothing to what surrounds it. Maybe it's because it's not envisioned after the hotel but wholly integral in keeping the foot traffic coming. It's family-friendly and casual, so don't feel pressed to dress fancy.
Hours & Prices:
Brunch
Fri-Sun
9:00am – 3:00pm
$64.99
Dinner
Mon-Thur
4:00pm – 10:00pm
Fri-Sun
3pm-10pm
$79.99
*Kids reduction of around $20-$35; Bottomless drink $25
See Also: Best Seafood Restaurants in Las Vegas
Garden Buffet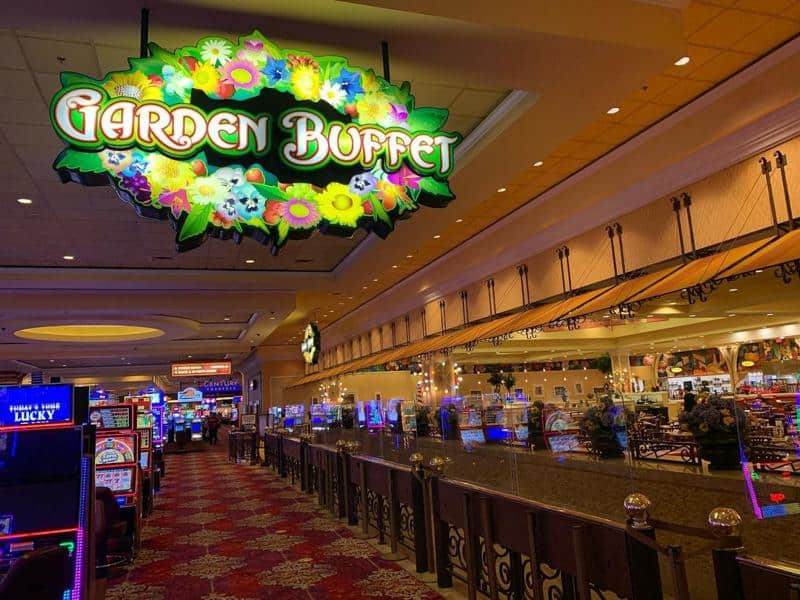 Location: South Point Hotel Casino & Spa
Price: $$
The Garden Buffet at South Point Hotel is a thriving, colorful hangout that caters to never-ending hunger with championesque cooking and quick service. As Buffets go, it's definitely top tier for being one of the cheaper options you'll find in Vegas. However, while the price difference may reflect in variety, it says nothing about the quality of food you're getting.
Breakfast essentials are plastered everywhere in the early morning, from fruity cold bars to a make-your-own omelet bar where you're in control of what goes into this breakfast staple. There are eggs made to order and a variety of other cooked goods ranging from bacon to pancakes.
The lunch options offer hearty and filling meals that'll keep you running until dinner time. There's no such thing as excess. You'll find variety in meats, seafood, and other delicious lunch go-to's, from sandwiches to pizza. The cuisine types are endless, and you'll find yourself traveling from Asia to America and everywhere in between.
They're a pretty standard buffet layout and feature some colorful pieces that keep your dining experience interesting. They've been an ever-loved feature of Vegas food fare for years and maintain their reputation despite what's been thrown at them.
So walk across that retro carpet and grab a plate to eat with friends and family before continuing with a fun-filled day.
Hours & Prices:
Breakfast
Mon-Fri
7:00am – 10:00am
$14.95 | $11.95 (club)
Lunch
Mon-Fri
11:00am – 3:00pm
$18.95 | $15.95 (club)
Prime Rib & Champagne Brunch
Sat-Sun
8:00am – 3:00pm
$26.95 | $23.95 (club)
Prime Rib Dinner
Sat-Thur
4:00am – 9:00pm
$26.95 | $23.95 (club)
Seafood Night
Fri
4:00pm – 9:00pm
$44.95 | $41.95 (club)
*Kids(ages 4-8) half price
Buffet at Luxor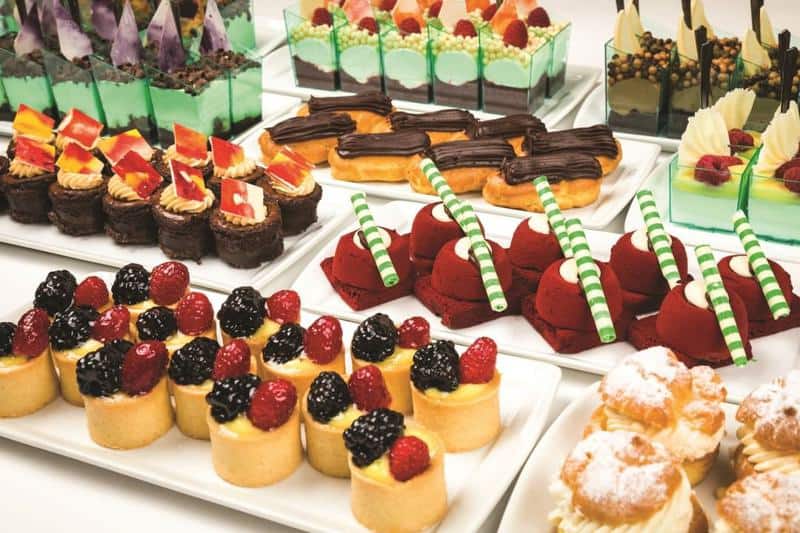 Location: Lower Level, The Luxor
Price: $
After crawling your way out of bed in the morning, the Buffet at Luxor might be one of the most ideal spots to find yourself. Whether you have viciously hyper children who've been warding off sleep from 6 am or are feeling a little fresh after a night on the strip. This buffet might just be the cure to your morning madness.
Open bright and early, you'll be greeted by trays of deliciously prepared breakfast foods, and the later you come, the more lunch items are phased in. They take the idea of breakfast seriously, with varieties of scrambles, bacon by the trough-full, and an assortment of sugary breakfast delicacies ranging from donuts to french toast.
There are cold bars throughout with fresh fruit if you prefer a more refined and healthier start to your day.
You can expect a heap load of delicacies for lunch, ranging from sushi to tacos with all the trims and additions that make it delicious. But you might find yourself with a small wait.
While typical rush hour in restaurants is early morning and in mid-evening, Vegas runs on a different sleep cycle, so the later it gets, the busier it gets. That's fine when you consider that there's always plenty to go around.
The venue itself will continue wowing guests with sculptures and extravagance. More than enough seating and plenty of uniquely intriguing feature pieces will give you something to think about over your heaped plates.
Hours & Prices:
Breakfast
Wed & Thur
8:00AM – 3:00PM
$26.99 adults
$15.99 kids (ages 5 – 11)
Weekend
Fri – Sun
8:00AM – 3:00PM
$29.99 adults
$16.99 kids (ages 5 – 11)
The Buffet at Excalibur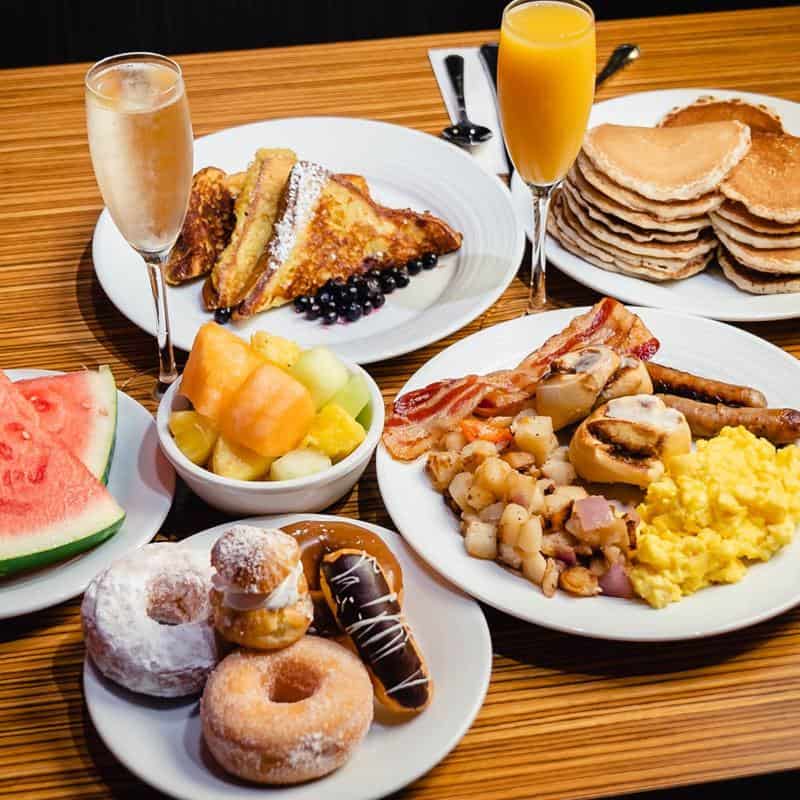 Location: Castle Walk Level, Excalibur Hotel and Casino
Price: $
The Buffet at Excalibur is a simple and understated Buffet that serves all of the grandeur on its trays.
It's a sterling example of bigger doesn't always mean better. And while it presents the diner with all the soft furnishings that make it comfortable, they haven't extravagantly decorated it. With up to 15 dedicated chefs working at a time to keep the food flow going, you'll never be left wanting.
Unfortunately, they're only open for breakfast and lunch, but don't let this discourage you. Their breakfast and lunch options are just as deserving of your time. You'll find hot trays brimming with choices and cold bars that add even more in the typical buffet fashion.
So bring your empty stomach. Fill up on delicious breakfast foods, a hearty scramble that's soft and delicious, or a stuffed cinnamon roll to sate your sweet tooth.
And for lunch? The carving station has become a fan favorite, serving delicious beef with all the trimmings to be found along the troughs. Of course, you can also tuck into Buffett pizza. Its thick-crust cheesy goodness will definitely make you happy. Or, if you're looking for something else, they serve an array of sausages, chicken cuts, and even Rock Fish.
Hours & Prices:
Weekday Brunch
Mon – Thu
8:00am – 3:00pm
$26.99 adults
$14.99 kids (ages 5 – 11)
Weekend Brunch
Fri – Sun
8:00pm – 3:00pm
$29.99 adults
$15.99 kids (ages 5 – 11)
Also Read: Best Restaurants in Excalibur Las Vegas
Garden Court Buffet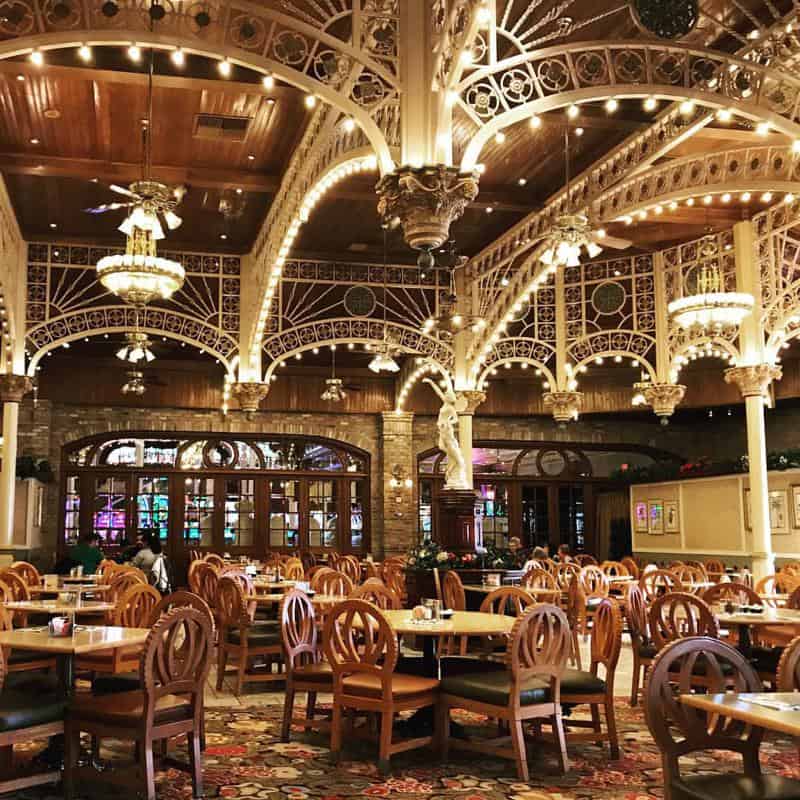 Location: Main Street Station Casino Brewery Hotel
Price: $
This off-strip Buffet is a feature point in Vegas. Garden Court Buffet's excellent food is primed by an over-the-top interior that is vibrant and beautiful. It all adds to the atmosphere of the experience and definitely warrants a visit while you're in town.
You'll experience that airy, outdoor feel without the worry of weather weighing you down. Of course, it's all indoors, but you'll feel doubtful once you visit here.
Breakfast options consist of the usual suspects, but that doesn't make them boring in any way, shape, or form. Omelets, scramble, and bacon are available on trays in abundance if you prefer a cooked breakfast.
Sweeter breakfast options include waffles, pancakes, and French toast. Lunch might lack something everybody craves from a buffet menu, Prime Rib, but that's okay. They make up for it in with pizza (definitely worth it) and various other carvings that are just as delicious.
Dinner itself is hearty, wholesome, and features a variety of cuisines that will have your tastebuds singing. From hot dishes to cold trays, you'll find variety in the meats, sides, and other options available for the pickings. Seafood is only available on Fri and Sat Dinner.
As mentioned, it's the perfect outdoor-indoor venue. It makes you feel as though you've stepped onto Parisian streets, it's beautiful, and you'd expect it to cost you a pretty penny. But they've kept it friendly, casual, and open to all.
Hours & Prices:
Brunch
8:00am – 2:00pm
$20.99 adults
$10.5 kids (ages 4 – 10)
Dinner
Fri & Sat
4:00pm – 9:00pm
$28.99 adults
$14.5 kids (ages 4 – 10)
Circus Buffet
Location: Circus Circus Hotel & Casino
Price: $
Circus Circus is a playground of wonderment that popped wonderfully on the strip and being a thriving addition since its opening. So between the unlimited options for fun, you might want to remember to grab yourself a quick bite. With COVID restrictions forcing the closure of non-essential services in 2020, you'll now find the space is a little smaller than usual.
They've downgraded to make room for another food court with all the fast-food delicacies people adore. But, with the downgrade, they didn't dare part with the buffet. It has been a staple income bringer and popular amongst its visitors for its abundance of options.
The place is transformative, with new dishes for each time of the day being carefully laid out for guests to pick from.
Breakfast options include the all-important omelet bar, a variety of eggs, chorizo, and a cold bar for fruits and cereals. Lunch features buffet pizza and the comeback of the carving station.
A key feature in every buffet. The carving station features a variety of pork, beef, and poultry. There's definitely nothing left to want here.
Dinner itself offers similar dishes to lunch, with a heartier kind of ideal that's commonly associated with delicious meals. You can have some incredible meats and sides that are at the tips of your fingers. And if you're stuck, just pile that plate high and hope your belt holds.
They have a colorful and vibrant decor to fit the circus theme, with paintings of clowns and jesters scattered throughout the dining hall, which is significantly smaller. So you may find yourself waiting a bit more than usual for a seat.
Hours & Prices:
Brunch
7:00am – 2:00pm
Mon-Fri $22.99 adults
$17.99 kids (ages 4 – 10)
Sat-Sun $25.99 adults
$18.99 kids (ages 4 – 10)
Dinner
4:00pm – 9:00pm
Mon-Thur $24.99 adults
$19.99 kids (ages 4 – 10)
Fri-Sun $27.99 adults
$20.99 kids (ages 4 – 10)
*Hours and prices are subject to change
A.Y.C.E. Buffet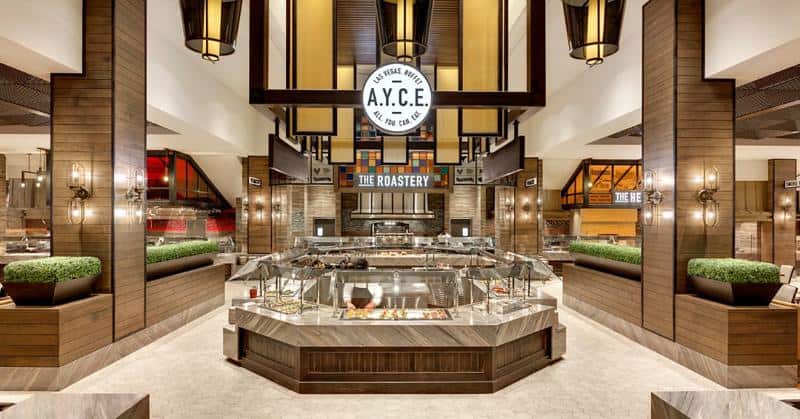 Location: Palms Casino Resort
Price: $-$$$
The A.Y.C.E Buffet takes buffet dining to another level. They pride themselves on bringing incredible cuisine to the table and have aced every aspect. They incorporate the use of incredibly unique stations from World Pan to Sweet & Light and pour their skill and effort into every single dish. For an off-strip buffet, it certainly rates highly, and I'd recommend them a thousand times over.
Upon entering, you'll have a waft of flavors cause excessive drooling, and nobody here will judge. As the servers lead you to a table, you'll glance longingly at the troughs. I'd recommend a pair of running shoes to be part of your buffet attire, simply because you'll be getting your steps in.
Options are out of this world, everything from breakfast to dinner incorporating unique flavors with known and loved classics. What's better is the A.Y.C.E. Buffet knows how to cater to its fans, with a Lobster Night on Wednesdays, Crab Feast Night on Thursdays and Prime Rib Night on Fridays.
It's a paradise of food. Breakfast includes hot options of egg varieties, proteins like bacon and beef, a cold bar with supple fruit, and a sweet station, including our guilty pleasures of french toast and breakfast donuts. Brunch is a whole different game. While you can still sneak in a late breakfast, you'll have ample opportunity to tuck into some seafood and steak with heartier options for hungrier mouths.
As we enter lunch and dinner, though, that's when they bring out the big guns. Crab, fish, steak, carving stations. China to India, vegetarian to meat-lovers, you'll find something tucked in the trays for every single occasion
The A.Y.C.E has big names to compete with, but they've left nothing to want and have thrown all they can at giving their guests the best experience possible. On a normal night, the cost is sufficient to cover the elaborate array of delicacies.
Still, if you have some spare, it is definitely recommended you try one of their specials nights. When you're paying for Lobster, you might as well make it all-you-can-eat and really blow it out of the water.
Hours & Prices:
Breakfast: Mon – Fri
8-11AM: $24.99/$12.99*
Brunch: Sat & Sun
9AM-4PM: $32.99/$19.99*
Wen Dinner: Lobster
2-9PM: $64.99/$54.99*
Thur Dinner: Crab Feast
4-9PM: $58.99/$48.99*
Fri Dinner: Prime Rib Night
4-10PM: $42.99/$29.99*
Mon & Tue Dinner
4- 9PM: $36.99/$21.99*
Sat Dinner
5-10PM: $36.99/$21.99*
Sun Dinner
5-9PM: $36.99/$21.99*
*Kids 3-11
Fresh Buffet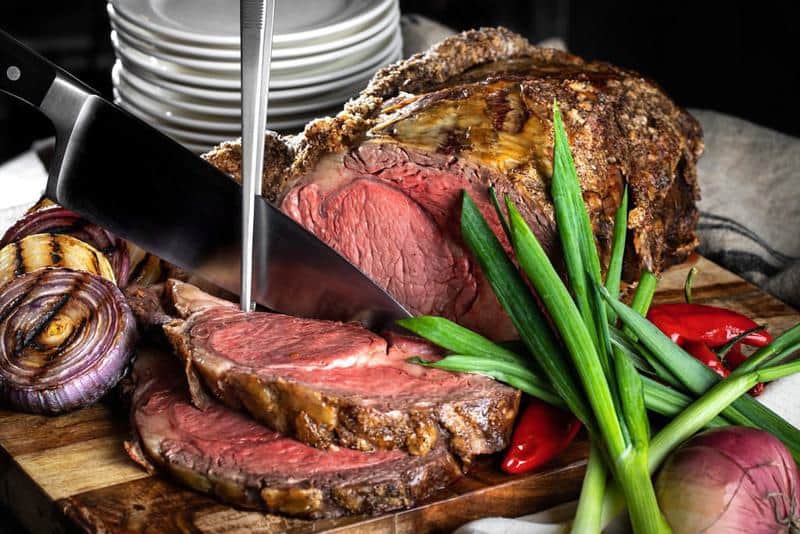 Location: Westgate Las Vegas Resort & Casino
Price: $
Fresh Buffet is an off-strip buffet that can be found tucked nicely into the Westgate Resort & Casino. It is aptly named, featuring some of the freshest ingredients of any buffet. With such relative pricing, it's forced its way onto the competitor's list without any need for apologies. It's definitely worth a try.
While most of Vegas' buffets feature headliners that are a little out of the ordinary for Buffet-style food, Fresh is so unapologetically old-school it'll make you feel nostalgic. They serve breakfasts, brunches, and lunches with dinners, hopefully making a swift return in the near future.
But for now, we are satisfied with exactly what we're getting. And don't forget, drinks are bottomless with the buffet!
The breakfast options include that key factor of a make-your-own-omelet bar, with all the trims and extras to pack in. Their other selections range from sweet to savory, with a cold bar slapped in to add those delicious fruits and cereals that people can't get enough of. As they slowly phase out these dishes throughout their day, they are replaced by a variety of cuisines. You can tuck into some Chinese if it's what you feel for, or All-American fried chicken.
The carving station serves a mean orange chicken, and you cannot leave without having crab's legs. Hot or cold, you'll be spoiled for choice. The salad bar is a green and plush plethora of healthy goods. You'll find sides to accompany your dishes in the form of potatoes, vegetables, and grits.
Despite not being a strip venue, they host the same grandeur you'd hope to find in upper-end buffets. Everything is polished and sparkling, with dishes laid out and appeasing to the eye. They make simplicity an adventure for food enthusiasts. They are definitely a good choice for a quick binge before throwing yourself into the rest of Vegas' life.
Hours & Prices:
Thur – Sun: 7AM – 2PM, $27.99
FAQs
Should you tip at a Vegas Buffet?
While in some buffets, you may not necessarily have a waiter catering to you, the staff are hard at work running around to ensure that your table is kept clean, the troughs are kept full, and the food is kept fresh. In a traditional sense, Buffets are nothing like the average restaurant. Still, a tip would be greatly appreciated as it goes towards all the staff who make your visit pleasant.
What is the difference between Strip Buffets and off-strip Buffets?
The strip in Las Vegas is bustling and constantly hosts excessive foot traffic. While the food served may not have a major difference (although I'd like to think each buffet offers its own unique twist), strip buffets tend to be more popular. It's all to do with location.
Most of Vegas' main attractions are found in or around the strip, so you'll find the buffets here are often busier, but that says nothing for off-strip buffets. While they may not be situated on the strip, they offer extreme calibers of service and food that make the extra mile worth every effort.
Are drinks free at buffets?
This is entirely different depending on which buffet you go to. Some buffets ask for an additional charge for a drinks package that allows you unlimited access to the range of drinks they have. However, these sometimes don't include alcohol or specialty drinks in this case.
Others buffets may allow for free sodas and fruit juices and ask for additional alcohol or specialty drinks charges. While some buffets include the price of bottomless beverages in their entire charge.
Conclusion
Las Vegas is a sinner's wonderland, it's infamous for its debauchery, and somewhere everyone has wanted to be at one point or another in their life. But, there's plenty of fun to be had.
With an abundance of cuisine to suit the needs of even the pickiest eater, you'll have multitudes of great options to keep you feeling happy and full. The buffets are a staple part of Las Vegas. If everything else in your trip is exorbitant and adventurous, there's definitely no excuse to miss this experience.