Florida is a warm place to visit any time of the year, and Pompano Beach offers some of the most incredible restaurants with unique creative menus and cocktails. With its vast shoreline, you can expect to find a restaurant every mile on the Atlantic Coast, each promising to deliver unforgettable culinary experiences.
We have compiled a list of where to find fantastic food and drinks in Pompano Beach, Florida. Itemized in no particular order, we have included moderate to excessive menu budgets, but there's something for all.
Check out these fab culinary spots where seafood and cocktails blend any time of the day.
Best Restaurants in Pompano Beach
Houston's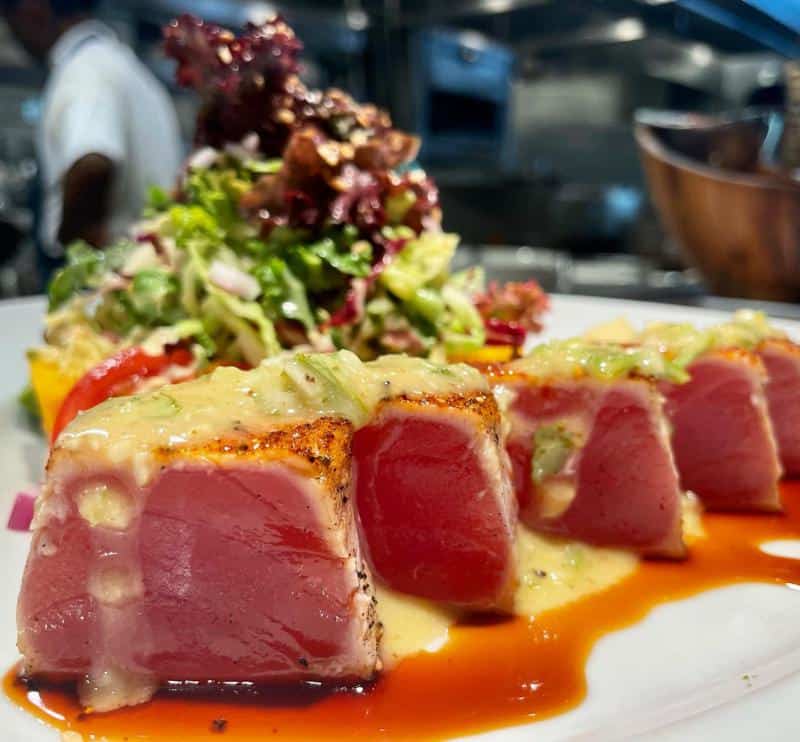 Address: 2821 E Atlantic Blvd, Pompano Beach, FL 33062-4943
Known for: Seafood Specials, Steak, BBQ
Located on the Intracoastal Waterway, Houston's features a spacious outdoor patio with calming water views. It is elegant, with dark furniture, an open kitchen with a large dining room, and huge windows providing lovely sights.
Houston's is one of the best intercostal places to eat. What makes it unique in Pompano is the exclusive casual smart wear policy. It's somewhat high-end.
The staff is professional, friendly, and attentive. It is a busy restaurant, so call in advance for reservations. Complimentary valet parking is available.
The menu offers a limited selection of food. Nice drinks. Favorite items to order for lunch or dinner include Traditional Salad, fresh fish, BBQ ribs or BBQ chicken and Key Lime Pie. You can also try the shrimp cocktail (giant prawns served with the homemade tartar sauce) and the seared tuna salad.
They have a range of great combos; Cheeseburger with cheese and crispy fries, Sashimi and Tuna, Red trout, and a delicious pot of baked potatoes.
You must try the Ribeye, the Caesar salad, and the Artichoke dip. The food is not entirely exceptional, but the atmosphere makes it a special place to visit more frequently in Pompano, Florida.
Also Read: Best Seafood Restaurants in Fort Lauderdale
Miyako Japanese Buffet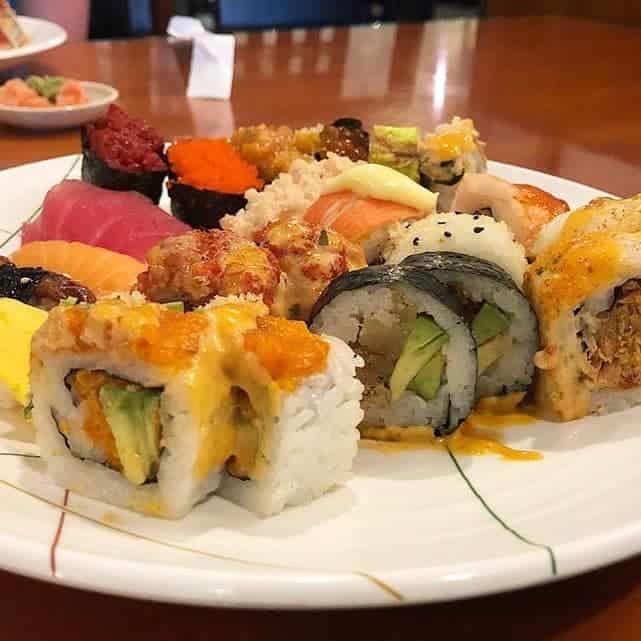 Address: 1157 S Federal Hwy, Pompano Beach, FL 33062-7066
Known for: Japanese Buffet, Chinese, Seafood
Tucked next to a Walmart Market on Federal Highway, Miyako, has a range of alluring fresh Sushi and Asian dishes in a beautiful work of art. As soon as you enter this Japanese spot, the first eye-catching element is a massive circular Sushi bar with chefs busy at work.
They have all the cooked dishes along a back wall and a Hibachi bar with a chef on standby, ready to take on special orders. The service is Buffet, a do-it-yourself thing, with Japanese, Chinese, Seafood, Sushi, and Asian cuisines.
The most attractive are the different types of delicious sushi rolls. Other notable choices include perfectly seasoned rare beef, Roast duck, and tepid; crab legs, grilled squid, lobster, and raw clams.
They constantly refill your iced tea and your plate is replaced if you need a second or third helping. The service is swift, efficient, and entirely professional.
Desserts include unique delicacies like the chocolate fountain, cheesecake, Crème brûlée, and Panna Cotta. They also have an assortment of fresh fruit and ice cream.
The interior is clean and trendy. The counters are kept squeaky clean, as well as the bathrooms.
J Mark's Restaurant & Bar Pompano Beach
Address: 1490 NE 23rd St, Pompano Beach, FL 33062-2410
Known for: Family atmosphere, traditional American cuisines, seafood, daily happy hour
They have two locations, one in Pompano and the other in Fort Lauderdale in Florida. J. Mark's in Pompano is a distinguished restaurant famed for its lovely atmosphere, enchanting food, and exceptional service.
It's quite busy on most days, but you can request a private room for a serene dining experience. They always begin dinner with a hot bun, butter, and a friendly meet n' greet from the manager and servers. Drinks are served promptly.
Their extensive menu features several specials – which you should aim for to get the best out of your meal. For appetizers, go for the delectable Calamari, served with three sauces; white sauce, pesto, and marinara.
For entrées, you can try the "Promo" Chicken Parmesan, the Miso Salmon prepared perfectly, nice and moist; and Grilled Chicken Wings – crispy and tender, seasoned with Hickory BBQ sauce.
The bar is outstanding. The buzz of this fantastic spot is that all drinks from the bar, beer, wine, and mojitos go for $2 a pop. Everything is $2.00!
Fish Shack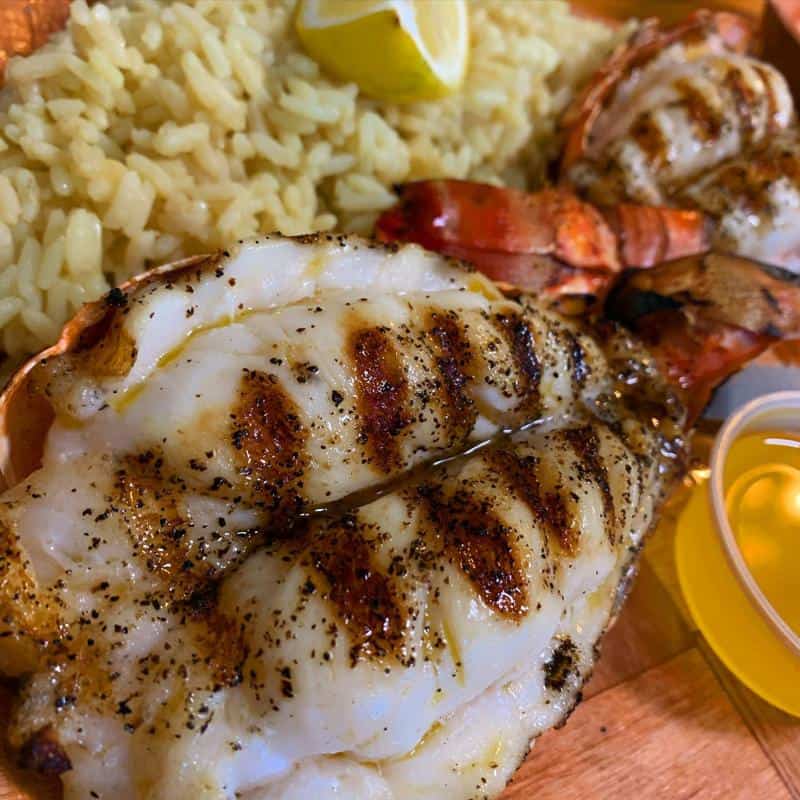 Address: 2862 NE 17th Avenue/ Pompano Beach, FL 33064-6869
Known for: High quality seafood
Tucked in a strip of the business complex off Federal Highway, this modest spot owned by a local family is an awesome local's favorite and fills on most days. The spacious restaurant has tasteful décor with a beautiful silver fish dangling from the wall behind a piece of fishing net.
The atmosphere is laid back, and the people are friendly. The highlight of this spot is Seafood.
They have a regular menu and a "fresh catch menu" written on the wall. You can also bring in your fresh fish, and they will cook for you.
They have regularly made "catch of the day" for years now. The variety of cuisine begins with wonderful treats from the raw bar, such as scallop fritters, Lobster rolls, and so much more.
You can start your lunch or dinner with the scallop fritters. Main dishes range from fried fish sandwiches, fried clam strips, fried oysters, grilled combo, sea scallops, garlic butter shrimp, and cracked conch salad.
This is an ideal destination for families, friends, and group dinners for authentic Seafood in Pompano Beach – but not for a cozy, romantic night out. The Seafood is exceptional, the service is outstanding, and the place is immaculate.
La Vie Lebanese Restaurant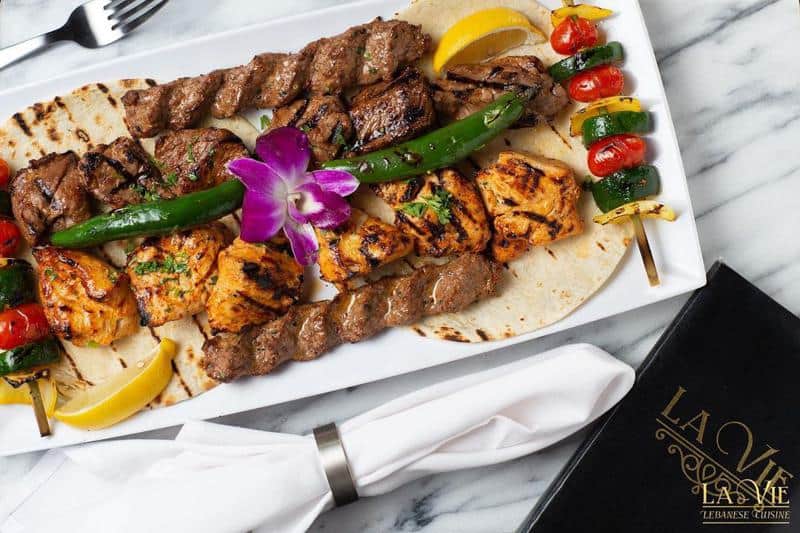 Address: 281 S Pompano Pkwy, Pompano Beach, FL 33069-3005
Known for: Live show belly dancers, Moroccan, Lebanese, Mediterranean, Middle Eastern
Located in a shopping center south of Atlantic Ave in Pompano, La Vie Lebanese surprises you with a stunning, vibrant ambiance. The décor is such a vibe!
Brilliantly colored Lebanese-style decor looks dreamy, with beautiful night lighting. The ceilings' are adorned with charming chandeliers and tall windows draped in flowing curtains.
The genuine Middle Eastern dishes will make you feel truly transported to Lebanon. Traditional flavors like homemade hummus, fried kebab, and hearty Moroccan dishes make it the perfect place to awaken your taste buds with a new culinary experience.
The menu has plentiful options – most with native labels and helpful elaborations. The starters include some tasty tapenade and pita chips.
Entrees vary from vegan to tasty steaks, chicken, and Seafood prepared with Middle Eastern spices and local fresh produce. Try the Baba Ghannouj, served with pita bread.
You can also try the grilled octopus served with sautéed vegetables; or the Seafood Tagine, Mahi-Mahi, shrimp, and mussels cooked with an assortment of veggies, topped with Moroccan olives, over baked potatoes.
The dining experience at La Vie is a festival of rich flavors, live belly dancers, and authentic Mediterranean hospitality.
Rusty Hook Tavern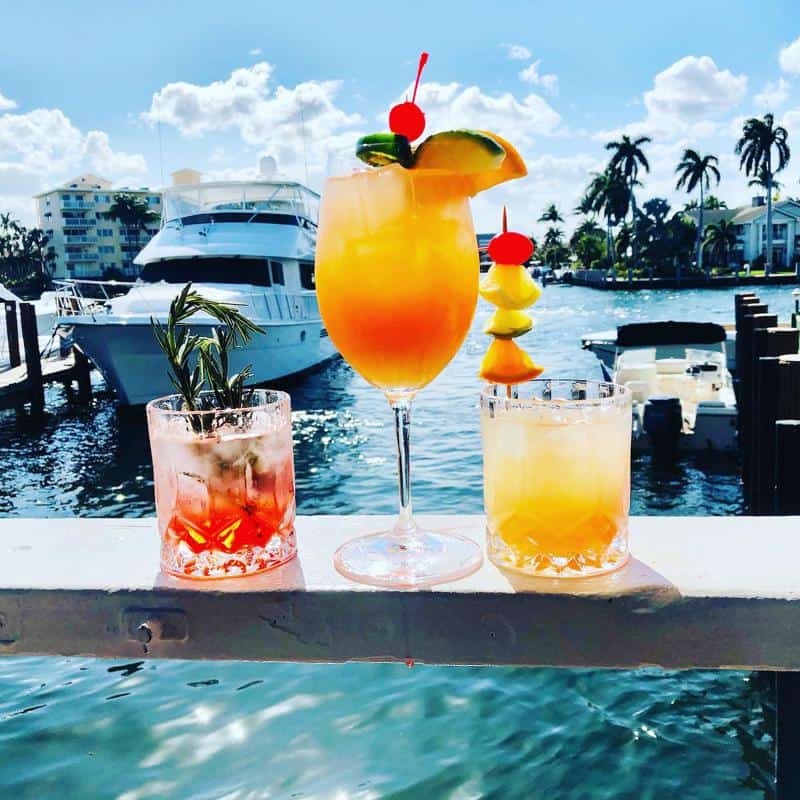 Address: 125 Riverside Drive, Pompano Beach, FL 33062
Known for: waterfront view
Secured at a nearby marina overlooking the stunning coastal seaway, inside the Sands Harbor Resort & Marina on N. Riverside Drive, Rusty Hook Tavern is only open for dinner. Their menu offers classy and creative modern American dishes and an abundance of local Seafood.
The interior décor has tastefully picked out colors – crisp White table clothes, beautiful top shelf drinks, and a stunning view of the oceanic horizon; indoor/outdoor seating on the dockyard boat, you're guaranteed a good time and wonderful food.
They also have a range of tasty cocktails, Craft beer, and a half-off bottle of wine offered dubbed "Wine Down Wednesdays" for a fun-filled lady's night out.
The menu includes lots of Seafood like tasty appetizers, Brussels sprouts, and octopus and pork belly. Some interesting entrée flavors include; the roasted snapper with a sweet sauce, the blackened Corvina (a buttery fish), and many other flavorful dishes.
They also make on-order amazing American cuisines, burgers, chicken, and fries. The marina sunset view is magical, especially at sunset.
The Foundry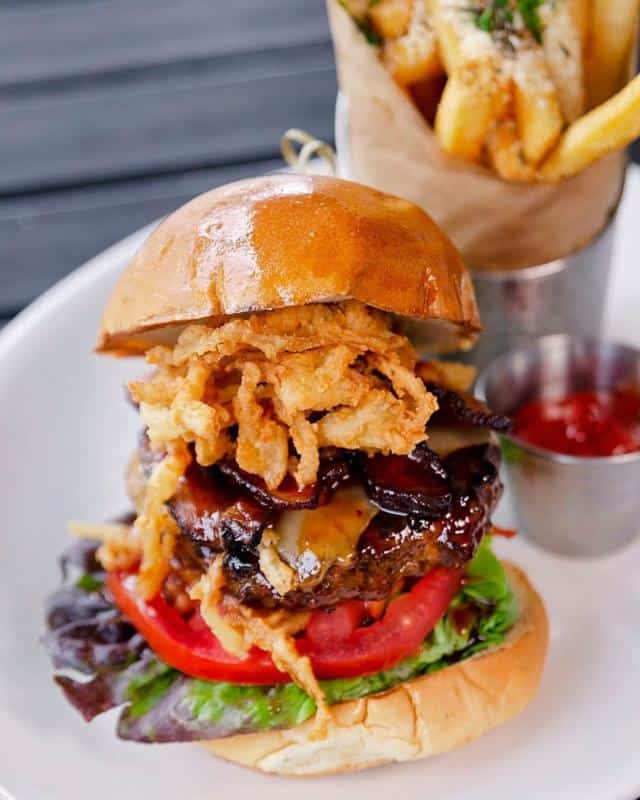 Address: 2781 E Atlantic Blvd, Pompano Beach, FL 33062-4941
Known for: Weekend Brunch, BBQ BURGERS, Daily offers on drinks
This hip and trendy restaurant is decorated with organic resources portraying a beautiful tribute to the builders of the New York skyscrapers, a thoughtful historical relic in Pompano Beach, Florida. The place is spacious, with tall ceilings and graffiti artwork portraying a stunning view.
The entire place is built with a steel mill theme and has a warehouse vibe. They have various seating options, including indoor/outdoor spaces, a lounge area, casual dining, and seating at the full-service counter bar.
The Foundry has a vast menu offering diverse foods, from Seafood to Pizza, BBQ Burgers, steaks, and vegan choices. Appetizers are great – try their amazing sushi stack (a wonderful work of art), delicious, Braised ribs and shrimp Alfredo or a primavera pizza for the entrees and the Bottomless Mimosas!
For dessert, you can go for the sweet donuts, more like funnel cakes but great. This is a convenient place to dine for pretty much any occasion as it has something for everyone.
Gianni's Italian Restaurant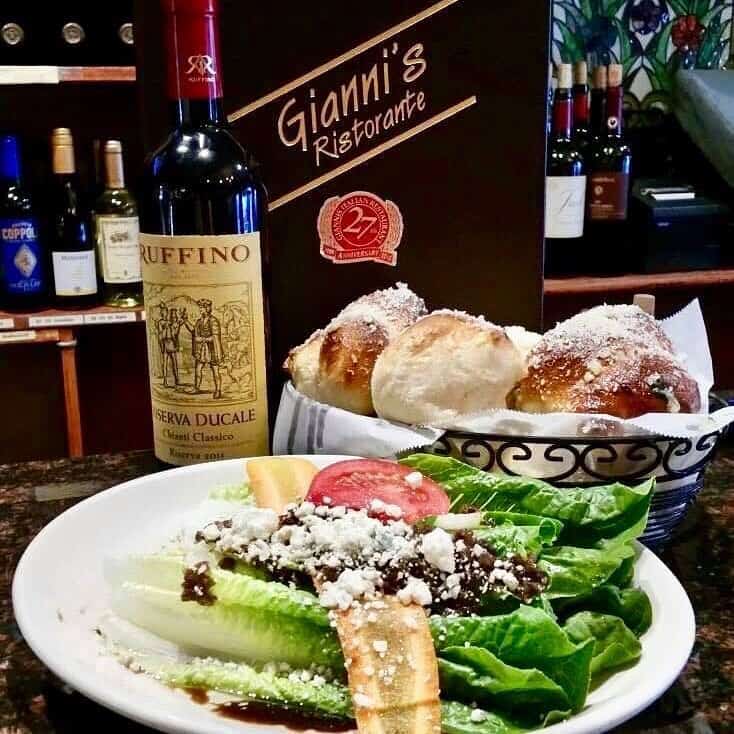 Address: 1601 E Atlantic Blvd, Pompano Beach, FL 33060-6750
Known for: Italian cuisines, Steak, House salads
The atmosphere feels almost nostalgic once you set foot in this amazing little restaurant. With tables set in white cloth and a vibrant environment with patrons chattering away like old friends who just met – you will love it.
Gianni's is a home away from home for most visitors. It's been around for more than thirty years, and once you eat here, there's a chance you'll visit again.
So what makes it so special?
The food. Always made from traditional Italian recipes, the food reminds you of yesteryears. Everything is home cooked – or at least feels that way as you browse through Gianni's extensive menu.
The appetizers include a basket of garlic rolls, warm crusty Italian bread, Pasta Fagioli Soup house, and salad with balsamic vinaigrette. The entrees are served in huge portions, well prepared & flavorful.
You can try the Veal Ribeye Steak cooked medium rare, sitting on a bed of roast potatoes with a bowl of pasta topped with marinara sauce. Or the homemade Lasagna thick with extra layers of seasoned ingredients.
You can also try the house salads with balsamic, blue cheese sprinkled over romaine, and a stock of red tomatoes. Gianni's a little pricey, but you're paying for big portions and high-end Italian food.
Deep Oceanfront Dining & Bar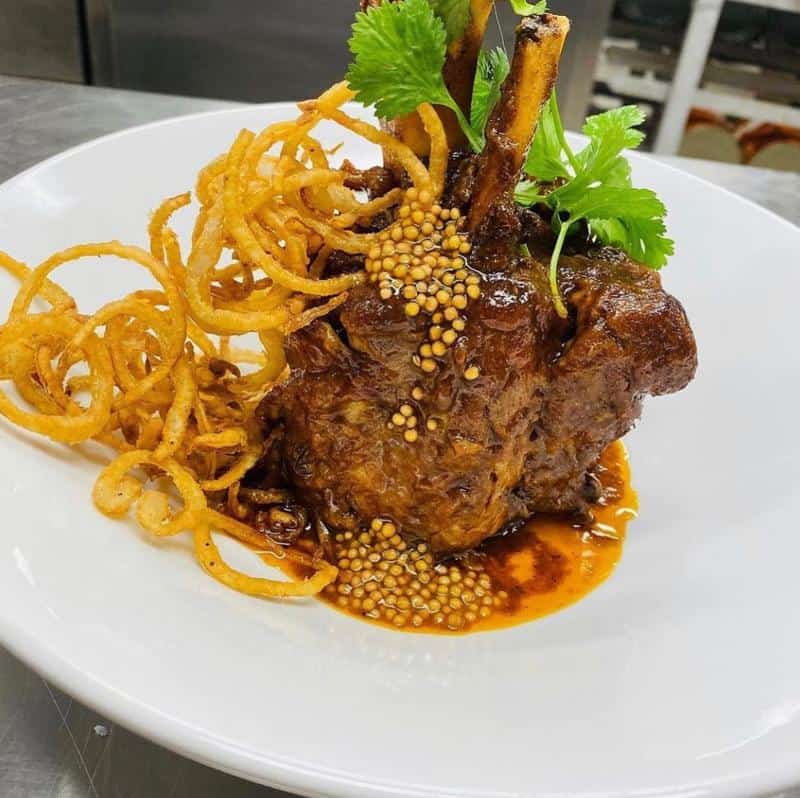 Address: 1200 S. Ocean Blvd. Pompano Beach, Florida 33062
Known for: Waterfront views, Cocktails, Steaks
Located at the Beachcomber hotel, Deep Oceanfront is a thatched roof outdoor restaurant tucked near the pool with a hidden ocean view covered by sea grapes. It has a cement floor and tables perched on the beach.
Being a tropical City, the best time to enjoy a night out in the Deep Ocean is during wintertime since the temperatures are lower and therefore comfortable. The sunset views during this time provide impressive skylines.
The food is excellent, they serve local seafood, seared steaks, cocktails, and local brews from their diverse menu options. Appetizers range from infused watermelon salad Entrees include chicken gorgonzola with green beans and mashed potatoes.
Have a romantic dinner with your babe on the patio overlooking the ocean, or lunch with family and friends. The serene environment makes for a perfect dining experience for any occasion.
Beach House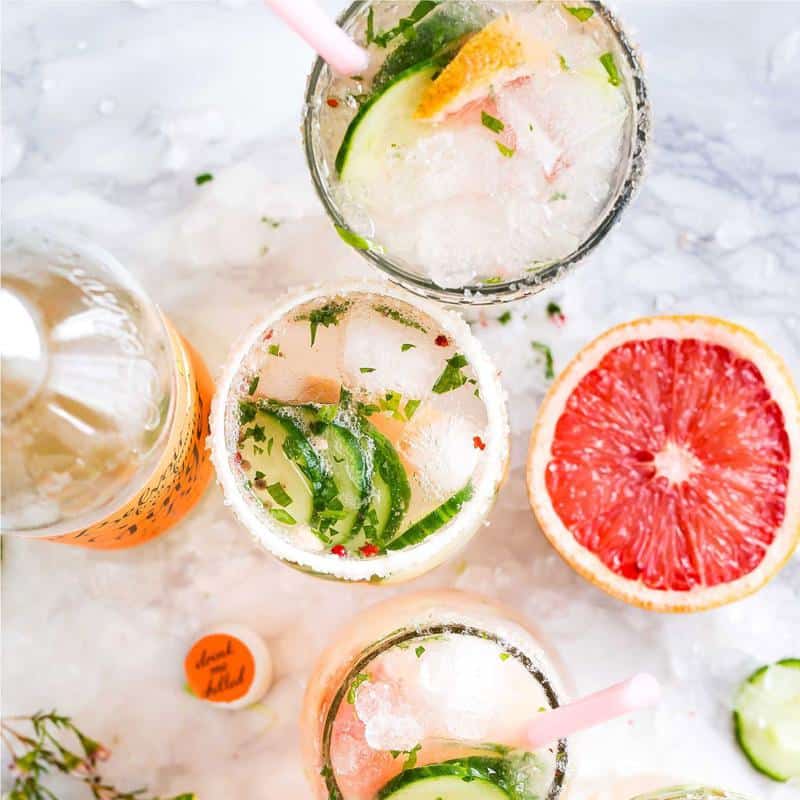 Address: 270 N Pompano Beach Blvd, Pompano Beach, FL 33062-5100mocha123
Known for: Cocktails, Seafood, American
The atmosphere is fabulous, with an outdoor porch overlooking the beach. It's magnificent! There is a large bar located in the outdoor porch area. Beach House has an amazing view from upstairs.
Excellent hosts, and delightful staff who welcome you and help you browse the menu items. They start you with drinks, a small glass of house wine.
The menu is limited, with few items but creatively done to include seafood, steaks, and salads. Try appetizers like the crunchy salmon roll or the tasty Sushi rolls.
The main range includes the Mahi Mahi, the walk, the cedar plank salmon, or raw blue point Oysters. For dessert, try their delicious bread pudding with blackberry jam, white chocolate, and vanilla ice cream.
The service is efficient and friendly; you'll have a great dining experience. Never disappoints.
Oceanic at Pompano Beach Pier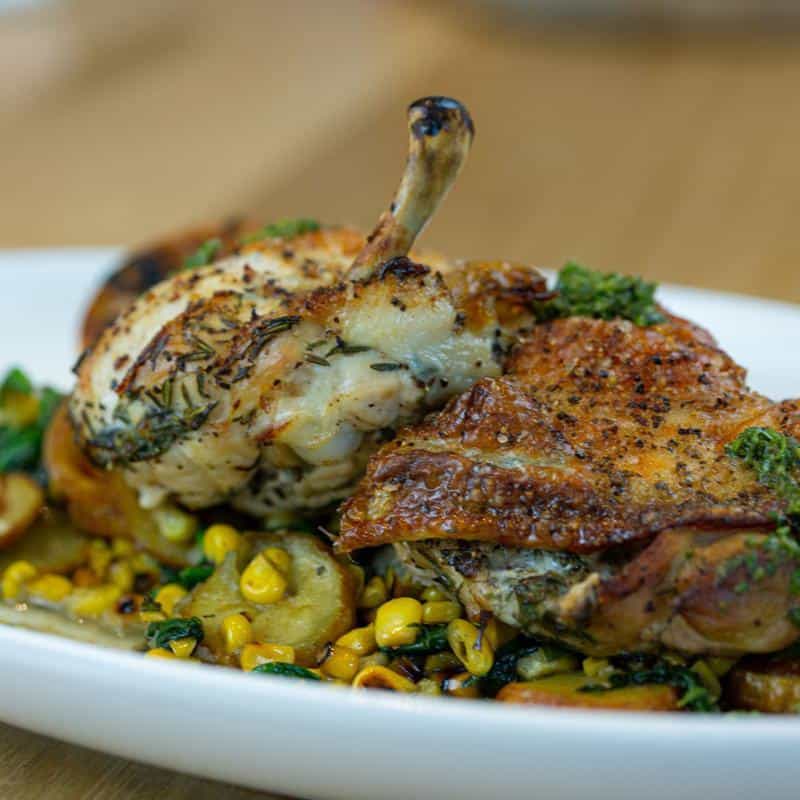 Address: 250 North Pompano Beach Blvd, Pompano Beach, FL 33062
Known for: Pompano Pier, Sea food, Fine dining
Oceanic opened in 2019. It's a lovely place with an outdoor deck for dining. It has managed to offer its guests impeccable service and outstanding consistent culinary experiences.
The beautiful oceanic spot has an outdoor dining deck and a lovely view of the Pompano pier adjacent to the restaurant. The open space décor looks like an ocean liner with a stunning view of fish swimming across the twenty-five-foot high ceiling.
They have two bars. One on the main floor and another on the upper level (2nd floor). The second floor is reserved as a private events area.
The dining policy at Oceanic is that no reservations are required unless dining in a group between 6-14 people. You can also call 30 minutes in advance to put you on the waitlist, so you don't have to wait too long upon arrival.
The menu is inspired by locally obtained fresh seafood. Appetizers are a vibe here. Try the Conch chowder, a tasty Caribbean concoction. The entrée highlights on the menu include House Smoked Salmon BLT with Multigrain toast, Chicken BBQ, and sweet halibut with veggies.
Oceanic is the perfect spot for fine dining. The food and service is top par excellent.
Calypso Restaurant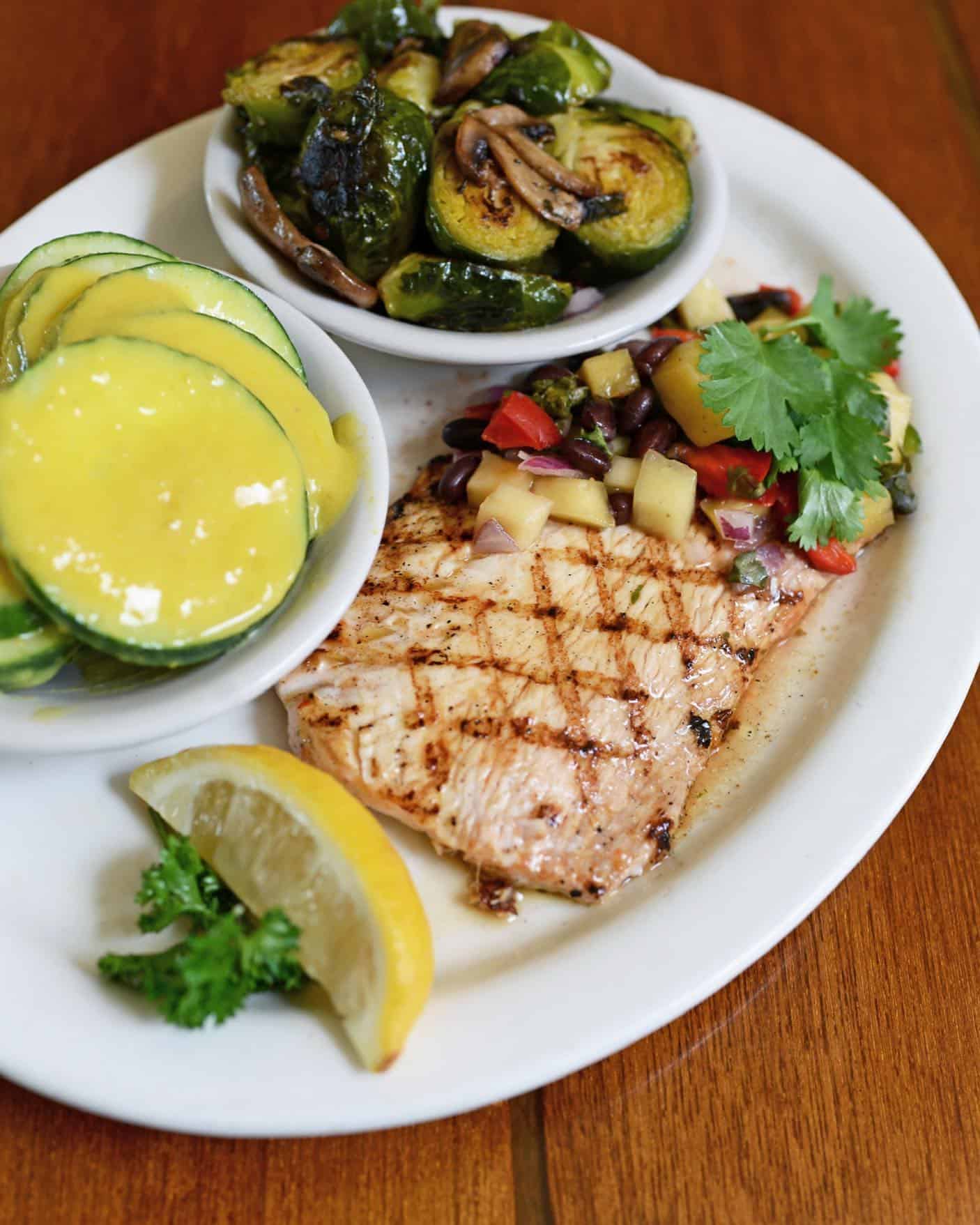 Address: 460 S Cypress Rd, Pompano Beach, FL 33060-7136
Known for: Caribbean, American, Seafood
Calypso is a small busy place offering exceptional fresh seafood in a friendly neighborhood, a modest setting.
They have Daily Specials chalked out on a board of fresh daily catches in addition to other items on the menu. They do individual larger servings beautifully prepared.
You can go for the Clams Casino as an appetizer– quite flavorful. For entrees, go for the daily Specials – usually fish, shrimp, or crab cakes. They also have fish sandwiches and burgers with huge chunks of filet steak.
Try the tuna fish and chips served in large portions of flaky white fish in a batter.
It does get a little busy so expect to wait during peak times. But overall, one of the best eat outs in Pompano Beach!
Read More:
Final thoughts
We hope you visit any one of these fine restaurants. Most offer all meal combinations and have bars that offer happy hour, bottomless cocktails, and the most tasteful seafood in Pompano Beach, Florida.
Please share with us your dining experiences in the comments section.