Islamorada is a village covering five islands. Its amazing location – between Miami and Key West, makes it a desired Florida Keys destination.
It takes 90 minutes to get from Miami to Islamorada, or the "purple island" in Spanish. You'll find the best sea and land activities here in the Sportfishing Capital of the World.
But when it comes to food, nobody can resist this foodie destination. Islamorada is a paradise with the freshest seafood and stylish waterfront dining.
Best Islamorada Restaurants
1. Chef Michael's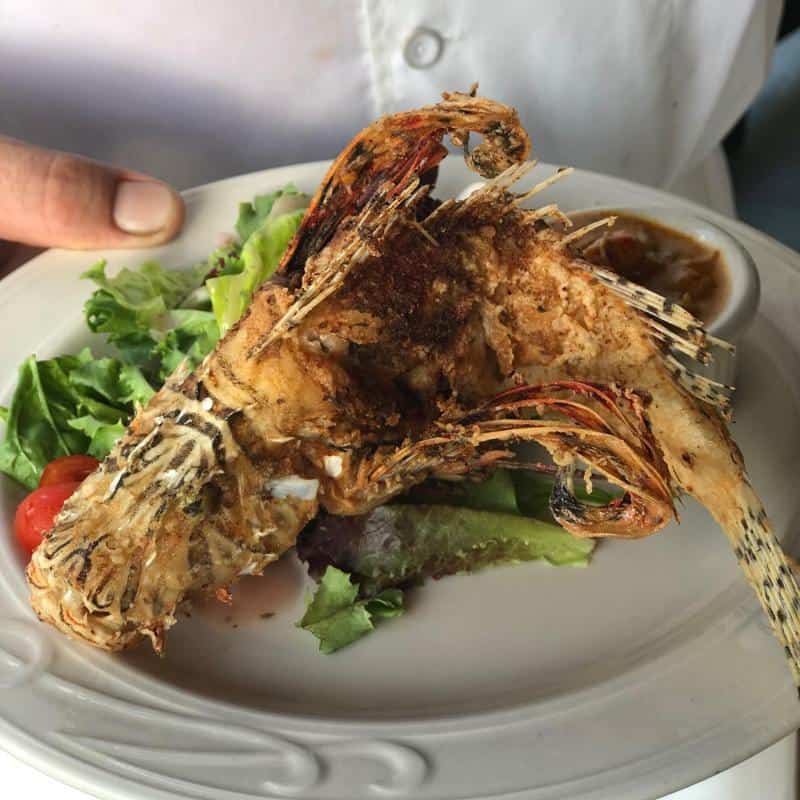 Address: 81671 Overseas Hwy, Islamorada, FL 33036
Best known for: the freshest hogfish
Chef Michael's is an American bistro with a French flair. The restaurant, known for its motto "Peace, Love, and Hogfish," serves the freshest and tastiest seafood.
Experienced chefs create delicious fare with the best ingredients from local farms and fishers. It is a small and intimate establishment with great service and top-notch catering.
Here you will find all kinds of fish dishes – blackened hogfish, spotted grouper, or mutton snapper. Creative sides like coconut rice or ordinary fresh vegetables will make your meal perfect.
As for the signatures, don't miss out on The Ambassador or the smoothest Salted Caramel Cheesecake.
2. Morada Bay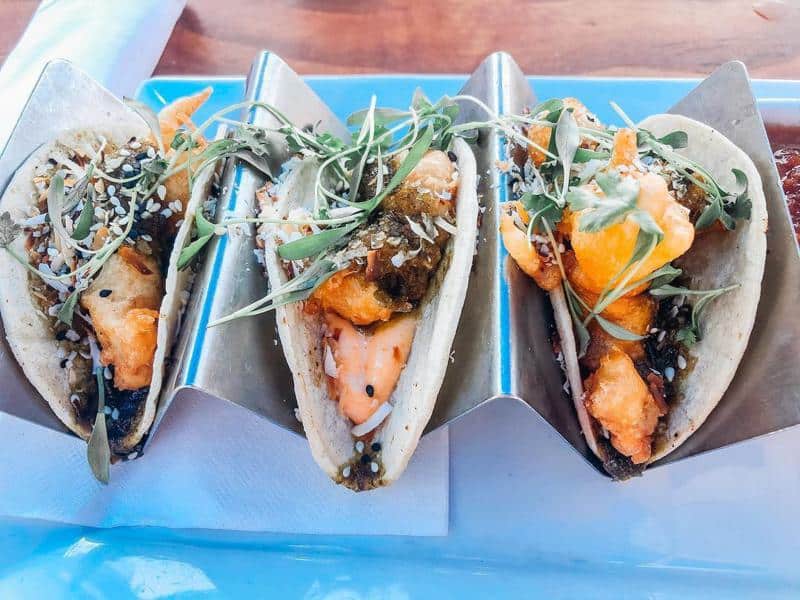 Address: 81600 Overseas Hwy, Islamorada, FL 33036
Best known for: breathtaking location on the beach
Morada Bay is a Mediterranean cafe with innovative cuisine and a breathtaking location. Sit back and indulge at one of the tables located on the beach in the sand.
This restaurant offers the delicious Caribbean and American cuisine with a twist. The most popular dishes like coconut shrimp tacos, grilled dolphin, or pink shrimp linguine are a must.
Morada Bay features a vintage surfing theme and has been recognized in a TV show. In the season, the guests enjoy exquisite food and live entertainment.
3. Pierre's Restaurant
Address: ​​81600 Overseas Hwy, Islamorada, FL 33036
Best known for: French fusion cuisine
Go to Pierre's Restaurant if you are up for a fancier yet casual dining experience. This place consists of a downstairs lounge and an upstairs dining room.
The restaurant's building has an intricate design with memorabilia from Morocco, India, and other exotic countries. It also faces Florida Bay, and most people come here for this fantastic view.
The global menu has a distinctive French elegance with the tastiest butter lettuce salad, steak, or scallops. Get a piece of the Key Lime Pie and enjoy one of the 200 bottles on the menu.
4. Green Turtle Inn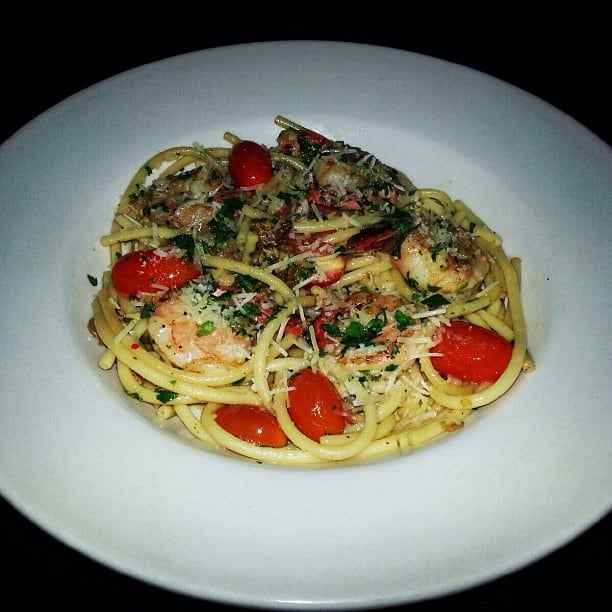 Address: 81219 Overseas Hwy, Islamorada, FL 33036
Best known for: local delicacy – sea turtles
Green Turtle Inn opened in 1947 and has been a landmark of Islamorada ever since. The former owners, Sid and Roxie Siderious, ran an inn and served sea turtles – a local delicacy.
Today the place runs under the leadership of a local restaurateur Henry Rosenthal. Choose the French Toast with Captain Morgan Batter or Keys Benedict with a blue crab cake for breakfast.
For lunch or dinner, enjoy Bacon Wrapped Meatloaf, Conch Chowder, or the incredible Shrimp Scampi. Don't forget the dessert – pound cake is waiting for you.
5. Bayside Gourmet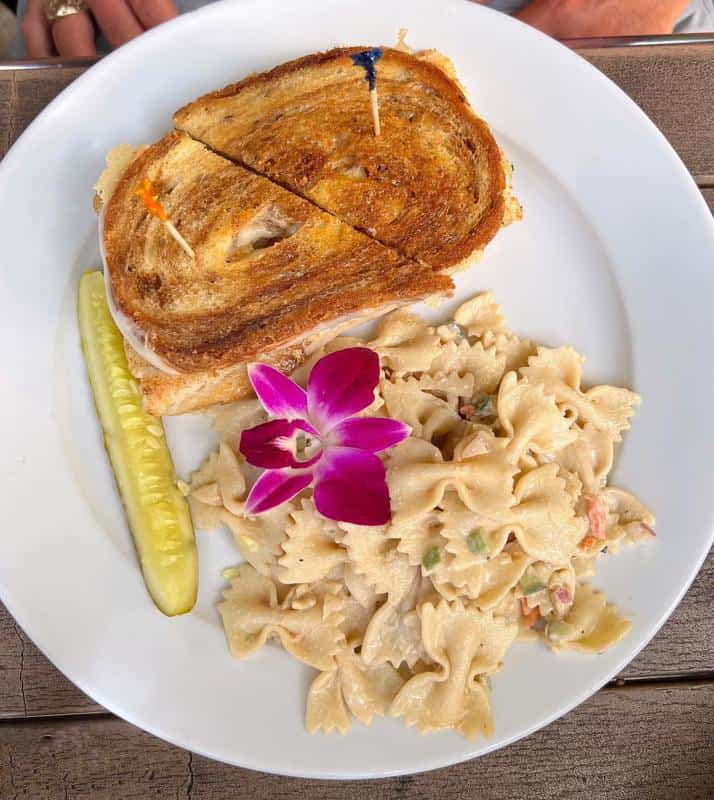 Address: 82758 Overseas Hwy, Islamorada, FL 33036
Best known for: traditional Italian entrees
If you are looking for a family-friendly place, stop at Bayside Gourmet. It is a family-owned and operated business offering classic and contemporary cuisine.
The menu is so vast that you might want to take some time picking out your meal. The restaurant has excellent appetizers like Bruschetta or the Meatball.
For entrees, you can choose from a variety of traditional Italian dishes. Or you can get some pizza or a juicy Philly Cheesesteak Sandwich.
Kids can enjoy vintage arcades, while adults will appreciate sustainably-made wine and locally-crafted beer.
6. Kaiyo Grill & Sushi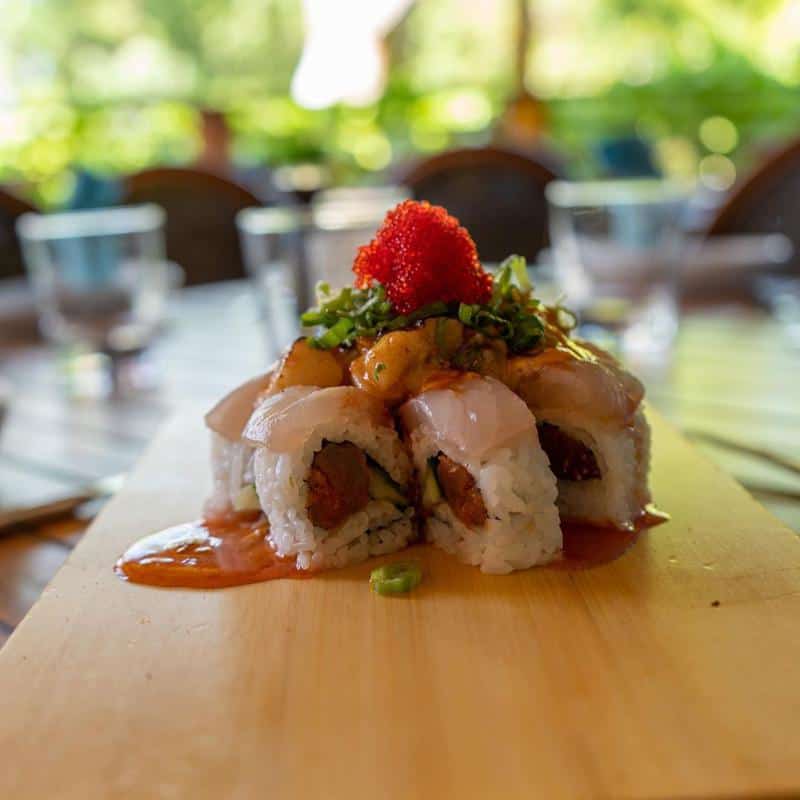 Address: 81701 Old Hwy, Islamorada, FL 33036
Best known for: sushi and original fare like Alligator Lighthouse Style
Kaiyo Grill & Sushi, built in 1935, is the first sushi and Asian fusion eatery in Islamorada. The location is in a delightful area with many art galleries and other things to do.
Along with serving sushi, they also offer other seafood and wood-fire grilled dishes. Try their Tuna Nachos, Stuffed Avocado, or Steamed Ginger Pork Dumpling for appetizers.
And if you want to try exquisite Japanese sake, Kaiyo has a great wine and sake list. Pair it up with the signatures like Alligator Lighthouse Style or Tuna Squared Roll.
7. Ziggie & Mad Dog's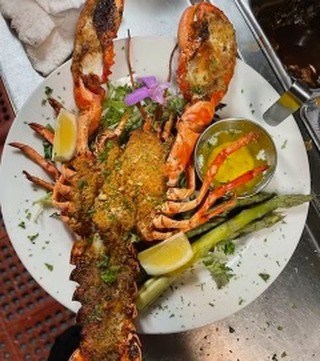 Address: 83000 Overseas Hwy, Islamorada, FL 33036
Best known for: 28-ounce signature Csonka Porterhouse steak
Ziggie & Mad Dog's is a high-end steakhouse where your meats and seafood are perfectly cooked. It's one of the few places in Islamorada that require a dress code.
In 2006, former NFL player Jim Mandich a.k.a. Mad Dog, reopened this restaurant with a new vibe. Now it serves amazing food and offers an impressive collection of international wines at the elegant dark wood bar.
For steak, we dare you to try the 28-ounce signature Csonka Porterhouse. For seafood, don't hesitate to choose the freshest catch of the day on offer.
Add sides like loaded potato and creamy spinach, or try their truffle mac & cheese.
8. Bob's Bunz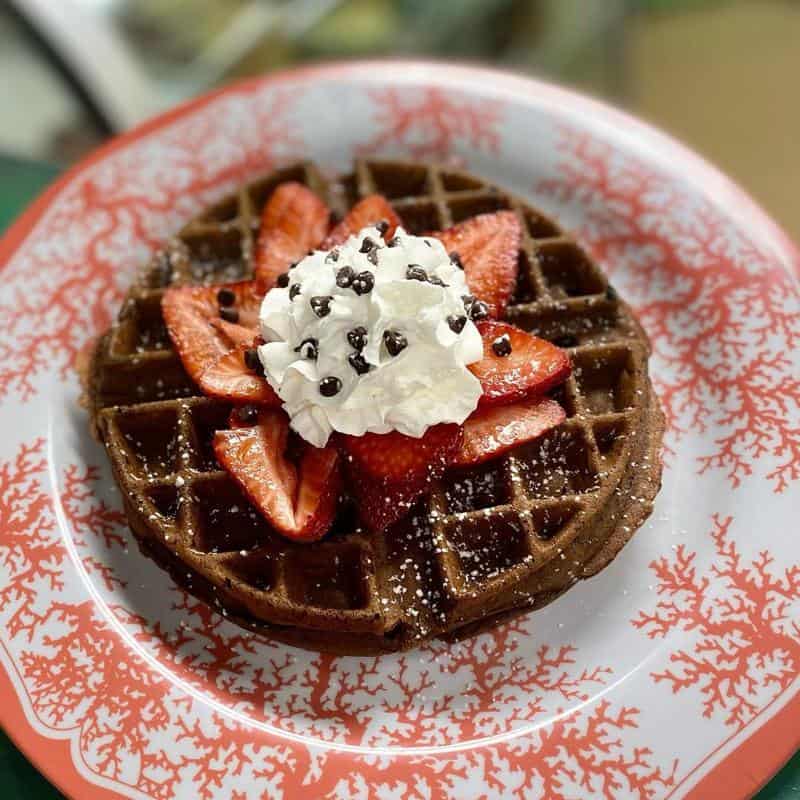 Address: 81620 Overseas Hwy, Islamorada, FL 33036
Best known for: Cinnamon Bunz and Sticky Bunz
If you are in the mood for an all-day breakfast or lunch, head to Bob's Bunz. They have over a hundred items on the menu and offer daily specials.
Their most famous pastries are Cinnamon Bunz and Sticky Bunz. But, they also offer Key Lime Cookies, Belgian Waffles, and fresh local coffee.
You won't make a mistake if you order an omelet, hash browns, or Bob's Best Seller. It's a skillet with potatoes, cheese, and runny eggs, created according to pastry chef Bob Spencer.
9. Lazy Days Restaurant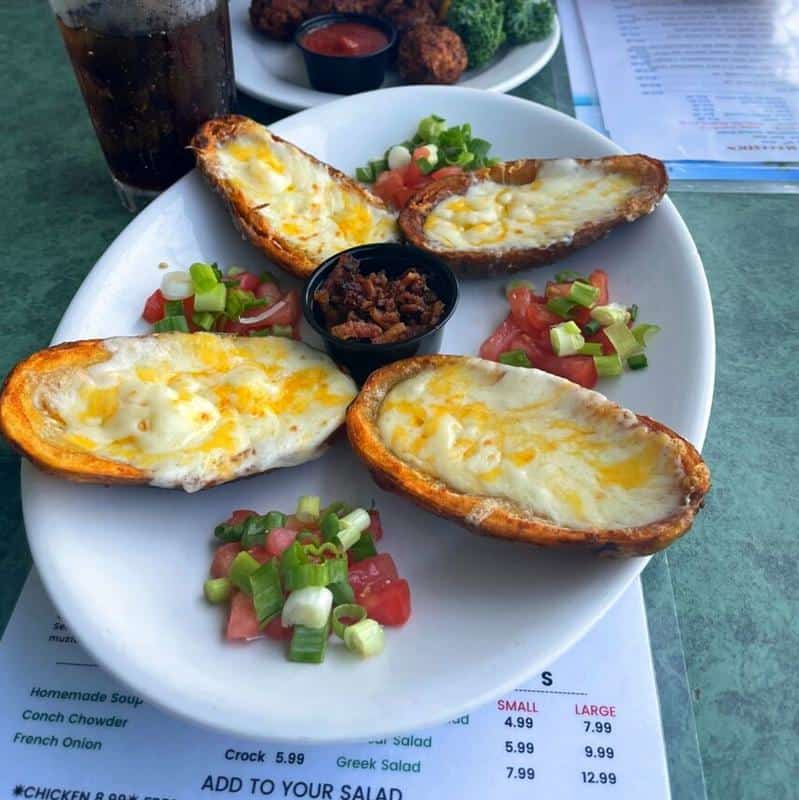 Address: 79867 Overseas Hwy, Islamorada, FL 33036
Best known for: great happy hour deals
Lazy Days is an award-winning oceanfront dining venue. You can eat in the downstairs dining room, an upstairs bar, or directly on the beach.
They offer seafood, Angus steaks, and pasta and can cook your catch. It doesn't have to be pricey, as they have happy hour offers with shrimp, wings, and cheaper drinks.
Try the famous Hogfish sandwich or Grouchy's Linguine when visiting Lazy Days. Enjoy some banana bread appetizer or Key Lime Pie for dessert.
Also Read: Best Seafood Restaurants in Miami
10. Mangrove Mike's Cafe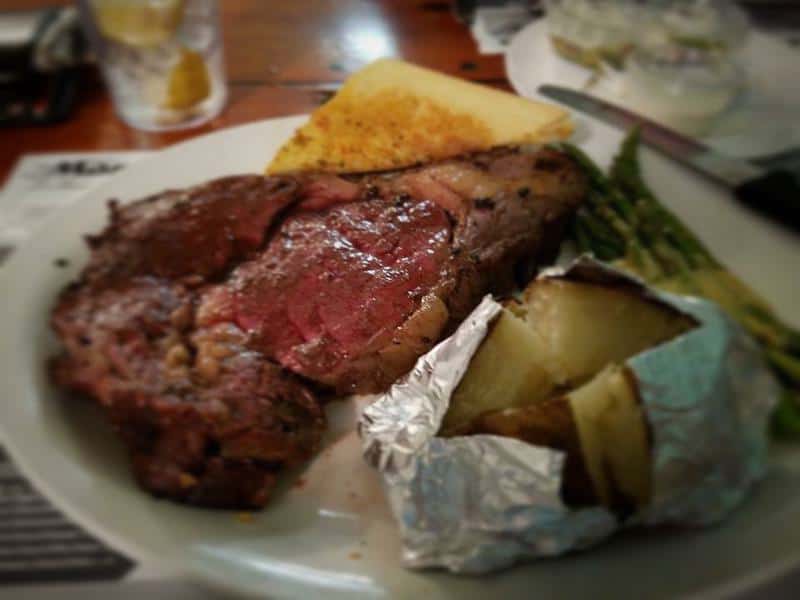 Address: 82200 Overseas Hwy MM, 82 Sunset Inn, Islamorada, FL 33036
Best known for: locals visiting for breakfast and brunch
Mangrove Mike's Cafe opened in 1998 and has been one of the best local places for breakfast and brunch. The owner, County Commissioner Mike Foster, recently died, but the eatery strives to offer the best food and service.
This diner-style establishment has tasty hot cakes, Belgian waffles, and various eggs benedicts. They also offer takeaway box lunches if you are in a hurry or heading out on tour.
You can never go wrong by ordering Mangrove's Mike Super Special or Craig's Hangover Helper here.
11. Square Grouper Islamorada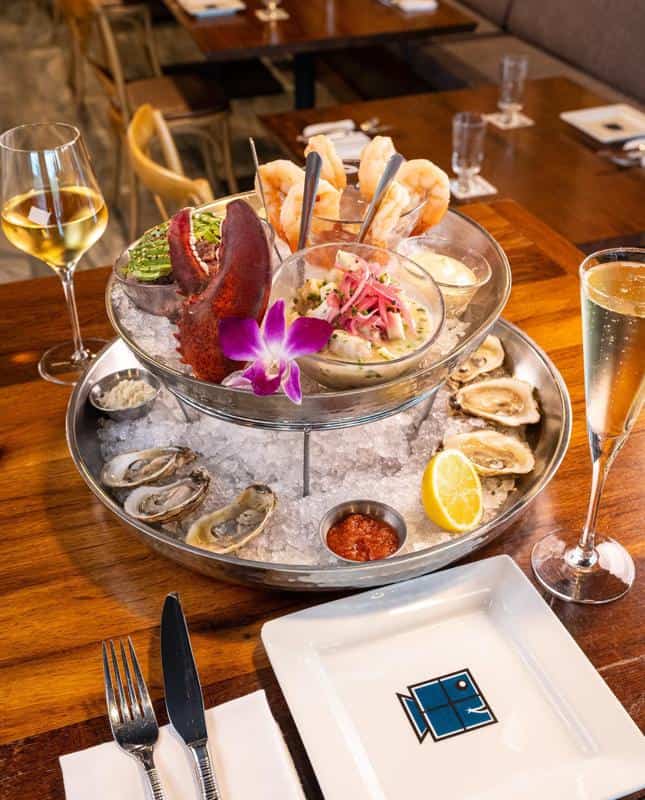 Address: 80460 Overseas Hwy, Islamorada, FL 33036
Best known for: creative craft cocktails
Square Grouper is a wonderful mix of fresh local seafood and original craft cocktails. Sit in the lounge with drinks or have dinner on a cozy Florida Bay patio.
The cocktails here are super creative and served with flower decorations. For the most pleasing experience, try the signatures – Watermelon Margarita or Morada Sunset Gin Cocktail.
The food here is as good as the cocktails. Enjoy the Square Grouper sandwich, oysters, Asian belly pork, salads, and grouper bites.
12. MEAT Eatery And Taproom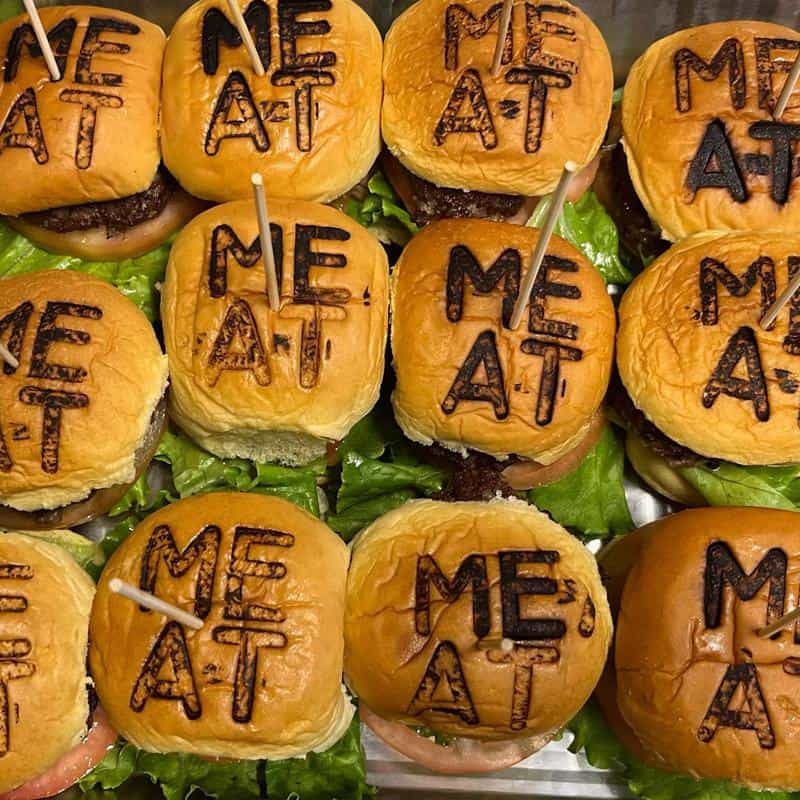 Address: 88005 Overseas Hwy, Islamorada, FL 33036
Best known for: in-house smoked meats and housemade sodas
MEAT Eatery and Taproom is a hip gastropub hidden in Islamorada's strip mall. It is a small restaurant run by Chef George Patti and Sommelier Thomas Smith.
You can have delicious items like Juicy Lucy Burgers, Manchego Cheeseburger, or House Cured Pastrami Sandwich at this burger joint. Throw in some Truffle Fries or veggie dips, add an adult milkshake and enjoy the experience.
As it's not only a restaurant but also a taproom, here you'll find 12 craft beers on tap. They also have a curated menu of organic wines and housemade sodas.
13. City Hall Cafe & Wine Bar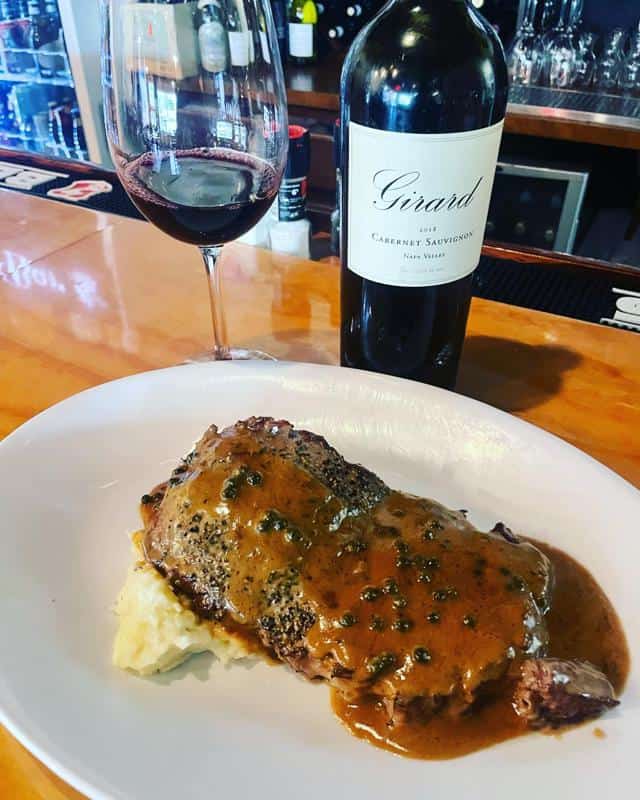 Address: 88511 Overseas Hwy, Tavernier, FL 33070
Best known for: "Mayor's Choice" lunches
City Hall Cafe and Wine Bar is a family-friendly venue with delicious lunch and dinner options. Based on the name, you can expect an extensive wine list and an impressive beer selection.
You can bring your catch and have it cooked, or choose one of the recommended "Mayor's Choice" lunches. There are also tasty options like Eggplant Parmesan, Conch Chowder, or a Grilled Chicken Bacon sandwich.
We recommend sampling the Veggie Bird Wrap if you prefer a healthier option.
14. Islamorada Shrimp Shack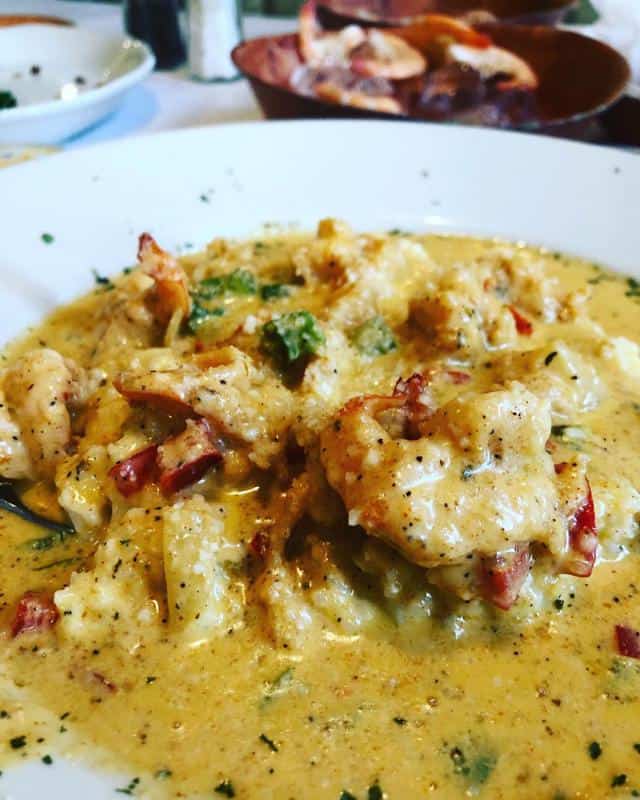 Address: 81901 Overseas Hwy, Islamorada, FL 33036
Best known for: all kinds of shrimp
Islamorada Shrimp Shack is just what you'd expect from it. The place has a laid-back and old-school vibe of a family-run business run by Chef Jill Jahn and her daughter.
Here you can expect the truly best selection of seafood fare. We are talking about Shrimp & Grits, Shrimp Scampi, Cajun Shrimp Tacos, Blackened Mahi Mahi, and others.
For appetizers, you'll get delicious banana bread. Then, complete your main entree with a tasty brew from Islamorada Brewing Company.
15. Midway Cafe & Coffee Bar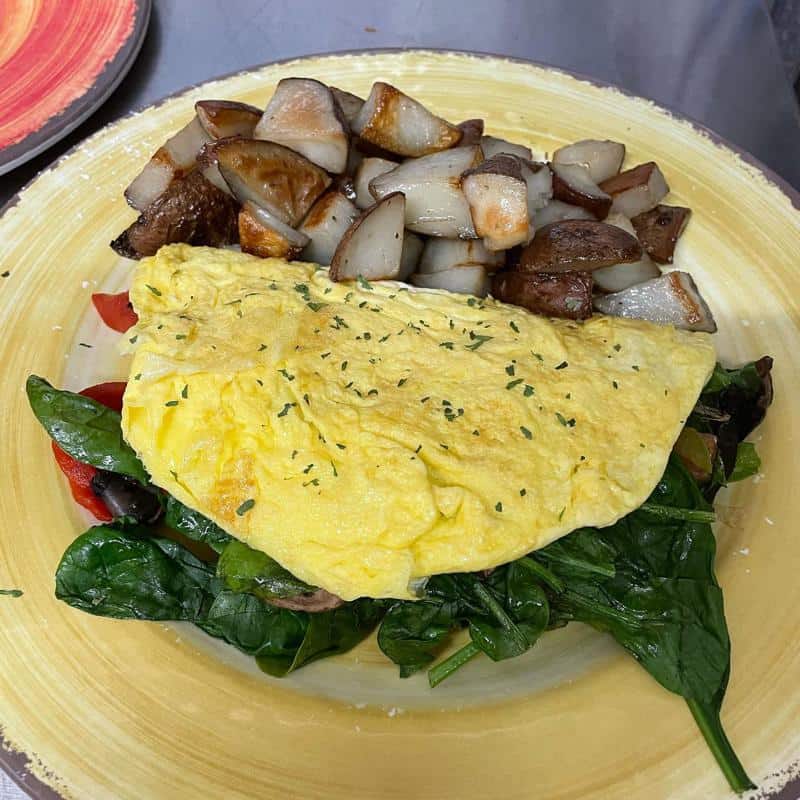 Address: 80499 Overseas Hwy, Islamorada, FL 33036
Best known for: great options for those with dietary restrictions
Midway Cafe & Coffee Bar is the "go-to" place for fresh espresso, housemade pastries, and top-quality breakfast and lunch. All baked goods and bread are made daily on-site.
You won't regret your choice if you'd prefer a smoothie, a veggie omelet, a breakfast sandwich, or a cinnamon roll. All ingredients are organic, and there are many vegetarian, gluten-free, or sugar-free options.
There is also a store on site where you can shop for souvenirs. Take their signature Ghirardelli White Chocolate and Caramel Frappe, and enjoy the day.
16. Ciao Hound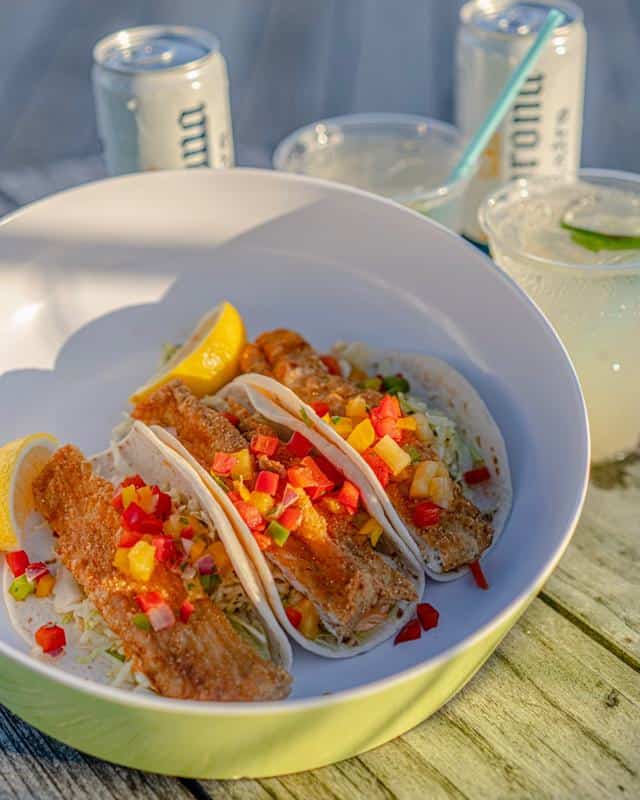 Address: 84001 Overseas Hwy, Islamorada, FL 33036
Best known for: a combination of Italy and the Florida Keys
Ciao Hound is an inspiring combination of a traditional Italian restaurant with a Florida Keys atmosphere. Here the menu is full of Tuscan flavors made with fresh local ingredients.
The place is open for dinner only, offering unique dishes like Grilled Mahi-Mahi Puttanesca, Garlic-Rosemary Basted Tuscan Sirloin Steak, or smooth Spinach Cheese Dip. You can enjoy your outing in the room with dramatic lightning and funky wall art.
You can't leave without having one (or two) of their Italy-inspired cocktails. Look out for Sangria of the Day or Limoncello Sunrise.
17. Lorelei Restaurant & Cabana Bar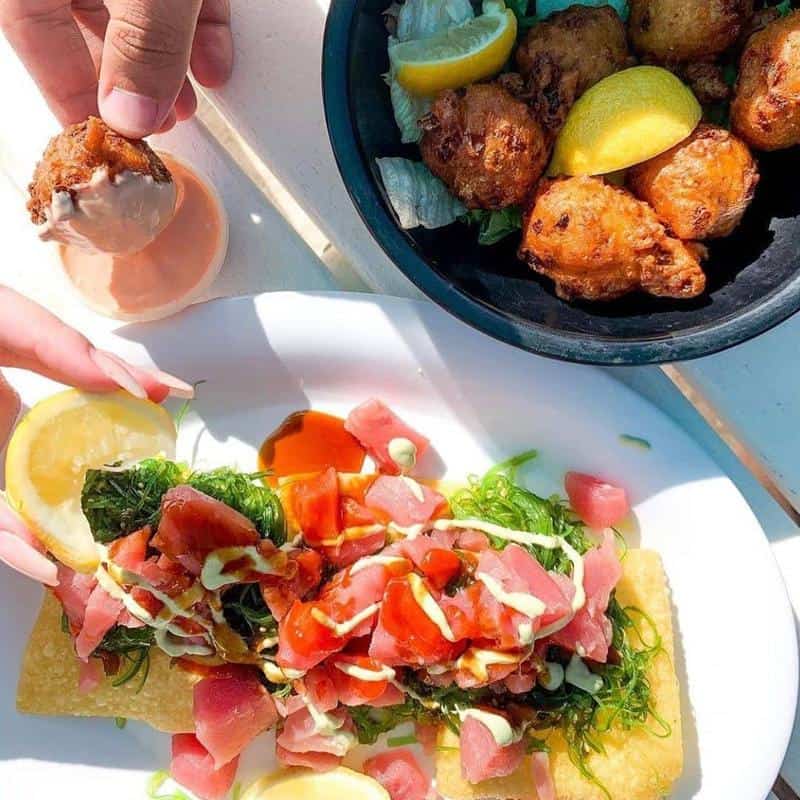 Address: 96 Madeira Rd, Islamorada, FL 33036
Best known for: perfect waterfront dining
Lorelei, or the Pulse of Islamorada as locals call it, is an ideal example of waterfront dining. Here you can watch the sunset with a majestic view of Florida Bay.
If you don't want to experiment, go with their signature Lorelei's World Famous Fish Sandwich. Or, if you want to try something else, check out the Blackened Snapper, Conch Fritters, or Hashbrowns.
You can grab a seat at the beach or on an outdoor patio and enjoy a drink. They make the best drinks and tropical cocktails and offer brews from Islamorada Beer Company.
18. Island Grill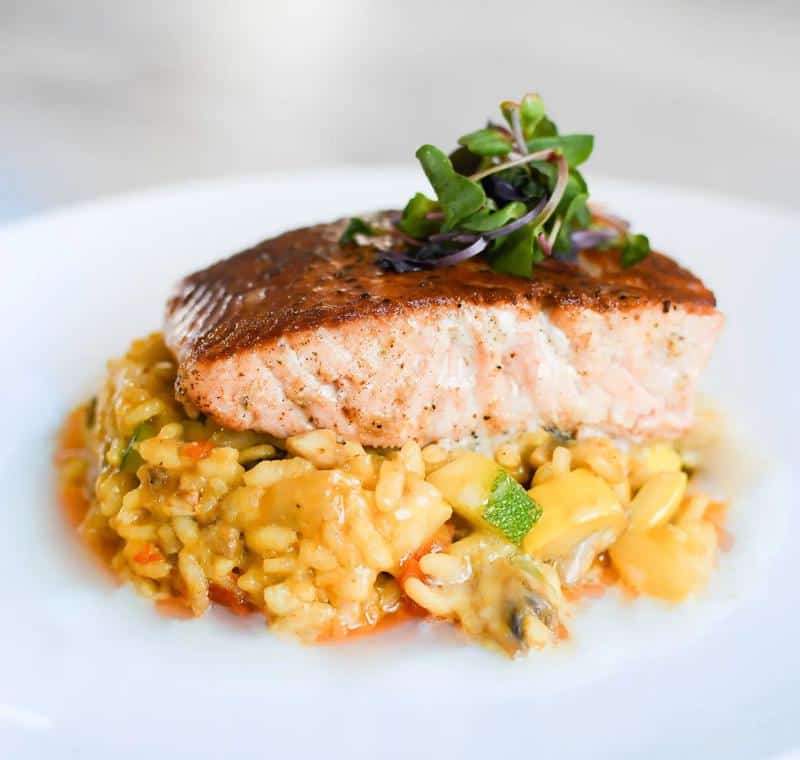 Address: 85501 Overseas Hwy, Islamorada, FL 33036
Best known for: live entertainment and a sushi bar
Island Grill, located at the end of the Snake Creek Bridge, is a fine venue with live entertainment, great food, and a sushi bar.
The menu contains tasty local dishes prepared by Executive Chef Chenet Crosier. Try the Ahi-tuna Nachos, Lobster Mac & Cheese, or Conch Fritters.
Enjoying the sunset at this Keys-style decorated venue is even better with drinks. The restaurant has craft cocktails like mojitos, mimosas, or cucumber margaritas.
19. Marker 88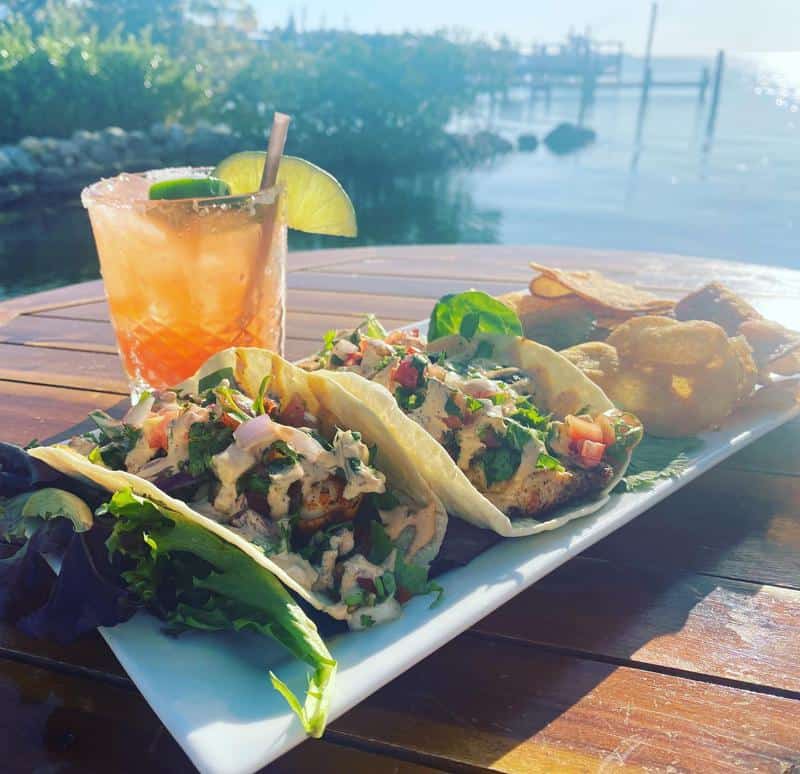 Address: 88000 Overseas Hwy, Islamorada, FL 33036
Best known for: being visited by celebrities and presidents
Marker 88 has been one of Islamorada's favorite sites for over 40 years. Nothing can beat it with live music seven days a week, terrific sunset views, and awesome food.
Marker 88 offers great seafood with a beach, a pier, and outside deck seating. Celebrities and even former presidents are frequent visitors to this place.
Try Lobster & Mango Guacamole, Mahi Martinique, or Mangrove Honey Glazed Rib-eye Steak to sample their hearty food. Enjoy a local craft brew or a refreshing cocktail like Watermelon Mojito for drinks.
20. Islamorada Fish Company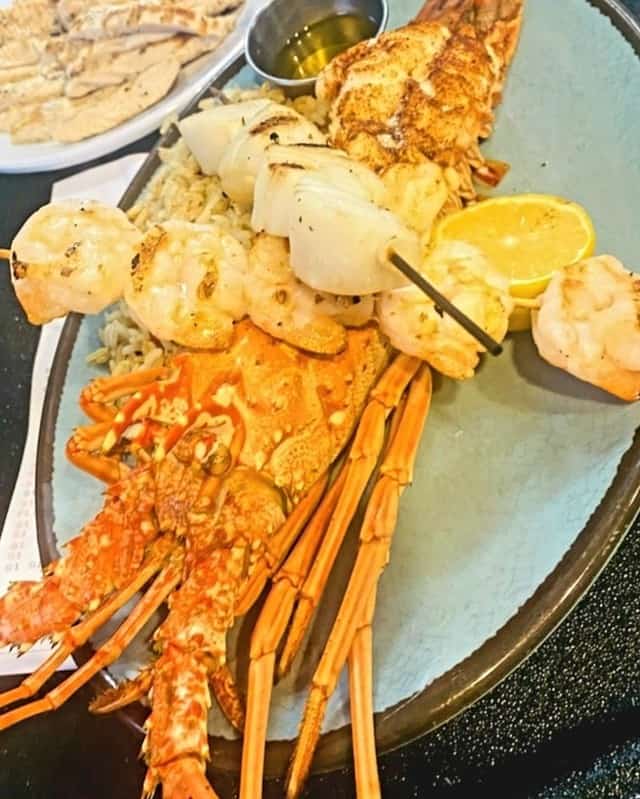 Address: 81532 Overseas Hwy, Islamorada, FL 33036
Best known for: an enormous saltwater fish tank behind the bar
Islamorada Fish Company is a popular restaurant chain with venues across the country. This one is in a Bass Pro Shop.
It has a magical interior with an enormous saltwater fish tank behind the bar. There is also dog-friendly outdoor seating by the waterfront.
Besides enjoying an incredible meal, like the Alligator dish, you can feed tarpon from the pier, rent a boat, or even go fishing.
Read More:
Conclusion
Islamorada is one of the prime destinations in the Florida Keys! Take inspiration from our list of carefully selected restaurants, and make your visit an unforgettable experience.