One thing Jacksonville doesn't lack is awesome diners. Wherever you go, there's always a good place to grab a bite nearby.
There are all kinds of restaurants throughout the city, but what Jacksonville is known for its fresh seafood. So while you're here, you absolutely must try some of the best dishes this city has to offer.
But where to go? Instead of spending hours searching the internet, why not check out our list of the best seafood? Whether you're searching for a quick bite or an upscale dish, this list has a bit of everything.
Best Restaurants in Jacksonville, FL
1. Salt Life Food Shack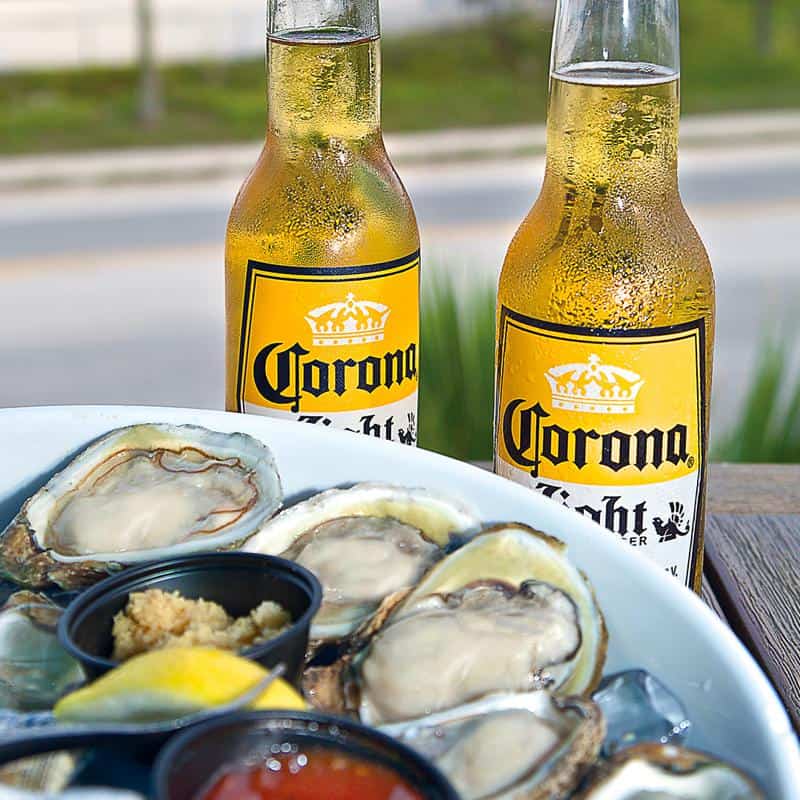 Even though the name suggests otherwise, this place is definitely not a shack. It's a beautiful restaurant situated just three blocks away from the beach with an open-air dining room and a large fanned patio.
This place is known for its laid-back vibes. It's casual enough to wear flip-flops, yet fancy enough for a date or business meeting. The restaurant is open daily for lunch and dinner, and the carefully crafted eclectic menu is huge and diverse.
From raw seafood to street-style snacks, it's hard to pick something that stands out from the menu. But if you're looking for something different, you can't go wrong with oysters. Topped with crab, spinach sauce and Parmesan cheese, they're a real explosion of flavors. And if you're gluten-free, don't worry. The restaurant has a separate menu with more than a dozen gluten-free meal options.
Diner's note: The restaurant has happy hour two days a week from 4 to 7 pm: Sushi Tuesdays and Oyster & Margarita Thursdays.
2. Dockside Seafood Restaurant Jacksonville Beach
Set on the Intracoastal Waterway, the Dockside Seafood is the closest you can get to eating by the water. Aside from the delicious meal, you can also enjoy the views and watch adventure-minded boaters cruise the waterway.
The interior might appear simple, but the atmosphere is cozy and homey. And one thing many customers praise is the friendly service. No matter how busy the restaurant might get, you'll be served as if you were the only guest.
Locally caught fresh seafood is served with classic sides, such as slaw and hushpuppies. But one thing that makes this restaurant stand out from the crowd is that you can choose how you want your seafood to be prepared. Fried, grilled or blackened, you get to pick your poison. The same goes for tacos and salads!
Diner's note: The restaurant is open until 9 pm every day. It's a great place for family dinner, and it offers an affordable kids' menu as well.
3. Southern Coast Seafood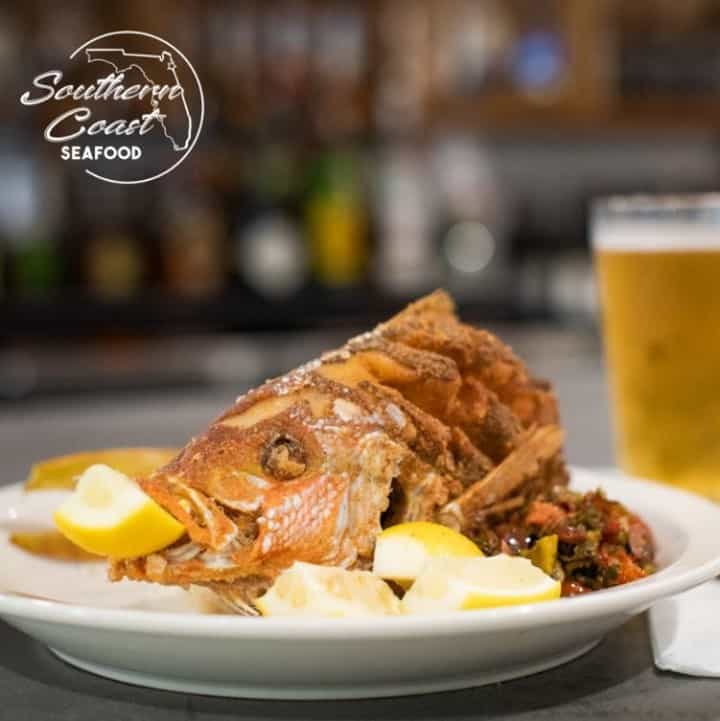 Not even two years old, the Southern Coast Seafood has already become known as one of the best restaurants in the Atlantic Boulevard Estates neighborhood. The locally caught seafood is prepared in different ways to create some of the most iconic dishes.
The simplistic interior is decorated with full-sized fish ornaments hanging on the walls. And even though there's plenty of natural light, sitting on the patio is even more enjoyable. Although the restaurant is located in a busy part of the city, the large wooden fence lets you enjoy privacy and quietness.
With so many options on the menu, it's hard to make a pick. If you prefer street-style food, classics like a po'boy or fish tacos are always a safe choice. But if you're looking for a fancier dish, you can't go wrong with a fish platter. Fresh catch is accompanied with smoked mushrooms, sun-dried tomatoes and jasmine rice, so you're guaranteed a full-flavored meal.
Diner's note: The restaurant is closed on Mondays. You can sign up on their website as a VIP guest, to become eligible for discounts and special offers, as well as learn about their exclusive events and secret menus.
4. OP Fish House & Oyster Bar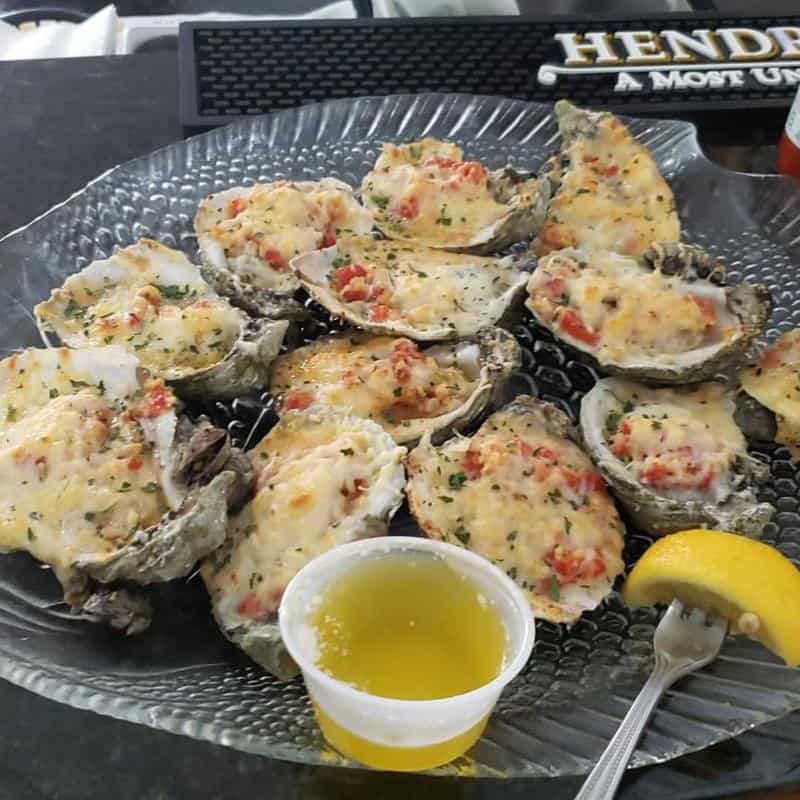 OP Fish House is a small family-owned restaurant located on Kingsley Ave. If you're driving too fast, you might miss it, which would be quite a shame. But with three generations of seafood wholesale experience, the owners have really understood the assignment. This tiny diner is one of the best places to eat fresh seafood.
The interior is something else. A light, beachy theme with rustic furniture and fish ornaments lets you forget for a moment that you're in the center of Orange Park. They really pay attention to the details. Even the plates are shaped like fish.
Don't get crazy and order a bunch of things. The portions are so large, you'll be leaving with bags full of leftovers. The menu changes on a daily basis, but you can expect to find classic options, like mahi mahi, snappers, shrimps and scallops every day. Whatever your pick, it will come with three generous sides of your choice.
Diner's note: The restaurant has a great choice of wines, including four varieties on tap and homemade sangria. Reservations can only be made until 2 pm every day.
5. Safe Harbor Seafood Market & Restaurant
If you're searching for a place that both catches and prepares fresh, local seafood, look no further. Situated in the best part of Mayport, the restaurant has some of the best views of the St Johns river.
The spacious enclosed deck allows you to enjoy the scenery while staying hidden from the sun on a hot summer day. The casual atmosphere makes this restaurant a great place for family gatherings and business lunches.
The choice of seafood is splendid. And if you can't decide, there's always a Captain Walter's combo of two or three options. But if you're up for something unique, try the all-time-popular Kona bowl. You get to make your own dish from scratch, by choosing from a range of seafood, veggies and sauces.
Diner's note: At this place, you can dine, order catering or buy fresh fish to cook at home. While it's closed on Mondays, Safe Harbor is open until late afternoon other days of the week.
6. The Juicy Crab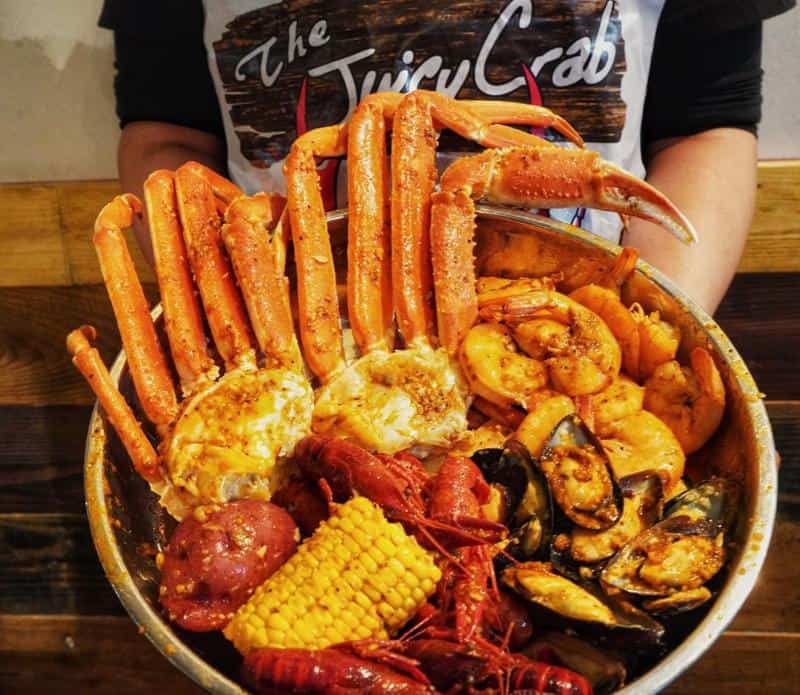 If you ever find yourself in Duclay, stopping by the Juicy Crab is a must. The restaurant on Blanding Boulevard is just one of 28 locations all across the United States. But what's guaranteed is the same quality across each of those places.
With so many options on the menu, making the pick can be quite difficult. But for your first visit, you should definitely try their famous seafood boil bags. You can go for a premade option or build your own.
Your dish comes in a plastic bag, soaked in seasoning. The whole process of shaking the bag and taking all the juicy stuff out on the plate is so satisfying. The only way this can be eaten is with your hands, and that's the only way seafood should be enjoyed.
And while you're here, don't forget to order one of their specialty cocktails, such as Anything Is Possible or Nectar Of The Gods. Even their names indicate they are mind-blowing.
Diner's note: The restaurant is only open for lunch and dinner. It's on a first-come, first-serve basis, but you can order online on their website.
Visiting Florida's Gulf Coast? Check out some of the best seafood restaurants in Anna Maria Island & some of the best seafood restaurants in Tampa, FL.
7. Timoti's Seafood Shak Karibo Five Points
With Karibo Five Points, Timoti's tried a new diner concept, which proved to be a score. The uptown dining space is situated in a hip neighborhood of Jacksonville, and it definitely blends into the ambiance. It's the place you'll stop by to have dinner before a downtown night out.
The minimally decorated interior really lets you stay focused on the star of the show, which is food. There aren't a ton of fancy meal options on the menu. Instead, you can pick your own salad or taco seafood, as well as choose how done you want your fish to be. After all, you know best what you like, no?
The drinks menu consists of some of the most popular cocktails, such as mojito or tequila sunrise. But if you're adventurous, there's also a "create your own" option, so you can play barista with your drink.
Diner's note: Aside from this downtown location, Timoti's Seafood Shak can be found in two other locations in the city, at Fernandina Beach and Ponte Vedra.
8. New Berlin Fish House & Oyster Bar
New Berlin is located up in the city's Northside area, so it might not have grandiose views of the coast as some of the restaurants on this list. But the classic coastal diner interior design makes up for that.
Besides, with a menu like that, you'll be too focused on looking at your plate. Starters alone are taking up half the menu page, and there are even more main dish options. But if nothing speaks to you, you can always build your own fresh plate.
There are only four dessert options, but each of them is delicious in its own way. The world-famous key lime pie won't leave you indifferent. The same goes for the chocolate martini, which is a perfect choice for the end of the week.
Diner's note: Lunch is offered until 4. After that, the same seafood is served but in larger, dinner portions. During the weekend, a brunch menu is offered instead.
9. JL Trent's Seafood and Grill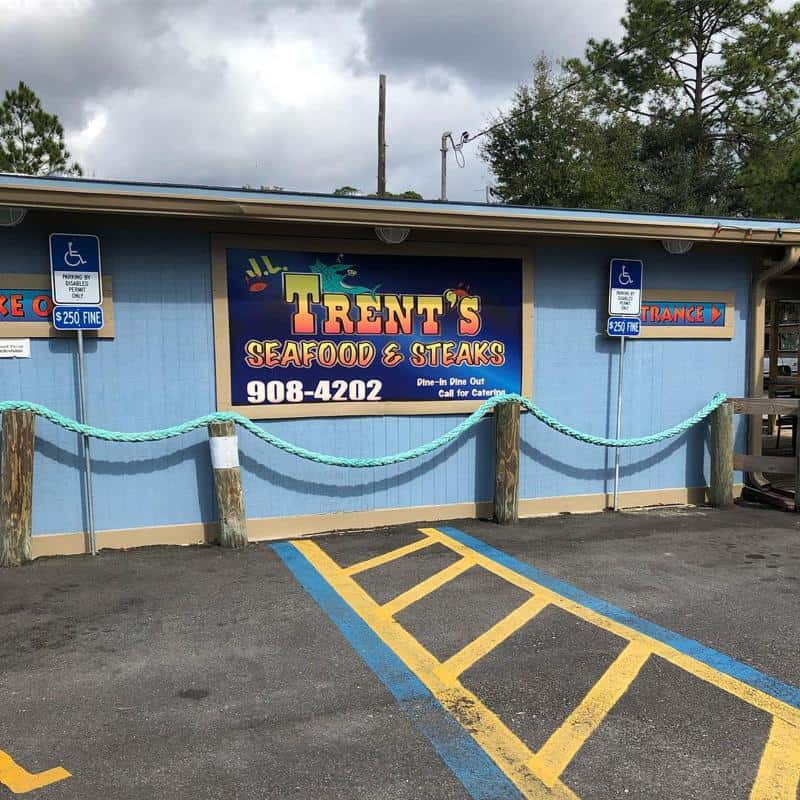 If you want to eat well, just go where locals dine! Trent's has been around for over 20 years, so it has an established base of regulars. If a family-friendly atmosphere is what you're after, you'll feel at home here.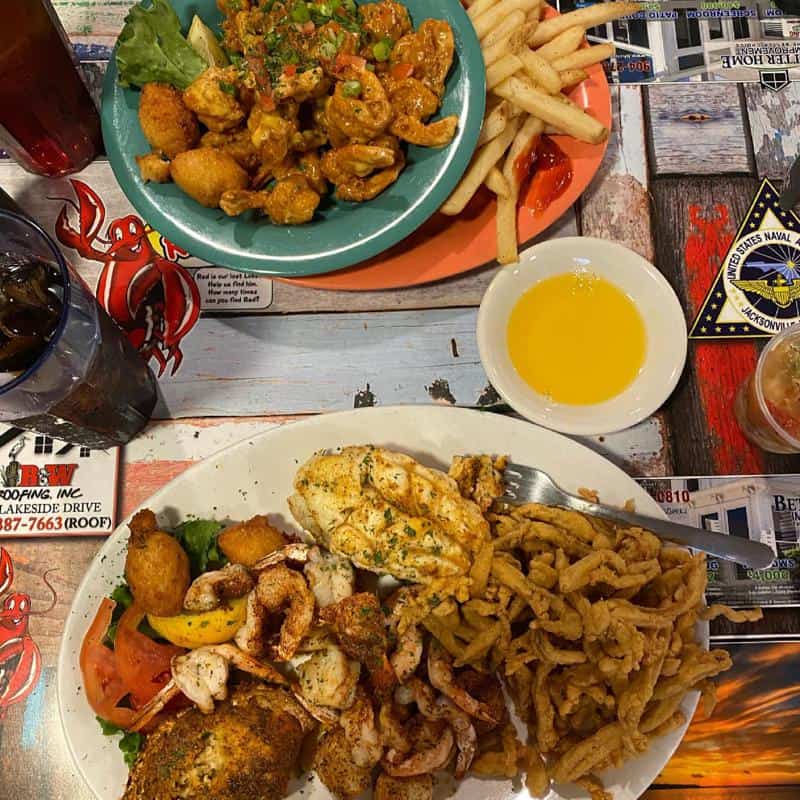 Trent's takes pride in having lots of healthy grilled and baked options on their menu as well. So when we say, there's something for everyone's taste, we mean it 100%. But what seem to be the crowd's favorites are Beer Battered Haddock and Bang Bang Shrimp. As for the sides, you get to choose two from a long list of delicious options, including mac and cheese and fried okra.
But if you don't like to choose, just go with a Critter Platter. It includes four types of seafood as well as your choice of fish filet.
Diner's note: Lunch is available only until 4 pm. After that, only seniors over 55 years of age can order lunch-sized portions.
10. Julington Creek Fish Camp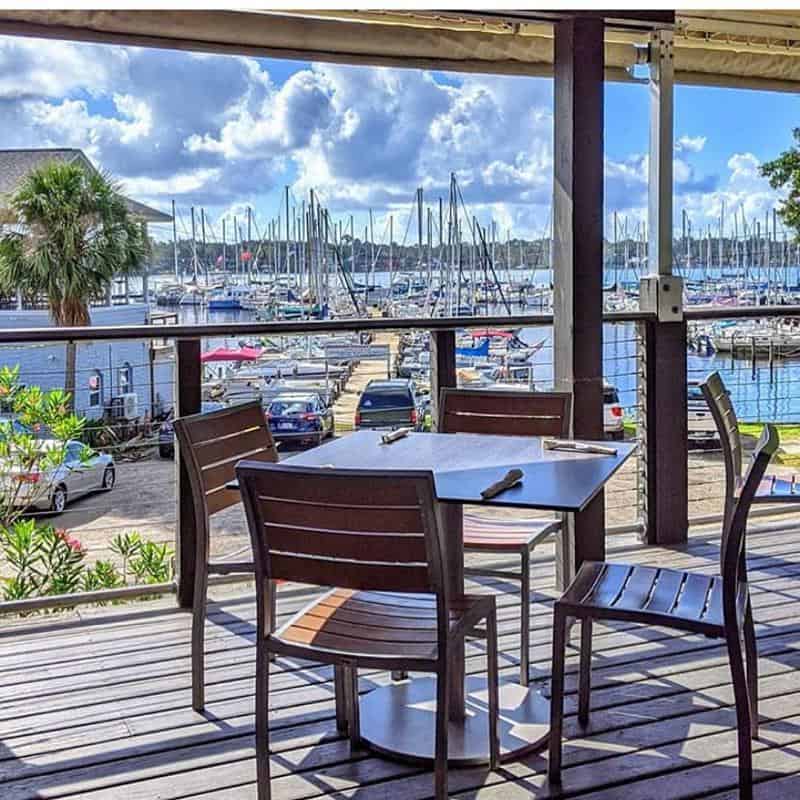 Julington Creek is the latest addition to a family-owned growing chain of fish camps in the Jacksonville area. It has a beautiful cozy wooden exterior that hides an ample diner-style area inside.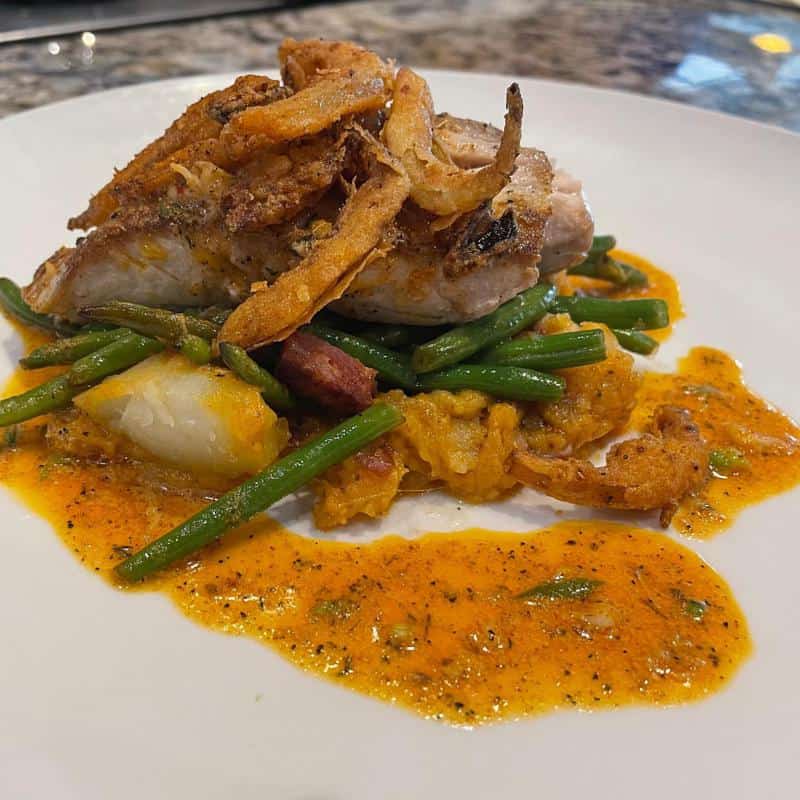 Locally caught fresh seafood is prepared with Southern style. That's why it's no surprise that Rick's All Day Seafood Soup. While it never gets really cold in Jacksonville, this hot tomato-based soup is just enjoyable on a hot day.
The restaurant has a splendid choice of drinks as well. Whether you prefer wine or beer, you'll have to flip through pages to find the drink you want. Or, if you're feeling adventurous, you can choose one of their signature cocktails. They're like nothing you've tried before.
Diner's note: The restaurant is open only for dinner on Mondays while working hours start at 11 am other days of the week.
Final Thoughts
Being located on the ocean coast, it's no wonder that Jacksonville has such a large seafood restaurant scene. The competition is fierce, but these are the restaurants that proved their place on the list with quality food, unique meals and cozy interiors.
Related nearby seafood: