The fun-loving and lively Miami is always ready to party. The diverse and welcoming community thrives in this colorful city, making drag shows quite popular and easy to find.
The city has a large number of restaurants and nightclubs that host drag shows especially drag brunches. Some restaurants host them once a week, while others have them once a month or on exclusive days.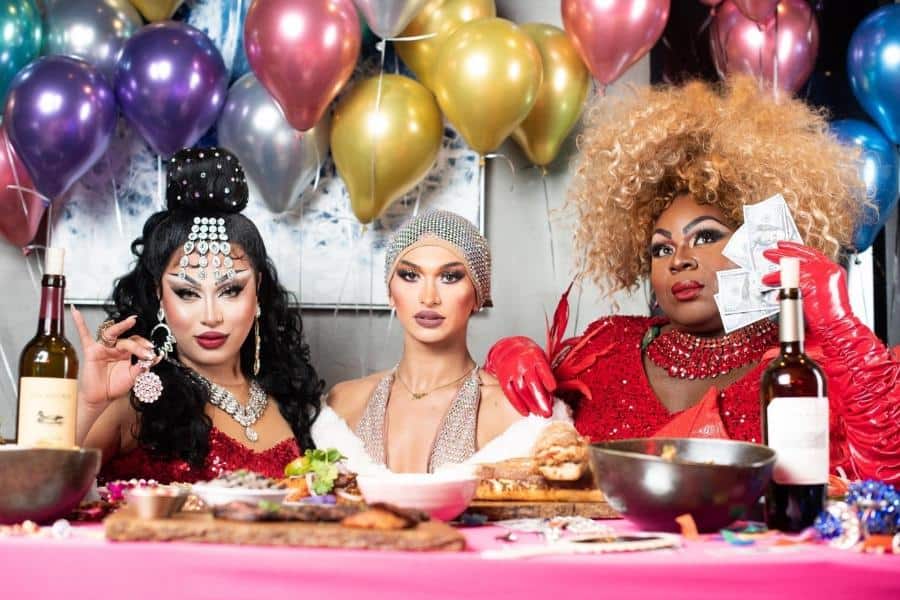 We have a list of the best drag brunch spots in and around Miami for you. Make sure to make reservations and keep your eyes peeled on the official restaurant websites for more events and happenings!
Best Drag Brunches in Miami
R House Wynwood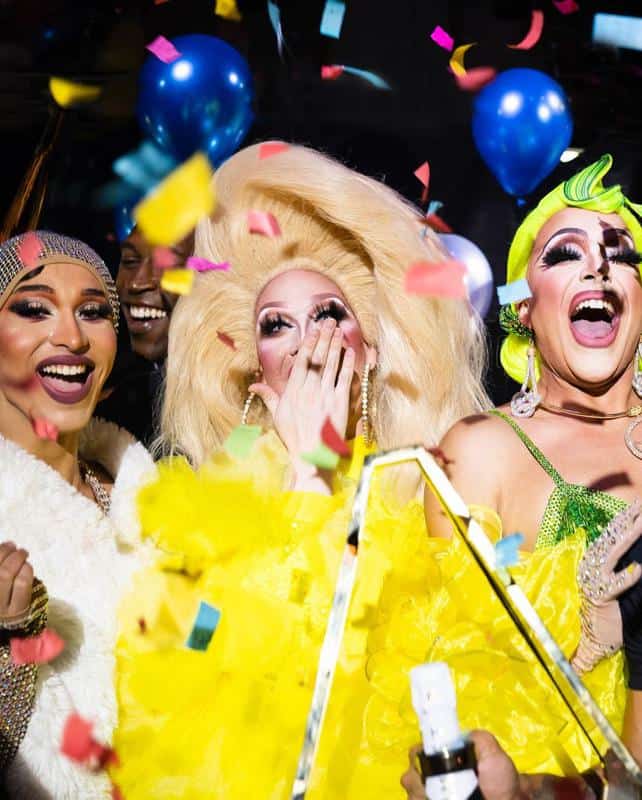 Address: 2727 NW 2nd Ave, Miami, FL 33127
Website: R House Wynwood
Phone: +1 305-576-0201
Time: Weekly brunch on Saturdays and Sundays from 11:30 am to 2:45 pm
Tickets: Starting at $55 with add-ons
Known for: Great performances with Latin-inspired brunch and bottomless mimosas
Located in the heart of Wynwood Arts District, the vibrant and upbeat R House has a wonderful weekend Drag Brunch hosted by the iconic Athena Dion. Holding the title of Miss Ultimate Miami Drag Queen, the energetic goddess will take you for a ride unlike any other for a uniquely eccentric brunch experience.
Enjoy the fantastic drag show in the intimate indoor dining and an expansive patio as you beat the heat with stylish pink folding fans. The modern Latin-inspired restaurant has an equally impressive brunch menu to match the energetic performance.
Gulp down the delectable Chimichurri Cheeseburger Sliders, R Cuban Breakfast Croissants stuffed with mojo pork, Cayenne Fried Chicken, and the heavenly rich and buttery Cinnamon Sweet French Toast. For a lighter option, you can also try their colorful Acai Bowls.
Pair the food and performance with bottomless mimosas, mojitos, and white wine sangria for a boozy start to the weekend.
Palace Bar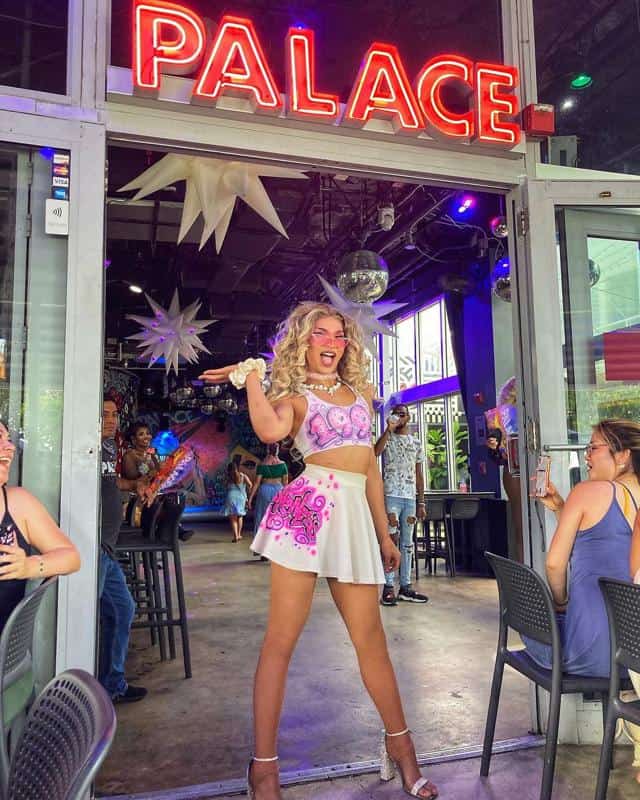 Address: 1052 Ocean Dr, Miami Beach, FL 33139
Phone: +1 305-531-7234
Time: Weekly brunch on Fri, Sat, Sun from 11 am to 2 pm, Mon from 12 pm to 2 pm
Tickets: $50
Known for: Top Miami divas, pre-fixed menu, unlimited mimosas, and rooftop views
The breezy and refreshing Ocean Drive is home to one of the best drag brunch spots in Florida – The Palace. The restaurant and bar is dedicated to bringing you the best service and performances for the past three decades.
Brace yourselves for the performance of your life with talented drag queens like TP Lords, Nicky Monet, and Tiffany T. Fantasia.
OpenTable rates the Palace Bar and Restaurant as one of the top 100 Best Brunch Restaurants in America, and to honor its traditions, the bar hosts drag brunch 4 times a week. The lively and enthralling animated brunch crowd will force you to tap your feet to the beats as the queens perform Britney Spears and Beyonce's timeless hits.
Enjoy the remarkable performances while feasting on the restaurant's pre-fixed menu alongside unlimited mimosas. Furthermore, the restaurant also has a rooftop area with break-taking panoramic views of the mighty South Beach and Ocean Drive.
Sweet Liberty Drinks and Supply Company
Address: 237 20th St suite b, Miami Beach, FL 33139
Website: Sweet Liberty
Phone: +1 305-763-8217
Time: Monthly brunch on the first Sundays of the month from 12 pm to 3 pm
Tickets: Free admission with a la carte brunch from $12 – $35
Known for: Exciting drag show, burlesque, and acrobatic performances with creative dishes and drinks
The humble Collins Avenue livens up every first Sunday of the month with colors and music at Sweet Liberty Drinks & Supply Co. The crown jewel of South Beach has an excellent drag brunch scene hosted by the ultimate bearded beauty Karla Croqueta.
Spot the wild and vivacious burlesque, exceptionally amusing performances, and acrobatic drag queens while getting tipsy on the bottomless drinks included in their brunch packages. The brunch welcomes Miami's top drag queens as you feast on a fantastic spread of brunch staples and creative dishes, as well as hand-crafted cocktails.
The a la carte brunch menu offers treats like the Buns of Liberty Burger, delicious yet light Cauliflower Nachos, and heavily-loaded Banging Brunch Burritos.
Try the bottomless rose or your favorites from the impressive drinks menu by the creative beverage director and world-renowned bartender Naren Young. Regular Sunday brunch covers all the exciting dishes if you wish to grab a bite later in the month.
Sins Gastrobar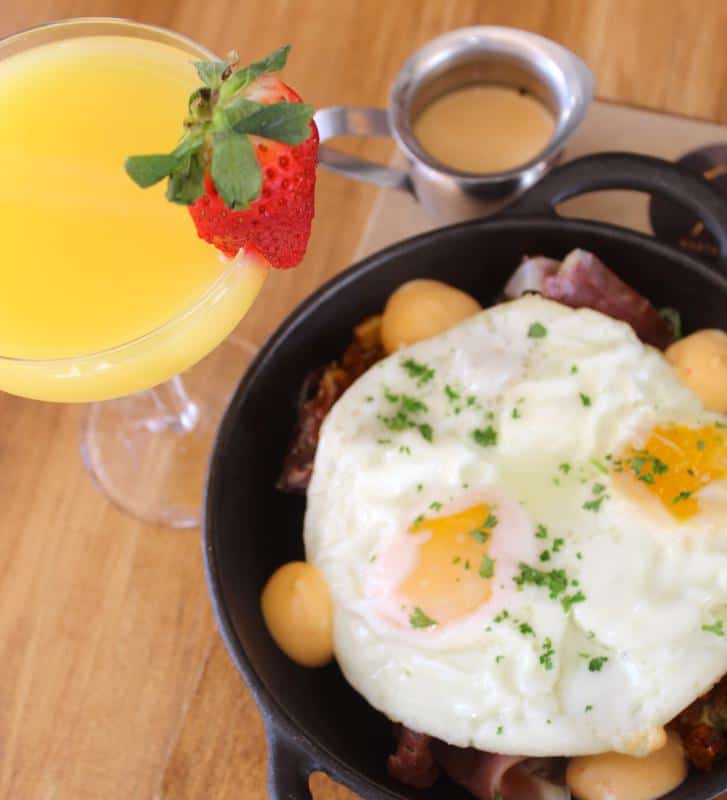 Address: 9835 NE 2nd Ave, Miami Shores, FL 33138
Phone: +1 786-801-0955
Time: Monthly brunch on the third Sunday of the month from 1 pm
Tickets: Starting from $30
Known for: Rotating cast of queens with a fabulous brunch spread and bottomless mimosa and sangria
The quaint and peaceful Sins Gastrobar becomes a raging party house every third Sunday of the month with their fabulous Royal Drag Brunch. Hosted by Miami's legendary Poizon Ivy, DJ Adora, Naya Lords, Serene Cha Cha, and special guests, the drag brunch is quite famous and attracts visitors to enjoy a vivacious show with a great brunch spread.
With contagious energy that livens up the snoozing downtown Miami Shores, the show delivers a perfect dose of glitter, sparkle, glam, and crazy wigs. The rotating cast of queens keeps you on your toes, and both reservations and walk-ins are accepted.
The delectable a la carte brunch menu features a variety of dishes including the juicy pulled-pork Benedict and other wood-grilled succulent meats and vegetables. The bottomless pitchers of mimosas and sangria are served at $25 per person to pair with your food.
Also Read: Best Drag Brunch in Boston
Best Drag Brunches Near Miami
Hamburger Mary's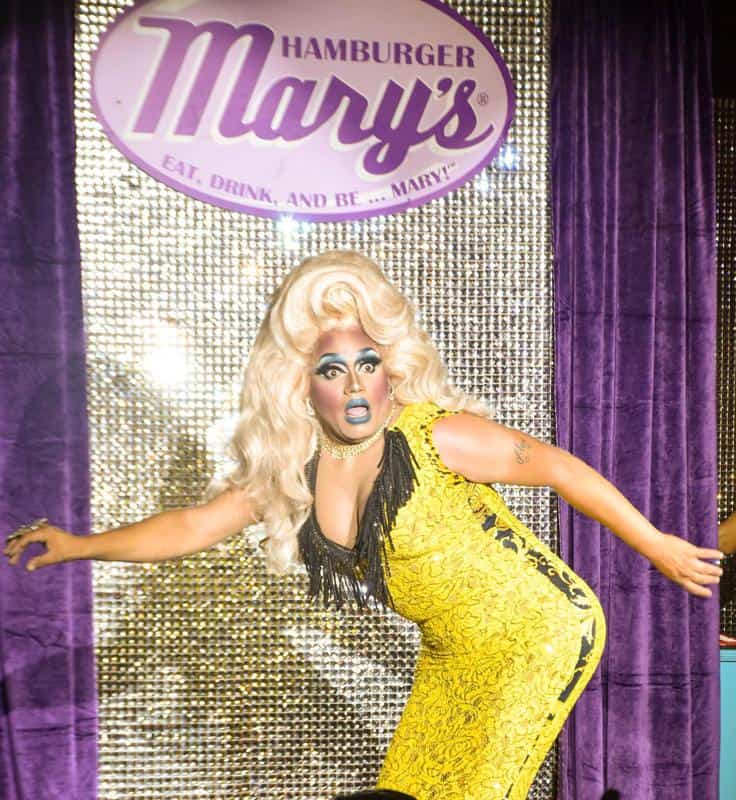 Address: 2426 Wilton Drive Wilton Manors, FL 33305
Website: Hamburger Mary's
Phone: +1 754-779-7424
Time: Weekly brunch on Sundays from 12 pm to 2:30 pm
Tickets: Starting from $20
Known for: Signature drinks served in a massive leg-shaped cup accessorized with fishnets and stilettos
Distance from Miami: 35-40 minutes from Miami
Head to the Wilton Manors only a half hour's drive from Miami to celebrate your love for drag at Hamburger Mary's. The classy and colorful drag-themed burger chain is sure to welcome you with open arms for a magnificent show and brunch.
Hamburger Mary's first started in the 70s in San Francisco and has successfully extended its services to Florida. The two-hour drag show is hosted by Jah'Syra, bringing in drama and glamour with special guests every week.
The brunch dishes are classic diner-style varieties with local favorites including pancakes, waffles, eggs Benedict, and much more. The $20 price includes bottomless mimosas to pair with your meal.
The beverages can be ordered in a colossal souvenir leg-shaped cup embellished with fishnets and stilettos. Keep your eyes peeled for upcoming performers on their website and official Instagram account.
Holy Mackerel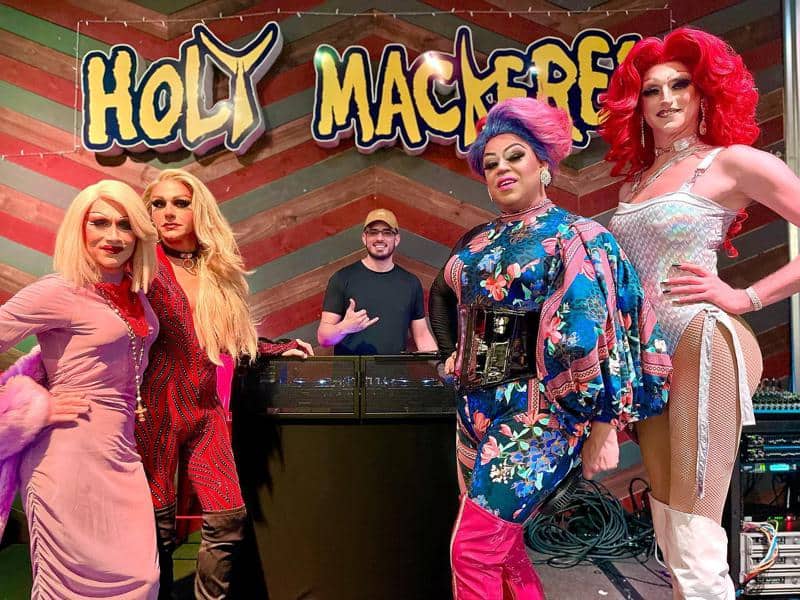 Address: 1414 NE 26th St, Fort Lauderdale, FL 33305
Website: Holy Mackerel
Phone: +1 954-300-2631
Time: Weekly brunch on Sundays from 11:30 am to 1:30 pm
Tickets: Free Entry with dine-in, $10 without dine-in
Known for: Famous drag show performers from RuPaul Drag Race and bottomless mimosas
Distance from Miami: 35-40 minutes from Miami
Take a short drive from Miami to Fort Lauderdale to treat yourself to the highly rousing and exciting Sunday Funday High Energy Drag Brunch at the Holy Mackerel.
Hosted by the sensational Daisy Deadpetals, the show welcomes her friends and guest performers for an enlivening drag show. The entertainers and performers change every week, offering something unique and exciting at every visit.
The location is ideal to bring in a large group of friends and enjoy the infectious energy with drinks and comfort food. Starting at 11 am, the drag brunch offers bottomless mimosas and a wide spread of brunch specials.
With its rising popularity and demand, the location also hosts a Saturday Drag Brunch on select days, and special guests include Venus from the VH1 RuPaul Drag Race and other notable figures of the drag world. The shows are free of charge so make sure to get reservations online.
Lips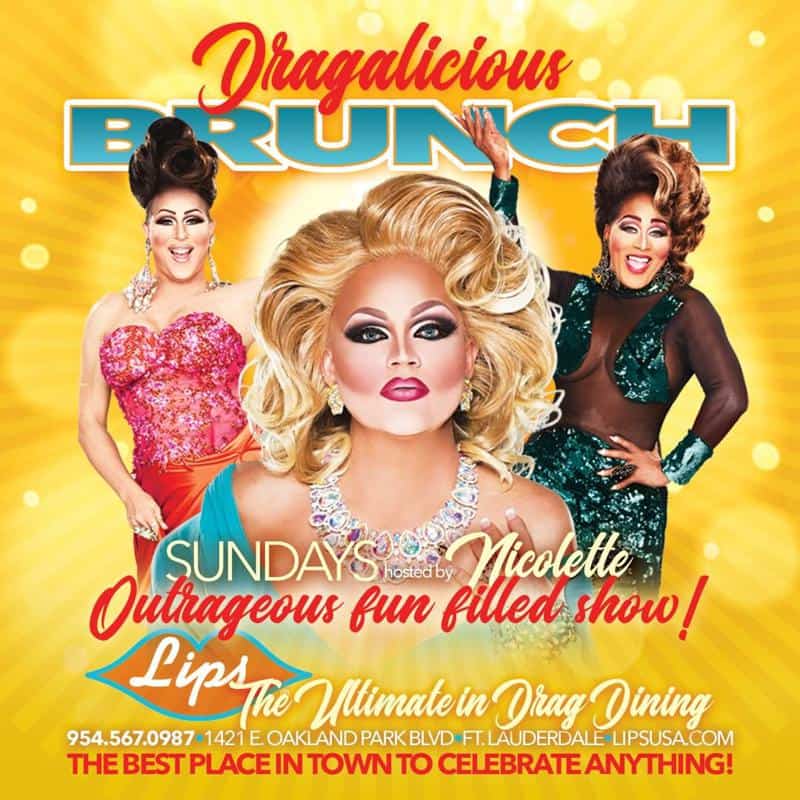 Address: 1421 E Oakland Park Blvd, Fort Lauderdale, FL 33334
Phone: +1 954-567-0987
Time: Weekly brunch on Sundays from 11:30 am to 2 pm
Tickets: $34.95 all-inclusive package
Known for: Exhilarating drag show with an all-inclusive brunch package and unlimited champagne, mimosas, and Bloody Mary
Distance from Miami: 35-40 minutes from Miami
Holding a small world of its own within its humble hallowed walls, Lips is an institution in Fort Lauderdale just a little off Miami, hosting the marvelous Dragalicious Gospel Brunch every weekend. The extraordinary drag show has a lot to offer with stunning performers and excellent brunch and drinks.
The small price of the show is all-inclusive, ensuring a once-in-a-lifetime experience with delectable entrees, unlimited mimosas, champagnes, and Bloody Marys, and a show that will take your breath away.
Try the delicious Chicken and Waffles or the heavenly rich Chicken Penne as the guest performers mesmerize you with their exceptional moves and over-the-top costumes. Reservations are mandatory to secure your spot.
Besides drag brunch, the venue is also famous for evening events and shows, as well as hosting bachelorette parties in full swing.
Georgie's Alibi Monkey Bar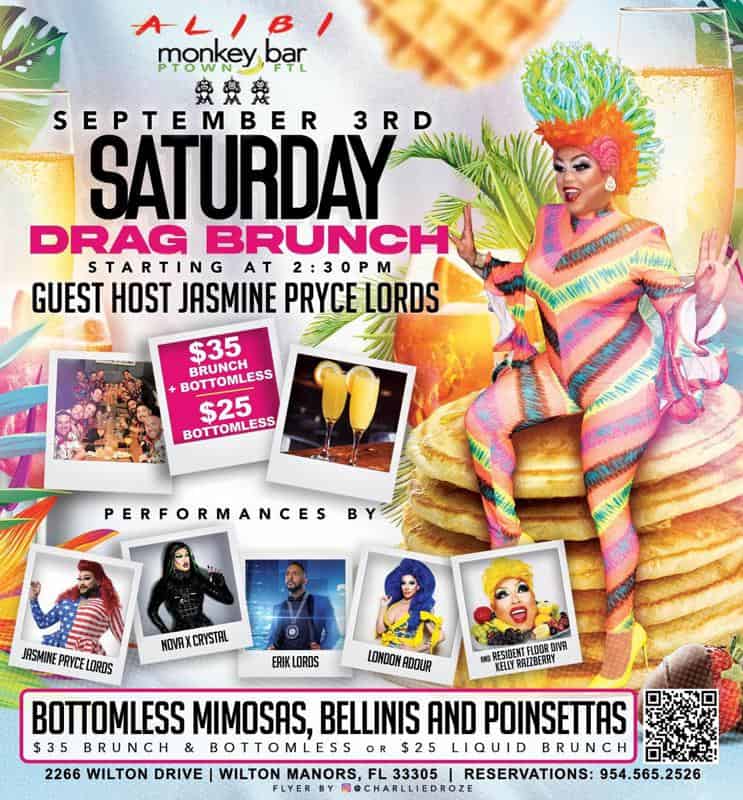 Address: 2266 Wilton Dr, Wilton Manors, FL 33305
Website: Georgie's Alibi
Phone: +1 954-565-2526
Time: Weekly brunch on Saturdays at 2:30 pm
Tickets: $25 – $35
Known for: Liquid brunch deal with bottomless mimosas, bellinis, and poinsettias.
Distance from Miami: 35-40 minutes from Miami
With a quirky name and extravagant setting, Georgie's Alibi Monkey Bar is a funky little spot on Wilton Drive only a half an hour's drive from Miami. The bar hosts an exciting drag brunch every week on Saturdays.
The drag brunch is especially appealing to those who prefer to sleep in late on the weekends, as the seating starts at 2:30 pm. The spacious bar has both an indoor and outdoor seating area available with warm and welcoming party vibes.
The $35 drag brunch deal is all-inclusive, offering a wonderful show alongside delectable brunch entrees and bottomless mimosas, bellinis, or poinsettias. The bar also has a liquid brunch package for those who wish to skip the meal and enjoy the show with drinks and glittery drag.
Read More:
Drag Brunch Events in Miami
Diva Royale Drag Queen Show Miami
Address: 739 Washington Avenue, Miami Beach, FL 3313
Phone: +1 917-633-4943
Time: Select Sundays at 1:30 pm
Tickets: Starting from $30
Known for: Famous drag queens and celebrity impersonators
Brace yourselves for an exciting event with famous drag queens and celebratory impersonates, as the Royal Divas Miami Beach Drag Queen Brunch Shows take the city by storm. Hosted at the Diva Royale Restaurant, you can book your tickets online and catch exclusive shows hosted in Miami frequently.
The show started in New York City and was a tremendous success. Since then, it has extended the performances to a wide array of cities, including Miami Beach with an electrifying brunch and an alluring drag show.
The female celebrity impersonators include Dolly Parton, Madonna, Liza Minelli, Celine Dion, Adele, Celia Cruz, Whitney Houston, Nicki Minaj, Beyonce, Sia, and Britney Spears among others.
Illusions the Drag Queen Show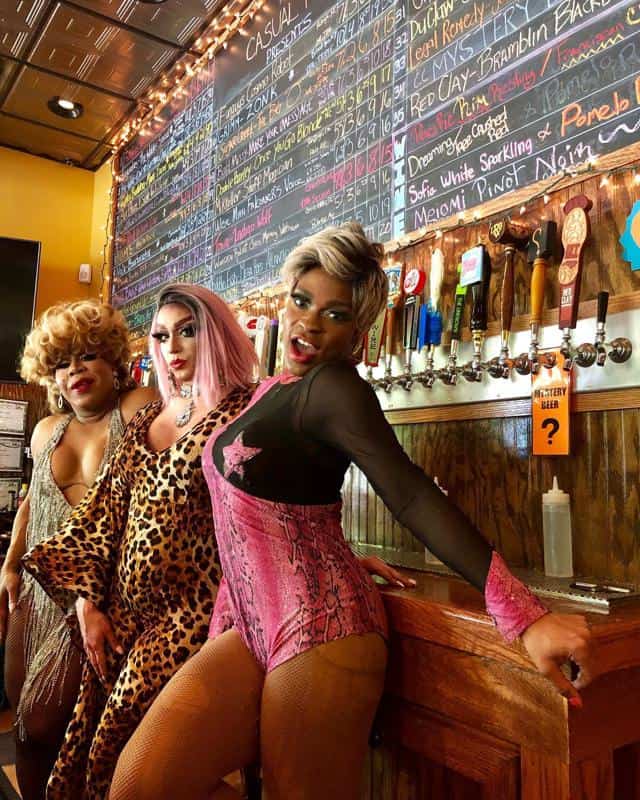 Address: 901 Pennsylvania Ave, Miami Beach, FL 33139
Website: Illusions
Phone: +1 305-521-0722
Time: Select Saturdays and Sundays at 1:30 pm
Tickets: Starting at $30 with various packages
Known for: Comedy performances and celebrity impersonators
With a perfect blend of comedy and burlesque-style performances, Illusions the Show is a spectacular drag brunch event that will leave you in fits. Indulge in raunchy comedy with the industry's top celebrity impersonators and hilarious drag queens alongside great food and a variety of drinks.
The performances pay tribute to the latest pop favorites and icons such as Cher, Madonna, Whitney Houston, Donna Summer, Tina Turner, Beyonce, Pink, Lady Gaga, Cardi B, Britney Spears, Rihanna, Amy Winehouse, Adele, and many more.
The delicious brunch spread features all the breakfast and brunch staples alongside mimosas and Bloody Mary.
Enjoy the rib-tickling comedy routines, the finest musical performances, and an amazing drag show put up by special guests and rotating queens. Keep an eye out for reservations on their website, and make sure to catch their next show in Miami!
Read More: Best Seafood Restaurants in Miami
Frequently Asked Questions
Do These Restaurants and Bars Host Drag Shows in The Evening?
Most of the restaurants and bars mentioned on our list have evening drag shows with different themes. For instance, R house Wynwood has a Friday's Yas Queen at 8 pm and Saturday's Escandalo Drag and Salsa at 7:30 pm.
The official websites have all the details of drag shows listed with timings and reservations.
Do These Drag Brunches Accept Walk-Ins?
While some places accept walk-ins, the weekly and monthly drag shows often have limited seating. You can make online reservations on the official websites of the restaurant beforehand to be on the safe side.
Can I Watch the Drag Show without Getting Brunch?
The tickets usually include the price of the show, brunch, and drinks, but certain spots allow free entry just for the drag show – like Holy Mackerel.
Final Thoughts
Drag brunches are rapidly gaining popularity and have taken the breezy city of Miami by storm. Catch one of the exhilarating drag shows along with a mighty feast of brunch classics and drinks to infuse the perfect weekend vibe.