Tucson is the soul of the Sonoran Desert, the flavor of the Southwest. Tucson is all about the fine things in life, about unplugging, exploring, and freeing yourself.
At Tuscon, there are plenty of adventurous things to do as well as more leisurely and fun activities. You can find from multi-day treks to leisurely strolls for those seeking high-adrenaline activities. Similarly, you can explore, discover and learn about the area's history, geography, art, and even technology and science.
One thing that everyone desires to explore when visiting a new place is food. Tucson is truly the city of gastronomy, so you will definitely be satisfied with its delicious culinary heritage.
When it comes to sushi, everyone has their own taste. Some prefer simple traditional nigiri sushi, while others love creative and flavorful sushi. In Tucson, you can find a wide selection of restaurants that cater to your unique tastes.
Check out the restaurant guide reviewing the top sushi spots in Tucson.
Best for Couples: OBON Sushi Bar Ramen
Best for Price: Sushi Cortaro
Best for Family: Kazoku – Sushi and Japanese Restaurant
Best for Traditional Sushi: Sushi on Oracle
Best for Parties: Ginza Sushi and Izakaya
Best Sushi Restaurants in Tucson
OBON Sushi Bar Ramen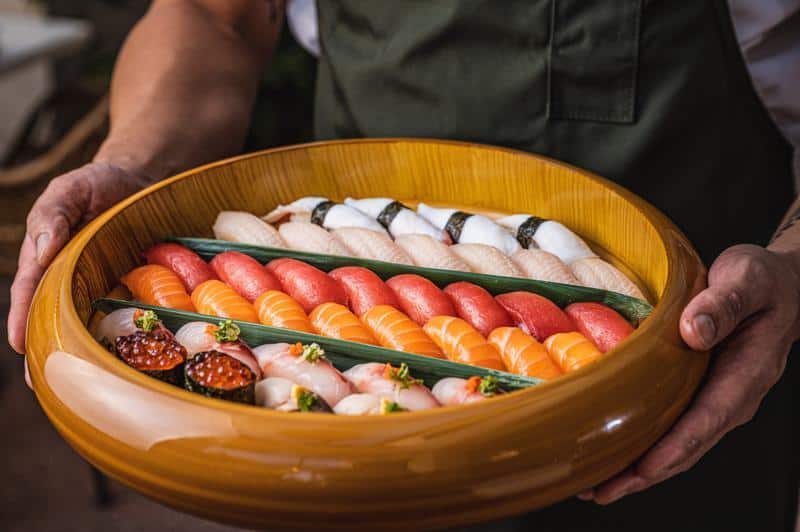 Obon is a chic, trendy sushi restaurant in downtown Tucson offering traditional Japanese food and Asian fusion dishes. Its upbeat ambiance and sushi's modern display make it one of the most fun places for sushi.
The menu features a wide variety of shared plates, ramen, salads, poke, and many vegan options like the curry bowl and the fried cauliflower steamed bun. Sushi is displayed on the illuminated board alongside exceptional specials such as Miyazaki wagyu or Maine uni.
The restaurant is conveniently located in the heart of the city's entertainment district, making it the perfect spot to visit during a day out on the town. You can enjoy delicious Japanese cuisine on the patio or order for takeout and delivery.
Sushi Cortaro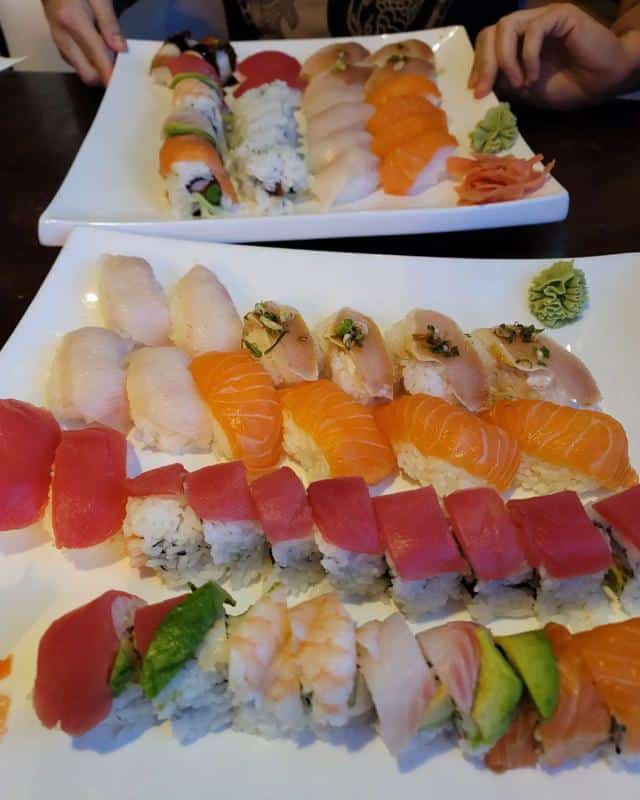 Address: 75 W River Rd #181, Tucson, AZ 85704
Phone: +1 520 888 1886
Website: Sushi Cortaro
For true sushi lovers, Sushi Cortaro is a little heaven on earth. This contemporary sushi bar offers an "All You Can Eat" sushi option. The special All You Can Eat Sushi menu is available all day, and along with a long list of nigiri and sushi rolls, the menu features savory appetizers like Gyoza and Calamari.
Sushi Cortaro also offers great bento and lunch specials for people who want to enjoy a delicious meal at an affordable price. Both specials are served with a cup of miso soup and a house salad.
The restaurant's affordable prices and relaxed vibe are perfect for a lovely weekend outing with family or a quick meal with coworkers. The staff offers excellent services and is ready to be of any assistance.
Kazoku – Sushi and Japanese Restaurant
Kazoku is a charming Japanese restaurant perfect for enjoying a casual meal with family and friends. It is a family-owned and operated restaurant that offers a great selection of sushi and entrees.
Their nigiri, sashimi, and maki rolls are all made from fresh, high-quality ingredients. Japanese soda, sake, beer, and wine are also available alongside your sushi dish. Kazoku also serves delicious sweets like ice cream and mochi. Surely you won't leave disappointed.
At Kazoku, you will have an authentic Japanese experience. The hospitality, service, and ambiance are excellent. That's why since its opening in 2006, it has been frequented by locals and travelers alike.
Sushi On Oracle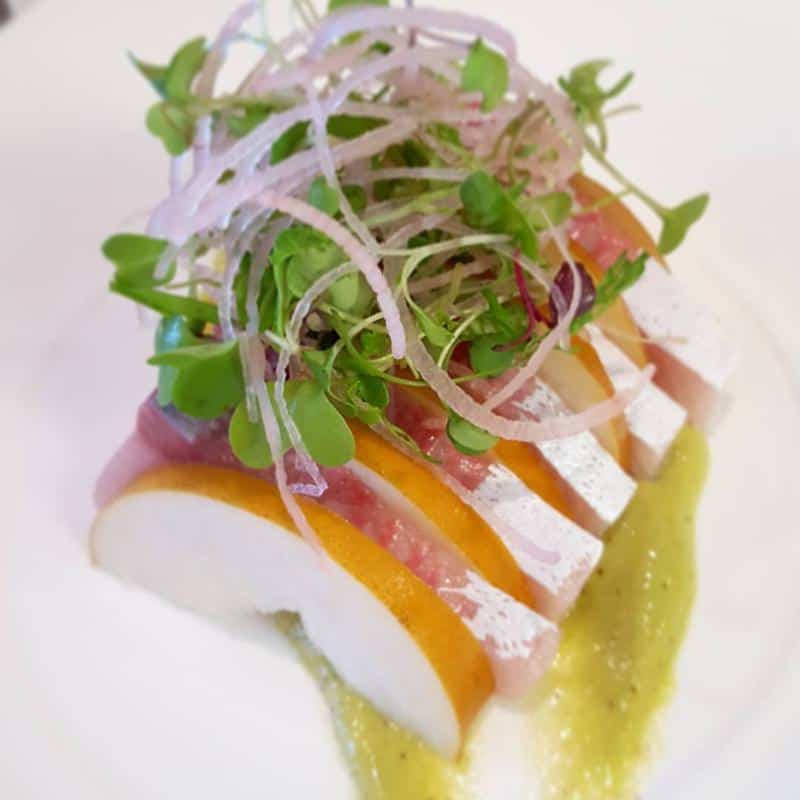 Address: 6449 N Oracle Rd, Tucson, AZ 85704
Phone: +1 520 297 3615
Website: Sushi On Oracle
If you are looking for a traditional Japanese cuisine restaurant, then this should be your destination. Sushi on Oracle is a modern, elegant restaurant serving mouthwatering traditional and unique plates.
Skilled master chefs always use the freshest fish and ingredients to make sushi. Their most popular items include the Caterpillar Roll, Toro, and Smelt Roe. If you want both sushi and an entree, go for Sushi Combination, which comes with sushi and your choice of chicken beef or salmon teriyaki.
Sushi on Oracle is an ideal restaurant if you plan to dine out for a special occasion. After all, it offers an intimate, upscale atmosphere perfect for couples, anniversary parties, or other special days you wish to spend an elegant dinner night with friends and family.
Ginza Sushi and Izakaya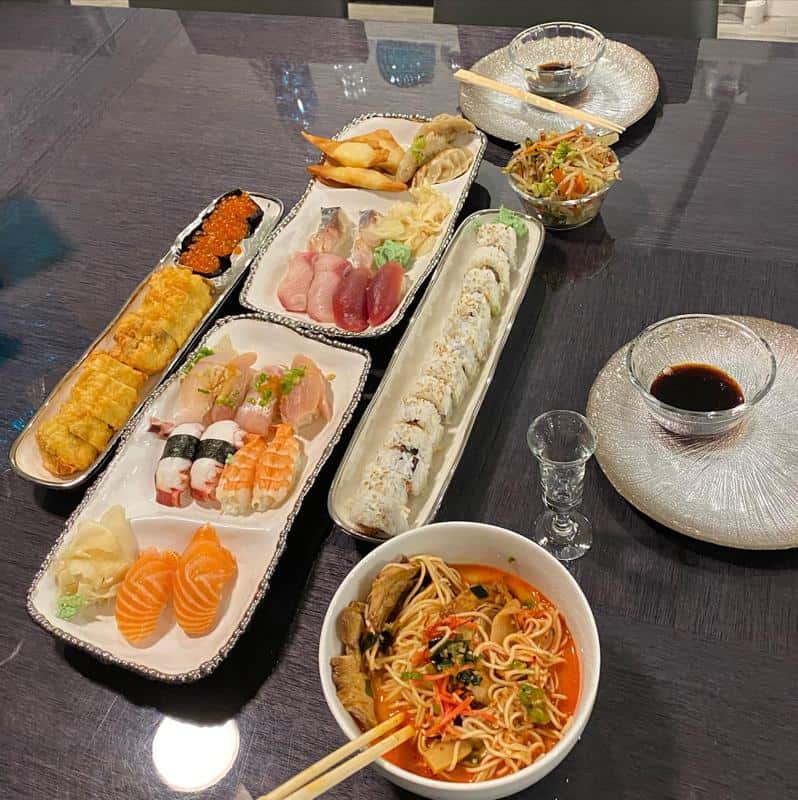 Ginza is known for its alternative take on Japanese cuisine and sushi. They specialize in tapas-style food. This style encourages you to choose and order various dishes to share with your companions. Due to this, the restaurant offers a lively and vibrant atmosphere.
Its sushi list boasts an impressive array of nigiri, maki, sashimi, tataki, and special rolls. If you are with a group, try ordering one of the sushi boats. Other savory and authentic Japanese dishes like the Soft Shell Crab and Baby Octopus are also great for sharing with others.
Another fun fact about Ginza is that they have monthly Facebook rolls. An example is their Hawaiian rolls with grilled chicken, pineapple, serrano peppers, and cream cheese inside. They are all deep-fried and topped with unagi sauce, sweet hot sauce, and bacon chips.
Yoshimatsu Japanese Eatery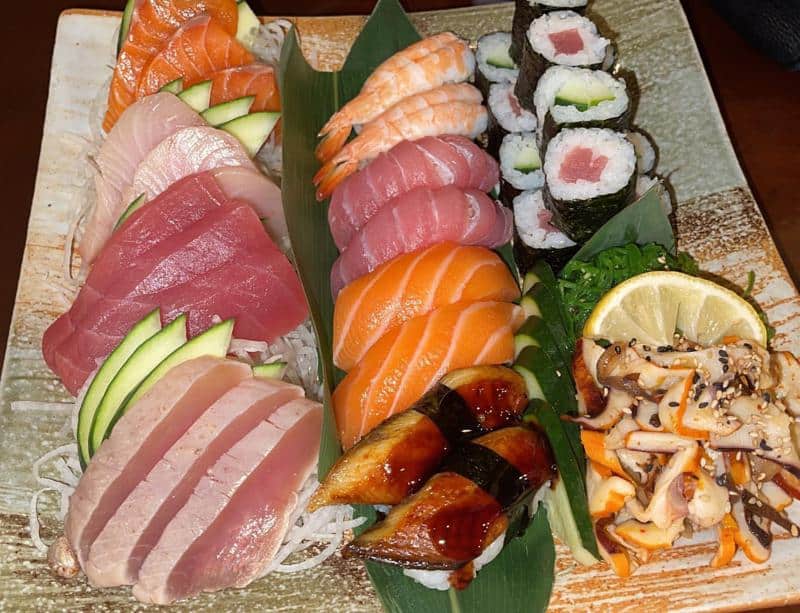 Address: 2741 N Campbell Ave, Tucson, AZ 85719
Phone: +1 520 320 1574
Website: Yoshimatsu
Yoshimatsu is full-service casual dining with contemporary Japanese and antique decor. It offers original healthy Japanese dishes. All the recipes use organic ingredients, but the food is still positively affordable.
Yoshimatsu features a creative poke bowl selection on their lunch menu. Additionally, their young sushi bar talent has fun improvising with sushi classics. They serve selected fresh food ingredients, and they offer an original Vegetarian menu as well as gluten-free menu options.
The restaurant was voted the Best of Tucson in the Best Japanese Restaurant category by Tucson Weekly for 16 consecutive years!
Takamatsu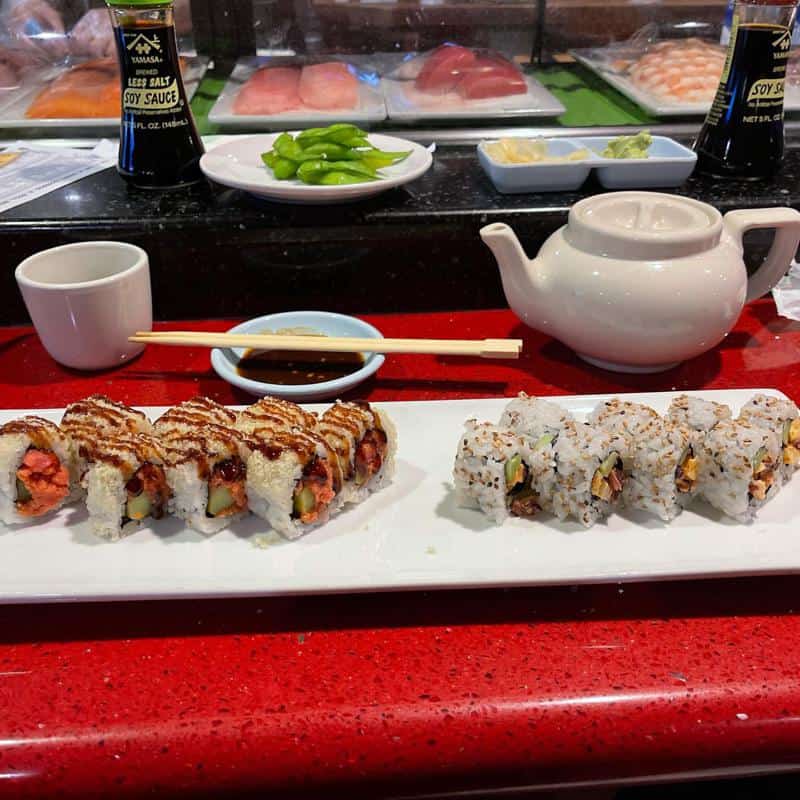 Address: 5532 E Speedway Blvd, Tucson, AZ 85712
Phone: +1 520 512 0800
Website: Takamatsu
Takamatsu has been a family-owned and operated restaurant since its opening in 1995, offering authentic Japanese and Korean cuisine. It is a charming 40-person Sushi bar for the perfect sushi experience.
The Japanese menu boasts an extensive selection of traditional entrees and changing specials. Furthermore, Takamatsu's Happy Hour offers discounted sushi items, appetizers, and drink specials.
If you prefer something different than sushi, the Korean menu includes a wide variety of authentic dishes, including Korean BBQ, which gives you the option to cook savory meats served with all the traditional sauces and side dishes right at your table.
Related Read: Best All You Can Eat Sushi in Tucson, AZ
Sachiko Sushi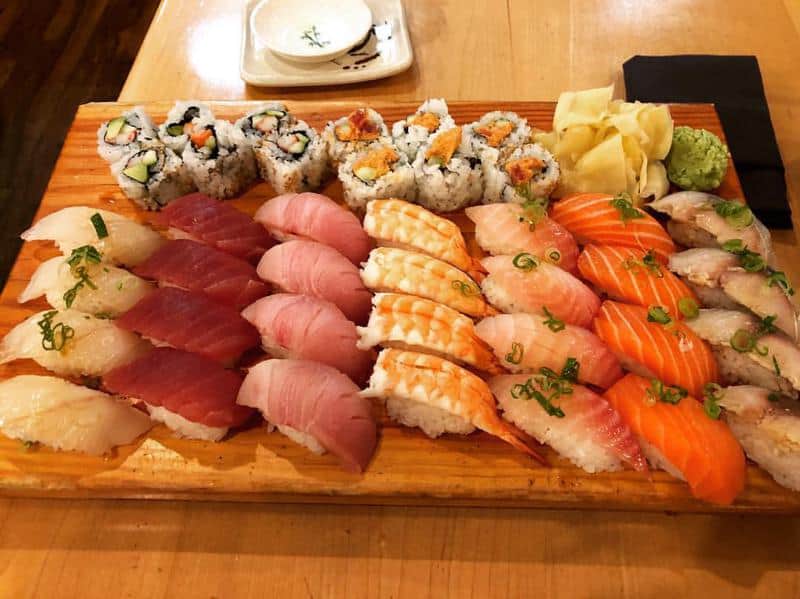 Address: 1101 N Wilmot Rd, Tucson, AZ 85712
Phone: +1 520 886 7000
Website: Sachiko Restaurant
Sachiko is a rustic, laid-back restaurant with a wide selection of sushi rolls and dishes. It is perfect if you are looking for a more casual restaurant experience. Its cozy and intimate environment allows you to both grab something to go or sit down for a full meal. Whatever you choose, you'll surely have an exceptional meal.
Sachiko also serves authentic Asian dishes like Chicken Teriyaki and Shrimp Fried Rice. So, if you wish for a complete Asian cuisine and experience, share sushi rolls and choose your own entree.
Apart from having delicious sushi, once entering the restaurant, you'll immediately notice why this is one of the top sushi restaurants in Tucson. The service is terrific! Someone always welcomes the guests, and often even the sushi chefs. Then you are seated promptly and given water quickly. It is a place where you can feel welcomed and relaxed.
Samurai
Address: 3912 N Oracle Rd #100, Tucson, AZ 85705
Phone: +1 520 293 1963
Website: Samurai
At Samurai, you will have a memorable experience filled with great food and good company. The dishes are made from fresh, high-quality ingredients and prepared by expert chefs.
Signature rolls are the Kappamaki, Super Hiro Roll, and Avocado Roll, which tend to come out the fastest, and the Philadelphia Roll and Dynamite Scallop Roll, which might take longer. But promise that the wait is worth it.
If you're a big fan of poke bowls, try their Volcano Style Sushi Bowl filled with tempura flack, eel sauce, and spicy mayo with masago on top. The food here is delicious and the prices affordable, a perfect combination for a lovely dinner.
O Sushi Restaurant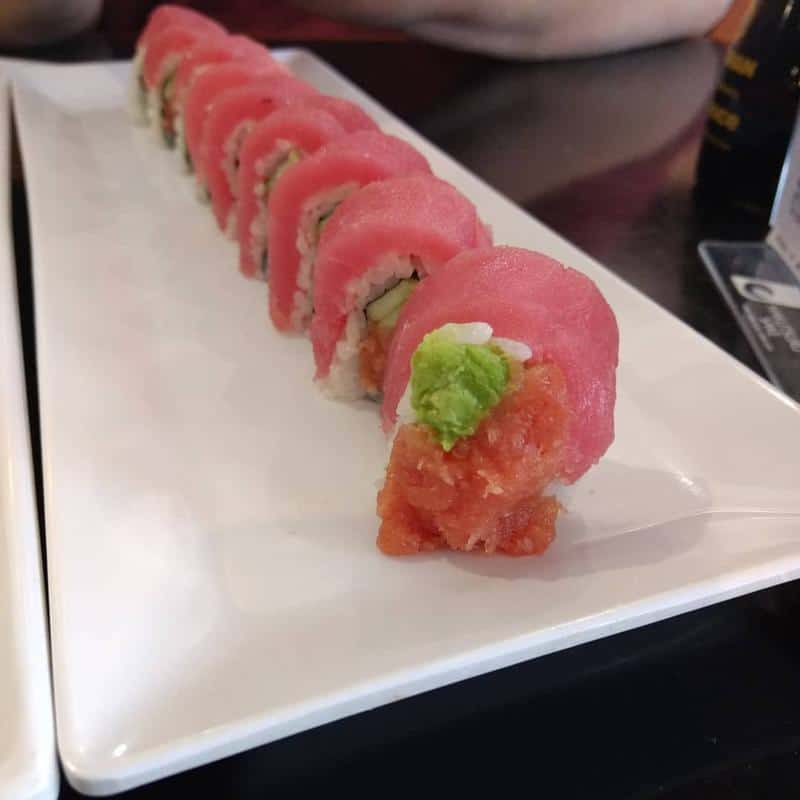 Address: 4689 E Speedway Blvd #4633, Tucson, AZ 85712
Phone: +1 520 325 6552
Website: O Sushi Restaurant
O Sushi is a rather small restaurant favored by locals. Its small but intimate environment will make you feel right at home, and it is an ideal place for a relaxed outing with delicious food.
You'll find creative and fun dishes on the menu like the Lobster Roll and Crazy Boy Roll. But if you prefer simple rolls, you'll still find plenty of them on the menu. The restaurant also treats you to complimentary edamame and miso soup.
If you're looking for something filling, we recommend the Combination Dinner. You pick two options, such as teriyaki or sushi, that come with rice, fried dumplings, and a side salad. The flavors were terrific, and the food was prepared quickly and served fresh.
Sushi Nara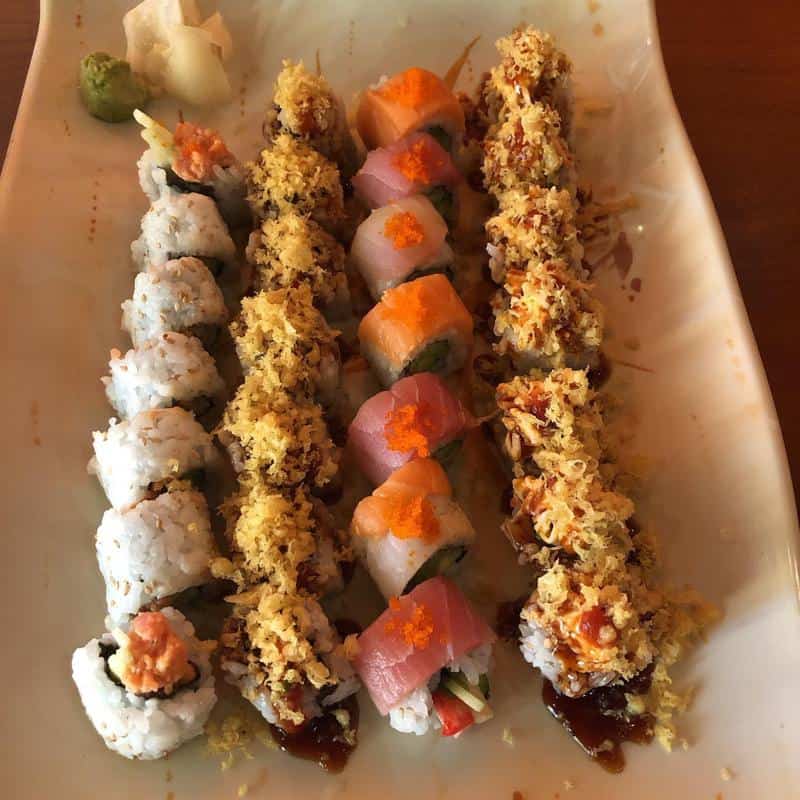 Address: 64 N Harrison Rd, Tucson, AZ 85748
Phone: +1 520 296 3333
Website: Sushi Nara
Located on the east side of Tucson, Sushi Nara is another popular sushi spot that will satisfy your tastebuds and leave you ready to come back for more. It offers a small cozy space perfect for dining with close friends and family members.
This fun, low-key restaurant boasts an extensive sushi menu that caters to various tastes and preferences. You can find numerous sushi combos that allow you to try multiple rolls.
Hot dishes like Chicken Teriyaki and Spicy Ramen are also available. The service is always exceptional and quick. Furthermore, everything is fresh and flavorful, and the portion sizes are just perfect.
Yamato Japanese Restaurant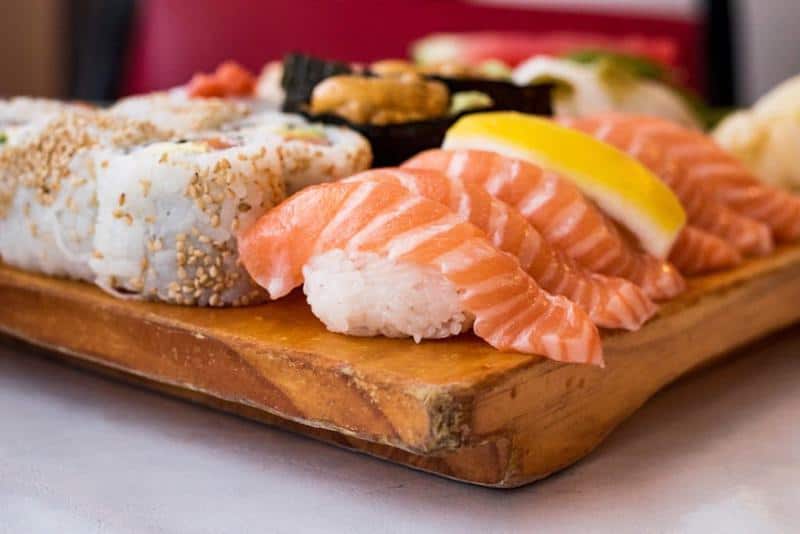 Yamato is a top-rated sushi restaurant featuring a small, high-quality menu. This quirky and intimate restaurant offers all the famous sushi rolls you've heard of.
A favorite amongst its regular guests is the Chef's Choice Sashimi. But if you are craving something warm, go for the Tonkotsu Ramen. Frankly, no matter your taste, there's definitely something for everyone here.
At Yamato, you can also watch the expert chefs make your dish if you sit at or near the bar. Chef Noboru also loves chatting with guests, so don't be afraid to strike up a conversation with him while you're there.
Read More: Best Breakfast & Brunch Spots in Tucson, AZ
Final Thoughts
Tucson is a terrific city to experience diverse landscapes, history, culture, and fantastic culinary experiences. Tucson is a UNESCO city of gastronomy because the food here has a history that dates back 4,000 years.
The city's culinary heritage is a tapestry of Mexican and Native American traditions. Still, nobody ever said no to alternative cuisines, especially sushi. Sushi is a fun and delicious food that can be prepared with many combinations of meats, veggies, and sauces.
All of these restaurants have outdone themselves with traditional sushi, and some have added a twist.