There are many paths that lead to Vegas, but no matter what brings you here, one thing is true: you must eat. All the crowds that flock to Vegas each year demand awesome food, and all sorts of it, and the food scene in Vegas has been responding to all that demand.
There are so many awesome spots to eat of all kinds in Vegas now that it's almost impossible to count them.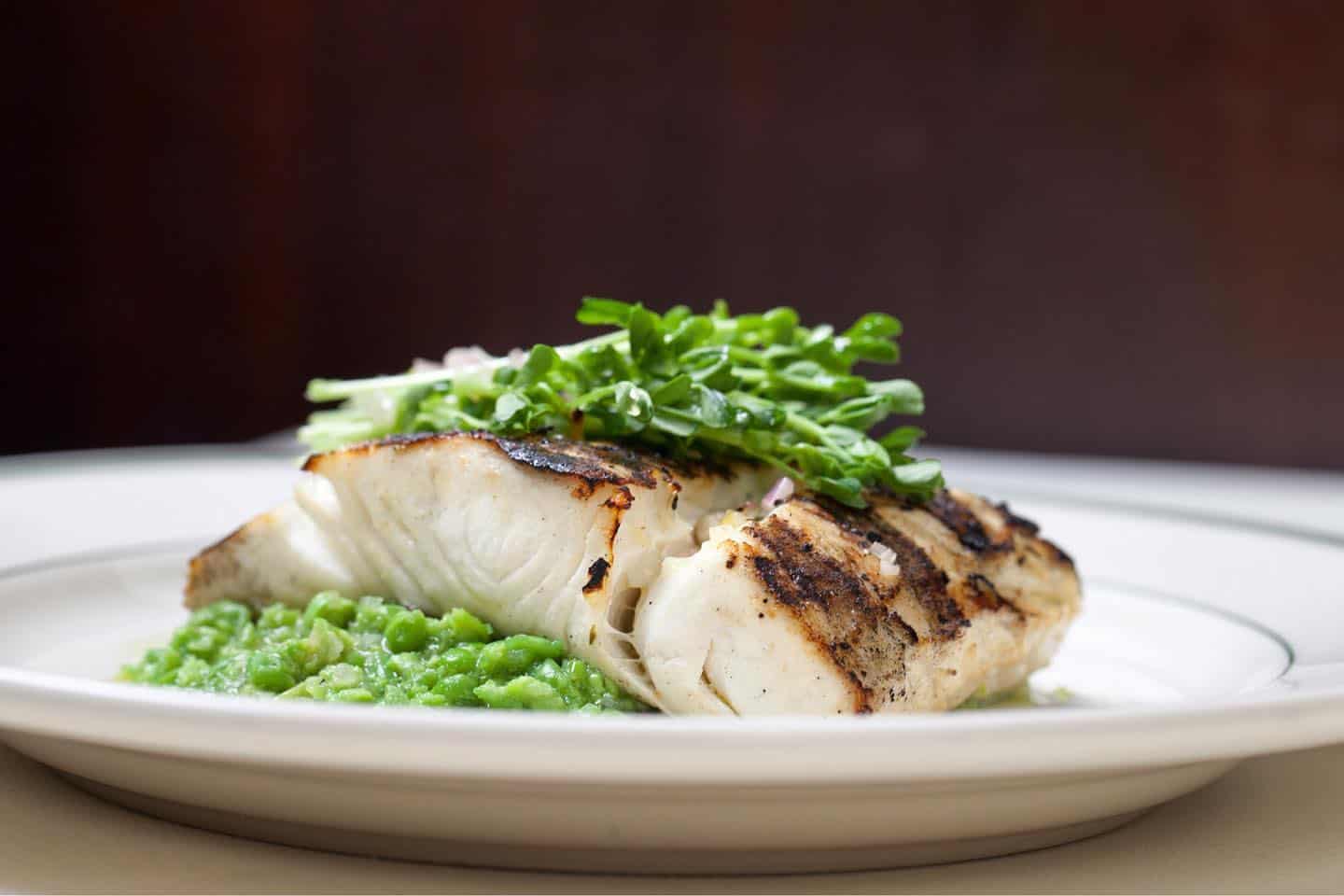 And, perhaps surprisingly, this desert town has also become somewhat of a seafood capital. Vegas is perhaps the only place where you can experience almost every cuisine of the world – with authentic taste and modern twists, and with authentic ingredients – at least when it comes to seafood.
With so many options available, and such variety, it is difficult to come up with a top list of the best restaurants in town. What's ultimately the best will always depend on the occasion. With that in mind, we present you with a list of 10 unmissable seafood restaurants in Las Vegas.
But don't take that as a hierarchy going from worst to best. All of these restaurants are amazing at their own thing. No matter if you are looking for an upscale experience or authentic ethnic seafood dishes (or maybe both?), there is something for you on the list below:
Best Seafood Restaurants in Las Vegas
Joe's Seafood, Prime Steak & Stone Crab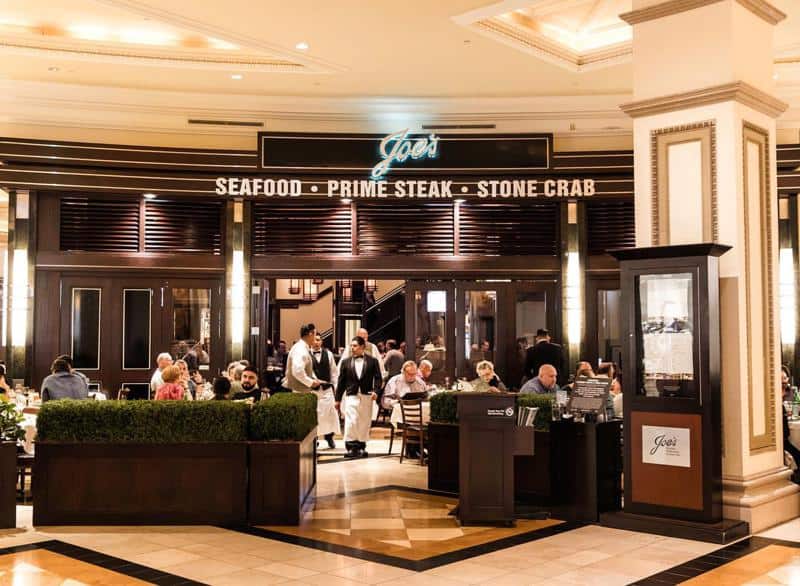 Hours: 11:30 am – 9:00 pm; open until 10 pm on Fridays and Saturdays
Address: 3500 S Las Vegas Blvd
Price: $$$
Joe's Seafood, Prime Steak & Stone Crab is one of the 4 outposts of the legendary Joe's Stone Crab restaurant in Miami Beach. Nevertheless, the Las Vegas Joe's is one of the places many associate with a visit to Vegas.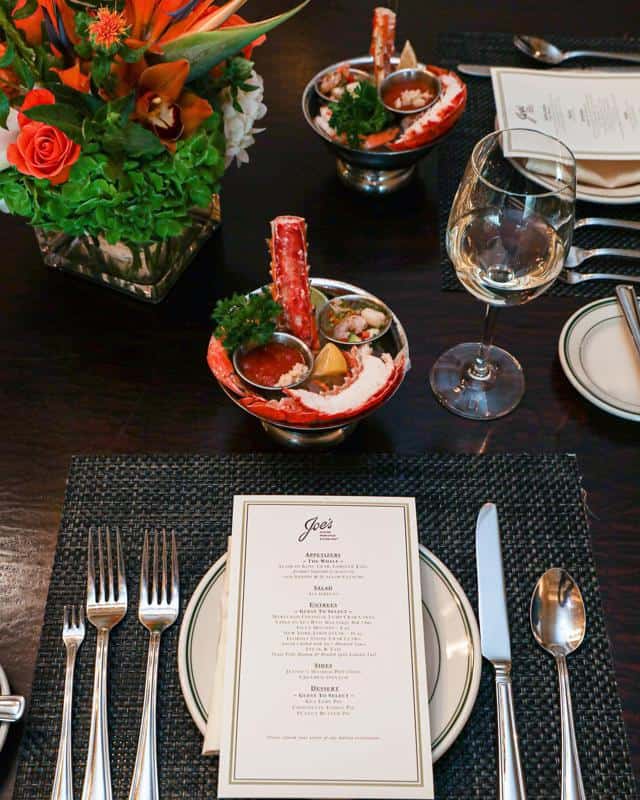 The signature dish at Joe's is, of course, the Stone Crab claws. Flown in fresh from Florida directly to you, these world-famous claws are really a must-try. However, if you'd rather have something else, you surely won't be disappointed by the variety of options on the menu. Besides the steak, as you might guess from the name, you'll find fish and seafood delights galore as well a range of signature sides.
In short, there is something for everyone. But the best thing about Joe's Seafood, Prime Steak & Stone Crab is the consistent quality of dishes. No matter what you order, you are in for a treat. And that shouldn't surprise us, considering the fact that the original Joe's was opened in 1913 and has remained in vogue ever since.
The fish menu never ceases to amaze us with each type of fish prepared in the most perfect way to bring out its flavor be it the Pan Sauteed Branzino with lemon and capers or the Chilean Sea Bass with miso glaze, bok choy, and shiitake mushrooms. And if there is room for dessert make sure to try some of their pies which are getting raving reviews even though the seafood and steak are the main stars.
Diner's note: Joe's Seafood, Prime Steak & Stone Crab is a reliable option both for lunch and dinner that will not disappoint. The place is perfect for family outings and bigger get-togethers as everyone will be able to find something delicious to eat, no matter if they prefer seafood, meat, or veggies.
Michael Mina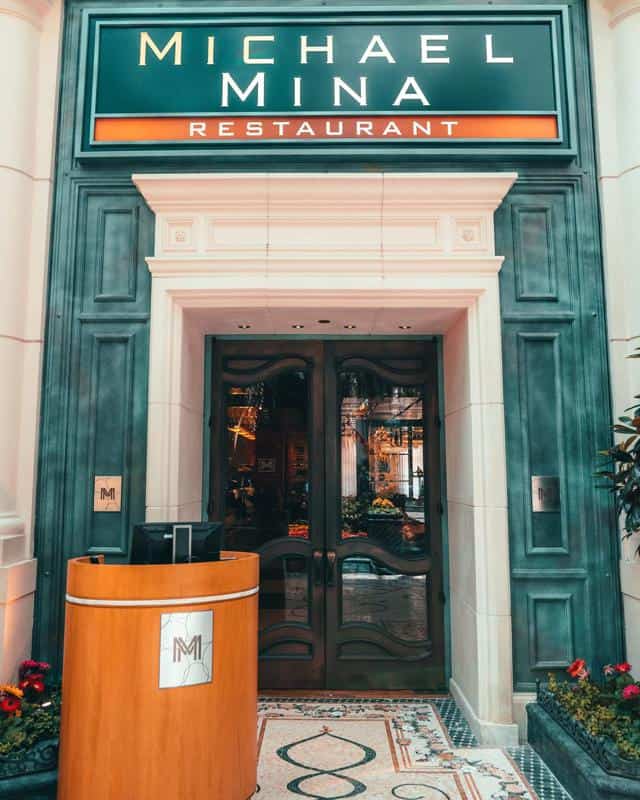 Hours: 5 pm – 10 pm Wednesday – Sunday
Address: Bellagio 3600 Las Vegas Blvd. South Las Vegas, NV 89109
Price: $$$$
If you are interested in a fine dining experience, you can't go wrong with a visit to the Michael Mina restaurant. Located at the Bellagio and overlooking its botanical gardens, this establishment is not just in the very center of Vegas, it's also the epicenter of high end dining.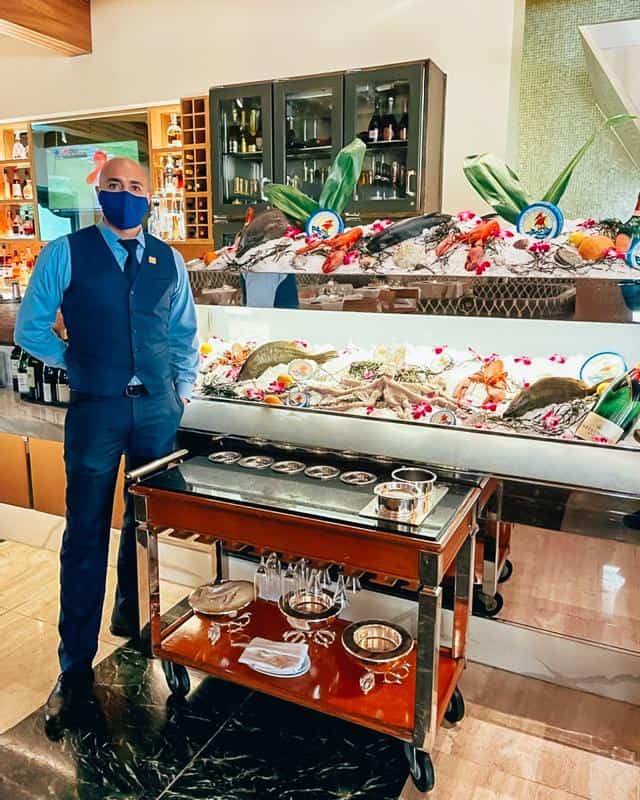 The namesake of the famed chef, the menu here includes some of Michael Mina's signature dishes like the lobster pot pie and caviar parfait. Strongly focused on seafood (but not only – there is even a vegetarian tasting menu available) each dish will take you on a true culinary adventure.
All in all, the Michelin restaurant is a delight for the senses from the moment you step inside. From the elegant interior with minimalistic design and lots of wood, to the exquisite wine list and, of course, the food that creates the perfect balance between complexity and subtlety.
If a high end experience is what you are after, Michael Mina Las Vegas will always deliver. The price tag is in line with the reputation of the restaurant, but the delightful menu is well worth the splurge.
Diner's note: Michael Mina Las Vegas is open only for dinner. Making reservations well in advance is recommended. Keep in mind that the restaurant is closed on Mondays and Tuesdays. Dress code is business casual.
Other Mama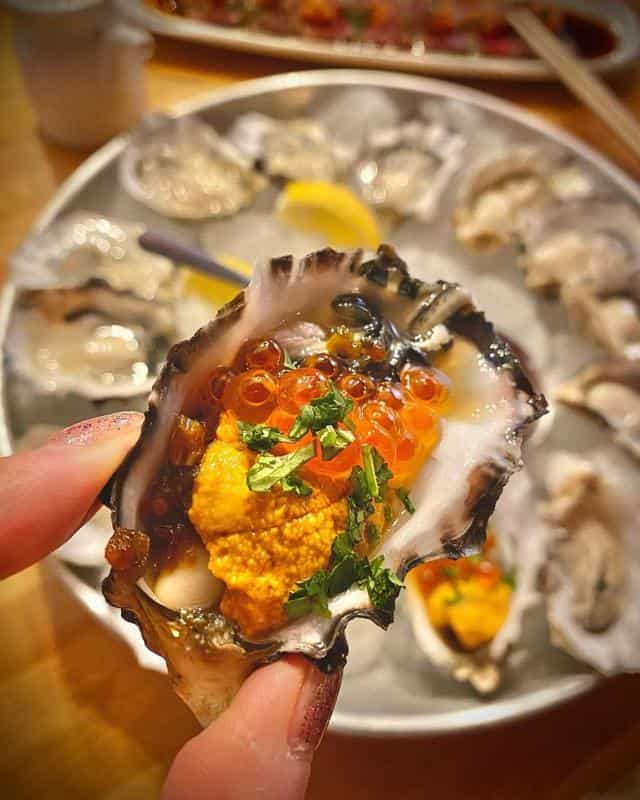 Hours: 5 pm – 10 pm
Address: 3655 S Durango Dr Ste 6, Las Vegas, NV 89147
Price: $$
The unique character of Other Mama is what makes it a constant act on all best-in-Vegas lists. Other Mama somehow manages to be modest but bold at the same time. Something between a neighborhood restaurant, a raw bar and a sushi joint, the establishment offers a fun experience with exquisite dining options and cocktails to match.
Located off the strip but well worth the journey, Other Mama is a restaurant you simply must experience in person in order to understand what all the hype is about. The brainchild of chef and owner Dan Krohmer, the restaurant menu focuses on fresh fish (which is always the highest quality) and has strong Japanese influences.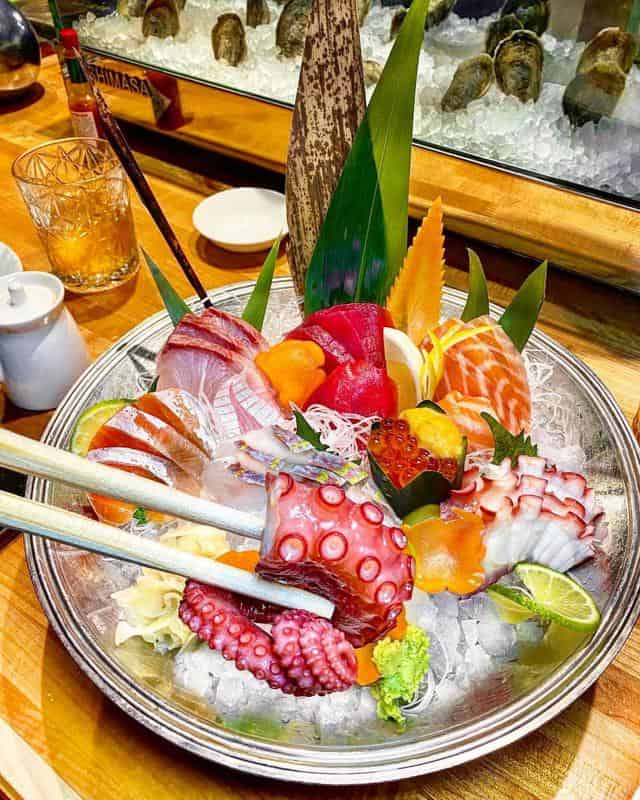 It's difficult to say what is the one dish you must try here as there are so many delightful choices available. From the seafood ceviche that arrives with a side of sweet potato chips over fresh sashimi to whimsical dishes like caviar on french toast, the experience is sure to be memorable.
The raw bar is simply amazing, and although this might not be the first place that comes to mind when it comes to oysters in Vegas, the "Daily Oysters" and Other Mama are a delight. What makes the experience different from any other place are the interesting dipping sauces like ponzu salsa or pickled habanero.
Diner's note: The restaurant is open at dinner time only every day except Monday. Do take advantage of the awesome drinks menu too. It not only includes a range of signature cocktails, but also a well-made wine list and quite a rich offering of sake.
Water Grill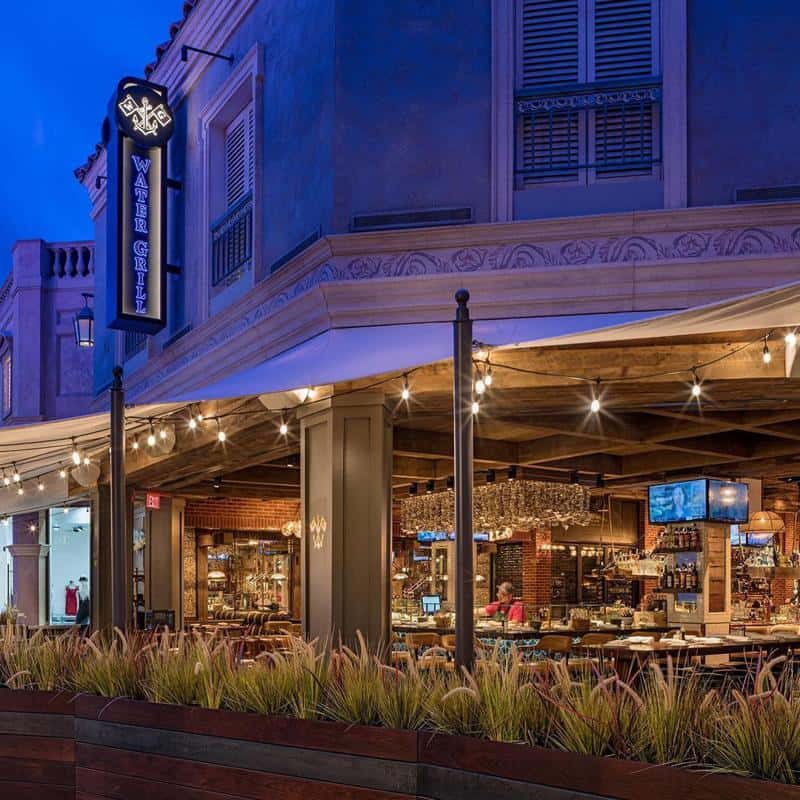 Hours: 10:30 am – 10/11 pm
Address: 3500 Las Vegas Blvd S Las Vegas, NV 89109
Price: $$$
Water Grill takes the dedication to fresh seafood to the next level. In fact, their whole menu is focused on showcasing the best and freshest seafood. They change the menu up often in order to offer the best of the season.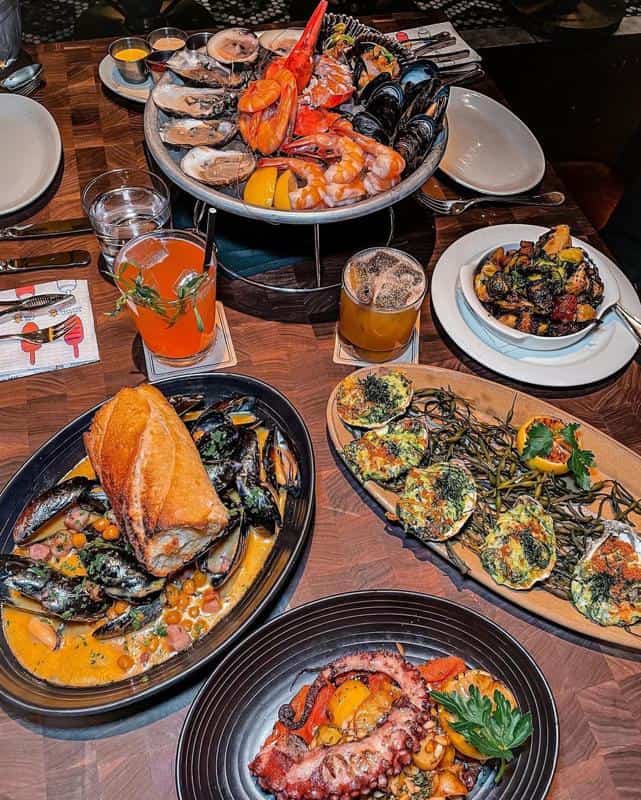 Located in the iconic Forum Shops area at the Caesars Palace, this restaurant is perhaps closest to the true Vegas seafood experience you can have. With spacious interior that extends onto the patio and subdued retro decor, the Water Grill feels cozy but upscale.
It's almost inevitable to start with oysters when at the Water Grill. Although they have much more to offer, the oysters are amazingly fresh and don't leave anyone disappointed. Follow this by some of their awesome dishes from freshly-caught fish accompanied by imaginative vegetable sides.
Diner's note: The restaurant is open until 11 pm on the weekends and until 10 pm during the week. Water Grill is a great place for date nights, as well as celebrations with smaller or larger groups.
Bajamar Seafood & Tacos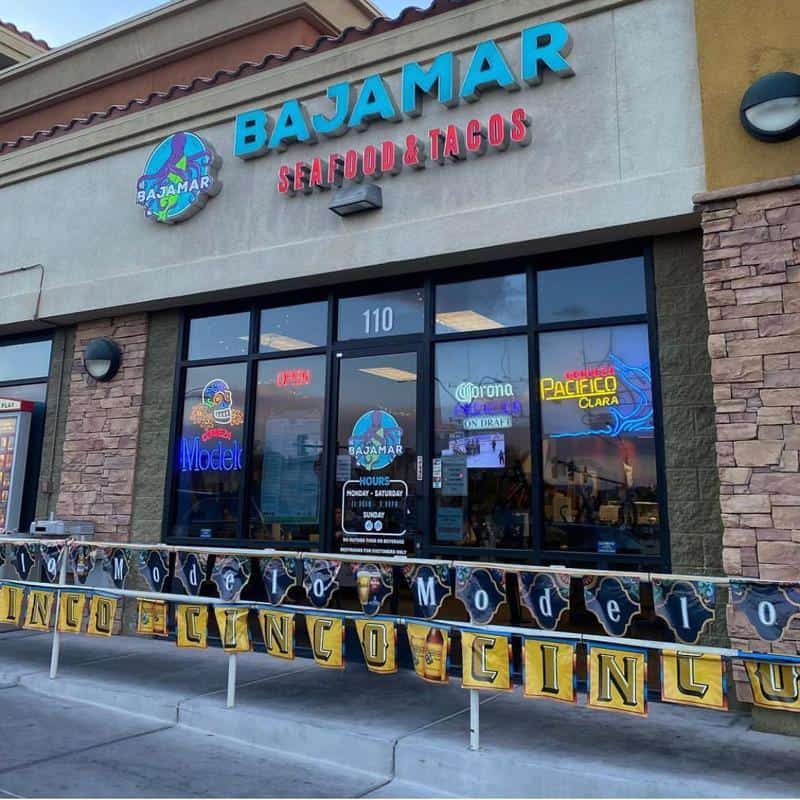 Hours: 12 pm – 8 pm
Address: 1615 S Las Vegas Blvd Las Vegas, NV 89104
Price: $$
If a casual but exciting lunch is what you are after, the Bajamar Seafood & Tacos joint has a lot to offer you. When the restaurant opened in 2017, the idea was to bring the vibe of a Baja California surf shack to vegas, and it worked! – at least according to the faithful following the restaurant quickly acquired.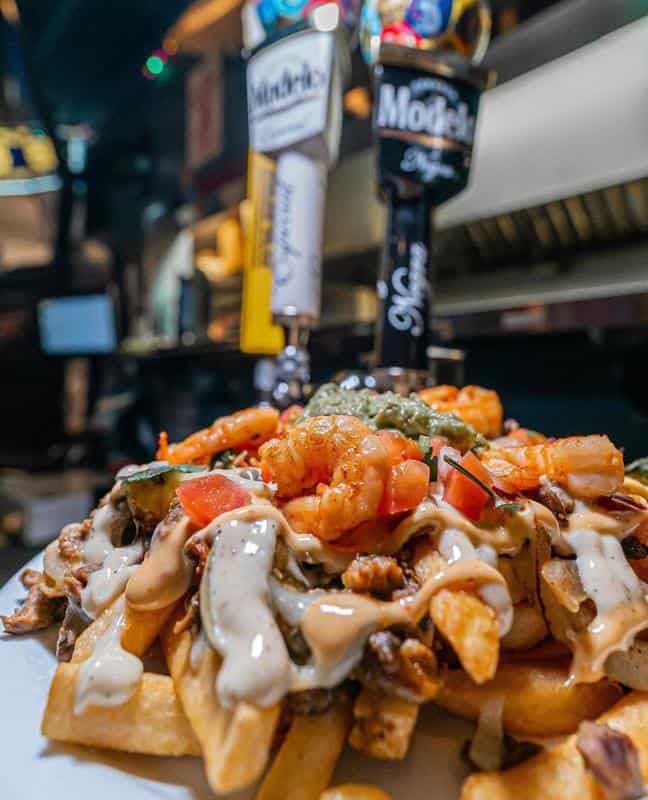 The Baja style mennu of Bajamar is a true explosion of authentic flavors, with lots of seafood, spice and freshness. Ona would expect to find great tacos at such an establishment, and that's certainly the case here, the Spicy Octopus Taco being a local favorite.
However, that's not where the fun stops as Bajamar offers a variety of fun dishes like the Surf N Turf Fries with the whole sha-bang. As if that were not enough, guests can also enjoy the amazing Ceviche Tostada menu. We recommend getting the Ceviche Sampler if you want to feel the full range of authentic Mexican seafood flavors.
Diner's note: Besides the original location in Las Vegas Boulevard, Bajamar recently opened a new restaurant in the SouthWest on Blue Diamond Road. While the original restaurant is closed on Sundays, the Blue Diamond joint is open on Sundays too until 6 pm.
Kabuto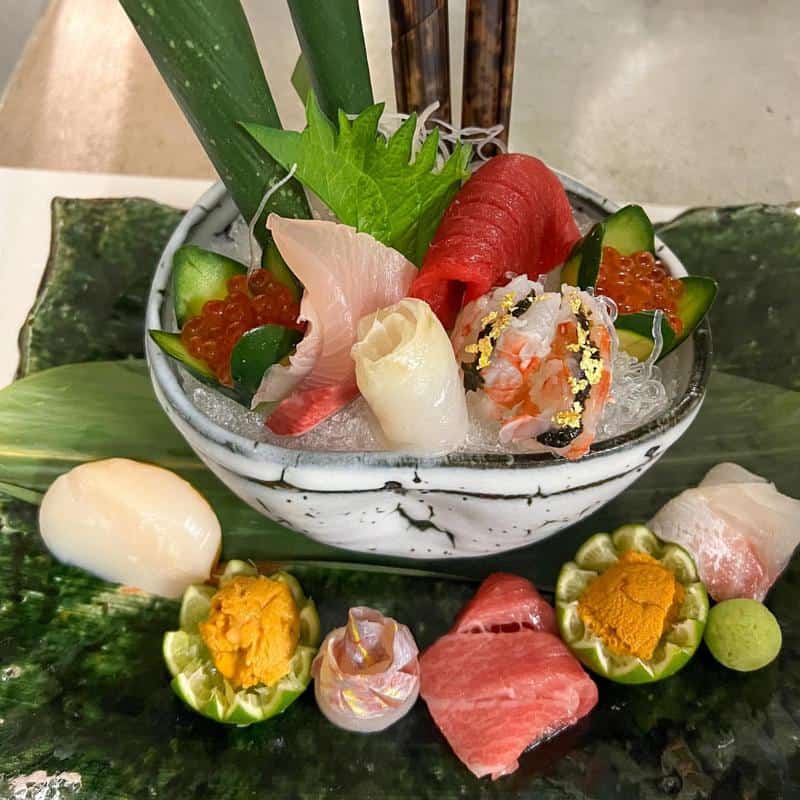 Hours: 5:30 pm – 9 pm
Address: 5040 W. Spring Mountain Rd, #4, Las Vegas, Nevada 89146
Price: $$$$
A list of best seafood restaurants wouldn't be complete without at least one entry focusing on sushi. While there is no lack of such options in Vegas, Kabuto stands out with the traditional Edomae Sushi menu that's been getting constant praise.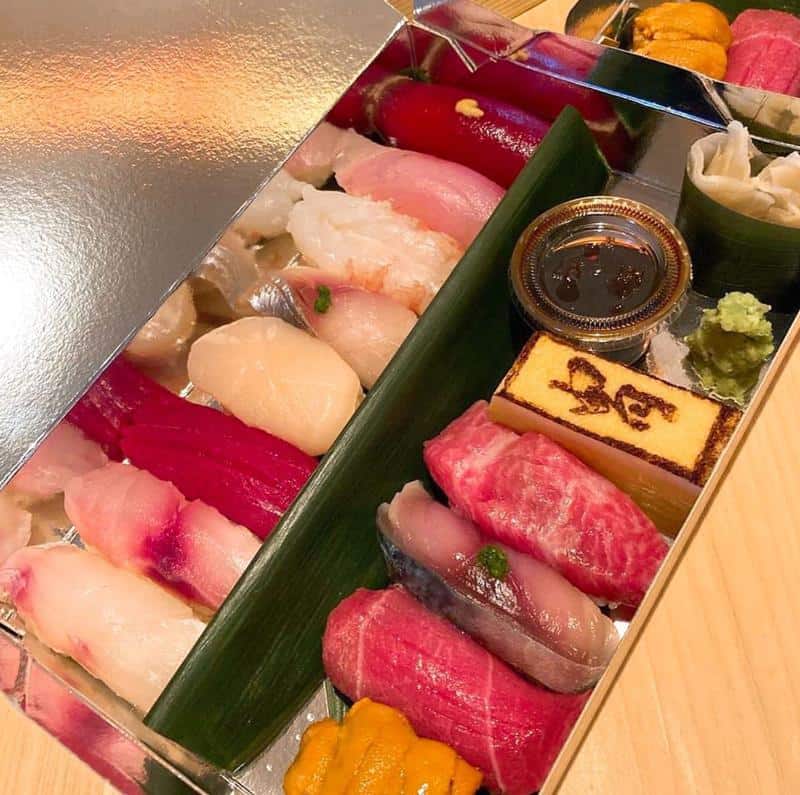 As close to the original Japanese style, ritual, and atmosphere you can get in Las Vegas, the Edomae courses at Kabuto never cease to impress. With the fish carefully selected and the menu changing each day, Kabuto is an experience one might never get tired of.
Located off the strip, this unique restaurant is definitely worth the trip. Located in a strip mall in Las Vegas Chinatown, this tiny joint doesn't look very impressive from the outside.
In fact, it looks rather mysterious, but as soon as you enter the cozy space (seating only 22 diners total), you'll know you are in for a special journey. Kabuto is the perfect spot for upscale date nights and special occasions.
Diner's note: Reservations at Kabuto are possible 30 days in advance. They offer two set seating times per night: currently 5:30 pm and 7:30 pm. Do remember to book a table early, this is a small restaurant with a big reputation and it books up fast. The restaurant is closed on Mondays. Get a seat at the sushi bar to enjoy an amazing show.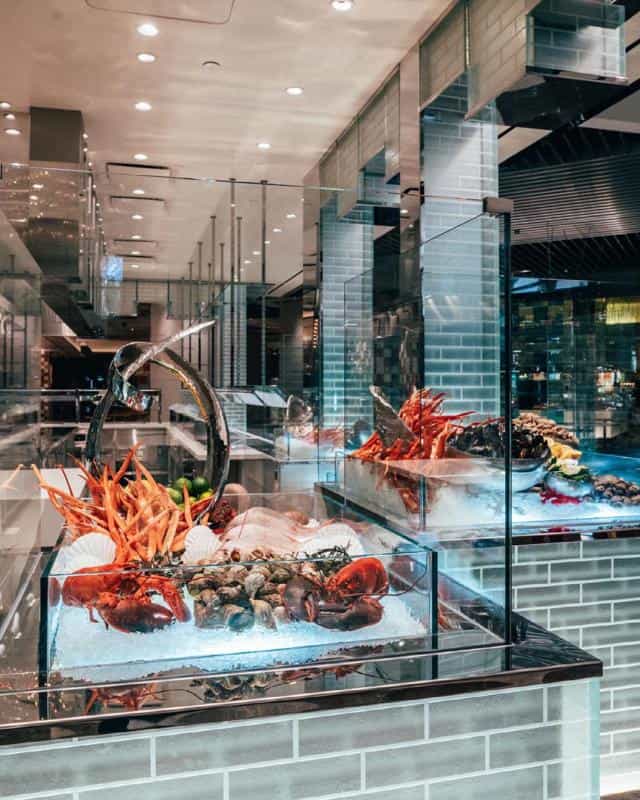 Hours: 4 pm – 10 pm on weekdays, opened at 9 am on weekends
Address: 3570 Las Vegas Blvd. S. Las Vegas, NV 89109
Price: $$$
While Vegas offers plenty of restaurants to everyone's taste, from high end establishments to cozy family-owned joints, perhaps the most authentic thing to Las Vegas itself are the colossal buffets.
For many visitors, Bacchanal is the name of the game when it comes to decadent buffets. Located right in the Caesars Palace, the Bacchanal Buffet is a huge space with 9 show kitchens and as many diverse cuisines as you can fit into a single buffet.
Hence, Bacchanal is not just about seafood, but seafood is a big part of the experience. If you are looking for a rich seafood buffet, you surely won't be disappointed here. The piles of self-serve seafood delicacies on display include everything from oysters to crabs to lobster rolls.
Here you can taste it all: no matter if you are after American seafood or Mediterranean flavors, or perhaps Japanese dishes like sushi.
Diner's note: Bacchanal is a huge space that can seat up to 500 guests. However, they are quite popular so booking in advance is recommended. While the buffet is usually open in the evening, Fridays, Saturdays and Sundays from 9 am till 3 pm are reserved for the Bacchanal Brunch.
Also Read: Best Buffets in Las Vegas
Mastro's Ocean Club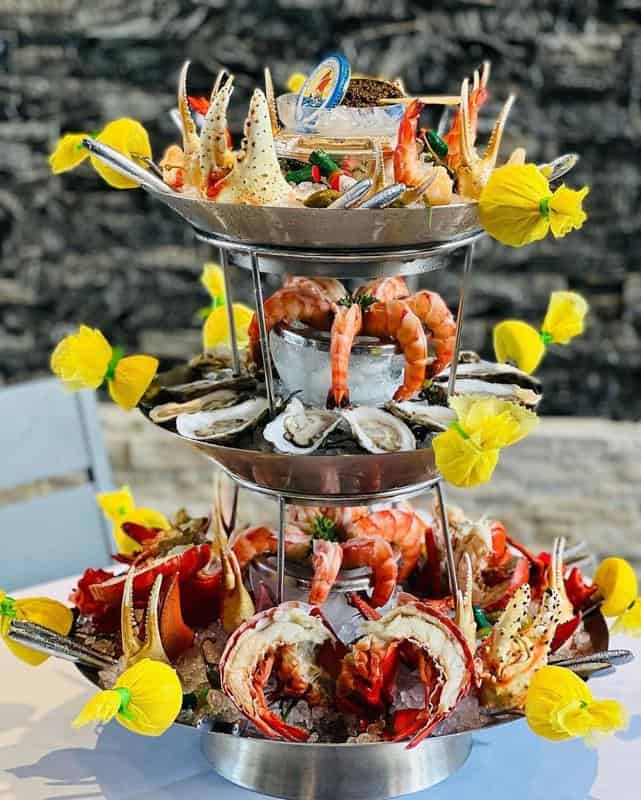 Hours: 5 pm – 9/10 pm
Address: 3720 South Las Vegas Blvd, Las Vegas, NV 89158
Price: $$$
Mastro's restaurants are present all over the US in a variety of locations, but they are not just a chain. Each location is a bit different than the other, and the Mastro's Ocean Club at Crystals in Las Vegas is perhaps the most unique of all.
Seated in a peculiar wooden structure inside the Shops at Crystals area, the restaurant surely leaves an impression even before you walk in. The unique picture sets the scene for the elegant experience you will have inside. The eccentric interior and upscale atmosphere are the perfect backdrop for the food which is, of course, the star of the show.
Mastro's Ocean Club is known for their Lobster Mashed Potatoes, so that's definitely a thing to try, but you really can't go wrong with anything from their refined selection of fish or sushi.
Diner's note: Mastro's Ocean Club has an upscale dress code and will turn, so dressing up is recommended.
Read More: Best Restaurants in Excalibur Las Vegas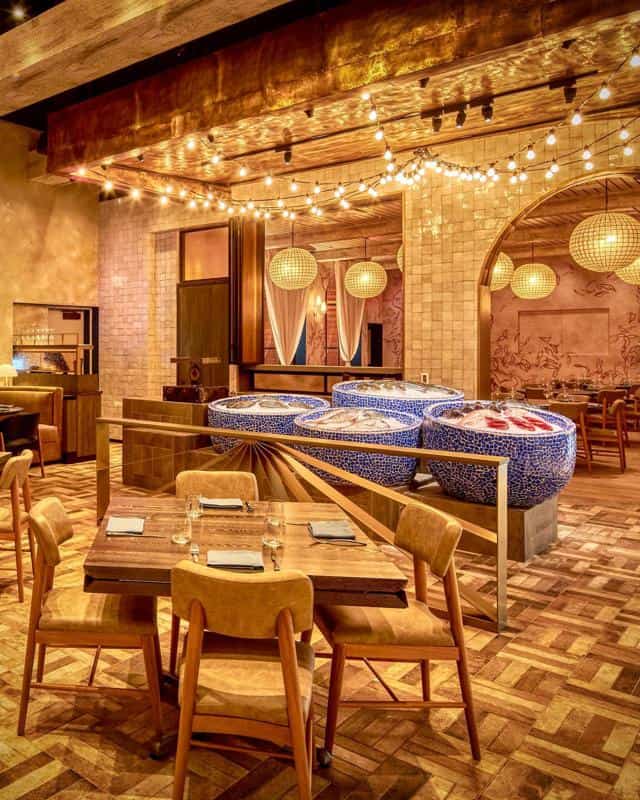 Hours: 4:30 pm – 10/11 pm
Address: 3570 S Las Vegas Blvd, in Caesars Palace
Price: $$$
This restaurant is centered around the idea of making you feel like you are on the Amalfi coast. And it works. The seafood quite literally takes center stage here, being showcased in the open and accompanied with a knowledgeable fishmonger.
Here, you can see and choose exactly what you will eat, and you can find out pretty much everything about every particular fish if you'd like, including details on where it comes from and when exactly it arrived in Vegas. Just ask the fishmonger.
If you don't like to interrogate your food, it doesn't matter, just sit back and enjoy. The main thing to order is, of course, the grilled fish, but the rest of the menu is no less amazing. Light appetizers and elegant pasta dishes make you feel just like you're in Italy.
Diner's Note: Part of the charm of the Amalfi is the interior design. Get a table at the Market Room and you'll get to admire the seafood up close as you eat, or grab a seat at the massive bar with soft golden light designed to mimic the colors of a sunset on the beach.
Lakeside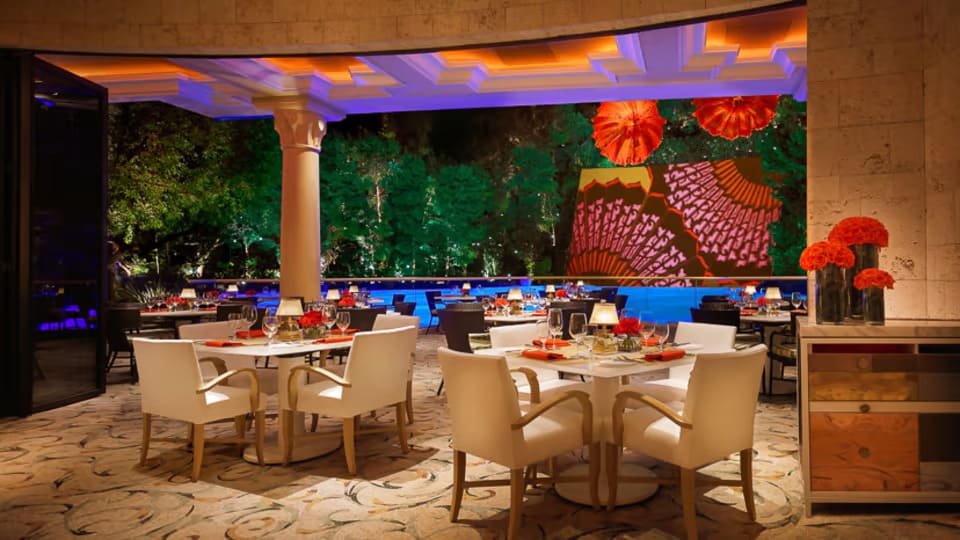 Hours: 5:30 pm – 10 pm
Address: 3131 Las Vegas Blvd S, Las Vegas, NV 89109
Price: $$$
The Lakeside restaurant is as close to the scenic Vegas atmosphere as you can get. Located at the Wynn, immediately next to the dazzling Lake of Dreams, Lakeside is as dazzling as it gets. For the best effect, try to get a seat outside by the water.
As for what's on the menu, Lakeside tries to showcase the best of the world's seafood. Each fish comes accompanied with carefully selected sides to bring out its flavor, be it a dover sole with caramelized parsnips, celery apple salad, and walnut brown butter or a branzino with basque peppers, creamy polenta, and arugula.
The dish that everyone comes here for, however, is the oven-roasted lobster & king crab. Served with basil yuzu or harissa butter, it's delightful either way.
Diner's Note: The dress code at Lakeside is 'resort elegant', which loosely translates to business casual. Children under five years of age are not allowed to dine at this restaurant.
If you have more time and can travel further? In about 270 miles is the City of Angels! Check out our list of best seafood restaurants in Los Angeles.
Seafood in Las Vegas: FAQs
Do you have to make restaurant reservations in Las Vegas?
Trips to Vegas are often spontaneous, but if you want the best dining experience, it is probably worth it planning the trip in advance. While some places don't require reservations, they are often recommended, especially if you are heading to the most popular spots. Some high end and exclusive restaurants are available with a reservation only.
Keep in mind that some of these establishments can have peculiar opening hours and book up really quickly, so reserving well in advance is a must. If planning a visit during holiday weekends or any major events, try to book as early as possible.
How does Vegas get fresh seafood?
How does a town in the middle of the desert get that much fresh seafood? And from all over the world? The Las Vegas seafood scene is really somewhat of a phenomenon, and it proves how effective the world's logistics systems are.
Many restaurants in Las Vegas will boast having the freshest seafood around – and the claims are often true. Fish and seafood are picked locally all around the world and flown into Vegas using the fastest possible route.
What types of seafood should I try in Vegas?
The magic of Vegas is that you can try whatever your heart desires. Whichever cuisine your heart fancies, there will be something in Vegas.
From decadent and fun American seafood, over original Mediterranean dishes and a delight of various Asian influences as well as a range of authentic South American restaurants, Vegas has it all. If you have the time, we would suggest trying out a different style of seafood each day.