Bobby Flay has made himself quite the name for the last couple of years. Of course, as high-school dropouts, nobody expected a turn in expectations. Still, they didn't realize they were dealing with a highly-motivated individual who started his venture young and has created a thriving enterprise of followers.
He earned his GED through hard work and determination and has since poured himself into his passion: Food.
His skill and flair were recognized and eventually earned him a spot in the French Culinary Institute in New York. He spent the next few years perfecting his craft and earning top grades. He has been instrumental in opening thriving culinary businesses like the Mesa Grill, with branches in New York and Nevada.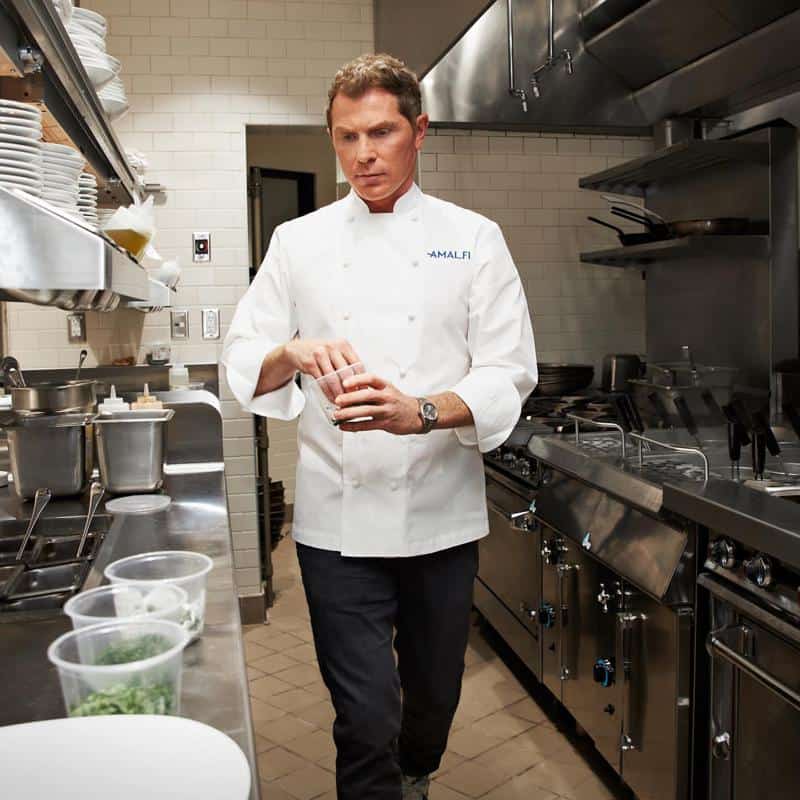 He has thrown his heart and soul into his career. He has been so popular amongst his fans that he became a TV personality and recipe book author shortly after he started.
Bobby Flay has been extremely busy and is currently working on refining his mastery through the rebranding of Mesa Grill, Las Vegas, with much more in the pipeline. Nevertheless, he is a master of culinary arts worth watching.
The best thing is you have more opportunity to bore into his mastery than you thought, with 3 upstanding Bobby Flay trademark restaurants being found in Las Vegas.
Bobby Flay Restaurants, Las Vegas
Amalfi by Bobby Flay, Caesars Palace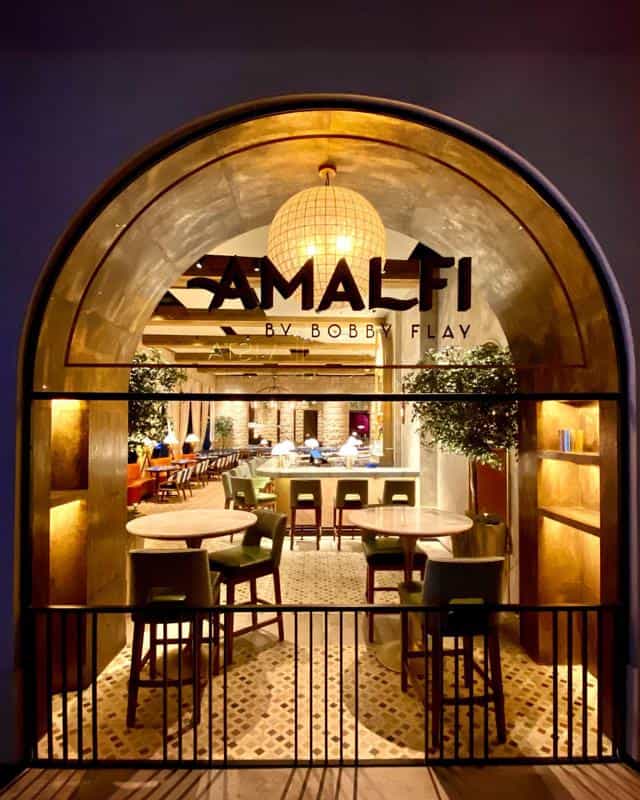 Location: 3570 S Las Vegas Blvd, Las Vegas, NV 89109
Hours: 4:30 pm to 10:00 pm,4:30 pm to 11:00 pm (Friday and Saturday)
Price: $$$$
Amalfi has become a buzzword in Las Vegas. The project started in 2020 with the closing of the Mesa Grill, a restaurant in which Bobby Flay was very much involved since his younger days. They have spent the better part of the COVID-19 Lockdown putting as much effort into creating a beautiful and elaborately designed restaurant that deserves a spot in the ever-popular Caesars Palace.
This classic Italian institute is bound to thrive with Bobby Flay's ingenious recipes at the helm. He has taken inspiration from the Amalfi Coastline. He reflects his experiences in his food which has created an adoring fan base that eagerly paws at the idea of trying something new from this culinary genius. He has pulled out all the stops.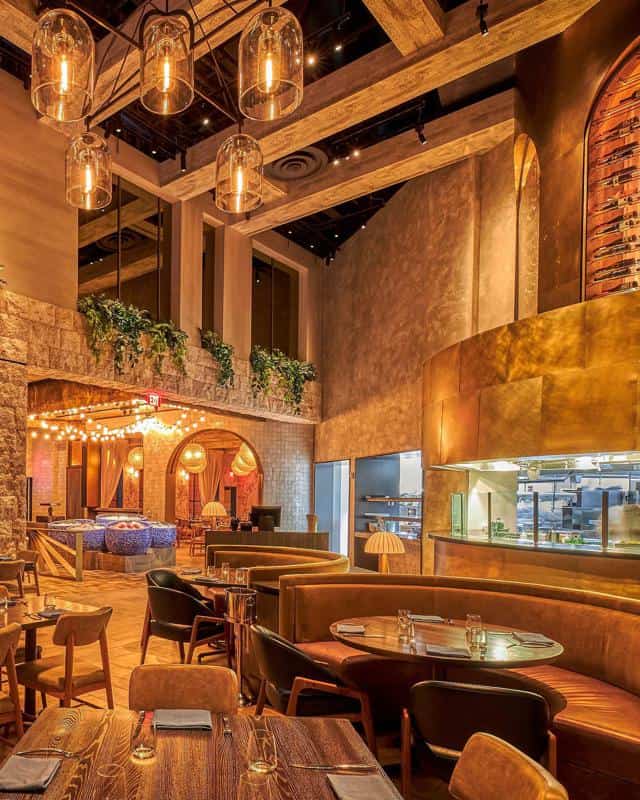 With Amalfi taking heavy inspiration from the seafood industry. They've even brought in an experience Fish Monger to oversee the deliveries, which is more than ready to take any questions about the delicacies on display.
The Amalfi menu thrives off its seafood in Antipastis as well as entrees. You have a divine selection of fresh and expertly prepared shellfish to fish, all with divine sides that complement these dishes to their most extreme form. Amalfi is bound to become a culinary empire on its own. Whilst they may be on the pricier side, you are getting food that has been expertly crafted and has had years of experimentation thrown into its concepts.
You're paying for the utmost quality here. The dress code is resort casual. Let the sensation of Amalfi carry away your worries and indulge any cravings you may have.
See Also: Best Seafood Restaurants in Las Vegas
Bobby's Burgers, Caesars Palace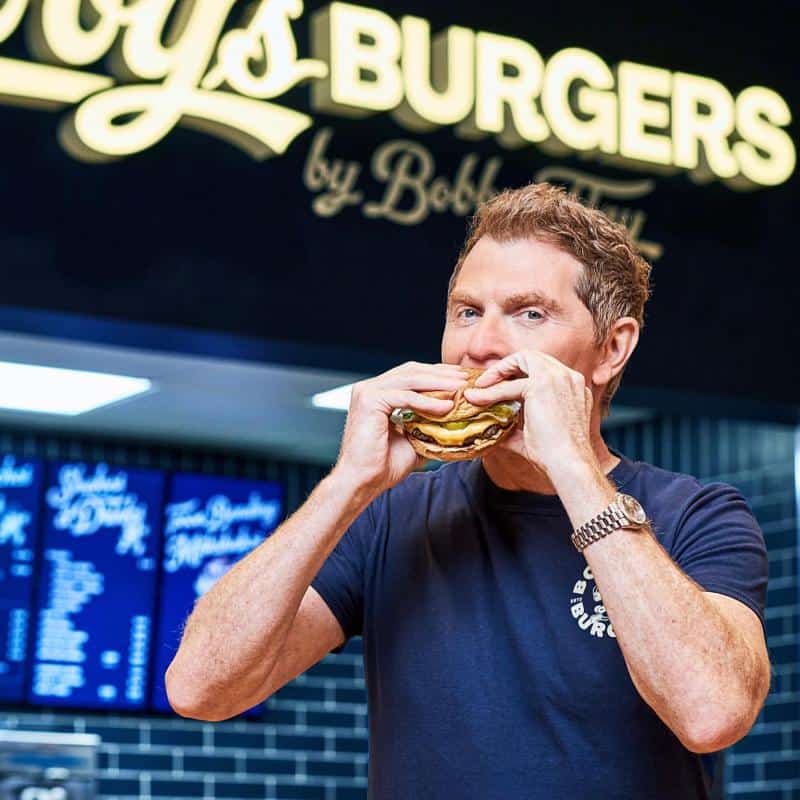 Location: 3570 S Las Vegas Blvd, Las Vegas, NV 89109
Hours: 10:00 am to 12:00 am, 10:00 am to 1:00 am (Friday to Saturday)
Price: $$$
Burgers are an American staple. They have been derived and industrialized and have piggy-backed the fame and fortune of many a thriving restaurant. Bobby Flay himself has immortalized these delicious hand-helds, spending years perfecting a recipe from patty to bread to create a divine attraction loved across the ages.
While it follows the general idea of being a more food-court type cuisine, he hasn't skimped on the quality of food, and Bobby's Burgers has been a community favorite in Las Vegas. While he may have closed his Burger Palace, he has ensured that the ideals behind it stay rooted in their community.
The menu is small and isn't for the faint of heart. Why? You'll develop an addiction you never knew you needed. But, with a BaconCrunch Burger bound to satisfy all your needs, Bobby Flay has pulled out every stop to ensure he has crafted a perfectly imperfect gourmet classic.
Shark, The Palms: Temporarily Closed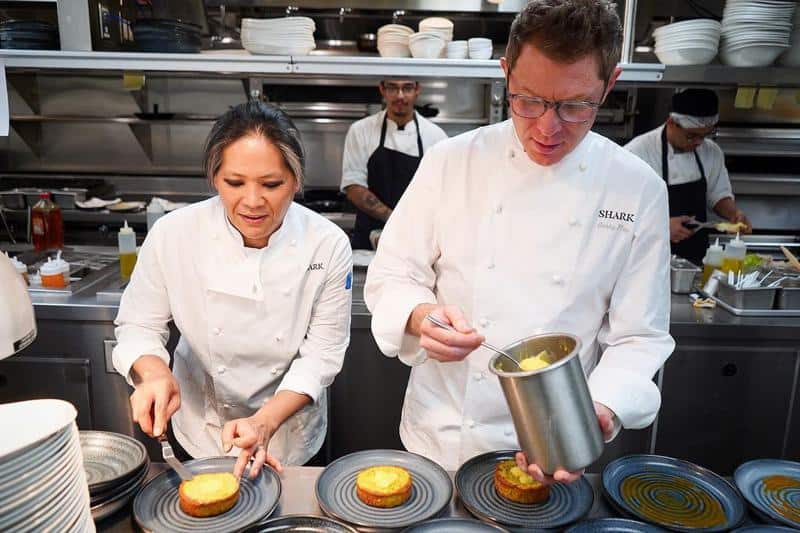 Location: 4321 W Flamingo Rd, Las Vegas, NV 89103
Hours: Temporarily Closed
Price: $$$$
Shark is a seafood concept that Bobby Flay began in 2019. Despite the setback of COVID-19, it has still found its way into the hearts of hungry patrons and is highly recommended. It's an enjoyable fine-dining atmosphere that thrives on providing the freshest seafood delicacies in the most new-age style possible.
The menu consists of everything from sushi to grilled halibut. While the grandeur may not spill into unpronounceable dishes, it's a gorgeous tribute to everything seafood. You'll be able to experience divinely prepared swordfish, lobster tacos, and more.
Fusing unique flavors to create palatable dishes that are eclectic and delicious. Shark is a culinary feat and is something I'd highly recommend to any seafood enthusiast. Bobby's recipes don't beat around the bush. This isn't about comfort. It's about the experience.
Read More:
FAQs
What other states have Bobby Flay Restaurants?
Bobby Flay is the proud owner of several other establishments, including Gato in New York City, lovingly dedicated to his Maine Coons, Stella, and Nacho. He also co-owned Mesa Grill, which still maintains a branch in the Bahamas, but has closed in New York due to rent increases. Unfortunately, he has shut Mesa in Las Vegas to open up his new concept Amalfi.
Bobby's Burgers has transcended state lines and has branches available in multiple states, including Philadelphia and Connecticut, with 11 branches statewide. He also has a steak grill, Bobby Flay Steak, in Atlantic City.
What makes Bobby Flay's burgers special?
Bobby has dedicated years of effort and soul to developing the perfect burger recipe. He is a thriving artist whose burgers are renowned for their exceptional flavor and definitely deserve every title they've been given.
As a passionate burger lover, Bobby Flay has searched for decades to ensure he can bring his true vision of what an All-American Burger is about to every state he can. We can definitely admit that he's succeeded with plans to continue expanding. His meals are in high demand, and his name is somewhat of a household regular.
What awards does Bobby Flay have?
Delivering a true dedication to his food, Bobby Flay has thrown years of experience and dedication into creating unbeatable feats in the culinary industry. Due to this, he has earned himself a handful of prizes including:
French Culinary Institute Outstanding Graduate Award (1993)
Emmy Award Winner for Outstanding Service Show Host (2000 and 2005)
He was the first chef to ever receive a Star on the Hollywood Walk of Fame. (2015)
Just naming a few. Bobby Flay has a deep interpretation of food and its place in people's lives. He doesn't believe that food should be the conversation but should encourage conversation. He's guided by family principles that have led to his success in his industry so far. He's a continuously rising star that is definitely worth watching.
Read More: Bobby Flay's Net Worth: How Rich Is He?
Conclusion
Bobby Flay is an incredible culinary artist that deserves all the recognition he is given. With years in the industry, he develops his interesting and unique flavors through experience and a handful of genuine passion that has led him to pursue and expand his career over the decades.