There's just something special about watching sports games and cheering for your favorite team in a sports bar.
The good news is there is no shortage of fabulous sports bars on the legendary Las Vegas Strip.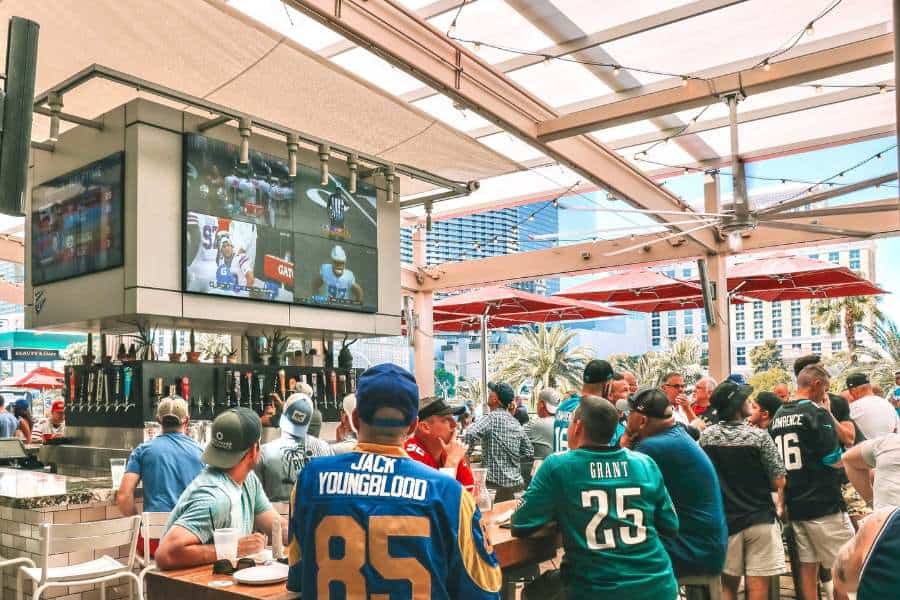 No matter what part of the Las Vegas Strip you're on, there's sure to be a cool sports bar just a stone's throw away.
From casual pubs with big TV screens and a buzzing atmosphere to stylish rooftop sports bars in posh hotels and casinos, here is a list of our favorite sports bars on the Las Vegas Strip.
Best Sports Bars on the Las Vegas Strip
1. Blondies Sports Bar & Grill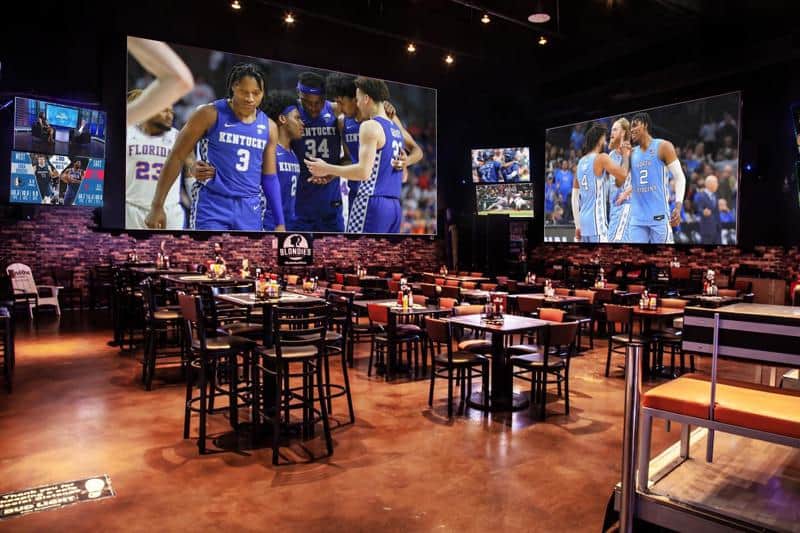 Address: 3663 S Las Vegas Blvd #183, Las Vegas
Phone: +1 702-737-0444
Located within Planet Hollywood's Miracle Mile Shops, Blondies Sports Bar & Grill is an ideal sports bar to watch a game after satisfying your shopping cravings. With more than 60 screens including a giant 12-feet long screen, this place is huge!
Whether you wish to catch a baseball game, watch football, or maybe soccer, Blondies offers a wide range of exciting sporting events on its television screens.
Wish to hear more good news? Blondies Sports Bar & Grill is also known for having one of the best happy hours on the Strip in Las Vegas.
Get there from 3 to 6 p.m. and 10 p.m. to 1 a.m. to enjoy reasonably priced drinks. They also have an all-you-can-drink deal for only $20 which is available from 3 to 6 p.m. Monday to Friday. Thursdays are reserved for Doubles Beer Pong Tournaments.
The friendly staff here at Blondies is dressed in cheerleaders' and referees' uniforms which is kind of cool.
2. Beer Park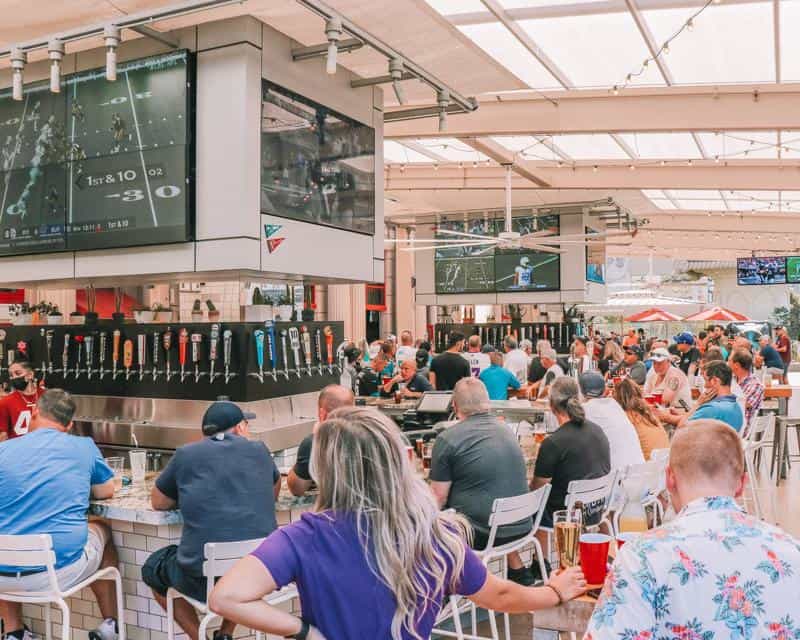 Address: 3655 S Las Vegas Blvd, Las Vegas,
Phone: +1 702-444-4500
With stunning open-air views of the Bellagio fountains, Beer Park is one of the best rooftop sports bars in Las Vegas. Located just outside the posh Paris Hotel, this stylish rooftop venue boasts a mix of indoor and outdoor spaces with plenty of picnic tables.
Expect to find a superb beer selection with over 100 choices including nearly 40 on draft. There are even wine and cocktails available on tap here at the iconic Beer Park on the Las Vegas Strip.
There are giant TV screens up high in the outdoor seating area, as well as a pool table and beer pong for all you partygoers. You can look forward to watching Las Vegas Raiders games or maybe a Golden Knights hockey match at Beer Park.
Foodies will definitely want to order Beer Park's legendary Prime Rib Cheesesteak!
Keep in mind that this place fills up quickly on game nights, so it's recommended to book a table before any major playoffs.
3. Tilted Kilt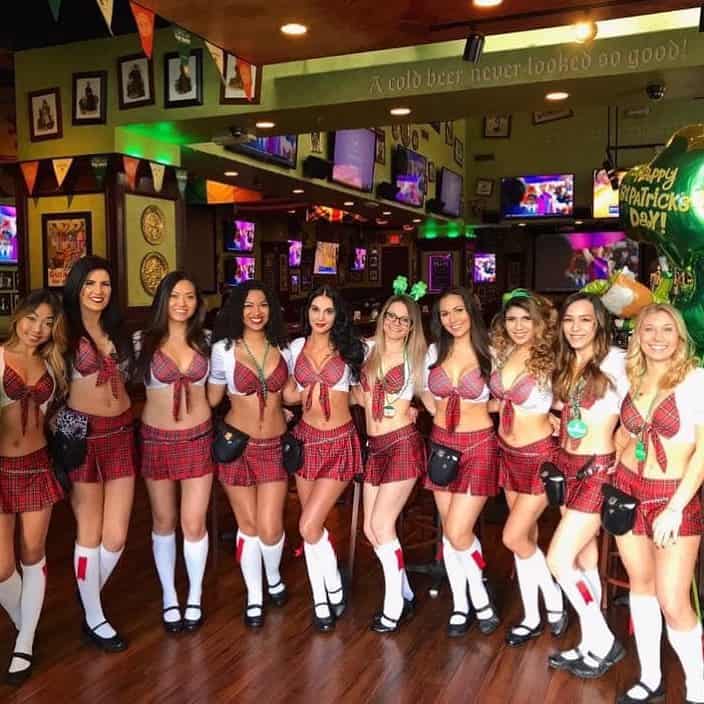 Address: 3545 Las Vegas Blvd. L-26, 3545 S Las Vegas Blvd, Las Vegas
Phone: +1 702-826-2100
You will find Tilted Kilt in the LINQ Promenade. This popular sports bar features tons of TV screens positioned high up on the walls, as well as a square-shaped bar where you can unwind with a drink or two.
Tilted Kilt offers about 30 beers to choose from including the daily specials. We should also mention the happy hour which runs from Monday to Friday between 3 and 7 pm. On Thursdays, Tilted Kilt hosts a Tequila Party, while Wednesdays are reserved for whiskey lovers.
In the mood for some food while watching that Golden Knights game and enjoying a glass of cold beer? On the food menu, you will find all the usual pub grub suspects like burgers and nachos. Tilted Kilt is also known for its sauces like Guinness BBQ and Spicy Cajun Ranch!
4. TAP Sports Bar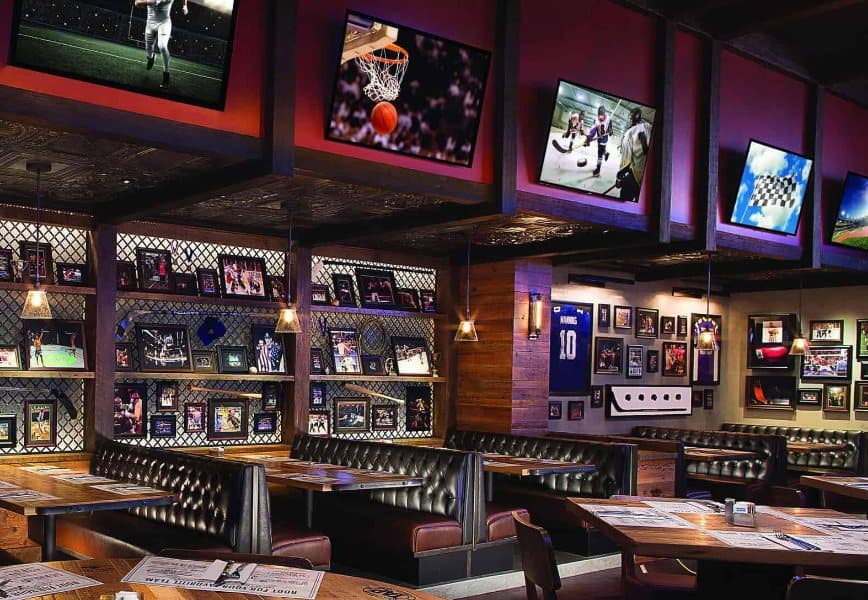 Address: 3799 S Las Vegas Blvd, Las Vegas
Phone: +1 702-891-7239
Sports fans visiting Vegas will want to stop by the famous 4TAP Sports Bar. Located in the MGM Grand Las Vegas, this venue is loaded with nearly 70 flatscreen TVs and a bunch of sports memorabilia that decorate the walls.
Here, you can watch sporting events and order something from their extensive beer list. Visitors can get their beer fix served in a one-liter mug.
The food menu revolves around pub grub. Whether you are craving spicy wings, want to splash out and order a steak, or just wish to have some fries, there is plenty to choose
Football breakfast specials from 9 to 11 a.m. on Sundays are extremely popular with both locals and tourists.
5. Rockhouse At Venetian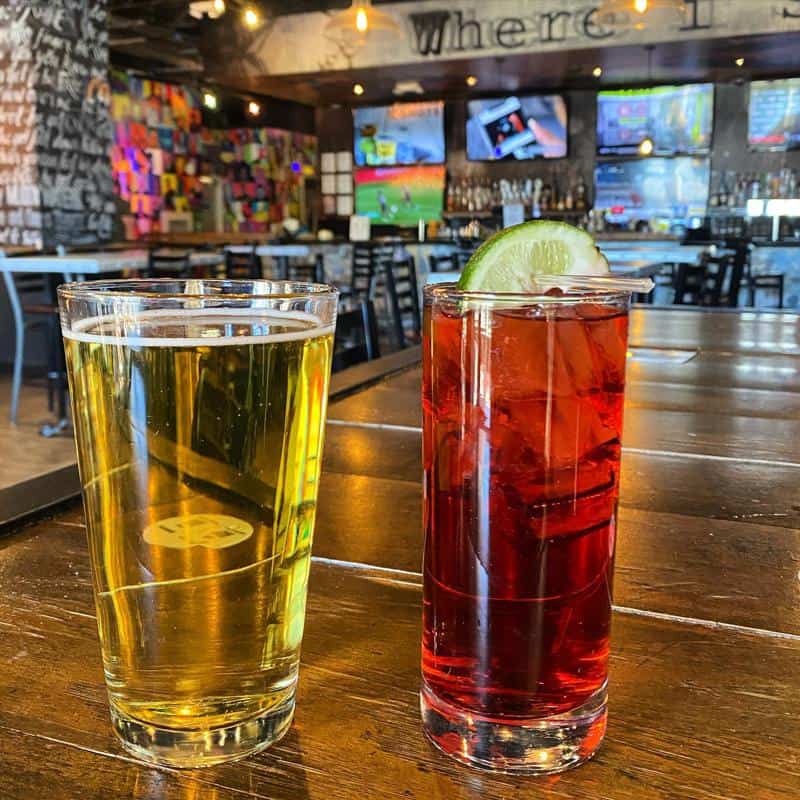 Address: 3377 S Las Vegas Blvd, Las Vegas
Phone: +1 702-731-9683
No visit to Vegas is complete without stepping inside the legendary Venetian which is home to the Rockhouse sports bar. With an abundance of TVs, cheap drink deals, and hearty foods, this place attracts large crowds of sports fans.
On game night, the Rockhouse is usually fully packed with both tourists and Las Vegas residents alike. If you are visiting during the happy hour, you can get a beer for just $5. The happy hour runs daily between 11 am and 7 pm.
In the mood for some tasty food? There are a ton of snacks to choose from! Order hearty options like chicken tenders and burgers or go for their famous beer-poached wings? Before the game starts, you can play a round on the foosball table or go to the pool table.
6. Beerhaus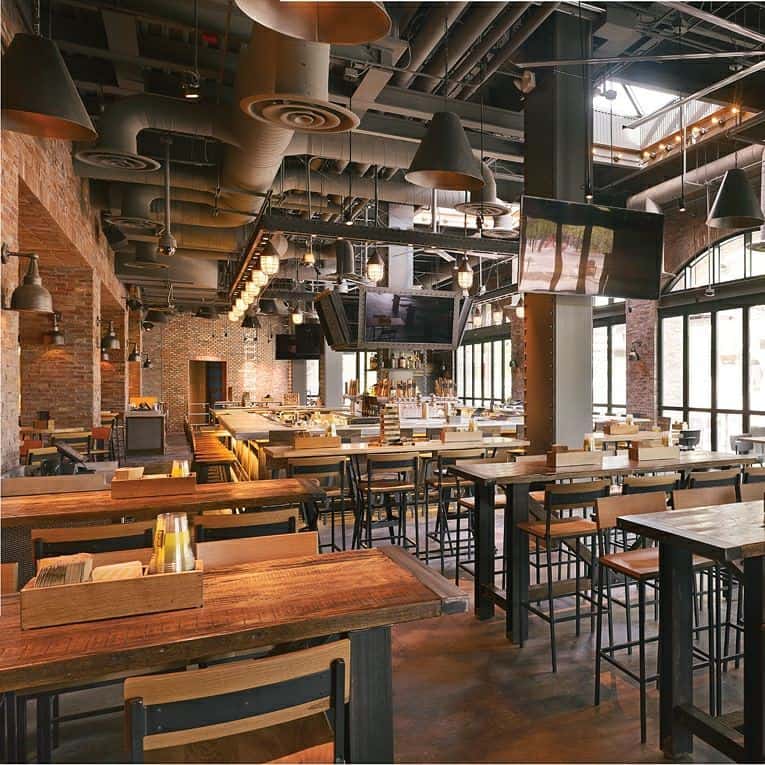 Address: 3784 S Las Vegas Blvd, Las Vegas
Phone: +1 702-692-2337
Located at the famous entertainment district in Las Vegas called the Park MGM, Beerhaus boasts a traditional beer hall design. It's a great place to catch a game, enjoy communal seating, and relax with friends.
The outdoor patio looks amazing and offers elevated bar snacks like hot dogs, fries, sausages, burgers, and much more. Local brews go for $7 during their 777 happy hours which run seven days a week.
Since Beerhaus is located close to the T-mobile sports arena (home arena of the Vegas Golden Knights of the National Hockey League), expect to see many hockey fans here gathering before and after the game.
7. Buffalo Wild Wings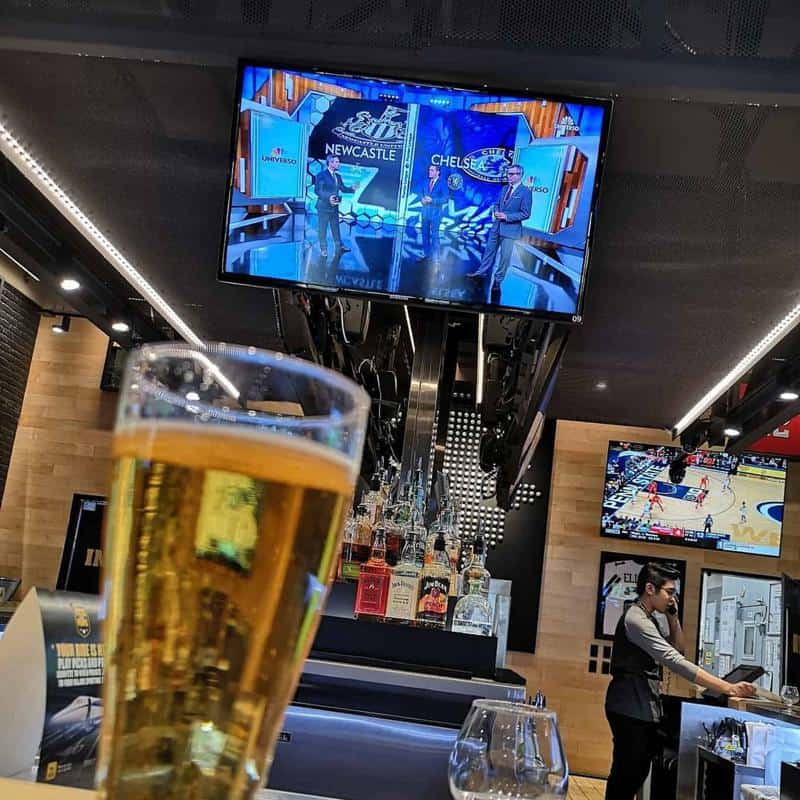 Address: 3663 S Las Vegas Blvd Ste 600, Las Vegas
Phone: +1 702-734-0096
If you wish to watch a game in the US and have a cold beer, all you have to do is find one of the B-Dubs in the area. The Buffalo Wild Wings location on the South Strip in Vegas is probably the best place to watch late-night games, as it's open 24 hours a day.
Located inside the Miracle Mile Shops in Planet Hollywood, Buffalo Wild Wings always has the latest games on. In addition to the big TV screens that can be found throughout the bar, this extraordinary sports bar offers super tasty wings with 24 signature sauces to choose from.
The happy hour at Buffalo Wild Wings runs on weekdays from 2 to 6 pm and from 9 to 6 am, which means you can enjoy reasonably priced drinks and watch your favorite games all night long.
8. Chickie's & Pete's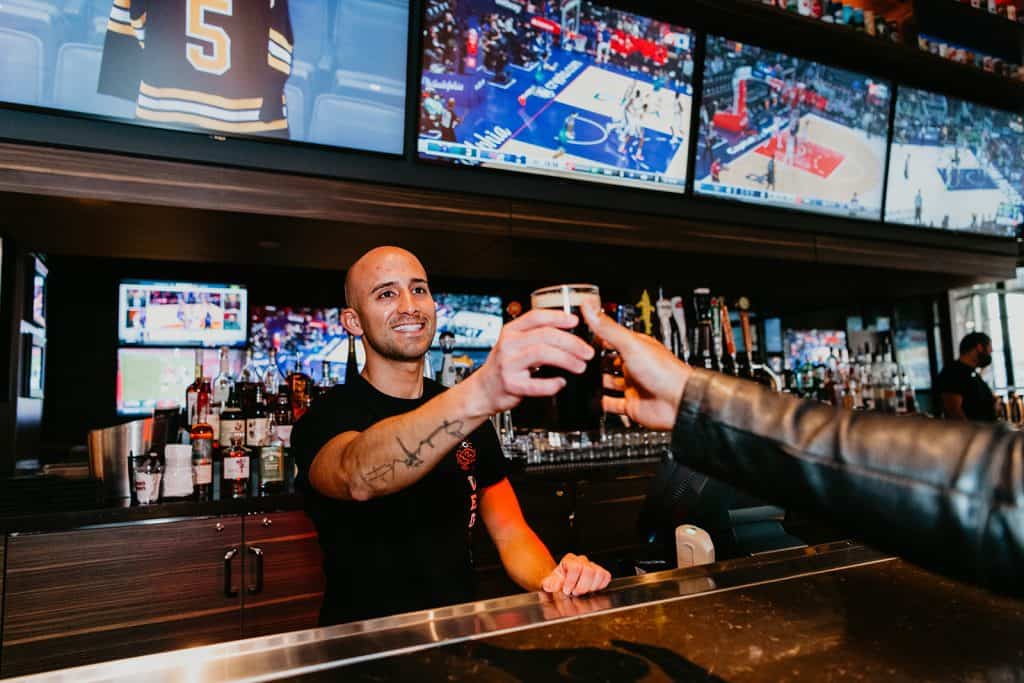 Address: 2535 S Las Vegas Blvd, Las Vegas,
Phone: +1 702-761-8070
What started as a small corner sports bar in Philly is now a super popular venue in Las Vegas among the Eagles fans. There are about 50 state-of-the-art TVs here, as well as sports memorabilia all across the bar. The interior looks inviting with booths and modern-style picnic tables.
We should also mention that Chickie's & Pete's is one of the only sports bars in Las Vegas that has its own betting window for the big games.
In addition to sports events on the big screens and a bunch of beers on tap, Chickie's & Pete's is also well-known for its mouthwatering food. Unlike some of the other sports bars that usually just do your average pub and grub, Chickie's & Pete's offers a more delicate food menu.
Seafood specials are always a good choice. Try the famous crab fries or go for their signature pizza where lobster serves as one of the toppings.
9. The Still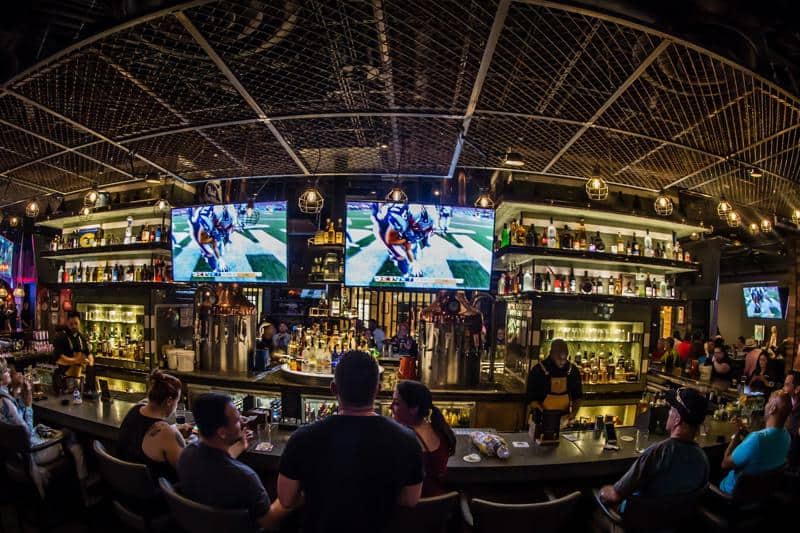 Address: 3400 S Las Vegas Blvd, Las Vegas
Phone: +1 702-692-8455
Welcome to the Still, an 8,000-square-foot upscale sports bar located inside the famous Mirage on the Las Vegas Strip. From 30 TV Screens and comfortable seating to the refurbished Airstream trailer which serves as a fully-functioning kitchen, this man cave has it all!
There are over 50 craft beers available on the drinks list, as well as upscale pub food with options like street tacos, tuna poke bowls, and lobster rolls.
Guests can also order the signature chicken wings which are served in a variety of sauces. The grilled Mahi Mahi is also an excellent choice. Healthy eaters can try the brown rice bowl with grilled chicken.
Drafts are $8 on Monday and Thursday when NFL games are on.
The décor is on the fine side with a concrete floor, wood décor, and soft Edison lights.
10. Charlie's Bar & Grill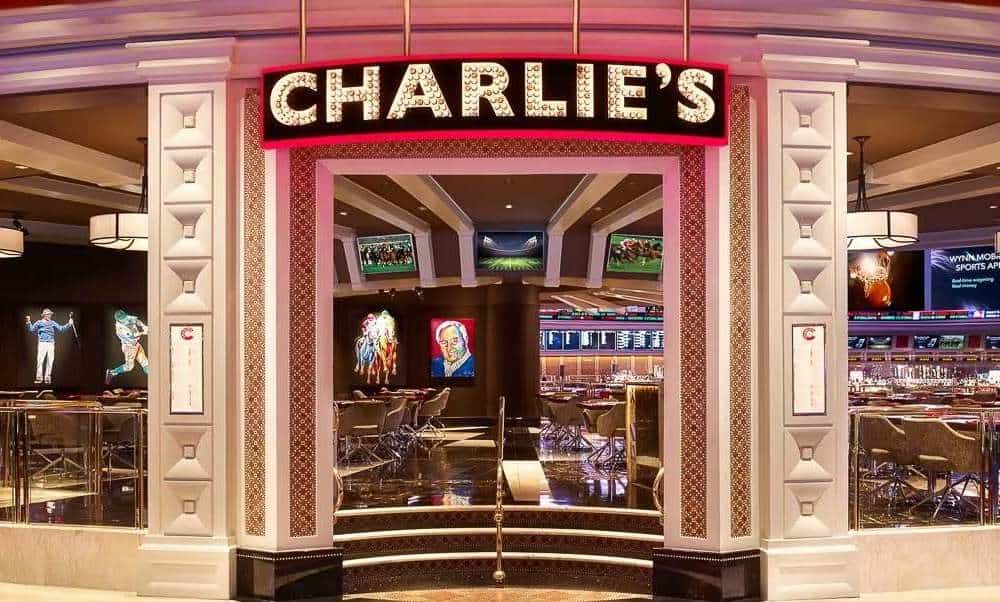 Address: 3131 Las Vegas Blvd S, Las Vegas,
Phone: +1 702-770-3365
If you are searching for your classic American sports bar in Las Vegas, look no further than Charlie's Bar & Grill. We have to admit that this place is a bit on the upscale side with comfy seating and inviting décor.
You will find this c-shaped sports bar at the Wynn Casino. The venue offers views of the games from multiple screens, as well as an extensive list of local draft beers. The menu focuses on pub foods with a sophisticated twist and includes options like loaded nachos, milkshakes, and huge burgers.
The steakhouse burger (Dry aged prime 10 oz. patty, Vermont white cheddar, caramelized red wine onions, bacon balsamic aïoli, sliced tomatoes, green leaf lettuce, toasted onion brioche bun, and fries) is to die for! Some of the other popular dishes on the menu include the Reuben sandwich, Nashville hot chicken, buffalo chicken salad, and pepperoni pizza fries.
Pair your meal with a bottle of Atomic Duck IPA or Bad Beat I Love NV.
Some of our favorite drafts here include the Goose Island IPA and Wynn's Singing Frog.
11. Stadia Bar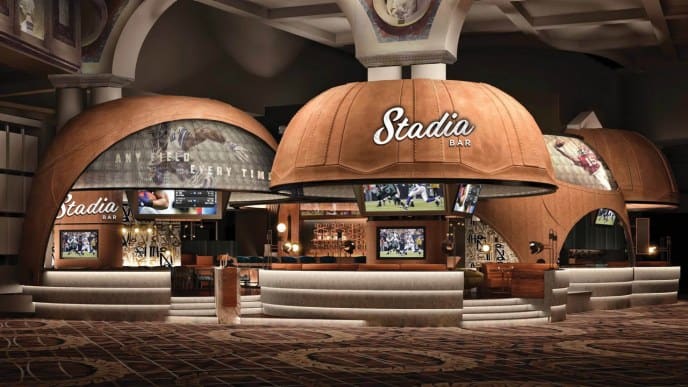 Address: 3570 S Las Vegas Blvd, Las Vegas
Phone: 866-733-5827
Last on our list of the best sports bars in Las Vegas is the almighty Stadia Bar. This place resembles a cocktail lounge, but at the same time attracts sports fans that come here for sporting events.
The bar is located in the Forums Shops at Caesars Palace, so it comes as no surprise that the Stadia Bar boasts a stylish décor.
Guests can expect to find several large HD televisions, a high-end collection of beers, cocktails, and spirits, and a floor made from old basketball courts.
Try the barrel-aged whiskey exclusives or go for the signature cocktails like vodka with blueberry and mint. A visit to Stadia Bar promises to be a lux sports viewing experience on the Las Vegas Strip.
Read More:
Final Thoughts
To sum it all up, Las Vegas offers a bunch of excellent sports bars where guests can catch big games and many of them are located right on the Strip.
Whether you wish to catch an away Las Vegas Raiders football game on the big screen or cheer for the Golden Knights while enjoying delicious foods and craft beers, Sin City's Strip is home to many thrilling locations.