Are you in the mood for some tasty Chinese cuisine while staying in Las Vegas?
From casual food joints that serve dim sum and Cantonese noodle dishes to upscale restaurants where you can try delicacies like Peking duck and char siu pork, Las Vegas Strip has its fair share of Chinese dining establishments.
To help you decide where to go, we've put together this ultimate guide to the best Chinese restaurants on the Las Vegas Strip.
Best Chinese Restaurants on the Las Vegas Strip
1. Blossom at ARIA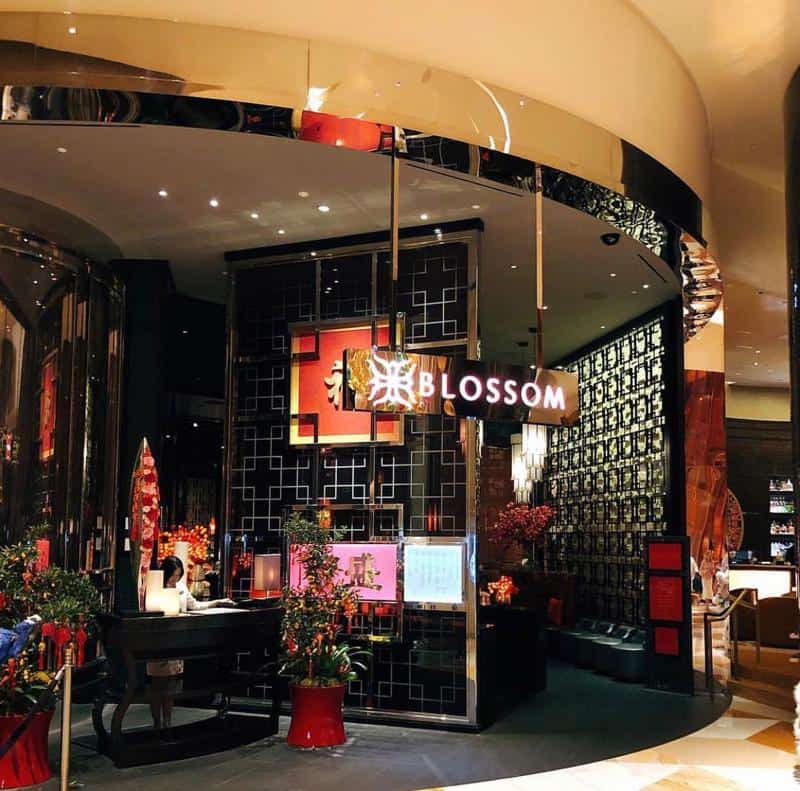 Address: 3730 S Las Vegas Blvd, Las Vegas
Phone: +1 702-590-8620
First on our list is Blossom, a fine-dining Chinese establishment located at the posh Aria Resort & Casino.
Awarded the Epicurean Award for the Best Chinese Restaurant in Las Vegas, this upscale Chinese restaurant offers a memorable dining experience.
Chef Chi Kwun Choi is in charge of the kitchen. He curated an extensive menu with about 100 dishes available to order ranging from authentic foods from Hong Kong and Beijing to classic Chinese-American dishes.
Whether you are craving some kung pao chicken or you wish to try Hong Kong Style Maine Lobster, there is plenty to choose from.
Some of the other signature dishes at this classy Chinese restaurant on the Las Vegas Strip include tableside Peking duck and Ox tail hot pot.
Seafood lovers will be delighted to hear that the freshest seafood is taken fresh from on-site tanks.
2. Wing Lei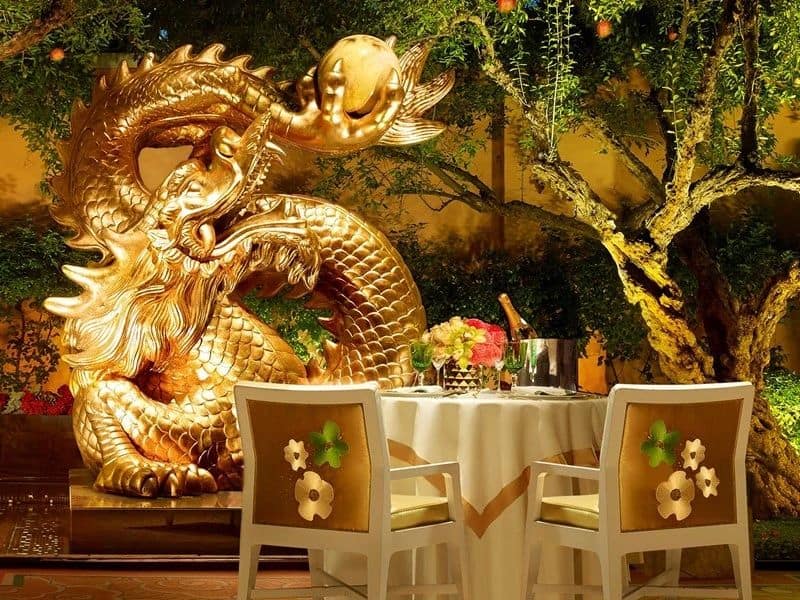 Address: 3131 Las Vegas Blvd S, Las Vegas,
Phone: +1 702-770-3388
Welcome to Wynn's Wing Lei, the first Chinese restaurant in the US to receive a Michelin star. This award-winning restaurant at Wynn Las Vegas is all about Beijing, Shanghai, and Sichuan cuisine.
The family-style menu items crafted by Chef Ming Yu are made with intricate attention to detail.
The Imperial Peking Duck is one of the signature dishes and a must-try item on the menu. This dish is brought out and carved at your table.
You can also try the peppercorn chili prawns, wok friend scallops with Chinese sausage, and pan-seared pot stickers. Wine pairings are available for each dish.
We should also mention that the dining room with golden hues looks spectacular and provides a perfect setting for an intimate dining experience.
3. Red 8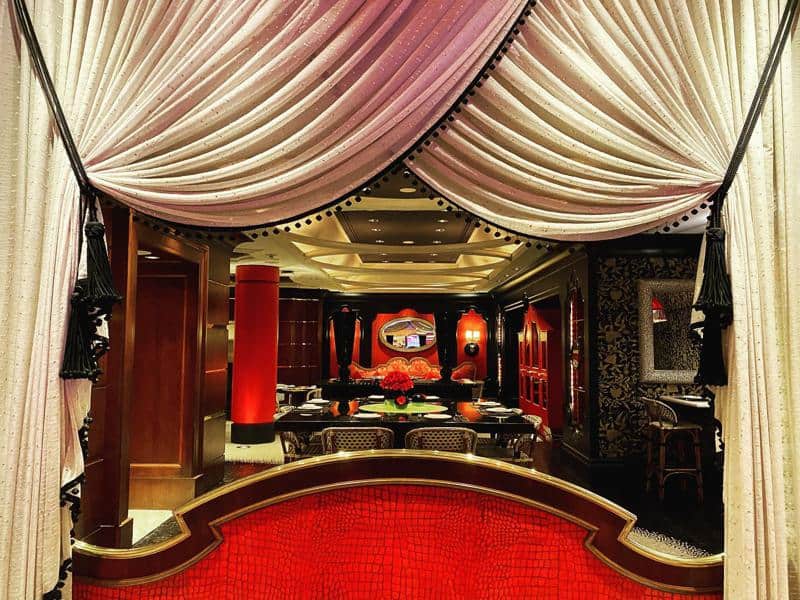 Address: 3131 Las Vegas Blvd S, Las Vegas
Phone: +1 702-770-3380
If you are looking for a casual Chinese restaurant on the Las Vegas Strip, pay a visit to the Cantonese Red 8 restaurant at Wynn.
Step inside the beautiful dining room with its opulent red décor and get ready to sample delicious Cantonese cuisine.
Thanks to the 270-degree open kitchen, guests can watch chefs prepare meals.
The menu is diverse and offers a bit of everything. There are classic Hong Kong BBQ dishes, soups, dim sum, and a nice seafood selection.
For starters, order mouthwatering Mongolian beef or cashew chicken. If you wish to enjoy their seafood delicacies, you'll want to go for the live lobster, amber walnut shrimp, or Sichuan scallops.
Craving something sweet? The dessert selection is marvelous with options like chilled cream of sago, crispy banana rolls, and the signature Red 8 cheesecake.
4. Mr Chow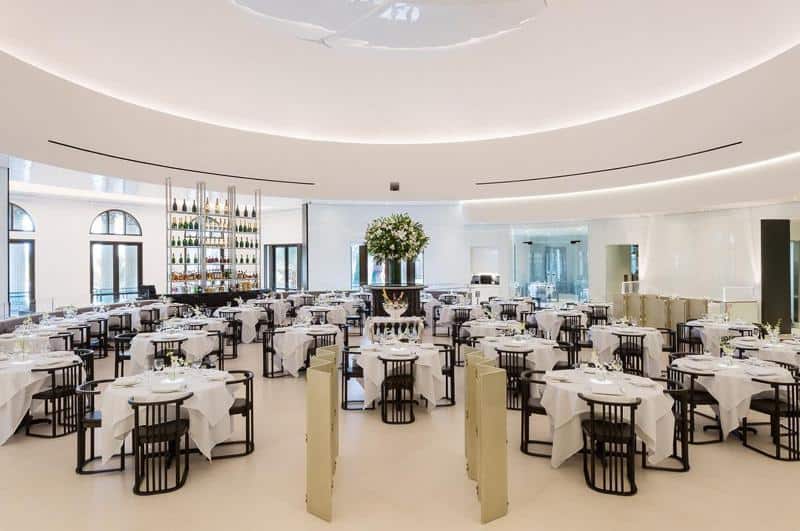 Address: 3570 S Las Vegas Blvd, Las Vegas
Phone: +1 702-731-7888
Located at the world-famous Caesars Palace, Mr Chow is one of the finest Chinese dining establishments on the Las Vegas Strip.
Dining at this Chinese restaurant is a unique experience. Upon arrival, guests are offered champagne before stepping inside the elevator which takes you to the second floor.
Once you enter the dining room, you will find a nicely decorated 250-seat restaurant with cool elements like the kinetic moon sculpture that changes colors and morphs into different shapes.
The food menu is extensive and crafted to perfection with signature dishes like Mr Chow noodles, chicken satay, Beijing roast duck, and green prawns.
Fresh live lobster is also one of the most popular dishes on the menu. If the weather is nice, you can enjoy lunch or dinner on their 50-seat terrace that overlooks the pool.
5. Hakkasan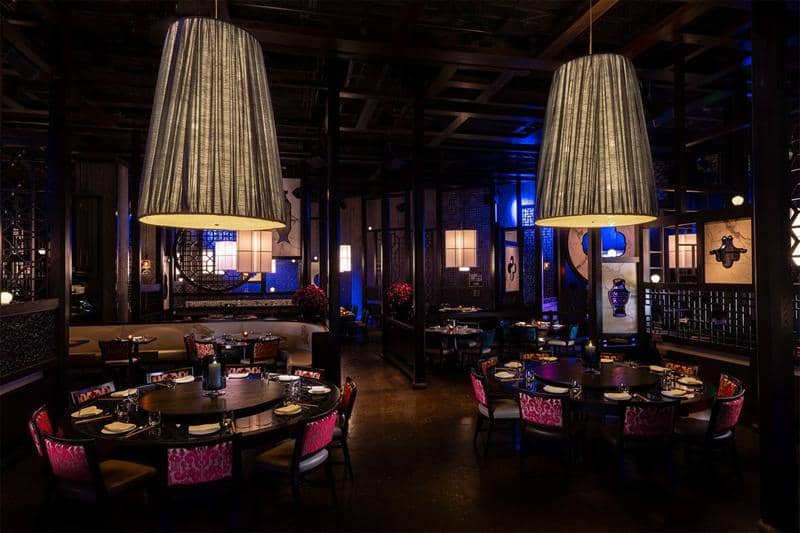 Address: 3799 S Las Vegas Blvd, Las Vegas
Phone: +1 702-891-7888
Serving contemporary Chinese cuisine in a glamorous space, Hakkasan is a world-class dining establishment located at the MGM Grand Hotel & Casino in Las Vegas.
This AAA Three-Diamond awarded fine dining restaurant is well-known for its modern interpretation of classic dishes from Cantonese cuisine.
The menu is extensive with plenty to choose from. You can choose from their Signature menu or the a la carte menu.
Peppered beef filet and Peking Duck Bao are definitely the highlights of their signature menu.
Upscale Dim Sum dishes are also available to order, as well as oysters with caviar and lobster cocktails from their raw bar menu.
6. Jasmine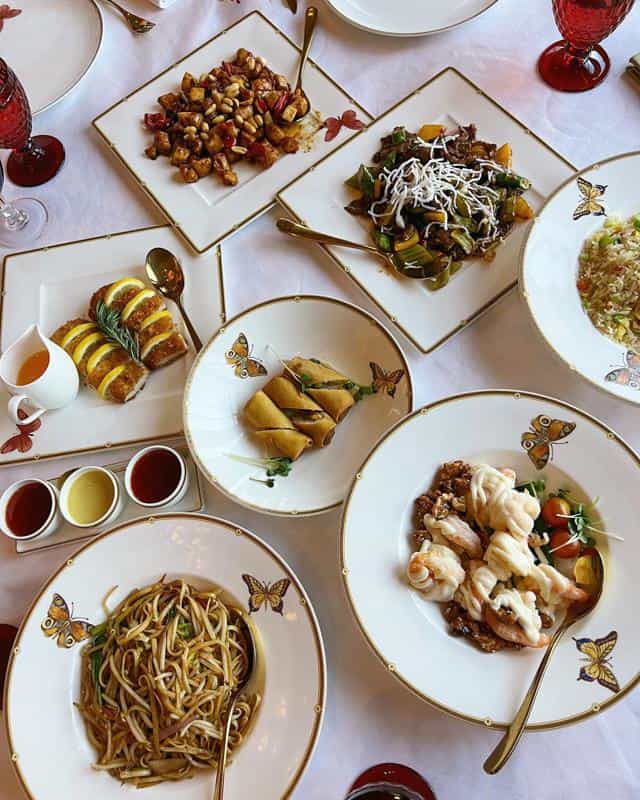 Address: 3600 S Las Vegas Blvd, Las Vegas
Phone: +1 866-259-7111
With lavish décor and stunning views over the fountain show, Jasmine at the Bellagio is one of the finest Chinese Restaurants in the state of Nevada.
Dining at this great Chinese restaurant on the Strip gives you a taste of the signature flavors of China's Cantonese, Sichuan, and Hunan regions.
The decor at the restaurant has been done in light and neutral colors, making it an ideal setting for a romantic dinner with spectacular views of the Bellagio lake.
What's on the menu at this posh Chinese restaurant? Some of the signature dishes include Dungeness crab from the live tank, giant clam, steamed jumbo shrimp, pan-fried scallops, and the Abalone Hot Pot.
Meat lovers will not stay hungry at Jasmine and can enjoy meals like beef tenderloin, BBQ duck, steamed pork, and kung pao chicken.
7. Mott 32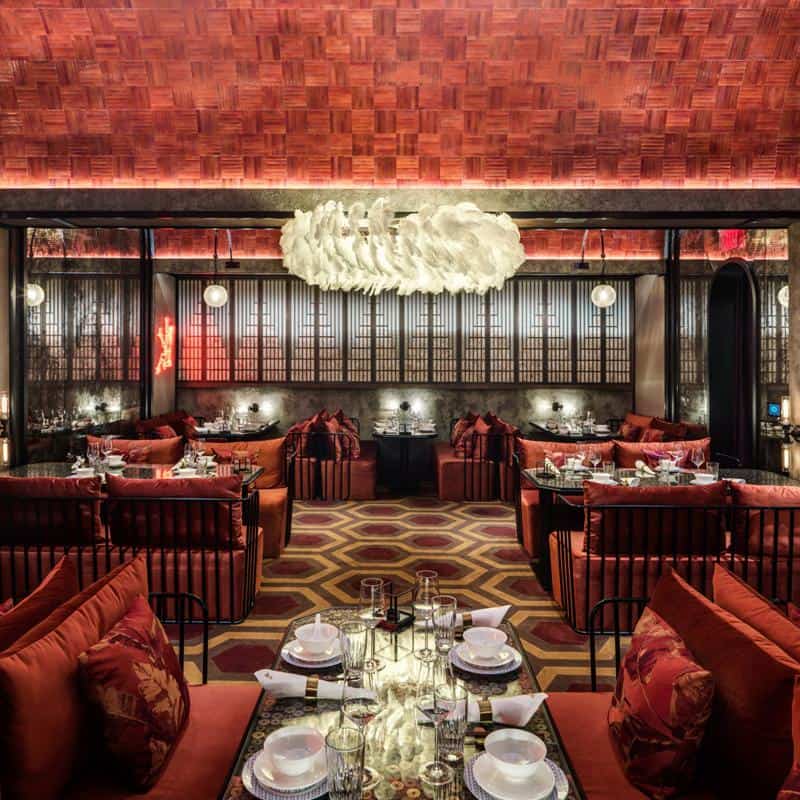 Address: 3325 S Las Vegas Blvd #206, Las Vegas
Phone: +1 702-607-3232
No list of Chinese restaurants on the Las Vegas strip would be complete without mentioning the legendary Mott 32. Originally from Hong Kong, this burgundy-hued restaurant in the Palazzo in Vegas offers a high-end Cantonese dining experience.
The signature Apple Wood Roasted 42 Days Peking Duck is definitely the highlight of their menu. Keep in mind that this delicacy sells out fast, so it's best to order it in advance.
Some of the other popular dishes on the menu include things like traditional Iberico pork Shanghainese soup dumplings, sweet and sour pork with dragon fruit, and Alaskan crabmeat fried rice.
The stylish décor, friendly service, and mouthwatering food are what makes Mott 32 one of the most visited Chinese dining establishments on the Las Vegas Strip.
8. Hong Kong Cafe at the Venetian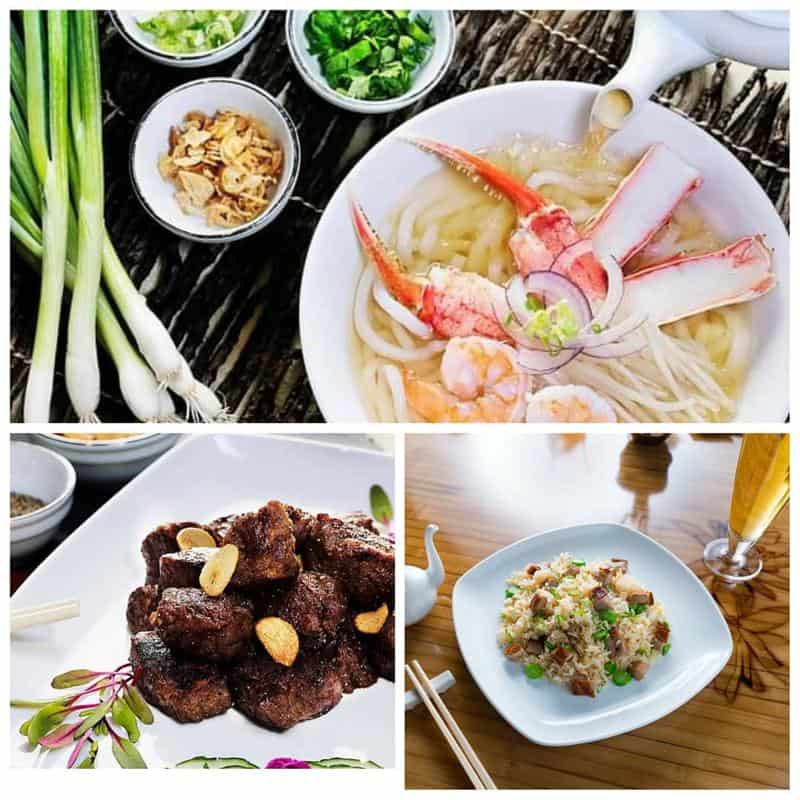 Address: 3325 S Las Vegas Blvd, Las Vegas
Phone: +1 702-607-2220
You will find Hong Kong Café right on the Palazzo Casino floor near the Palazzo Waterfall Atrium at the Venetian Resort. The good news is that this café offers reasonably priced, yet delicious Chinese comfort foods that come in huge portions.
As you'd expect from a Chinese restaurant in Las Vegas, there are plenty of dim sum options to choose from on their menu.
Guests can order classics like the Szechuan-style poached beef and steamed Shanghai dumplings, but can also get unique dishes such as the honey-glazed barbecue pork.
If you are in the mood for some spicy foods, get one of the Sichuan-inspired dishes. Wash down the heat with a glass of Hong Kong-style milk tea.
9. Beijing Noodle No 9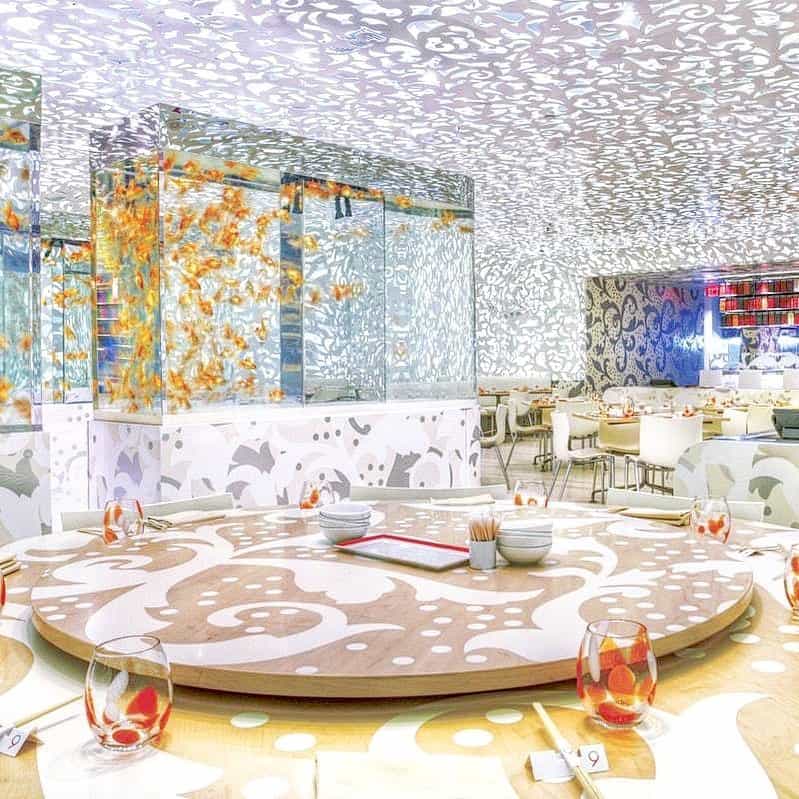 Address: 3570 S Las Vegas Blvd, Las Vegas
Phone: +1 877-346-4642
Located just off the casino floor at Caesars Palace, Beijing Noodle No 9 is an ideal place to sample some high-quality and particularly authentic Northern Chinese fare. With a stunning entrance and beautiful white walls and ceiling, this place boasts a lovely décor.
Noodles feature heavily on the menu and dumplings here that come in 7 different flavors are handmade. The food menu itself is extensive with 14 pages of authentic Chinese dishes to choose from.
Adventurous foodies can go for the ox tongue, while those who wish to stick with the classics can get meals such as salt and pepper chicken, dan dan noodles, kung pao chicken, and roast duck.
The spicy beef noodle soup is also worth ordering.
Beijing Noodle No 9's full bar offers a menu of specialty cocktails made with both Chinese and Japanese spirits.
10. Red Plate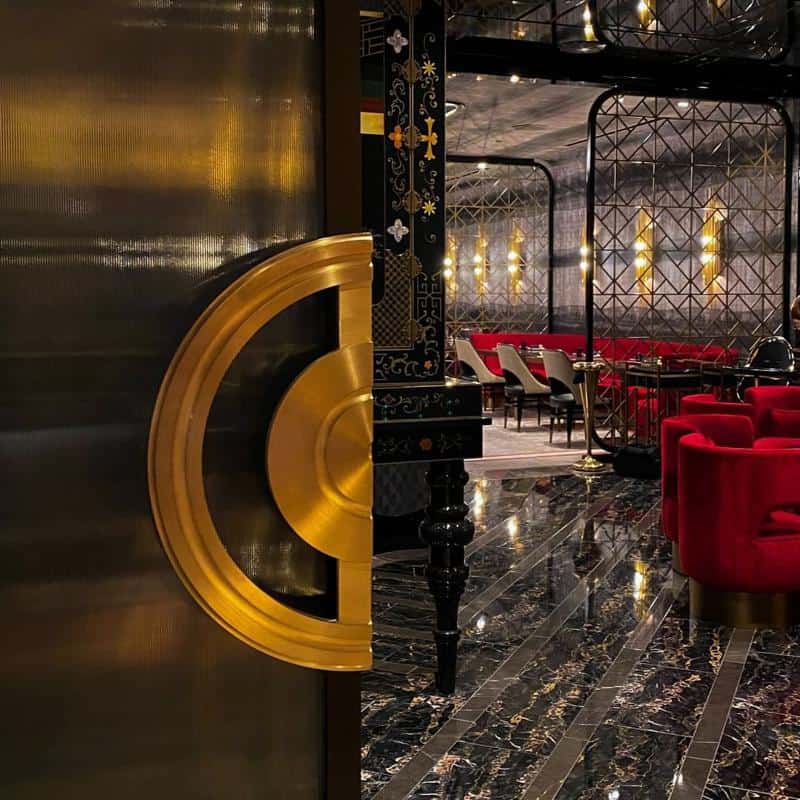 Address: Boulevard Tower, 3708 Las Vegas Blvd S Level 3, Las Vegas
Phone: +1 702-698-7789
Known for its noodle dishes and dim sum, Red Plate is an upscale Chinese restaurant. The dishes here are relatively affordable, especially taking into account that this is a reservation-only dining establishment with a sleek dining room.
The décor with the beautiful antique vase in the middle of the venue looks amazing. On the food menu, expect to find traditional Chinese dishes with a modern twist.
Red Plate is big on seafood with options like Maine lobster, Alaskan king crab, and rock cod. Signature roasted meats like Peking duck and the whole suckling pig also play an important role on the menu.
Pair your meal with something from their cocktail menu that incorporates Chinese ingredients like lychee, yuzu, and matcha tea.
If you are searching for a classy place with a calm atmosphere and traditional Chinese foods, look no further than the Red Plate.
11. Ping Pang Pong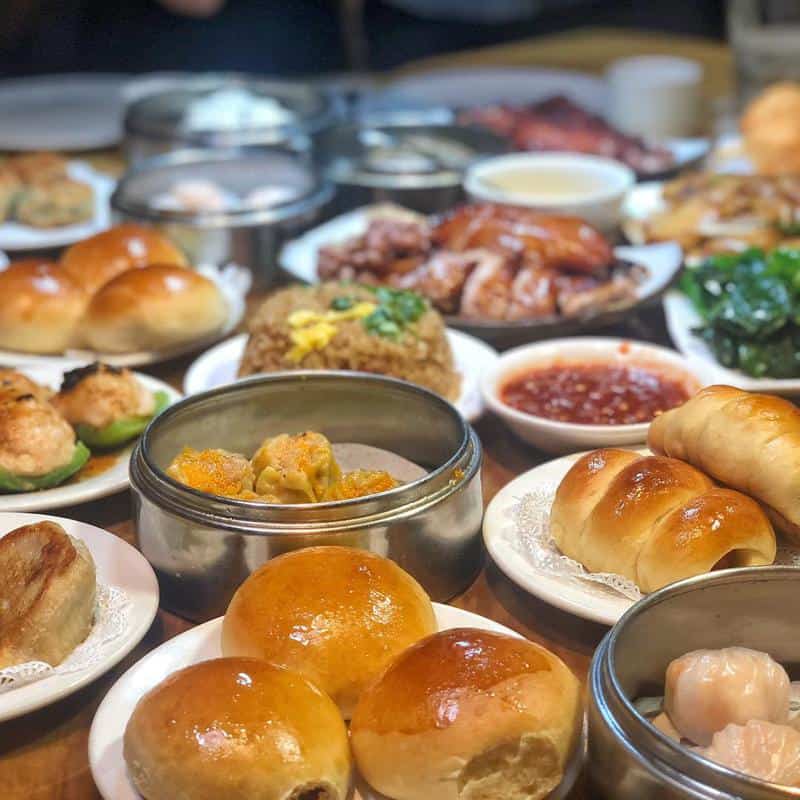 Address: 4000 W Flamingo Rd, Las Vegas
Phone: +1 702-247-8136
Located just off the casino floor at the legendary Gold Coast, Ping Pang Pong is an award-winning dining establishment that offers a large menu of authentic Chinese dishes.
The restaurant was actually named one of the top Chinese restaurants in the US by the prestigious Travel and Leisure Magazine. Las Vegas Review-Journal voted Ping Pang Pong "Best Asian Restaurant in Las Vegas" a bunch of times.
The vibe here is casual, which allows guests to have a pleasant dining experience. The selection of dim sum at Ping Pang Pong is really huge with nearly 100 flavors to choose from.
Seafood lovers will be pleased to hear that fresh seafood is made to order and includes delicacies like an eel, red cod, and lobster.
If you wish to try their meat dishes, go for the Mongolian beef or get the orange chicken.
12. Din Tai Fun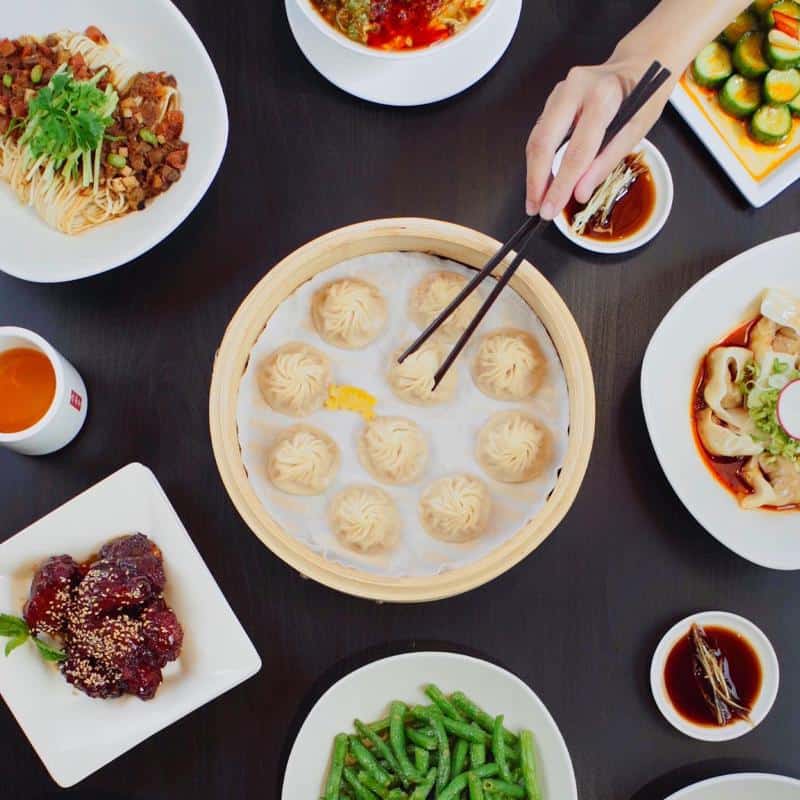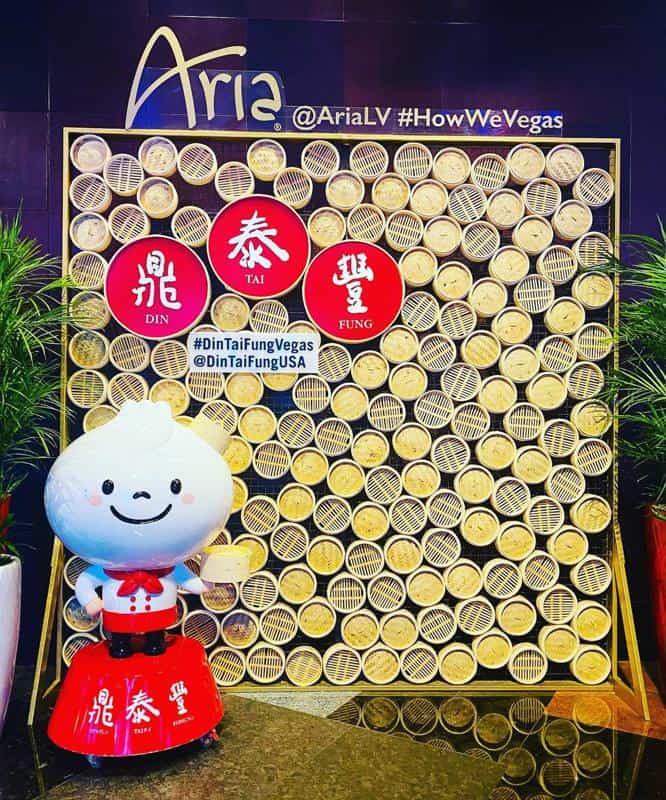 Address: 3730 S Las Vegas Blvd, Las Vegas
Phone: +1 702-590-8650
Last on our list is Din Tai Fun, a Taiwanese restaurant that specializes in xiao long bao, the paper-thin Shanghai-style soup dumplings stuffed with Kurobuta pork.
Located at the ARIA Resort & Casino, Din Tai Fun also has branches in California, Hong Kong, Japan, and Australia.
Step inside their dining room just of Aria's Lobby and admire the beauty of the open-plan show kitchen and the impressive 40-foot glass wall.
Most people come to this 5-decade-old Taiwanese restaurant in Las Vegas for the mouthwatering stuffed soup dumplings. However, there are many other delicious items to try on the menu. Order the House Jidori Chicken Wonton or try the tasty cucumber salad.
The drink list is also impressive with a smart wine menu, plenty of sake options, and artisan cocktails like the floral pear and lychee martini and spiced boba.
Read More:
Conclusion
Finding a great Chinese restaurant on the Las Vegas Strip is quite easy. Whether you are searching for a casual joint that serves traditional Chinese cuisine or you wish to dine at a posh dining restaurant at one of the Las Vegas resorts and casinos, there is plenty to choose from.