Welcome to the Bellagio, one of the most iconic luxury hotels and casino resorts in Nevada's Sin City.
Known for its dancing water fountain and the 8.5-acre man-made lake, this hotel & casino on Las Vegas Boulevard is a beloved institution by many.
Like other major casino resorts on the Las Vegas Strip, Bellagio also has its own eclectic collection of impeccable restaurants run by various award-winning Chefs.
Whether you wish to try the signature veal porterhouse steak by Chef Jean-Georges Vongerichten, feast on French cuisine with a Spanish twist at a Michelin-starred dining establishment, or sample extraordinary Japanese delicacies created by the award-winning Chef Akira Back, Belaggio has an incredible line-up of high-end dining options.
Without further ado, here is a list of our favorite restaurants at the Bellagio Hotel & Casino.
Best Restaurants in Bellagio
1. Prime Steakhouse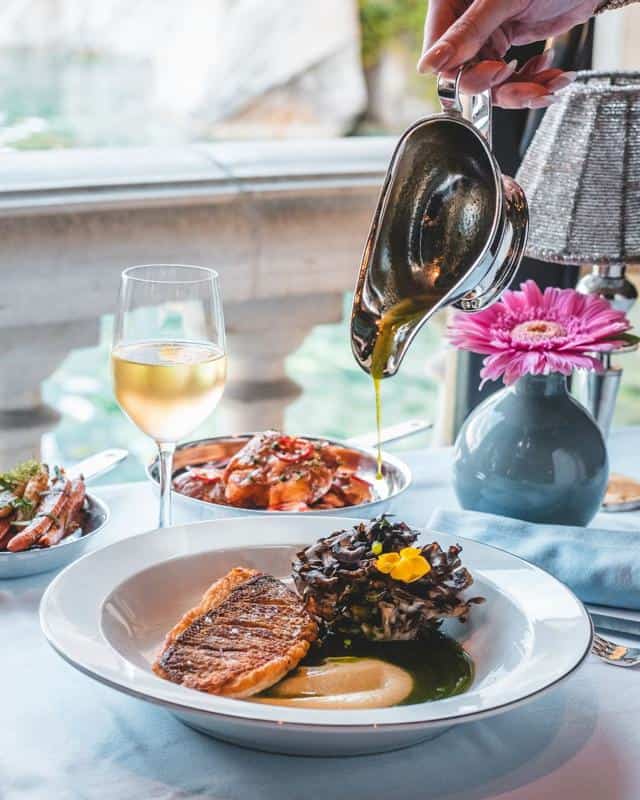 First on our list of the best restaurants in Bellagio is the legendary Prime Steakhouse. With prime steak, seafood, and lamb dishes on the menu, Chef Jean-Georges Vongerichten brings steakhouse dining to the next level.
The décor at the Prime Steakhouse with beautiful artwork, Baccarat chandeliers, and plush furnishings resembles a luxurious 1930's style speakeasy.
The star of the show here is mouthwatering food. The steak menu is extensive with options such as Peppercorn Crusted New York Strip and Dry-Aged Bone-In Ribeye. The signature steak, veal porterhouse with kumquat pineapple chutney and caramelized cauliflower is definitely worth ordering.
If you wish to splash out, go for the Japanese Wagyu Beef. All steaks at this fine dining establishment come with 5 sauces and 6 types of mustard to choose from.
In addition to a fabulous selection of premium meats, Prime Steakhouse offers seafood dishes, appetizers, and desserts. Pair your meal with something from the restaurant's extensive wine list.
Prime Steakhouse also offers private dining. The restaurant has an outdoor patio that accommodates about 80 guests and offers beautiful views of the Fountains of Bellagio.
2. Lago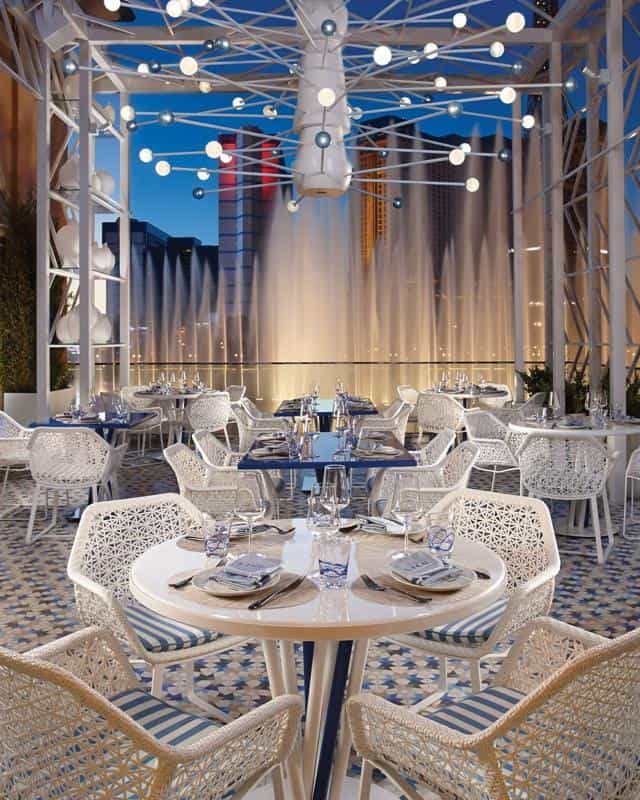 Are you in the mood for some Italian cuisine while staying at the Bellagio? Book a table at LAGO by Julian Serrano, a charming Italian-themed restaurant that focuses on modern small plates.
The food menu at Lago is designed by the acclaimed Chef Julian Serrano and ranges from seafood and meat to antipasto and vegetarian dishes.
Meat lovers can feast on beef tenderloin, veal piccata, braised short ribs, or osso buco. If you wish to enjoy seafood, go for the squid ink pasta or try Lago's signature seafood risotto. Some of the other popular dishes here include Margherita pizza and Caprese salad.
With a lovely outdoor patio and floor-to-ceiling windows, Lago is a beautiful dining establishment. Guests will also get a world-class view of the Fountains of Bellagio from the restaurant.
3. Picasso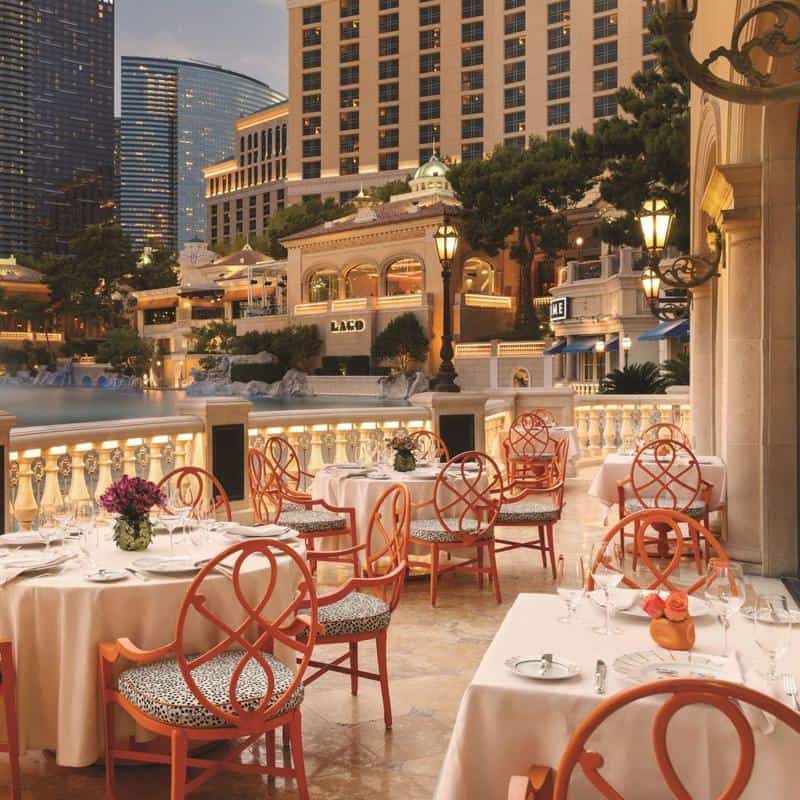 Picasso in the Bellagio Hotel is a Michelin-starred restaurant that specializes in French and Spanish cuisine.
The Spanish Chef, Julian Serano has crafted French cuisine with Spanish twists to perfection. He owns and runs 3 restaurants in Vegas and one of them is Picasso.
Step inside the restaurant to find walls that are graced with a collection of works by Picasso including paintings and ceramic pieces. However, the true artistry here is on the food menu.
Expect high-end dishes, as well as incredible Sommelier wine pairing when dining at this fabulous restaurant.
The signature Sauteed Steak Of "A" Foie Gras is truly amazing, as well as the Roasted Maine Lobster which is served with Flying Fish Caviar. Seafood lovers can try the Pan-Seared U-10 Day Boat Scallop.
Some of the other popular offerings on the menu include green Asparagus and Sauce Hollandaise and a nice selection of high-end steaks.
4. Jasmine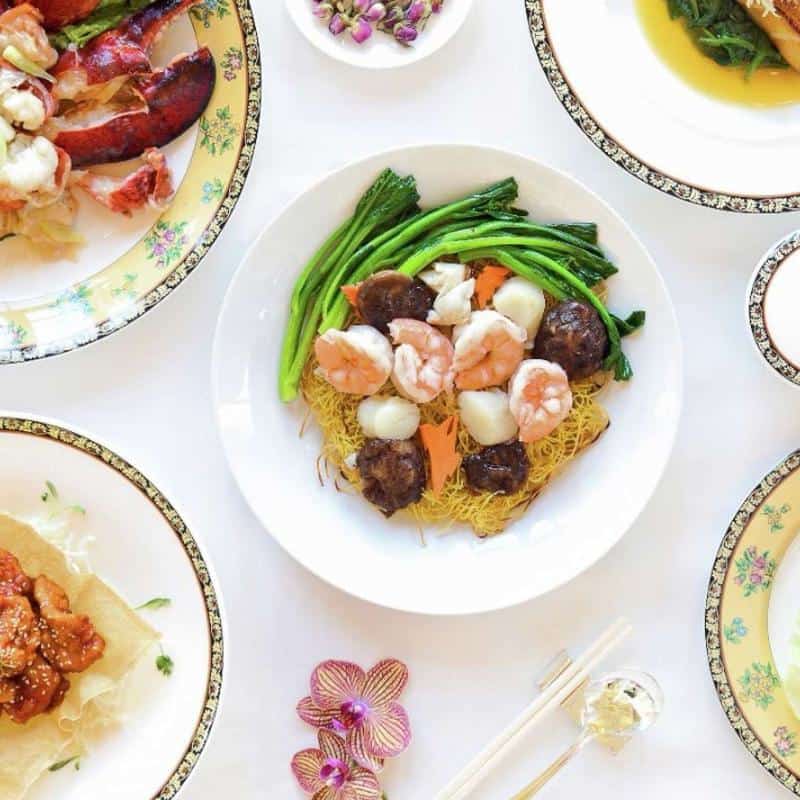 Jasmine is one of the most beautiful Chinese restaurants in the US.
With its adorable décor, views of the Bellagio fountain, and Nouvelle Hong Kong cuisine, this fine dining establishment is a perfect place to enjoy a romantic dinner with that special someone.
Chef Philip Lo. Lo is in charge of the kitchen. Named one of "America's Outstanding Chefs" by Chefs in America, Philip delivers modern interpretations of classic Chinese dishes.
The flavor of Szechwan, Cantonese, and Hunan cuisine is what attracts large crowds of visitors to Jasmine.
The food menu is extensive with something for everyone. Abalone Hot Pots are the star of the menu, as well as the spicy chicken. If you are in the mood for seafood, feel free to pick something from their live tank.
Want to hear more good news? Jasmine is one of the reasonably priced restaurants in Bellagio.
5. Le Cirque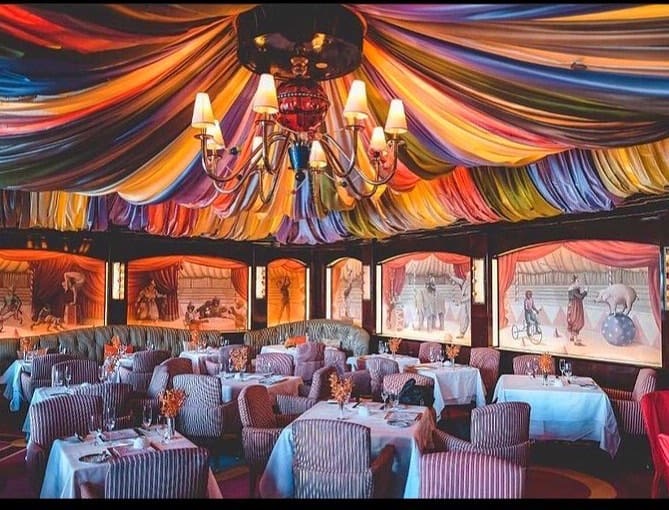 If you wish to enjoy high-end French cuisine, make a reservation at the legendary Le Cirque in Bellagio.
With an AA Five Diamond Award rating and the Forbes Travel Guide 5 Star Rating, this award-winning dining establishment offers a memorable dining experience and breathtaking views of the Fountains of Bellagio.
Their French menu is innovative and includes a wide range of both French classic and unique meals. Everything you order here is adorable and stunningly presented.
Expect to find lots of three-course meals here such as Ricotta Gnudi served with Consommé Royale and Black Winter Truffles.
Guests can also order the signature Hawaiian Kampachi (Yellowtail) which is served with edible garnishes. Some of the other popular dishes on the menu include Truffle Rissoto, Ossetra Caviar at Le Cirque, Maryland Blue Crab, and Foie Gras.
Guests with a sweet tooth should not leave Le Cirque before trying the delicious chocolate soufflé.
The wine list is handpicked by world-famous sommeliers including Sanae Halprin and Freddy Maontandon. Therefore, it comes as no surprise that there are nearly 1,000 international wines to choose from here at Le Cirque.
6. Michael Mina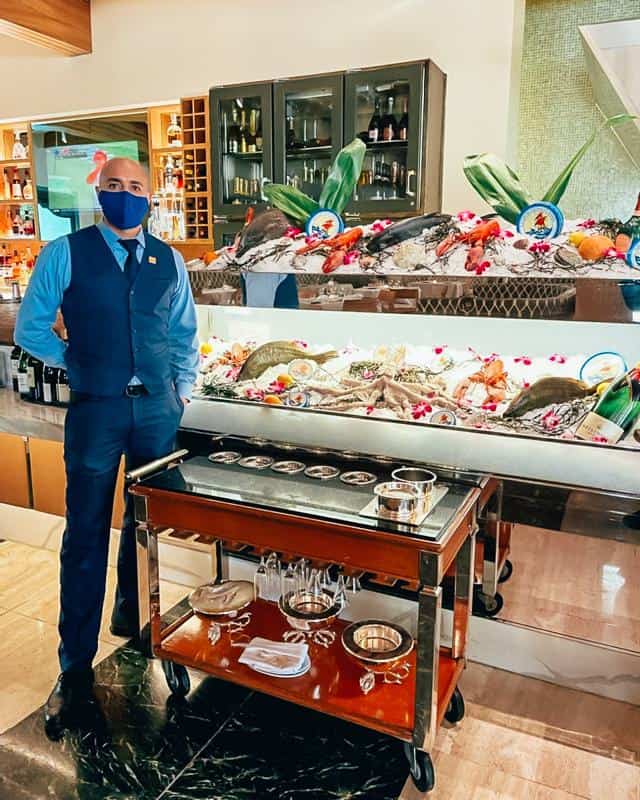 Michael Mina is a seafood-oriented dining establishment in Bellagio. The One Michelin Star Award-Winning chef, Michael Mina takes seafood dining to a whole different level.
Here at Michael Mina, seafood is flown in fresh daily. The flavors are spot on and the presentation of the food is just perfect.
The menu heavily focuses on seasonal seafood and includes options like Hamachi Provencal, charcoal-grilled hot shellfish with king crab, Atlantic oysters, gulf prawns, and Maine lobster.
Try the signature Michael's Lobster Pot Pie or go for the popular Ahi Tuna Tartare.
If you wish to try a bit of everything at Michael Mina, we recommend ordering one of the two tasting menus.
Read More: Best Seafood Restaurants in Las Vegas
7. Spago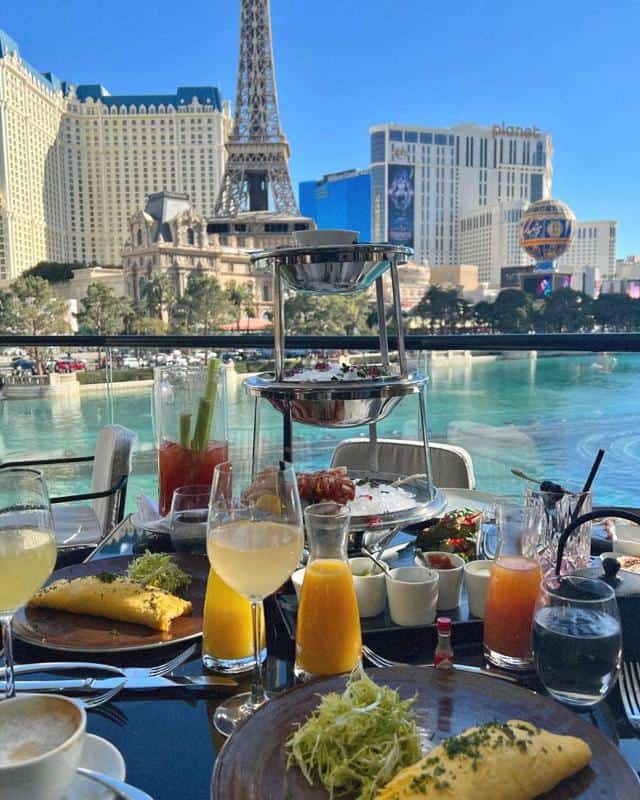 For those who don't know, Wolfgang Puck is a famous Celebrity Chef who owns a host of chain restaurants all across the world. He started in a small restaurant in Los Angeles called Spago, where he earned his first two Michelin stars.
Today, Spago has a branch in Bellagio and is one of the most beloved restaurants on the Las Vegas Strip. Situated on the banks of the Bellagio Lagoon, Spago is all about ultra-high-end Italian cuisine with a Californian twist.
The pasta here is house-made. Try the Sweet White Corn Agnolotti which comes with thyme butter. The signature Miso Marinated Salmon is not-to-be-missed, as well as the caviar pizza which you can top with high-end things like Kaluga sturgeon caviar.
Some of the other signature must-try dishes at Spago include Colorado Lamb Rack, Campanelle with Slow-Braised Pork Ragu, and Las Vegas Golden Knights Pizza.
Fan of premium meats? Steak lovers say how the Fillet Mignon practically melts in your mouth here at Spago. You can also go for the New York Strip Steak or Wagyu Ribeye.
8. Yellowtail Japanese Restaurant & Lounge
If you are craving both classic and contemporary Japanese cuisine while staying in Vegas, pay a visit to the Yellowtail Japanese Restaurant & Lounge at the Bellagio.
The Michelin-starred Chef Akira Back is the creator of the extensive menu that offers everything from high-end sushi and sashimi to authentic Japanese dishes like Kagoshima Wagyu.
Sushi Pizza is one of the signature dishes here at the Yellowtail Japanese Restaurant & Lounge, as well as the Mile High Roll which includes asparagus, tempura crab, and avocado topped with sashimi.
If you wish to splash out, feel free to feast on the Lobster or Kobe Beef. More affordable options here include Angry Salmon and Jidori Chicken.
Yellowtail at Bellagio is also known for artisan cocktails with options such as Dragonfire (Vodka, Chilli Pepper, and Strawberry Puree) and Sunset (Grey Goose L'Orange, Yuzu, and Blood Orange Puree).
We almost forgot to mention that at the Yellowtail you will be dining with a panoramic view of the popular Bellagio fountain show.
9. Sadelle's Cafe
Wish to skip Michelin-starred restaurants and want to enjoy mouthwatering food at a laid-back eatery?
Sadelle's Café is a casual place at the Bellagio where you can grab breakfast and lunch. This classic American-style Diner offers delicious American cuisine and beautiful views of the Bellagio Conservatory.
The breakfast menu is pretty much straightforward with something for everyone.
Whether you wish to have Sadelle's tower that comes with fish, bagel, tomato, cucumber, and capers or go for the eggs benedict that has house salmon/ham, poached eggs, and hollandaise, there is plenty to choose from.
The good news is that the signature breakfast at Sadelle's comes with a complimentary mimosa or bloody mary.
10. Buffet Bellagio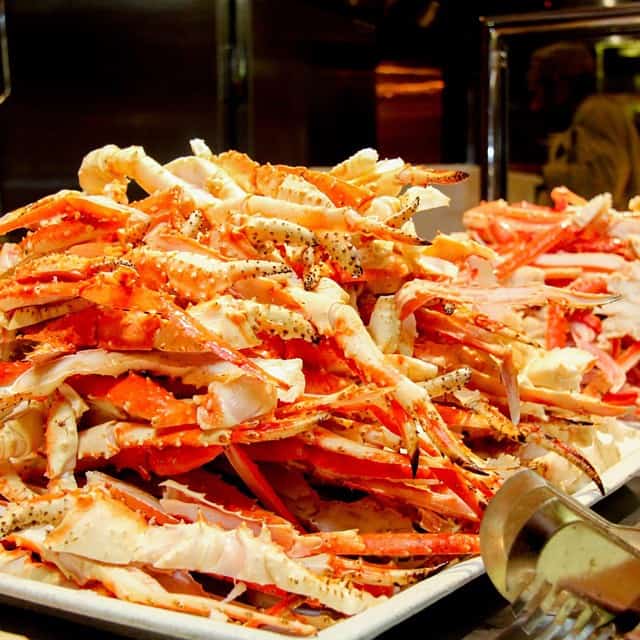 Fan of buffets? The Buffet Bellagio Bistro offers endless food options to choose from. Located next to the 'O' theatre, this place is one of the best buffets on the Las Vegas Strip.
Their menu is packed with dishes from the executive chef Alec Erickson and there are dozens of food stations to enjoy. Visit the high-end omelet station or check out the seafood station and enjoy chilled and hot Seafood like Crab-Legs and Smoked Trout.
The freshly baked pastries are delicious, as well as meat dishes like Prime Rib, Lamb, Kobe Beef, and Turkey.
If you are visiting for lunch, go for the mouthwatering Lago by Julian Serrano's Malloreddus Pasta with pork sausage and tomato sauce.
There is also the incredible pizza station that offers three types of pizza including Pepperoni Breakfast pizza, Bacon & Egg Pizza, and Cheese Breakfast pizza.
11. Harvest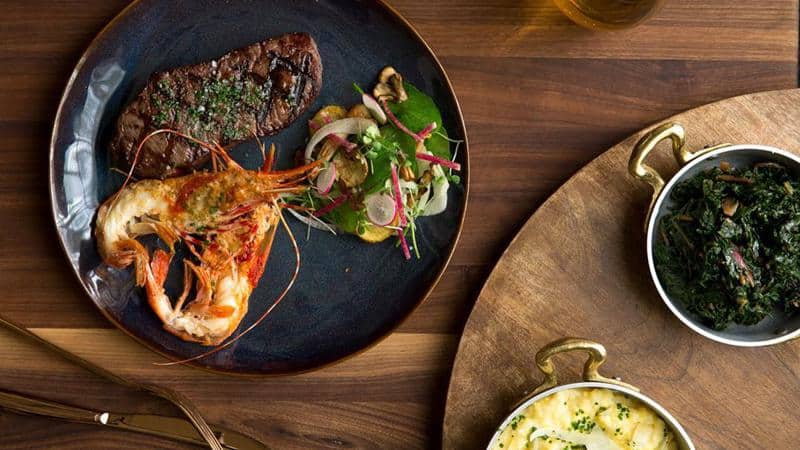 One of the newest additions to the restaurant scene in Bellagio, Harvest restaurant focuses on seasonal, sustainable cuisine with a farm-to-table approach. It's a perfect place to enjoy healthy dining with a carefully curated menu from Roy Ellamar.
Here, sustainable seafood is prepared in the stone oven, the beef is local and grass-fed, and vegetarian options are plentiful. To sum it all up, Harvest is a restaurant for visitors who wish to have a more sustainable dining experience.
For starters, get the amazing artisanal cheese board. The mains include popular options such as roast chicken and wild isles salmon. You can also choose from a variety of sides like brussel sprouts, and caramelized mushrooms.
Harvest also offers both private and semi-private dining. There are single and double private dining rooms available for booking. The single rooms can accommodate up to 20 guests, while the double rooms sit for about 50 guests.
12. The Mayfair Supper Club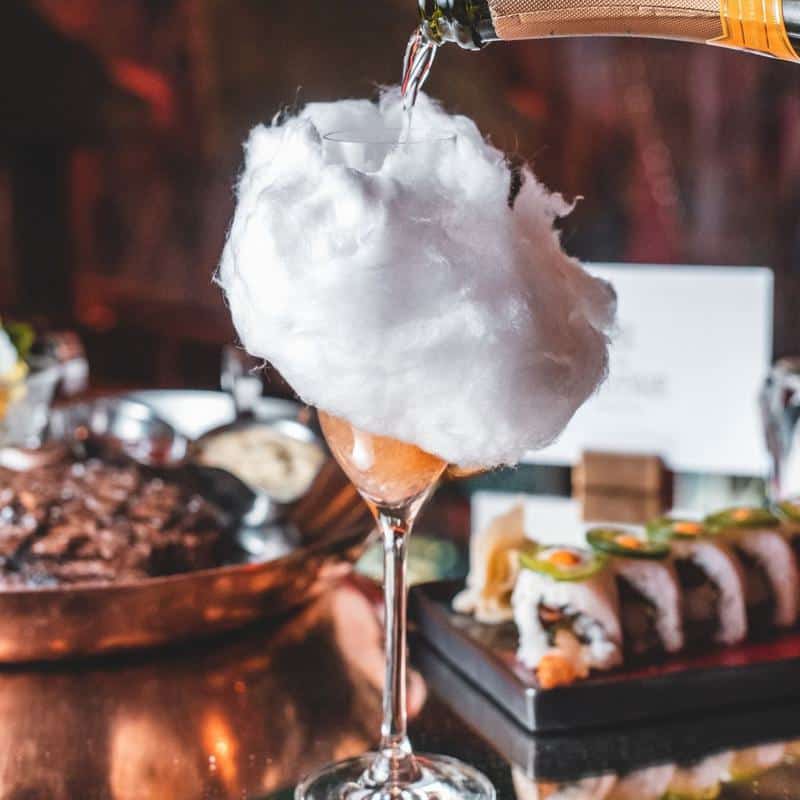 The last on our list of the best restaurants in Bellagio is the Mayfair Supper Club. This elegant and glamorous restaurant in Las Vegas is not your average dining establishment, to say the least.
The concept here is a bit different. The star of the show is actually the Late-Night Revelry, a Friday and Saturday fair that includes a beautiful show filled with energy, delicious food, and a cocktail presentation.
Guests will have an opportunity to watch incredible shows and feast on a wide range of dishes. Like the show, the food at the Mayfair Supper Club is crafted to perfection.
The Lobster Thermidor with cognac cream is one of the most popular dishes on the menu, as well as the
New York Strip comes with whiskey shallots and aged balsamic. You can also go for the Seafood Tower or try the 40 ounces dry-aged porterhouse served with Mayfair steak sauce, béarnaise, and gem lettuce.
Read More:
Conclusion
There is no shortage of fabulous dining options at the Bellagio in Las Vegas. After all, it is one of the most famous hotels and casinos on the Las Vegas Strip.
From upscale French dining establishments to Asian restaurants where award-winning Chefs prepare delicious contemporary cuisine, Bellagio has it all!