What do you crave for this season? When it comes to classic cuisines, the establishments at Wynn Las Vegas are some of the highly rated and most preferred.
Wynn Encore is home to elegant dining restaurants that offer many amenities, from dine-in services to in-room dining options with a variety of dishes, including Chinese delicacies.
Let's dive into some of the unrivaled restaurants at Wynn Encore and explore the impeccable features that each dining place offers.
Best Wynn Encore Restaurants
1. Cipriani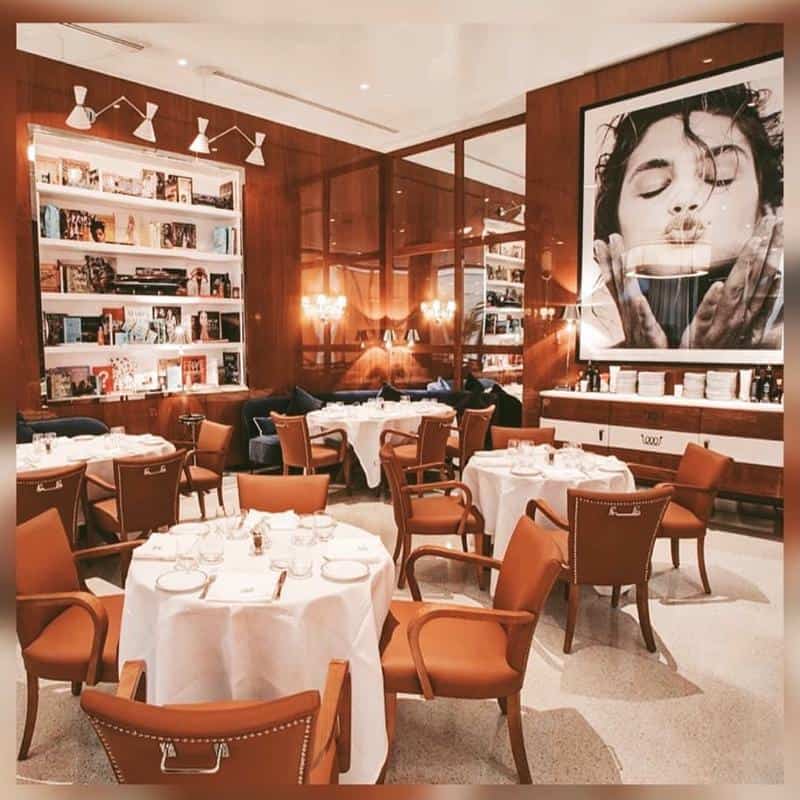 Hours: Sunday-Thursday 11:00 A.M.-11:00 P.M. Friday & Saturday 11:00 A.M.-11:30 P.M.
Cipriani is an Italian dining restaurant that offers a fresh and luxurious atmosphere. The menu serves Italian-Venetian-inspired cuisines prepared to spread the old-age family tradition "to serve first to love."
This Italian restaurant offers beautiful interior décor and service.
The menu offers plenty of dishes, including vegan, vegetarian, and gluten-free options. The food is delicious, and the customer service delivery is impeccable.
What to eat:
Cipriani has a wide variety of options on its menu. However, some of the main course meals offered include chicken Spezzatino served with yellow rice, home-baked Tagliolini with ham, Calf's liver accompanied with fried Polenta, and Chilean sea bass served with Rice Pilaf.
There's also an extensive selection of salads and sandwiches, such as the chef's salad with Swiss Cheese, ham, egg, tomato, tuna, and Anchovies.
2. Sinatra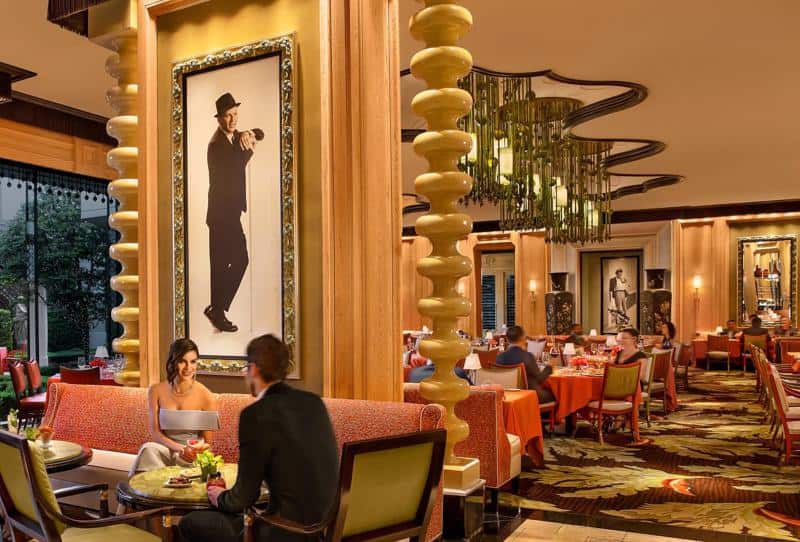 Hours: Sunday – Thursday:5:30 p.m. – 10:00 p.m. Friday and Saturday:5:30 p.m. – 10:30 p.m.
Sinatra is a high-end restaurant where guests can sit inside or dine under the stars by the cozy fireplaces.
Visitors enjoy the swinging and mementos music as they dine on their favorite Italian dishes such as spaghetti and osso buco or clams.
At this prestigious restaurant, you will be served by a team of talented staff that offer a hospitable experience. Its ambiance is impressive, graced by a charming modern garden that evokes a fresh atmosphere.
The Executive Chef, Theo, has over three decades of experience and cooked for public figures such as Luciano Pavarotti and Ol's Blue Eyes.
Thus, be sure to enjoy good music, tasty foods, stunning interiors, and impeccable services that give a great dining experience.
What to eat:
Sinatra dining restaurant delivers a heart-warming menu, with specialties such as panna cotta, Panzanella di Granchio, Carpaccio di Manzo, Pasta e Zucchini, Veal Parmigiana and Lasagna Bolognese.
3. Mizumi Teppanyaki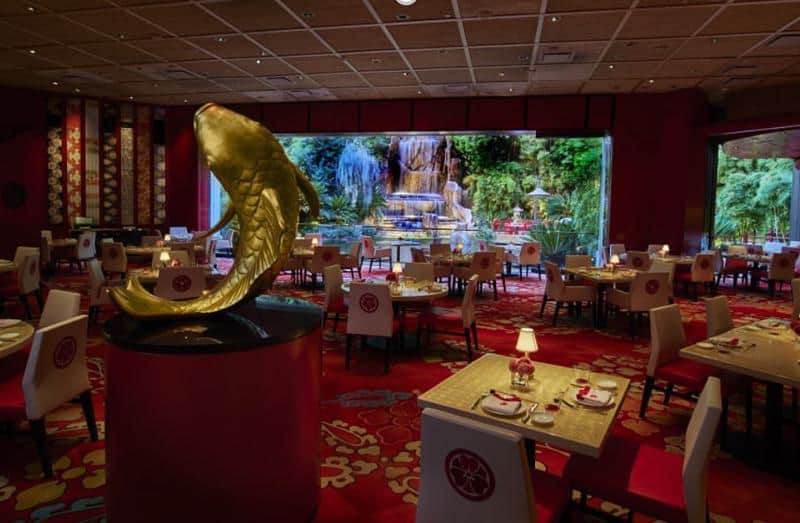 Hours: Sunday-Thursday 5:30 P.M.-10:00 P.M. Friday & Saturday:5:30 p.m. – 10:30 p.m.
Mizumi Teppanyaki is a stunning dining restaurant that serves a wide selection of seafood and tasty Japanese delicacies.
Its interior is beautifully designed as it features breathtaking views such as a Japanese mystic garden, a koi pond, and a floating pagoda surrounded by a garden and waterfall.
Mizumi's savory and culinary experience is stunning, especially with the teppanyaki showroom. Moreover, its theatrical sections present you with chefs who will amaze you with the tableside cooking flairs for your entertainment.
What to eat:
Mizumi's menu includes offerings like prime-aged steaks, domestic Wagyu, Robatayaki, sushi rolls, Hokkaido Beef, rice, and noodle courses served with blended red-miso soup and pickled vegetable tempura.
In addition, Mizumi offers a selection of mouth-watering desserts, including roasted chestnut Mt. Fuji with chestnut ice cream.
See Also: Best Seafood Restaurants in Las Vegas
4. Delilah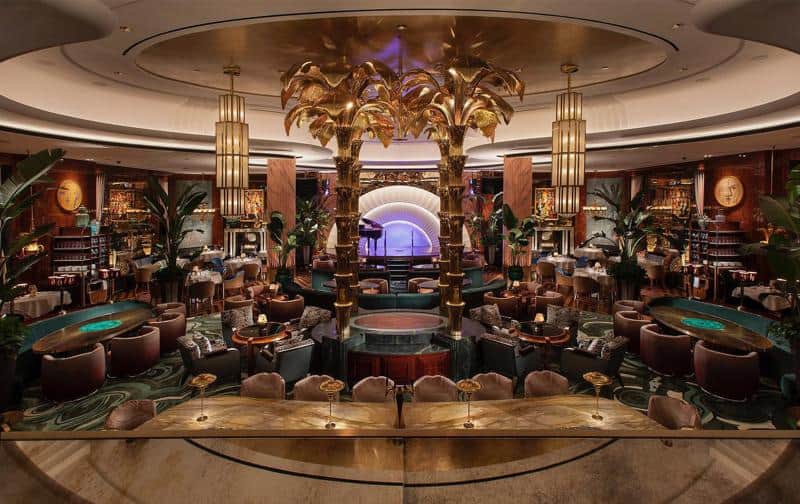 Hours: Opens Nightly From 5:30 p.m. – 10:30 p.m. Late Night Dining Begins at 10:30 p.m.
Delilah is a beautiful restaurant that pays homage to the glamorous age of Hollywood and Las Vegas.
As you're welcomed inside by the warm and friendly staff, the interior invites you to a romantic setting, with the softly illuminated candlelights and stunning chandeliers.
It serves as an elegant supper club for over 21-year-olds. Thus, guests with children below 12 years are not permitted past 10 p.m.
Dining at Delilah feels like stepping back in time and being lured with happiness. The food preparation is spectacular, and the service is overwhelming. There are special performances, live music, and DJs that offer exciting entertainment.
What to eat:
At this American fine dining restaurant, the kitchen is run by Joshua Smith, the executive chef, who offers an extensive menu that includes caviar, beef wellington, and foie gras.
The most popular cuisine is the glazed short ribs and lobsters; however, guest favorites include the famous Chicken Tenders, Pigs in A Blanket, Fish in Chips, and Ahi Tuna Tiradito.
5. Lakeside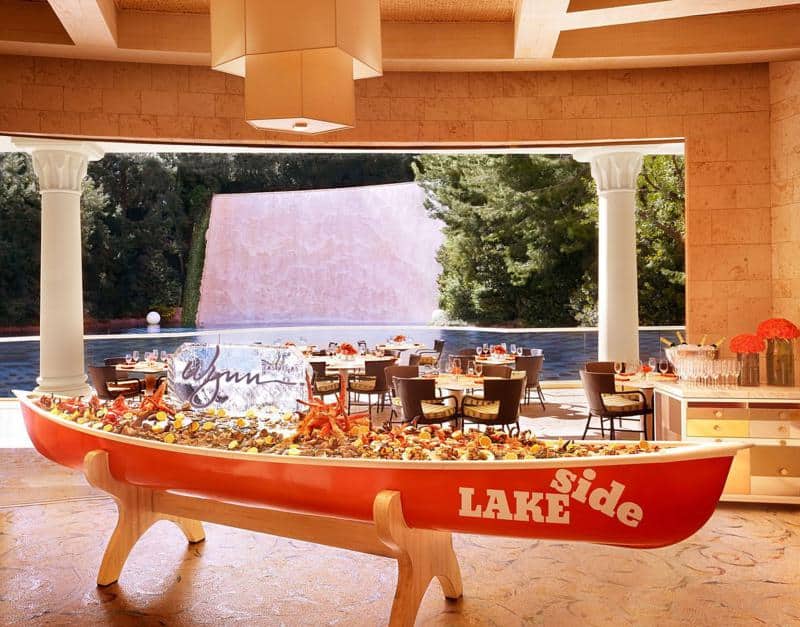 hours: Sunday, Wednesday, and Thursday:6:00 p.m. to 10:30 p.m. Friday and Saturday:6:00 p.m. TO 11:00 p.m.
Lakeside restaurant is an authentic Mexican coastal cuisine that merges creativity with tradition. And as the name suggests, this fantastic eatery offers beautiful views of the lake and a waterfall that features a Cirque de Soleil type of holograph entertainment that enhances the dining experience.
The Lakeside is a great seafood restaurant that delivers a wonderful dining experience. It has stunning scenic views, tasty meals, and outstanding services.
Overall, the entire dining experience at Lakeside is first-class from start to finish.
What to eat:
David Middleton, the executive chef, offers tasty seafood with impeccable flavors. Some of the popular menu offerings include Aioli, red crab legs, Tuna Tartare, Sea urchin, capers, and roasted Jalapeno.
Other guest choices include the Jumbo Shrimp, King Crab Pasta, Jidori Chicken Breast, Filet Mignon, and Mediterranean Branzino.
6. Wing Lei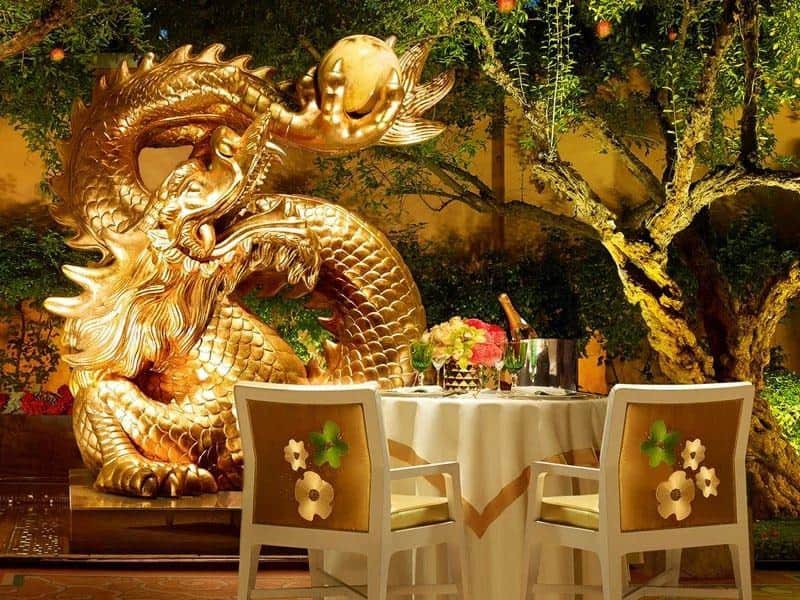 Operating Hours: Sunday, Monday, and Thursday:5:30 p.m. – 10:00 p.m. Friday and Saturday:5:30 p.m. – 10:30 p.m.
Wing Lei is a fine Chinese dining restaurant popularly known as the first Chinese restaurant in North Marica to be awarded a Michelin star.
Its ambiance, delicacies, and services are high to the point of earning Five Stars from the Forbes Travel Guide.
For guests looking for an elegant upscale Chinese restaurant to dine, Wing Lei deliver services that evoke Chinese traditions.
The food is delicious and looks like beautiful artwork. Meals are served in sumptuous golden dining room dishes inspired by Chinese jewel boxes.
The service is top-notch, the ambiance is excellent, and the price matches the perfected cuisines.
What to eat:
Wing Lei serves an extensive selection of delicacies, from Cantonese dishes to tantalizing Szechuan and Shanghai flavors.
Some of the exciting items on the menu include the wok-fried Maine lobster, Washington Dungeness crab, and the special tableside-carved Imperial Peking duck.
Other options include the Alaskan Geoduck clam, Pacific red cod, Crispy Wagyu Beef Roll, Yang Chow Fried Rice, and Pan-Seared Lamb Chops.
7. Jardin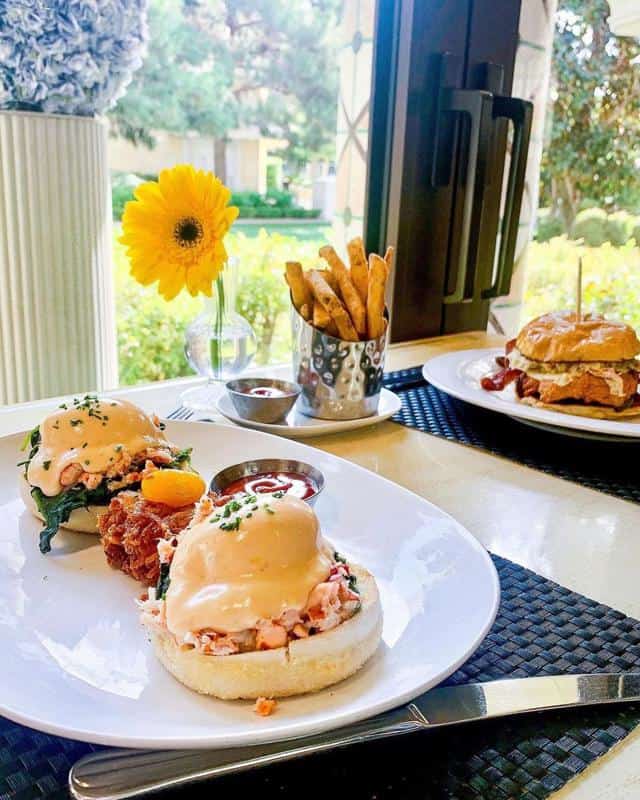 Operating Hours: Daily: 7:30 a.m. – 3:00 p.m.
Jardin is a wonderful American restaurant mainly known for great brunch experiences. This eatery emphasizes sustainable sourcing while offering elevated classics. It has breathtaking views and tasty dishes that vary, from health-conscious to indulgent meals.
Jardin is a casual dining restaurant that will surprise and delight your senses. Its surrounding is welcoming, clean, and fresh.
The service delivery is exemplary, well-timed, and worthy of all the top-tier accolades. Just make a reservation and enjoy the tasty foods, ambiance, and wonderful dining experience.
What to eat:
Jardin serves a wide variety of dishes, from Italian cuisines to French and American delicacies. However, some of the guest's favorites include items like mothering short ribs, Margherita Pizza, Maine lobster Benedict, Tuna Tartare, and Jardin's favorite brunch cocktail, the smoked bacon Bloody Mary.
8. SW Steakhouse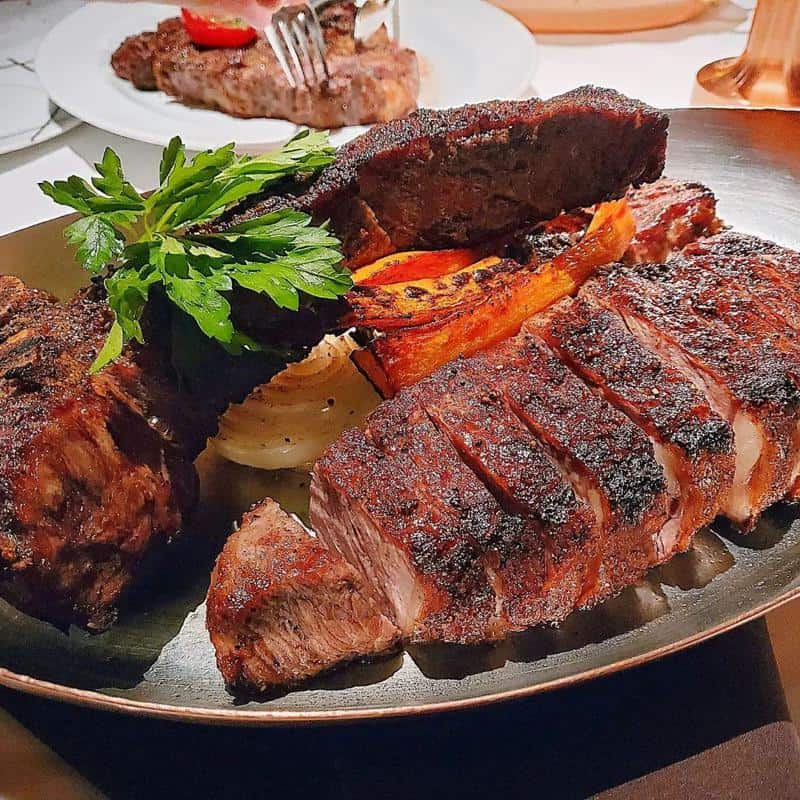 Operating Hours: Sunday – Thursday: 5:30 p.m. – 10:00 p.m. Friday – Saturday: 5:30 p.m. – 10:30 p.m.
The SW Steakhouse is an elegant American dining restaurant that accommodates carnivores and vegans. Dishes served include items like prime-aged steaks and pan-roasted sea scallops, which have won plenty of awards, including the Forbes Travel Guide Stars, and even featured in renowned shows like 'Best Thing I Ever Ate."
The SW is a stunning upscale steakhouse with delicious foods and great views. The lake view with the lighted waterfall evokes a pleasing dining experience.
The staff is warm, kind, and friendly. And although the prices are on the high side, the dining experience is worthwhile.
What to eat:
At SW Steakhouse, the main course meals include Roasted Branzino, pan-roasted Sea scallops, Braised Beef Short Rib, and the Butter Poached Main Lobster. Other Chef selections include Prime cut Steaks and Chops, Japanese Wagyu, Alaskan King Crab Ravioli, and Chimichurri Roasted Dori chicken.
9. Wazuzu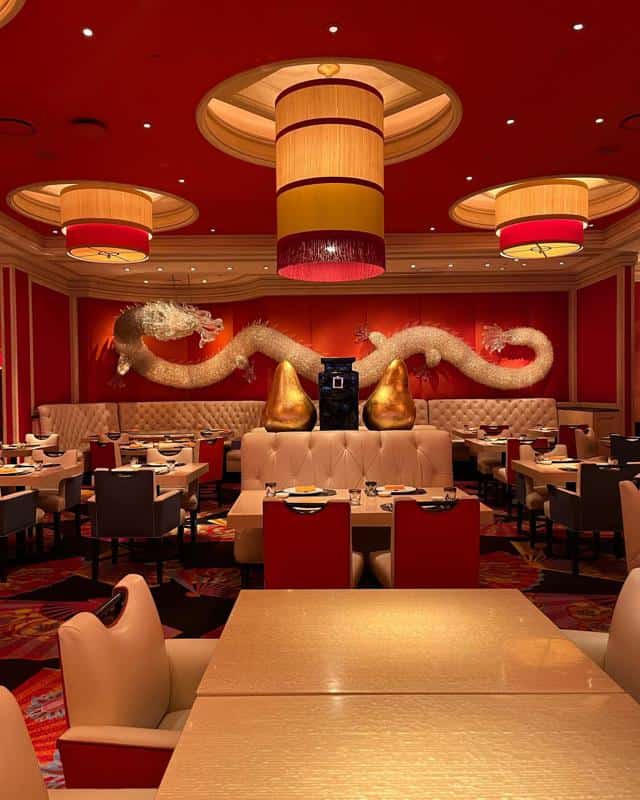 Wazuzu is a Pan-Asian eatery that is perfected for casual lunch or dinner. The glittering 27-ft dragon built with 90,000 unique crystals makes the ambiance feel like dining for a special occasion.
Wazuzu is a beautiful restaurant that offers mouth-watering Asian delicacies and attractive ambiances. Moreover, they offer vegan, vegetarian, and gluten-free options and serve generous food portions.
As for customer services, the servers are friendly and deliver a fantastic dining experience. Moreover, guests with children are allowed.
What to eat:
Wazuzu offers a wide variety of Asian meals, from Thai dishes to Chinese and Japanese Cuisines. On the menu, diners' favorite includes the highly praised drunken noodles, which got featured on the show "The Best Thing I Ever Ate," which airs on the Food Network.
Other specialties include Cantonese Sea Bass, Thai Spicy Basil Stir-Fry, Thai Shrimp Salad, Rainbow Rolls, Wazuzu Pineapple Fried Rice, and Lucky Dragon Rolls.
10. Tableau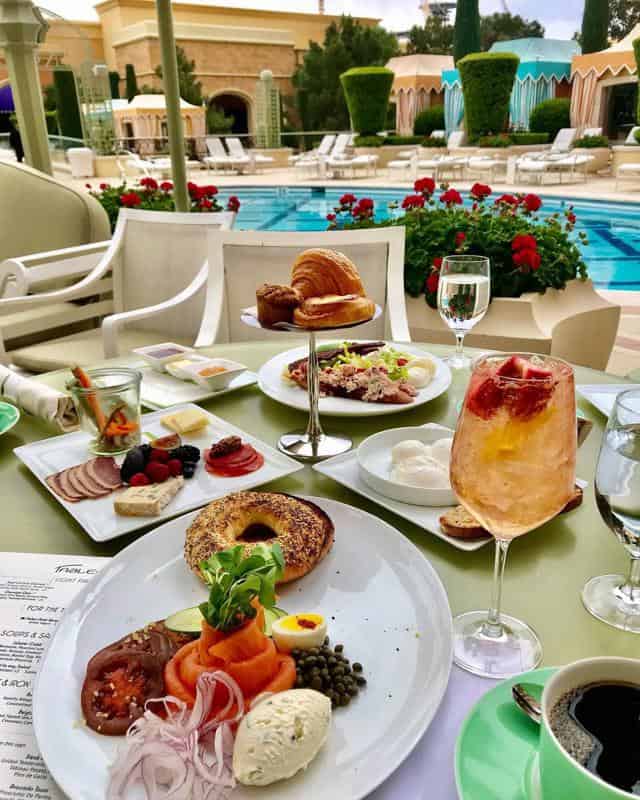 Hours: Daily: 7:00 a.m. – 2:30 p.m.
Tableau is a hidden gem in Wynn's south tower which delivers amazing presentations of the beautifully prepared American cuisines for breakfast, brunch, and lunch.
Guests can dine inside; however, the best space is the outdoor patio which features serene surroundings of the verdant gardens and the pool.
If you want an elegant American brunch to enjoy with friends and family, Tableau is "the" place to be. Food is prepared to perfection, whether main course meals, coffee, or pastries.
The service is excellent, and the ambiance is ideal for a unique, fun experience. Generally, Tableau is the best place for an impeccable American brunch.
What to eat:
Tableau's menu mainly dwells on market-fresh cuisines and brunch dishes like Belgian waffles laced with cream and strawberries, Lemon Ricotta Pancakes, and lobster Cobb salad served with buttermilk dressing.
Other tasty brunch options include Pink Pineapple Waffles, Chicken Sandwich, Burrata Cheese, Seared Salmon, Truff Le Fries, Pork Cavatelli Pasta, Garlic Aïoli, and Beef Tartare.
11. Red 8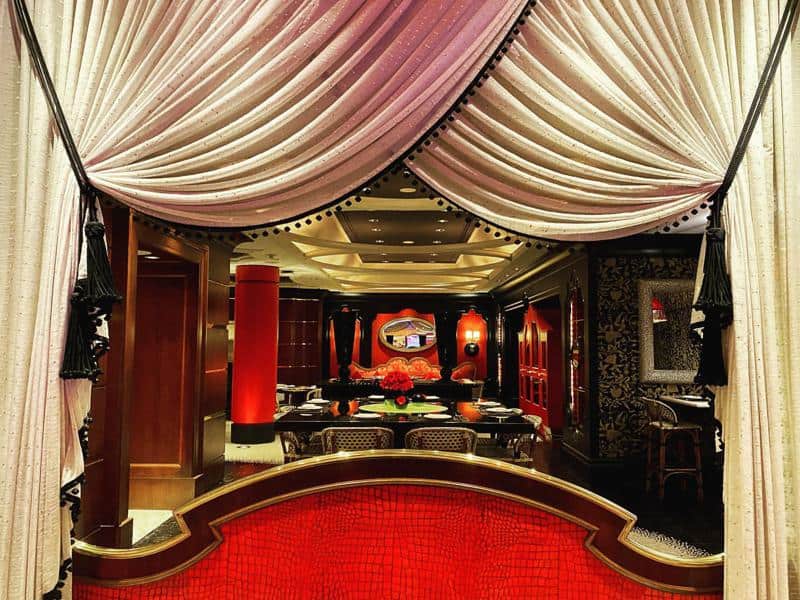 Hours: Sunday – Thursday: 11:30 A.M. – 10:00 P.M. Friday & Saturday: 11:30 A.M. – 12:00 A.M.
The Red 8 is a cozy, casual dining restaurant saturated with rich reds and layers of intriguing textures. Some of the dishes served include Asian and Cantonese specialties. Moreover, vegan, vegetarian, and gluten-free options are offered.
The Red 8 is an intriguing restaurant that serves its guests tasty, incredible Asian delicacies like Cantonese noodles and Hong Kong-styled barbecue pork.
The customer service is exemplary as the servers are friendly and keen on details. Moreover, the atmosphere is lovely and has a stunning hidden design section that adds a touch of fanciness.
What to eat:
Red 8 serves tasty dim sum specialties such as Steamed Shiu Mai, Fried Crab Claw, Steamed Shanghainese Pork Dumpling, Abalone, and Fried Shrimp.
Other mouth-watering dishes include Chicken or Beef Congee (Rice Porridge), Cantonese Pipa Duck, Poached Chicken, and Beef Tenderloin.
12. The Buffet at Wynn Las Vegas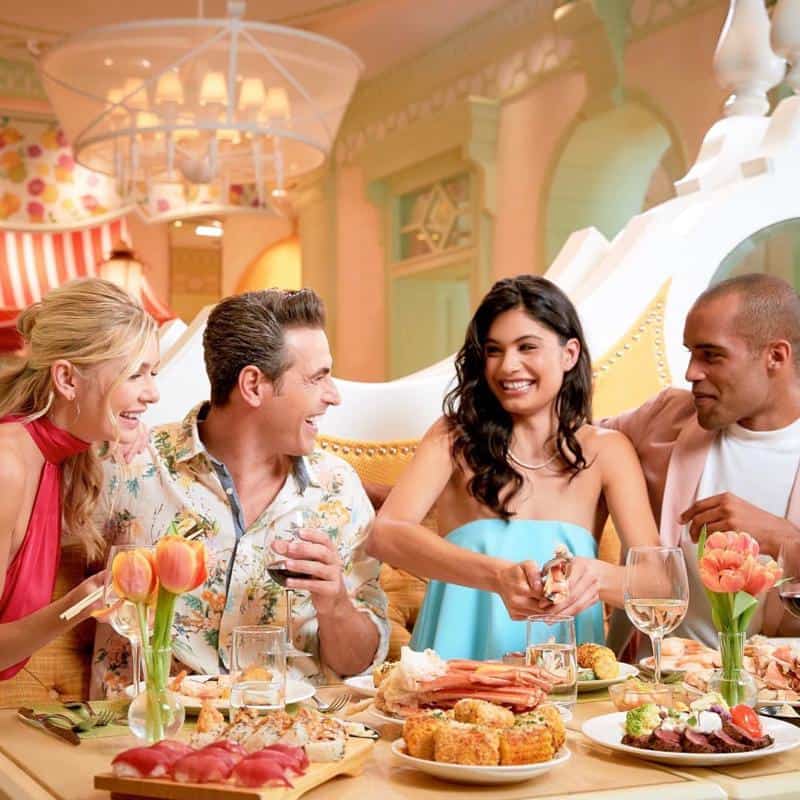 Hours: Monday 8:00 A.M. – 9:00 P.M. Thursday – Sunday 8:00 A.M. – 9:00 P.M.
The Buffet is a casual dining restaurant popularly known for the 16 live-action cooking stations and a feast of flavors that delivers the ultimate all-you-can-eat experience.
With over 90 delicious cuisines, the Buffet at Wynn satisfies every craving, including the made-to-order choices.
For the atmosphere, the interior is delightful, and the staff services are outstanding. They are warm, friendly, and attentive to details.
Guests can now enjoy new benefits such as the ability to reserve a table and grace the marvelous dining experience.
What to eat:
From the 120 different savory cuisines and array of irresistible house-made sweets, the Buffet has one goal: to change the notion of buffet dining. There are Italian, French, Chinese, Mexican, and local cuisines. Drinks are also available, including mimosas, beers, cocktails, and wines.
Also Read: Best Buffets in Las Vegas
13. Casa Playa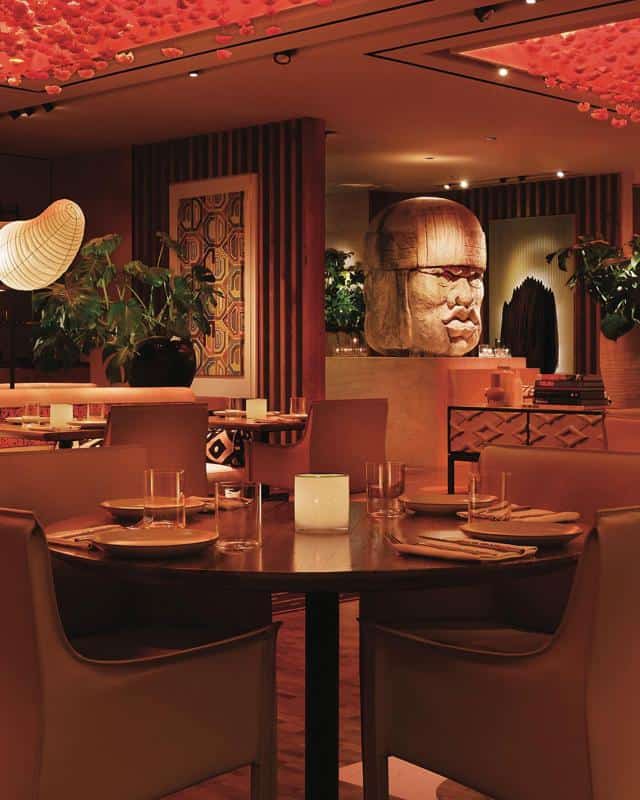 Hours: Sunday, Wednesday, and Thursday: 6:00 p.m.-10:30 p.m. Friday and Saturday: 6:00 p.m.-11:00 p.m.
Casa Playa is a Mexican Coastal cuisine restaurant with a sustainable menu that merges creativity with tradition.
It welcomes its guests to a social vibey dining experience. Its ambiance is impeccably beautiful, and the vibrant lights showcase the colorful nights of the Las Vegas strip.
Casa Playa offers fun vibes and mouth-watering delicacies. Its interior is appealing, and customer service is top-notch.
The servers are friendly and helpful with the menu. Overall, the Casa Playa is a great place for friends and family and perfect for birthdays, anniversaries, and date nights.
What to eat:
The executive Chef at Casa Playa, Sarah Thompson, is a well-renowned chef known for her outstanding delicious seafood cuisines.
Some of the guests' popular dishes include items like Mexican Blue Shrimp Ceviche and Wagyu Carne Asada Tacos.
Other specialties served include Chicken Enchiladas, Roasted Carnitas, Tomahawk Steak, Beef Birria, and Quesadilla.
Read More:
Conclusion
Those are some of the leading restaurants to dine at when visiting Wynn Encore Las Vegas. The list is expansive, and there are other superb restaurants that offer captivating environments and outstanding services. Don't forget that here you'll find talented chefs that guarantee you extraordinary expertise and taste in their dishes.
FAQs About Wynn Encore Restaurants
1. Are there other prime establishments near wynn las vegas?
For visitors looking for restaurants near Wynn, the Black Tap is a fantastic choice to start with. Other stunning eateries near Wynn are the Palazzo Las Vegas, Mercato Della Pescheria, Estiatorio Milos, Sushisamba, and the Sugarcane bar & grill.
2. Are Wynn and Encore the same?
No! Encore and Wynn aren't the same. However, they are owned and managed by Wynn Resorts. Both resorts are impeccably stunning and luxurious and share a handful of resources such as pools. For instance, say a guest is staying at Encore. The guest can use Wynn pools when the Encore pools are packed. However, the reversal is not allowed.
3. Why did Le Reve stop airing?
The award-winning show Le Reve was canceled in August 2020 during the global pandemic, forcing the management to shut down and lay off more than 200 workers due to financial losses.