Excalibur is a sprawling casino hotel that's highly popular among the masses. It offers a perfect blend of whimsy and fantasy with a touch of the promised Las Vegas glam to its visitors.
The hotel first opened in the 1990's and still retains some of its nostalgic features. However, the rooms have received a well needed touch of modernization to balance the theme park vibe of the hotel.
Besides its noteworthy architecture and close attention to details, the best thing about Excalibur is its perfect location along the southern end of Las Vegas strip.
The hotel holds a lot of charm reflected in its décor and artwork which beautifully highlights its charismatic medieval theme. There are four pools, a full casino with slot machines and table games. There's also a spa and fitness centre available for guests, and fun activities and play area for kids.
You will find a lot of exciting activities and things to do in Excalibur, but nothing matches the huge variety of restaurants and café located within the hotel and its vicinity. Ranging from formal and classy to laid back and casual, there's a huge variety to choose from to fit all budgets.
Here are some of the best Excalibur restaurants to dine in during your next visit.
Best Excalibur Las Vegas Restaurants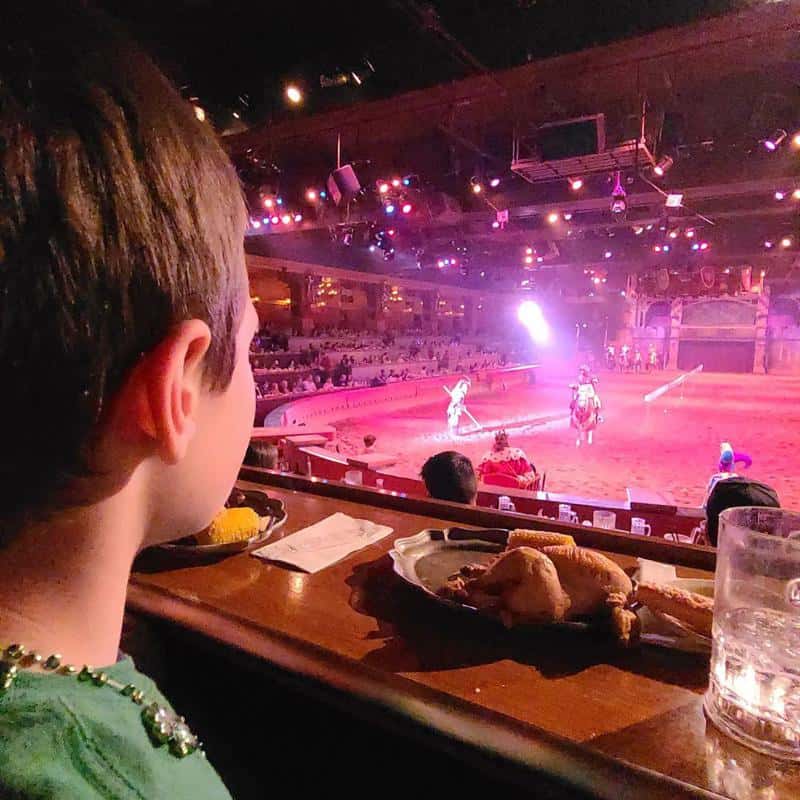 Spend a dramatic night enjoying a show adapted from the famous tale of King Arthur with a fancy feast to match the ambiance.
The immersive experience has a theatrical setup with a capacity of 900 people. Guests get to enjoy their meal with a spectacular show heightened with pyrotechnics and special effects. The show lasts for 2-3 hours and the mighty Tournament Feast is served at the same time.
The menu is simple and classic, consisting of Roasted Seasoned Cornish Game Hen, Corn on the Cob, Lemon Pepper Roasted Red Bliss Potatoes, Dinner Rolls and Apple Square.
Highlights
Family friendly ambiance with free entry for kids under 3 years of age.
Exciting show based on the tale of King Arthur.
A stately feast fit for a king.
Large capacity that eliminates the need to book in advance.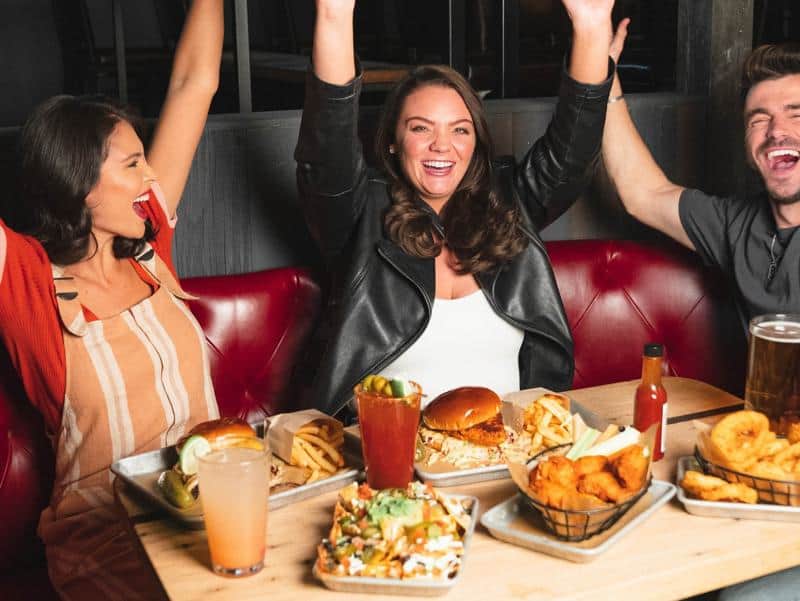 Drink + Play + Eat is the motto of Vagabond. With a lively and youthful atmosphere that forces you to unwind, Vagabond is THE PLACE to be for a fun night with friends.
Catch up and laugh over a friendly round of drinks while supporting your favorite team. It doesn't get better than this!
The restaurant boasts an energetic theme reflected in its bright lighting and neon signboards. The colorful chairs and contemporary layout invites teenagers and young adults to bond and fraternize.
Bookings can be made in advance online. The hearty menu serves American cuisine and is slightly pricier but hey, it's Vegas! You can also join for an exciting happy hour special on selected days and enjoy special discounts on specialty cocktails.
Highlights
Laid-back and relaxing setup with a casual theme.
Wide variety of food and drinks.
Happy hour with special discounts.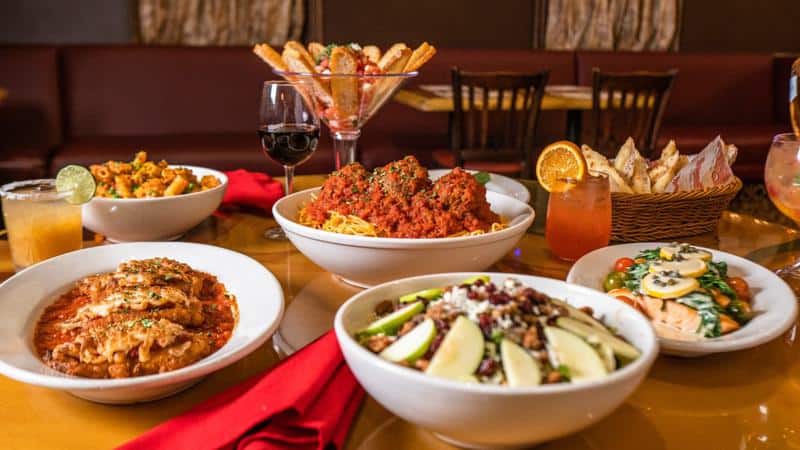 While it is not exclusive to Excalibur, Buca di Beppo is a great place to enjoy fine dining while staying casual. The Italian restaurant is great for family dinners and serves authentic Italian cuisine.
The place has a very cozy ambiance, similar to what you'd expect on Thanksgiving and Christmas feasts. The walls are decorated with classy art and the general layout and color theme is quite homely.
The wide selection of Italian menu is the highlight of the restaurant. Perfected over decades, the delicious entrees include all the Italian classics, including pastas, pizzas, salads and desserts.
For a special arrangement, a 'Pope's Table' is available that serves a party of 14 people for a private affair with friends and family. Enjoy lively music and have a good time with large portions and good value.
Highlights
Hearty portions of authentic Italian meals.
Family friendly ambiance with music and cozy décor.
Banquet and catering available.
Group dining with a tasteful setup.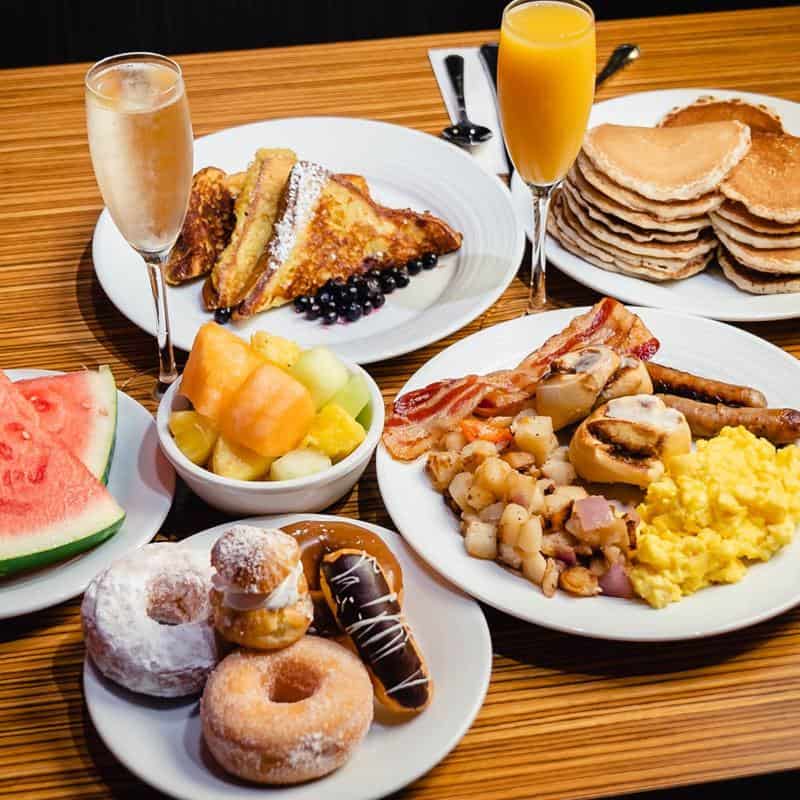 Wish for the meal your heart desires and it will appear in front of you! Such is the case with The Buffet at Excalibur.
Flaunting a huge variety of American cuisines to suit everyone's needs and taste, the buffet is a great place to enjoy a meal with your family.
The most attractive feature of the restaurant is the food itself. To complement it, the décor and layout is kept pretty standard. The wide selection has American and international feasts, special brunch menu on weekends, a tasteful omelet station, and a made-to-order crepe selection.
Picky eaters while find a lot of options to satiate their cravings. There is also a Chinese menu and a salad bar. Moreover, the price range is lower than other restaurants and you can get an all-day wristband to access the buffet all day long for even cheaper.
Highlights
Endless variety of menu.
Laid-back and family friendly ambiance.
Brunch option available.
Also Read: Best Buffets in Las Vegas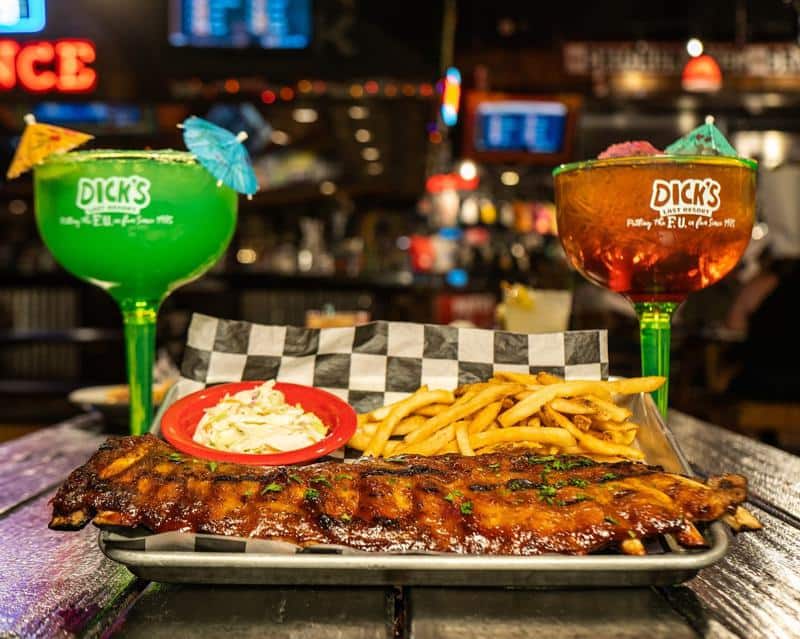 Let your wild side loose and blow off some steam at Dick's Last Resort. Known for its eccentric décor and not-so-friendly staff, it is a great place for couples and friends to hang out and truly experience a night in the 'Entertainment Capital of the World'.
Brace yourselves for some playful insults thrown at you by the staff, and dunce-type paper hats to make you feel like royalty. From absurd posters and psychedelic lighting to funky décor and hearty American portions, you will get the whole deal with your visit to Dick's Last Resort.
The food is served in large portions and is a bit on the pricier end. However, you pay not just for the food, but the general atmosphere and experience of dining here.
They are quite famous for their pickle chips as a side dish to pulled pork sandwiches, steaks, burgers and ribs. It is located adjacent to the casino and they also have live music on weekends.
Highlights
Hearty American food.
Quirky décor with loud and inviting ambiance.
Offers the ultimate Vegas experience.
One simply can't deny the therapeutic powers of a juicy hamburger, especially after a hangover. Huge portions of American cuisine are served with chilled beer. It doesn't get better than this.
The simple and tasteful spot invites you for a casual and laidback time with poolside snacks, eat at the bar option or a relaxing lounge to enjoy the view or watch a game.
Besides the hearty meals, you can also opt for healthier options with their salad menu and grilled wraps. Beat the heat with drinks by the poolside as you soak in the lovely views of Excalibur.
Highlights
Relaxing poolside cabana with snacks.
Full menu served at the bar.
Classic American cuisine and healthy options available.
Bar open daily.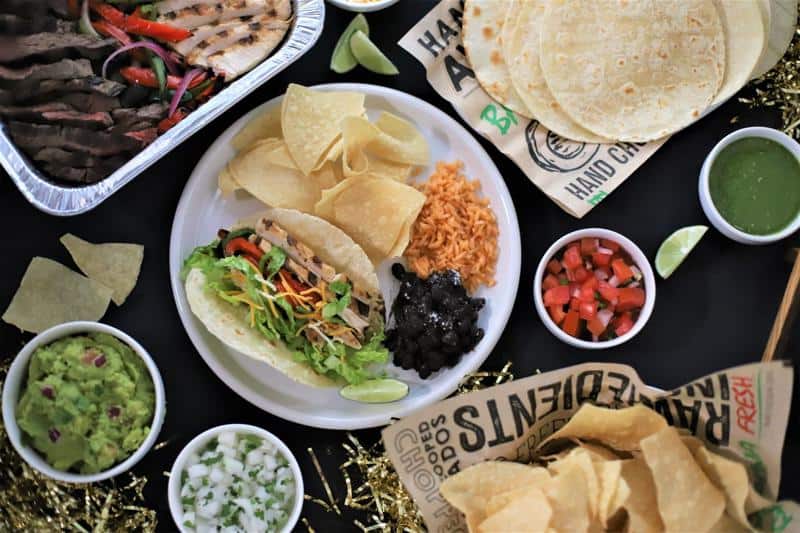 Eat fresh and stay healthy is the motto of Baja Fresh and it sure attracts a lot of customers. Serving Mexican delights at reasonable rates, the restaurant puts extra efforts to bring you fresh meals with freshest ingredients.
Baja Fresh has a child friendly set up and is great for Mexican meals on the go. Take a break from the hearty yet greasy food served at food court and head to this Tex-Mex franchise for healthy and affordable eating.
Located at casino level, the restaurant has counter style service. They are famous for their delectable fish tacos, quesadillas and burritos. There's also a salsa bar so you can customize your order to your liking.
Highlights
Healthy and fresh meals.
Affordable pricing.
Good variety of Mexican food.
Read More: Best Restaurants in Mandalay Bay Las Vegas
If you are looking for a quick bite to eat and don't desire a heightened dining experience, the Excalibur Castle Walk Food Court is the right place for you. Here are some great options to try out at the food court.
Try the heavenly sandwiches at Schlotzkey's with tantalizing flavors that leave a mark. They have a nice variety of sandwiches and flatbreads, as well as soups and drinks.
Relish in one of West Coasts favorites and enjoy this delicious American treat as you head out to a night of games and drinks. The flawlessly crisp corn dog cover is unparalleled in its taste, and the freshly made lemonade complements it perfectly.
Craving some comfort food? Nothing better than fried chicken! Enjoy this southern delight at Las Vegas strip with your favorite drinks. The hearty meal of fried chicken with loaded sides and biscuits is the perfect addition to your vacation cheat meals.
In America, having a thick juicy burger is nothing short of a religious experience. As it is one of the most beloved American cuisines, you will find a lot of burger spots in the area, but there's something special about Fatburger. Delicious all-day breakfasts and huge servings of tender burgers are available at Excalibur's food court to satiate your hunger.
Also Read: Best Seafood Restaurants in Las Vegas
Frequently Asked Questions
Is there a dress code for Excalibur restaurants?
Guests are encouraged to stay casual and comfortable when dining at Excalibur. However, if you wish to celebrate a formal affair, there's no restriction on the attire.
What cuisines can be found in Excalibur restaurants and food court?
You will find a huge variety to satiate your cravings. Keeping all your favorite classics at your disposal, there's also fusion stir-fry, Italian, French, Southern and Japanese cuisines to indulge in, as well as grab and go options for your convenience.
Is it a good idea to bring my kids to Excalibur?
Excalibur is perhaps, one of the most kid-friendly hotels in Las Vegas. The brightly colored coffee mugs with M&M characters, the tales of tournament of kings and fun dungeon experience will surely keep them occupied and happy.
Eating with kids at Excalibur is also a pretty smooth ride. You can opt for a healthy family dinner, or head out to the food court for a box full of Krispy Kreme donuts, Auntie Annie's Pretzels or everyone's favorite Pizza Hut Express.
Conclusion
Excalibur Hotel Restaurants boast a huge variety of cuisines and there's something for everyone to enjoy. It is a great place for family vacations where the kids can enjoy just as much as you do. The nightlife is exciting and energized, with slot machines inviting you to try your luck with a delectable specialty drink from bars open through the night.