Vegas has no shortage of entertainment. Whether you are searching for casual pubs and bars or refined restaurants for a fun-filled drag brunch event, you will find it all right in the city.
While casinos take the cake as one of the top entertainment options in Vegas, drag brunch follows closely with a one-of-a-kind experience you won't soon forget.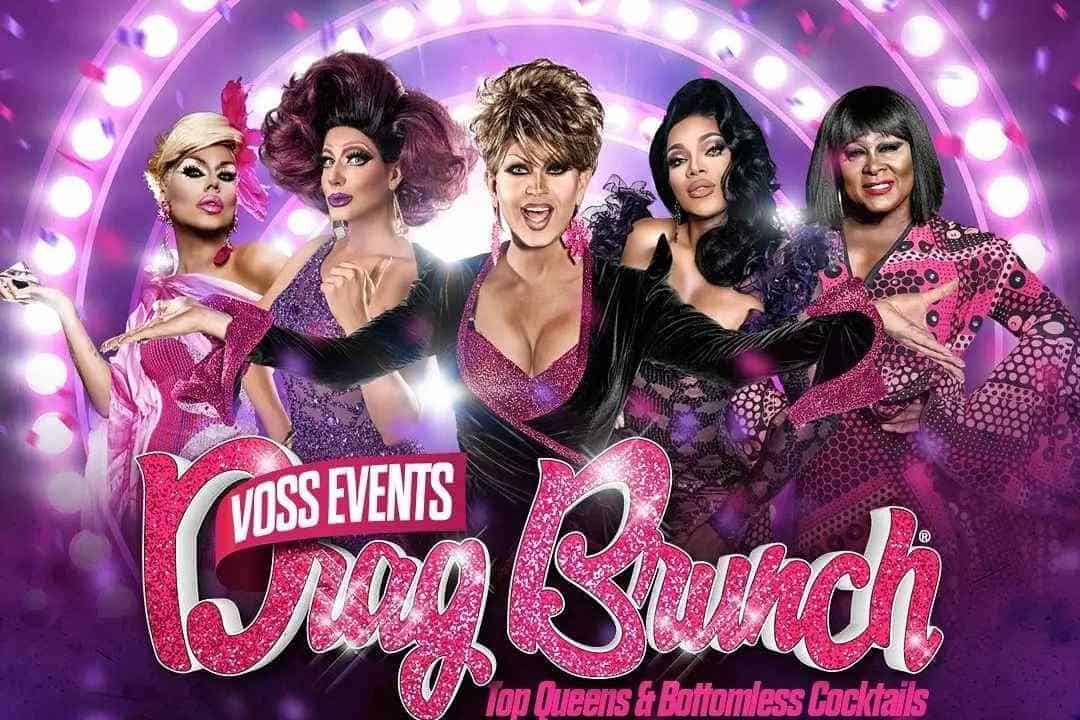 As drag shows are slowly gaining a lot of popularity, you will find plenty of evening and late-night shows as well with themes like bingo and karaoke.
Hit one of the spots on our list for the best drag brunches in Las Vegas.
Best Drag Brunches in Las Vegas
The Garden Las Vegas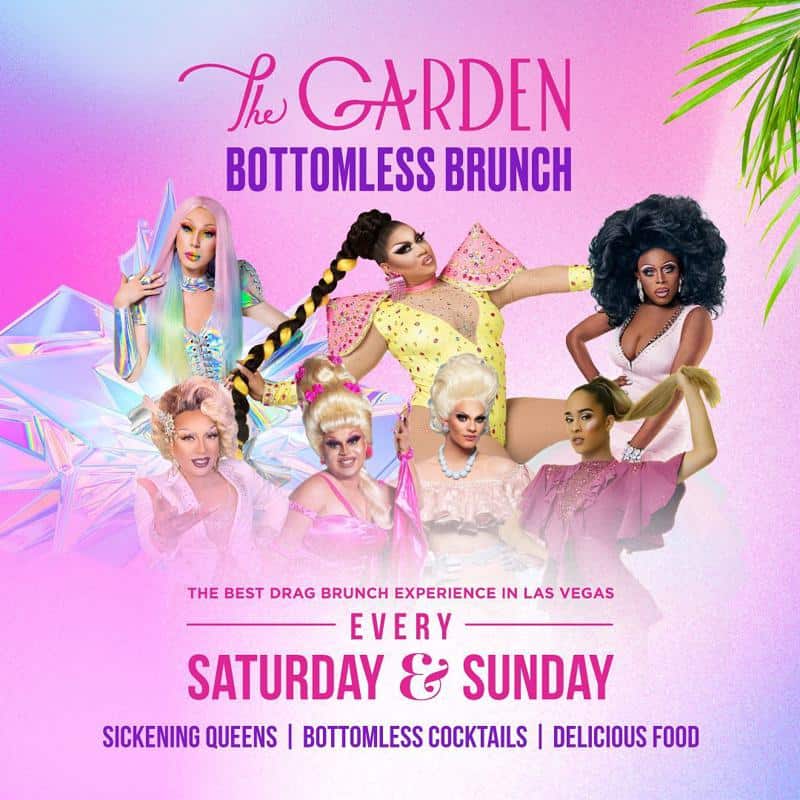 Address: 1017 S 1st St #180, Las Vegas, NV 89101
Phone: +1 702-202-0900
Time: Weekly on Saturday and Sunday from 11 am
Tickets: $80
Known for: Fabulous drag show with bottomless mimosas and a huge menu of brunch and specialty drinks
The trendy and stylish Garden Las Vegas is a causal hanging spot for locals. Tucked in the Art District of Downtown, the lounge bar receives a lot of love for its prized location and excellent drag shows.
The drag brunch is hosted twice a week on the weekends when the mornings light up with glitter and glam as talented queens put on a magnificent show. The price of the ticket includes dining with a choice of entrée.
Feast on hearty Breakfast Burritos or a fully-loaded Hangover Burger while enjoying the show. The Chicken and Waffles are quite famous here, and of course, the perfectly cooked over-easy eggs and pancakes are the ideal comfort meal to satiate your cravings.
Pair the show and brunch with bottomless mimosas or select from an extensive list of specialty cocktails, signature shots, and upgraded liquors.
Hamburger Mary's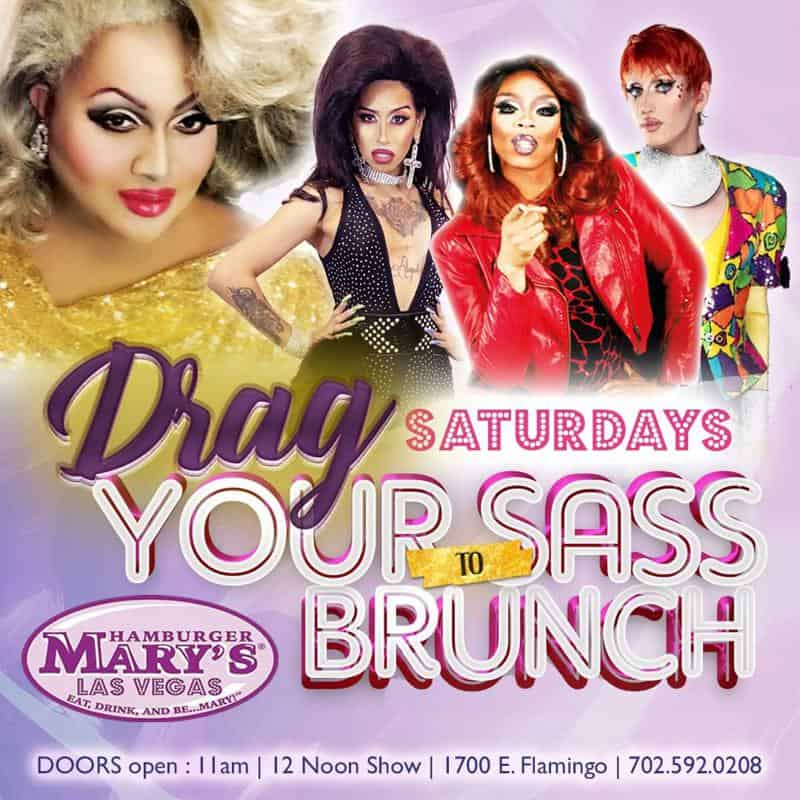 Address: 1700 E Flamingo Rd, Las Vegas, NV 89119
Phone: +1 702-592-0208
Time: Weekly on Saturday from 11 am
Tickets: $65
Known for: Host Tiffany Bonet, amazing brunch spread, and bottomless mimosas
Exuding class and liveliness with its colorful venue and over-the-top layout, Hamburger Mary welcomes you every Saturday to indulge in some wild and sensational drag at noon. The extravagant show is hosted by former Miss Gay America, the one-and-only Tiffany Bonet – a very popular name in the world of drag.
Along with the host, the show is carried through by afdef talented team of rotating queens with perfectly wild costumes and wigs with winged liners and heels on point! The brunch menu is quite impressive and included in the ticket.
The menu includes classic American delights like Chick and Waffles, Avocado Toast, and Breakfast Sandwiches. Pair your favorite brunch item with bottomless mimosas and other boozy brunch drinks.
Senor Frog's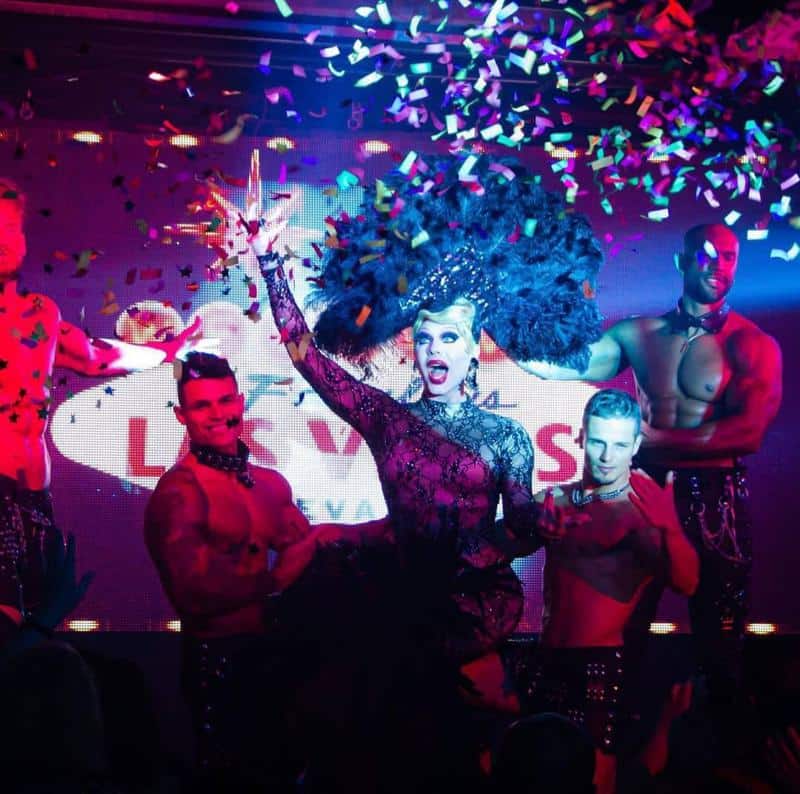 Address: 3300 Las Vegas Blvd S, Las Vegas, NV 89109
Phone: +1 800-944-7444
Time: Weekly from Friday to Sunday at 11 am
Tickets: $90
Known for: 3-day drag brunch extravaganza with Mexican brunch and unlimited mimosas
When you are looking for the best drag brunch in Las Vegas, Senor Frog will top the list as it is the most recommended drag brunch spot by locals. The entertainment venue is located inside the Treasure Island Hotel and is quite popular for the 3-day weekend brunch extravaganza.
The energy here is contagious, compelling you to party and get a little tipsy with the bold and beautiful drag queens. The party atmosphere invites you to indulge in the show and brunch with popular drag queens dressed to impress in outrageous costumes and makeup.
The performance includes dancing and lip-syncing, as well as interactive performances with the audience. For a truly spectacular experience, go for the VIP tickets for a prime seat and best views.
The brunch items are loaded with Mexican delights including breakfast burritos and tacos, quesadillas, and much more. Enjoy your food with unlimited mimosas!
Diva Royale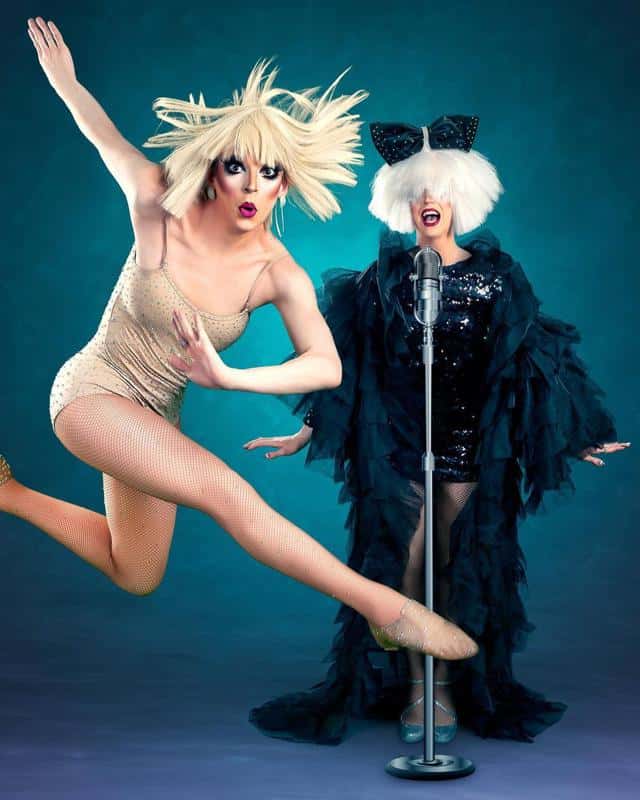 Address: 450 E Fremont St, Las Vegas, NV 89101
Phone: +1 702-960-0685
Time: Weekly on Saturday from 1:30 pm and Sunday from 3:30 pm
Tickets: $30
Known for: Celebrity impersonations and an eventful drag show
Here is your chance to see your favorite celebrity impersonations with rib-tickling comedy and outstanding drag performances by the top drag queens of the country. Diva Royale has a steady drag brunch event in numerous cities around the U.S, and the Las Vegas drag brunch is hosted twice on the weekends with an exceptional line-up of drag queens and special guests.
The drag brunch features '5 Queens and 1 King' with impersonations of celebrities such as Nicki Minaj, Beyonce, Madonna, Dolly Parton, Whitney Houston, Sia, Celine Dion, and many more.
Diva Royale took root from its numerous shows in NYC, and they are now hosting drag brunch and special drag shows at night like drag bingo and other themes. Whether you are there to celebrate a birthday or a glittery bachelorette party, you won't be disappointed.
Enjoy the show with a lovely spread of brunch and drinks for a wholesome celebration.
Illusions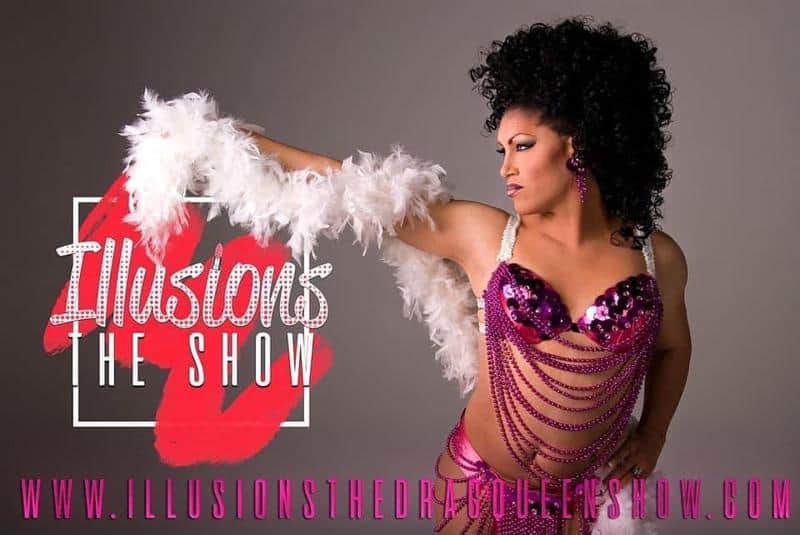 Address: A 2-min walk from the El Cortez, Las Vegas, NV 89101
Website: Illusions
Phone: +1 833-783-3648
Time: Weekly on Saturday from 1:30 pm and Sunday from 3:30 pm
Tickets: $30
Known for: Comedy routines, drag shows, and celebrity impersonations
Just like Diva Royale, Illusions is another faithful drag brunch event happening around the country including in Las Vegas. The show has celebrity impersonations and exciting drag performances by famous drag queens.
The musical performances are quite famed, and the audience thoroughly enjoys the side-splitting comedy routines. Celebrate your special occasions in full swing with divas impersonating popular celebrities like Cher, Whitney Houston, Madonna, Beyonce, Britney Spears, Tina Turner, Nicki Minaj, and many more.
The hilarious impersonations and sensational drag show are followed by an impressive spread of brunch and drinks. All the classic delights are included in their drag brunches, such as bagels, waffles, pastries, bread, sandwiches, meats, and eggs.
The ticket comes with a single serving of mimosa but you can always buy more to keep the party going!
Faabulous! Drag Brunch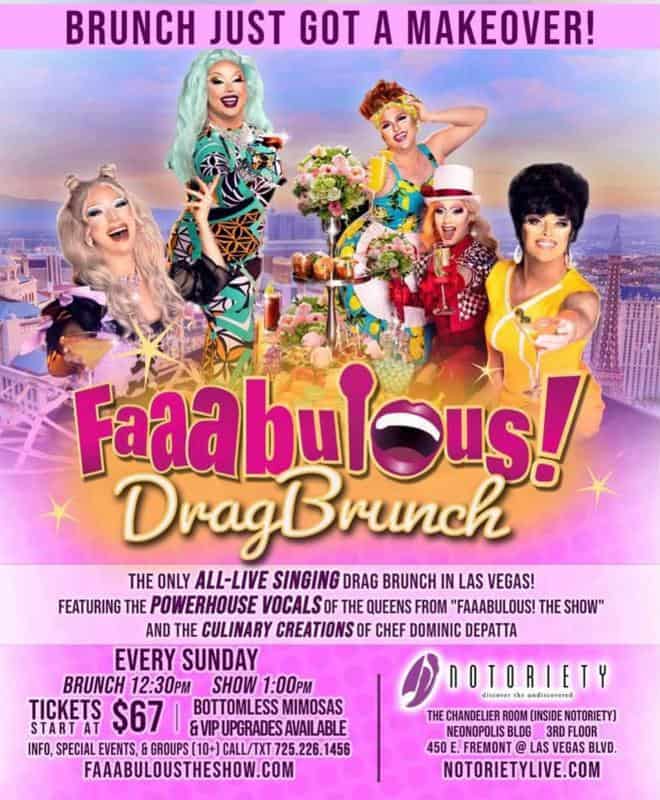 Address: 450 E Fremont St SUITE #380, Las Vegas, NV 89101
Phone: +1 702-472-7514
Time: Weekly on Sunday from 12:30 pm
Tickets: $67
Known for: All-live singing and brunch by chef Dominic Depatta
Have a unique drag brunch experience with Las Vegas' first and only drag show with all-live singing at Faabulous! The Drag Show. The drag event takes place in the gleaming Chandelier Room of Notoriety Downtown.
The one-of-a-kind experience is guaranteed to make your weekends exciting and colorful with super talented drag queens putting on an excellent and distinct show.
Join your favorite divas in a joyous affair of singing and dancing as you feast on delectably prepared brunch by chef Dominic Depatta. All the classic brunch delights are included with stacks of pancakes dribbled in maple syrup, eggs in different preparations, breakfast sandwiches, and waffles.
The table service is impeccable and you get to enjoy your brunch with signature cocktails, specialty drinks, and bottomless mimosas.
Jimmy's @ Madison's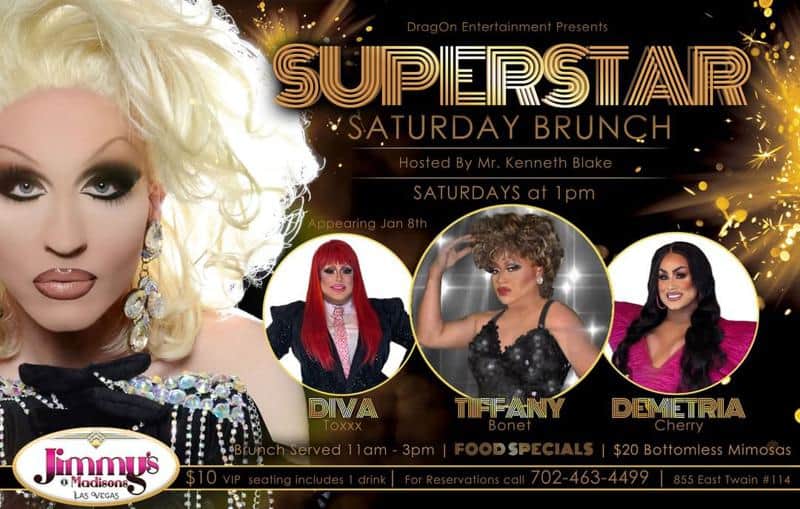 Address: 855 E Twain Ave UNIT 114, Las Vegas, NV 89169
Website: Reservations
Phone: +1 702-732-7699
Time: Weekly on Sunday from 11 am
Tickets: Free admission, $20 for brunch package
Known for: Live entertainers, drag impersonators, and traditional breakfast with bottomless mimosas
Adding a charming touch to the lively entertainment industry of Las Vegas, Jimmys @ Madison's puts on a spectacular drag show on Sundays with talented drag queens and famous entertainers. Highlighting local talent and world-famous queens, the show brings communities together with a sensational show and bottomless drinks.
Hosted by Jimmy Emerson, the show has a rotating cast of drag queens and special guest performers.
It features live entertainers, drag impersonators, and comedy routines with a mix of dance and interactive routines. The high-energy atmosphere is contagious and compels you to sing and dance along with your favorite divas.
The Sunday brunch includes a variety of entrees and bottomless mimosas. Feast on traditional breakfast staples including waffles, pancakes, omelets, French toast, Monte Cristo's, and steaks.
DW Bistro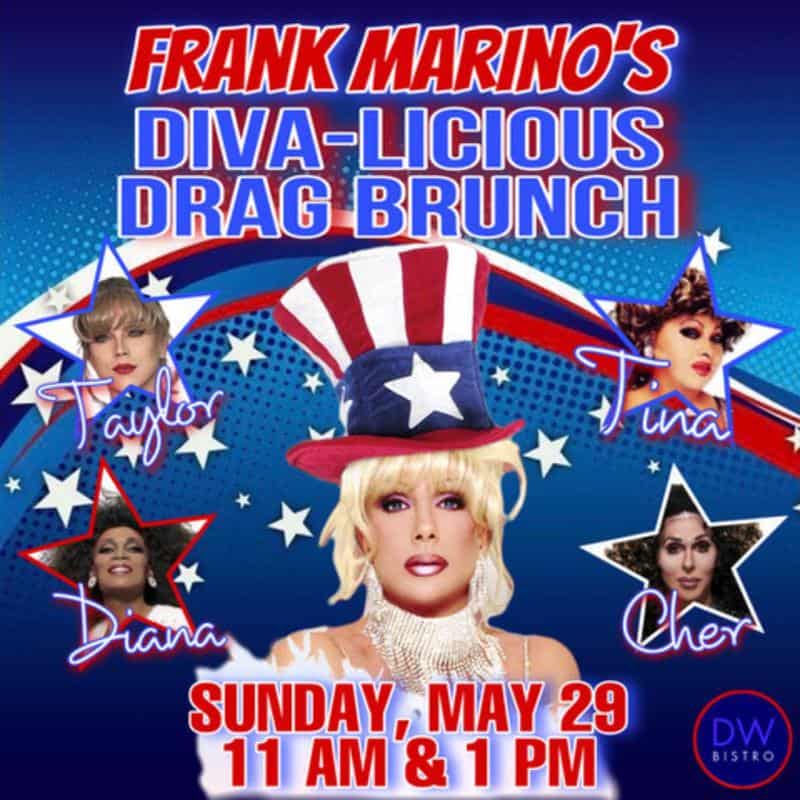 Address: 9275 W Russell Rd #190, Las Vegas, NV 89148
Phone: +1 702-527-5200
Time: Selected Sundays from 11 am
Tickets: Starts at $10
Known for: New Mexican and Jamaican brunch with occasional drag shows
DW Bistro likes to keep its audience on their toes! With special drag show events happening on selected Sundays, you never know what you're going to stumble on when you head there for brunch.
The fancy Caribbean restaurant has a casual and laidback ambiance ideal to relax and enjoy on your weekend. The drag shows are an occasional occurrence and updated on their social media handles well before time.
The brunch menu is quite ambitious and features an eclectic mix of New Mexican and Jamaican flavors with boozy brunch drinks and an equally delicious drag show! Sip on some refreshing specialty cocktails and mimosas, and enjoy the show in full swing.
Keep your eyes peeled for their special drag events and Sunday drag brunches, or just stop by for a wholesome brunch spread!
Read More:
Frequently Asked Questions
What Is the Age Limit for Drag Brunch in Las Vegas?
The age limit varies depending on the restaurant/bar. However, most places require a 21+ age limit for admissions.
How Can We Know About Upcoming Drag Shows and Special Events?
Almost all the drag brunch spots on our list mention the timings and day of their next show on their official website. Besides the usual weekend drag brunches, some places also host late-night drag events and games.
Keep up-to-date on all the upcoming events by regularly checking the official websites of the drag brunch bars and restaurants. Some places also post these updates on their social media pages.
Are Brunch Items and Drinks Included in The Drag Show Ticket?
At least one brunch entrée and drink are included in the general admission tickets. To be sure, check the details at the time of reservations for everything that's included.
As every place has its price range for tickets, upgraded options include additional services like bottomless drinks or brunch buffets and better seats for the drag show.
Conclusion
Drag shows are a big part of Las Vegas entertainment, and you mustn't miss out on the flamboyant drag brunches hosted throughout the city. Whether you are an early bird or a night owl, you will find a lot of options for drag shows with drinks and live entertainment in the dazzling city of Vegas.