Las Vegas is home to many buffets, but Caesars Bacchanal somehow takes these dining joints to the next level. This 25,000-square-foot, 600-seat buffet with numerous cuisines and hundreds of perfectly prepared offerings is definitely a game changer in the Nevada buffet industry.
One of the best dining establishments at Caesars Palace, Bacchanal offers an upscale culinary experience. With its interactive kitchen, unique design, and variety of individually prepared dishes, this Sin City dining establishment is unlike any other buffet in Las Vegas.
Caesars Bacchanal Buffet Overview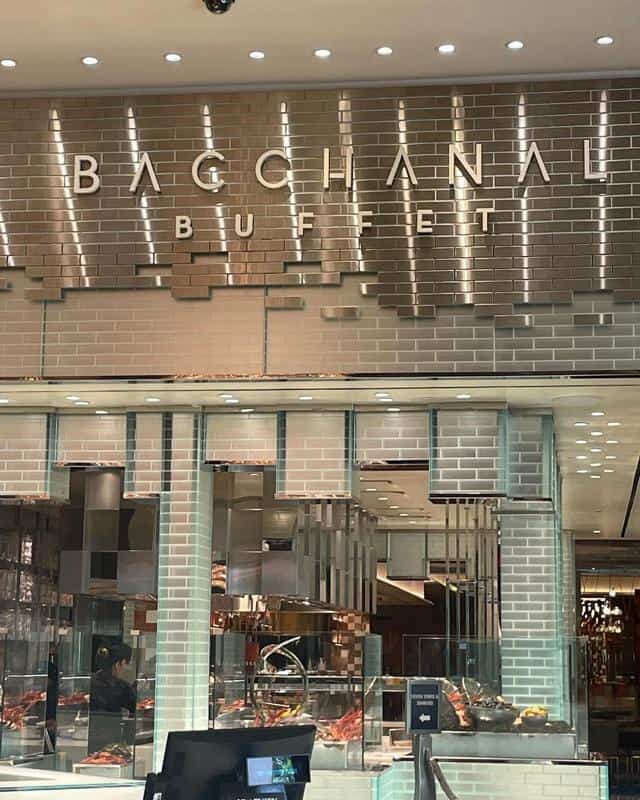 Opened in 2012, Bacchanal Buffet cost nearly $18m to decorate and build. From the get-go, it was more than obvious that this Sin City dining is going to be the buffet of all buffets.
The plan was to serve freshly prepared food from around the world. Soon, it became clear that dining at Bacchanal is one of the must-do things when visiting Las Vegas.
This award-winning Las Vegas buffet originally consisted of 9 kitchens. In 2012 and 2013, the buffet was awarded by USA Today as the "Best Buffet". Since then, the restaurant has received numerous awards.
Like most buffets in the city, Bacchanal was forced to close in 2020 because of the Covid pandemic. Fortunately, Bacchanal re-opened in May 2021 after a $2.4 million dollar remodel.
Bacchanal Buffet Décor and Renovation
Caesars Bacchanal was re-designed for a post-COVID world in 2021. One of the world's leading manufacturers and designers of architectural decorative glass, Pulp Studio was in charge of this multimillion-dollar renovation.
Tetsuo Aoyagi (the original designer of the buffet) also helped out with the redesign. It was important for the management of Bacchanal that the original design concept with glass and stone textures was kept.
So, what's new in terms of the design and renovation of Caesars Bacchanal? The remodeling of buffets has seen the venue retain the 9 open kitchens, and as before the design still takes its inspiration from nature.
A section of the food line was remodeled and there is a new fish station. This brand new fish station boasts glass vision panels allowing visitors to see the new equipment, open-fire roasting grills, and fresh seafood.
The range of dishes available is as amazing as it was before. Expect to see mobile food carts with expanded food offerings while visiting this awesome buffet in Las Vegas.
What else is new? You can make a reservation to have a memorable gastronomic experience at Caesars Bacchanal without having to wait in line for long.
Bacchanal Buffet Menu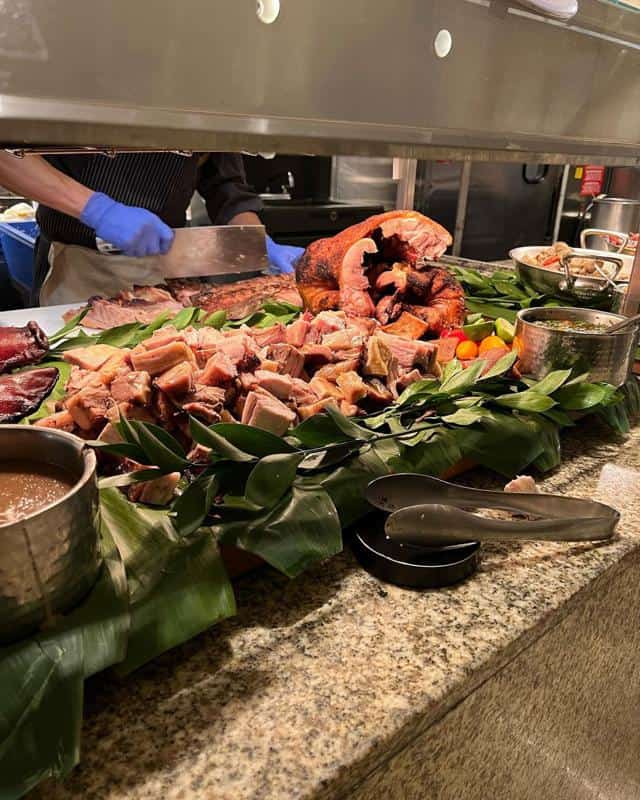 Bacchanal offers visitors an opportunity to sample various high-quality cuisine options that span the culinary spectrum. Each food station has its own master chef and a couple of order cooks who are always more than happy to recommend and explain how various cuisines are prepared.
Bacchanal Buffet operates 9 main open kitchens including Mexican, Italian, Chinese, Japanese, American, seafood, pizza, deli, and desserts.
Whether you are craving American comfort foods like mac and cheese and roasted South Carolina shrimp or you wish to try international cuisine and sample baba ganoush, turmeric grilled octopus, and Roman-style pizzas, there is something for everyone.
We should also mention that the buffet offers more than 100 gluten-free, vegan, and, vegetarian foods which are marked on signs above the dishes. To discover each of these dishes along the line, all you have to do is scan a QR code. The good news is that about 15 daily chef's specials are added to the daily menu, which means there is always something new and delicious to satisfy your taste buds
You can opt for the Bacchanal Buffet at Caesars Palace Dinner Menu or go for the Bacchanal Buffet Brunch Menu.
To help you decide where to go and what to try, here is our guide to different food stations at Caesars Bacchanal buffet in Las Vegas.
Seafood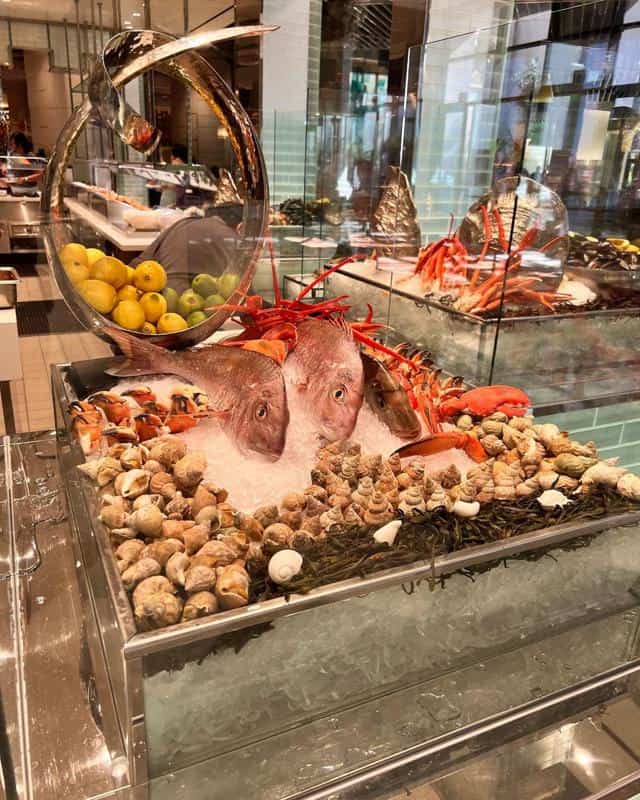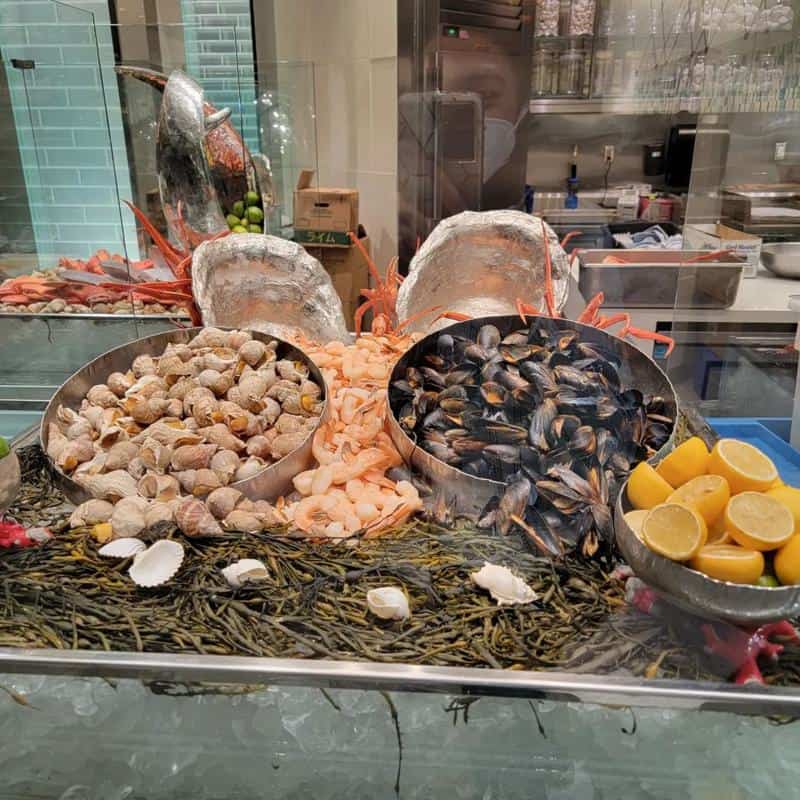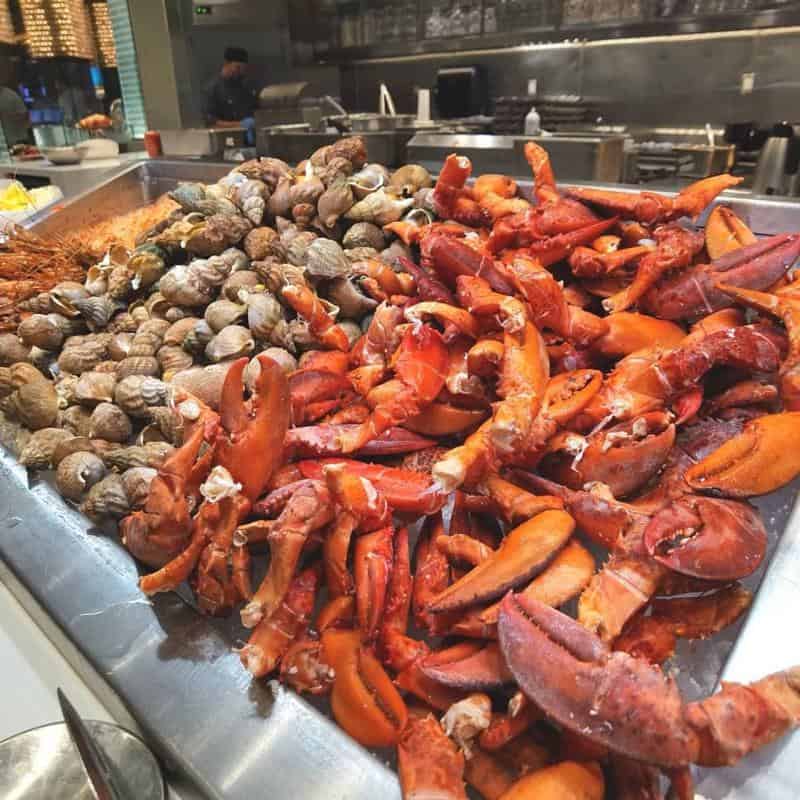 The seafood selection at Caesars Bacchanal Buffet is seriously awesome, even for high Las Vegas standards. From lobster claws and sea scallops to cold crab legs and oysters, this section has it all.
Try the sweet shrimp cocktail, order a portion of the mouthwatering Penn Cove Mussels, or go for the turmeric grilled octopus with XO sauce. The hot fresh lobster bisque soup is to die for, as well as the red curry shrimp & grits.
Fish lovers will want to try the cedar plank salmon!
Also Read: Best Seafood Restaurants in Las Vegas
Mexican/Latin
From barbecue duck wings and Ceviche campechano to street tacos and Chile and lime duros, there is plenty to look forward to when paying a visit to the Mexican/Latin Section at Caesars Bacchanal Buffet.
Expect to see a brand new Argentinian rotating grill, as well as the made-to-order Mexican Street Corn station which allows you to choose from flavors like elote, flaming hot, and, takis.
Some of the not-to-be-missed dishes at the Mexican/Latin section include duck cartinas quesadillas, ceviche de pulpo, slow braised beef shoulder (Birria), Jicama citrus salad, Carne asada tacos, Mexican pork stew (Pozole Rojo), and regular/habanero salsa & chips.
Compliment your meal at the Mexican/Latin section with a range of Mexican beverages which include Pina Aqua Fresca, Guava Aqua Fresca, and Horchata.
Mediterranean
Fans of Mediterranean cuisine are in for a real treat when dining at Caesars Bacchanal. This section offers much more than just pizza and lasagna. Want to sample some Greek cuisine? Get a small plate of gyros and polenta.
The small cheese board which includes manchego, smoked gouda, blue cheese, marinated bocconcini, mozzarella, and muenster is also worth trying. Visitors can also share the signature charcuterie board and sample Mediterranean delicacies such as Pamplona, saucisson sec, soppressata, prosciutto di parma, and Genoa Salami.
Wish to enjoy some authentic Italian dishes? Get Grandma's Meatballs or try Crispy Fried Polenta. There is also a selection of Wood-fired pizzas, as well as hot and cold salad offerings such as Red cabbage pepperonata and Roasted cauliflower salad.
Meat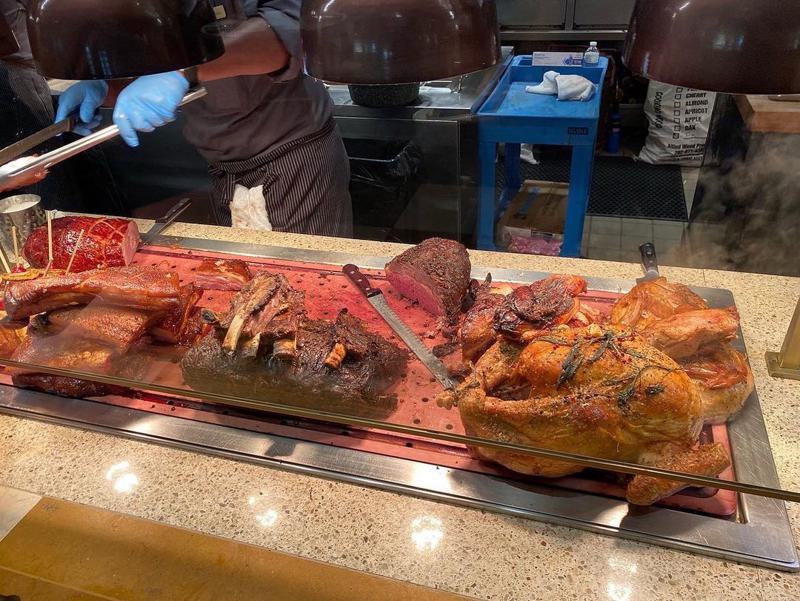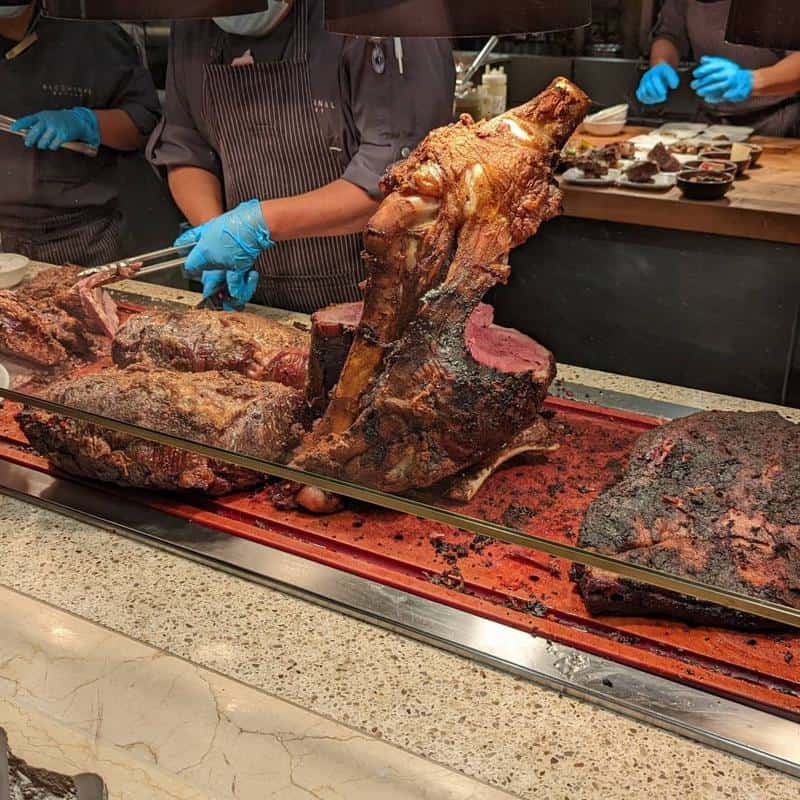 Before we dive into the meat selection at Caesars Bacchanal, we should mention that the meat selections may rotate. This means that some meat delicacies may not always be available in the meat section at Bacchanal.
The house-smoked barbecue ribs and brisket is a must-try, as well as BBQ duck wings and rotisserie chicken. If you are a fan of hearty Southern cuisine, we recommend getting the prime rib, St. Louis style ribs,wood-grilled lamb t bone, or American steamship wagyu.
The whole roast suckling pig with various sauce options like barbecue and peppercorn sauce is definitely worth trying. Some of the other dishes on the meat menu include wagon wheel mac and cheese, small plates of chicken, marinated porn, and Chinese cheeseburger boa.
Asian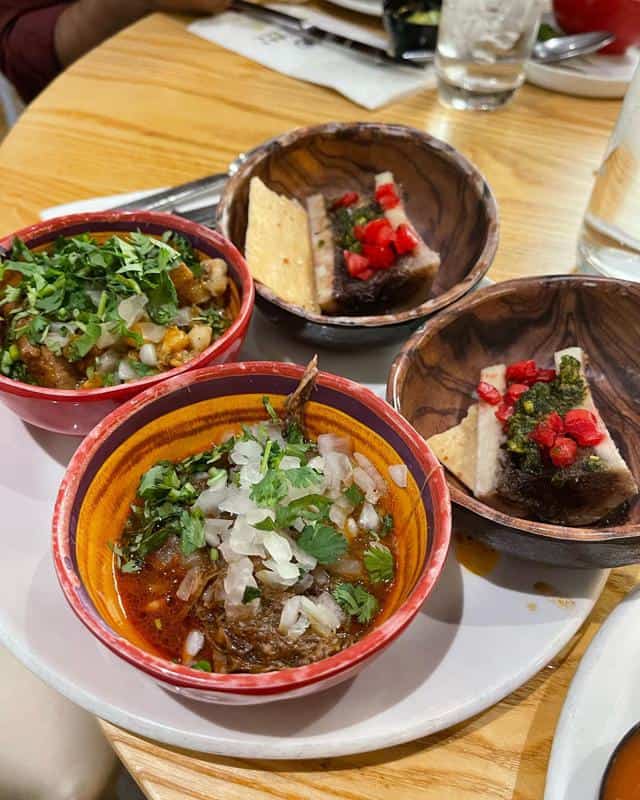 There is no shortage of delicious Asian foods here at Caesars Bacchanal Buffet. Whether you are in the mood for Chinese cuisine, wish to sample Filipino dishes like chicken adobo, or want to enjoy Korean-themed meals such as Korean fried chicken with spicy gochujang sauce, there are plenty of Asian delicacies to look forward to.
Kick off your visit to the Asian section with a bowl of made-to-order Asian soup. It comes in 6 different varieties including Udon Noodles, Miso soup, Tonkotsu Ramen, Egg Flower Soup, Hot & Sour Soup, and Vietnamese Pho. Toppings for soups are plentiful and include dried pork, lime wedges, century egg, scallions, cilantro, and much more.
On the Korean front, you have glass noodle stir fry also known as Jap Chae, stir-fried rice cape, and short ribs marinated in soy and garlic. If you are into sushi, the Japanese section offers a wide range of food delicacies. Some of our favorites here include Cali roll with tuna, salmon, and yellowtail, Inari sushi, and tuna nigiri.
Desserts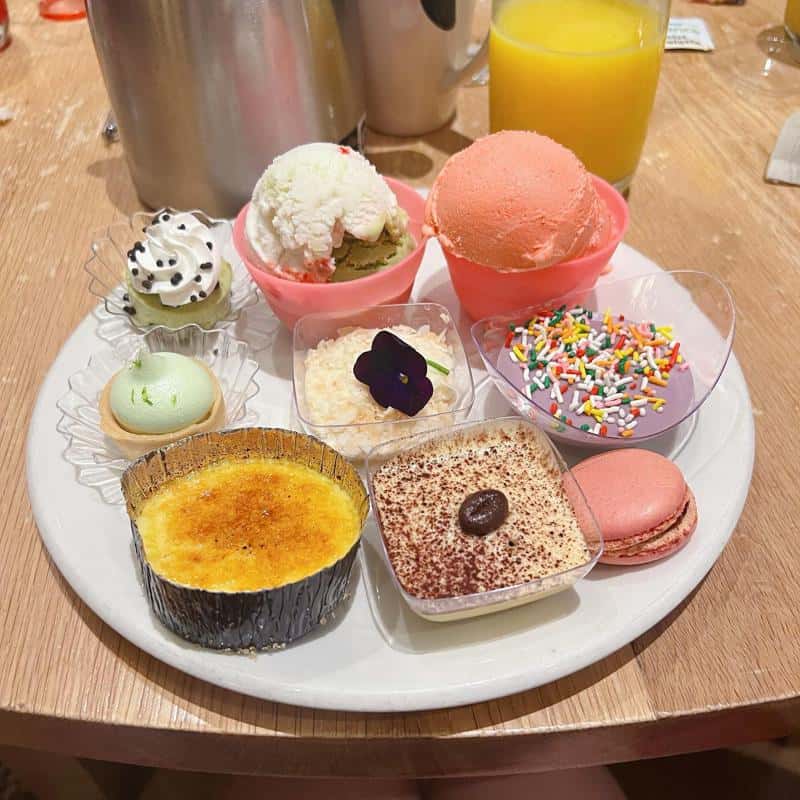 Americans are known to love desserts. The good news is that the desserts section at Bacchanal Buffet is out of this world. The entire section tastes heavenly and looks like a work of art on display. Where do we even start? Options are truly endless and range from cookies and cakes to brownies and donuts.
Crepes are made-to-order and taste wonderful. Feel free to choose from toppings like Nutella, chocolate, caramel, mixed berries, or bananas foster sauce.
All natural gelatos come in various flavors, while Earl Grey mousse with grapefruit sashimi is a must-order. Try the chocolate lave cake, death by chocolate, or Mint oreo chocolate mousse if you are a fan of chocolate. The sorbet section is also something worth writing about and includes options like strawberry and Alfonzo mango, and (lemon pie).
Brunch Menu
Bacchanal Buffet Brunch Menu is simply divine. Whether you are craving classic scrambled eggs with bacon or you wish to feast on brunch delicacies like chicken and waffles, corned beef hash, and sweet corn chowder, the options are endless.
Vegans won't stay hungry here, as the restaurant offers everything from mini bell peppers and sweet potatoes to vegan tofu and plant-based sausages. The list of Brunch desserts is spectacular with options like maple cinnamon rolls, mango cremeux, egg tart, croissants, and tea and lime cheesecake.
Also Read:
Things to Know for Visiting Bacchanal
The price of entry allows visitors to stay in the buffet for 1 hour and 30 minutes.
The venue often has deals for breakfast buffets called Groupons.
If you want to skip the line, the buffet offers a $20 line pass.
The dress code is smart casual. So, no flip-flops, but jeans, sneakers, and sportswear are just fine.
Bacchanal Buffet Pricing and Hours
Bacchanal Buffet is open daily for dinner, and over the weekends for brunch. Here is the info on pricing and hours:
Dinner: 4 pm – 10 pm $79.99.
Brunch: Friday – Sunday from 9 am – 3 pm $64.99.
It seems that the Bacchanal Buffet unlimited drink upgrade is back on after the pandemic. For just $24.99, you can drink as much as you like. Options include champagne, mimosas, house wine (red and white), and draft beer.
Bacchanal Buffet Reservations
We already mention that after the pandemic, Caesars Bacchanal offers booking via their website.
The great thing about this is that you are guaranteed a slot without having to wait for a long time. The only downside is that the buffet is often fully booked. Therefore, we recommend making reservations at least a week in advance.
Thankfully, walk-ins are still possible at Caesars Bacchanal Buffet. However, this applies to guests who arrive at non-peak times. For example, a walk-in at like 7 pm on a weekend is not possible simply because the restaurant is fully booked.