Located along North Florida's glittering Gulf Coast, Fort Walton Beach offers family-friendly resorts and attractions. It is a famous destination for its powdery white beaches, emerald waters, enjoyable golf courses, an exciting culinary scene, and many thrilling adventures.
Fort Walton Beach boasts all the fun of the major vacation spots, including outdoor fun activities, parks, museums, and aquariums. Similarly, Fort Walton Beach is undoubtedly a paradise for foodies.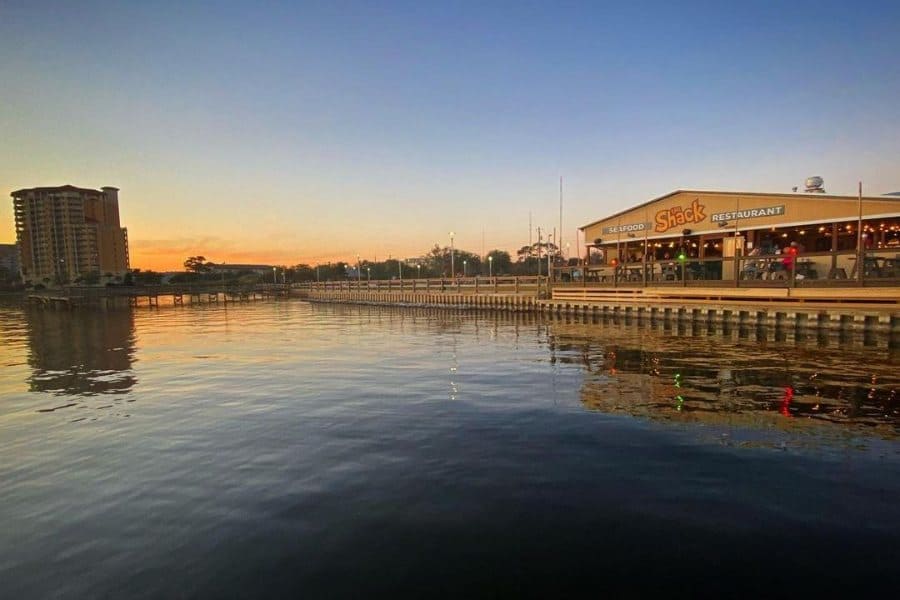 As a beach resort, the city offers a broad selection of seafood, as well as a range of other types of food, from down-home to fusion. You can enjoy fresh, grilled seafood, fusion-style seafood, fried seafood, and just about any other seafood you may crave.
But there are plenty of other establishments serving craft burgers, cocktails, craft beer, tacos, standard bar fare, and a wide range of different types of food.
To help you indulge in a memorable culinary journey, check out below the 15 best restaurants you should visit in Fort Walton Beach.
Best Restaurants in Fort Walton Beach
Stewby's Seafood Shanty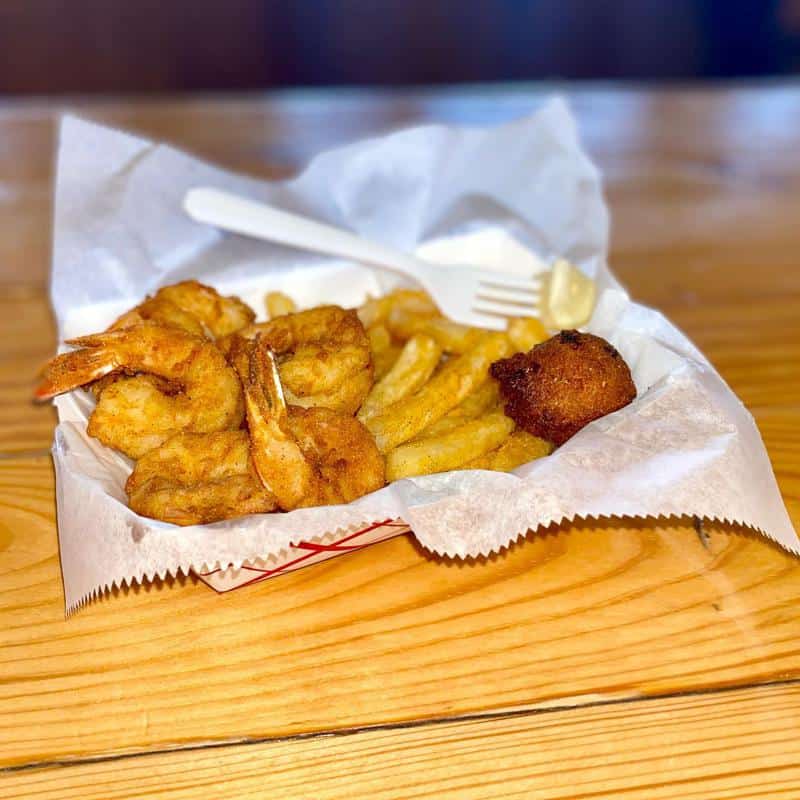 Address: 427 Racetrack Rd NW, Fort Walton Beach, FL 32547
Phone: +1 850 586 7001
Known For: fresh seafood meals for the whole family
Stewby's Seafood Shanty is a family-owned restaurant on Racetrack Road serving fresh meals made with locally bought fish. It is frequented by locals thanks to its fried seafood goodies.
Generally, Stewby's is an easygoing joint with picnic tables serving everyone delicious food in a casual, laid-back, and family-friendly environment.
The restaurant offers various meals ranging from fish sandwiches to classic gumbo. Be sure to sample their fish tacos. They are always cooked to perfection and overflow with flavors. Also, they are even better when paired with crispy and hot fries.
The Shack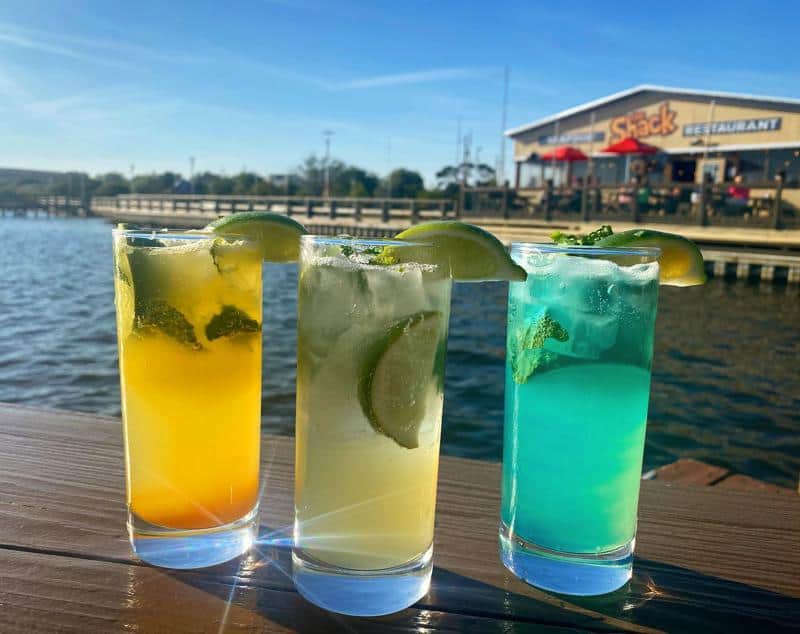 Address: 104 Miracle Strip Pkwy SW, Fort Walton Beach, FL 32548
Phone: +1 850 664 0345
Known For: beautiful waterfront views
If you're looking for the most popular restaurant in town, look no further than The Shack. Established in 1999, it is a family-operated restaurant offering an award-winning menu, a friendly ambiance, and beautiful waterfront views.
Furthermore, this is one of the best spots for birthday parties or other hangout events with friends and family. After all, even though its menu is mainly seafood-centric, it offers various platters, snacks, and even special birthday cakes.
If you are visiting with a big group, be sure to grab their fried shrimp and combo platter. But overall, each dish is exceptionally fresh, and all the portions are large. To fully enjoy your meals, go for a specialty drink, such as Shack Sangria or Emerald Shore.
Burrito del Sol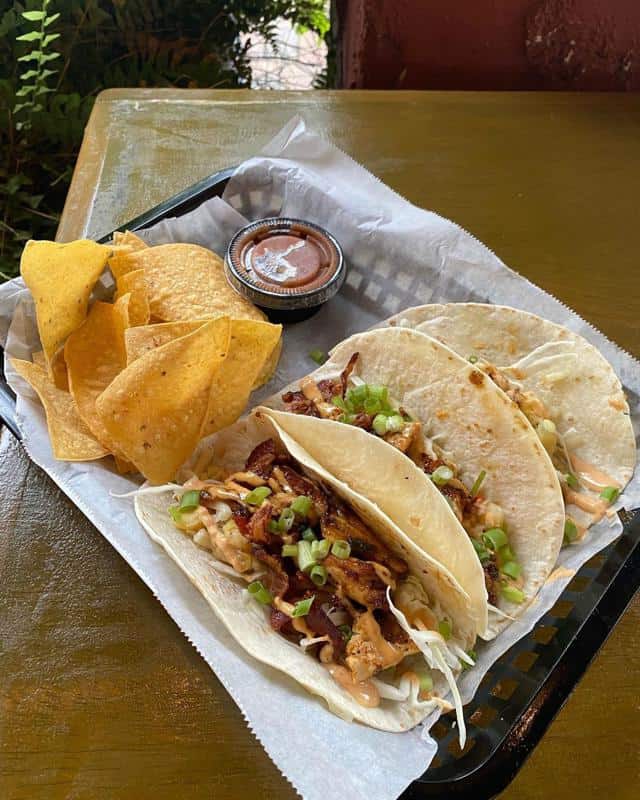 Address: 201 Miracle Strip Pkwy SE B, Fort Walton Beach, FL 32548
Phone: +1 850 226 8016
Known For: a la carte menu
Burrito del Sol is a family-owned and operated restaurant serving fresh Baja-Style Mexican food in Downtown Fort Walton Beach. All dishes are prepared in one of four signature styles, Baja, chipotle, bbq, and southwest.
They offer only an a la carte menu, which includes a small order of chips and salsa with your entre. And although they have only 5 main entrees, they are all uniquely different and at large portions.
The chicken and steak are slow-roasted for up to 7 hours, while the fish selection includes Mahi and the Catch of the Day. Other popular menu items include blackened shrimp tacos "Baja style," steak nachos "chipotle style," and chicken burritos "southwest style."
Floyd's Shrimp House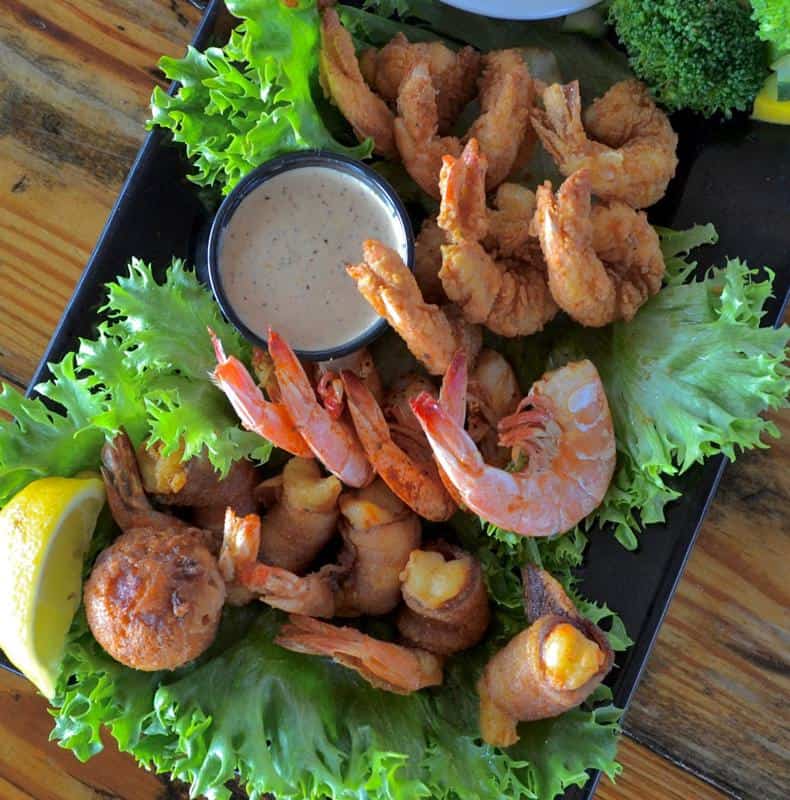 Address: 1450 Miracle Strip Pkwy SE, Fort Walton Beach, FL 32548
Phone: +1 850 243 2232
Known For: all-you-can-eat shrimp option
Located on Okaloosa Island's Boardwalk, Floyd's Shrimp House is a waterfront restaurant renowned for its all-day, all-you-can-eat shrimp. So, if you love shrimp, this is a must-visit spot in Fort Walton Beach.
At Floyd's, you can sample delicious shrimp of different sizes, flavors, and styles. But even if you are not too keen to try shrimp, they have various other tempting seafood options that you'll find in most local restaurants, such as oysters.
If you want to taste an overflow of flavors, go for their shrimp boat. It's fresh and has generous portions. The most favored flavor by regulars is the mildly sweet and succulent Teriyaki glazed shrimp.
Rockin' Tacos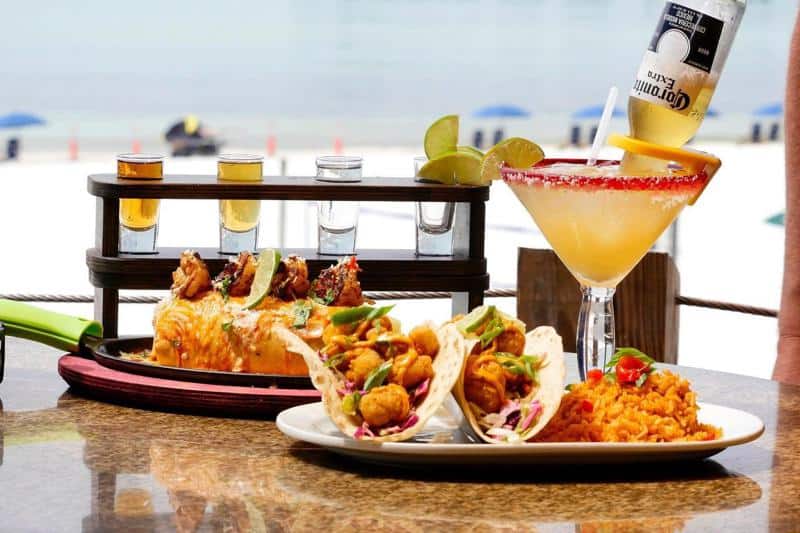 Address: 1450 Miracle Strip Pkwy SE, Fort Walton Beach, FL 32548
Phone: +1 850 226 8226
Known For: exotic and unique Mexican dishes
Rockin' Tacos is a seaside restaurant offering Mexican flavors to Okaloosa Island. Its lively and friendly atmosphere makes it the perfect place for a relaxing lunch with family or friends.
Furthermore, with its unique menu and vibrant ambiance, it is guaranteed that not only you will have a mouthwatering Mexican feast, but you will also have a blast.
Also, this is the perfect place if you are in the mood to try exotic and unique dishes. For instance, they serve delicious and one-of-a-kind gator tacos. Specifically, it is a taco with lightly fried gator meat seasoned with Cajun spice and topped with green onions and chipotle aioli.
Domo Cafe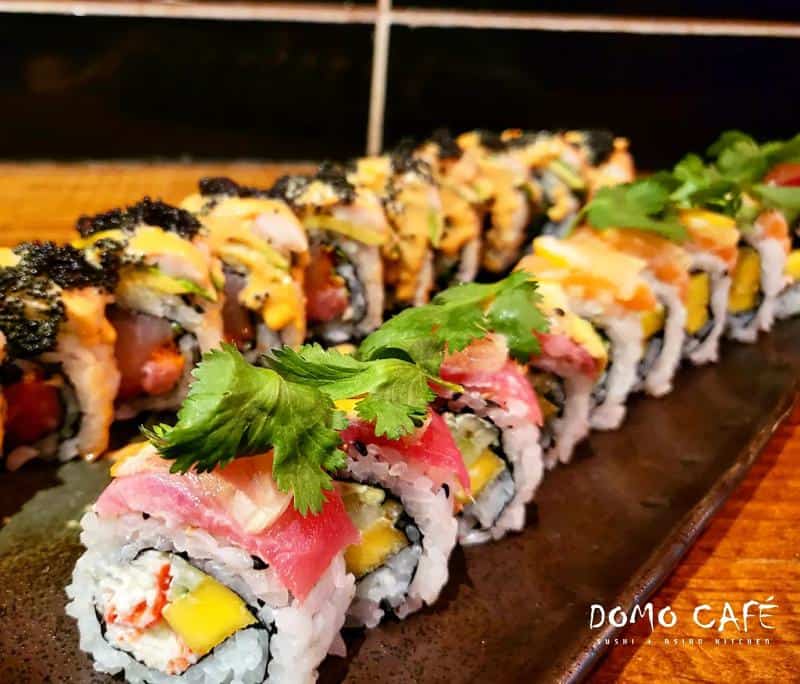 Address: 1823 Hurlburt Rd, Fort Walton Beach, FL 32547
Phone: +1 850 374 8799
Known For: Asian fusion cuisine
If you are looking for different flavors, then be sure to visit Domo Cafe. It is undoubtedly the best Asian cuisine restaurant in town. It is a rather small joint, but it has a diverse menu accommodating everyone's taste palate.
For instance, the restaurant serves various bento boxes, traditional and creative sushi rolls, and many delicious entrees. Furthermore, at Domo Cafe everything comes in generous portions at reasonable prices.
So, Domo Cafe is a must-visit spot if you are craving Asian food. Furthermore, the restaurant has excellent service and a friendly atmosphere that will make you feel part of the family.
Old Bay Steamer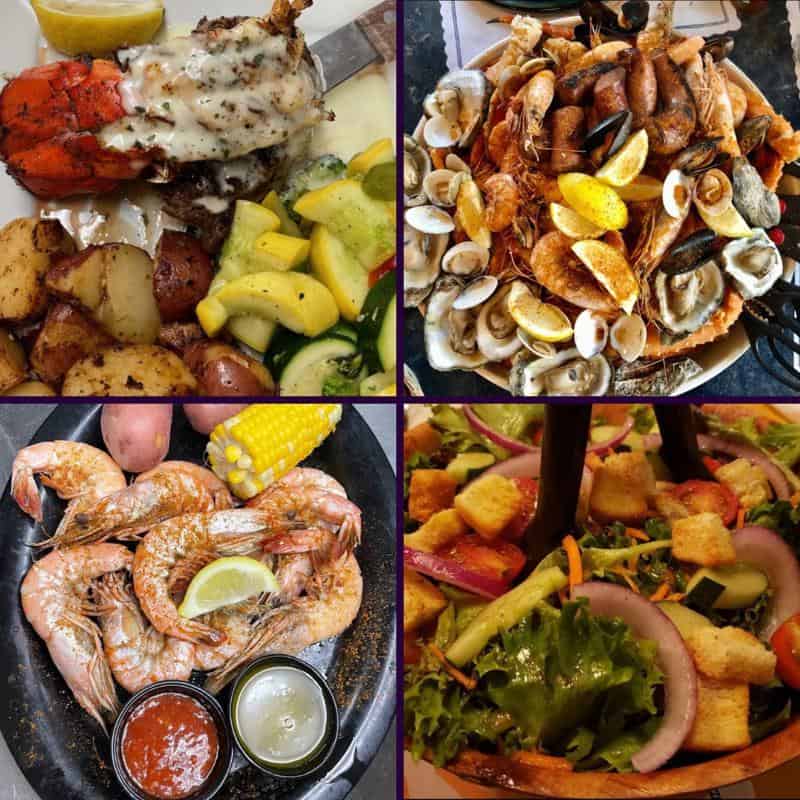 Address: 102 Santa Rosa Blvd, Fort Walton Beach, FL 32548
Phone: +1 850 664 2795
Known For: fresh seafood steamed to perfection
Established in 1995, Old Bay Steamer is a locally-owned restaurant loved by guests for its scrumptious ribs, steamed seafood, as well as its vibrant ambiance.
Old Bay Steamer features a quirky, colorful, and casual vibe, making it easy to enjoy your meal while having a fun conversation with friends. Furthermore, the restaurant will surely appease anyone's taste buds with its deliciously steamed seafood.
Everything served here is fresh and in large portions. For a hearty meal, go for their 2-pound snow crab. It is well-seasoned with heavenly flavors and steamed to perfection.
Asiago Skillet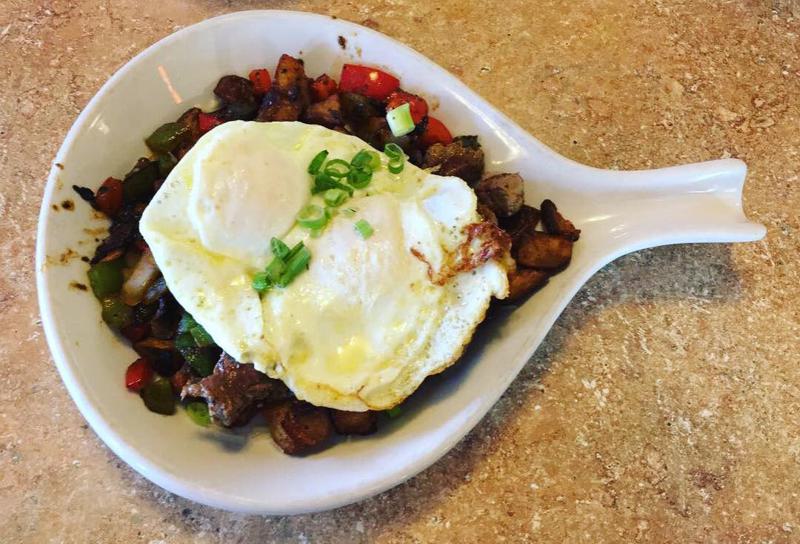 Address: 110 Amberjack Dr, Fort Walton Beach, FL 32548
Phone: +1 850 586 7998
Known For: tasty breakfast and brunch items
Since its opening in 2014, Asiago Skillet has become a popular spot for go-to hearty and delectable American breakfast platters. It is the perfect place to start your day with a filling meal in Fort Walton Beach.
Asiago Skillet features a diverse menu ranging from artisan-crafted dishes to classic basics. So, since they have a wide array of options, even the pickiest foodies will find a delicious meal to savor.
Also, this restaurant serves some of the tastiest brunch entrees in town. The favored dish is the country-fried steak skillet.
It's delicious, tender, beautifully cooked, and definitely fills a grumbling stomach. Lastly, finish your meal with a serving of sweet bananas with delicious French toast.
Fokker's Pub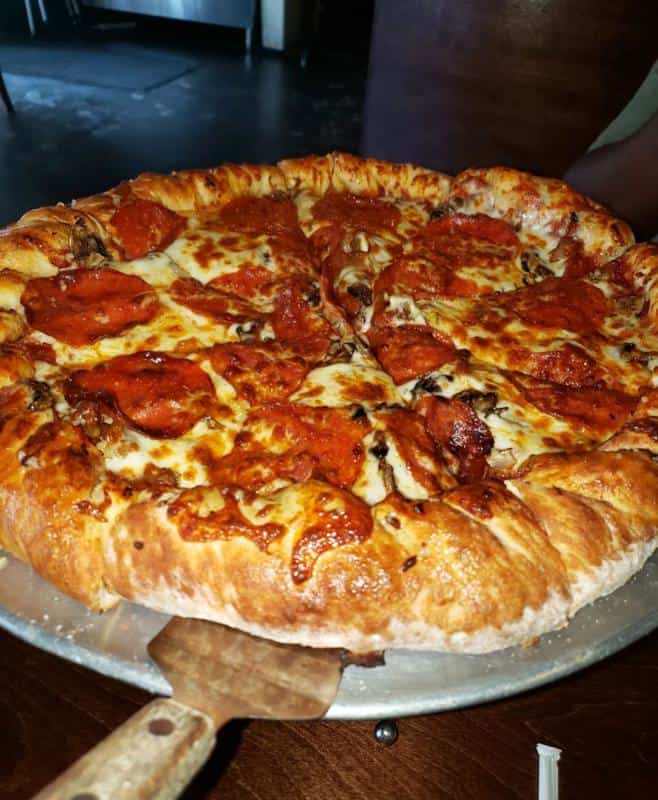 Address: 215 Miracle Strip Pkwy SE, Fort Walton Beach, FL 32548
Phone: +1 850 244 6666
Known For: pub grub and delicious New German dishes
Fokkers Pub is a high-energy, funky eatery with some of the best pub grub in town. It is especially praised as the best spot for hand-tossed pizza and German staple food.
At Fokker's, you can indulge in divine New German dishes, including homemade schnitzels and sausages. But also, you can enjoy a fun night with karaoke or live band music.
While enjoying an entertaining night, be sure to have and share their Mother Fokker pizza. It's a supreme pizza with tangy sauce, thick cheese, peppers, onions, and mushrooms. Furthermore, its crust is delicious with a buttery and garlicky flavor. In other words, it is a heavenly pizza.
AI's Beach Club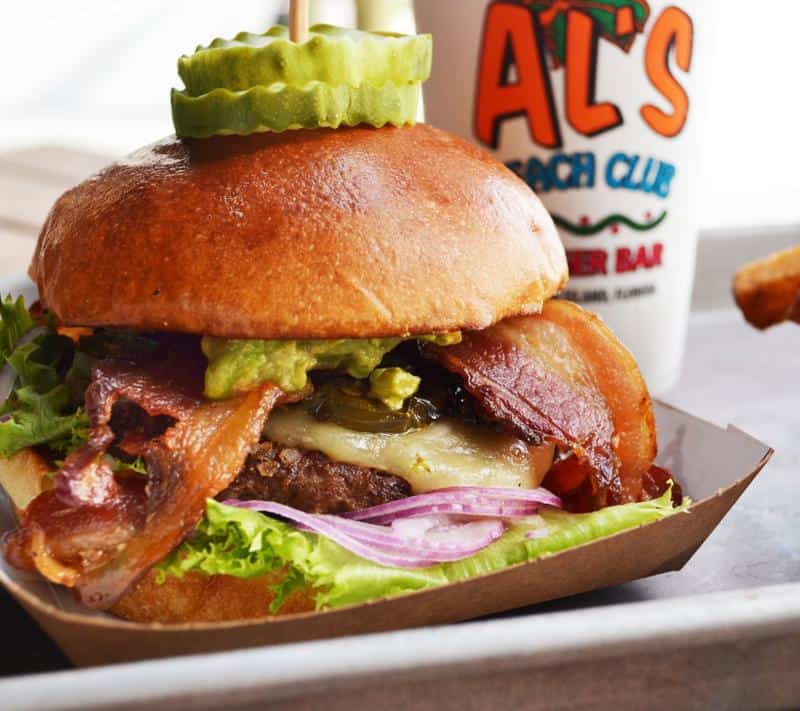 Address: 1450 Miracle Strip Pkwy SE, Fort Walton Beach, FL 32548
Phone: +1 850 226 4100
Known For: classic American dishes in a lively environment
Al's Beach Club is probably the coolest restaurant in Fort Walton Beach. Right by the beach, this joint often offers firework displays and live DJ music creating a summery vibe.
Along with its lively ambiance, AI's offers classic American dishes. The menu includes hand-cut fries, delicious shakes, as well as craft and classic burgers. So, if you are looking for something different than seafood, this should be your destination.
Their island chicken sandwich is to die for. It's drippingly delicious, moist, savory, and sweet. It has a grilled chicken breast topped with sweet chili soy sauce, cilantro, thick bacon, and grilled pineapple.
Ali's Bistro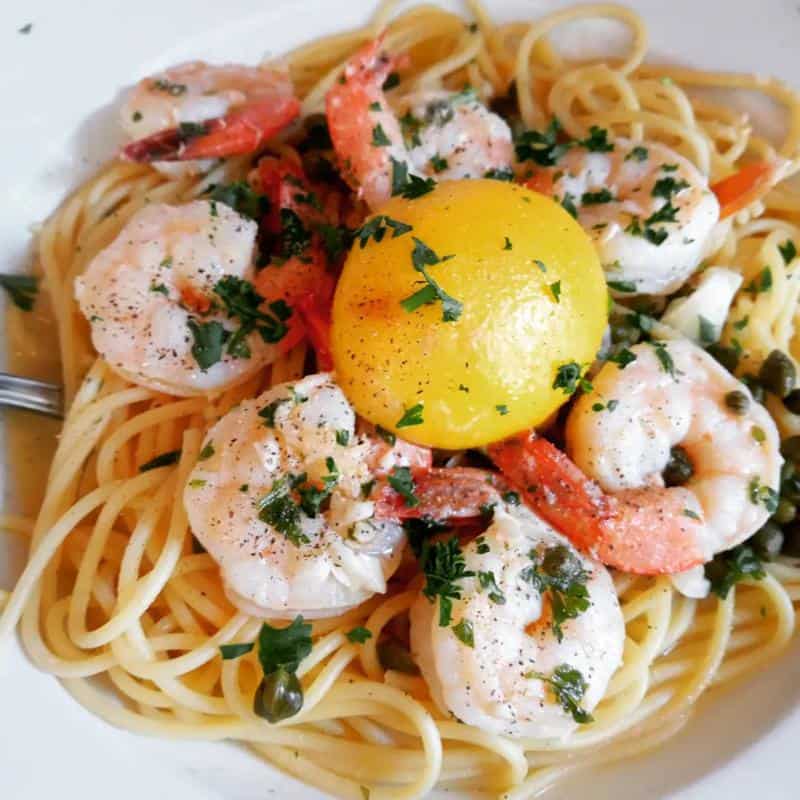 Address: 171 Brooks St SE, Fort Walton Beach, FL 32548
Phone: +1 850 226 4708
Known For: casual yet elegant dining experience
Established in 2003, Ali's Bistro is a popular eatery serving traditional Italian meals in a casual yet elegant setting. By visiting this joint, you will literally taste a slice of Italy.
Ali's Bistro offers dishes from baked gourmet pizza and tender steaks to fine wines and fresh seafood. It has every Italian dish anyone might desire, giving a pleasant dining experience to everyone.
Appease your palate by indulging in the joint's special white pizza. It has a divine cream and is topped with cheese, tomanites, and prosciutto. Also, the crust is thick, crispy, and delicious too.
Clemenza's at Uptown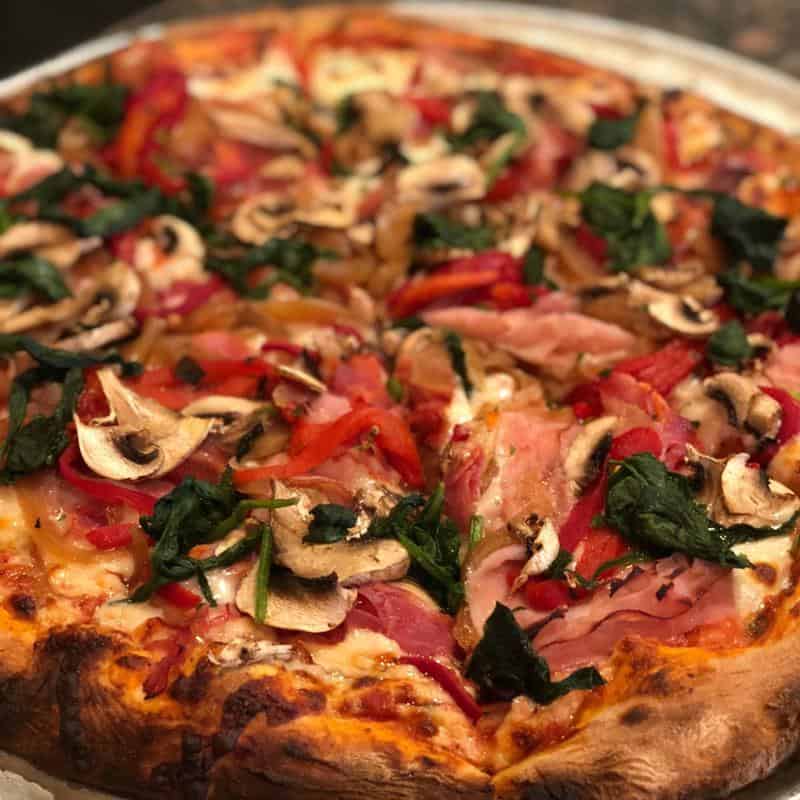 Address: 75 Eglin Pkwy NE #126, Fort Walton Beach, FL 32548
Phone: +1 850 243 0707
Known For: authentic Italian cuisine
Located at Uptown Station, Clemenza's is a lively restaurant offering classic Italian fare. For those craving authentic Italian food, this spot guarantees you will have a blast.
Whether you're looking for homemade pasta or wood-fired pizza, Clemenza's boasts a tempting menu that will satisfy any of your cravings or preferences.
But no matter what you prefer, don't miss out on the opportunity to savor their wood-fired pepperoni pizza. It has a thin crispy crust and a meaty and spicy flavor that blends quite well with the cheese, sauce, and dough combination.
Props Brewery & Grill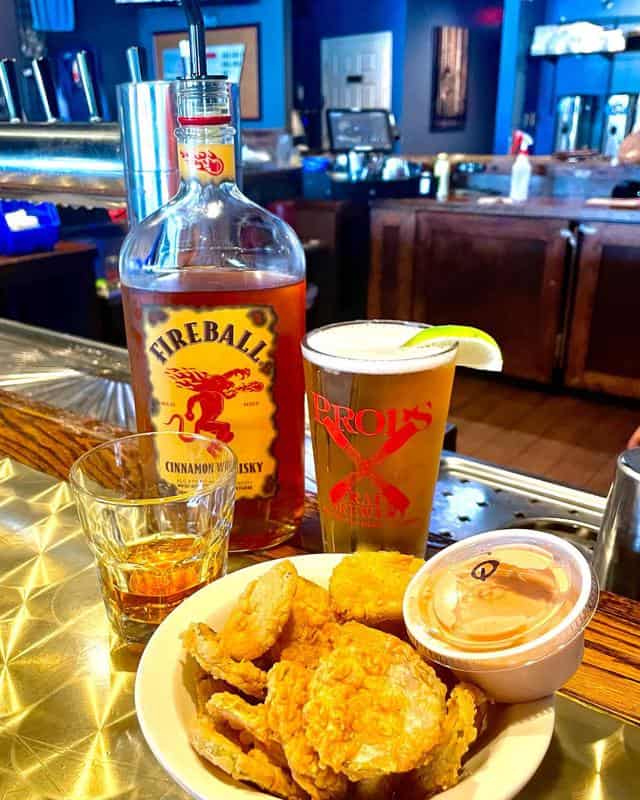 Address: 255 Miracle Strip Pkwy SE #19, Fort Walton Beach, FL 32548
Phone: +1 850 586 7117
Known For: microbrews on tap and delicious pub grub
Founded in 2011, Props Brewery is a cool hangout spot that offers microbrews on tap. It is a great spot to experience Fort Walton Beach's craft beer culture.
At Props Brewery, you will find first-rate stouts, porters, blonde ales, pilsners, lagers, and IPAs. Additionally, it features a range of delectable bar bites, including wraps, sandwiches, pretzels, and craft burgers.
The best dish on the menu is definitely the fried pickle burger. It has thick and juicy patties that are cooked according to your specifications. It also has fried pickles, cheese, and jalapenos sauce to enhance its flavor.
Magnolia Grill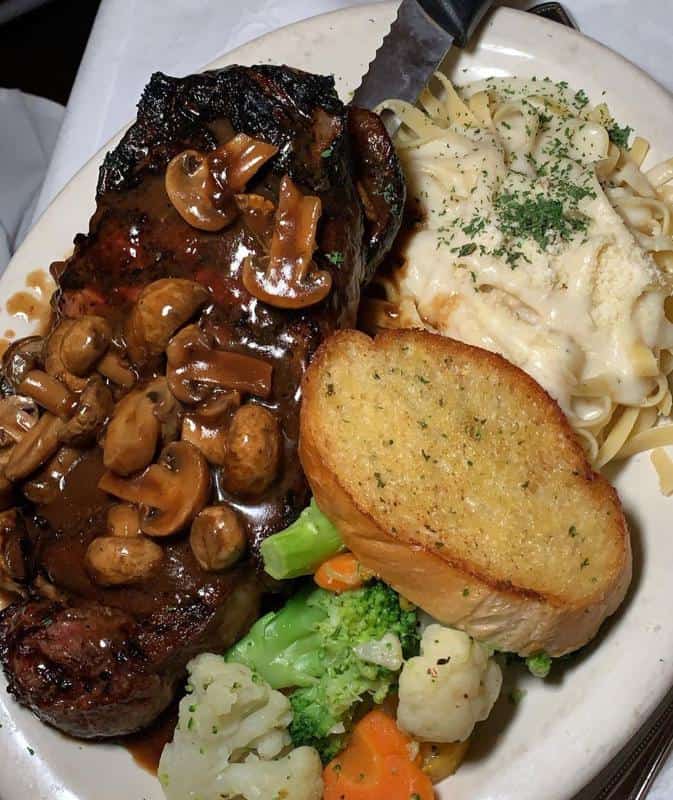 Address: 157 Brooks St SE, Fort Walton Beach, FL 32548
Phone: +1 850 302 0266
Known For: American and Italian fusion cuisine
Magnolia Grill is one of the best restaurants downtown for refined and tantalizing dishes of American and Italian cuisine. It is a sophisticated restaurant for an elegant date with your partner.
The menu consists of tender steaks to pizzas. No matter what you choose, you will undoubtedly leave happy and satisfied. Furthermore, this restaurant is a historical landmark and even features a museum.
From their menu, you'll absolutely love their New York Strip. It's tender, rich, and a solid chew, and with its bold, beefy flavors and notes, it will surely sweep you away.
Bay Cafe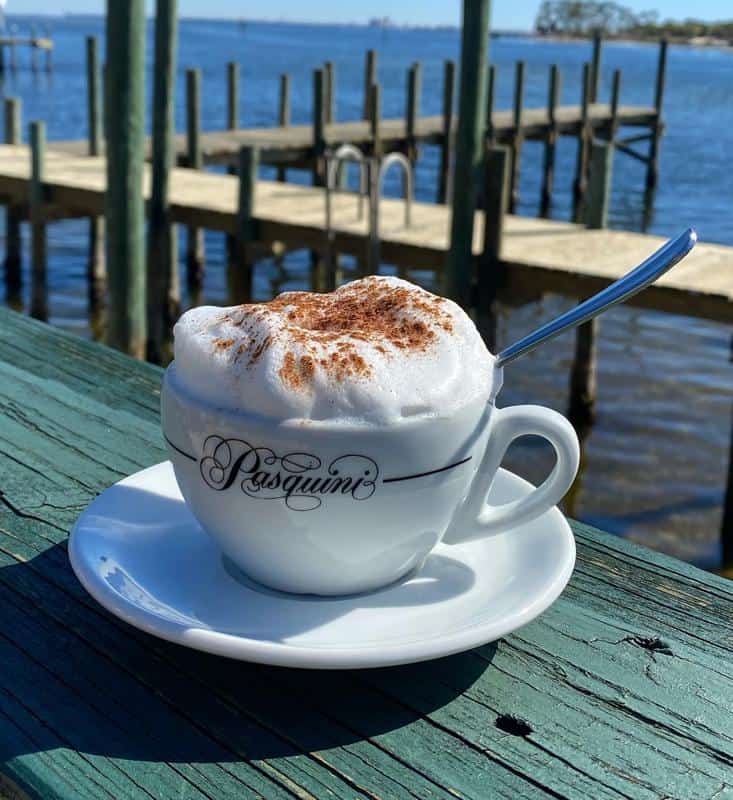 Address: 233 Alconese Ave SE, Fort Walton Beach, FL 32548
Phone: +1 850 244 3550
Known For: delectable French food
Bay Cafe offers exquisite French fare and wines, marking its place as a solid pick for fine dining in Fort Walton Beach. Furthermore, it features a romantic ambiance, making it one of the best dinner places for couples.
Bay Cafe mostly impresses guests with its decadent croissants, wines, and French entrees, like chicken Florentine. But overall, it has excellent dishes that leave everyone happy and satisfied.
Go for their signature dish, grouper wellington with lobster sauce. It's an incredibly tender fish dish with a sweet and mild flavor.
Also, it has a flavorful sauce that makes the dish even more appetizing.
Read More:
Final Thoughts
Fort Walton Beach offers a diverse culinary scene that can satisfy everyone's taste palate and cravings.
It is a city with various eats ranging from elegant fine dining restaurants to unique local bistros of traditional American dishes and alternative or international cuisines.
Furthermore, you can find some of the best local wines, craft beers, and tasty cocktails at pubs and tap rooms, along with delectable snacks.