Winston-Salem is world-famous for its cigarette and tobacco industry, which sometimes overshadows the other exceptional things the twin-city offers – like its dining scene. It does very well in its gastronomic offerings with a strong foothold in Southern-American cuisines.
The quaint yet fast-paced city also has global influences in its culinary realm, adding range and variety while promising quality.
Here are the top restaurants in Winston-Salem that should be on the radar of every foodie in Camel City.
Best Downtown Winston Salem Restaurants
The historic downtown area of Winston-Salem has a lot of great restaurants, and we have the cream of the crop on our list that truly stands out.
Di Lisio's Italian Restaurant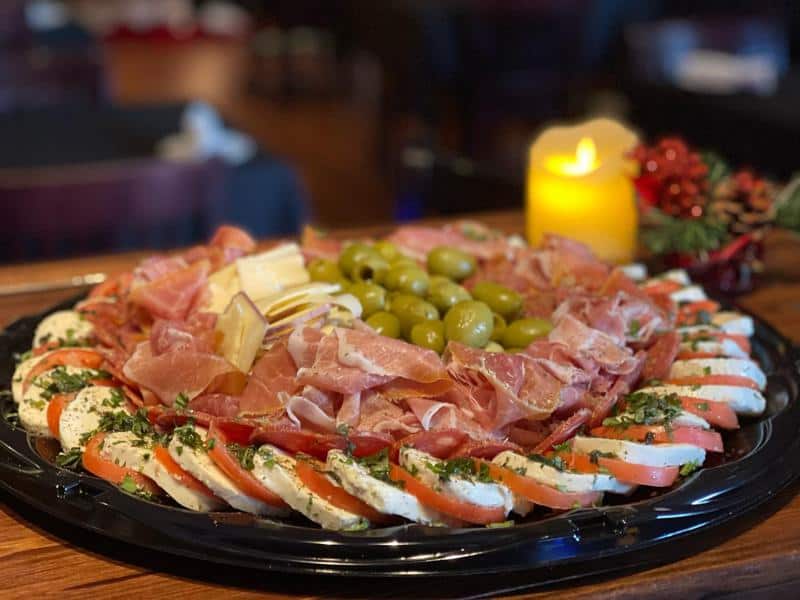 Address: 301 Brookstown Ave, Winston-Salem, NC 27101
Known for: Traditional Italian fare with lip-smacking homemade sauces.
The polished and elegant Di Lisio is a high-end Italian restaurant downtown. Offering an intimate dining experience with traditional Italian fare, you will find a lot of variety on their menu and wine list.
All the pasta dishes are made from scratch every day, and the Red-Sauce Pasta variety is their specialty. Sharing appetizers or Antipasti platters are great for large gatherings and have a bit of everything.
Other items on their menu include fresh salads, homemade soups, a variety of prime beef and seafood dishes, chicken, veal, and wood-fired pizza. The house-made sauces elevate the dishes and impart Di Lisio's signature taste.
Enjoy your meals with imported fine wines, top-shelf spirits, microbrews, craft cocktails, or classic cocktails.
Sweet Potatoes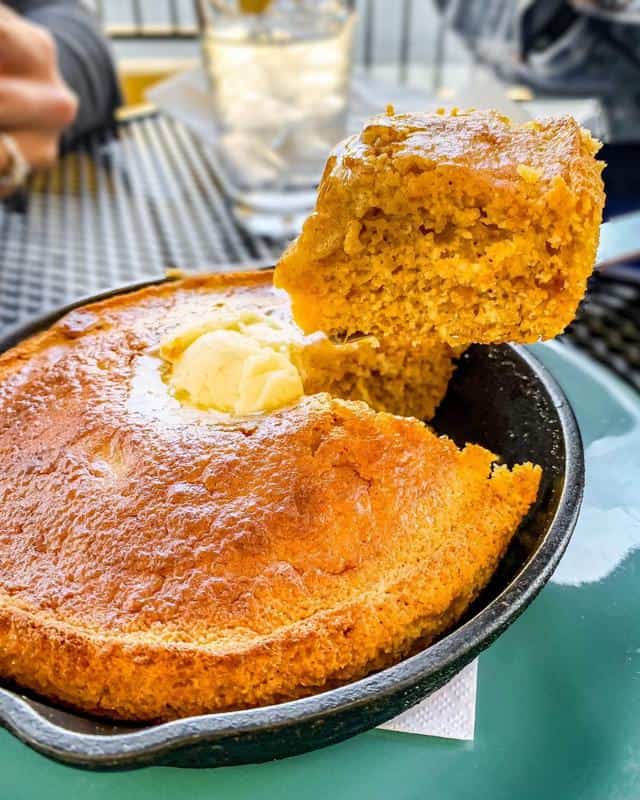 Address: 607 Trade St NW, Winston-Salem, NC 27101
Known for: Delectable sweet potato dishes in a warm and inviting atmosphere.
Named after the state vegetable of North Carolina, Sweet Potatoes is a quirky eatery with the tagline "well shut my mouth!!" The restaurant receives a lot of love for its laidback ambiance and prime location in the heart of Downtown's Arts District.
Owners Stephanie Tyson and Vivian Joiner pay homage to the delicious vegetable by incorporating it into the home-style Southern dishes served at the restaurant.
The best thing on their appetizer list is Cornbread. It may not be the fanciest dish they have, but it surely gives you the comforting warmth and homely taste to turn your day around.
Another great item on the appetizer menu is freshly fried pork rinds, and Slap Yo' Mama Ribs is the perfect entrée for meat lovers. Don't forget to have a piece of their famous Sweet Potato pie to perfectly wrap up your dining experience.
Cin Cin Burger Bar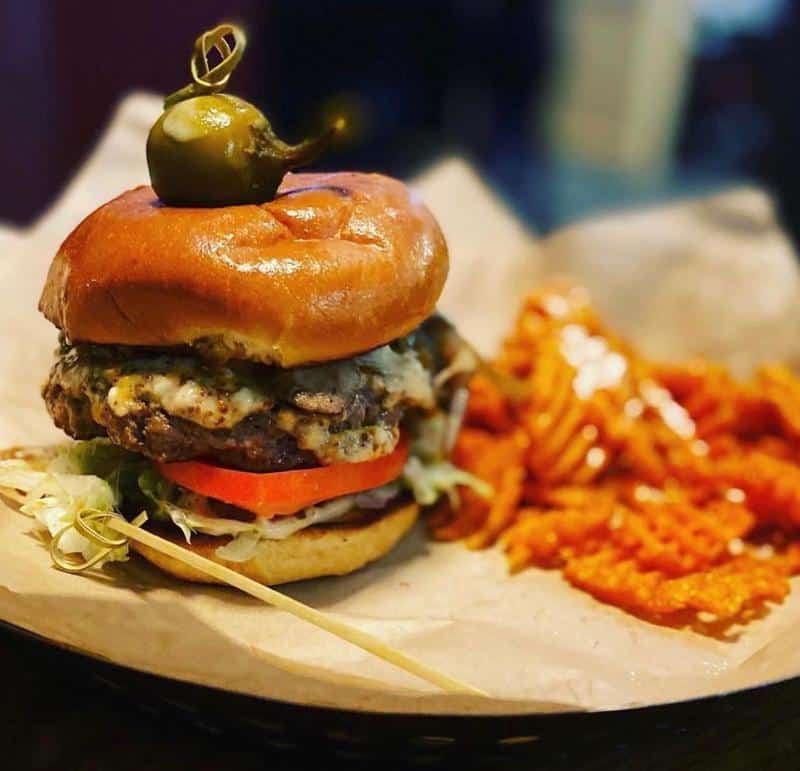 Address: 1425 W 1st St, Winston-Salem, NC 27101
Known for: Delicious burgers and hand-spun boozy milkshakes.
Delivering the perfect kick of nostalgia with a Speakeasies and Juice Joints set-up, Cin Cin Burger Bar is famous for its succulent gourmet burgers, cocktails, and boozy milkshakes. A lot of actual prohibition-era recipes are used to recreate the timeless classics with a modern twist.
The burgers are made with 100% Angus beef patties. The Shareable Giggle Water Onion Rings or Creamy Gorgonzola Fries come with dip-able sauces and taste divine.
The 'Burger Creations' option allows you to build your burger from scratch. If you wish to try a true classic, go for the Speakeasy Deluxe drenched in American cheese with red onions, tomato, and champagne burger sauce.
Try one of their hand-spun and heavenly creamy homemade milkshakes to go with the burgers. The famous Butter Beer Float and Boozy Banana are the perfect concoctions to quench your thirst.
The Porch Kitchen and Cantina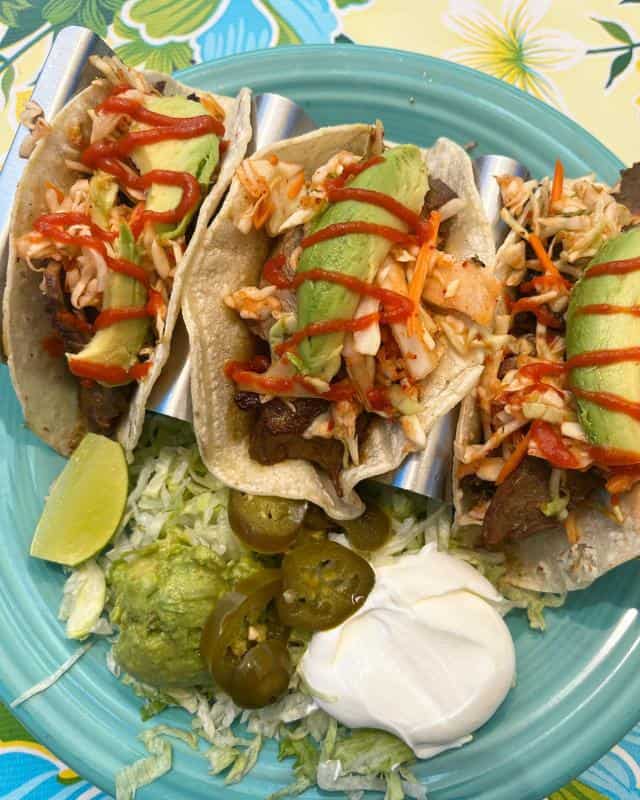 Address: 840 Mill Works St, Winston-Salem, NC 27101
Known for: Innovative Tex-Mex variety with delicious tacos and margaritas.
Have a colorful afternoon filled with laughter, colors, and delectable Tex-Mex delights at The Porch Kitchen and Cantina. The restaurant perfectly balances the flavors of Mexican and Southern foods to bring you innovative dishes in an upbeat and vibrant setting.
The breezy open garage space and shaded outdoor patio offer a lovely setting to enjoy a sunny day with friends and family. The notable varieties on their menu include Sweet Pete Puffy Tacos, Totchos, Dr. Pepper Trailer Pot Pie, and a Back Porch Burger.
They also have weekly specials with limited-variety Tacos like Korean Tacos made with Korean steak and kimchi slaw. Enjoy your meals with a wide range of flavored margaritas in colorful presentations.
Spring House Restaurant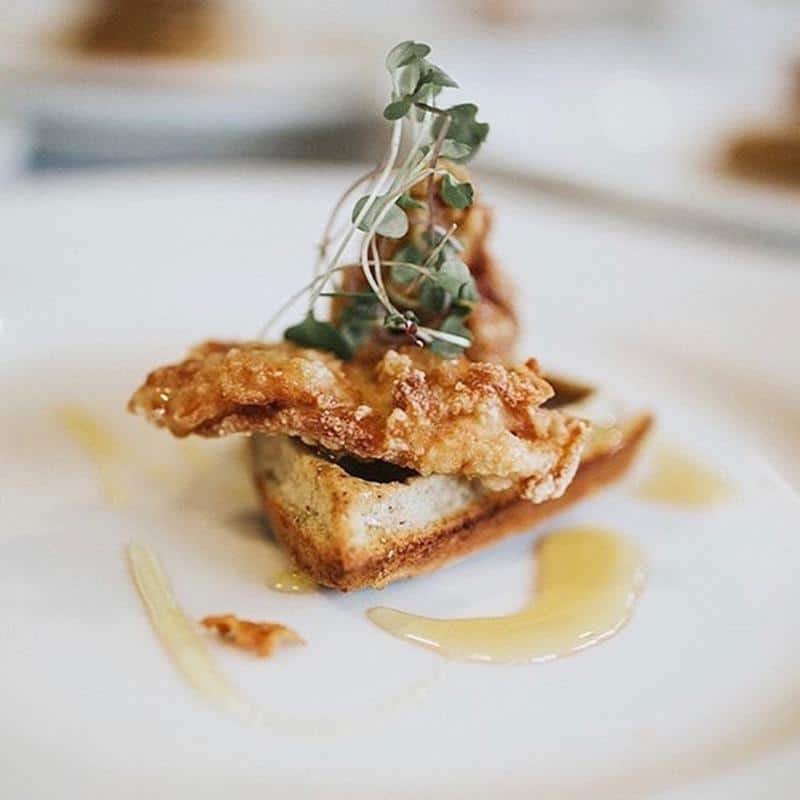 Address: 450 N Spring St, Winston-Salem, NC 27101
Known for: Elegant and romantic setup with an ever-changing seasonal menu of Southern American dishes.
If you are looking for the best Southern American dishes in downtown Winston-Salem, head to the charming and elegant Spring House Restaurant. The chic and refined spot is perfect for anniversaries, date nights, and getting down on one knee.
The restaurant is set in a historic house from the 1920s and boasts an intimate and romantic setup with a rotating seasonal menu. A typical dining experience comprises three-course meals with the chef's featured dish of the day.
The farm-to-table dishes include Crispy Fried Oysters, Charred Filet Mignon, Jumbo Shrimp and Grits, Lobster Rigatoni, and other seafood dishes and prime cuts. The dedicated drinks menu has a long wine list, craft cocktails, a variety of beers, and a special Chef's selection.
Mozelle's Fresh Southern Bistro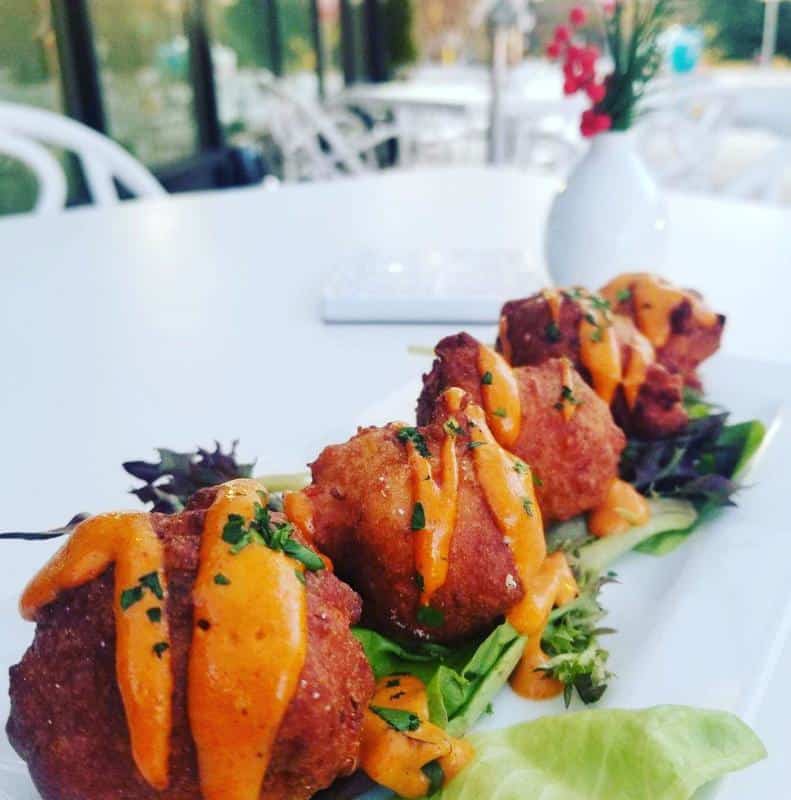 Address: 878 W 4th St, Winston-Salem, NC 27101
Known for: Quaint outdoor patio with farm-to-table Southern dishes.
Tucked along a beautiful corner of West End, Mozelle's is a lovely little spot with a bright and spacious setup and a covered patio. The table setting is exquisite with fresh flowers and an intimate ambiance.
The elegant Southern delights are made from locally sourced ingredients, offering a farm-to-table experience. Start your meal with a palatable serving of Corn Fritters, Fried Pickles, or juicy Torched Caprese with tomatoes and basil.
Then entrees are loaded with seasonal delights with Chef's special that changes daily. They have a variety of pasta and daily catch, as well as Fried Chicken, Gourmet Meatloaf, and Filet Mignon. Fine wines are imported from all over the world, alongside classic cocktails and craft beers.
Jeffery Adams on Fourth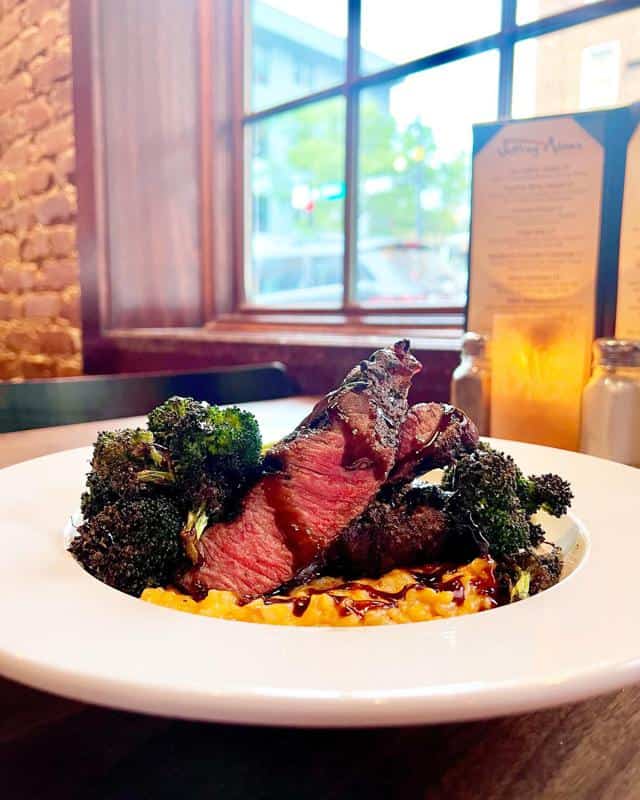 Address: 321 W 4th St, Winston-Salem, NC 27101
Known for: Lovely and intimate setup with a fireplace and innovative American dishes.
Striking a perfect balance between casual and fine-dining, Jeffery Adams on Fourth has a beautiful urban setting with fresh Southern delights. The laidback ambiance allows you to relax amid a warm layout with a cozy fireplace and views of the city.
Locally sourced ingredients are used with a farm-to-fork experience for visitors. Simple comfort meals are redefined with innovative twists like the classic NY Strip has a dry-rubbed preparation with a rich and heavenly roasted tomato Parmesan risotto and sautéed broccoli.
They also serve traditional Southern Fried Chicken and a range of wood-fired grill varieties. The extensive wine list is quite impressive, and they also have craft cocktails and seasonal drafts on the menu.
The Old Fourth Street Filling Station
Address: 871 W 4th St, Winston-Salem, NC 27101
Known for: Stunning outdoor patio, elevated American dishes, and Sunday brunch.
With a cozy fireplace inside and beautiful outdoor seating, The Old Fourth Street Filling Station skillfully captures the eye-catching beauty of the historic West End. The charming restaurant offers a friendly and warm dining experience to enjoy with family and friends.
The menu is inspired by classic American dishes, chef's creations, seasonal delights, and daily specials. The full bar serves a variety of concoctions alongside a lengthy wine list.
The Eggplant Ratatouille Pasta is a star dish on their entrée, but locals also love the hearty Ribeye, Smokehouse Chicken, and Southwestern Flank Steak with tangy corn and black bean salsa. There's brunch on weekends serving all the classic breakfast food and seasonal desserts.
The Katharine Brasserie and Bar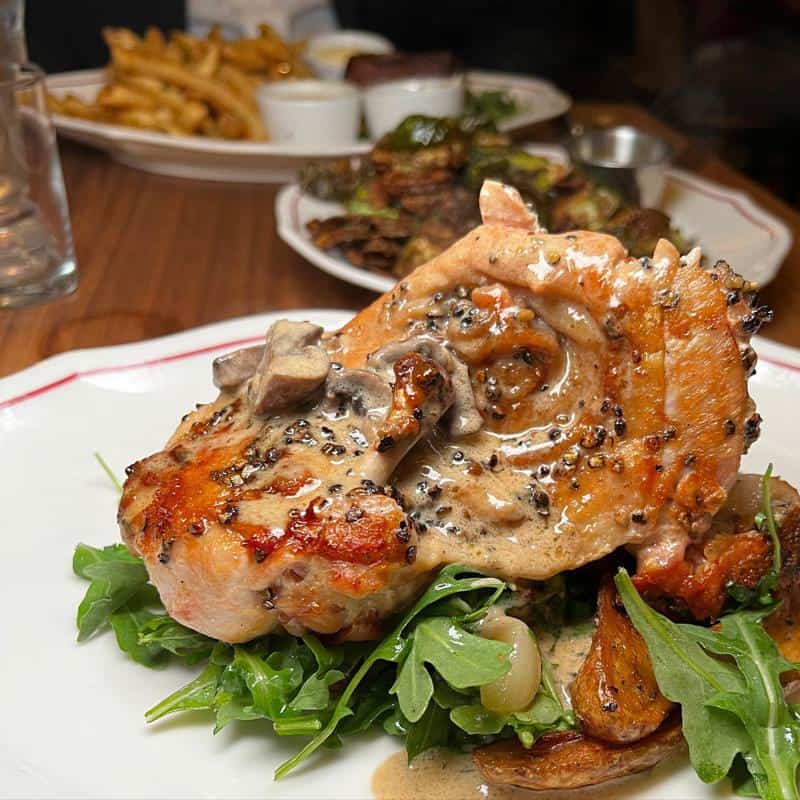 Address: 401 N Main St, Winston-Salem, NC 27101
Known for: Elegant French dishes with share-ables and multi-course meals.
With a stunning location in the historic, former RJ Reynolds Building, Katharine Brasserie and Bar is named after the family's matriarch. The polished art-deco layout and vibrant ambiance invite you to indulge in delicious Parisian brasserie-inspired dishes.
The menu is curated to accommodate everyone's preferences. Whether you are looking for a laid-back, relaxed time with casual nibblings or an elegant evening with multi-course servings, the restaurant has got you covered.
Elegant Hors D'oeuvres selection includes Moules Marinieres (Mussels), Cocktail de Crevettes (Shrimp Cocktail), and Tarte Flambee (Bacon Lardons), among other dishes. The Fromage and Charcuterie board is ideal for sharing, and the delectable entrees of Pates de Mais d'Ete, Canard a l'Orange, and Carre d'Agneau are perfect for date nights.
Best Restaurants in Other Areas
River Birch Lodge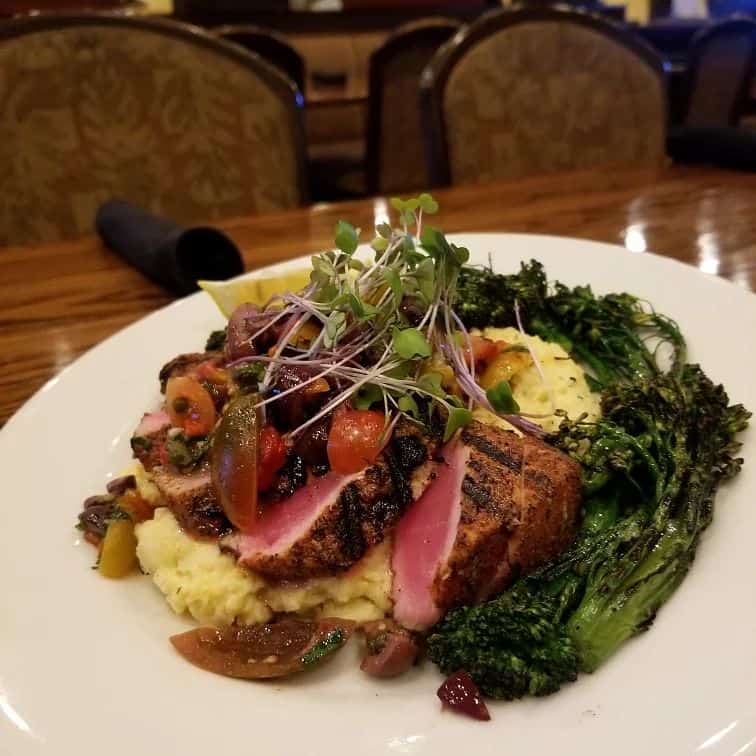 Address: 3324 Robinhood Rd, Winston-Salem, NC 27106
Known for: Tranquil, nature-inspired layout with fresh New American fare and a full bar.
Connect with nature and have an unwinding experience at the peaceful River Birch Lodge. The serene spot provides a calming atmosphere with a warmly lit dining area, a crackling stone fireplace, canoe and large wooden rafters incorporated in the décor, and a good variety of healthy options on their menu.
Fresh and delicious food features daily specials and a remarkable selection of New American cuisine. Indulge in fresh North Carolina seafood variety, or have hearty servings of meats and pasta.
The River Birch Bar has a cozy setup with a wide arrange of wines, beers, and cocktails, including 16 craft-brewed drafts and weekly specials.
Ryan's Restaurant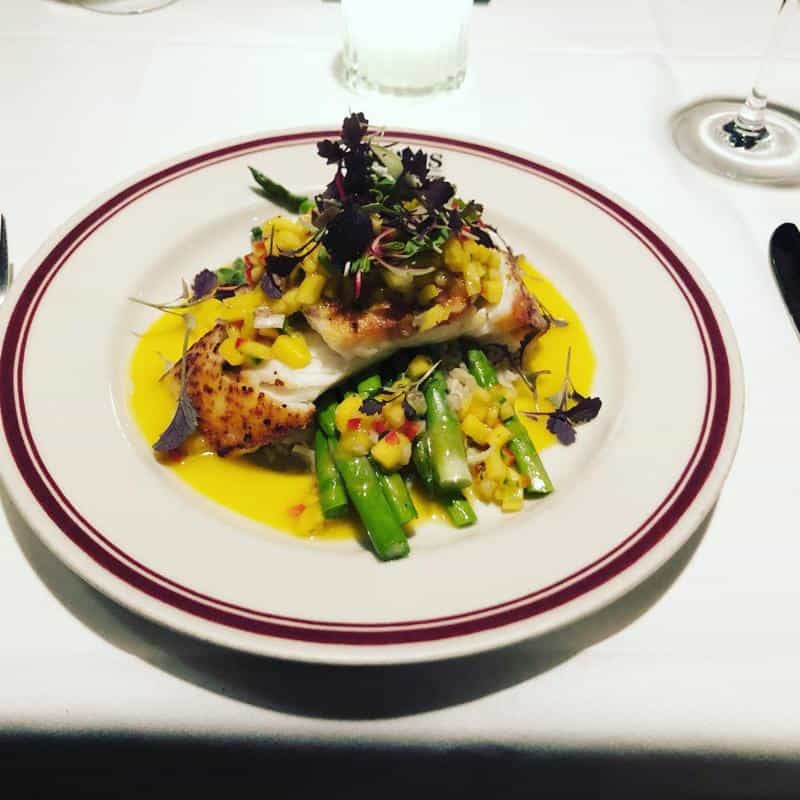 Address: 719 Coliseum Dr NW, Winston-Salem, NC 27106
Known for: Stunning location with natural landscapes and fresh seafood variety.
The award-winning Ryan's Restaurant is one of the best fine-dining spots in Winston-Salem. It has a great location with a wooded setting surrounded by the city's breathtaking scenic beauty, towering oak trees, and a sparkling stream.
The large windows and an outdoor deck offer panoramic views of the natural beauty all around, and the dishes enhance your joyful experience to the max. The elegant culinary creations by Executive Chef Luke McMahon include fresh seafood, steaks, and chops.
Ryan's classic entrees include Live Main Lobster, Jumbo Lump Crab Cakes, Cold-Water Lobster Tail, and Grouper Key West served on a bed of fragrant basmati rice. They have an extensive wine list to pair with your food.
Rooster's – A Noble Grille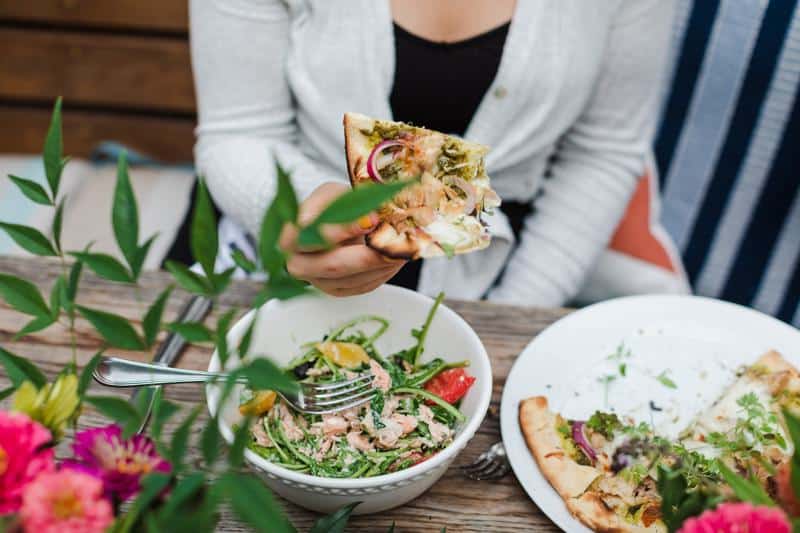 Address: 380 Knollwood St, Winston-Salem, NC 27103
Known for: Refined fine dining restaurant with wood-fire grilled meats.
Have a fine dining experience in an upscale and polished space at Rooster's. The restaurant takes pride in its local roots and works in collaboration with small local farmers to bring you a refreshing farm-to-table experience.
The lovely wooden interiors and breezy outdoor seating with greenery await your welcome. The salads and small plates are quite famous here, but you have to try their grilled variety for the ultimate Rooster's experience.
The Rotisserie Chicken, Steak Burger, Wood-Fire Grilled Ribeye, and New York Strip are the best things on the menu. Prepared with a southern flair, the dishes also have hints of globally-inspired flavors.
Hakka Chow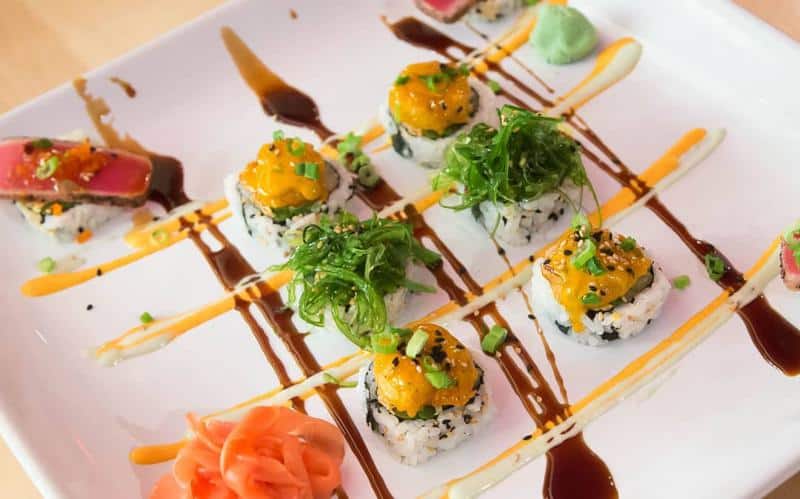 Address: 615 St George Square Ct, Winston-Salem, NC 27103
Known for: Exotic Pan-Asian dishes in a huge variety.
While Winston-Salem is loaded with traditional Southern eateries and local flavors, Hakka Chow brings variety with its delectable Pan-Asian menu. The sleek and modern eatery has a casual setup with dishes inspired by Thai, Korean, Japanese, Chinese, and Indian cuisines.
Enjoy a variety of mouth-watering concoctions like curry-based dishes, sushi rolls, and Thai wraps. There are a lot of options for vegetarians with lip-smacking meals like Szechuan Tofu, Mapo Tofu, and Stir-Fried Garlic Eggplant.
Include variety in your order with dishes like Kobe Beef Dumplings, Kimchi Cheese Fries, Hakka Indian Style Curry, and Sashimi Platters. The varieties are endless, and the dishes are prepared with high-quality and fresh ingredients with authentic flavors.
Krankies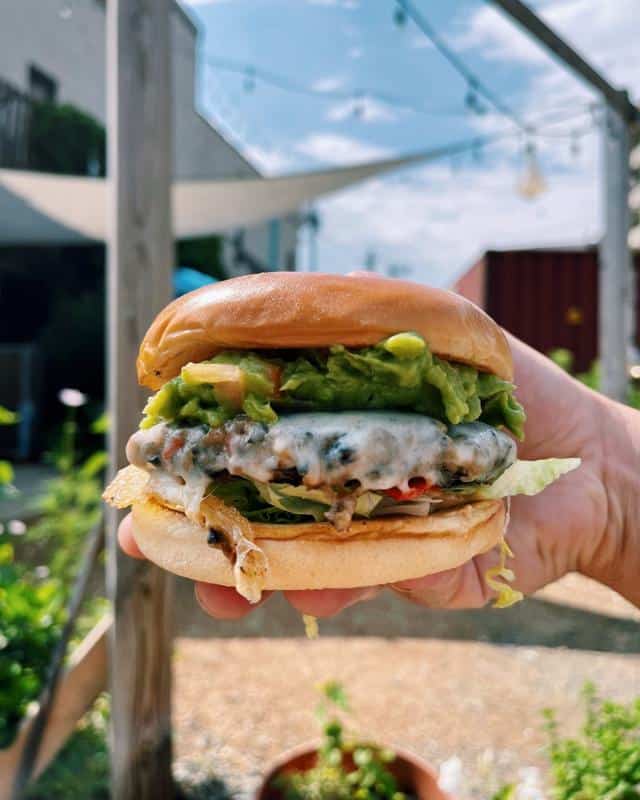 Address: 211 3rd St E, Winston-Salem, NC 27101
Known for: Community-driven artistic spot with classic American dishes and freshly roasted coffee.
Krankies is a vibrant full-service eatery that started as a small café. The restaurant has a lot of personality with an artistic vibe and a relaxed atmosphere.
Boosting community spirit with its laidback dining area where like-minded individuals can mingle and connect over their love for good art and food, the place is very popular among locals.
The breakfast, lunch, and dinner menu is extensive and includes all the classic American dishes. Try one of their delicious Burgers or have a cup of freshly roasted coffee with house-made Honey Chicken Biscuits.
Watch the Artists and Musicians perform while enjoying your favorite cocktails, or stop by for weekend brunches with traditional breakfast staples.
Dom's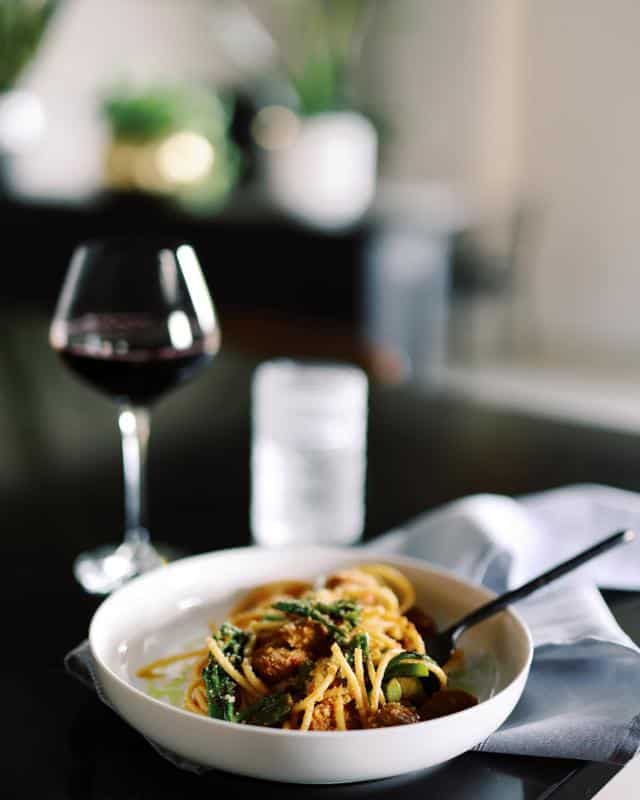 Address: 134 N Spruce St, Winston-Salem, NC 27101
Known for: The best vegan restaurant in the city with quality and variety.
As the city's first vegan restaurant, Dom's receives a lot of love for its impressive plant-based cuisine. You can find the vegan alternative to every popular American and Italian dishes like fried chicken, meatballs, and Mac and Cheese.
The restaurant has a refined and elegant setting with dimly lit indoor dining ideal for formal dinners and date nights. The famous items on their menu include Buffalo Cauliflower, Baked Penne Arrabbiata, Chickpea Chorizo Nachos, and Chik'N Parm Sandwich.
The delectable NY Style Cheesecake and decadent Chocolate Hazelnut Torte is a perfect end to your lip-smacking vegan meal.
Read More:
Conclusion
The artistic town of Winston-Salem stays true to its roots with a bulk of its top restaurants serving Southern American dishes.
Try them to enjoy local flavors with authentic preparations, or have a distinct experience at a few eateries with a globally-inspired menu.