Welcome to Caesars Palace, a world-class hotel and casino that attracts high rollers from all around the world.
Located in the heart of the Strip in Las Vegas, this iconic Las Vegas landmark is a great place to stay while visiting Sin City.
With more than 13 restaurants, the dining options at Caesars Palace are endless! Whether you are craving American classics or wish to feast on international dishes, there is something for everyone here at Caesars Palace in Las Vegas.
To help you decide where to go, we've rounded up a list of the best restaurants in Caesars Palace.
Best
Restaurants in Caesars Palace
Trevi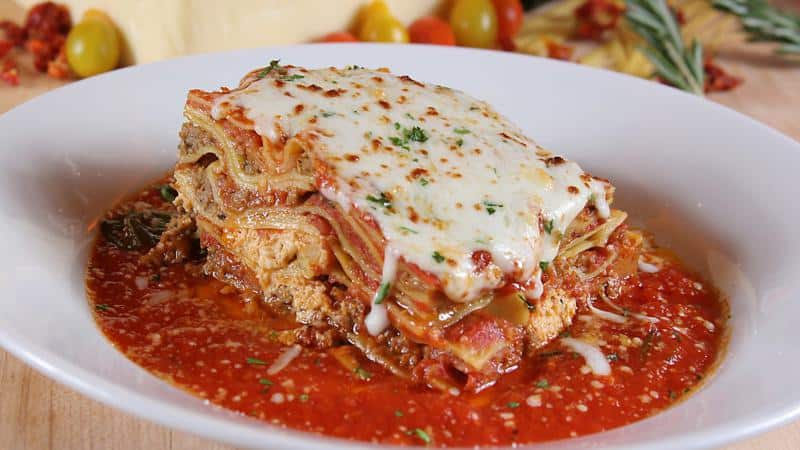 First on our list of the best restaurants in Caesars Palace is the Italian brasserie called Trevi.
If you wish to enjoy homemade Italian cuisine and try a variety of dishes, you've come to the right place. From oven-fired pizzas and a selection of pasta dishes to fish of the day, there is plenty to choose from.
Start with lightly breaded and seasoned Mozzarella Fritta. The list of mains is extensive and features authentic dishes like rigatoni Bolognese and veal piccata.
You can also go for the chicken marsala or get the mouthwatering fettuccini alfredo.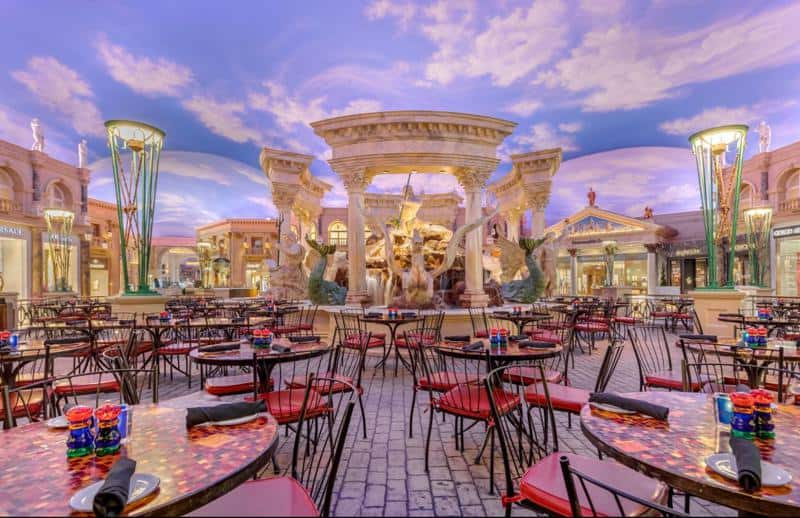 Keep in mind that Trevi Italian Restaurant serves lunch and dinner. This fine dining establishment in Caesars Palace also boasts a walk-up gelato and espresso bar where you can unwind with a drink or two.
This venue is available for private and semi-private events.
Hell's Kitchen By Gordon Ramsay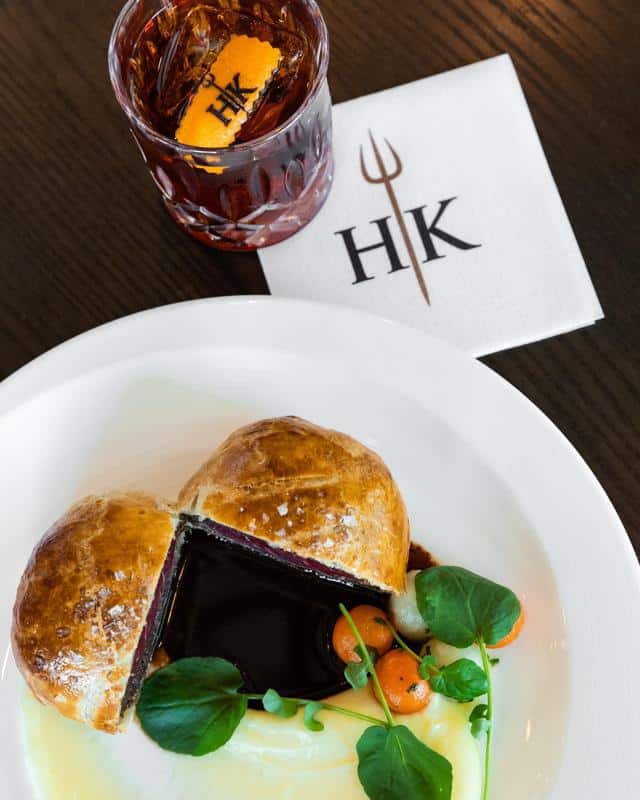 You all probably know who Gordon Ramsay is. This award-winning, international, and multi-Michelin starred chef from the UK has his restaurant at Caesars Palace in Las Vegas.
Visitors can look forward to trying a range of Ramsay's signature dishes including the crusted lamb chop rack and beef wellington.
The restaurant itself is stylish and can seat more than 300 guests. It has red and blue décor details.
There is a contemporary bar, as well as chef's tables and a private dining room that can be booked for special occasions.
Guests like the floor-to-ceiling windows that offer magnificent views of the Strip.
The food menu at Hell's Kitchen By Gordon Ramsay is carefully curated and offers something for everyone. You can go for something from the a la carte menu or get the 3-course lunch prix fixe menu for $66.
Seafood lovers will never want to leave Hell's Kitchen. The lobster risotto is simply divine.
The oysters on the half shell are also worth ordering, as well as the pan-seared scallops. Other signature dishes at Hell's Kitchen By Gordon Ramsay include steak tartare and foie gras.
Mr. Chow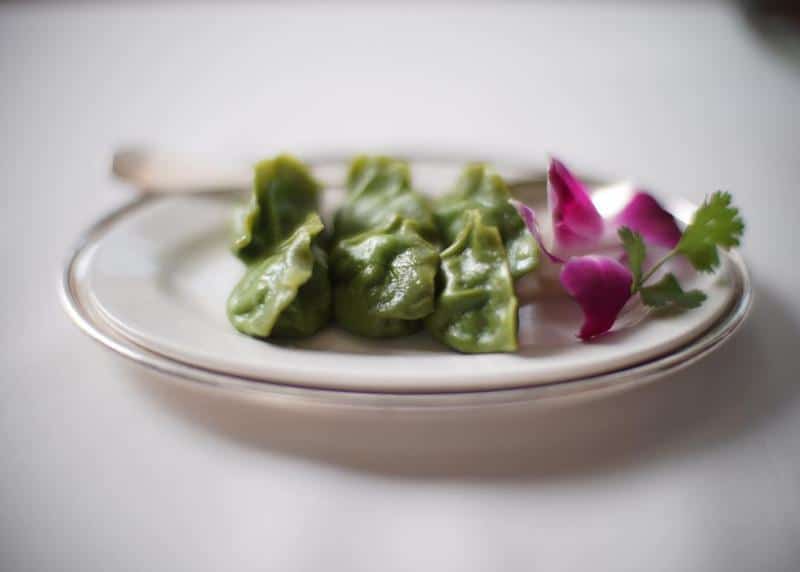 In the mood for some Chinese cuisine while visiting Caesars Palace in Las Vegas? Book a table at Mr. Chow, an elegant 250-seat dining establishment that offers modern Beijing cuisine.
The décor at Mr. Chow is breathtaking. Expect to see the legendary kinetic moon sculpture suspended from a domed ceiling, as well as other one-of-a-kind design elements.
The sculpture is designed in a way that it changes into various shapes every 20 minutes.
So, what's on the menu at Mr. Chow at Caesars Palace? The signature and must-order dish here is the world-famous Beijing Duck.
Some of the other popular dishes on the menu include Mr. Chow noodles, green prawns, and glazed prawns.
Meat lovers will want to try the beautifully presented chicken satay. The good news is that dishes are served family-style at Mr. Chow, which means you'll get to try a few things together with your friends.
The drinks list is spectacular and heavy on champagne. Satisfy your taste buds with a glass of house-made peach foam & Moet & Chandon Champagne, also known as Chow-lini.
We should mention that this upscale Chinese restaurant also has branches in cities like London and Los Angeles.
Bacchanal Buffet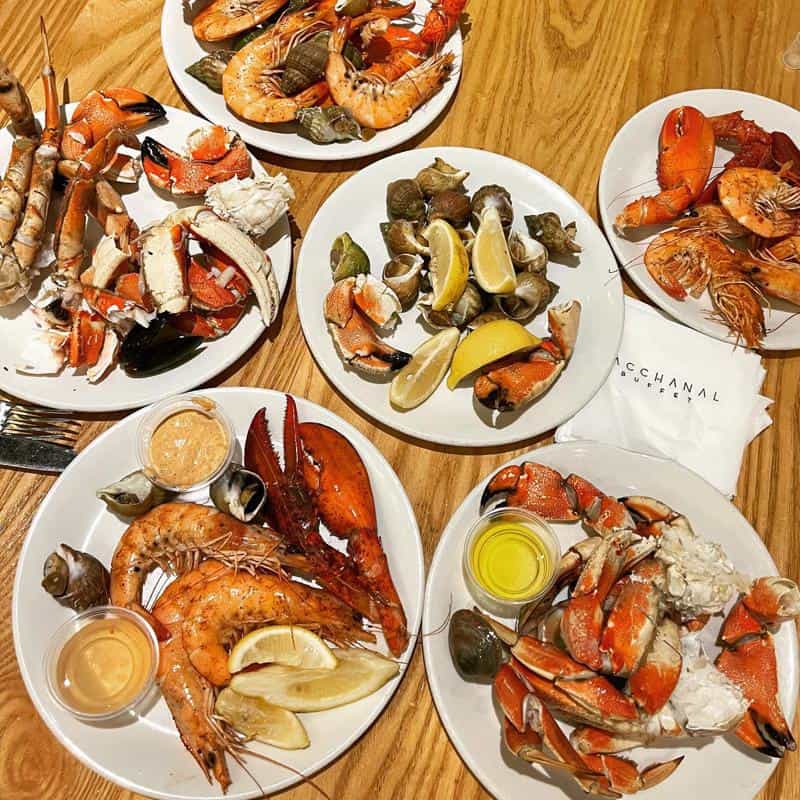 Wish to enjoy one of the finest buffet experiences Las Vegas has to offer? Pay a visit to Bacchanal Buffet, one of the largest buffet dining options in the US!!!
After a 17 million dollar overhaul, this place has it all. The buffet offers more than 500 dishes ranging from American and Italian to Chinese, Japanese, and Mexican.
Whether you are craving udon noodles from the Asian Station or you wish to have a Roman-style pizza, the dining options at Bacchanal are endless. The chipotle bourbon BBQ oysters will melt in your mouth.
Additionally, this world-famous buffet includes vegan and vegetarian cuisines to cater to non-meat lovers.
With options such as red velvet pancakes, cheesecake, and dessert crepes, the dessert station is also spectacular in every way.
Nobu Restaurant And Lounge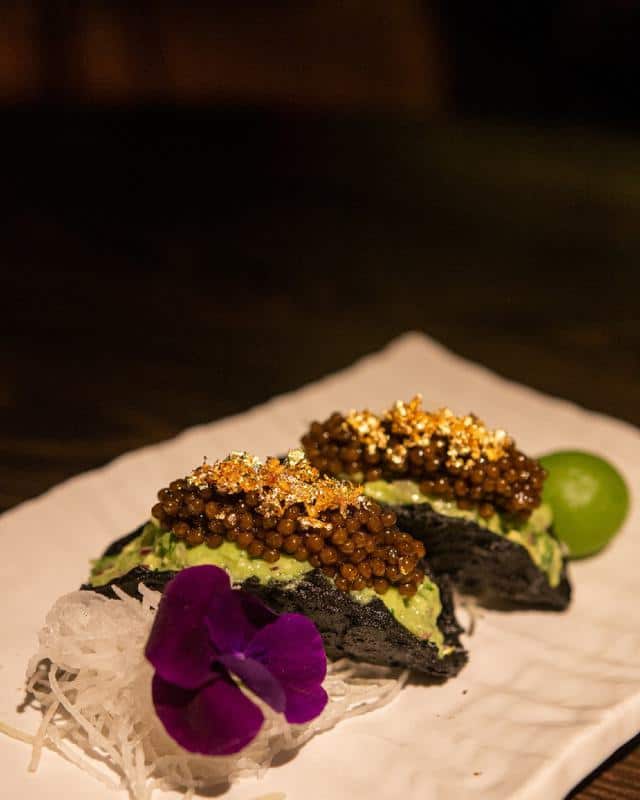 Located at the Nobu luxury Hotel at Caesar's Palace, Nobu offers Japanese cuisine and other exotic Asian dishes prepared in various styles. This award-winning Japanese cuisine dining establishment is open for dinner only.
The food menu at Nobu is extensive and offers appetizers, salads, cold and hot dishes, daily sushi specials, tacos, and several desserts.
The crafted Teppanyaki tasting menu which is served with Nobu's recommended signature sauces exceeds all expectations. Diners can also order a truffle tasting menu.
Try the Miso Black Cod and you won't be disappointed. You can also get the signature lobster wasabi pepper or try the rock shrimp tempura. Yellowtail sashimi that comes with Jalapeno is out of this world!
With a picturesque exhibition kitchen and balloon lighting, the interior is modern. In addition to the main dining room, there are a few private dining areas with teppanyaki tables, an expansive lounge, and a full bar.
Want to hear more good news? Nobu offers an in-room dining menu, which means that you can enjoy their delicious meals right in your bed.
Beijing Noodle No. 9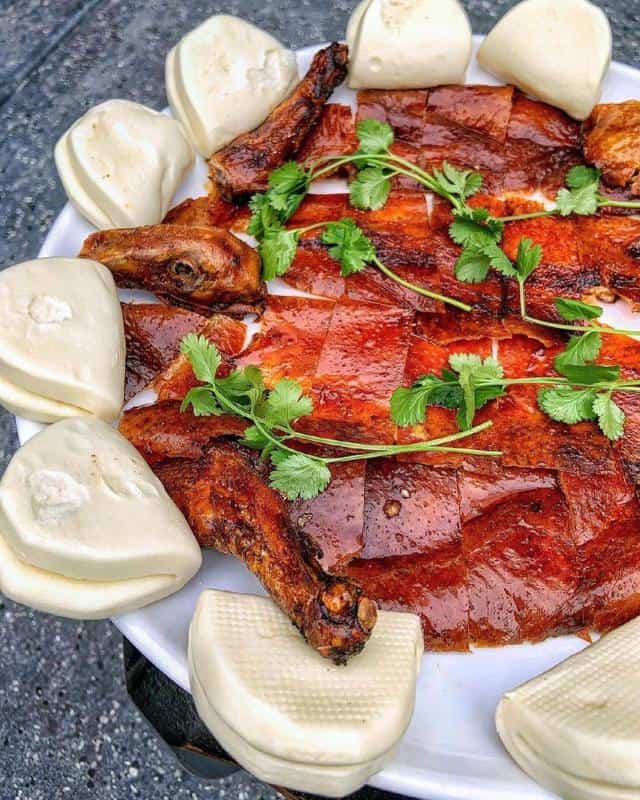 If you are looking for a more casual dining experience at Caesars Palace, make a reservation at Beijing Noodle No. 9. The interior with Giant tanks filled with koi and nearly all-white décor offers a perfect setting for a memorable dining experience in Las Vegas.
The main Chef, Chef Li Yu, is in charge of preparing meals here at Beijing Noodle No. 9. His handmade dumplings are simply steamed to perfection.
The food menu is impressive with plenty of options to choose from. Cure that Sin City hangover with a bowl of Xiao Long Bao soup dumplings.
You can also try the braised pork belly or get the signature Beijing chicken and mushroom noodle. Other popular options on the menu include ox tongue and jellyfish.
Pair your meal with a cup of Thai tea or order one of the Beijing Noodle No. 9 artisan cocktails.
Note: Beijing Noodle 9 is temporarily closed for renovations. An elevated experience is coming soon.
Old Homestead Steakhouse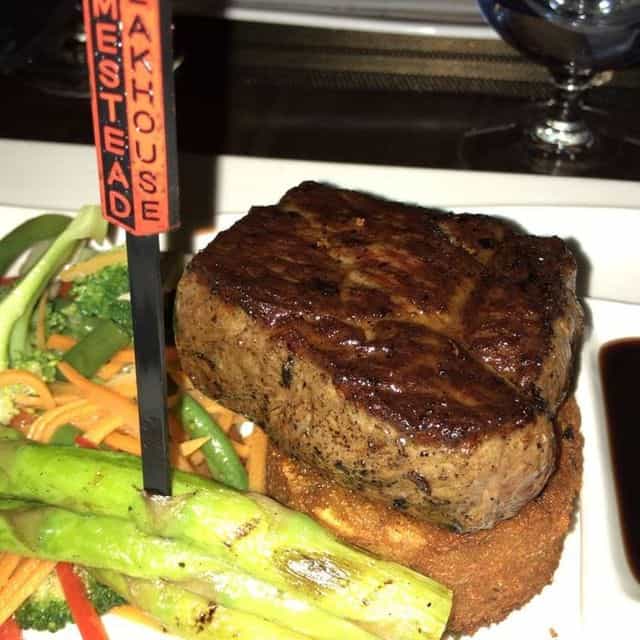 One of the finest US steakhouses, the Old Homestead has one of its locations right here at Caesars Palace. This legendary family-owned steakhouse is run by two brothers, Mark and Greg Sherry.
The restaurant's motto is "We are the King of Beef"! Here, steaks are butchered and dry-aged for at least 30-days and their burger is one of the best in Sin City.
What should I order? The 24-ounce Gotham rib-eye steak served on the bone first comes to mind.
The Colorado rack of lamb is also an excellent choice, as well as the 14-ounce New York strip steak with jumbo shrimp scampi.
In addition to premium meats, Old Homestead Steakhouse also offers a carefully curated seafood menu.
The seafood platter which includes oysters, colossal shrimp, crab legs, and Maine lobster is one of the finest items on the menu. You can also get the crispy calamari or splash out and order the golden Osetra Caviar.
Have a slice of the signature big fat chocolate cake for dessert.
Restaurant Guy Savoy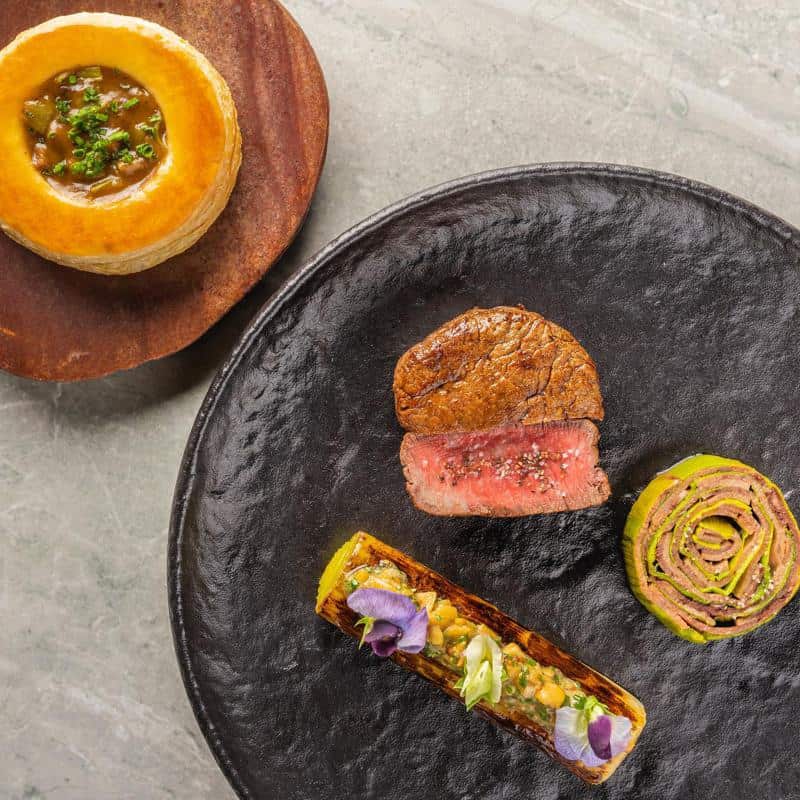 Guy Savoy is a legend and his namesake dining establishment in Paris is one of the most popular food joints in France. This is actually his only restaurant outside of Paris.
If you wish to enjoy upscale French cuisine, you've come to the right place. The famed Michelin-star chef and his mouthwatering dishes promise to be a treat for your taste buds.
What's good to order? The Innovation Menu is the most obvious choice. This menu takes guests on a journey through the chef's classic dishes.
There is also the a la carte food menu with signature dishes like Colors of Caviar, Octopus Terrine, and artichoke and black truffle soup. For dessert, get the fondant au chocolat or terrine de pamplemousse.
For a special occasion, we recommend booking the Krug Chef's Table option. Enjoy a 10-course meal prepared on the spot at this six-seat chef's table with an intimate view of the kitchen.
Gordon Ramsey Pub & Grill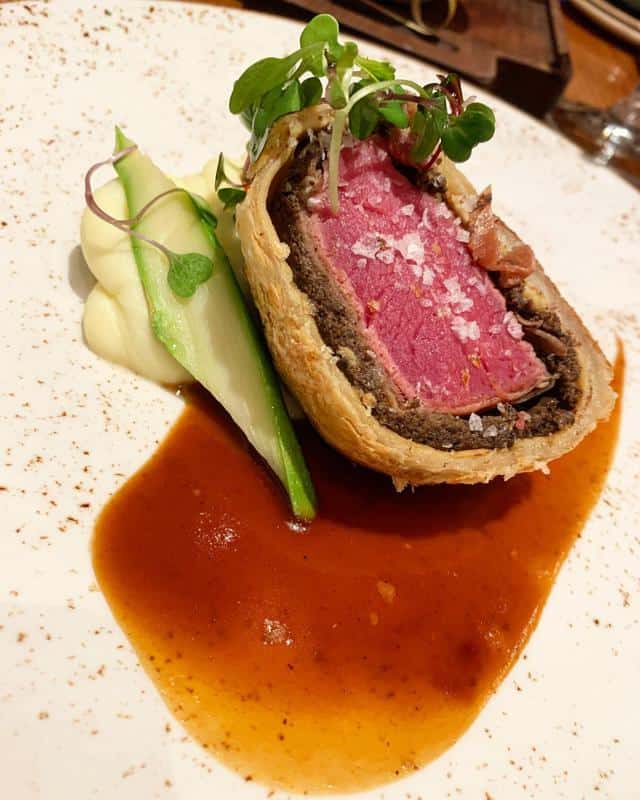 An English Pub right in the heart of the Strip in Vegas, Gordon Ramsey Pub & Grill is one of the best places at Caesars Palace to enjoy beers on tap and authentic British cuisine.
The pub can accommodate up to 300 people. You will find a casual bar that offers 63 bottled beers and nearly 40 beers on tap. Some of the favorites include Boddingtons, Newcastle, Guinness, and Samuel Adams.
It's also a great place to watch sports games!
As for the food menu, it is absolutely brilliant! You will find everything from burgers and fish and chips to English ale onion soup.
The traditional British pub fare at Gordon Ramsey Pub & Grill also includes dishes like sticky toffee pudding, roasted Scottish salmon, and beef wellington.
Pronto by Giada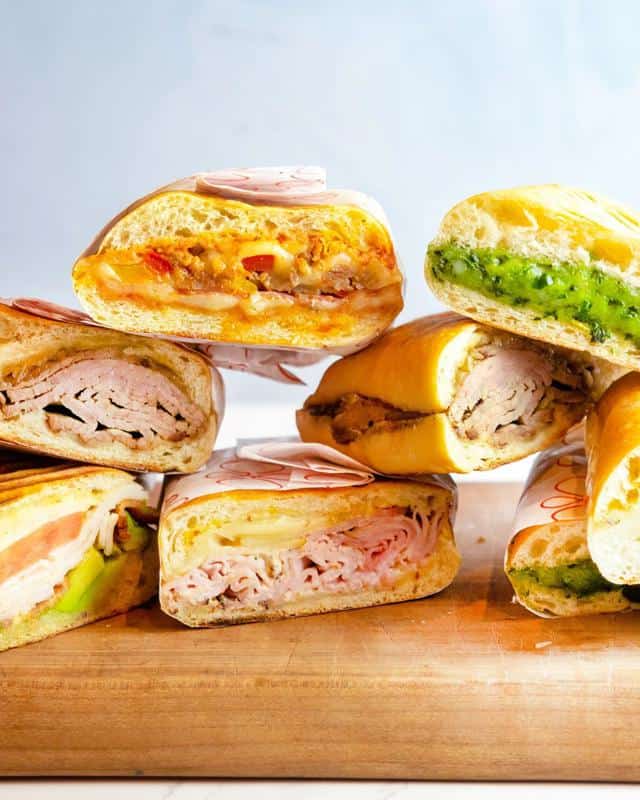 Opened a few years back, Pronto by Giada is one of the newest additions to the dining scene here at Caesars Palace.
Located right across from the popular Bacchanal Buffet, this restaurant and bar offer authentic Italian cuisine with Californian influences.
From homemade pastries to sandwiches and fresh-pressed salads, there is so much to choose from.
The gooey grilled cheese is a real crowd pleaser, as well as the formaggi and salumi platters which are designed to be shared between two people.
The dessert selection at Pronto is excellent. Try the lemon ricotta cookies or go for some fine Italian gelato.
Amalfi by Bobby Flay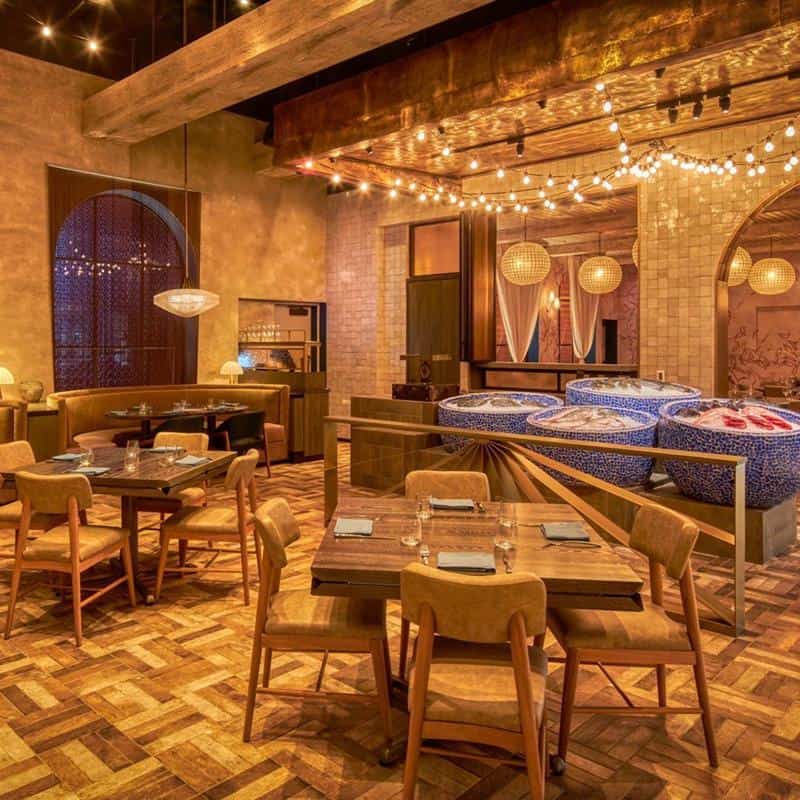 Opened in May of 2021, Amalfi by Bobby Flay is a great place to enjoy Italian cuisine. Bobby's Flay's restaurant at Caesars Palace offers everything from house-made pastas and fish/seafood delicacies to mouthwatering meat dishes.
Guests can start with antipasti options like tuna tartare, fritto misto, or roasted prawns. Pasta dishes are also something worth writing about. Paccheri with rockfish is one of the most popular pasta meals on the menu. Squid ink fettuccine with lobster and shrimp is also worth ordering.
As for the fish menu, there is always something fresh that you can order. Your fish can be roasted al forno or grilled whole over charcoal. The options change daily depending on what's fresh.
Meat dishes include things like rib-eye steak, New York Strip, and filet mignon. For dessert, have a slice of dark chocolate tiramisu.
Café Americano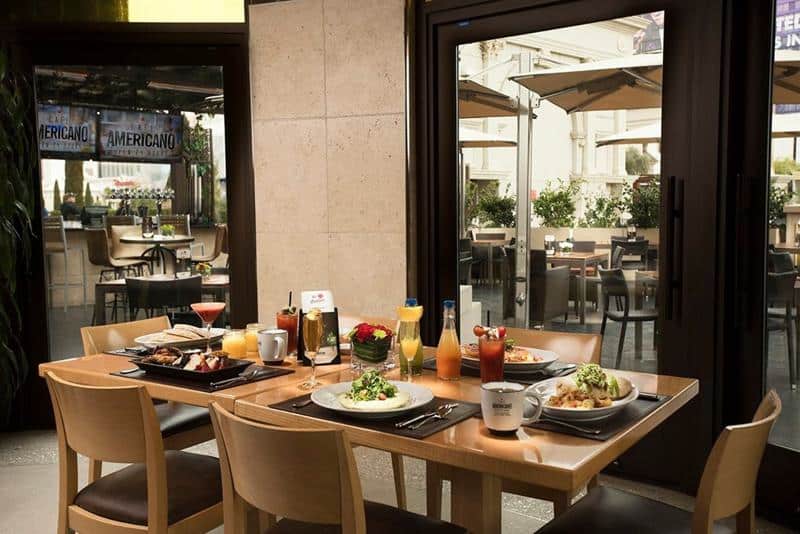 Located in the main lobby area, Café Americano is all about innovative Latin and American meals. This casino coffee shop and restaurant is the only joint at Caesars Palace that works 24/7 every day of the year.
The food menu is quite diverse with appetizer options such as carne asada nachos and bbq shrimp. Many guests visit Café Americano for brunch which typically includes things like jumbo lump crab omelet and buttermilk pancakes.
The pan roasted salmon is cooked to perfection. The burgers are also a big crowd pleaser here at Café Americano.
Ask one of the mixologist to prep you an artisan cocktail. The signature drink at this place is Bloody Marion, a twist on the classic cocktail Bloody Mary. It includes basic, balsamic glaze drizzle, and vodka infused with tomato.
Café Americano has a lovely outdoor terrace which is simply perfect for people watching.
Stanton Social Prime (Open in Winter)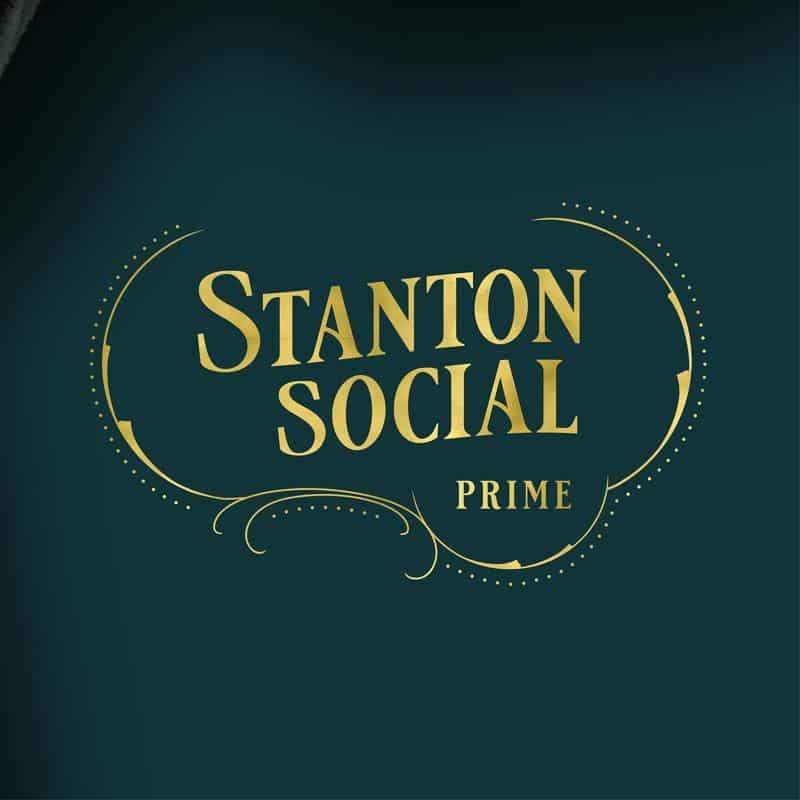 The last on our list of the best restaurants in Caesars Palace is Stanton Social Prime. We should mention that this dining establishment is expected to open in winter 2022.
A spin-off of Chef Chris Santos's New York restaurant, Stanton Social Prime will be adjacent to the popular Omnia Nightclub.
We heard that the menu will feature signature dishes from Chef Chris Santos like goat cheese fondue, Philly cheesesteak truffle, and French onion soup dumplings.
New menu items are also expected at the Las Vegas branch.
Also Read:
Final Thoughts
The truth is that it's quite difficult to run out of dining options at Caesars Palace. With so many different restaurants and bars, this legendary hotel and casino offers something for every hungry traveler.
Whether you wish to enjoy pub grub and reasonably priced beers or you wish to have an upscale dining experience at a posh restaurant, Caesars Palace has got your back!