If you're thinking about visiting Camden, Maine, you will find that this town might just help you experience the best that Maine has to offer. It's got incredible views, and even more incredible food too.
This town is described as the location where the mountain meets the sea, thanks to Mount Battie. With such a close proximity to the ocean, you can taste some of the best, fresh seafood around. They have so much more than seafood to offer.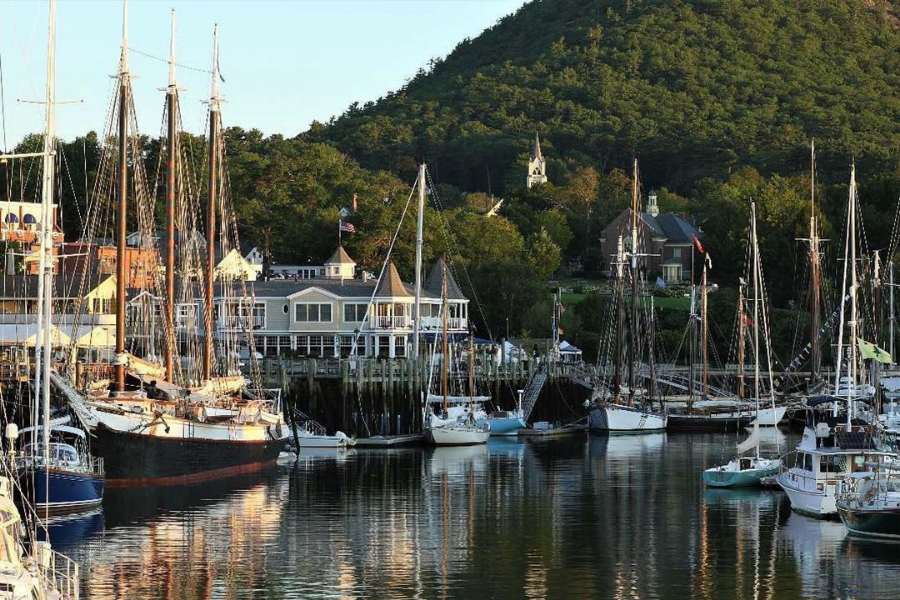 Camden, Maine is known for a gorgeous historic downtown area, amazing restaurants to dine in, a great location for festivals, their waterfront beaches, and the parks to hang out or spend time in.
As far as food is concerned, they've got some really great finds with unique options. You can enjoy the local delights for a nice, small-town feel, or you can head to some of the larger restaurants with all the great vibes.
We've compiled a list of the top 12 best restaurants in the Camden area. Be sure to check the list and plan your stops!
Best Restaurants in Camden Maine
Whether you're just passing through, or you're planning a stay in Maine, there are plenty of food options to choose from. Seafoods, hot dogs, salads, sweet treats, and plenty of other menu items away you.
Check out these top choices we picked out for you.
1. Peter Ott's on the Water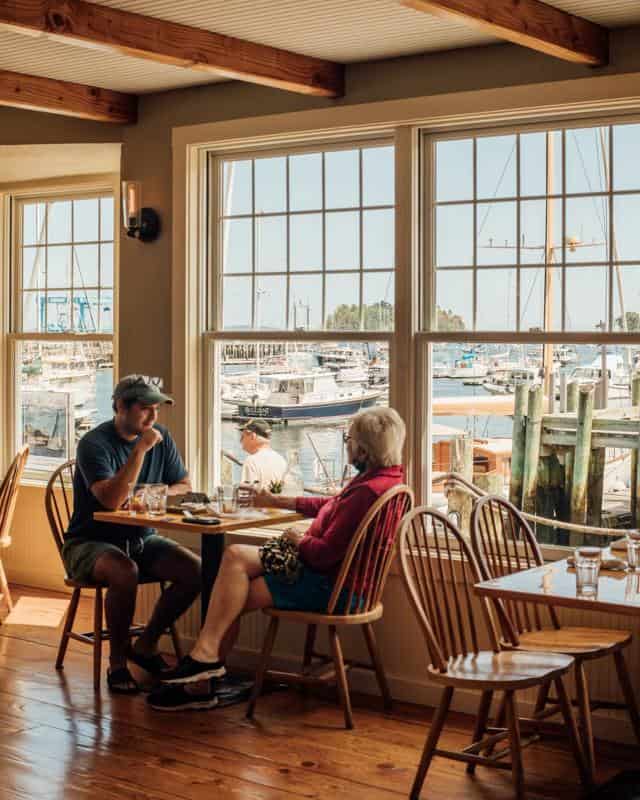 Address: 16 Bay Vw Lndg
Phone: 207-236-4032
Known For: the best water view
Filled with class, tasty foods, and an awesome water view, Peter Ott's on the Water is a must-see location in Camden. They have excellent seafood dishes like clam chowder, fish tacos, and even a lobster quesadilla.
Those are some local favorites, but you will also find options like steak and pasta on the menu as well. This restaurant of choice is owned by a local family that grew up along the coast.
Peter Ott traveled with his father growing up, who was both a chef and food critic for more than 50 years. He saw the value of making quality dishes and making them from scratch.
He brought that theory to his own restaurant in 2006, when this location opened and he took on the role of head chef. It truly is a staple restaurant and one you're not going to want to miss while you're here.
2. Fresh and Co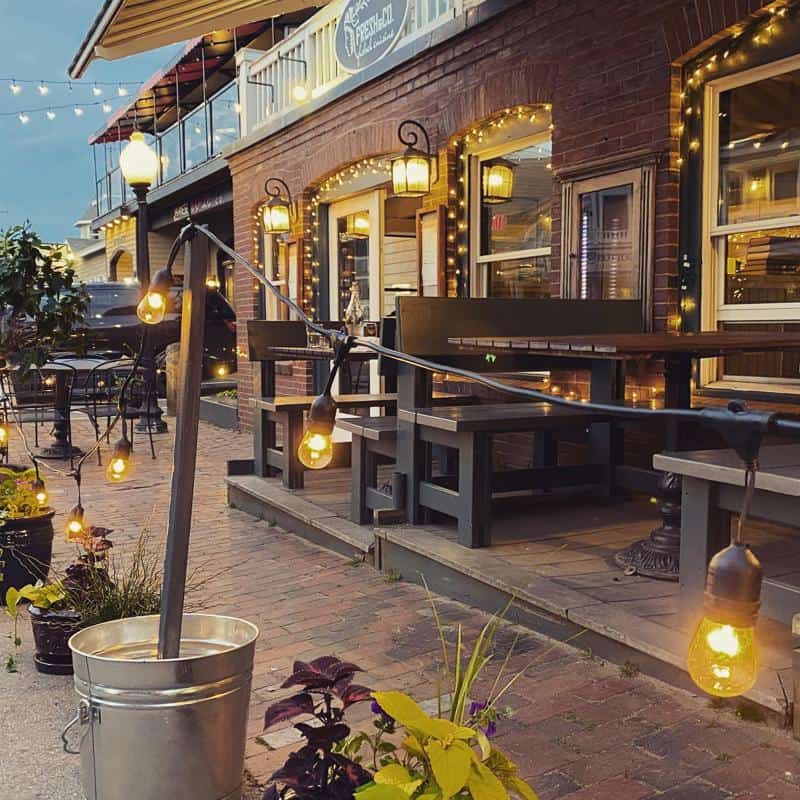 Address: 1 Bay View St
Phone: 207-236-7005
Known For: savory global cuisine
Next up on our stops is Fresh & Co, which is a culinary delight with food from all over the globe to try out. You can find several international options, as well as fresh seafood that is brought in locally.
Fresh&Co is a fine dining establishment, and you certainly will not be disappointed. You can book tables ahead of time. They are only open for dinner meals from Tuesday through Saturday each week, so be sure to plan ahead.
This locally-owned restaurant was run by head chef Steven Steeves until he passed away in 2020. His son-in-law, who was the sous chef, has stepped in to fill the void as chef, and they work hard to carry on Steven's legacy.
The menu has global delights in foods, as well as drinks. It's inspired by travels from their younger years. Try something like the Katsu chicken, lobster ravioli, or even cod nuggets.
They designed their restaurant around sustainability and showcase local artists throughout the restaurant.
3. Wolfpeach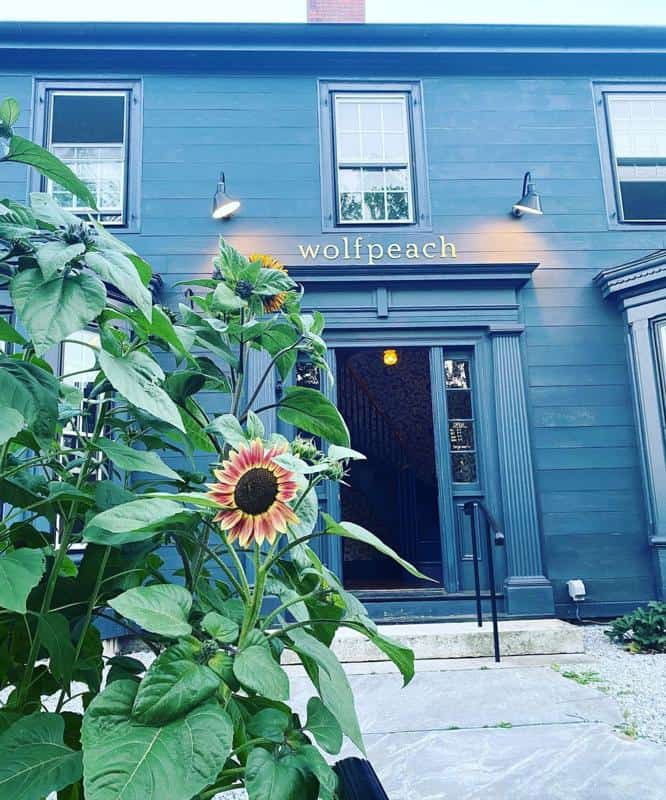 Address: 50 Elm St
Phone: 207-230-8315
Known For: ever-changing menu
If you're looking for something totally unique, Wolfpeach is definitely a great choice. From the street, it almost looks like you're going to be dining in a historic home, but you walk into a very nice setting.
What makes them so unique, you might ask? Ultimately, it's the fact that their menu changes every week, and sometimes even twice a week. The menu is always changing to create amazing dishes using only local ingredients.
This includes fresh meat, produce, and seafood from only local providers. They change the menu to adhere to this standard and keep it specialized. Everyone is welcome and inviting. At this restaurant, they don't accept tips, they provide you amazing service anyway.
You will find most things made from scratch in-house. You might get to order something like squid one week, or mackerel another week. And it's all delicious. Their beverages stick to the local theme too.
4. 40 Paper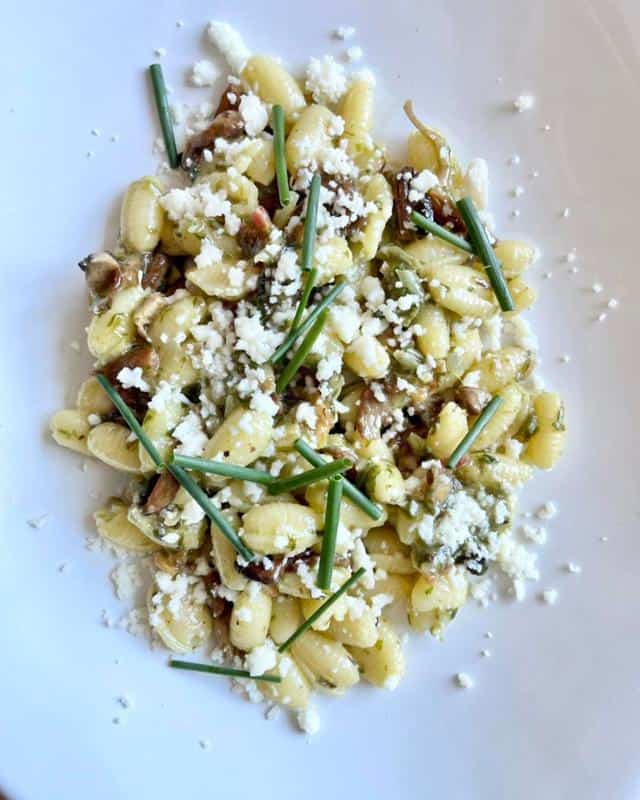 Address: 40 Washington St
Phone: 207-230-0111
Known For: Italian cuisine
40 Paper is not your average Maine restaurant. Where so many of the local restaurants thrive on seafood and mainland cuisine, this one serves you spectacular handmade Italian food. Yum!
This restaurant is style to be modern and cozy, but also warm and welcoming. It has a pretty solid nightlife scene, thanks to their incredible bar setup. You can also enjoy a family meal here just fine.
This tasty restaurant is located in a historic mill in the downtown area, making it even more of an adventure. They are open 6 days a week all year long, but only open for happy hour and dinner time.
While they are known for their Italian cuisine, they offer a variety of dishes that feature Mediterranean, French, and Spanish flavors as well. They do adjust their menu regularly to keep it in tune with seasonal fresh foods.
They work with a lot of local producers in Maine to keep the menu fresh. You will find everything they serve is flavorful and delicious. They also cater to specialized dietary needs.
5. Natalie's Restaurant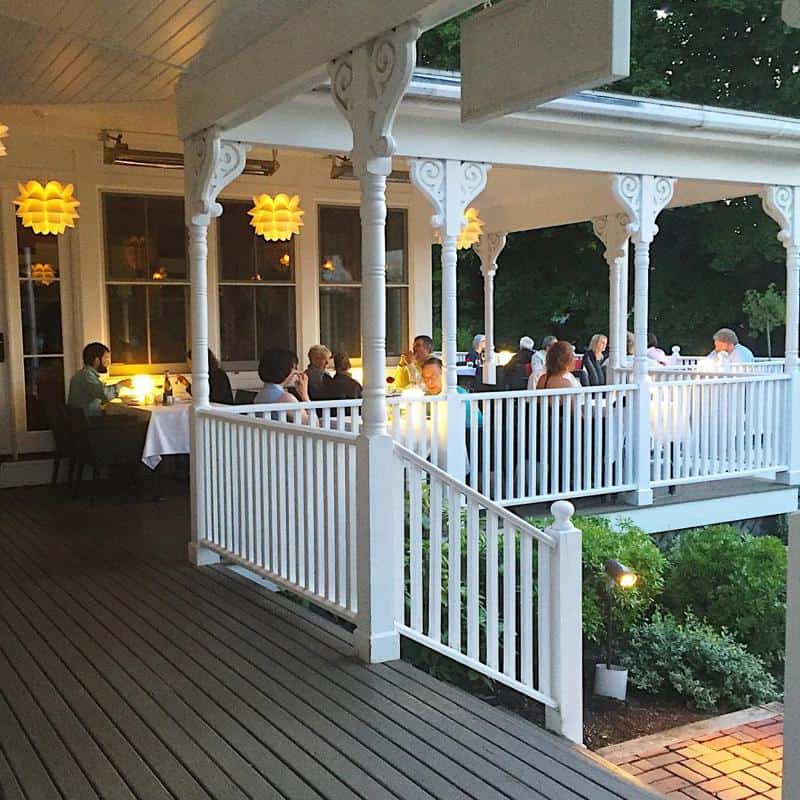 Address: 83 Bay View St
Phone: 207-236-7008
Known For: sophisticated French dining
If you're looking for an excuse to dress up, enjoy a date, night, or simply have a sophisticated dinner, Natalie's Restaurant is the place to do it. This is one classy dining spot, and it's an award-winning restaurant in the heart of Camden.
Just like at many of the other restaurants, they rely on local farms and fishermen for the majority of their ingredients. They bring on a French bistro vibe with delicious meals and a snazzy setup.
Here, it's not even all about the meal, but also about how beautifully the meal is served too. If you really want a stunning experience, try the five course Maine lobster tasting menu. Bring out an adventurous palette, and you won't be disappointed.
You can also enjoy the views, with a restaurant that overlooks the harbor, and resides inside an old inn. They do have a strict policy that seats inn guests firsts, and requires a reservation to be seated.
6. Cuzzy's Restaurant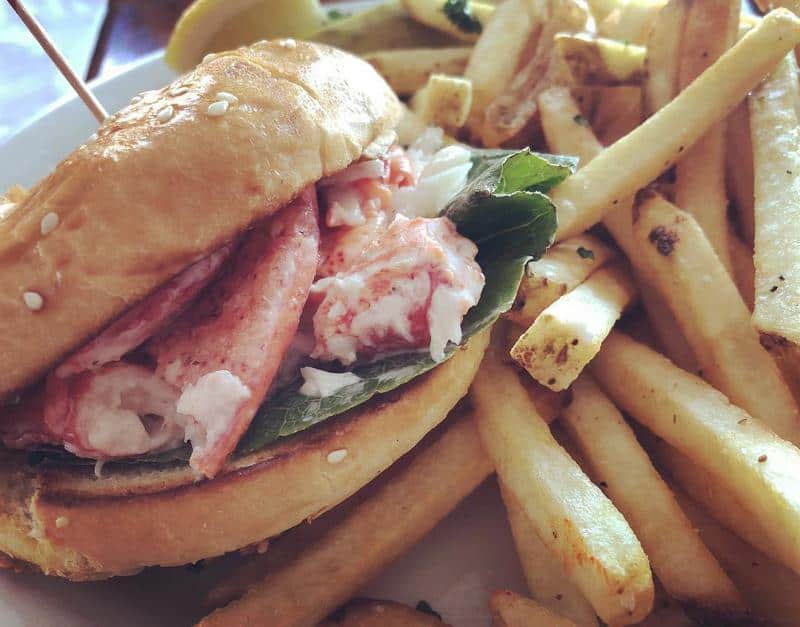 Address: 21 Bay View St
Phone: 207-236-3272
Known For: warm and inviting atmosphere
Cuzzy's Restaurant is a local bar and grill with primarily American food, and plenty of beer choices. They say this is one of the must-stop restaurants because it's so much fun, and the atmosphere is very welcoming.
The restaurant is close to the harbor, so you can go walking around shops and stores before or after you eat. They serve a variety of local and fresh seafood, as well as a host of American favorites too.
The whole family is welcome here, and everyone will likely have a fun time. The upstairs is designed for those who want to hang out at the bar, or gather with friends. It's loaded with ping pong, pool, darts, and more.
As far as the menu goes, you really can't go wrong. Their brick oven pizzas are quite delicious. You also can't go wrong with a burger, onion rings, or tasty wings.
7. Long Grain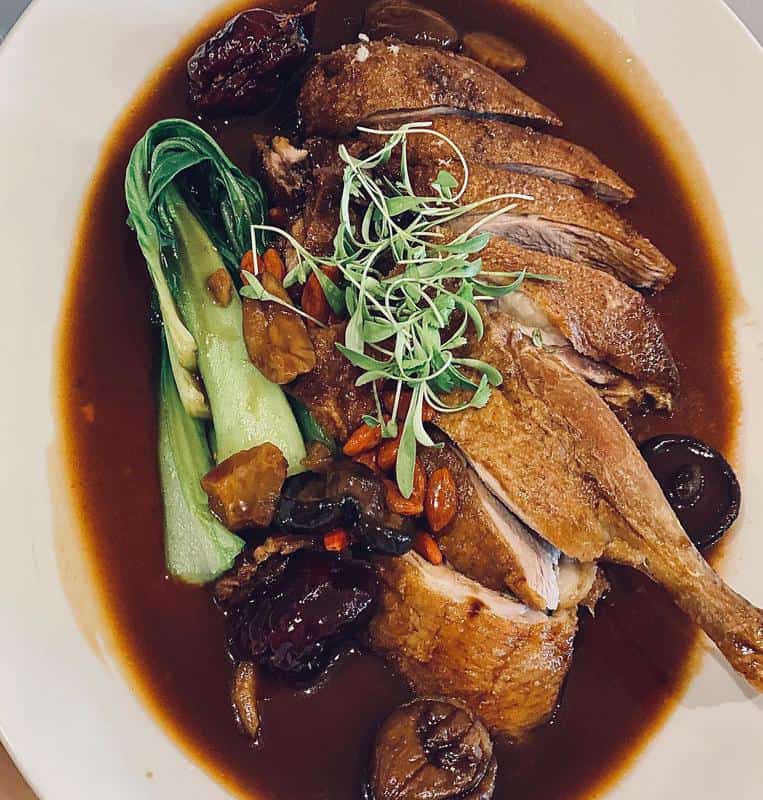 Address: 20 Washington St
Phone: 207-236-9001
Known For: locavore Asian cuisine
There's Asian food, and then there is Long Grain. With a bit of a Thai twist, this restaurant serves what is known as locavore Asian food, and they're very good at it.
The Long Grain uses fresh ingredients, and creates a variety of dishes that will have your mouth watering. The food is all Asian-inspired, but they create it with their own fusion twist.
You can enjoy this sweet spot as a family, or for a cozy date night out as well. They make all of their noodles in-house and make them fresh daily.
What will you find on the menu? Plan on a composition of things from Thai, Indonesia, Japan, and Vietnam. You won't go home hungry, and you certainly won't be disappointed with anything you try.
8. River Ducks Ice Cream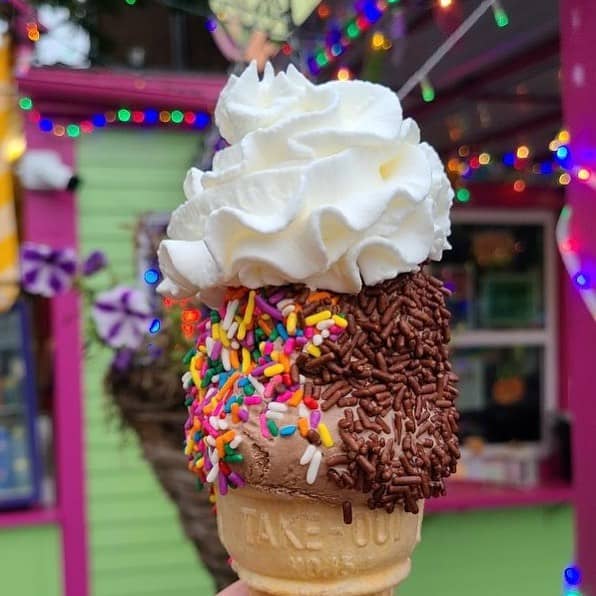 Address: 19 Mechanic St
Phone: 207-322-7129
Known For: filling your sweet tooth
After you fill up on a delicious dinner, you definitely need to head on over to River Ducks Ice Cream. This sweet little ice cream house has so many different options, all made with ice cream or soft serve.
Sure, it's not your traditional restaurant, but it is a must-see food location and you won't regret it! Save this one for your afternoon snack, or replace a meal with ice cream.
This little ice cream shop has plenty of outdoor seating, but you can also get your ice cream to go. They are located right on the river, so you have an outstanding view while you enjoy whatever ice cream you dreamed up.
The thing to be aware of is that this ice cream place is seasonal. Since it is ice cream, and they serve in an outdoor setting, it only makes sense that they are closed through the fall and winter.
9. Camden House of Pizza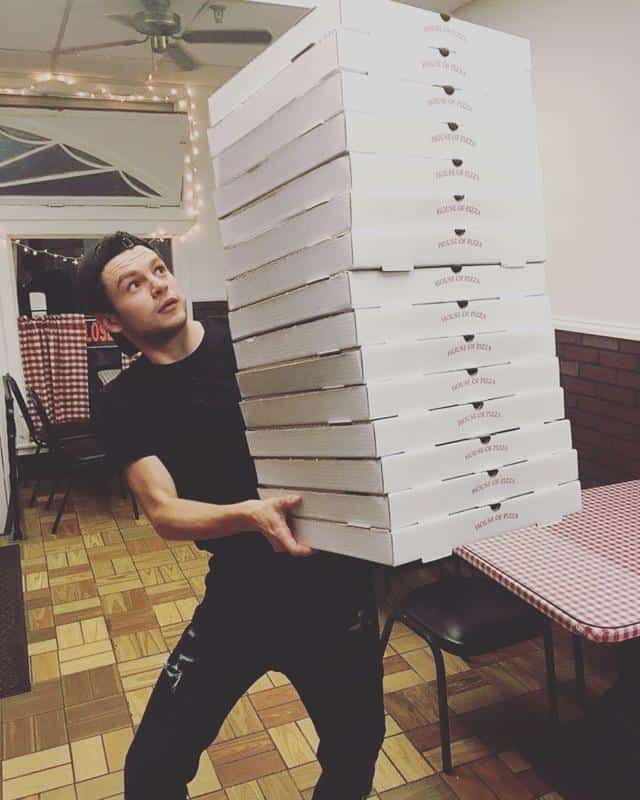 Address: 12 Mechanic St
Phone: 207-230-2464
Known For: the best pizza around
Who doesn't love a good pizza? Well, the Camden House of Pizza brings you exactly that. It's a family-owned pizza shop, and they have the best pizza in this part of Maine.
Did we mention it's not just pizza? Sure, that's their primary dish, but you can also order subs, sandwiches, salads, and more as well. This pizza place has been in business since 1998, so they must be doing something right.
You can build a pizza of your choosing, or choose from some of their delightful builds as well. You can find a variety of Greek dishes (like gyros) also on the menu if pizza isn't your style.
This restaurant was voted Best of the Best of Knox County for pizza. It's a popular, welcoming spot. There's nothing fancy here, just downhome cooking and an inviting crew.
10. The Waterfront Restaurant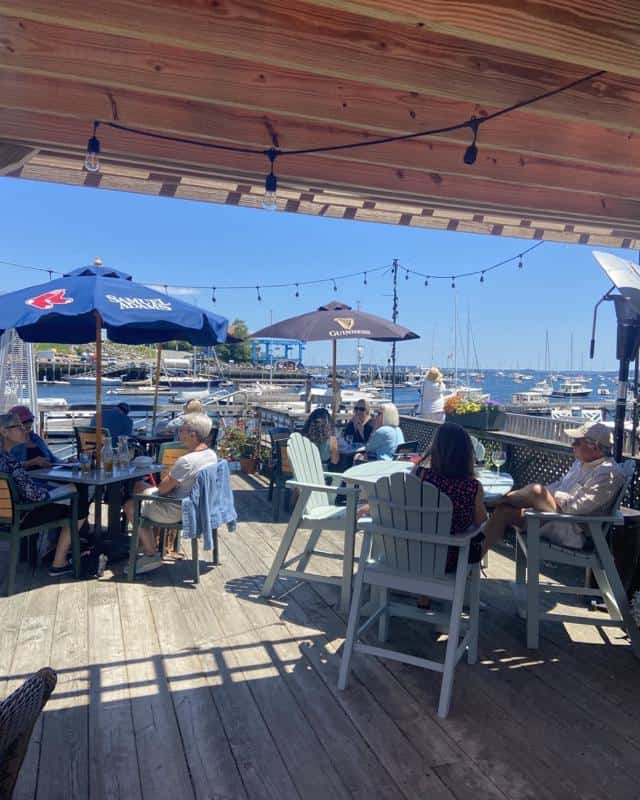 Address: 48 Bay View St
Phone: 207-236-3747
Known For: stunning harbor views
Next up, The Waterfront Restaurant is the perfect location to take in great food, with an even better view. It's right on the waterfront so you enjoy your meal at the harbor, watching the water and the people.
The atmosphere here is friendly and cozy, so feel right at home on a date, out with friends, or even with the family. They source everything from locals, so enjoy a variety of fresh seafood, as well as other great dishes.
This restaurant has been right here on the coast for more than 45 years. When it's warm, you can sit outside on the patio, but they have a spacious dining area too.
Everything is fresh from handmade food items to their locally-sourced ingredients. This means sometimes the menu changes to accommodate what is available locally.
We recommend trying the fried Cajun haddock po-boy for a really great sandwich. You also can't go wrong with fish & chips, local scallops, or a pan seared crab cake. It's all packed with flavor.
11. Marriner's Restaurant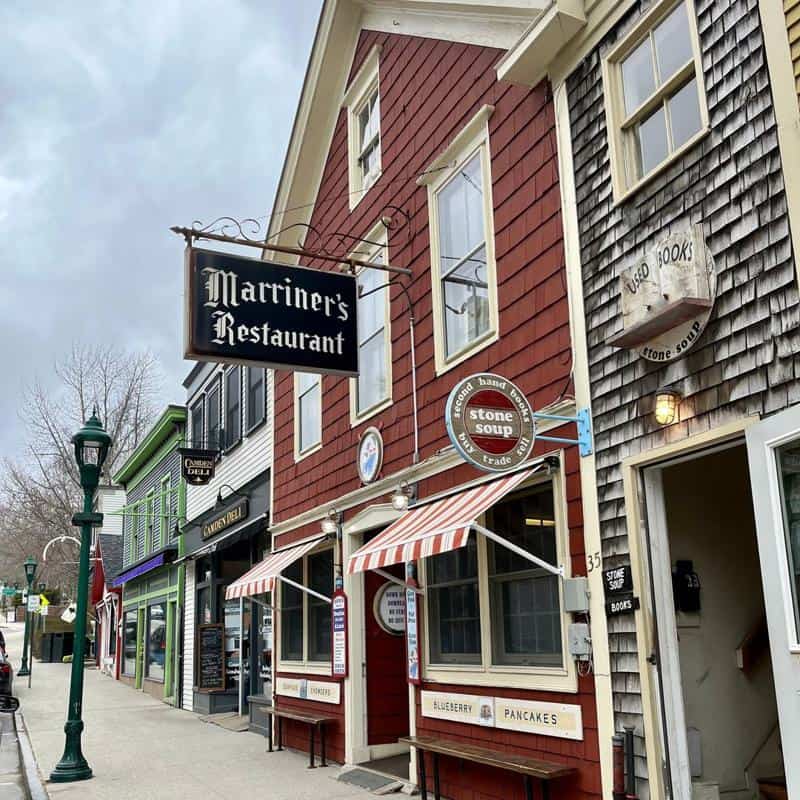 Address: 35 Main St
Phone: 207-236-4949
Known For: the best lunch around
While many restaurants focus on happy hour and dinner, The Marriner's Restaurant in Camden is the exact opposite. It's a great breakfast, brunch, or lunch spot. Their hours range from 6 AM to 2 PM.
This breakfast to lunch spot is said to have the best lunch menu around. It's another restaurant right on the harbor, so you also get excellent morning water views.
Here, they are all about a welcoming, friendly environment. The food is also great. They serve a variety of seafood and American food from breakfast to lunch, so choose whatever sounds good to you.
12. Franny's Bistro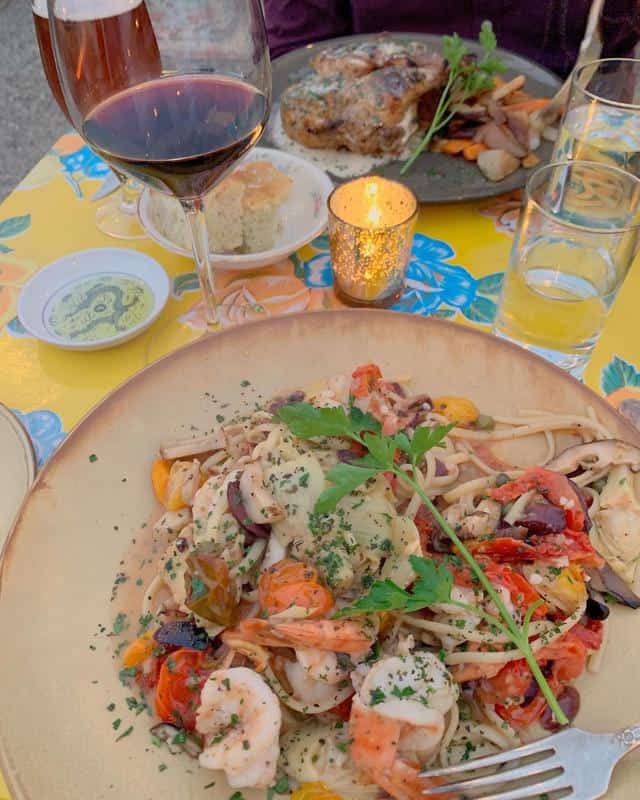 Address: 55 Chestnut St
Phone: 207-230-8199
Known For: cozy, intimate dining
Franny's Bistro is the perfect spot for a quiet, intimate meal. It can be romantic or laid back, but it's bound to be relaxing and tasteful as well.
They do require reservations here, as the seating is fairly limited. Be sure to plan and prepare to ensure you get a table. Once you get in, you will find it's absolutely worth it to make that reservation.
Franny's is set inside a small cottage building. You'll find sweet flowers all around, and twinkling lights surrounding the restaurant. Tables get lights and candles too. Everything is cozy.
You will find plenty of Southern home cooking foods, as well as a variety of seafood dishes to choose from.
Read More:
Final Thoughts
Many of the restaurants in Camden are stashed into old Victorian homes and inns, or placed in warm and welcoming cottages. There's just something about the authenticity of this location that makes it a fun and welcoming experience.
From seafood to American fare, and even some Asian-inspired cuisine, there are plenty of hot spots to choose from. Select a date night location, stunning harbor views, or a family-friendly pizza joint for your next meal.
What will you try first?