The Las Vegas Strip is the ultimate destination for sightseeing, partying, luxury stays, and incredible food. There are so many choices that it's tough to find the right spot. One of the most fabulous resorts in Vegas is Mandalay Bay Resort & Casino.
It's a luxurious destination resort with lots of entertainment and dining options. We've done the research to help get you started and are ready to present you with a list of the best restaurants in Mandalay Bay, Las Vegas.
Best Restaurants in Mandalay Bay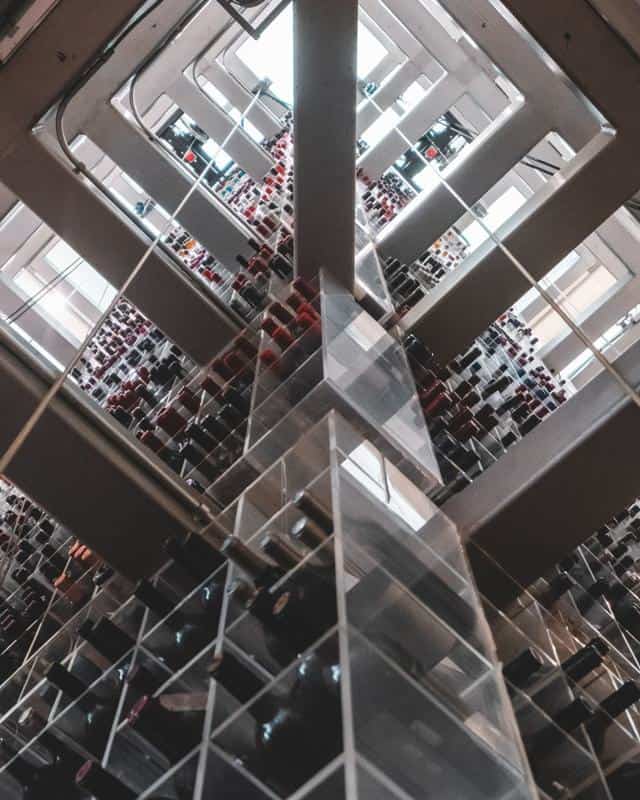 Aureole is a restaurant with progressive American cuisine that will make your Las Vegas outing unforgettable.
Aureole is a paradise for a wine enthusiast, with professional sommeliers offering incredible pairings to enhance the all-inclusive menu.
In this Michelin-star-rated restaurant, you'll see a four-story wine wall offering about 10,000 wines from various parts of the world.
Enjoy a spectacular sight of the wine angels moving along the wires on the 42-foot wine wall to get your perfect bottle. According to Wine Enthusiast, Aureole is one of America's Top 100 Wine Restaurants.
Award-winning Chef Charlie Palmer and Executive Chef Anthony Taormin are running Aureole. Exceptional items on the menu might be a bit pricey, but the experience is well worth the money. Everything's from fresh-off-the-farm ingredients.
Leave space for dessert crafted by their Executive Pastry Chef, Megan Romano.
Aureole is an architectural delight designed by Adam Tihany. The main dining room features dark wood and red and blue accents. The second dining room, the Swant Court, defines elegance. There's an outdoor pond where you can watch the swans while enjoying your food.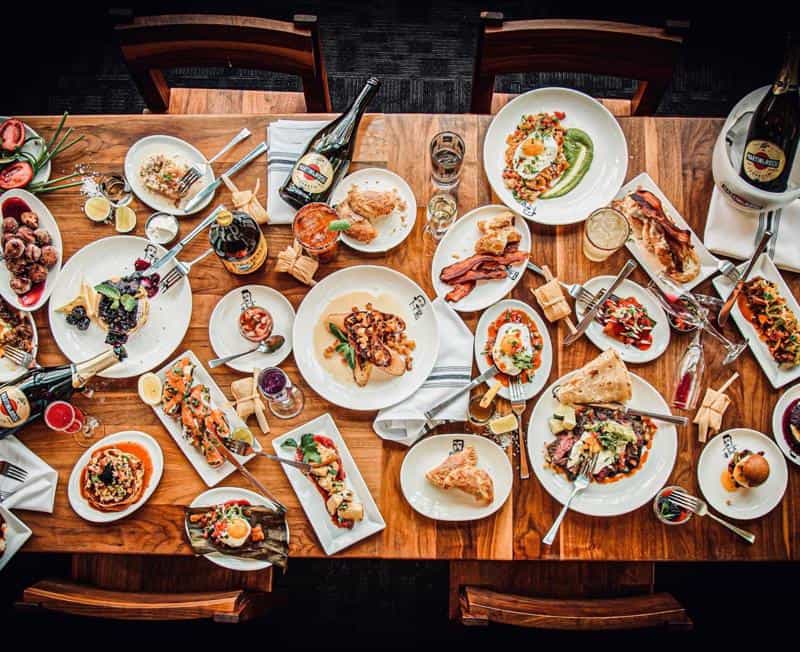 Border Grill, located near the Shark Reef, is a cantina with a modern take on Mexican cuisine. Run by Mary Sue Milliken and Susan Feniger, the restaurant is off the beaten path.
The restaurant offers two floors of al fresco patio dining. There's also an outdoor bar where you can get a delicious michelada while enjoying the Lazy River near Mandalay Beach.
Border Grill offers an exclusive Border Brunch with mouth-watering food and bottomless drinks. You can savor mimosas, micheladas, and bloody marys.
Make sure to make a reservation as this place is quite popular with both tourists and locals.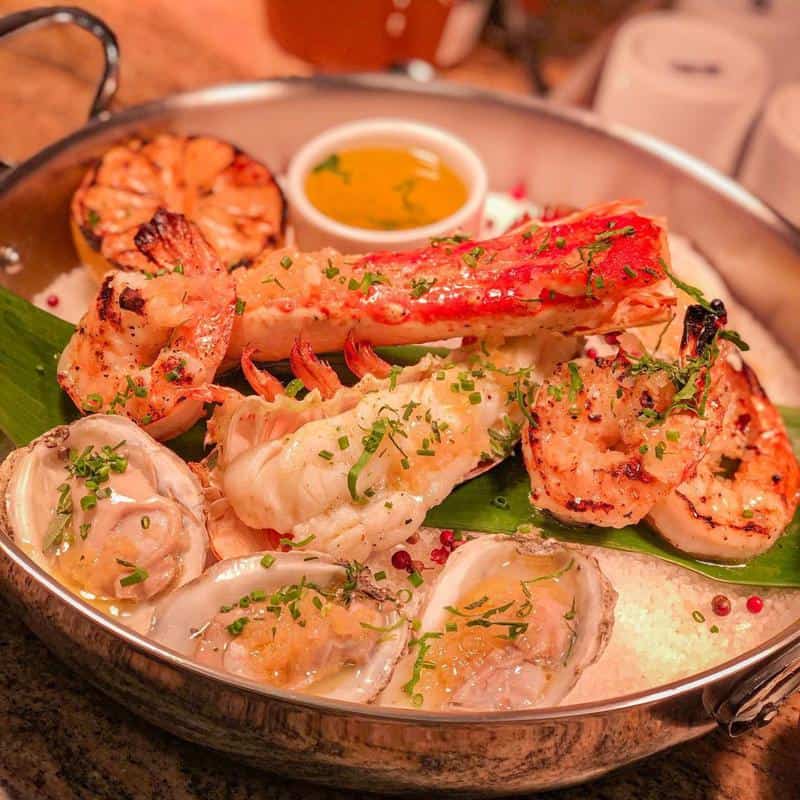 One of the most incredible places on the Strip is the Fleur, created and run by the famous Hubert Keller. This french bistro, inspired by the Chef's travels, is one of the top 25 restaurants in the U.S.
Fleur underwent a complete redesign and is now the proud owner of many prestigious awards, including the Dining Hall of Fame.
The most notable part about Fleur is that its cuisine is season-driven and regional. They only use fresh ingredients to present you with the best options.
Since it's always best to try the signatures, opt for a grilled octopus, crispy calamari, or an exceptional beef tartare. If you have any dietary restrictions, Fleur's caring staff will tell you about their vegan dishes, dairy, and gluten-free meals.
Include some satisfying drinks such as Fleur's impressive cocktails, or visit a build-your-own Bloody Mary Bar.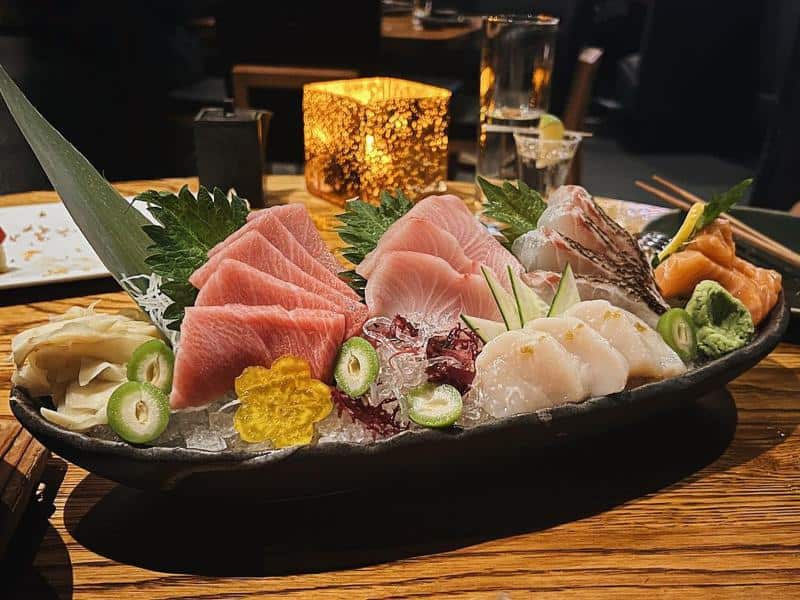 Are you into modern Japanese cuisine? Then, Kumi Japanese Restaurant and Bar is an ideal place to satisfy you.
Thanks to the East-Asian ingredients in the meals, you'll get some of the best Korean overtones. All ingredients are fresh and come from sustainable resources.
Run by Chef Akira Back, Kumi offers the best seasonal fish selections. Don't hesitate to try their Kombu Steamed Chilean Sea Bass or the Wagyu Ribeye.
You can also take the classics, such as their spicy miso soup or sushi. Kumi has a designated sushi bar where you can watch skilled chefs prepare it for you on the spot.
Regarding drinks, Kumi has a specialty cocktail menu created by their mixologist. Take your time to choose the best wines, prime sake, or Japanese whiskeys. One of their specialties is a green tea matcha drink with gin.
The interior is very intimate despite the restaurant being quite spacious. You'll find some natural wood accents and the traditional cherry blossom tones.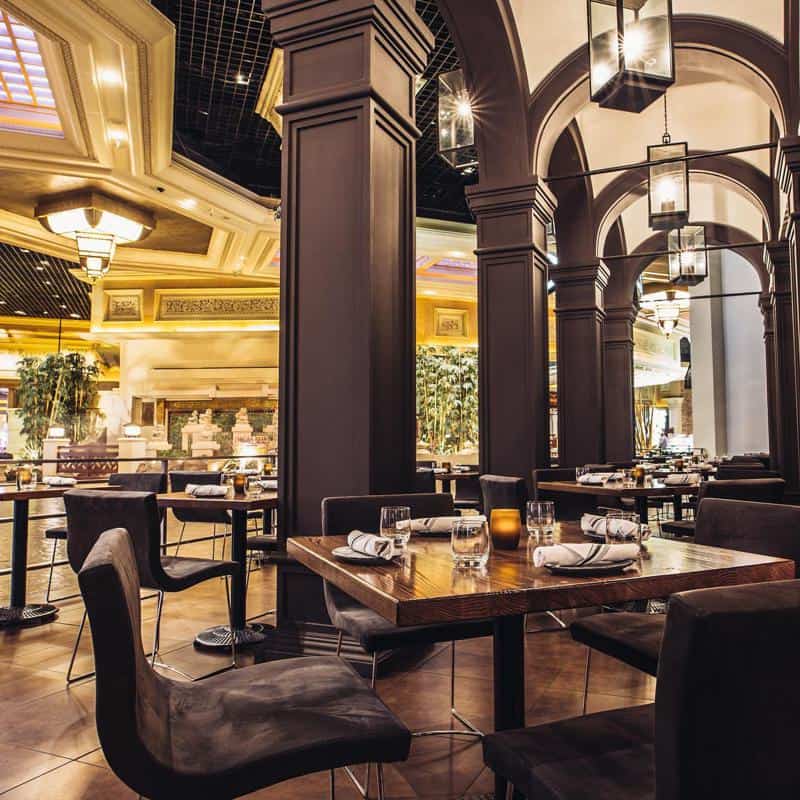 Trattoria del Lupo is one of the best Italian restaurants in Las Vegas. It's worth a visit at least because of its renowned Michelin-star Chef. He has also received the Lifetime Achievement Award and the James Beard Restaurant of the Year Award.
This restaurant is the Chef's first Italian restaurant, and all the dishes come from the inspirations found in Rome. They offer tableside service so you can watch your food prepared right before you.
A drink from Lupo's bar will be an exclusive addition to your fantastic experience. You'll find an immense bar in the center of the restaurant with a glass-enclosed wine room.
The most important part is, of course, the food. Start with the classic Italian meat and cheese boards and an incredible Rosemary Focaccia. Then continue with some tasty pasta, like Cheese Ravioli or Pappardelle Bolognese, or opt for some heavenly Tuscan potatoes.
Finish your meal with a fine drink and an enticing dessert. One of Lupo's signature sweets is Zeppole. These are small donuts served warm with a berry coulis.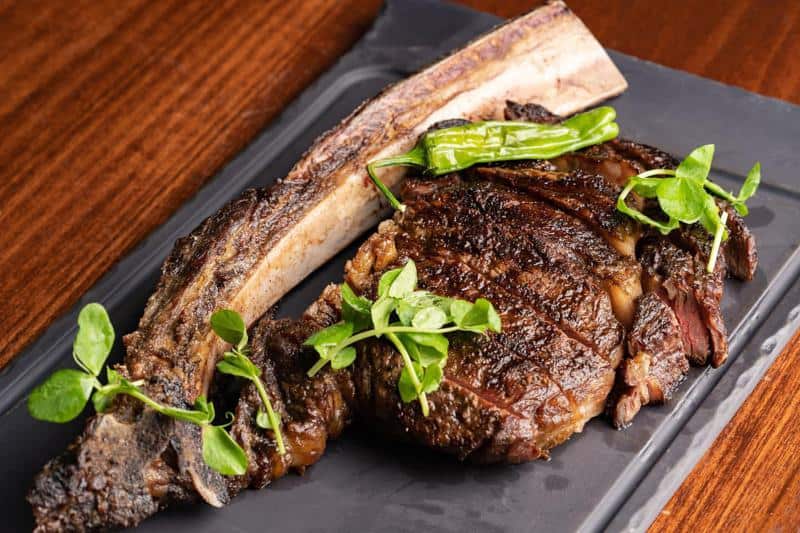 Would you like to try the best steak in the U.S.? You can do that in Stripsteak in Mandalay Bay. Esquire Magazine rated their steak the best in America, so visit them to see for yourself.
With a Japanese imprint and Asian atmosphere, Stripsteak, run by Chef Michael Mina, is popular with both tourists and locals. You might not get exceptional views, but you'll be too busy enjoying your meal to notice.
The cooks prepare all meals on a wood-burning grill, giving the dishes a distinctive smoky taste. You can choose from signature cuts of the best meat and some of the freshest seafood.
They offer tableside service for an ultimate encounter and the most knowledgeable sommeliers on hand. Don't forget to try their vast selection of scotch, whiskey, or bourbon.
There's also a handcrafted cocktail menu for those who are into high-quality mixed drinks. One of their signatures is the Bee's Knees cocktail, so don't hesitate to try it.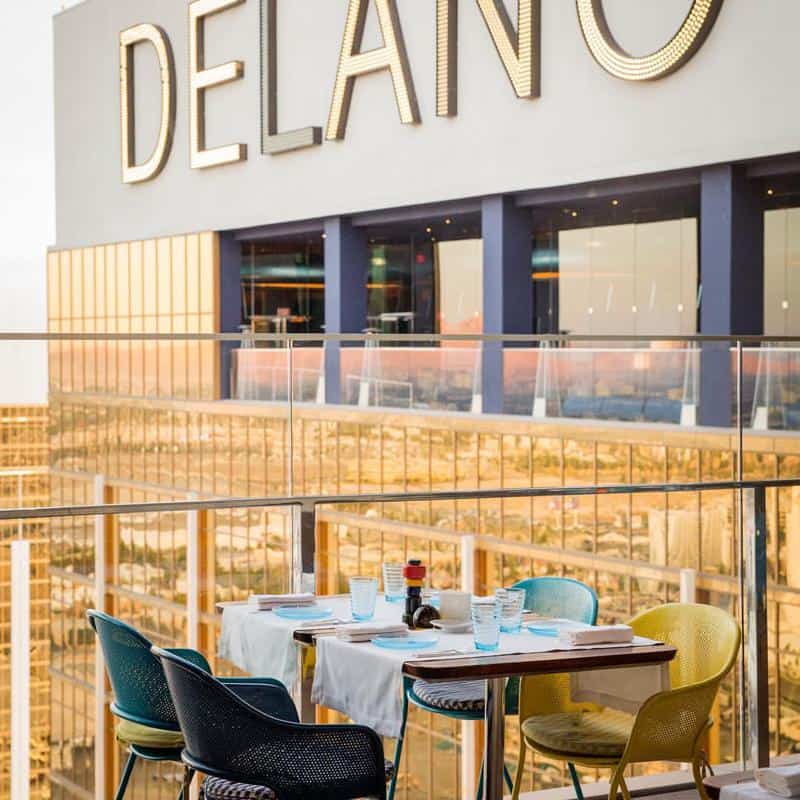 Many people come to Rivea to see the stunning views of the Strip and the mountains lying on the horizon. It has a separate entrance, and you can get there with an impressive glass elevator ride to the 64th floor.
Rivea, run by a prominent Chef Alain Ducasse, certainly attracts visitors with its unique French flair.
You will also be in awe of the place's design, carefully and creatively done by Patrick Jouin. A 15,000-piece chandelier that looks like a Champagne bubble is just one of the impressive design examples.
Enjoy delicious dinner, drinks, and the 180-degree views of the Green Valley below. Don't forget to try their desserts, especially their signature Mix Candy Bar.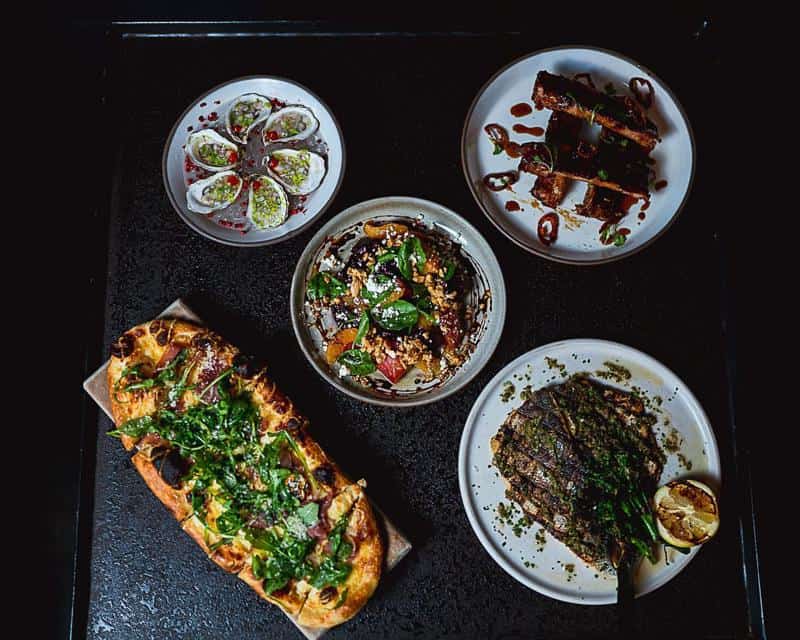 Libertine Social is a next-generation gastropub for those who appreciate the new American cuisine. The restaurant is a creation of an award-winning Chef, Shawn McClain.
Rated as the best gastropub for Instagram pictures, Libertine Social has a simple yet remarkable design by interior designer Alessandro Munge.
There you'll find odd memorabilia, neon signs, and a fantastic mural by Alexis Diaz, a Puerto Rican artist. The restaurant has two dining areas, a cozy patio, and an Arcade bar which also serves as a room for private events.
The food in Libertine Social is divine yet not too pricey for Vegas. Make sure to taste their signature caviar fried egg, blue cheese fondue, or Petaluma chicken presented in two ways on one plate.
The restaurant's cocktail list is an artwork by mixologist Tony Abou-Ganim. Libertine Social has the "Best U.S. Hotel Bar" title.
They offer 14 beer taps and a "to-go" window for lunch.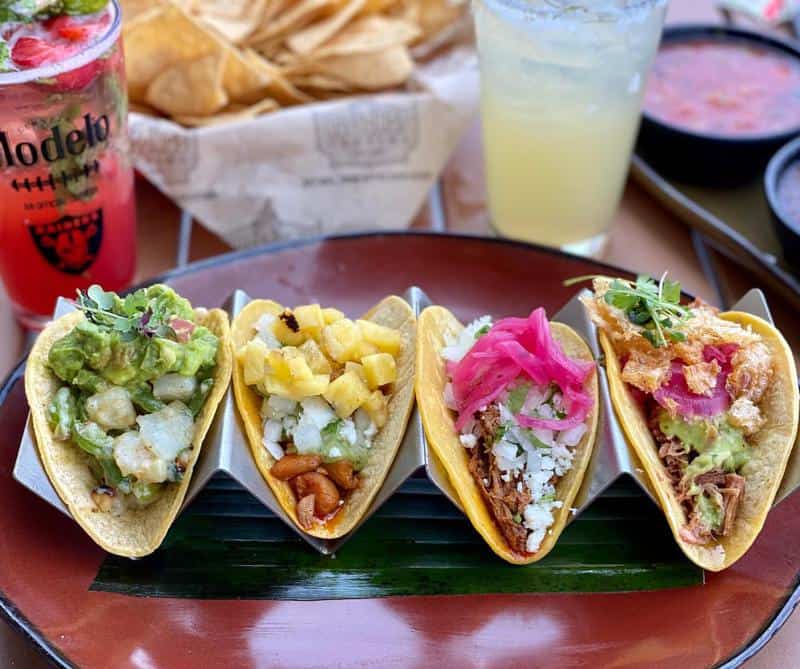 Hussong's Cantina is a prime destination for the fans of Mexican food. Fortunately located at The Shoppes at Mandalay Place, this place is the perfect choice for either lunch or dinner.
The first franchise of Hussong's Cantina opened in 1892 in Baja and has been the Chef's source of inspiration ever since.
If you decide to have lunch there, enjoy the Happy Hour, which starts at 3 PM and ends at 6 PM. You'll find all Mexican classics there: burritos, tacos, quesadillas, or fajitas.
Featuring authentic Baja cuisine, the restaurant offers such signatures as Hussong's Chile Relleno, Huarache, or the Original Margarita, strong as it should be. Vegetarians and vegans can enjoy their entire vegan menu full of exquisite choices.
Another enticing option is their Silver & Black Burrito, a 3-lbs (1.3 kg) dish. Feel free to choose tasty classics like tacos, enchiladas, and chimichangas. They also make their salsa in-house.
When in Hussong's Cantina, prepare for large portions of incredible food and an enjoyable live Mariachi band.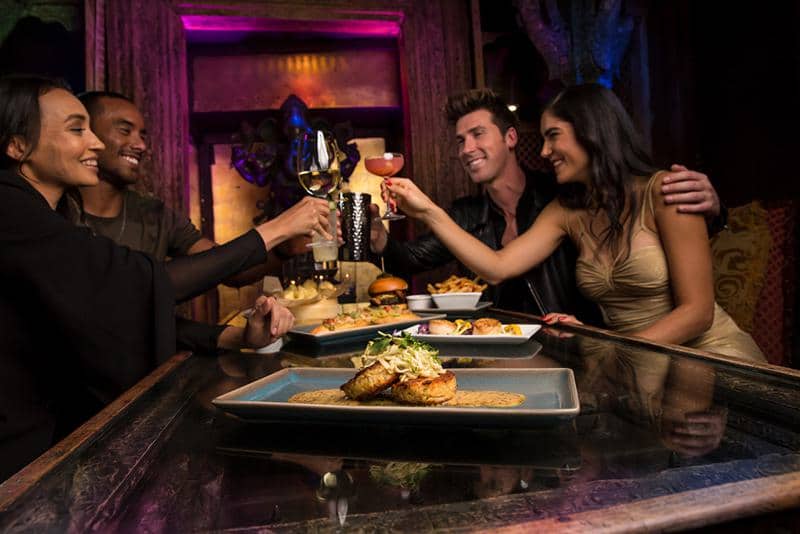 Located on the 63rd floor of the hotel, Foundation Room is an ideal spot for a fabulous night out or celebration. It combines a bar and a restaurant with a patio offering extraordinary views of the Strip.
The Foundation Room was an exclusive venue, allowing entrance to members only. In the summer of 2021, the site opened to the public. Yet, they still have rooms suited for the members and no one else.
The place has a European style with elements of Asia and India. With its vintage decor, carved wood walls, and velvet ropes, the Foundation Room is a distinguished entertainment venue.
It is the site of contrasts. The restaurant offers classic comfort foods like Mac'n'Cheese, but also elaborate drinks like the Good Karma Margarita.
But the most noticeable thing is the music. You can expect first-class DJs, guest performers, and after-party guests from the House of Blues.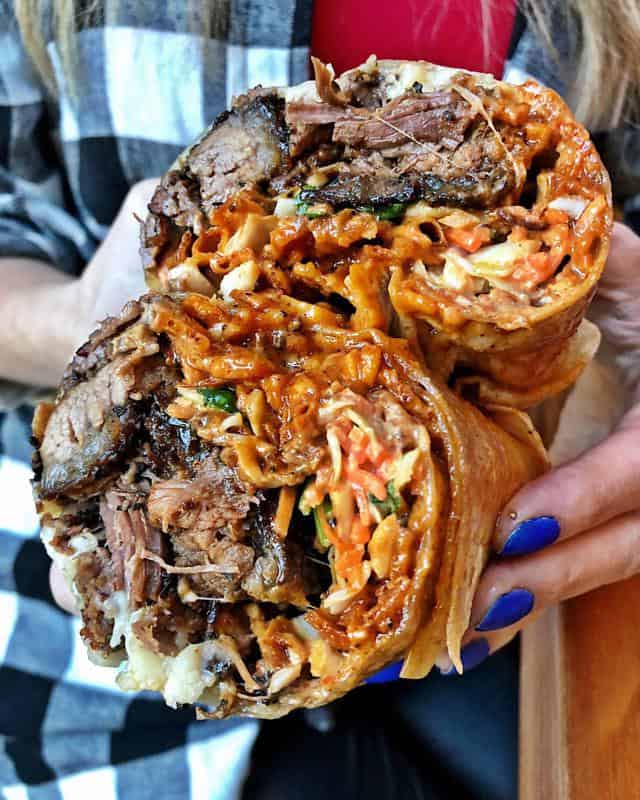 BBQ Mexicana is a quick-service spot featuring a limited but high-quality menu. The Chefs behind this concept are Mary Sue Milliken and Susan Feniger.
The restaurant is inside the Allegiant Stadium, not far from the Convention Center. This place is primarily an option for lunch as it's open from 11 AM to 4 PM. Yet, they do offer breakfast burritos.
While crafting the menu, the Chefs included dishes inspired by their travels to Mexico. That's why you'll find delicious mesquite-smoked meats such as chicken, pulled pork, brisket, and tofu.
Other than smoked tofu, there are plenty of savory vegan choices. All dishes are from seasonal and locally grown ingredients, and the Chefs use exclusively organic meats, rice, and beans.
For a drink, grab a beer, a margarita, or some Aguas Frescas to go.
Are you looking for a perfect burger on the Strip? The Burger Bar is there for you, conveniently located at the Shoppes at Mandalay Place.
Hubert Keller, an incredible Chef trained by some of France's top Chefs, used to run Burger Bar. But, the restaurant closed in January 2021, only to be renewed and taken over by Andi Jubani.
The carefully curated menu is the work of Executive Chef Luciano Pellegrini. All items are simple but sophisticated and genuinely delicious.
Once you're in the Burger Bar, opt for one of their specialties – the Country Natural or the American Kobe Beef burgers. Order a few signature craft beers, which will perfectly go with your food.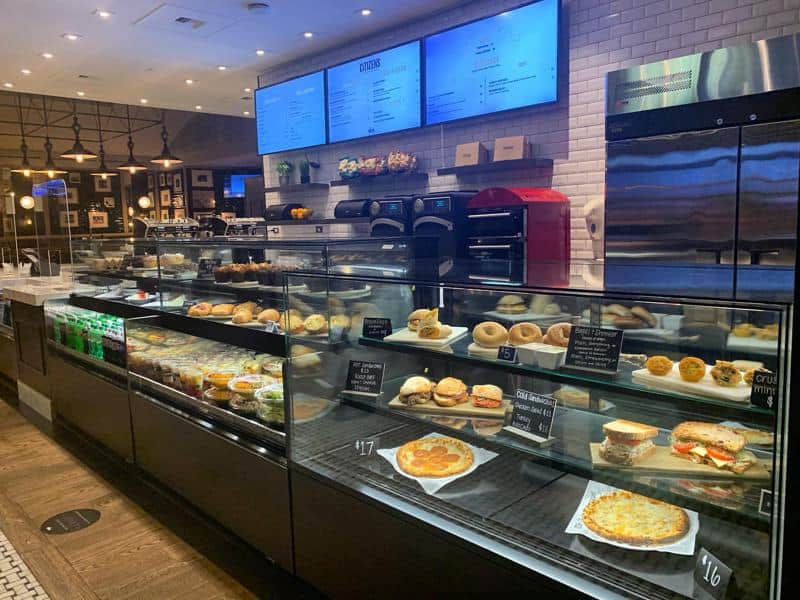 There's no better place than Citizens Kitchen & Bar to get classic American comfort food. Whether you'd like a hearty breakfast, a casual dinner, or a terrific takeout, this place is the one.
In the morning, the Citizens Kitchen & Bar will fetch you a continental breakfast with interesting options, like build-your-own-omelet.
When visiting this place, you can enjoy some classic salads, sandwiches, or signature entrees. All portions are generous, the menu is approachable, and prices are reasonable.
As for dessert, one of the best items on the menu is the carrot cake, delightful muffins, or smooth danishes.
There is a full-service bar where you can enjoy some crafted beers or a handcrafted milkshake before returning to the casino.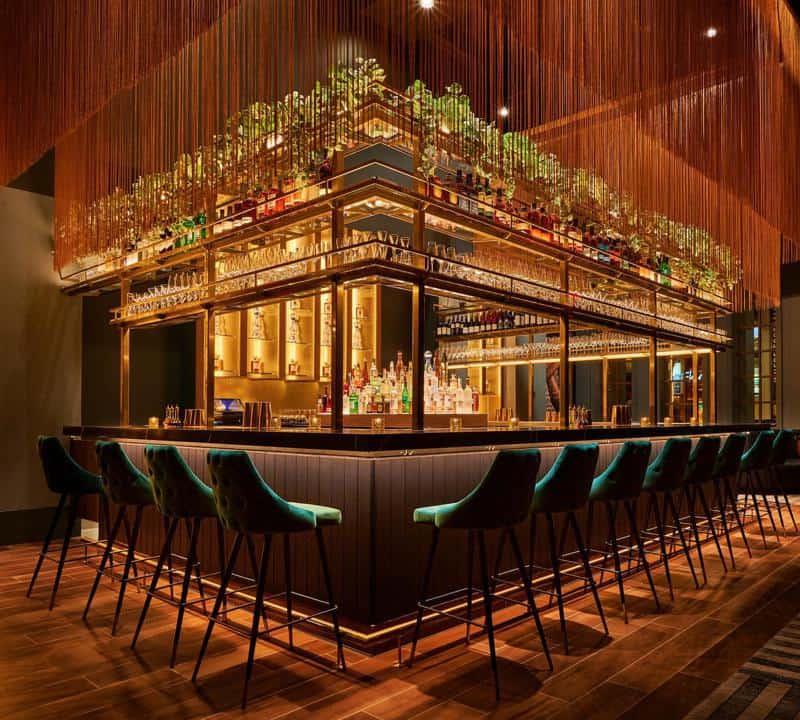 Located in Mandalay Bay, close to Light Nightclub, S Bar is a unique upscale place that offers a true VIP feeling for each guest.
Run by a hospitality star, SBE, S Bar is a boutique venue with the 1920s ambiance done in a modern way. If you get to S Bar, get ready for a luxurious experience.
If you're looking for an exclusive lounge space with craft cocktails, S Bar is one of the best choices on the Strip. Managed by Yael Vengroff, they offer top-notch classics and innovative drinks.
To make your drinking experience unforgettable, S Bar has so-called "Tableside Sips." They let you choose a bottle of your favorite alcohol with handcrafted mixers. Try their imaginative cocktails, such as "There Should Be Unicorns."
Of course, no cocktail experience is complete without a perfect bite to enjoy by yourself or with your party. S Bar has a menu with shareable bites and delicious dishes such as Lobster Mac'n'Cheese and Tuna Poke.
With its intimate atmosphere and cozy furniture, S Bar is a splendid location for an exclusive dinner or a special event.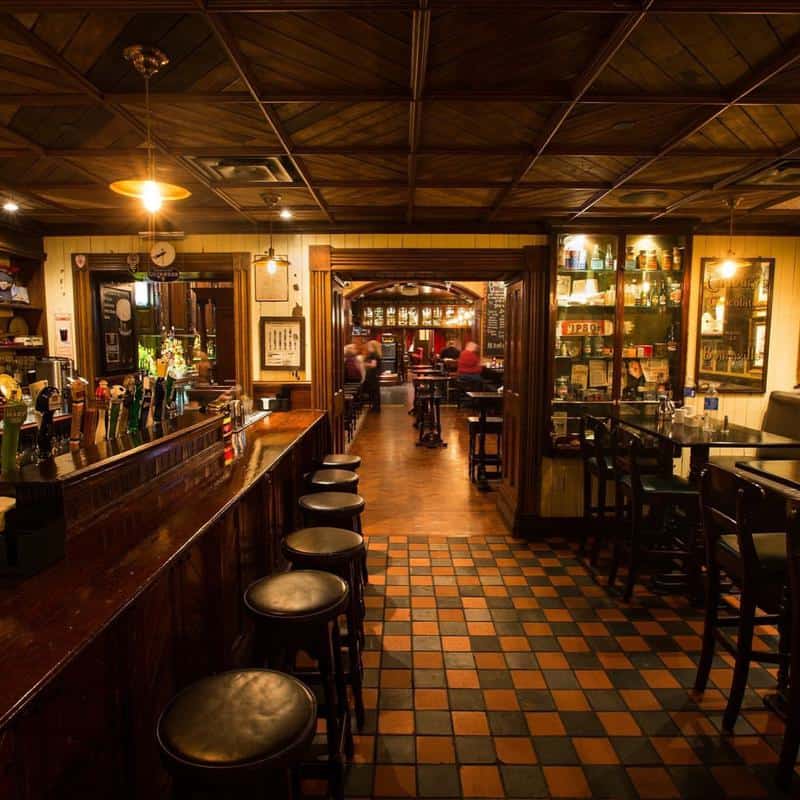 Rí Rá Irish Pub is an exciting place. It is a bar restored in Ireland and shipped to the U.S.
Together with the first Guinness Store outside of Ireland, this place brings the ultimate Irish pub experience. It is the teamwork of David Kelly, Ciaran Sheehan, Jay Luther, and Executive Chef James Sawyer.
If you're into Guinness, treat yourself or choose from the other 17 beer taps. There's also an old-fashioned whiskey bar with Uisce Beatha and a cocktail happy hour.
If you visit Ri Ra for their Irish breakfast, don't forget the Irish coffee. If you come for lunch or dinner, enjoy their heavenly Guinness Stew, Shepherd's Pie, or Fish & Chips.
For dessert, try their Snickerdoodle Cookies. Add some Key Lime Martini for a blissful experience.
This spot has a genuine Irish atmosphere. Ri Ra Irish Pub is about live music, great food, and drinks at reasonable prices.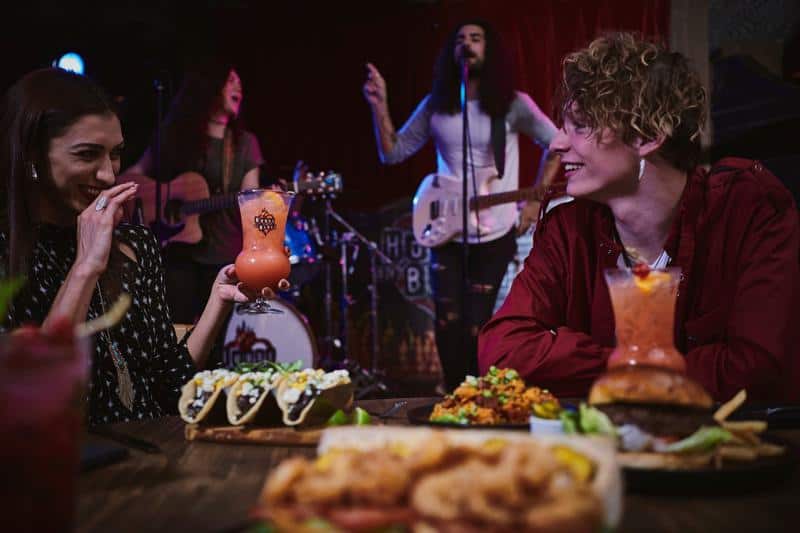 House of Blues is one of Las Vegas' prime concert and show venues. The Restaurant & Bar was created by Isaac Tigrett, who made Hard Rock Cafe a success.
Both local and touring artists come here. You'll see music-related memorabilia and folk art pieces creating that unique vibe.
The House of Blues gives a certain Southern feel with its Southern-inspired cooking. The restaurant's Executive Chef, Richard Hawthorne, curated an admirable menu.
It features items like New Orleans jambalaya, gumbo, or Carolina smoked pulled-pork barbeque. Another signature dish is the "Fall off the Bone" Baby Back Ribs.
To make your meal exquisite, there is an excellent cocktail list with classics and modern craft cocktails. They also offer local craft beers from Joseph James, Lovelady, and Crafthaus.
If you prefer to avoid crowds at night, check them out for the breakfast special available from 7 AM till noon. Indulge in some chicken and waffles, or treat yourself to a fluffy banana cream pie.
Would you like to taste classic New York City thin-crust pizza in Vegas? Then go to Slice of Vegas, located at the Shoppes in Mandalay Bay.
You can enjoy one of their 12 TVs or an 8-foot projector while savoring some of the best-tasting food on the Strip.
The atmosphere of the place is very laid-back, but if you're in a hurry, grab a slice of their excellent pizza to go. You'll also find plenty of vegetarian, vegan, and gluten-free options on the menu.
If you want to relax and enjoy a nice glass of beer, the Slice of Vegas has many craft beers and snacks that are a perfect addition to your drink.
If you're feeling lucky and hungry, take The Double Down Challenge. You'll have to eat a 9-pound (4 kg) pizza in an hour. If you succeed, they'll put your picture on the Wall of Fame and give you a 100-dollar gift card and a T-shirt. What happens in Vegas stays in Vegas!
Read More:
Final thoughts
Mandalay Bay Resort & Casino is an ultimate destination for having a good time and enjoying good food. The resort offers plenty of options.
But there's no need to be anxious. Just pick a place from our list, and you won't make a mistake. Bon appetit!