The Afrikaans cooking style has one of the world's most diverse tastes and flavors. Its dishes come from various regions worldwide, including the Netherlands, France, Malaysia, and India.
The aptly named rainbow nation combines many international ingredients into simple dishes ranging from dried meats in biltong to unique pastries like the melktert and layered minced meats that make up the bobotie.
Whether you are a South African in the United States or just looking to try exotic international dishes, this article has got you covered. Read on to learn the most popular, classic, and traditional South African cuisines and where to get them in the States.
South African Food Culture History
So, what counts as traditional South African food?
South African cuisines are multi-faceted, with many cross-cultural influences, mainly from colonization, missionary escapades, and refugee immigration into the region.
It is not uncommon to find many indigenous Malaysian and European dishes stapled in the region. French Huguenots also greatly influenced the SA foods alongside many German settlers and Dutch travelers in the 1600s.
However, it is essential to distinguish what counts as traditional South African food and what foods are popular/staples in the region today.
Traditional dishes hail from the interactions between the Khoisan and Bantu immigrants from the north. Khoisan groups were mostly gatherers, eating many cereal and vegetable-based foods, including nuts, leaves, and fruits.
Bantus brought in the cattle, and hence fresh meat led to the widespread of roasted and stewed meats during the pre-colonial period. Meats were high-status dishes eaten during important celebrations, most of which are still held to date.
Before European settlers, pap (maize porridge), vegetables, and meats were the center stage of any South African household meal. Later on, non-indigenous dishes like rice and beans became popular during the settlement periods.
Khoisan groups are known for their love of meat, specifically braai and biltong (dried meat dishes) which originated from drying the meat to keep them fresh and edible. Other popular dishes at the time revolved around roasted and grilled meats.
One outstanding feature you will notice about South African staples today is the use of dried meats. This originates from the fact that refrigeration systems weren't available when these dishes took off, and most settlers resorted to eating popular delicacies like droewors and biltong which are similar to what you would call dried sausage or jerky in the US.
Non-indigenous cuisine in South Africa began in the 17th century, starting with Cape Malay Curry from the Dutch and bunny chow by Indian settlers.
If you are looking for authentic traditional South African cuisines, then biltong, braai, and custard-filled pastry (melktert) are good choices.
16 Most Popular South African Foods
With that said, let us look at the famous South African dishes you can readily find today. Look at the general overview of how aromatic dishes are prepared locally.
1. Biltong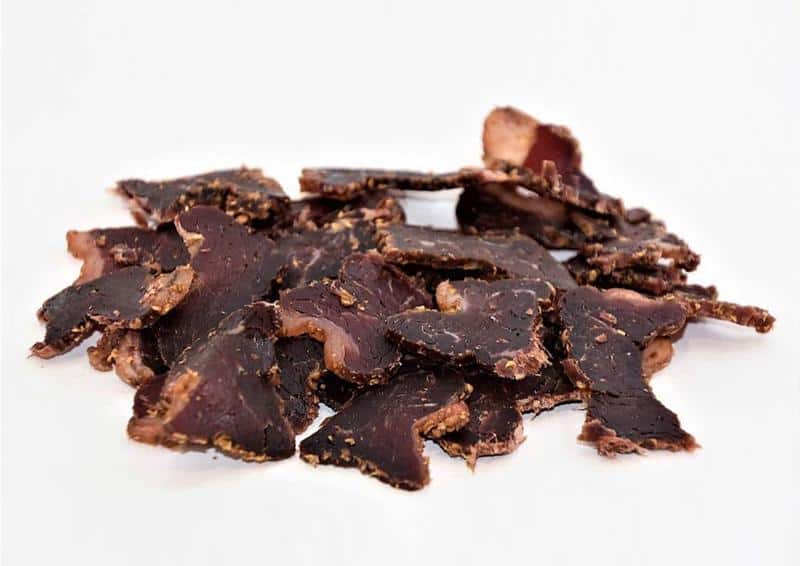 Dried cured meat is the order of the day when it comes to biltong (thinly-cut slices of meat). The South African delicacy is rooted in Dutch settlers and SA meat preservation practices.
The dried meat is cured in brine to make a tasty snack-like dish popularly consumed during sports events and long travels. Meat is usually beef or kudu, but you can spice the plate with various flavors to include chicken or make stew versions of the dry dish.
2. Braai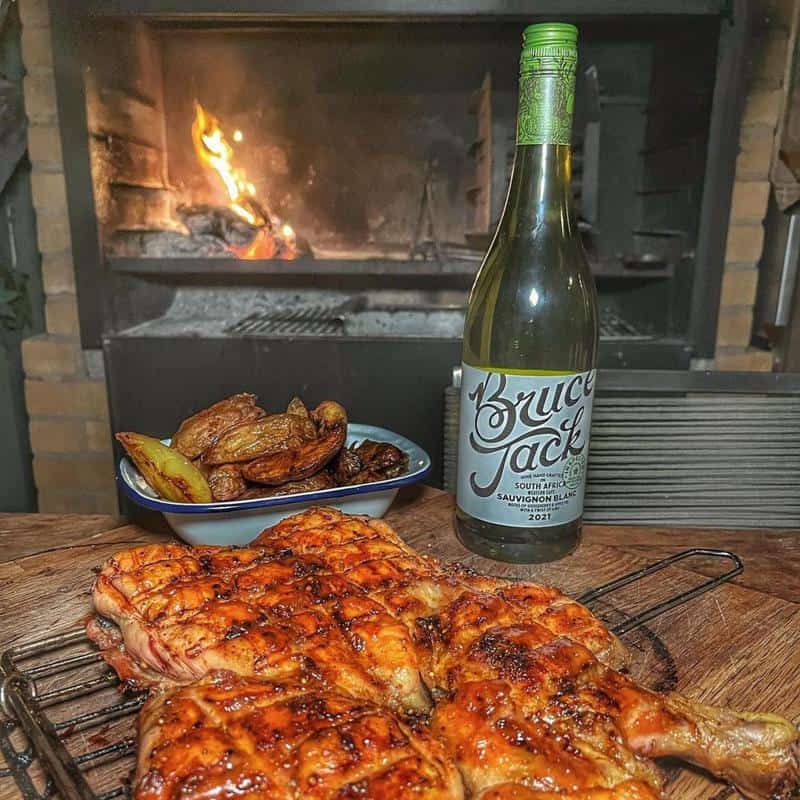 Braai (pronounced as 'bry') is similar to barbecue in America. What separates the two is primarily the grill you use. You can use a gas grill for BBQ, but braai is culturally made on wood fire grills and during gatherings.
Braai holds vast cultural significance, and many families gather on weekends to cook the dishes over local hardwood. Heritage Day on September 24th in South Africa is also called 'braai day' among locals since most hold braai during that holiday.
Braai in and of itself is not a dish since it combines fired meats from sausages with beef steaks, pork, chicken, boerewors, sosaties, and other popular meats.
3. Bobotie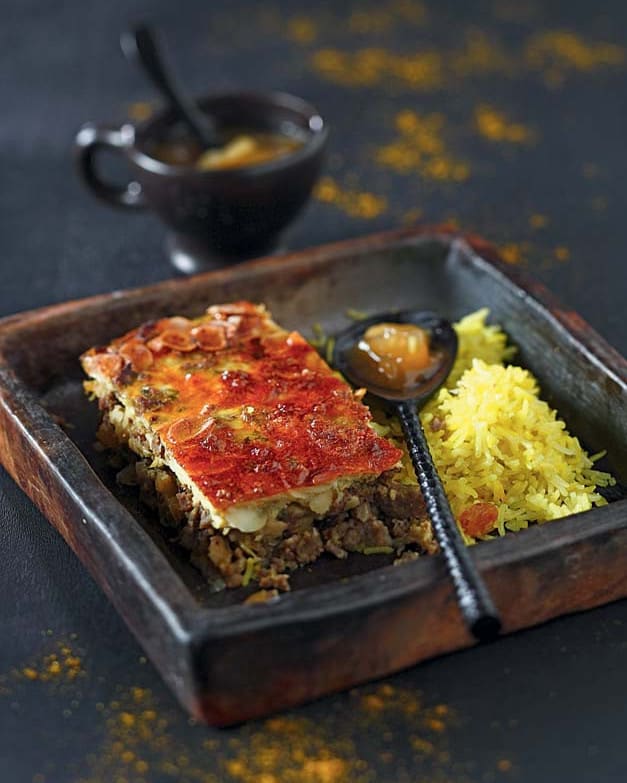 Bobotie is believed to have originated from South Asian settlers, specifically Malaysians. Its roots date back to the 17th century in Dutch cookbooks that included the dish in their dinner meals as a sweet and savory delicacy.
Bobotie (ba-bo-tea) is mainly layers of minced curried meats that are aromatically spiced with garlic, turmeric, pepper, and curry. Dried fruits are added to the mix to give it a sweet flavor, and the whole dish is topped with eggs & milk mixture.
Lentils are used to make a vegan version of bobotie, but the whole preparation procedure is the same for meat lovers.
The ingredients are mixed, with eggs & milk toppings at the end, before being placed in the oven for baking. Serve the ready dish with rice or an equivalent accompaniment.
4. Bunny chow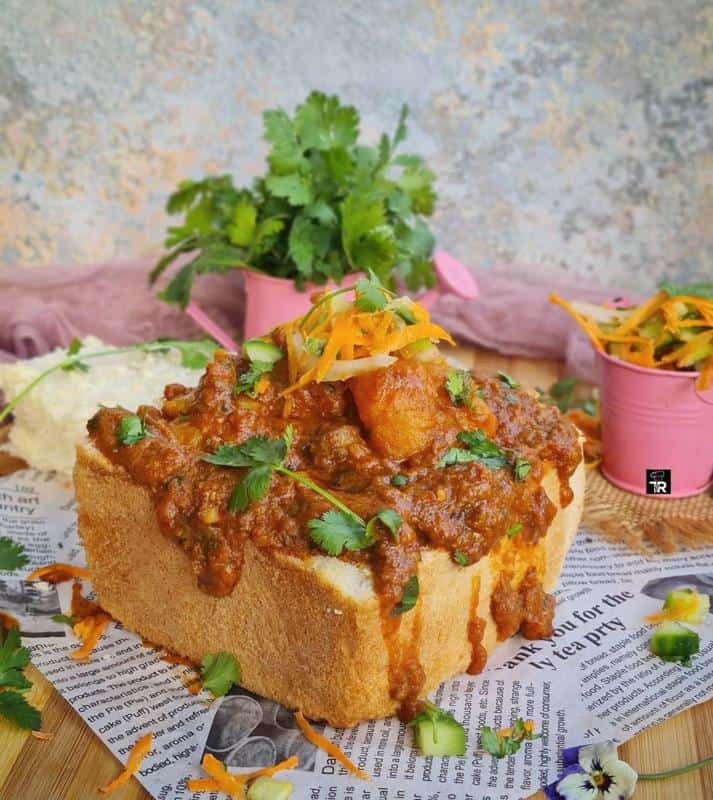 Bunny chow is another South Asian dish believed to have been invented in the 20th century by Indian settlers. It is considered a street food or a quick bite style dish good for lunches and diners who want a to-go meal.
It is a simple dish made from a loaf of bread with a hollow center for filling your stuffing. Vegetarian options are stuffed with veggies, including beans, while the meat lovers get filled with various types of meat, including spicy chicken/beef curry.
5. Potjieko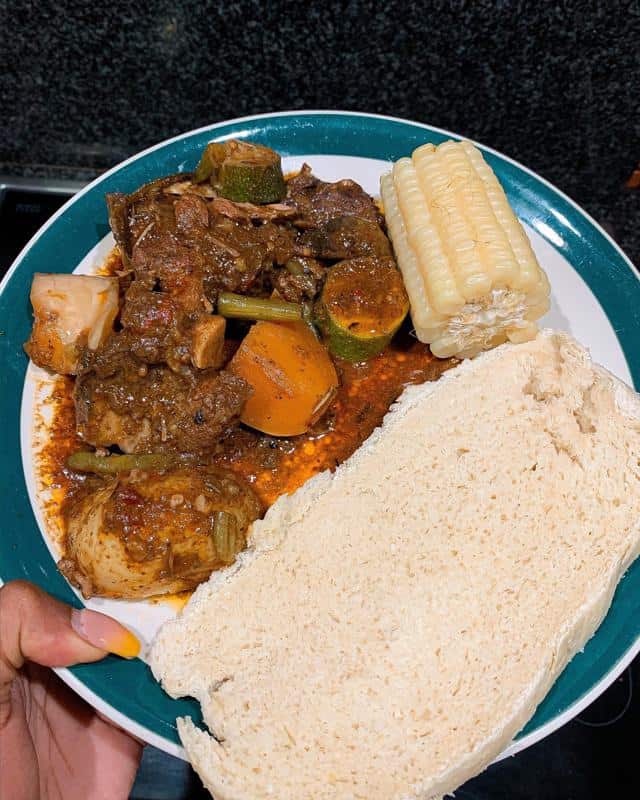 Potjieko, as the name suggests, originated from the type of pot in which the dish was traditionally made. The dish's history points back to the 17th century when Dutch settlers brought their potjie (Dutch 3-leg iron pot) to cook their version of potjieko.
Today potjieko is made of vegetables and meats mixed in one pot and left to stew for long hours. Once the dish is ready, it is served straight without stirring to keep the distinct meat flavors separate. A good tip from chefs is to avoid opening the lid, which helps the food simmer.
6. Boerewors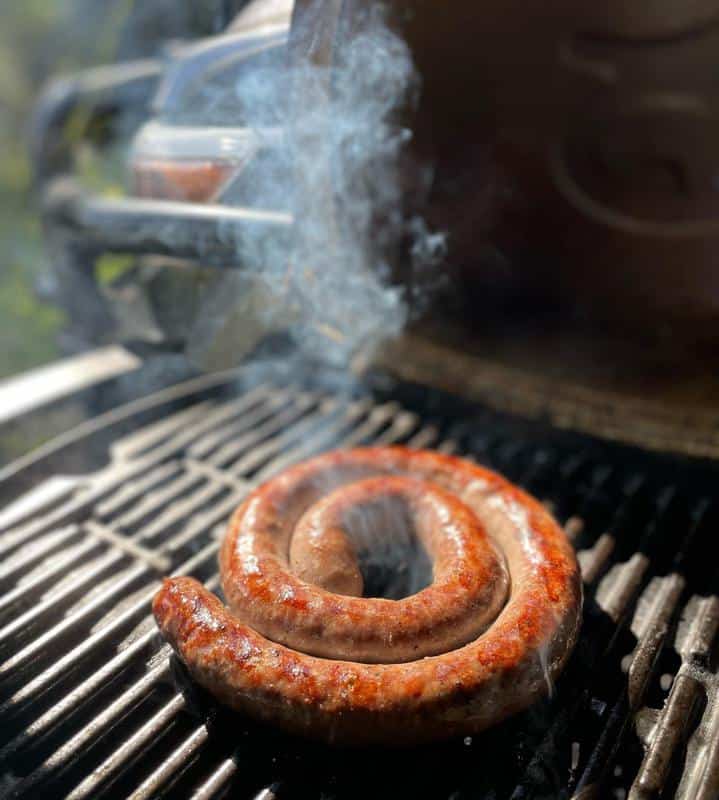 Did you know that the Guinness World Record for the longest boerewors is the 2014 boerewors made in South Africa, with a total length of 1,557.15 meters?
Boerewors is a uniquely Afrikaans dish derived from the word 'farmer' – boer and 'sausage' – wors. It is a dish primarily made of lamb and pork with a small mixture of other ingredients, from spices to other meats.
It is the main ingredient in all braai, and the government has strict regulations on how this popular meal can be made in SA. One of the regulations states that only 30% of the meat can be fat.
Different chefs worldwide use their spin to make boerewors, but the lamp and pork combo is a must. Boerewors are sausage-like and are wrapped in spiral shapes.
7. Droewors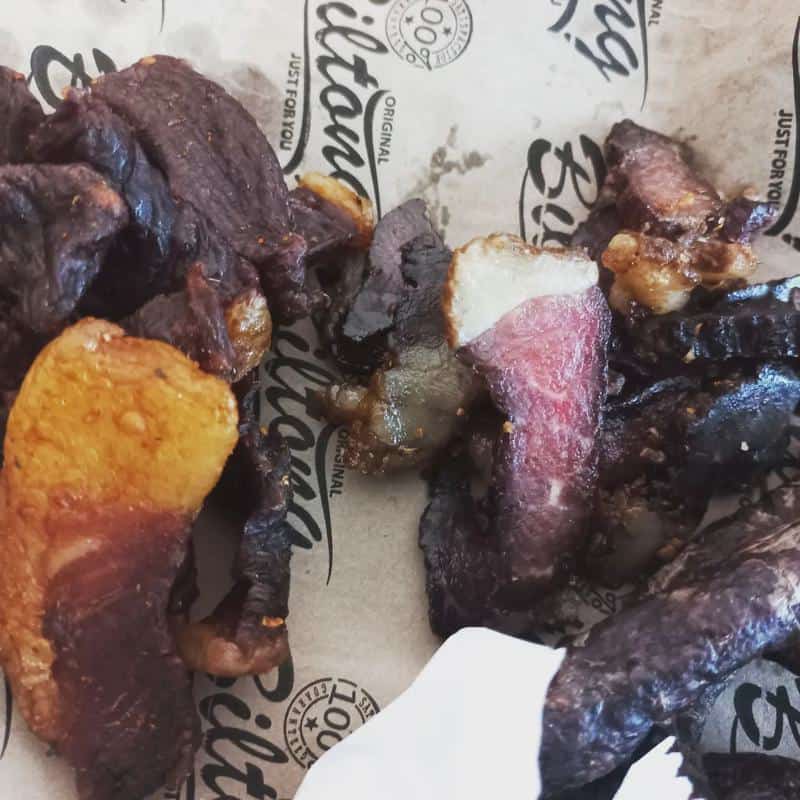 Droewors is another South African snack comparable to biltong. In fact, both dishes are usually made together and served alongside each other. A similar ingredient mix of boerewors is used in making the droewors, but most cooks use beef instead of pork.
Like biltong, droewors are dried and cured to make thin cuts of the 'sausage,' served with pap or eaten as a stand-alone snack.
8. Melktert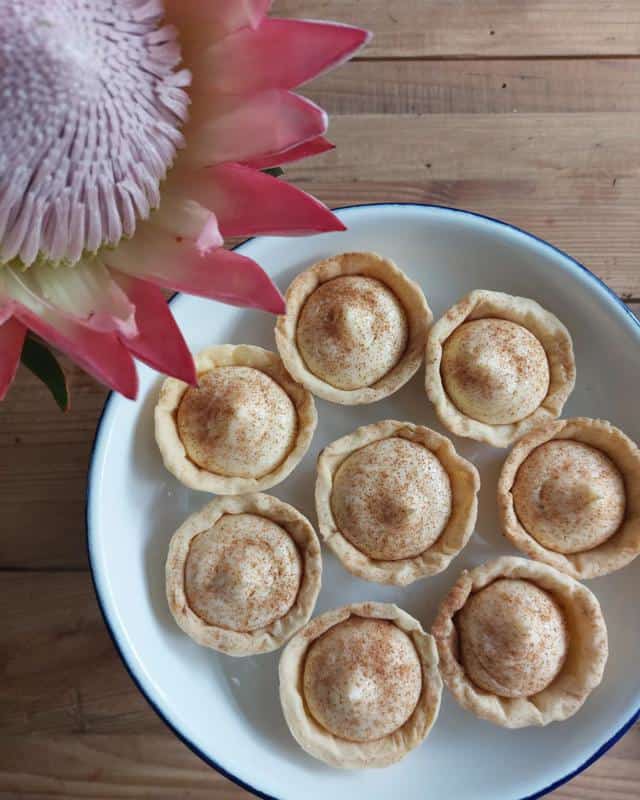 Another Dutch-influenced South African dish is the custard-filled melktert dessert which literally means milk tart. The dessert is sweet and savory with a filling made of an egg, milk, flour, and sugar mixture.
The 17th Century dish has a pastry crust on top reminiscent of the thinner Portuguese egg tart. If you are looking for a uniquely South African dessert, then melktert is it.
9. Pap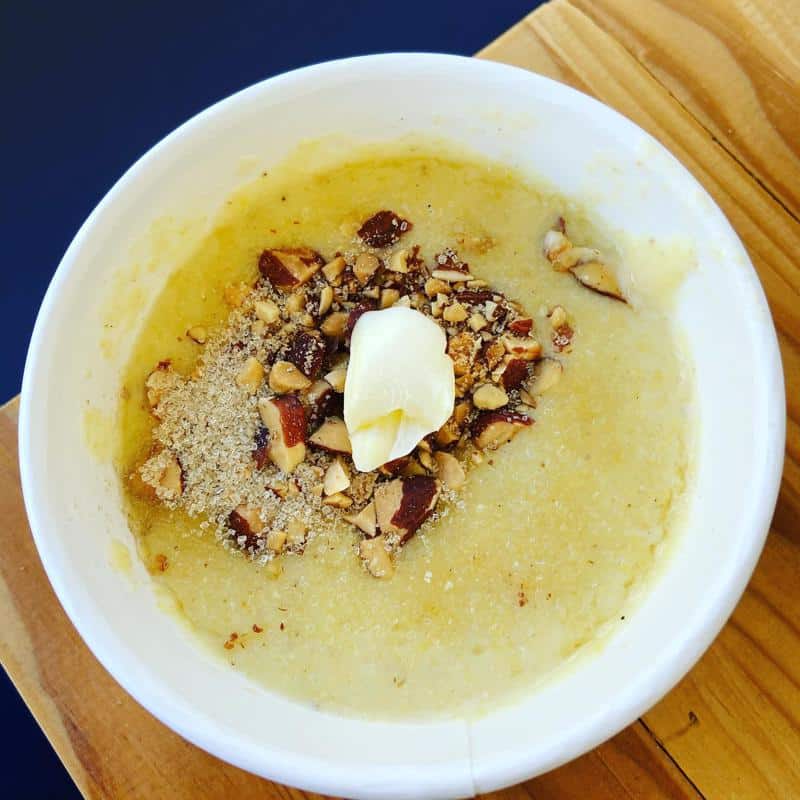 We have mentioned pap in the other examples above, and now it's time to know why it pairs well with meats. Pap is to South Africa what ugali is to Kenya.
With their maize flour base, pap and ugali are staples in many African cuisines. The maize is stirred in hot water under medium heat to make a runny porridge or a stiff lump (ugali).
The stiff lump pap is served with meat to make pap en vleis – a maize dish served with grilled meat. Porridge pap can be a beverage taken alone or served as an accompaniment to bread and desserts.
10. Koeksisters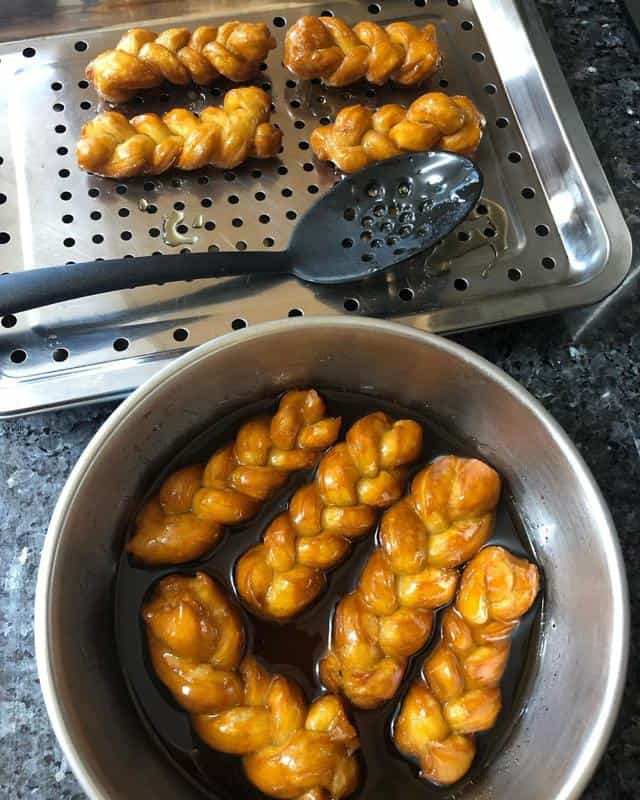 Koeksisters is another South African pastry with Dutch origins. The sweet and crisp pastry is made from dough fried in oil and then dipped in syrup or honey to give it a sticky yet sweet flavor.
The dough is braided to give it a signature look and is often served as street food or a breakfast dish.
11. Sosatie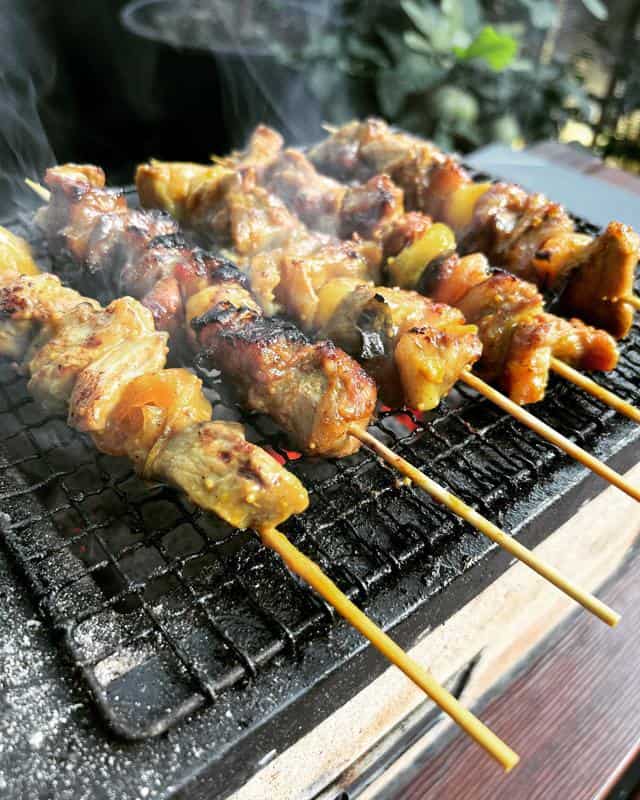 As mentioned earlier, sosaties are braai's main ingredients in South African gatherings. Sosatie is the equivalent of Malay Kebabs that originated from Cape Malay.
The dish is made of skewed meat and spicy sauces. The meats, typically mutton and lamb, are marinated all night and mixed with spices like pepper and curry. The final product is cut into small bites, lined up in short sticks, and fried on an open flame.
12. Cape Malay Curry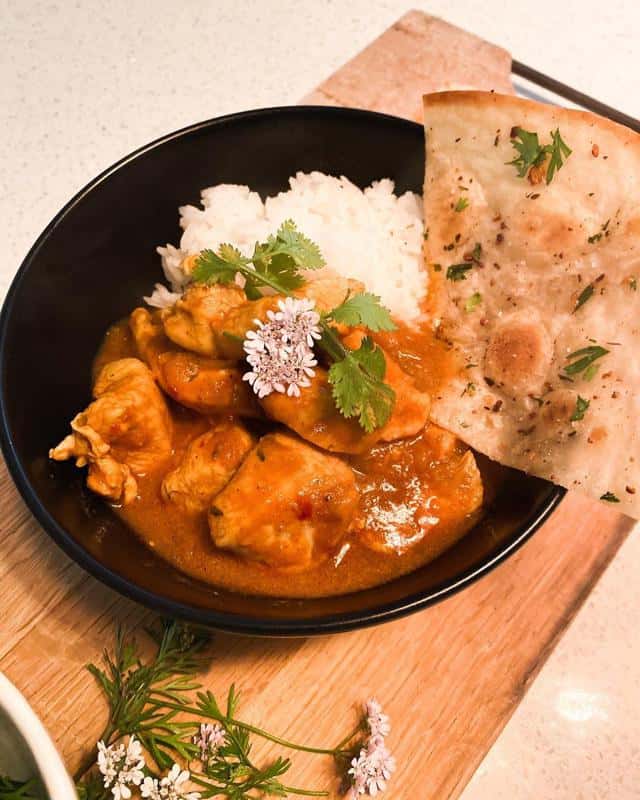 Another Cape Malay dish in South Africa is the Cape Malay curry, made of lamb or chicken and cooked with different vegetables and salads from potatoes to ginger and garlic.
It is among the spiciest SA dishes with hot sauces, from masala to turmeric. It is a tasty curry served with rice or pap.
13. Vetkoek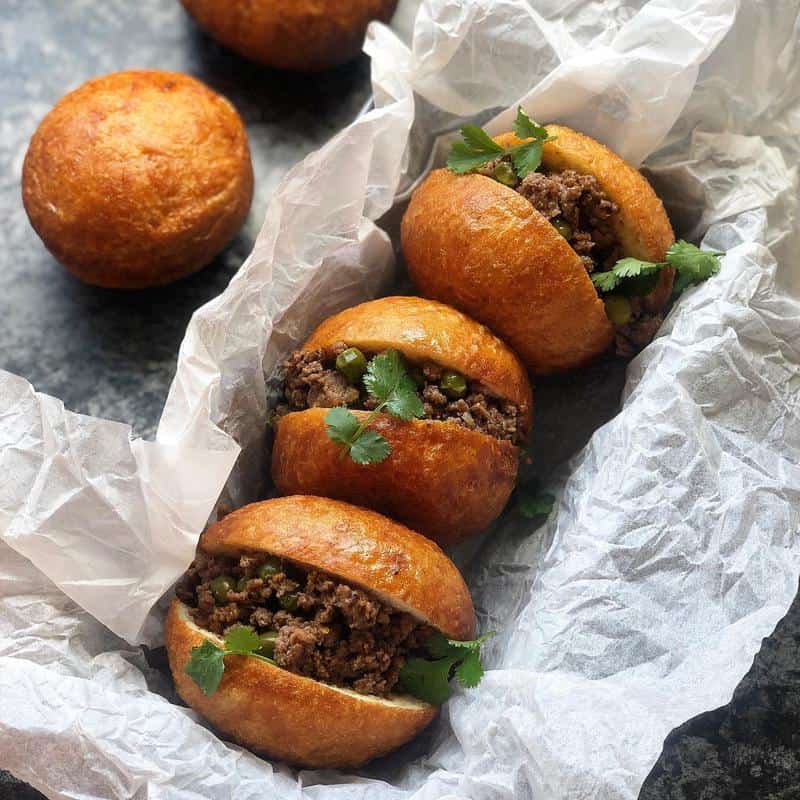 Vetkoek translates to 'fat cake.' It is a South African side dish and street food made from fried dough/deep-fried bread and a fluffy interior filled with minced meat.
14. Samoosa/Samosa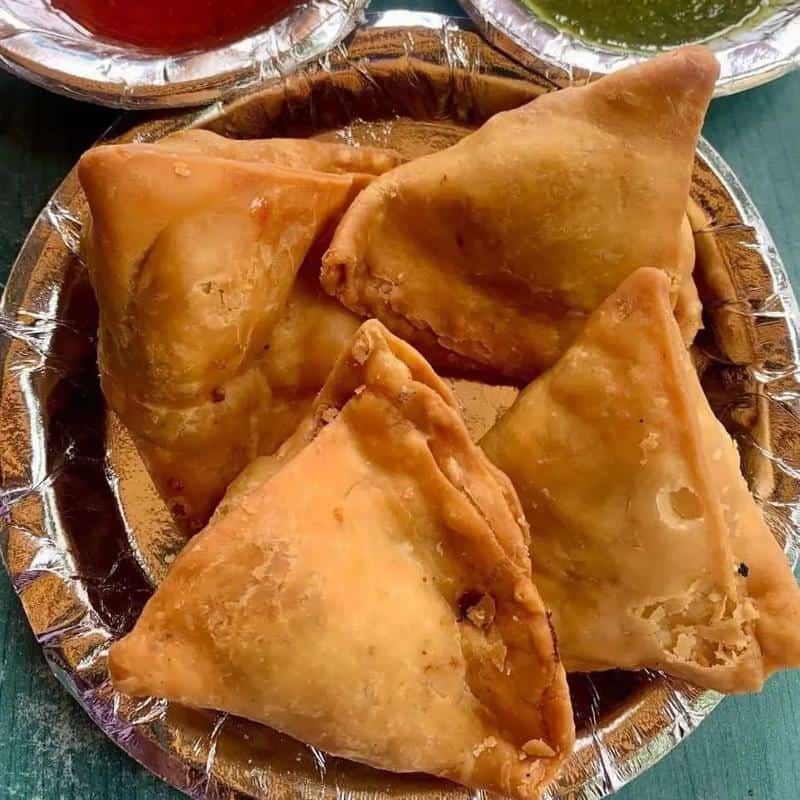 Samoosa (pronounced as Suh-moo-suh) is the South African version of the popular samosa street food. The treat is as popular as the biltong and boerewors and features the standard triangular-shaped deep-fried pie.
It originated from the Indian settlers in the 19th century, similar to most African countries with samosas. The pie/pastry is filled with different meats and vegetables depending on where you buy it. Some have minced beef, while others include potatoes and other veggie ingredients as stuffing.
15. Chakalaka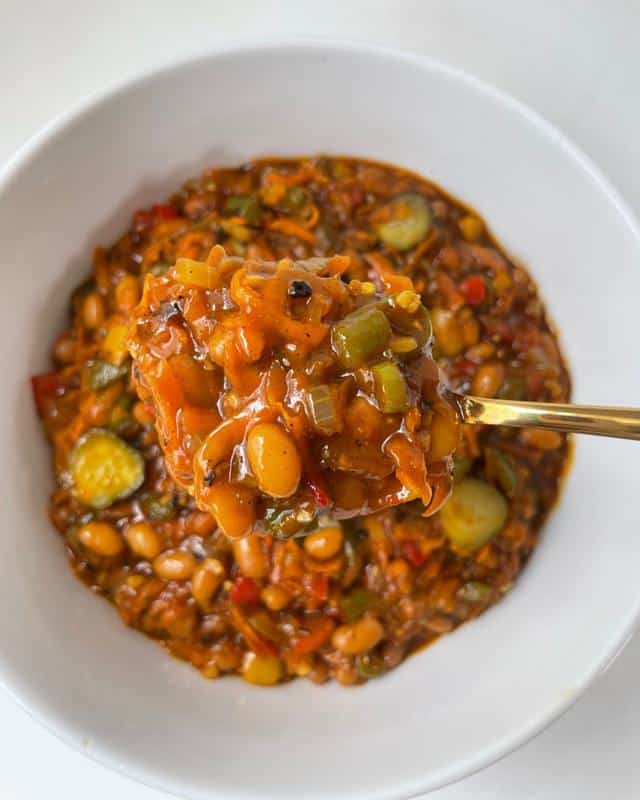 Chakalaka is another uniquely South African vegetable cuisine with long traditional roots predating the settlement periods.
The dish is a mixture of vegetables, herbs, and spices cooked together under a hot flame to make a stew meal served as an accompaniment to pap and meats. Chakalaka can also be served cold.
16. Rooibos Tea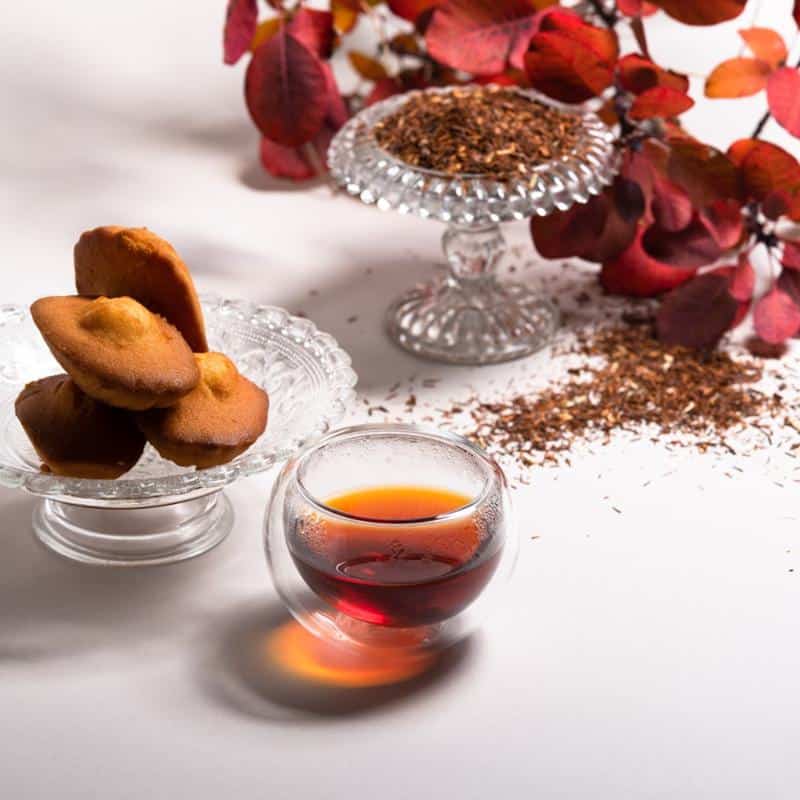 Do not let the word tea confuse you; rooibos tea isn't technically tea. The beverage is made from the SA native rooibos herb that, when brewed, produces a reddish herbal drink similar to tea.
It is also called African red tea due to its South African origin. Many companies have sprung up since its conception in the 1700s to provide customers with prepackaged tea bags.
Read More:
South African Food Stores & Shops in the USA
Now that you know what South African foods to look out for let us dive into the many shops and restaurants where you can feast on these native delicacies in the United States.
Shops
The South African Food Shop
Address: 11229 E Independence Boulevard, Mathews, North Carolina 28105
Phone: 704 849 2660
If you are looking for South African Foods online, then this is where you should first go shopping. SA Food Shop is a great online store for staples like packaged Droewors and canned rooibos tea drinks.
The shop only sells Bledie Lekker brands since they offer authentic traditional dishes like biltong and droewors. Also, the meats are perishable products, so it is advisable to factor in the shipping period when ordering online. In-store purchase for meats is recommended.
European Deluxe Sausage Kitchen
Address: 9109 West Olympic Boulevard, Beverly Hills, Ca 90212
Phone: 310 276 1331
The physical store in Beverly Hills serves gourmet South African meats, including biltong and boerewors.
It has been in the business for more than 40 years, and you can expect the highest quality goods. However, it is important to note they lack variety since their collection is European and SA mixed.
Meal in a Pie – South African Groceries & Food
Address: 4440 NE 20th Avenue, Fort Lauderdale, Florida
Phone: 954 202 9118
Meal in a Pie sells groceries to make most of your South African dishes but also sells packaged goods and foods from South Africa. Boerewors are in plenty; local pies are the order of the day, and biltong never go missing.
A Taste of Africa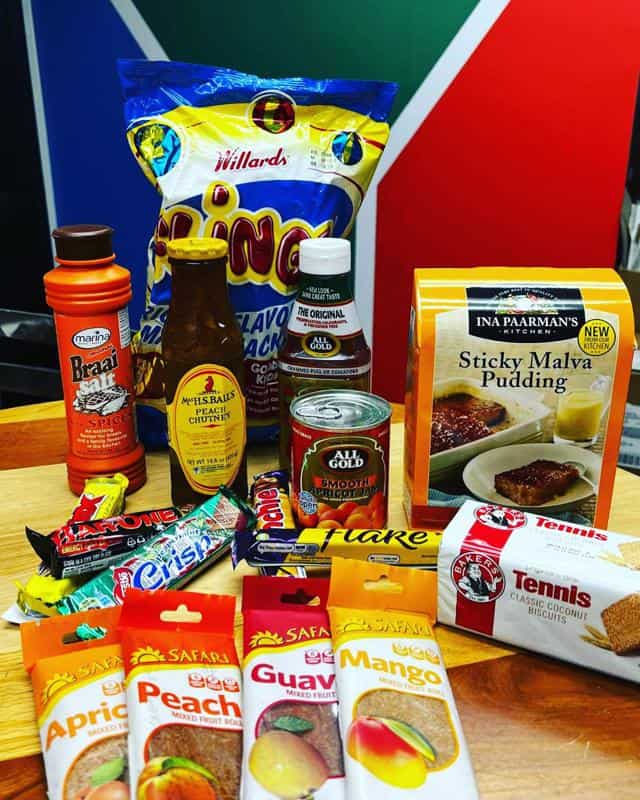 Address: 2407 Brownsboro Rd, Louisville, KY 40206
Phone: 502 871 5082
Taste of Africa online shop has a bigger catalog of products with various international and SA brands. You will find several brands of rooibos tea, boerewors, biltong, and droewors.
They also offer lots of South African sauces and condiments alongside a special South African Cook Book for those in the USA.
South African Emporium
Address: 2390 Satellite Blvd NE, Buford, GA 30518
Phone: +1 678 765 6038
South African Emporium online shop won't offer you special meats like boerewors and biltong. Still, you will find many rooibos tea brands and several SA-specific brands for snacks, chocolates, cookies, and so much more. They also sell South African decorated trays and other cookware.
Best South African cuisine Restaurants in the USA
South African restaurants are in plenty in European regions, unlike in the United States, where they are few and far between.
A big contender in the South African food space was Peli Peli which had multiple restaurants in the US but sadly closed all of them in September of 2021.
Many other restaurants followed suit (including Amawele's Kitchen, Big Easy, and the Shebeen) in North America's sad descent of the SA culinary scene. But there is hope on the horizon.
Mozambik replaced Peli Peli and has been one of the most highly-sort after South African food restaurants in America. Here are the best five
1. Mozambik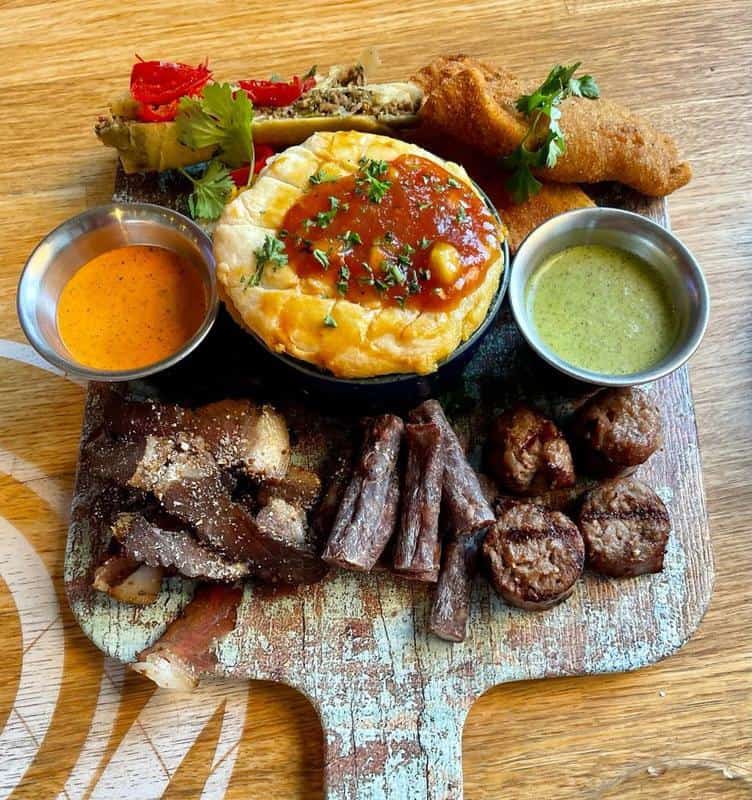 Address: 1201 Lake Woodlands Drive, Suite 304, The Woodlands, TX
Phone: 855 626 6948
At first, you may think Mozambik serves dishes from Mozambique, but you will be wrong. The restaurant brings the USA the South African flair with a fusion of modern American staples.
Start your meal with the bunny chow curry served in a crusty bread bowl, or the Cape Malay Samoosas made with seasoned beef, served with mango chutney, and seasoned with mamba sauce.
2. 10 Degrees South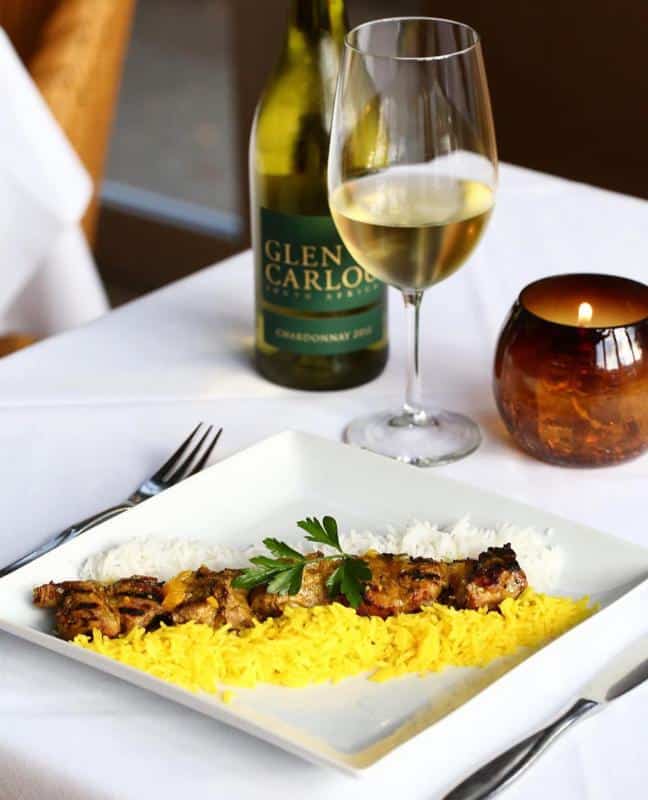 Address: 4183 Roswell Road, Atlanta, GA 30342
Phone: 404 705 8870
10 Degrees South is over two decades old and serves South African foods in North America's most upscale and fine dining fashion. Enter the stylish and modern ambiance to taste the exotic authentic South African flare.
The dishes include SA staples and bring out Malaysian, French, German, Indian, Portuguese, and Dutch flavors. Menu highlights include the tantalizing sosaties, beef bobotie, and the signature boerewors sandwich.
3. Nando's PERI PERI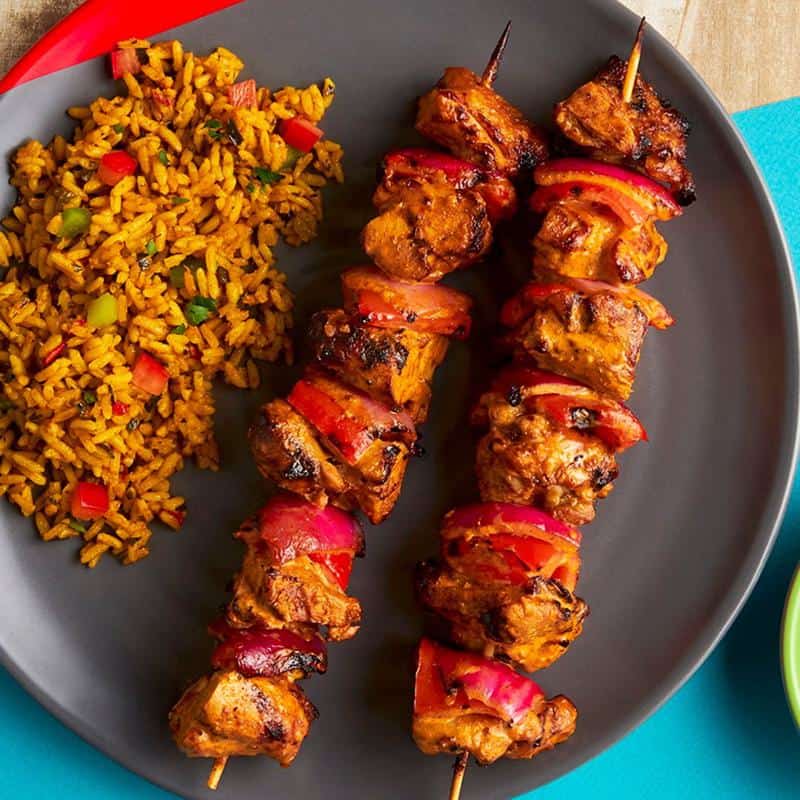 Address: Various locations in Illinois, the District of Columbia, Maryland, Texas, and Virginia
Phone: 443 681 3675 (Maryland)
Nandos's Peri-Peri is all about that South African flame-grilled perfection. The food is great since they offer the best spicy South African meats, but the unique décor sets Nando's apart.
Enter the separately designed locations to dine in an SA-designed atmosphere with vintage African furniture, African artwork, and lots of SA themes from floors to ceilings.
4. Kaia Wine Bar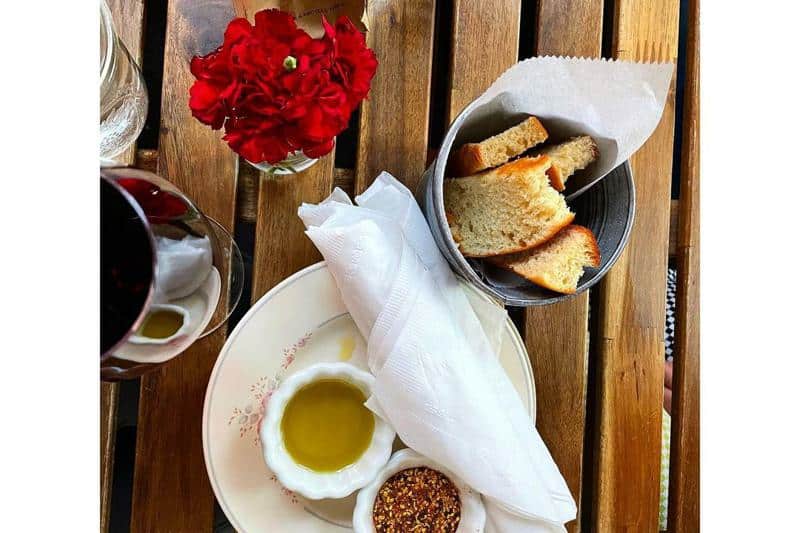 Address: 1614 3rd Avenue, New York, NY 10128
Phone: 212 722 0490
Kaia Wine bar in the upper East Side of New York City is the best place to catch a game while feasting on South African foods.
Menu highlights include the viskoekie fish cake slider and masala chicken stuffed sandwiches. However, the huge South African wine list steals the show.
5. Yebo Beach Haus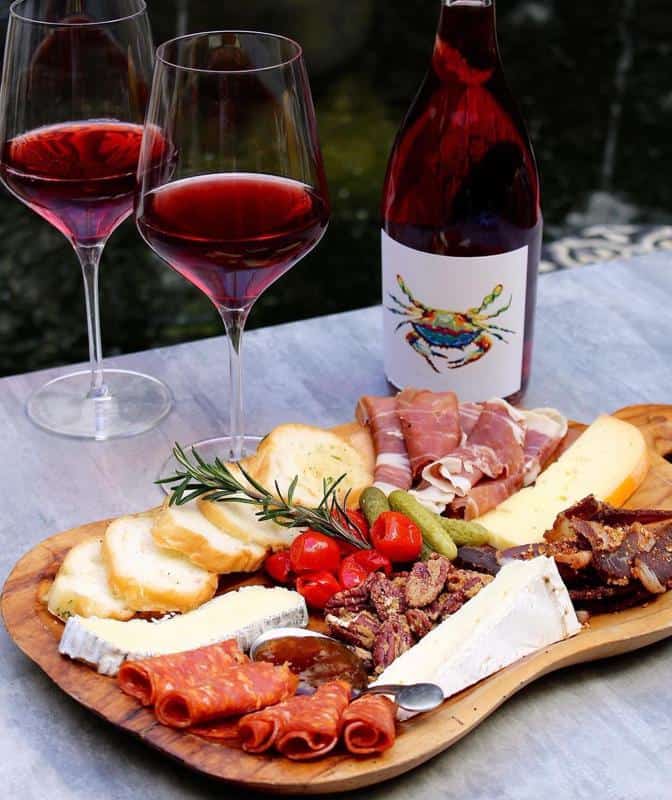 Address: 56 E Andrews Drive NW, Ste 7, Atlanta, GA 30305
Phone: 404 228 8024
Atlanta has never seen a better side of South African cuisines like Yebo Beach Haus's coastal dishes. Fine dining is all Yebo is about, with luxurious furniture, lots of greenery, and plenty of light that brings the contemporary wall artwork to life.
Dishes are a fusion of international dishes with South African staples that bring out the elegant dining ambiance.
Frequently Asked Questions
What Food Is South Africa Famous For?
With the many foods mentioned above, it can be hard to know what is the most popular South African food. Biltong, droewors, and boerewors take the top spots, whether in South Africa or the US, regardless of where you are.
What Food Did South Africa Invent?
Several countries influenced South Africa's food, but some dishes were invented in South Africa. These dishes include biltong, boerewors, and chakalaka.
What Countries Influenced South African Cuisine?
The Netherlands, France, Malaysia, and India are the top countries that significantly influenced South African cuisines.