One of Boston's most vibrant neighborhoods, Chinatown is a great place to enjoy delicious foods. It is jam-packed with restaurants and food stalls offering everything from Szechuan noodles and Cantonese barbecue to dumplings, ramen, sushi, and dim sum.
To help you decide where to go, we've put together a list of the best 13 restaurants in Chinatown, Boston.
Best Restaurants in Chinatown Boston
Shabu Zen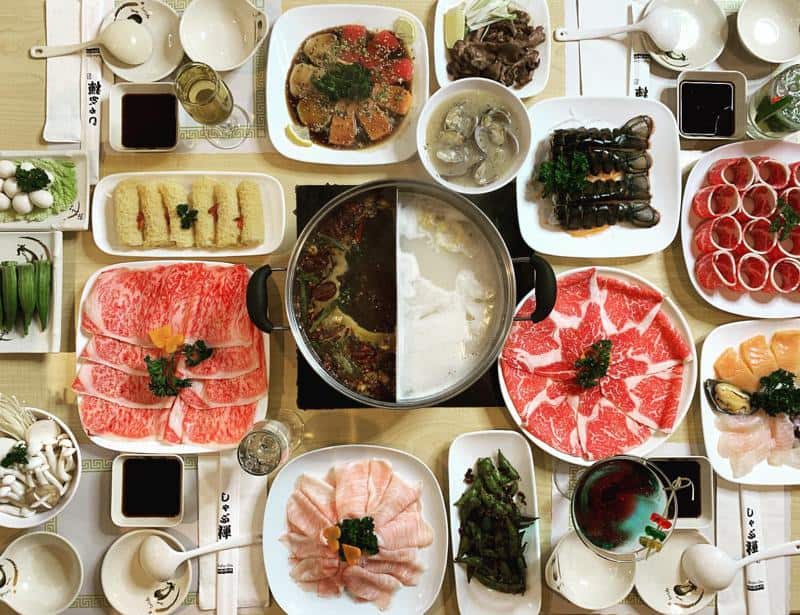 If you are in Boston's Chinatown and wish to enjoy Japanese "hot pot" cuisine, look no further than Shabu Zen. The restaurant serves some of the best Japanese meals in Boston. However, Shabu Zen is not an ordinary dining establishment. It offers hot pot cuisine, which means that you are the chef and you cook what you order!
So, what can I order here? The menu consists of appetizers and main courses and includes dishes like seafood platter, dumplings, boneless short rib, beef tongue, and Wagyu strip loin. Every meal comes with a plate of veggies (mushrooms, carrots, cabbage, etc.) We should also mention that this Japanese-style restaurant offers a selection of eight homemade broth styles. Don't leave Shabu Zen before trying their hot Japanese tea!
Address: 16 Tyler St, Boston, MA 02111
Phone: +1 617-292-8828
Avana Sushi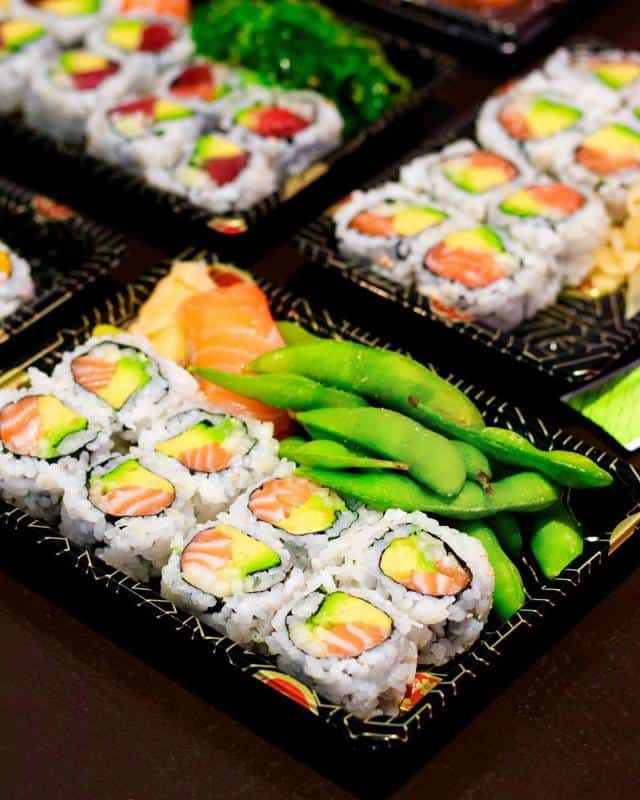 Located on the corner of Harrison Avenue and Beach Street, the bustling Chinatown food court is definitely one of the best places in Boston to sample mouthwatering Asian dishes. This cramped food court is also home to a fabulous hole-in-the-wall eatery called Avana Sushi. It's a reasonably priced no-frills sushi joint with a lengthy food menu.
The daily lunch deal is awesome and includes miso soup, two sides, and a maki roll. You can also order sushi, sashimi, and poke bowls here at Avana Sushi. Keep in mind that seating at this small eatery is limited and not suitable for large groups of friends. Fortunately, they have a larger location on Franklin Street in the Financial District.
Address: 42 Beach St, Boston, MA 02111
Phone: +1 617-818-7782
Also Read: Best All You Can Eat Sushi in Boston
Ruckus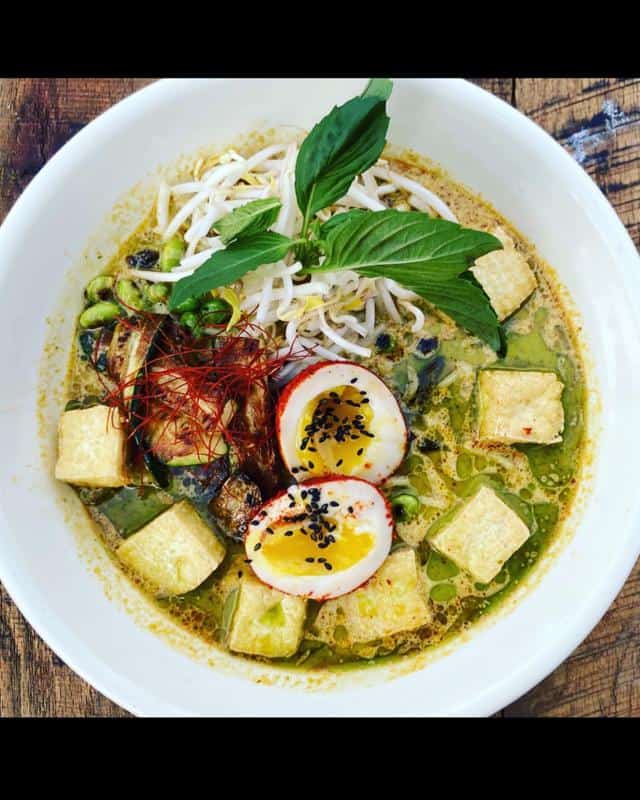 Ruckus is the sibling of the popular Shojo restaurant in Chinatown, Boston. Shōjō's Brian Moy did a great job with this place. His interpretations of traditional Pan-Asian dishes at Ruckus are to die for! The eatery uses only high-quality and seasonal ingredients and all of the dishes are made to order.
Choose from several ramen options such as Miso Lit which includes nori and grilled corn and Shoryuken which comes with tofu skin. We also recommend trying the Tori Paitan which is served with fried chicken skin and practically melts in your mouth. Guests can also personalize their bowls and add things like ruckus paste, pigtail, and soy egg from the "Swag List".
Address: 5 Tyler St, Boston, MA 02111
Phone: +1 857-305-3129
Penang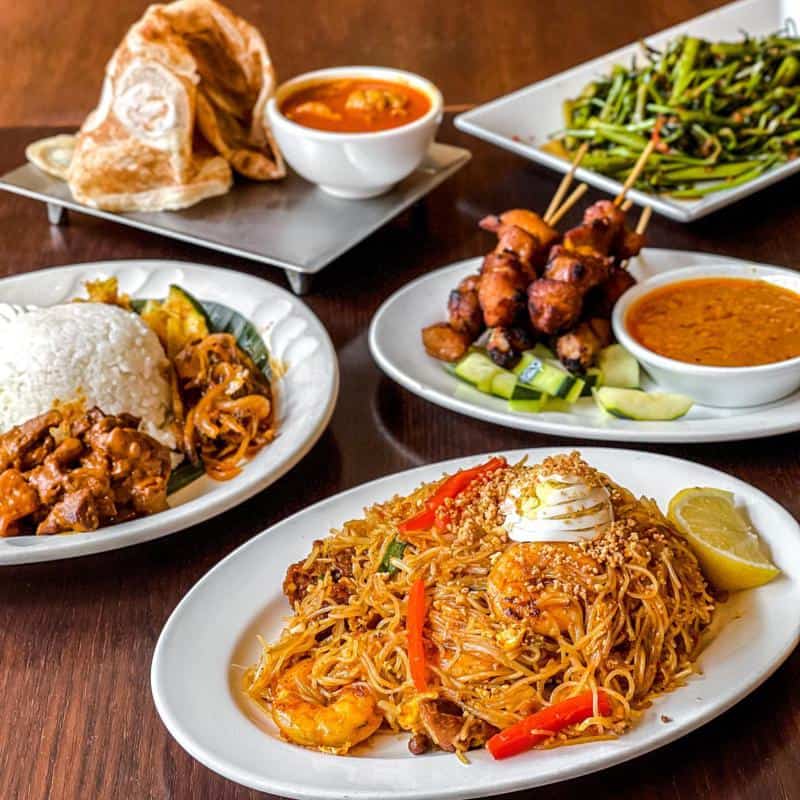 There is no shortage of East Asian-inspired eateries in Boston's Chinatown. But, this vibrant neighborhood is also home to restaurants from other parts of Asia. If you wish to enjoy Malaysian cuisine, make your way to the legendary Penang restaurant. Inspired by Thai and Chinese cuisine, Malaysian cuisine mixes salty, sweet, and spicy flavors.
Order nasi lemak, the country's national dish. This sweet coconut-laden rice with chili anchovies, curry chicken, and hard-boiled eggs is extremely tasty. You can also go for the famous Hainanese chicken or order other Penang signature dishes like roti canai and beef rendang.
Seafood lovers will want to try fried rice with shrimp paste, egg, and peppers. Guests like the interior of this Malaysian eatery and say how the pine-beamed faux-village dining room looks really cool.
Address: 685 Washington St, Boston, MA 02116
Phone: +1 617-451-6373
Shōjō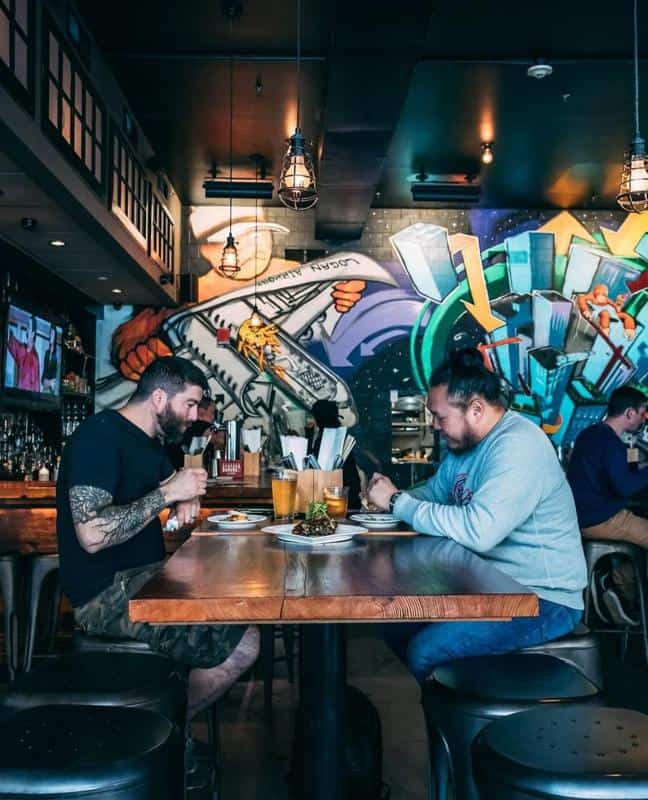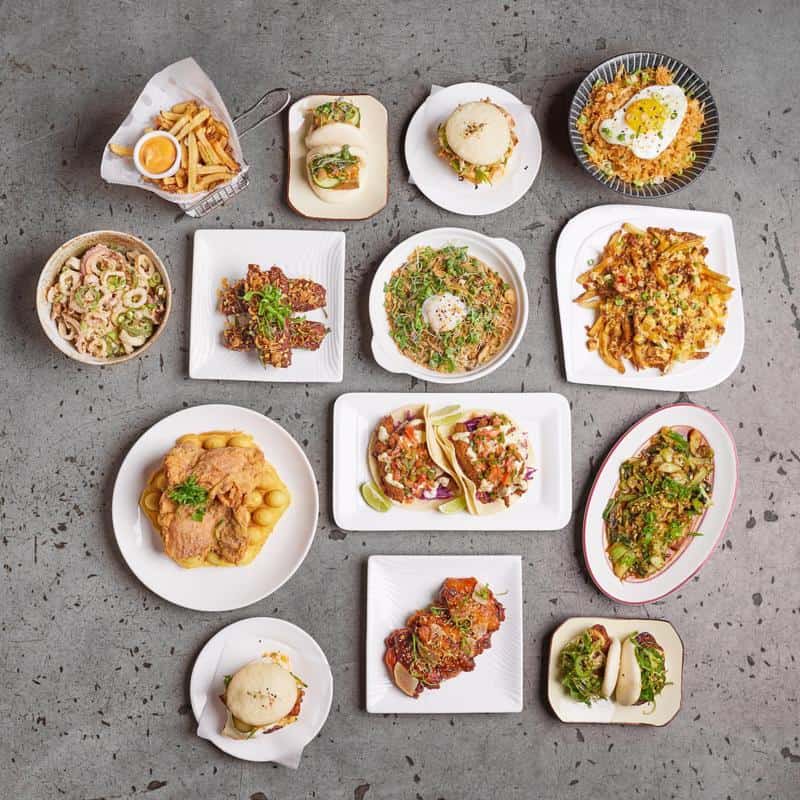 Brian Moy's Shōjō is without a doubt one of the most famous restaurants in Chinatown, Boston. This late-night artsy gastropub in Chinatown has an inviting interior with colorful street art decorating the walls. It's also not uncommon at Shōjō to see 80's Kung Fu films playing on the TV in the back.
So, what's on the menu at Shōjō? The eatery is well-known for serving modern fusion Asian dishes. Must-tries include kimchi fried rice, wu-tang tiger style ribs, chicken and waffles with five-spice butter, and ramen. Duck fat hand-cut fries with sriracha aioli is also worth ordering. The drinks list is innovative and extensive. Get the Thai-chili-infused vodka or order the signature Superhappyfunmakeagoodtimeagogo cocktail.
Address: 9A Tyler St, Boston, MA 02111
Phone: +1 617-482-8887
Taiwan Café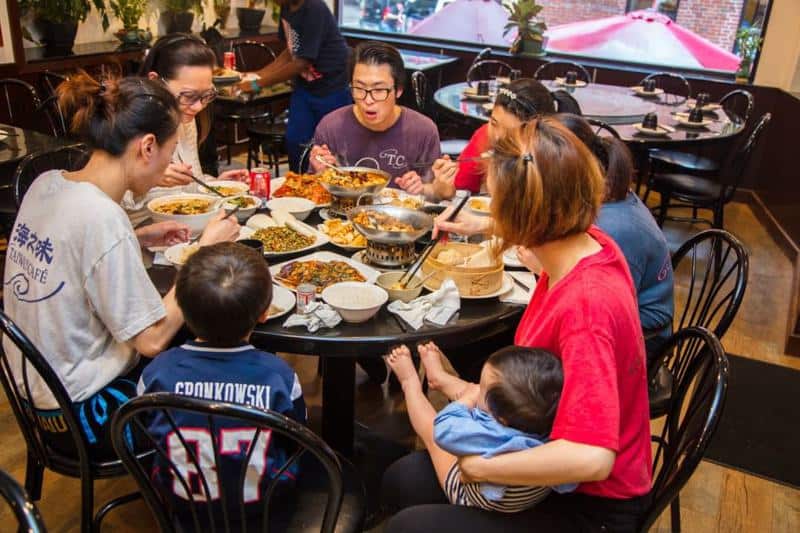 Taiwan Café is definitely not the easiest place to find in Chinatown, Boston. You'll need to go down a small side alley and then up a flight of stairs to find this joint. The safest bet is to use Google Maps when planning to visit Taiwan Café. The food here is absolutely delicious and the menu is extensive (200+ dishes on the menu). For those who don't know, Taiwanese cuisine is all about soups, noodles, dumplings, and meats.
The Taiwan-style pan-fried dumplings, Taiwanese pork chop over rice with pickled mustard greens, and the salt and pepper shrimp are the most popular dishes on the menu. If you are feeling adventurous, try the sautéed blood pudding or go for the duck tongue. Taiwan Café also does Taiwanese brunch on the weekends, but make sure to arrive early to get a table.
Address: 34 Oxford St, Boston, MA 02111
Phone: +1 617-426-8181
Empire Garden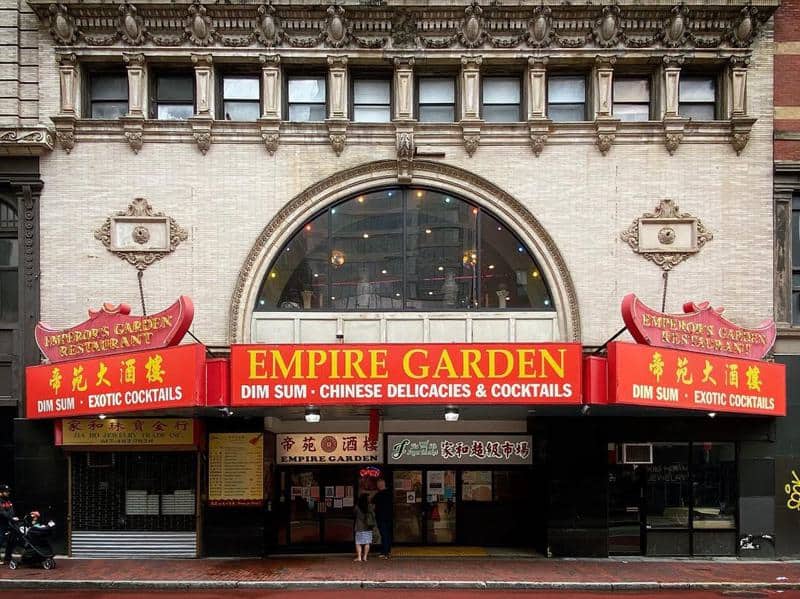 Housed inside the famous Vaudeville Theater that dates back to 1903, the Empire Garden is a tourist attraction and a fabulous restaurant here in Boston's Chinatown. An interesting fact is that the building used to serve as a martial arts cinema right before it became a fully-licensed dining establishment. Today, the Empire Garden is the place to go when you wish to dine on Chinese classic foods.
Have a memorable dining experience at the Empire Garden and choose something from their a la carte menu. From shrimp dumplings and fried prawns to dim sum and baked pork buns, there is something for everyone on the menu. We should also note that the Empire Garden is one of the few places in Chinatown that does the famous Peking duck.
Address: 690 Washington St, Boston, MA 02111
Phone: +1 617-482-8898
Tora Japanese Restaurant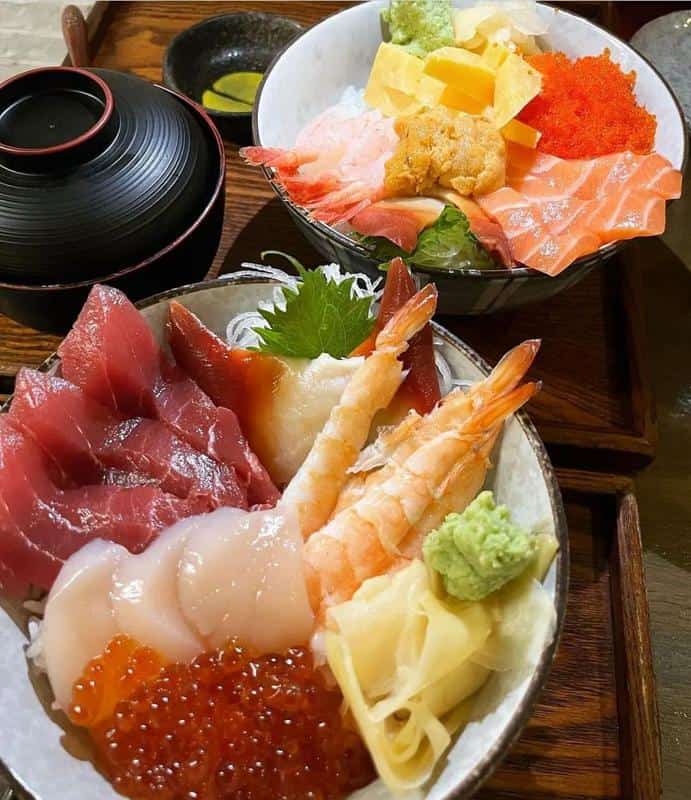 Tucked away on Tyler Street, Tora Japanese Restaurant is a great place to enjoy Japanese classics such as poke bowls and sashimi. Opened in late 2017, this restaurant is actually one of the newest additions to the foodie scene here in Chinatown, Boston. With an intimate dining area and a minimalist design, the restaurant looks beautiful.
We were also told that Tora is known to serve some of the best kaisen don (rice bowls with sashimi) in Boston. Of course, an extensive list of other tasty Japanese favorites can be found on the menu. Sushi and sashimi platters are popular options, as well as the spicy salmon and tuna poke bowl and broiled teriyaki eel over rice.
Address: 20B Tyler St, Boston, MA 02111, United States
Phone: +1 617-542-6688
Peach Farm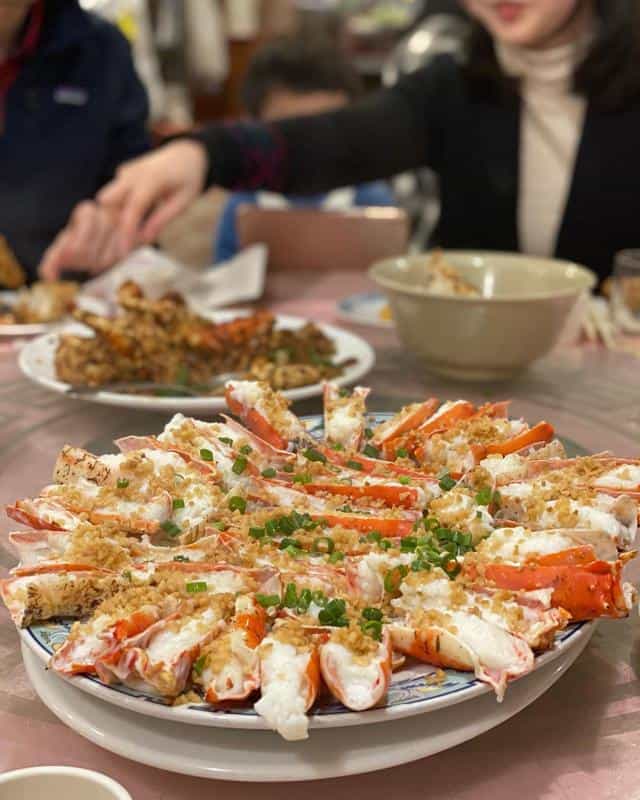 Peach Farm is a Hong Kong-style seafood eatery where Chef Andy Yang prepares the most delicious fish and seafood dishes ever. Believe it or not, the restaurant used to work until 3 am and was one of the most popular places to eat after a night out in Boston's Chinatown. Unfortunately, due to the pandemic, they had to change their working hours and now they are open until midnight.
So, what is so special about this place? The seafood and fish is plucked live from a tank and cooked to your taste! Order the steamed whole black fish with ginger and soy or try the enormous steamed oysters in black bean sauce. Some of the other must-try dishes on the menu include lobster stir-fried with ginger and scallions and Peking ravioli.
It is also worth mentioning that the Peach Farm offers some seriously amazing wallet-friendly lunch specials.
Address: 4 Tyler St, Boston, MA 02111
Phone: +1 617-482-3332
Winsor Dim Sum Cafe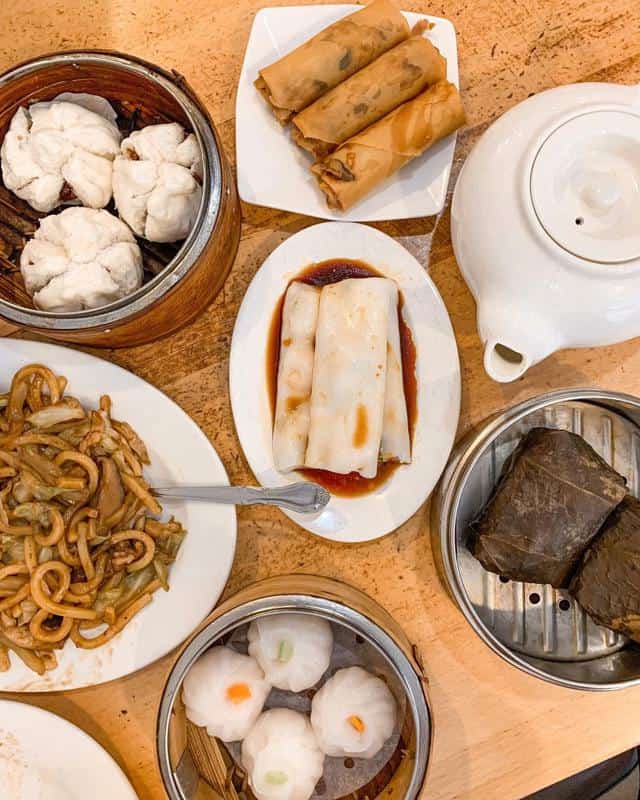 If you are in the mood for some dim sum, make your way to the popular Winsor Dim Sum Café. Located just a stone's throw from One Greenway, this Chinatown joint is all about dim sum. You won't see any carts in the dining room, which means that everything from steamed pork buns to egg yolk custard buns is made-to-order.
The vibe here is friendly with a dining room where it's quite common to see people sharing a table with other dim sum-seeking folks. If you wish to try something different, get the shredded pig ears in mala sauce and you won't be disappointed.
Address: 10 Tyler St, Boston, MA 02111
Phone: +1 617-338-1688
Double Chin Modern Asian Restaurant
Founded by the Chin Sisters, the Double Chin Modern Asian Restaurant offers a modern take on delicious Asian classics. The restaurant is located in the heart of Boston's Chinatown and attracts large crowds of visitors throughout the week.
On the food menu that was designed by the owners, expect to find dishes like kimchi alfredo, tomato pork chop rice, Matcha Ma Call It, and Hong Kong hot chicken. The restaurant also offers the world-famous cube toast, house-baked brioche deep-fried in French toast batter and served with toppings like chocolate fudge and granola.
If you experience a sugar rush, get the Doughnut Bomb which includes a deep-fried brioche topped with matcha syrup, ice cream, and fresh whipped cream.
Address: 86 Harrison Ave, Boston, MA 02111
Phone: +1 617-482-0682
Clay Pot Café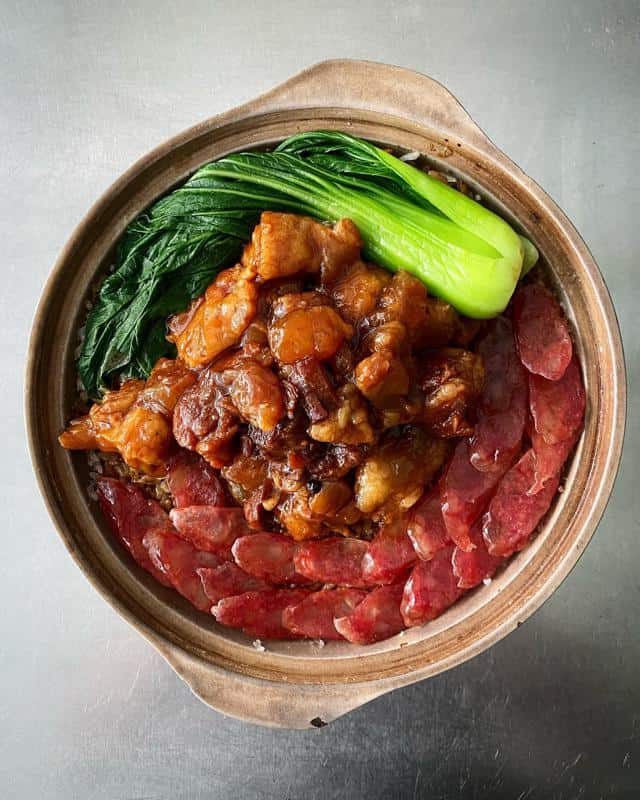 Welcome to the Clay Pot Café in Boston's Chinatown. This family-run cash-only establishment was opened by two brothers, their parents, and an aunt. The brothers worked in the front serving customers, while the parents and the aunt were in the kitchen preparing everything from meat dishes to noodles. Not much has changed over the years. Clay Pot Café is still a family-operated eatery that offers reasonably priced traditional Chinese dishes.
The signature dish at the café is the steaming clay pot rice, a Cantonese dish that originates from Hong Kong. Of course, you can choose from many topping options to add to your plate of crispy burnt rice. Another popular dish is the coconut walnut herb soup. It is believed that this soup can cure the worst hangover. You will also want to try Clay Pot Café's pan-fried dumplings, pork sausages, and curry fish.
Address: 74 Kneeland St, Boston, MA 02111
Phone: +1 617-357-5262
The Q Restaurant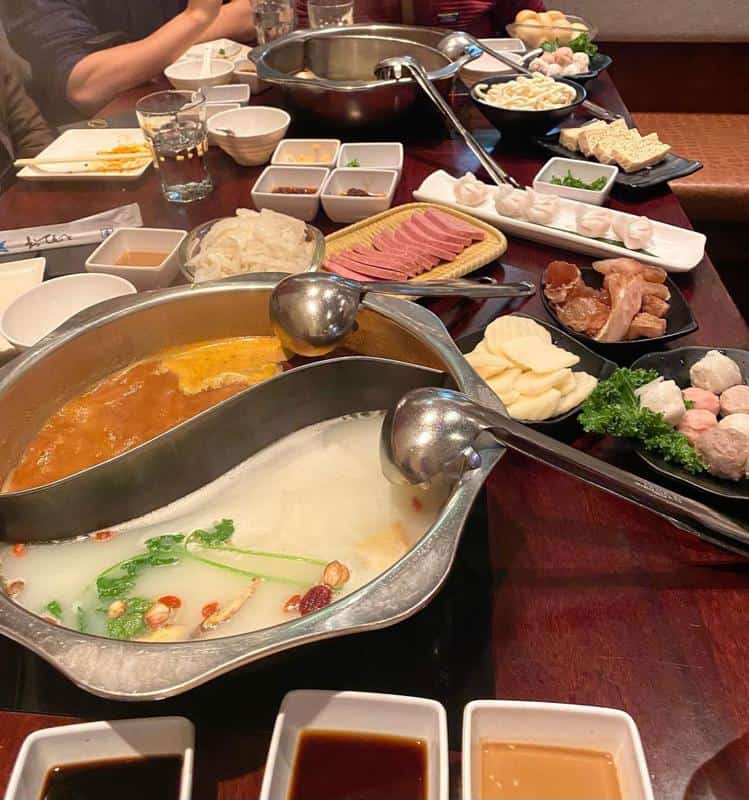 A hot pot spot where you can choose your own veggies, raw meats, and broth, Q Restaurant is one of the must-visit restaurants in Chinatown, Boston. Like every other hot pot joint in Chinatown, Q allows you to cook your own meat. Keep in mind that this place is extremely popular and doesn't do reservations. Therefore, we recommend visiting Q early in the evening. The food menu is extensive and offers a mixture of Chinese and Japanese cuisine.
One of the most popular dishes on the menu is the Mongolian hot pot, a spicy beef tallow broth that guests can top with veggies and Korean-style sweet potato noodles. The truth is that most people come here for the hot pot. There are 14 broths to choose from and countless veggie and noodle options.
If cooking your own food in a restaurant is not something you are interested in, you can always get something from their a la carte menu. We recommend Chinese fried dough sticks, lobster tail, and wagyu short ribs.
Address: 660 Washington St, Boston, MA 02111
Phone: +1 857-350-3968
Read More:
Final Thoughts
There is no shortage of fabulous restaurants in Chinatown, Boston. Whether you are craving Japanese ramen, want to enjoy Chinese food classics, or maybe sample Malaysian cuisine for the first time, this neighborhood in Boston offers something for everyone.
To sum it all up, if you are a fan of Asian cuisine and wish to sample delicious foods without breaking the bank, a visit to Boston's Chinatown is simply a must.