Any New York native knows that you'll never run out of scrumptious restaurants to try out in the city. From charming, Instagrammable bakeries to Italian pizzerias that rival those in Naples, there's always something for you in the Big Apple.
That's because NYC is a melting pot. People from different countries and backgrounds live in this tiny city. So you can bet the restaurants offer cuisines from places far away—even as far as Asia.
New York is bursting at the seams with mouthwatering Asian food, like sushi, Korean barbecue, pad thai, soup dumplings, roti, and more.
It's slowly becoming a hotspot for Pan-Asian and fusion cuisine as well, allowing residents and tourists to experience strong, authentic Asian flavors in a modern style.
Taking your pick among the hundreds of Asian restaurants in New York City can be a bit overwhelming. Here's a rundown of the 12 best ones you should check out.
Best Asian Restaurants in New York City
Momofuku Noodle Bar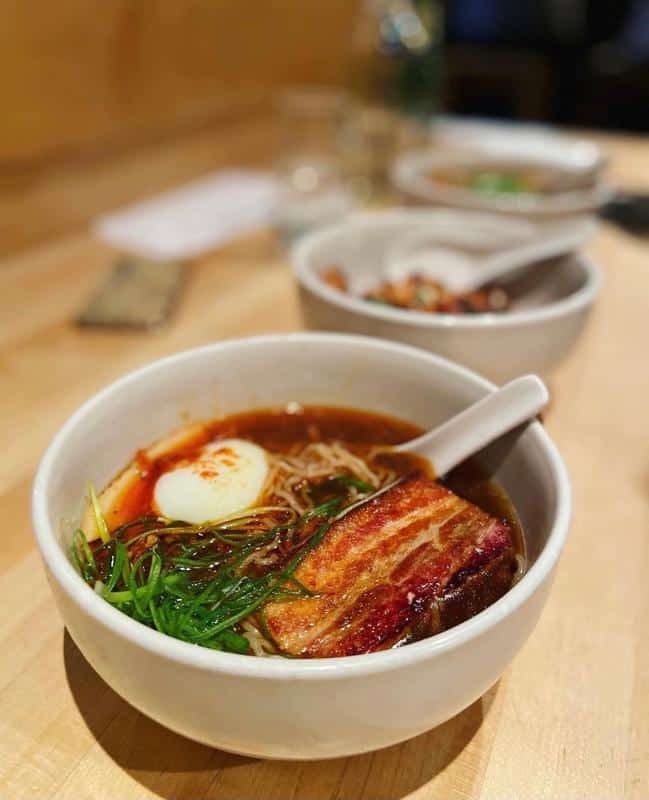 Address: 171 1st Ave. Between 10th and 11th St., East Village
Known for: Ramen and steamed buns, laidback atmosphere
Perfect for: Solo diners, David Chang fans, tourists who want iconic NYC food
Chef and TV personality David Chang's Momofuku restaurant group has become the pride and joy of New York, at least where Asian food is concerned.
It has tons of restaurants under its belt, but the longstanding fan-favorite is still the first restaurant it ever launched — Momofuku Noodle Bar.
Their most popular dish? The Momofuku Ramen—a huge bowl of umami-flavored pork broth, soft pork belly and shoulder, and a glorious poached egg on top. If you're not a fan of ramen, try out their ginger scallion noodles for a lighter meal.
You don't want to sleep on their steamed buns either. Although the classic steamed buns filled with juicy pork loin aren't on their menu, you can still ask the server for them; they'll know exactly what you're talking about.
The buns, noodle dishes, and even the indulgent desserts are so delicious and reasonably priced that the restaurant has earned one of Michelin's Bib Gourmands.
Bua Thai Ramen and Robata Grill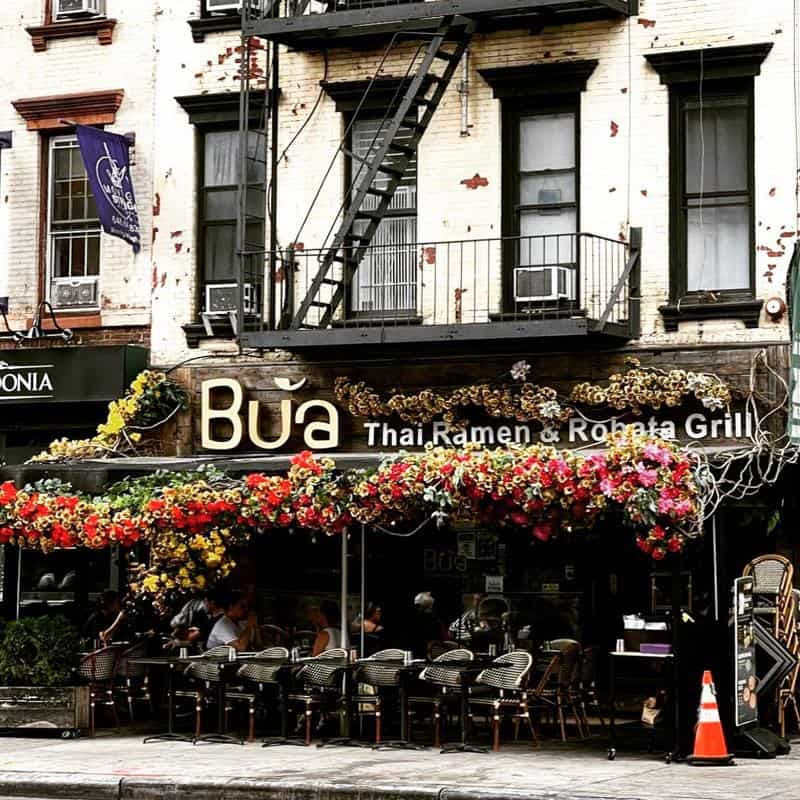 Address: 1611 2nd Ave., Upper East Side
Known for: Instagrammable Thai food, colorful dishes and cocktails
Perfect for: Friends looking for a cute place for dinner and drinks
Don't let the weathered exterior of this dining bar fool you. Bua Thai Ramen and Robata gives you a taste of classic Thai food presented in a vibrant, aesthetically appealing way that's perfect for get-togethers and photos.
They have a huge range of dishes, from flavorful noodles to meat and seafood tossed on the grill. We recommend you try out the hearty chicken pad thai or crispy rice spicy tuna, followed by the delectable fried vanilla ice cream. They also have fruity, refreshing cocktails for a nightcap with friends.
The presentation of these items is always innovative and colorful, whether they're decorated with fuschia-colored flowers or served on green banana leaves.
Some of the menu items—like the roasted chicken fried rice and a few cocktails—are even served in an actual pineapple!
OBAO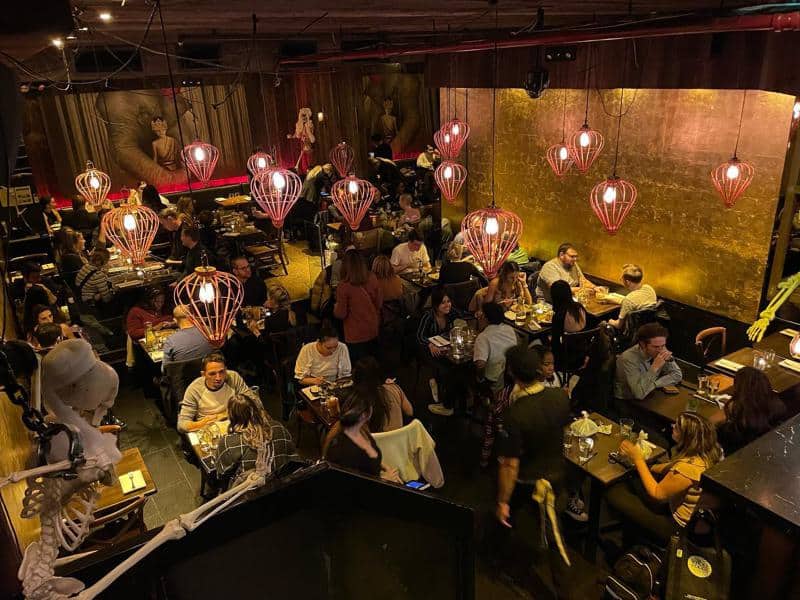 Address: 647 9th Ave., Hell's Kitchen and 222 East 53rd St., Midtown East
Known for: Traditional Thai and Vietnamese food with a modern twist
Perfect for: Fusion cuisine lovers, small groups of friends, casual dinner dates
Comfort foods from Southeast Asia like pho and pad thai are a dime a dozen in a city like New York. If you love those dishes but want something a tad bit more elegant and experimental, fusion resto OBAO is the place for you.
OBAO takes the usual Thai and Vietnamese street food (like spring rolls, spare ribs, and noodles) and elevates it. It uses a combination of ingredients from these two similar but distinctive cuisines, creating a tasty, sophisticated amalgamation of their flavors.
Some of the restaurant's best dishes include classic Southeast Asian go-to's like shrimp pad thai with a poached egg on top, sambal-spiced calamari, and spare ribs with a honey glaze.
Buddakan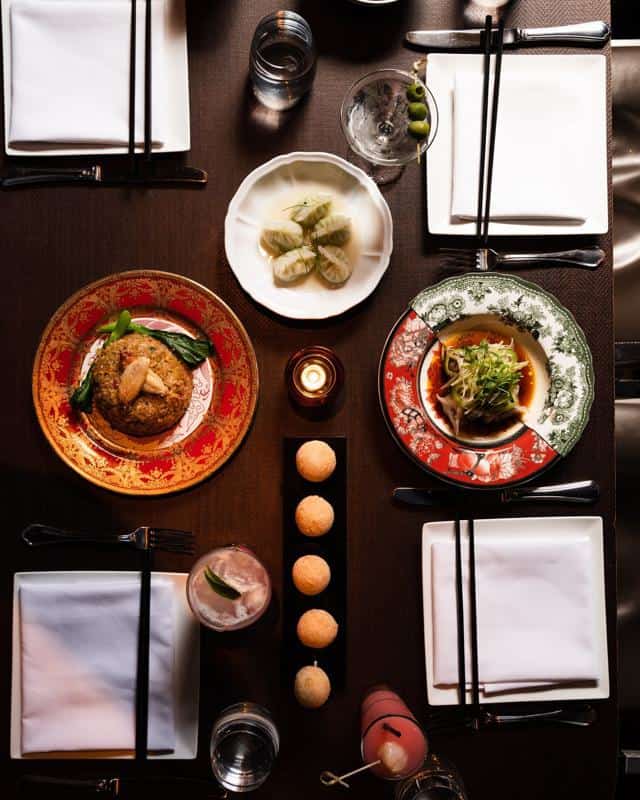 Address: 75 9th Ave., Meatpacking District
Known for: Group tasting menus, upscale and moody atmosphere, high-end interior design
Perfect for: Clubstaurant enthusiasts, lovers of European interiors, friend groups willing to splurge on high-end Asian fare
Although this huge, lavish dining hall is decorated with fancy chandeliers and European art on its walls, Buddakan is first and foremost an Asian restaurant.
The stunningly decadent room is meant to evoke a worldly atmosphere as you sink your teeth into top-quality Asian fusion dishes.
The dishes here are on the more luxurious side but still provide a taste of Asia's signature flavors. You can either order from their dinner menu or opt for a tasting menu, which is available for parties of four or more.
Among their bestsellers are the edamame dumplings, tea-smoked spare ribs, and their signature dim sum platter.
If you and your party want something more opulent and indulgent, try out the whole Peking duck and a selection from the bar's sophisticated wines.
Blue Ribbon Sushi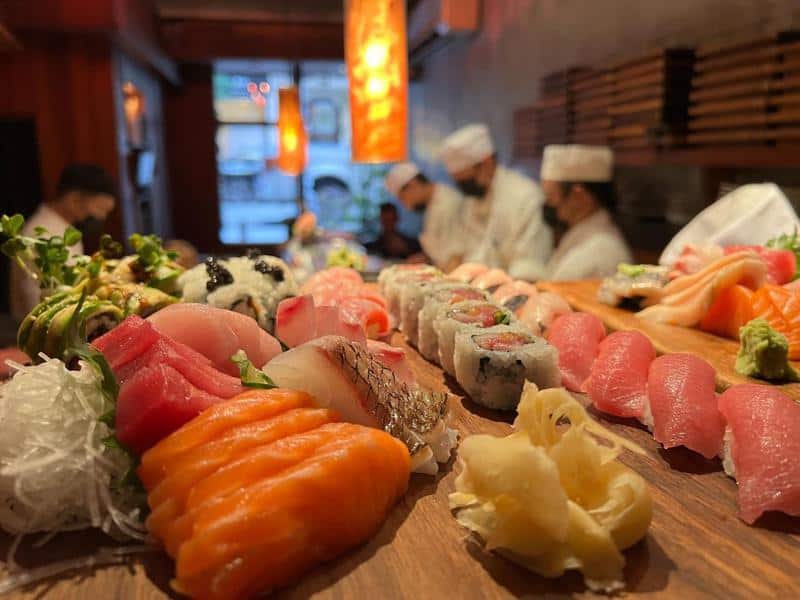 Address: 119 Sullivan St., SoHo
Known for: Fresh fish, bar seating where you see the chefs make the sushi
Perfect for: Those fascinated with the art of making sushi
Blue Ribbon Sushi is a collaboration between chefs Bruce & Eric Bromberg and the late sushi master Toshi Ueki. The restaurant prides itself on using very fresh and high-quality fish across all its rolls and dishes, giving customers a taste of how it's done to perfection in Japan.
What's awesome about this restaurant is that you have a few dining options.
If you're curious about sushi-making, you can sit at the cedar-clad bar and watch the chefs slice and roll your sushi up in front of you, omakase-style. If you want a no-frills dinner, you can sit at one of the cozy tables in the back.
On your first time at Blue Ribbon Sushi, give their deluxe platter a go. This set includes 10 pieces of sushi and some maki. The flavor and freshness of the fish are so delicious, you might find yourself doing without the soy sauce on the side.
Izakaya MEW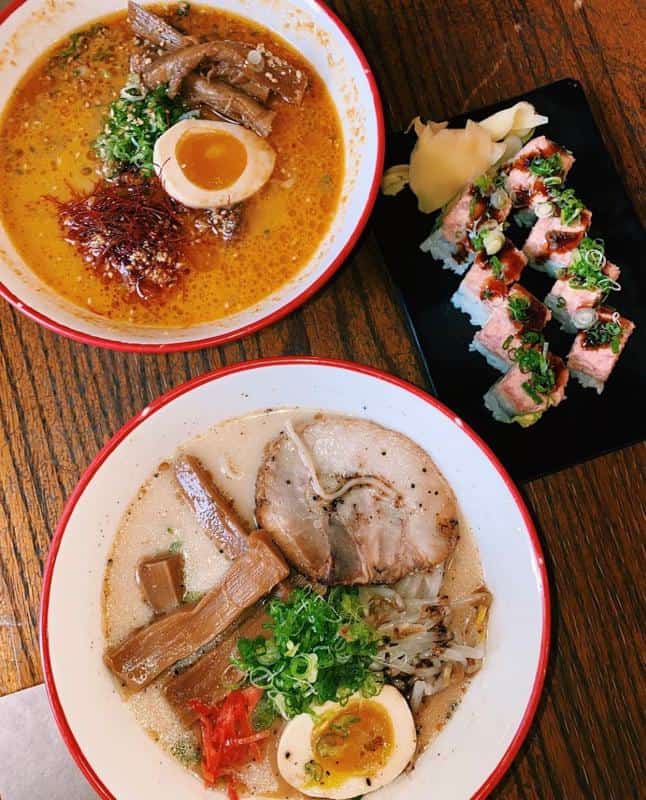 Address: 53 W 35th St., Midtown West
Known for: Casual Japanese dishes, underground basement pub
Perfect for: Those who want to enjoy Japanese food in a relaxed setting
Izakaya MEW is a basement pub that fuses delicate Japanese flavors with New York's modern eating culture with a tapas-style menu. It's not as intimidating as fancy omakase restaurants. Instead, it's more laidback but still gives you exquisite sushi, yakitori, rolls, and more.
Just like the casual izakayas in Tokyo, this one comes alive in the evening—although they're open all day too if you want to grab a bite for lunch. They're the perfect way to end a night of chill, casual drinking (they close pretty early, so try to get there before then!).
The mains are huge here; you might want to try the kimchi cream udon or the salmon don for that. If you're looking at smaller plates, the delicious fried gyoza and sushi rolls will steal your heart.
Shanghai 21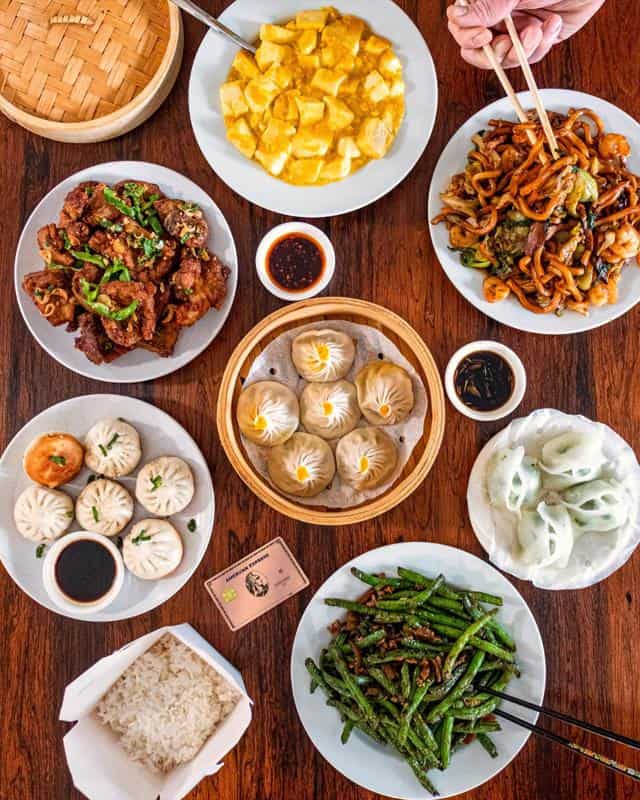 Address: 21 Mott St., Chinatown
Known for: Best Chinese soup dumplings in New York
Perfect for: Budget eaters, Chinatown frequenters, hole-in-the-wall lovers
If you want an affordable, no-frills Chinese place to get your dim sum fix, Shanghai 21 should be on the top of your list. They have all the quintessential Chinese dishes you could be craving, from Shanghai-style lo mein with pork to kung pao chicken.
But their crème de la crème is still their signature soup dumplings, also known as xiaolongbao. These mouthwatering dumplings are filled with crab, pork, and even black truffle. And as soon as you take a bite, a rich, salty broth envelops your tongue with a savory, umami flavor.
The store is quite small with around ten or so tables, so the place fills up fast. There may be a queue during peak hours, but don't let that stop you from dining here. The service is quite brisk, so you can expect to be eating after a short wait.
TAO Uptown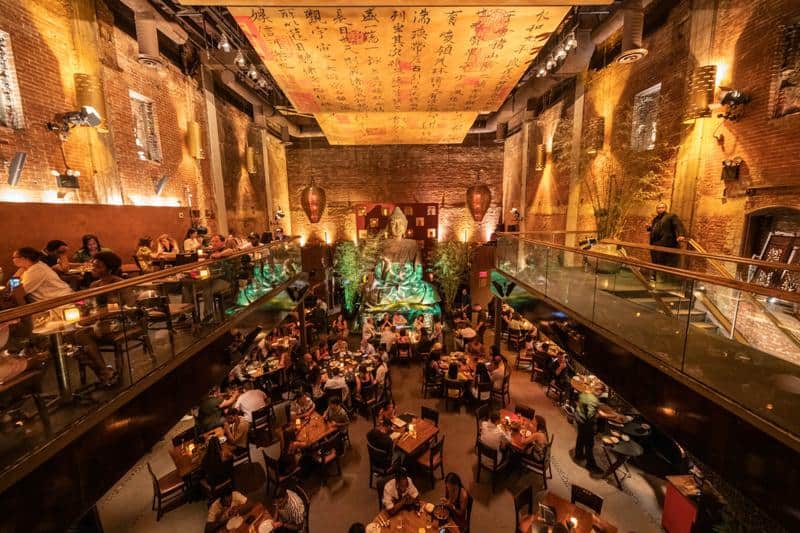 Address: 42 E 58th St., Midtown
Known for: Luxury Pan-Asian food, extensive wine selection, opulent interiors
Perfect for: Asian cuisine lovers who want to live the high life
Looking for a decadent, almost over-the-top experience as you chow down on high-end Asian food? TAO Uptown is definitely for you.
A favorite among celebrities and influencers, TAO allows you to experience life on the fast lane for a night with luxurious Pan-Asian dishes ranging from Chinese, Japanese, and Thai cuisines.
You can order your favorite traditional Asian dishes, like sweet and sour pork, dim sum, and tuna tartare. But you can also level it up and order something more indulgent, like Peking duck or lobster pad thai.
The huge, 300-seater restaurant has New York's dramatic flair written all over it. There's a 16-foot buddha that sits right above a pool full of koi fish. Meanwhile, the bar has an extensive (and expensive) wine list for the perfect toast to end the night with.
Indian Accent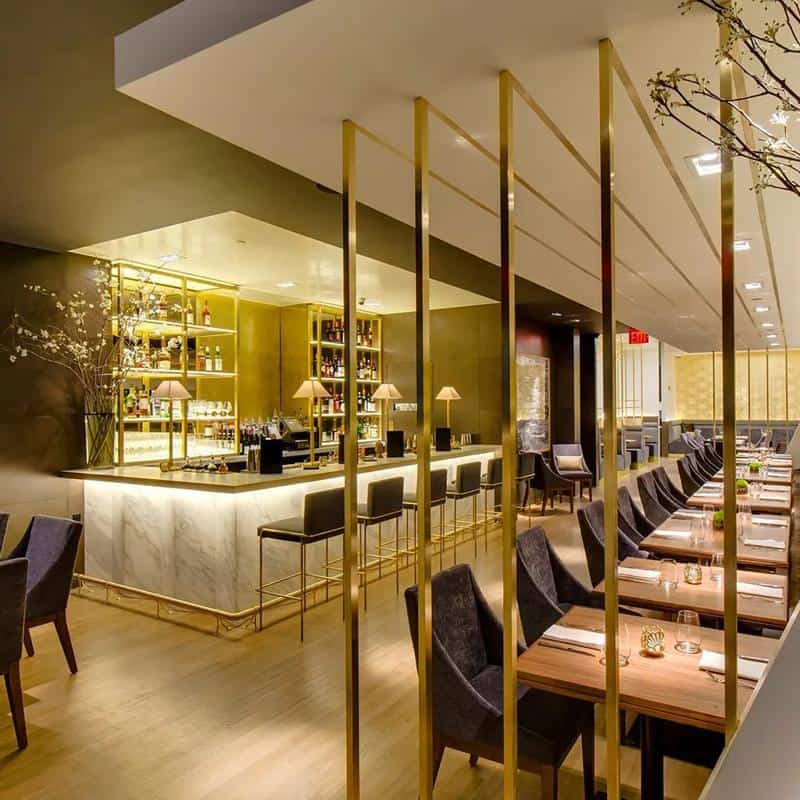 Address: 123 W 56th St., Midtown
Known for: Nostalgic but high-end Indian meals, robust wine list
Perfect for: Indian food lovers who want something ritzy and elegant
Indian Accent is a lavish, high-end restaurant that serves modern, sophisticated Indian dishes while keeping traditional flavors and ingredients intact.
As soon as you step into the restaurant, you'll be swept away by its white and gold interiors and upscale feel.
The food makes it even better. Renowned chef Manish Mehrotra ensures that the dishes stay true to the strong and unique flavors of India while still being molded by modern, global influences.
The restaurant sticks to nostalgic Indian foods, like pappadam and Kashmir morels. However, it elevates these elements with additions of luxury ingredients, such as black truffle.
HanGawi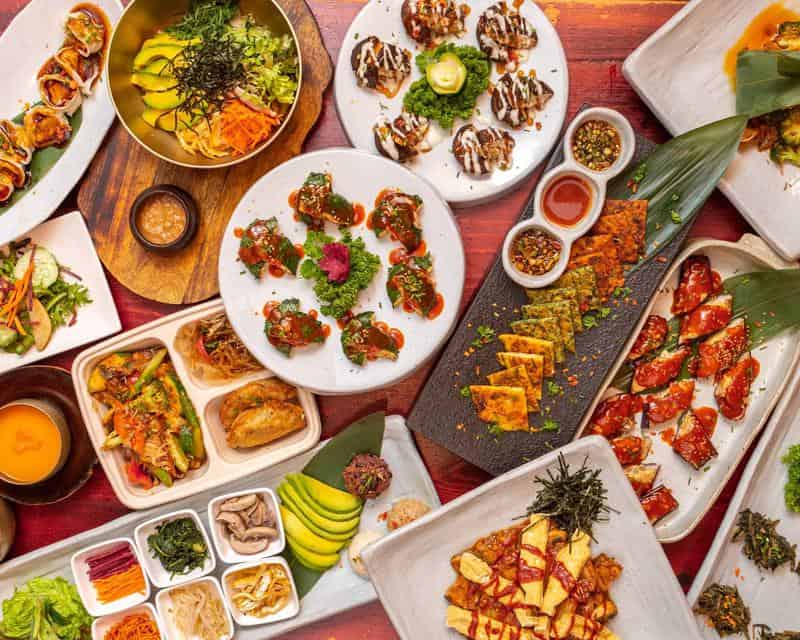 Address: 12 E 32nd St., Midtown South
Known for: Exclusively vegan dishes, healthy Korean cuisine
Perfect for: Vegans, meat lovers who want to try vegetarian food they'll still love
With a Bib Gourmand under its belt, HanGawi serves the most delicious Korean, vegetarian meals any meat lover will find utterly mind-blowing.
The native Koreans behind this upscale restaurant make it their mission to show Americans that vegetarian dishes can still be tasty and satisfying.
This homey restaurant offers tons of Korean fare for you to try. There are platters of ssam bap, where you can make your own lettuce wraps with avocado, daikon, and bean sprouts.
You can also go for the vegetarian kimbap, dumplings, and tofu clay pot—all of which are seasoned to perfection.
And this place isn't just for vegetarians. It's also perfect for anyone looking for a light dinner that will still leave a strong impression.
Cote NYC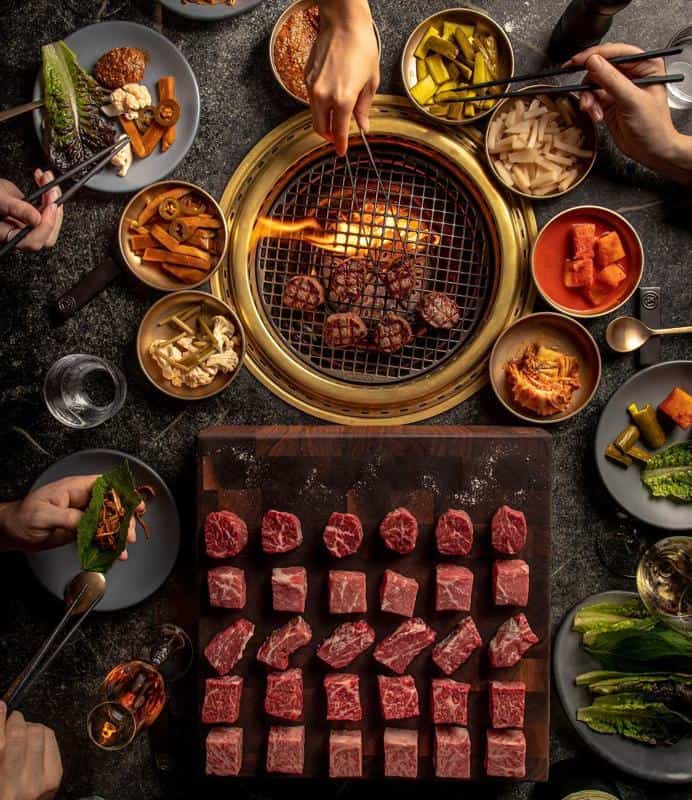 Address: 16 W 22nd St., Flatiron District
Known for: USDA prime meat cuts, smokeless grill at each table, wine list with over 1,000 labels
Perfect for: Steakhouse enthusiasts, Korean barbecue lovers
Here's another Korean restaurant—this time for the carnivores who don't want to give up their meat. Michelin-starred Cote NYC is a high-end, indulgent Korean steakhouse.
It's inspired by the famous Korean barbecue houses that litter the streets of Seoul. However, it's made to be a little more upscale.
The restaurant is owned by Simon Kim, a native Korean who wanted to marry his love for his motherland's cuisine and his appreciation of the steakhouse trend in America. The finished product? The dark, sleek, moody steakhouse that is Cote NYC.
Much like at a Korean barbecue place, they serve various cuts of meat. But what makes Cote unique is that all the meats in the restaurant are USDA Prime and American Wagyu.
Every table has a smokeless grill, where you can cook steak cuts like ribeye, sirloin, and even the decadent filet mignon. Of course, these meats are accompanied by Korean banchan, including egg soufflé and kimchi.
Madame Vo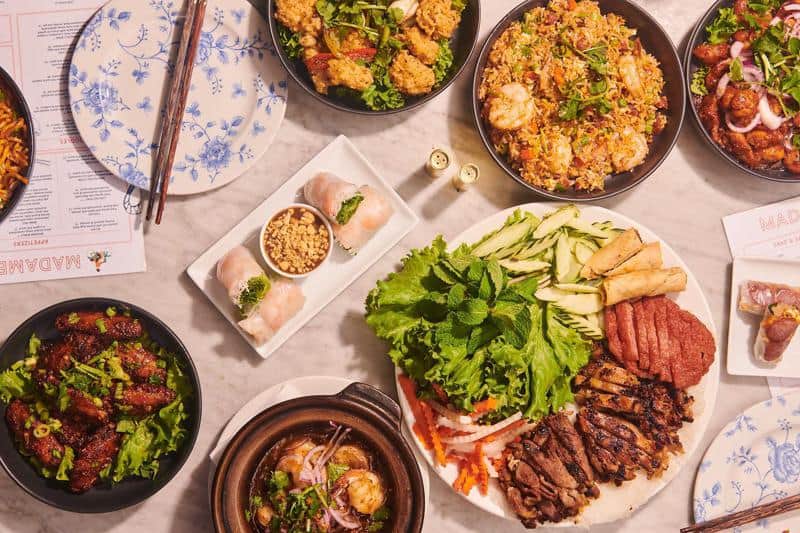 Address: 212 E 10th St., East Village
Known for: 24-hour pho stock, authentic Vietnamese cuisine
Perfect for: Pho lovers, those looking for a casual Asian dinner place
Madame Vo in the East Village may be small and narrow, but the sumptuous homestyle Vietnamese cooking will make up for the slight discomfort.
The restaurant is owned by a Vietnamese husband-and-wife tandem with a knack for cooking the best comfort food from their home country.
They have everything from noodles, bún riêu, deep-fried spring rolls, and even fresh coconuts to give you a taste of Vietnam.
Their pho is made extra special. The brisket is steeped in the stock for 24 hours, making the broth intensely flavorful and satisfying.
You can even take it a step further and add some roasted oxtail to your pho to make it extra tasty. Make sure you don't miss it.
Read More:
Conclusion
Whether you're in the mood for light Vietnamese fare, hearty Chinese dim sum, high-end Japanese party platters, or any other kind of Asian food, New York City has it for you.
If you happen to be in the city and need to satisfy your cravings for Asia's sweet, spicy, and umami flavors, take your pick among the restaurants on this list. We promise you won't regret it!