When we think of Santa Cruz, we think of sunny days spent on the beach, surfing, bike rides, and long sunset walks. All of that makes a person hungry at the end of the day. And what should one eat while enjoying the Pacific breeze and the views of Monterey Bay? Well, seafood, of course!
Being a popular tourist area, Santa Cruz is full of all sorts of restaurants, as one might expect. But any seasoned traveler also knows that such places are often home to many typical tourist traps. Luckily, in Santa Cruz you don't have to worry too much about that, as the overall quality of the restaurants there is quite high. Still, some are better than others, and we know you only want the best for yourself and your company.
Today, we'll talk about the best seafood restaurants in Santa Cruz to visit.
Our Top Picks
Best View: Riva Fish House
Best Wine Pairings: Crow's Nest Restaurant
Best for Family Outings: Makai Island Kitchen & Groggery
Best for Lunch: Aldo's Harbor Restaurant
Best Santa Cruz Seafood Restaurants
Riva Fish House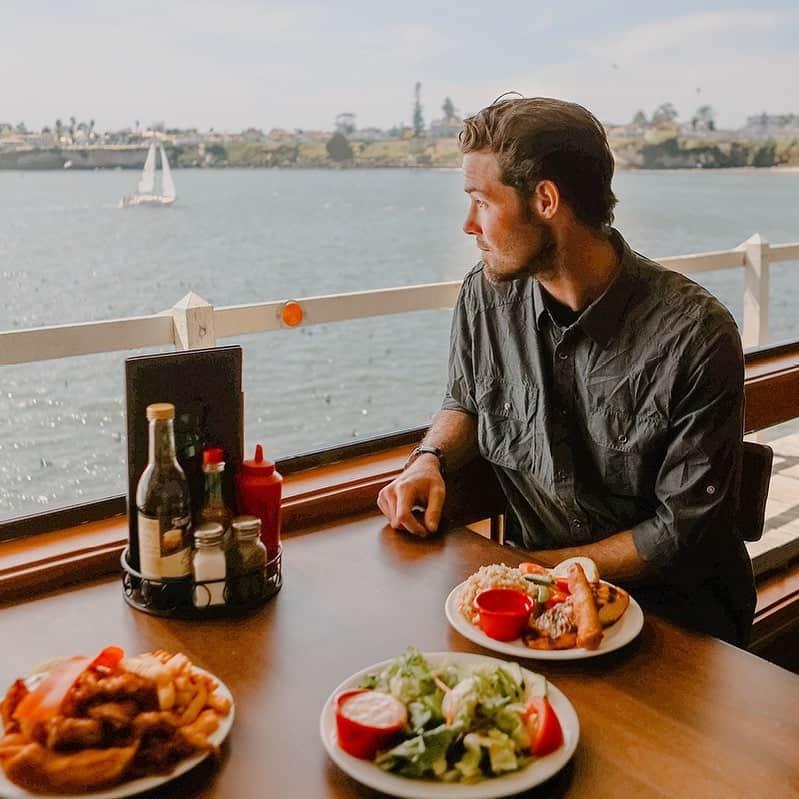 Hours: 11:00 am – 8:00 pm
Address: 31 Municipal Wharf, Santa Cruz, CA 95060
Price: $$
If you're looking for a place where you can enjoy breathtaking ocean views while eating, then Riva Fish House is the way to go. Located on the wharf, the restaurant offers the perfect panoramic overlook of Monterey Bay.
It's impossible to decide on one dish you must try when the menu offers tons of delicious options. From prawns and scallops topped with melted pepper jack cheese, to clams with linguini in a spicy Cajun cream sauce, all the ingredients are carefully selected and combined for the ultimate seafood experience.
If you can't make your pick, we suggest checking out the "Over Charcoal" menu. You can pair the grilled protein of your choice with any of Riva's signature sauces that deliciously embody the tenderness of seafood. Rest assured that no matter what you pick, you'll leave the restaurant feeling full, because the portions are quite hearty.
Diner's Note: A large number of dishes can be served as gluten-free versions. Just look for red stickers on the menu to see what gluten-free options the restaurant offers.
Crow's Nest Restaurant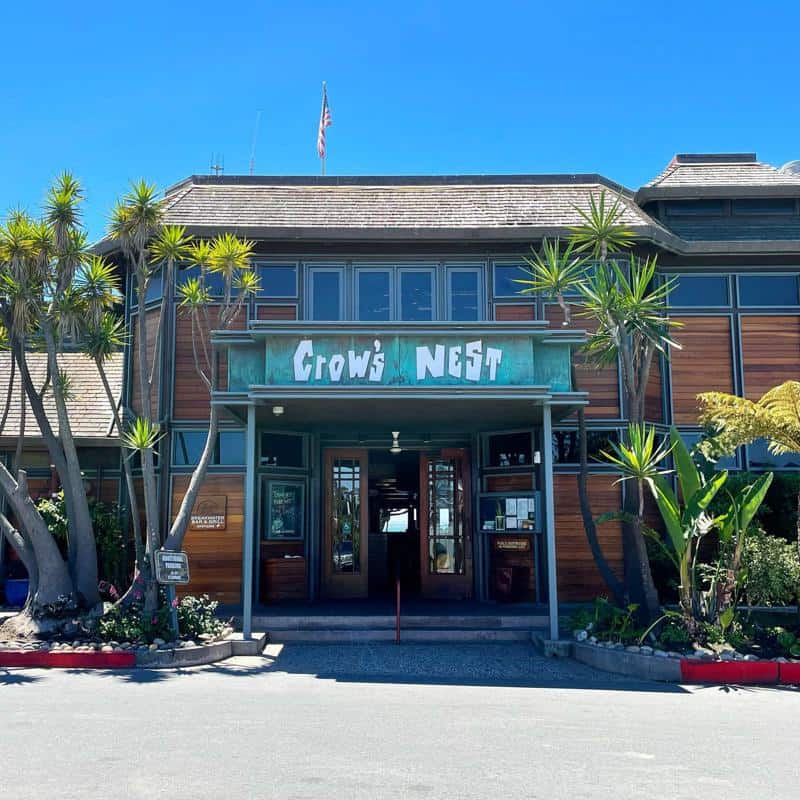 Hours: Bar & Grill open Monday through Friday from 11:30 am, Saturday and Sunday 11 am; Downstairs Dining Room opens at 8 am every day; open until 9 pm daily
Address: 2218 East Cliff Drive, Santa Cruz, CA 95062
Price: $$$
Astonishing ocean views, friendly atmosphere, locally sourced seafood, live entertainment – the Crow's Nest has it all. With a foundation set over fifty years ago, this waterfront restaurant's long-time regulars can expect to enjoy the same delicious meals that keep them coming back for years now.
If fresh seafood or chef's daily specials are what you're craving, head to the downstairs dining room, the epitome of high-end dining. The restaurant's comprehensive menu highlights local Californian cuisine with fresh ingredients. From Broiled Lobster Tail to Ahi Sandwich, the Crow's Nest manages to put together flavors that take seafood to the next level.
The Breakwater Bar & Grill located upstairs offers a variety of quick delicious snacks throughout the day, and live music by night. From seafood appetizers to bar classics like wings or tacos, the upstairs menu leaves no one hungry.
Diner's note: Make sure to try something from the impressively-long list of wines. If you're unsure what to pick, each dish on the menu features a wine pairing suggestion that goes well together.
Makai Island Kitchen & Groggery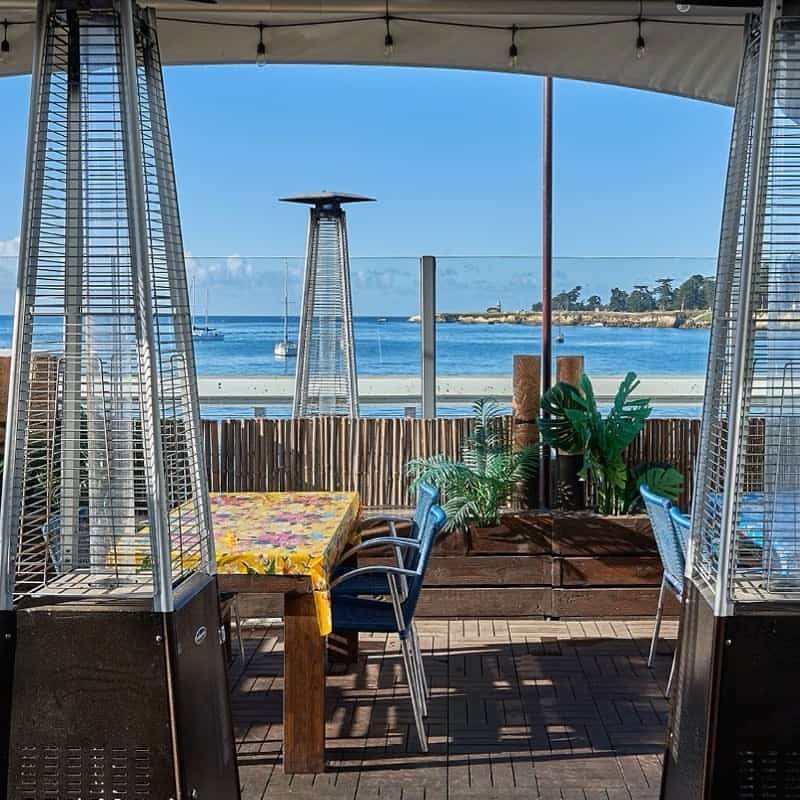 Hours: Monday – Thursday 11 am – 8 pm; Friday – Sunday 11 am – 9 pm
Address: 49A Municipal Wharf, Santa Cruz, CA 95060
Price: $$
Nestled between the other seafood restaurants on the Santa Cruz wharf, Makai Island Kitchen & Groggery offers a dreamy tropical atmosphere. Step inside and you'll be transported into another world: the interior is full of bamboo, rattan, palm fronds and lots of little details that will make you feel like you're on a fairytale island.
Now, Makai Island is not a place where you can only have seafood, but that certainly is what most people eat here. The restaurant has a Hawaiian theme, but one can notice lots of pan-Asian influence on the menu.
In accordance with the theme, you can start your meal with the Pupus. While the Pupu Platter is a classic, we also love the Poke Stack which combines mouthwatering ahi tuna with avocados, seaweed salad, and wonton chips.
The menu also contains some nice seafood entrees like the Makai Pad Thai with rice noodles, grilled prawns, veggies, and Thai sauce.
And while you are here, we do recommend you try at least one of their delicious desserts. If you like tropical drinks, do check out the cocktail list at Makai Island because it's great.
Diner's note: While walk-ins are perfectly fine, consider booking a table in advance to make sure you get a window seat and enjoy the ocean view to the fullest.
Also See: 10 Best Seafood Restaurants in Los Angeles
Aldo's Harbor Restaurant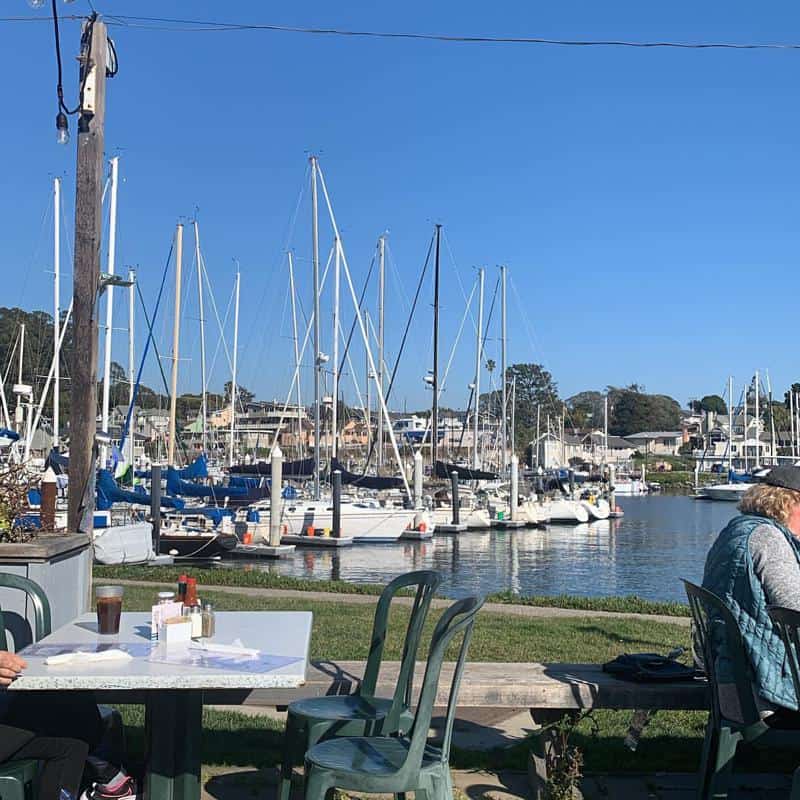 Hours: Monday – Friday 10 am – 3 pm, Saturdays and Sundays 8 am – 3 pm
Address: 790 Mariner Park Way, Santa Cruz, CA 95062
Price: $$
Family-owned Aldo's Harbor restaurant is more than just your average seafood restaurant. With five decades of experience in the food industry, Aldo's Harbor simply knows how to keep the customers coming back for more.
Fresh, locally caught seafood is delivered to the restaurant each day so you can be sure you're eating the best food around. While Cioppino is probably the restaurant's signature meal, you can't go wrong by picking anything from the menu. Each dish is served with homemade bread, which just adds more authenticity to the overall experience.
Given the fact it is served until 3 pm, even the breakfast menu is worth a consideration. A traditional egg breakfast paired with fish is a true explosion of unique flavors you can only find here.
Diner's note: Aldo's is open only for breakfast and lunch. It's a great place for family gatherings and work lunches.
Stagnaro Brothers Seafood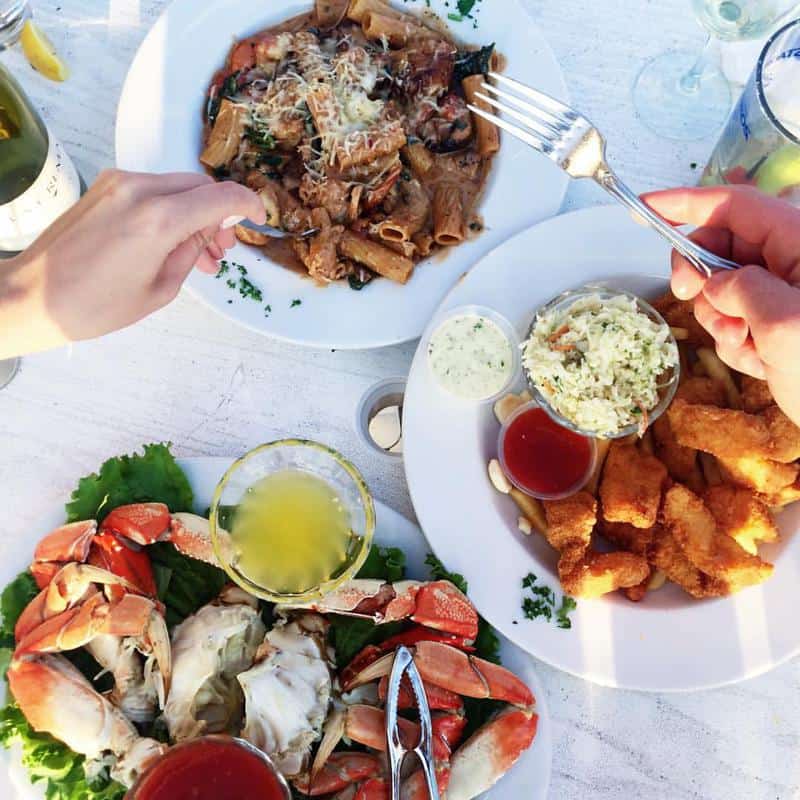 Hours: 11:00 am – 9:00 pm
Address: 320 Washington Street, Santa Cruz, CA 95060
Price: $$
Situated at the tip of the wharf, Stagnaro Brothers Seafood is as close to the ocean as you can get. But while you may visit it for the views, you'll definitely be coming back again for the food.
With over 70 years in the food industry, the Stagnaro family knows how to deliver a unique coastal attitude through an appetizing menu of fresh seafood. Each fish is accompanied by carefully thought-out sides that perfectly complement the tenderness of seafood.
While everything on the menu is delicious, Fish Tacos are the restaurant's signature dish. Fresh blackened snapper served with classic toppings in a white flour tortilla is the explosion of flavors in a true sense of the word. But if you want to try out the full range of fresh seafood, the Seafood Treasure is the way to go.
Diner's note: The restaurant is currently going through a renovation and is expected to be open in spring 2022. The market is currently open, serving food to go or to eat at the outside seating area.
Johnny's Harborside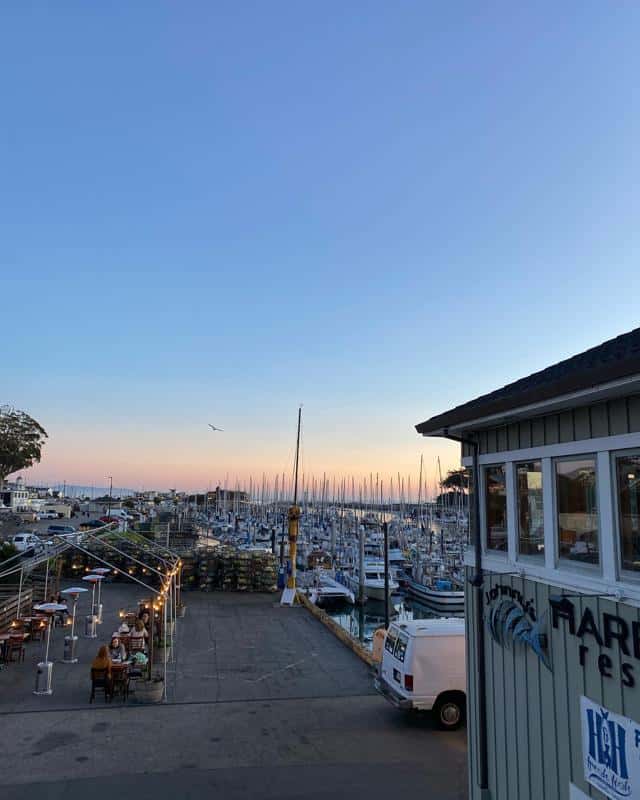 Hours: Wednesdays 4:30 pm – 7:30 pm, Thursday – Sunday 3:30 pm – 7:30 pm
Address: 493 Lake Ave, Santa Cruz, CA 95062
Price: $$$
Johnny's Harborside opened in 2009 with the idea of creating a true coastal dining experience right here at the Santa Cruz Yacht Harbor. Did it succeed? The vast amount of locals visiting this place on a regular basis absolutely confirms it did.
With a simple design and fully-windowed dining area, Johnny's Harborside is a perfect place for all occasions, be it a romantic date, business dinner or a special occasion. The menu is carefully designed to include something for everyone's taste, but of course, the accent is on their extravagant meals with fresh seafood.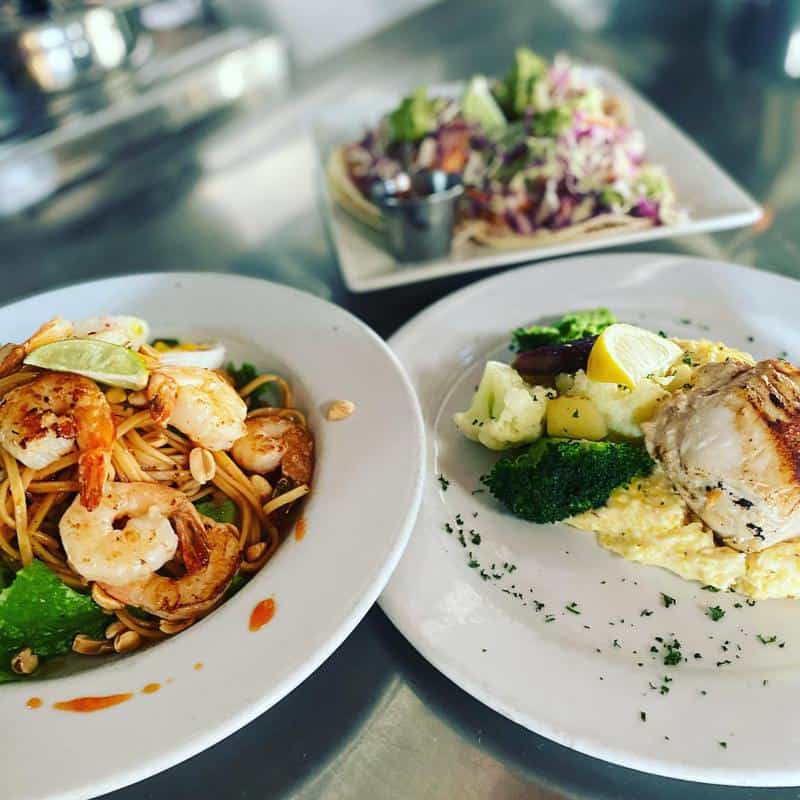 It's true that you can't go wrong by picking anything from the menu, but the dish locals most rave about is the Blackened Halibut with black beans, mango, rice and plantains. This delicious meal is a true representation of Californian cuisine with an Asian influence. And with plenty of vegetarian and gluten-free options available, there's no way anyone can stay hungry regardless of their diet.
Diner's note: The restaurant is only open for dinner. To make a reservation, simply fill out a form on the restaurant's website.
Jack O'Neill Restaurant and Lounge
Hours: Open daily for breakfast from 7 am till 11 am; 11:30 am – 2 pm are brunch hours; dinner from 5:30 pm – 9 pm
Address: 175 W Cliff Dr, Santa Cruz, CA 95060
Price: $$$
Located on the edge of Cowell beach, just next to the beginning of the wharf, the Jack O'Neill Restaurant & Lounge is a beautiful quiet spot serving some delicious seafood.
The number one selling point of Jack O'Neill is definitely the atmosphere. In the center of everything but tucked away in a quiet corner, this restaurant and lounge will make you feel more relaxed instantly. The beautiful interior and the views of the ocean have an instant soothing effect.
The menu here showcases the best of Californian coastal cuisine with fresh seafood and produce. Not everything is seafood here, but there are always at least a few amazing dishes.
For example, you could start your meal with a grilled with celery root, carrots, and a special ink & herb vinaigrette and complete it with an ahi tuna steak accompanied by beluga lentils, rainbow chard, romesco sauce, and lavash bread. Healthy and delicious!
Diner's note: Jack O'Neill Restaurant and Lounge is part of the Dream Inn. If you are staying there, definitely stop by Jack's for dinner at least once (their breakfast is great too).
Hula's Island Grill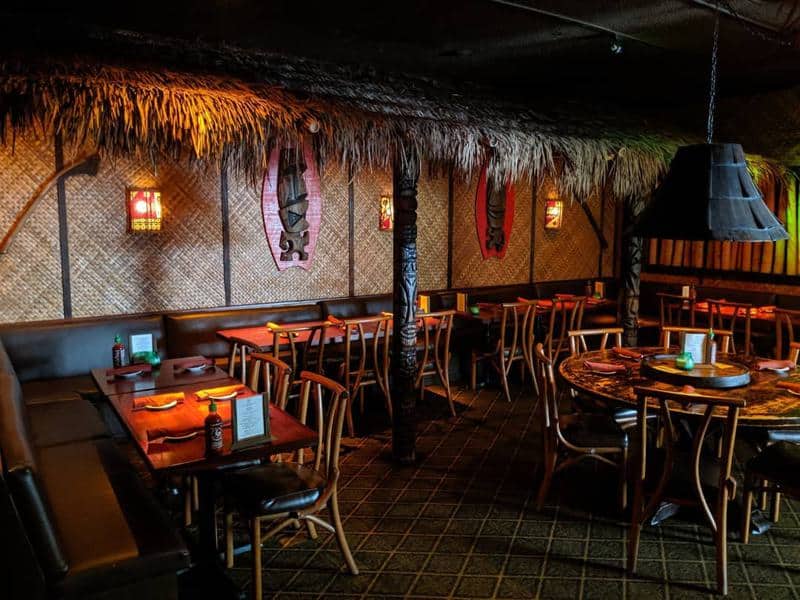 Hours: Mondays and Tuesdays 4 pm – 10 pm; Wednesdays and Thursdays 12 pm – 10 pm; Fridays and Saturdays 11:30 am – 10 pm; Sundays 11:30 am – 9 pm
Address: 221 Cathcart St, Santa Cruz, CA 95060
Price: $$
Hula's Island Grill is more than a seafood restaurant. It is a true tiki bar with a mix of tropical touches and American hints and awesome food. The atmosphere feels very homey, with lots of wood, rattan and colorful decor inside.
The food here is heavily Hawaii-inspired. You can start your meal with one of the Pupus – the appetizers which are all very different from the standard Santa Cruz fare: crispy coconut shrimp rolls, Hawaiian ceviche, or seared ahi wontons? It's hard to decide because they are all great.
The menu continues with a section dedicated to their signature bowls, where you can have your choice of seafood (and other things) over a bowl of rice, beans, and cabbage. There is also a nice offering of sandwiches and burgers as well as tacos (all of which include some seafood options).
Finally, Hula's also has a special Fish Market section of the menu where you can choose the type of fish you want and then the method of preparation. There are some unique options here too, like Lemongrass encrusted fish.
Diner's note: Hula's Island Grill has a happy hour every day (even weekends) from 4 pm till 6 pm. Stop by at this time and enjoy sampling tasty Pupus and tropical drinks at discounted prices.
Final Thoughts
Exploring seafood restaurants in Santa Cruz is really exciting! It's really difficult to say which of the restaurants above is the best, but if you have time, we definitely recommend trying more than one.
A world class atmosphere is not rare in restaurants around here. With dining establishments scattered across the beaches, the wharf, and the harbor, most restaurants on this list have a beautiful view. Dreamy interiors and airy patio spaces are typical too.
As for the seafood, a lot of it is fresh and seasonal. You can experience the real California coastal cuisine in Santa Cruz with its strong focus on local ingredients, from seafood to fruits and vegetables. At the same time, the flavors you will taste come from all over the world, with tropical flavors mixing with Asian and other influences.