All you can eat has been a booming trend offering the best of the best in hunger-busting options. Buffets have always been a crowd favorite that maintains their integrity and popularity globally. Nothing beats good food in quantities to suit any appetite!
With sushi being such a popular form of cuisine, the geniuses behind all-you-can-eat Sushi have struck a gold mine because who hasn't had a craving for nigiri and delectable California rolls before?
It's only fair that they throw together two thriving forms of dinner service to create something dynamic, tasty, and fun that can appeal to the masses! Thanks to all you can eat's growing popularity, it's no wonder there is a long list of contenders in the game!
We've compiled a list of a handful of the best All You Can Eat Sushi bars in Houston to slim down the insane number of options. This makes sure the only decision you'll be making is how much salmon sushi is too much.
Our Top Picks
Best family-friendly restaurant: Kura Revolving Sushi Bar
Broadest Menu: Miyazaki
Best dining experience: True Sushi
All You Can Eat Sushi Houston
Kura Revolving Sushi Bar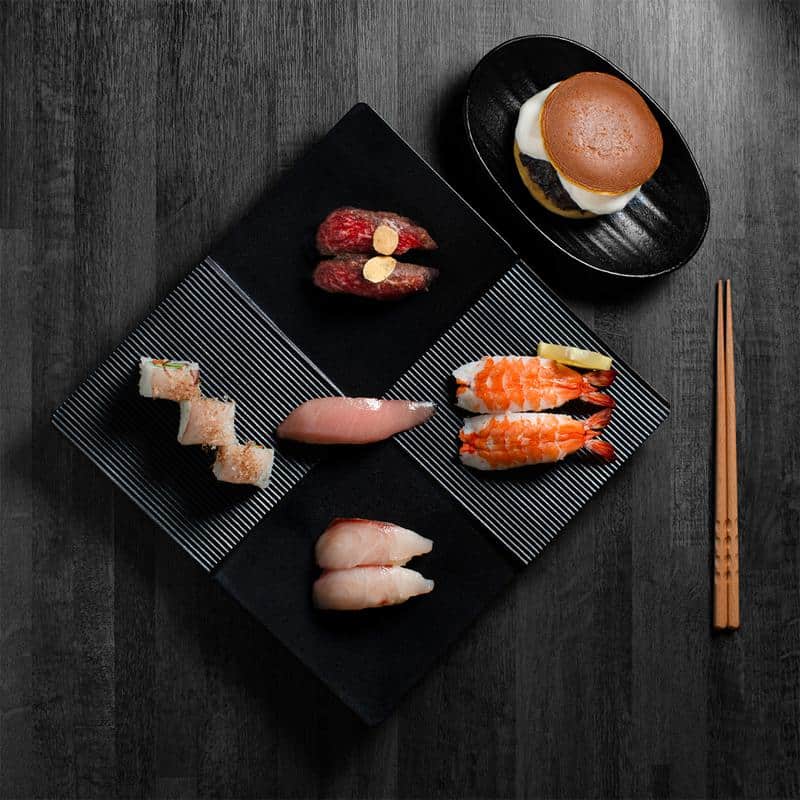 Location: 3510 Main St Suite A, Houston, TX 77002
Website: kurasushi.com
Hours: 11:30am to 9:30 pm, 11:00am to 10:30pm Fri and Sat, 11:00am to 9:30pm on Sun
Price: $$
Kura Revolving Sushi Bar brings about an innovative means of fulfilling all your wildest 'all-you-can-eat' sushi needs. It's a dining experience you wouldn't want to miss out on, with a restaurant mascot bringing in a new dynamic dining partner. What more could you ask? Food, fun, and a fantastic atmosphere all under one roof at an all-you-can-eat sushi bar!
The menu is extensive, covering all the bases needed to become a popular and thriving Sushi wonder in Houston, from maki to nigiri, rolls to sashimi and everything in between. Options even come along for those who don't particularly enjoy fish as vegetable options and beef.
They've got everything covered but never lose the essence of what they're there for, good sushi and great people. Their ingredients are fresh and premium, with various technologies ensuring that the food isn't left sitting for too long before being removed from the sushi bar.
The venue offers a vibrant atmosphere that's friendly and social. There's more than enough space for friends and family to eat their hearts out and enjoy the surrounding company! It's an intimate and refreshing dining experience, throwing in everything from prizes for clearing the most plates and a rewards system that gives back for what you spend.
Finally, did we mention the cute little robotic companion named Muten-Maru? This little robot collaborates with other adorable Japanese characters to bring an air of fun to your meal!
Miyazaki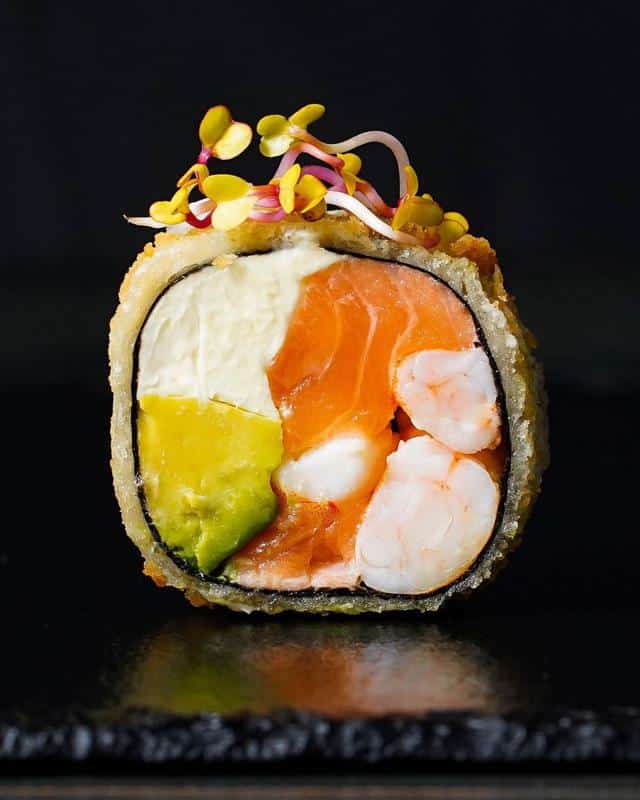 Location: 9527 Westheimer Rd, Houston, TX 77063
Website: miyazakihouston.com
Hours: 11:00am to 2:30pm (Lunch), 4:30pm to 9:00pm (Dinner),

12:00pm to 9:00pm Sat and Sun

Price: $$
Miyazaki is an All You Can Eat Japanese cuisine experience, with sushi sitting at the forefront of their menu options and in abundance depending on your tastes and choices.
With a range of ingredients and combinations, you're certain to find something you'll like, and the best part is once you find it, you can tuck it in until your stomach hurts! As long as you've got a hunger that needs to be sated, they are there with plates galore to ensure you leave there happy!
The menu comprises different sections, allowing for appetizers if you please and a host of sushi options made from everyone's favorite seafood ingredients. But if traditional sushi is not your style, don't fret.
They have fusion options that range from Mexican fusion to the addition of jalapenos to make everything a little more interesting and unique to your personal tastes. The flavor profiles may be interesting, but they work and leave no room for want!
The decor and ambiance are lively, casual enough to make it a family-friendly dining experience that's easy on the pockets and leaves everyone feeling extremely satisfied. They're there for the grandest of home comforts in every sense of the word, and their restaurant reflects it. It's simplistic and beautiful in its own way and requires no more from you than to go and enjoy yourself.
True Sushi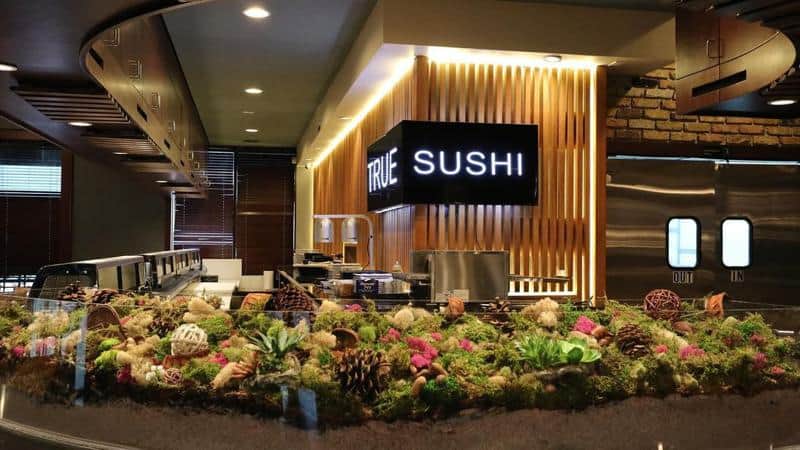 Location: 11660 Westheimer Rd Suite 129, Houston, TX 77077
Website: truesushi-ayce.smartonlineorder.com
Hours: 11:00am to 3:00pm (Lunch), 4:30pm to 9:00pm (Dinner),

12:00pm to 9:00pm Sat and Sun

Price: $$
True Sushi is a specialized all you can eat sushi bar that prides themselves in delivering quality and quantity all in one. You won't be disappointed walking into this establishment. It'll deliver the punch you need to satisfy your wildest desires while maintaining a sense of class and deliciousness you won't find anywhere else.
They offer a convenient online ordering solution to create a sense of ease. However, you simply have to walk in and enjoy a wide range of incredibly delectable dishes. The menu is extensive, and as long as your eyes aren't bigger than your stomach, you'll enjoy every second of your time here.
The venue itself holds a caliber of class that eludes many of its counterparts. You will experience the best all you can eat can offer without losing a sense of finer dining.
Mikoto Ramen and Sushi Bar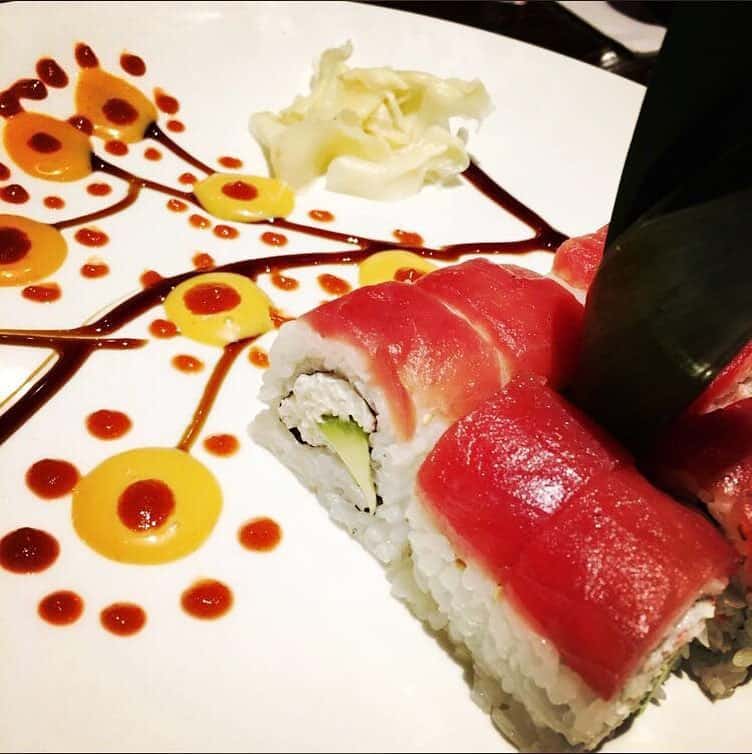 Location: 12155 Katy Fwy, Houston, TX 77079
Website: mikotoramen.com
Hours: 11:00am to 3:30pm (Lunch), 5:00pm to 10:00pm (Dinner),

11:00pm to 10:00pm Sat and Sun, Closed on Wed

Price: $$
Don't let the name fool you, Mikoto Ramen has plenty of sushi options to make even the most veteran of sushi lovers quiver with delight, it's an absolute paradise for those of you with a craving for all-you-can-eat Sushi, and their menu leaves nothing to the imagination with an extensive list of available options that will sate your appetite.
While Mikoto Ramen specializes in Ramen, they also have a lengthy list of sushi options that they create with the same finesse and vigor.
They maintain the simplistic, traditional options that have been crowd favorites and include a range of absolutely mind-blowing fusion sushi rolls. The options include All-American ingredients like cream cheese, steak, and more, which means the menu caters to more than just die-hard sushi lovers.
As for the venue, well, that's fusion too. Taking a page from the modern books and incorporating their own unique twist, the restaurant is dimly lit and atmospheric. The interior features dark wood and traditional decors that feel like they shouldn't work but do, creating a cozy and inviting restaurant that provides all the intimacy one would want for a special occasion.
Fukuoka Sushi Bar & Grill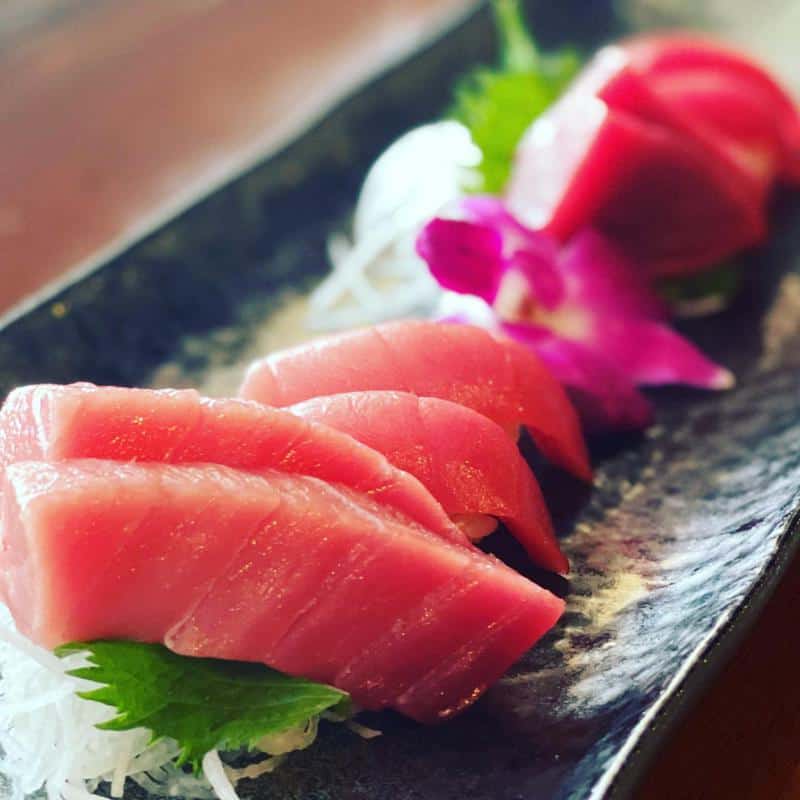 Location: 2808 Milam St c, Houston, TX 77006
Website: www.fukuoka-sushi-bar-grill.com
Hours: 11:00am to 10:00pm closes at 12:00am Fri and Sat, 12:00pm to 10:00pm Sun
Price: $$
Fukuoka Sushi offers an indulgent experience for diners through their all you can eat options and exciting menu that hosts a little something for everyone. They aren't messing around with their cuisine and offer some of the highest caliber all-you-can-eat sushi in town.
Their menu covers the basics but holds a special place for specialty sushi rolls that'll have you eager for more. Like others, they provide the best of the basics, some of the usual suspects rearing their heads like sashimi and nigiri. But beyond the usual suspects, there's a wide range of options for all kinds of sushi eaters.
So immerse yourself in the simplicity and allow any worries and stresses to be whisked away in the all-you-can-eat bliss of it all. There's something for everyone, and that's all you could hope for.
Kirin II Seafood and Sushi Buffet
Location: 7615 Cypress Creek Pkwy Houston, TX 77070
Hours: 11:30am to 2:30pm (Lunch), 5:30pm to 9:30pm (Dinner) Closes at 10:00pm on Fri and Sat, 11:30am to 3:00pm (Sun Lunch), 5:00pm to 9:00pm (Sun Dinner)
Price: $$
Kirin II Seafood and Sushi Buffet is just that, a buffet with the best spread of raw and cooked seafood to choose from. Nothing is there to stop you from piling your plate high will all sorts of delicacies from the sea. It's budget-friendly too, with affordable prices for great food. You won't be at all disappointed for getting more than you bargained for.
Kirin thrives on an open buffet bar to choose from, you'll be delighted to find the spread is a whirlwind for the tastebuds that allows you to over-indulge in gracefully and true-to-tradition style sushi.
The restaurant itself is simple and pays homage to an older style of Japanese decor that was once popular with the cuisine back in the day. However, this doesn't stand for its meals, which maintain a modern and fresh appeal that speaks wonders for the character of the place.
It's a social affair when walking into Kirin. The atmosphere is a vibrant bustle of hungry diners hurrying to get their fill of the various dishes on offer. It has a less than an upmarket approach to its consumers, which only speaks for the type of patrons they're eager to serve. Sushi fanatics with an insatiable appetite for good food and company without the obligations of suit and tie attire.
Read More: Best Seafood Restaurants in Houston
Edo Japan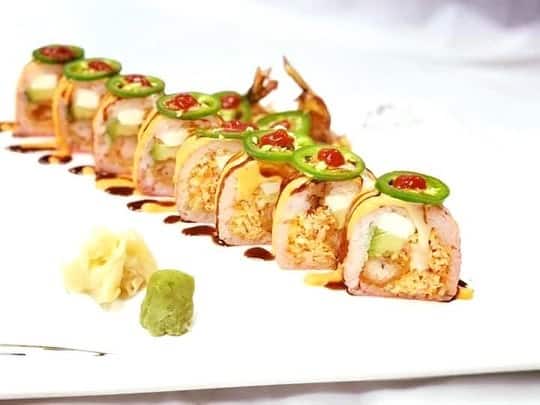 Location: 11460 Fuqua St #900, Houston, TX 77089
Website: www.edojapanhouston.com
Hours: 11:00am to 9:30pm Closes 10:30pm on Saturday and Sunday
Price: $$
This South Houston Japanese restaurant is a go-to when it comes for looking for some delicious AYCE sushi that's both affordable and tasty! Whilst its menu boasts more than just sushi options, it hosts enough of a selection that'll leave you struggling to try it all.
Simplistic and traditional, it doesn't lose the grandeur of experience, and the chefs pride themselves in delivering fresh and quality sushi that'd give even the height of upmarket restaurants a run for their money.
Through their quant and mesmerizing displays of food to their cozy and simply styled venue, they ensure nothing but a quality experience on a dime and make for a fantastic all-rounder spot that can cater to family affairs and business.
Hikari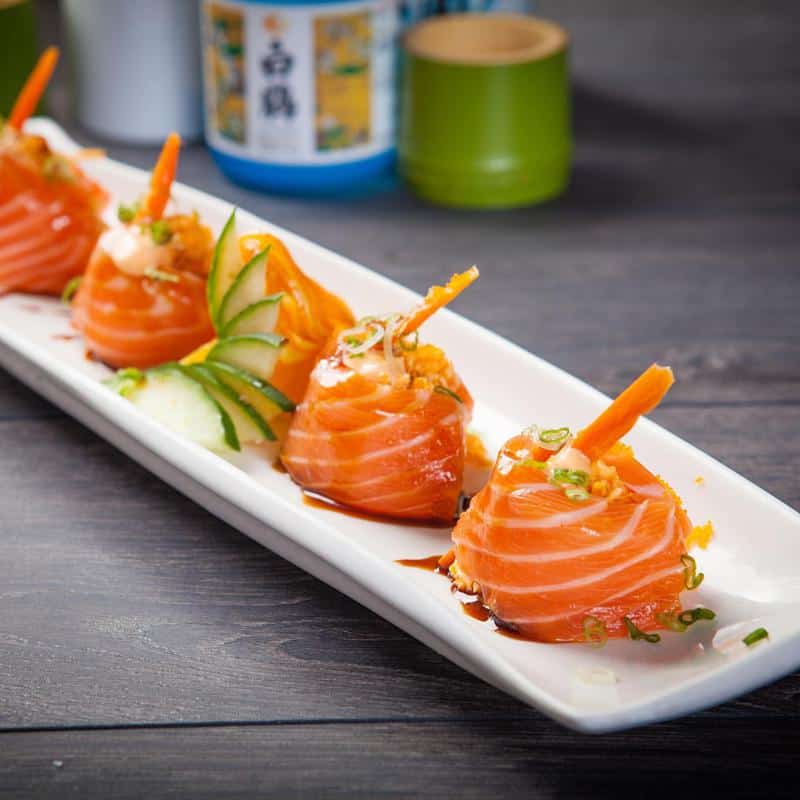 Location: 6860 Hwy 6 N Suite H, Houston, TX 77084
Website: hikarisushiizakaya.kwickmenu.com
Hours: 11:00am to 10:00pm. Closes 11:00pm Friday and Saturday, 12:00am to 9:00pm Sunday
Price: $$
Hikari is an all-you-can-eat sushi bar that aims to please with its dynamic sushi options and eye-catching decor. They transport you to a new dining experience, all whilst providing quality and quantity with their All you can eat sushi offers!
With a show-stopping ornamental tree light fixture in the center of the room, they create a pleasant environment to spend some much-needed time relaxing and feasting with friends and family alike.
It's a lovely and charismatic venue, with friendly, eager-to-please wait staff on hand to ensure you get nothing but the best service and stunning decoration features that are sure to be a talking point of your evening!
Related Read: Best Sushi Restaurants in Houston
Sushi 9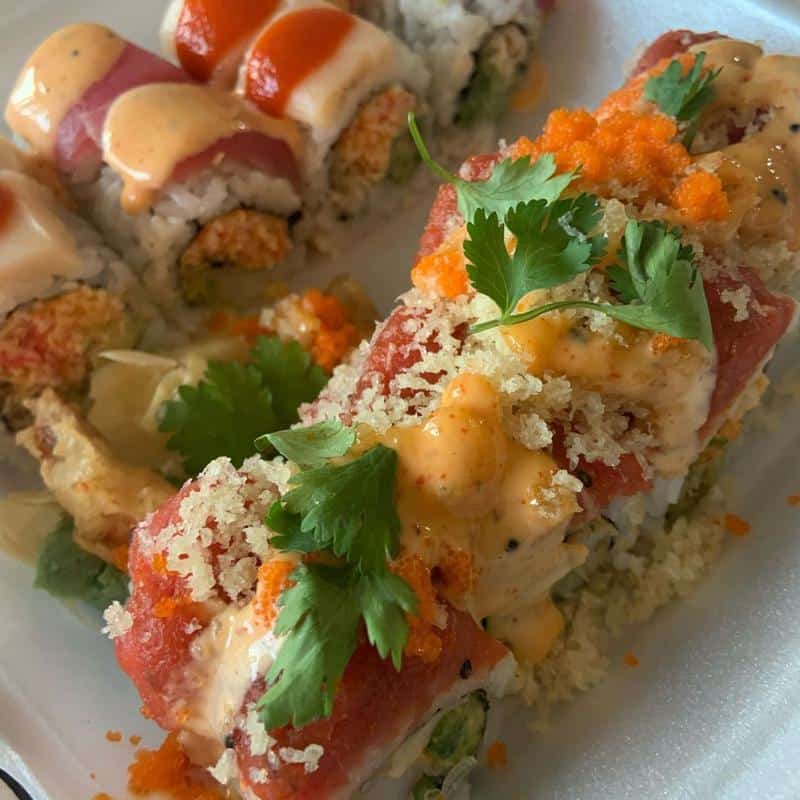 Location: 1830 Mason Rd, Katy, TX 77450
Website: www.sushi9katytx.com
Hours: 11:00am to 9:45pm Closes 10:45pm Friday, and Saturday, 11:00am to 8:45pm Sundays
Price: $$
When it comes to a crowd favorite all you can eat sushi venue, look no further than Sushi 9. With an extensive menu covering all the best Japanese cuisine and a little bit of fusion sushi, they've created a pleasant and sensational dining experience that avid foodies would die for.
It's all budget-friendly, of course, but the venue sure leaves no room for mediocrity. With Japanese-style railings and bamboo transporting you to a tiny hub in Tokyo city, you'll be glad you made the trip.
Overall an exciting and mouth-watering experience with delicacies galore to pick up your senses and whisk you off to a newfound happy place.
Taizzi Sushi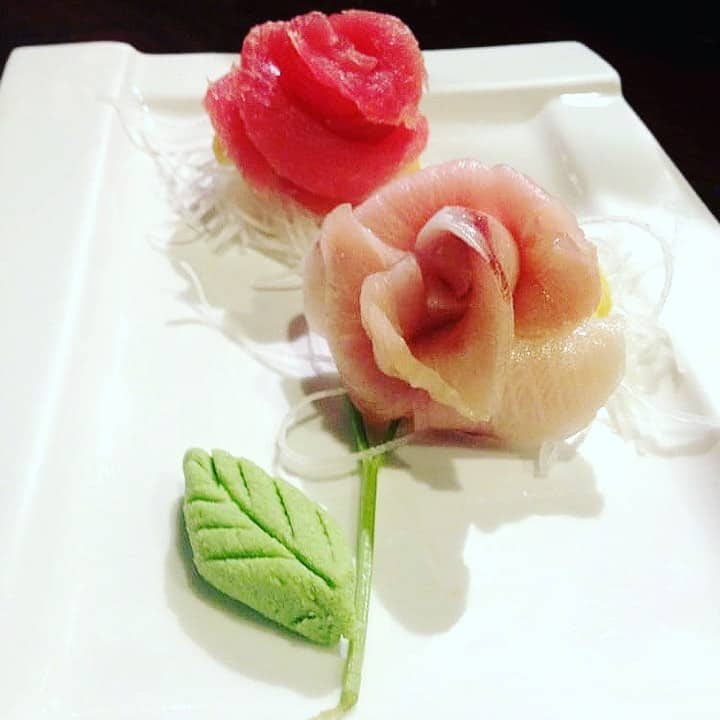 Location: 1997 Katy Mills Blvd Suite 900, Katy, TX 77494
Website: taizzisushi.com
Hours: 11:00am to 10:00pm
Price: $ – $$
Taizzi Sushi offers a range of packages to suit their diner's desires, from a simple all you can eat menu to a Premium menu with a large selection of sushi, appetizers and more.
You don't need to spend fervent amounts to enjoy your traditional favorites. Simply choose the menu that best suits you and dine away until you feel like entering a food coma! They even offer discounted rates for the kids!
Like most all-you-can-eat restaurants, the focus is on the food, but this doesn't mean they haven't put effort into a sleek and simplistic venue design that's appealing to the eye and creates an air of intimacy that makes it the perfect spot for a sneaky date night! And a comfortable little spot for family outings.
Also Read:
Conclusion
Sushi is a taste experience the world deserves to indulge in. Its unique flavor profiles and somewhat controversial means of preparation make it a sensation that has grown in popularity, and rightfully so! Sushi is a staple in the life of any food enthusiast and leaves little wake for disappointment in terms of the intricacy and perfection this food art commends.
So what better way to celebrate it than trying it in every form humanly possible in one sitting. With a rising star in the form of its sushi bars, the only thing to stop you from overindulgence in excellent sushi is the size of your appetite.