Houston's great fine arts scene, lively nightlife, and southern hospitality have made it one of the best destinations for travelers. Locals and visitors alike can take advantage of the city's diverse nightlife venues and culture.
But one thing everyone should take advantage of is Houston's proximity to the Gulf of Mexico. It is not even an hour away from downtown, so the seafood in this vibrant city is always fresh, delicious, and big. In fact, Gulf shrimp and Gulf oysters are famously enormous compared to many from the West Coast.
Houston's seafood restaurants are famous for their discerning palates with top-quality Gulf Coast classics, like char-grilled oysters and shrimp en brochette. Houston's best seafood restaurants can satisfy any craving. Here are the top 11 places that will definitely fulfill anyone's palate.
Seafood Restaurants in Houston
Pappadeaux Seafood Kitchen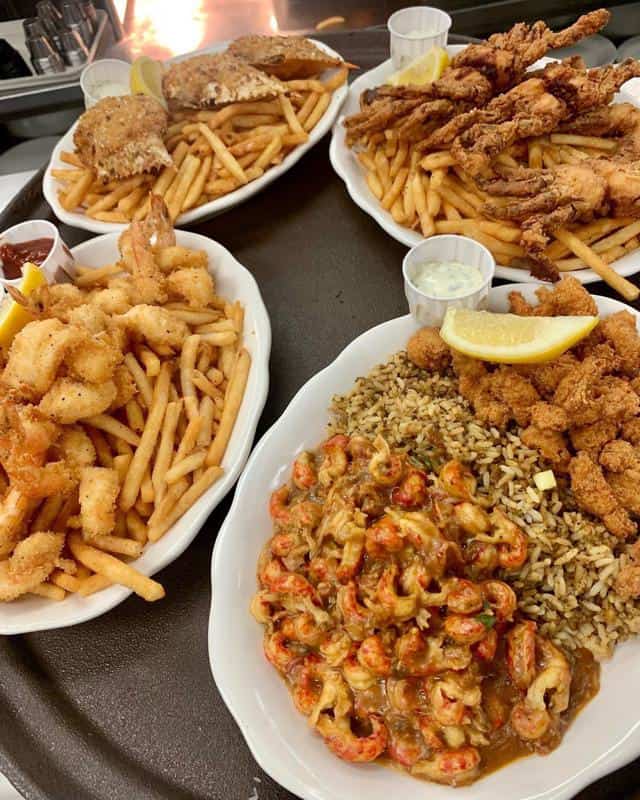 If you are someone who prefers a safe yet delicious choice for seafood cuisine, then you should definitely try the Pappadeaux Seafood Kitchen! Pappadeaux Seafood Kitchen is part of one of the country's largest family-owned and operated restaurant companies.
The Pappas family has a long history in hospitality, starting from 1897 when the family's grandfather left Greece to pursue his dreams. He built an empire of restaurants that deliver excellent quality food and service.
Today, the Pappas family offers many different cuisines and traditions. Most people love that every restaurant still has an inviting, warm, and family ambiance. And, of course, their innovative dishes that are a fusion of traditional and contemporary seafood recipes.
Caracol Restaurant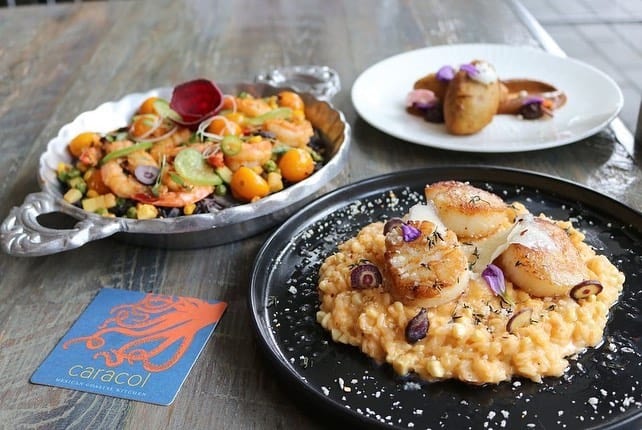 You probably don't think of Mexican food when talking of seafood cuisine. However, Caracol, a Mexican restaurant, should definitely be one of your top choices in Houston if you are looking for alternative, delicious seafood dishes.
The menu and interior of Caracol are a tour along the Mexican coasts. A mix of rustic and industrial, modern and traditional elements represent the beautiful beaches of the Mexican coasts and the country's long history.
The menu is a culinary journey of light, delectable flavors that show Mexico's diverse cuisine. Begin this delightful journey with Crudos and Cocteles y Escabeches, then Ostiones Asados, the chef's specialty.
Goode Company Seafood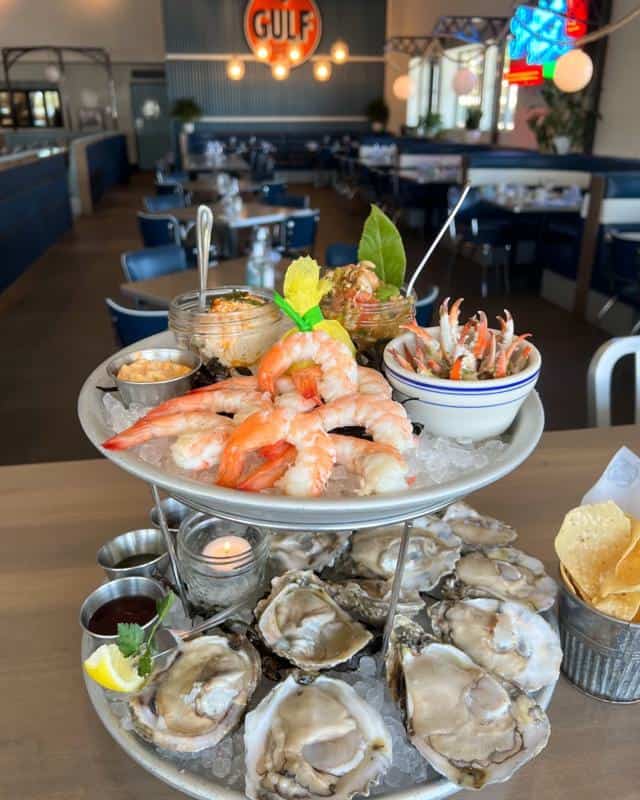 Goode Company was born out of a love for seafood from a childhood spent along the sun-soaked Texas and Louisiana Gulf Coast. Today this love for seafood, Cajun flavors, and family time near the coast is seen on the restaurant's menu.
No one can say no to fresh food. So, instead of offering you seafood with heavy sauces, their daily Gulf catch is grilled over mesquite or lightly battered and fried golden. It's so tasteful that you will want more and more.
However, if you are eating at Goode Company, you shouldn't miss the opportunity to try the famous Campechana. Piled high with shrimp and crab meat, this seafood cocktail is a special blend of pico de gallo, fire-roasted Anaheim peppers, and diced avocados. The flavorful Campechana goes best with tortilla chips or saltines.
Also Read: Best Seafood Restaurants in Beaumont, TX
Brennan's of Houston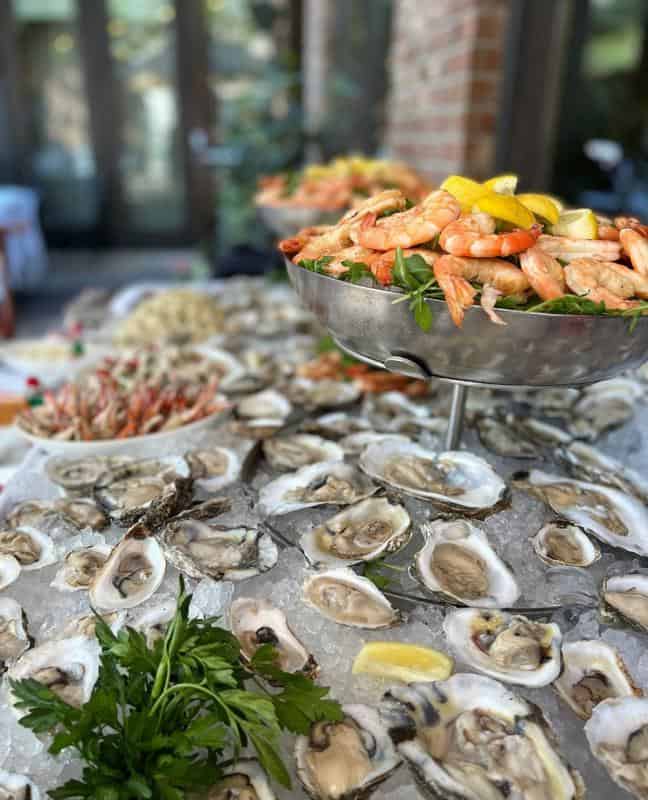 Brennan's is that place you would go to celebrate any occasion and anniversary. This is the city's premier destination for memorable dining served with true Southern hospitality.
Always striving to deliver everything with excellence, Brennan's incorporates the freshest local ingredients with exceptional dining and original, innovative dishes. Its delectable food, excellent and friendly staff, and elegant ambiance are perfect for a weekend getaway with your significant other.
The restaurant offers lunch, brunch, and dinner bringing oysters to the same table as a bowl of snapping turtle soup. And if you are looking for the best Redfish on the Halfshell, this is the best place for you. The bell pepper slaw and the roasted fennel will leave an impression on you.
Truluck's Ocean's Finest Seafood and Crab
Truluck's is an upscale restaurant just outside the Loop on Westheimer and a short walk from The Galleria and area hotels. If you are looking for an elegant, lavish dining experience with the highest-quality seafood cuisine, Truluck's will surely provide you the best experience.
Truluck's aspires to honor the plate, the palate, and the planet by maintaining an unwavering commitment to serving the highest-quality sustainable seafood. Thus, they will never serve any endangered or overfished species. The origin of our fish is always specified on the menu.
Choose Truluck's for a luxurious dining experience to celebrate a special occasion, your wedding anniversary, or your birthday. The excellent service and delicious food won't disappoint you, and in fact, they'll make your special day even better.
Tommy's Seafood Restaurant and Oyster Bar
For more than 25 years, the family-owned Tommy's Restaurant Bar has been preparing fresh, creative seafood cuisine. The family has deep roots in the Houston area. Thus they proudly serve local dishes with a dash of innovation and sustainability.
The expert culinary team uses only the highest quality ingredients for an exceptional dining experience. Since it's an oyster bar, you shouldn't miss their delicious plump, sweet oysters that are served fresh in various dishes ranging from Double Oysters Rockefeller to oysters on the half-shell with all the traditional accompaniments.
Apart from seafood choices, give a go to their USDA Prime Beef that is served sizzling and tender from grill to table. Choose one of their exquisite desserts for a perfect ending to your meal.
Captain Tom's Seafood and Oyster Bar
The boat-shaped restaurant sits in northwest Houston, off the Cypress Creek Parkway between Perry and Jones Rd. Captain Tom's is a relatively small restaurant, but it has ingrained a big name in Houston for seafood.
The food and the micheladas, the Mexican version of Bloody, are enough reasons for anyone to wait for a table. Order fried shrimp, and we assure you you'll think you just moved to heaven because you will be left breathless.
This place has a cozy ambiance. Its spectacular food and service make it one of the best seafood restaurants in the area. Furthermore, it is very cheap, so that's another plus!
Pappas Seafood House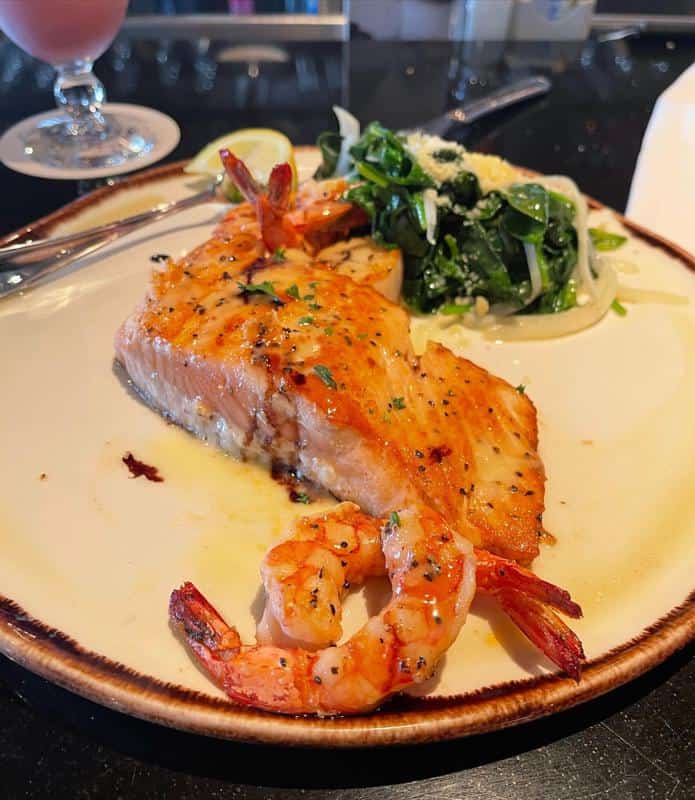 This restaurant is run by the Pappas family of Pappadeaux. However, it is its own restaurant with a different vibe and menu. As big seafood lovers, the brothers Chris and Harris endeavored on their own successful journey of providing the highest quality food and hospitality.
The Pappas Seafood House has been serving generous portions of delicious Gulf Coast seafood since 1981. Due to their Greek ancestry, the menu is inspired by Mediterranean flavors and recipes.
Enjoy various dishes from cold to small bites, soups, salads, and mouthwatering dishes of shrimps, oysters, and other fresh catches of the day.
Also Read: Best Rooftop Restaurants in Houston
Willie's G Seafood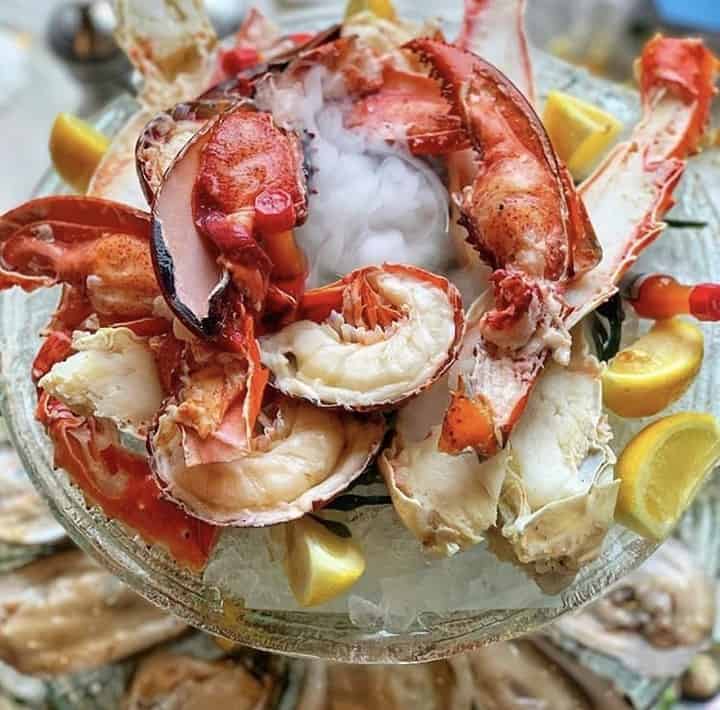 Not too far from Memorial Park and only a couple of miles away from downtown Willie G's offers a terrific menu that you'll never forget. Unlike other seafood restaurants here, the food is focused on innovation and creativity.
The Hot Rock Ahi Tuna is a must-try that comes with cucumber shishito and peanut slaw. It's so good you'll regret finishing it and end up wanting more and more. There are also cold options like tuna poke and sushi.
They also have an impressive wine list, and each of them goes perfectly along with seafood. Willie G's is the perfect option for an elegant evening.
Red Fish Seafood Grill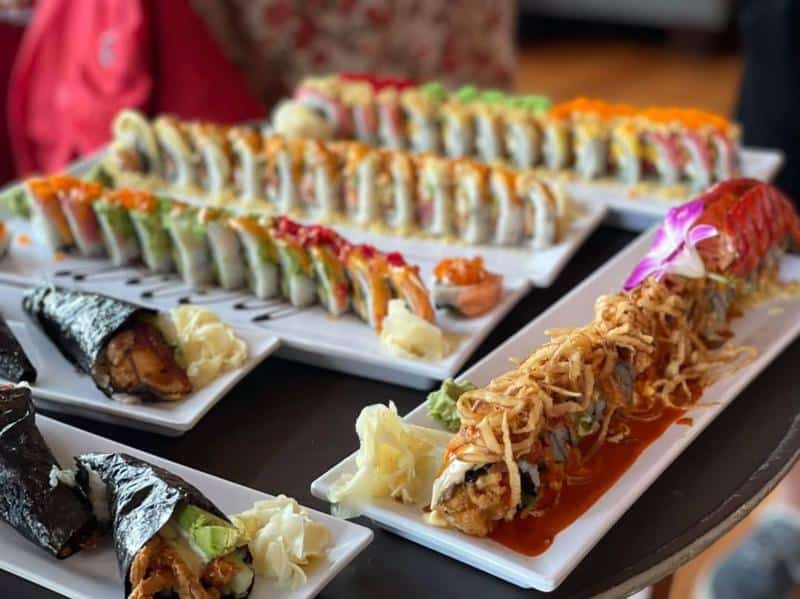 Red Fish is quite far from downtown Houston, but if you are looking for something different from the usual southern Texas seafood, this should definitely be your destination.
Their calamari is probably one of the best you'll find in Houston! The texture, the taste, they're just heavenly. A favorite dish is the Halibut and Shrimp in Cedar Boat. Generally, anything baked in cedar is almost always delicious.
Lastly, if you are in Houston, you must try oysters. After all, it is the main seafood dish in the area. However, get the Ahi Tuna and Watermelon if you choose not to have oysters, and it is another lovely choice.
Read More: Best Sushi Restaurants in Houston
Bayou City Seafood and Pasta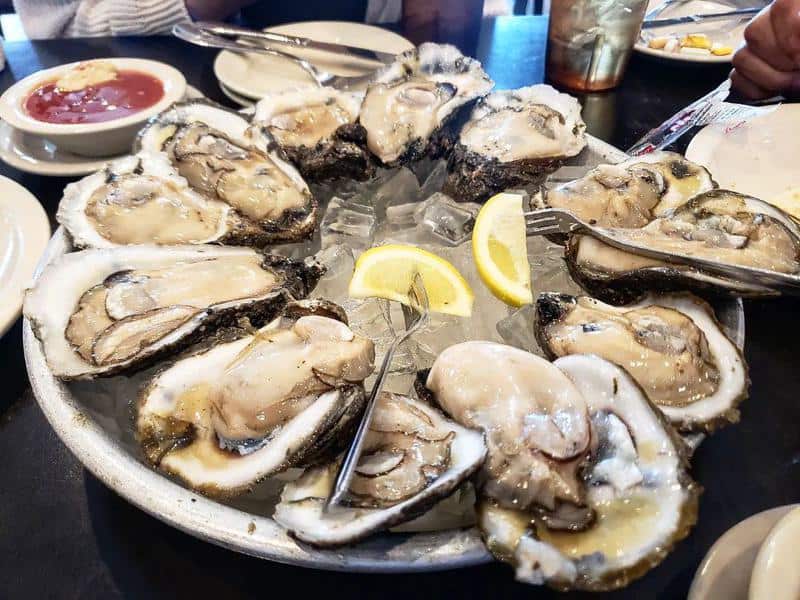 Bayou is nestled near the intersection of 610 and the Southwest Freeway. It is a charming brick-walled restaurant with a pretty and cozy interior that immediately attracts you.
The menu is very diverse accommodating every taste and desire. Choose between the famous Po-boys, Gumbo, and Bisque or the favorite house specialty, Crawfish Fettuccine.
You can also choose from a list of fresh fish and have it blackened, grilled, or fried. Take advantage of the Cajun toppings portion of the menu. Add Rem, Courtbouillon, Etouffee, or any other preference to your dish.
Also Read:
Final Thoughts
Although these may be the top 12 seafood restaurants in Houston, there are many other great places to taste Houston's unique seafood dishes.
Indeed, Houston is a terrific city that has lots to offer, from diverse nightlife venues, diverse history and culture, and fantastic culinary experiences. Visit Houston for an authentic southern hospitality experience and delicious meals!