From famous Chefs' restaurants to Michelin Star eateries, Houston brings its A-Game when it comes to a diverse culinary experience. Its rooftop restaurants are some of the most beloved with their impeccable views of the downtown buildings and scenic sunsets.
Some feature pools for wild parties like the High Dive, and others offer calm mind-blowing ambiance.
As one of the biggest cities in the United States, Houston brings you various unique restaurants that differentiate themselves by their scenic dining areas. You won't miss a venue with an open rooftop or floor-to-ceiling windows that soak in this magnificent city's beauty.
Read more to get to know what sets the best Houston rooftop restaurants apart. We will let you know which ones feature the best menus and where you can pop in for a great Friday night hangout. Some come with open bars, and others are great venues to meet new clients.
Our Top Picks:
Best romantic restaurant in Houston: Brenner's on the Bayou
Best for a night out: 77 degrees
Best rooftop restaurant with a great view of Houston: Z to 23
Best private rooftop dinner in Houston: The Dogwood
Best Rooftop Restaurants in Houston
Brenner's on the Bayou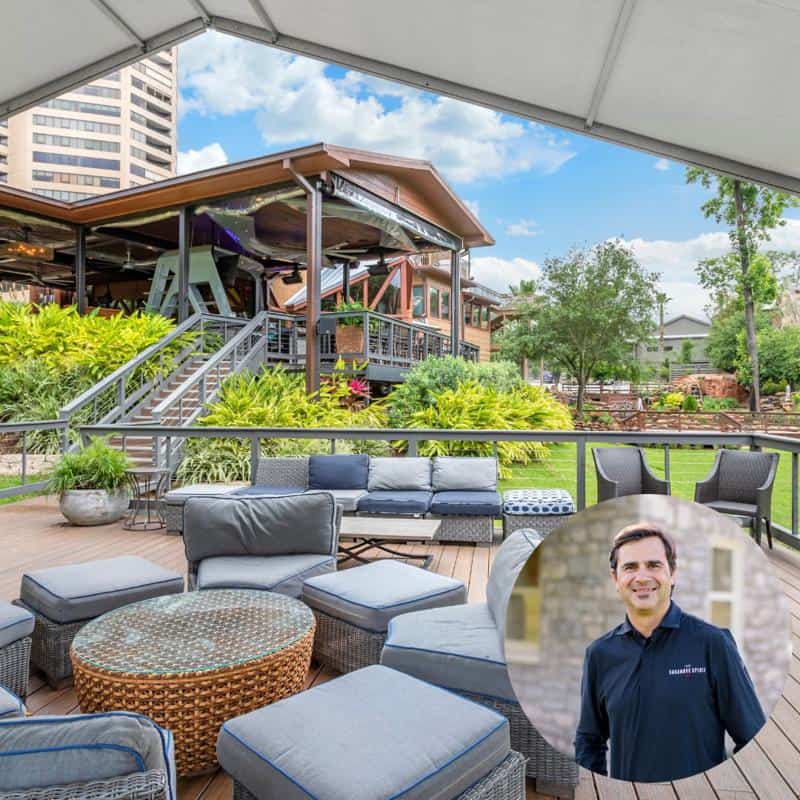 Address: 1 Birdsall Street, Houston, TX 77007
Phone: 713 868 4444
Known for: A beautiful view overlooking the Buffalo Bayou
Specials: Happy hour on priced cocktails and small platers from Monday to Friday
The rooftop patio is the Blue Bar at the Brenner's Steakhouse. It overlooks the scenic Buffalo Bayou and has become a historic place in Houston due to this fact alone. The Blue Bar is beautifully lit during the night with colorful lights that provide a cozy and homely affair.
You can feel the luxurious high-energy the minute you step onto the patio, and the happy hour all weekdays will keep you in that feeling. Voted as Houston's Top 10 Patios, the venue has two outdoor decks with impressive modern décor and fire pits to keep the night warm. Very romantic.
Sharable platters from the Brenner Steakhouse menu are a must-eat from the tuna poke made from diced spicy tuna and sticky rice with Wanton chips. Do not miss the roasted oysters served with fresh herbs or the bacon-wrapped Texas Quail with Chipotle Maple Glaze.
77 Degrees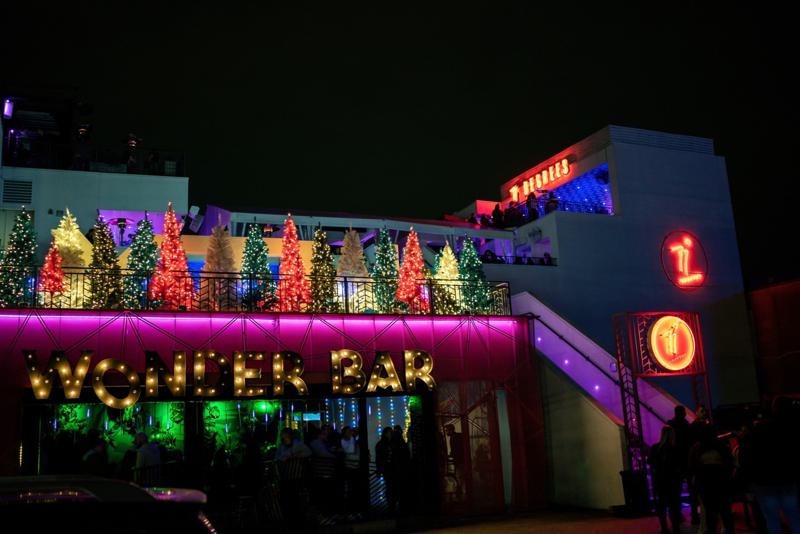 Address: 2416 Brazos St, Suite 200, Houston, TX 77006
Phone: 214 770 0793
Known for: Trendy bar with a great view
Specials: $12 specialty cocktails
77 Degrees is Houston's trendiest rooftop venue for a good night's drink. The three-story rooftop restaurant and bar is the perfect place to have that chilling drink with some delicious finger foods alongside a puff of hookah. It is definitely not the place you want to be if you do not love wild, loud nights.
The 21 and above patio bar is located in Austin and has come in as Rock Rose's newest venue since it opened in 2019. This rave-specific bar offers much-needed tacos with options like pulled pork pastor and cornflake chicken alongside some red snapper.
Z on 23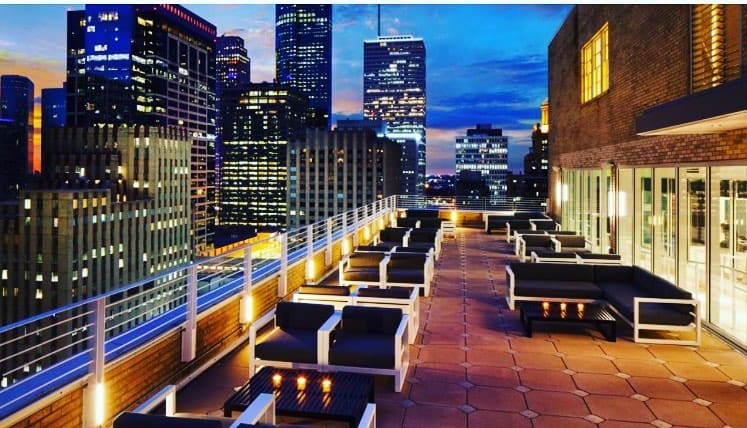 Address: 1121 Walker St, Houston, TX 77002
Phone: 346 330 3446
Known for: 360-degree view of downtown Houston
Specials: Signature cocktails like the Downtown Refresher with a mix of Ciroc & coconut red bull
The self-proclaimed highest open-air rooftop bar is located on top of Le Méridien Houston Downton. It is considered by many fans as the most Instagrammable restaurant venue in Houston. The rooftop opening provides diners with a complete view of the Downtown Houston area. Open Instagram to see where the best night shots are shot on Houston rooftops.
Keep in mind that it is a great place to dine in summer and on less chilly days. The winter is a no-go zone for this rooftop location, but one can only hope. The cozy lounge setting is inviting and luxurious, making for a perfect date night restaurant.
Z on 23 is a fantastic place to go for drinks if you are looking for a relaxed environment where you can take a few drinks over the daily happy hour. The crowd's favorite location is serene and upper class, which is complemented by the extensive cocktail bar with lots of quality options.
Z on 23 is part of Zutro Restaurant that serves the rooftop patio its special meals from a well-thought-out culinary list. Texas favorites like the slow-smoked Texas beef brisket are a must-try, not to mention the chicken fried steak with creamy mashed potatoes and organic vegetables.
The Dogwood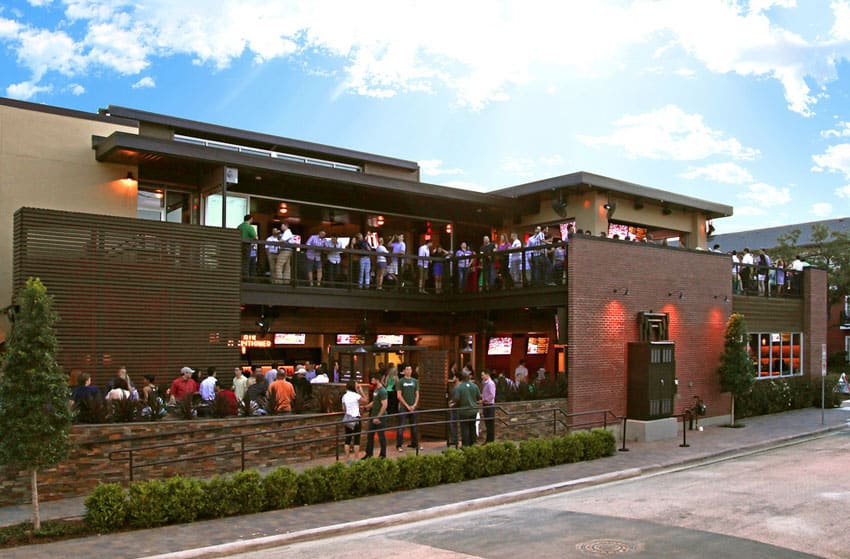 Address: 2403 Bagby Street, Houston, TX 77006
Phone: 281 501 9075
Known for: Outdoor entertaining concept
Specials: Texas-sized Mimosa for $14
The Dogwood sets itself apart with its unique outdoor entertaining concept that features natural décor from wood and stone finishes. The interior and exterior of this rustic venue remind you of the outdoor family dining place at home, where you are surrounded by nature and loved ones.
It is a perfect venue for private dining with enclosed sections guaranteed to give you privacy during your celebrations. You can opt to rent the private spaces downstairs or on the main floor, where a glass partition leaves you with your own sound and visual system with no interruptions.
The rooftop terrace on the bar showcases the scenic Houston downtown skyline that is lit up with various buildings at night. You won't miss a beat of the dazzling night sky on this precious terrace.
Sit and relax as you dine on some special menu items like the avocado toast or the Dogwood Slam with two eggs, country potatoes, and two buttermilk pancakes.
Harold's Restaurant, Bar, and Terrace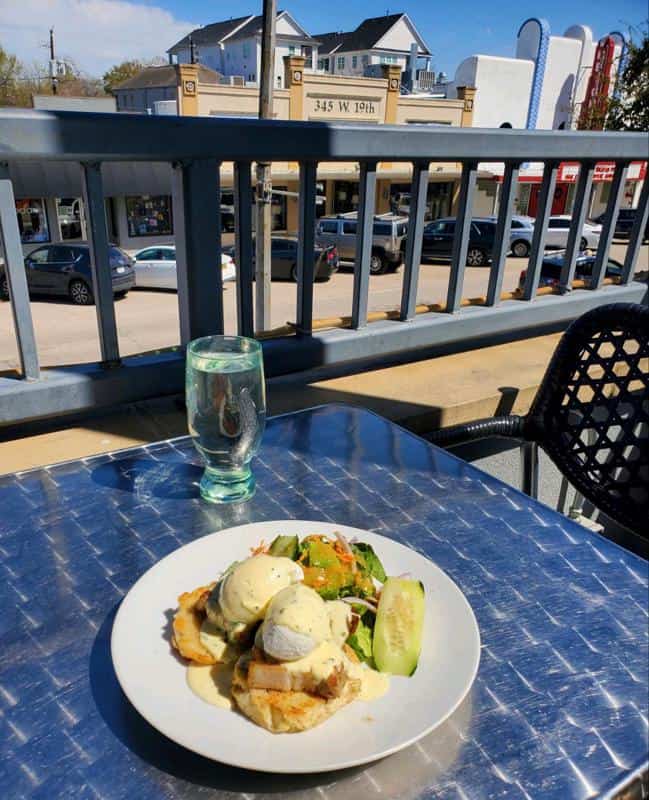 Address: 350 W. 19th St, Houston, TX 77008
Phone: 713 360 6204
Known for: Good old-fashioned American dishes in a Houston staple building
Specialties: Granny's Cake – White moist cake with whipped cream and coconut cream.
Do you want to dine in a rooftop restaurant that sits on top of a 100-year-old building? Well, there is no better option than the Harold's Restaurant. This Houston staple restaurant & bar is the local's favorite spot where most go to get the Southern Fried Chicken.
This is the place to be for some of the best home-cooked Texas foods you will ever need.
The menu entices the guests with Southern and Louisiana tastes that will introduce you to what true Texas meals look like. Desserts come in various flavors from the specialties like Granny's cake made from coconut cream and the NOLA Brad Pudding that is served a la mode with bourbon Anglaise.
The venue is strategically located near the historic 19th street, and you can get to see the Heights Theater surroundings from the rooftop terrace. It is usually pretty booked, especially during the weekend brunches, where you can miss a spot if you do not book a slot earlier.
Enjoy your weekend away with brunch specials like Harold's Breakfast Sandwich made from house-made buttermilk biscuit with cheese, scrambled eggs, and bacon. Feast on the Steak-N-Eggs with 44 farms ribeye cooked to your liking.
See Also: Best Seafood Restaurants in Houston
El Big Bad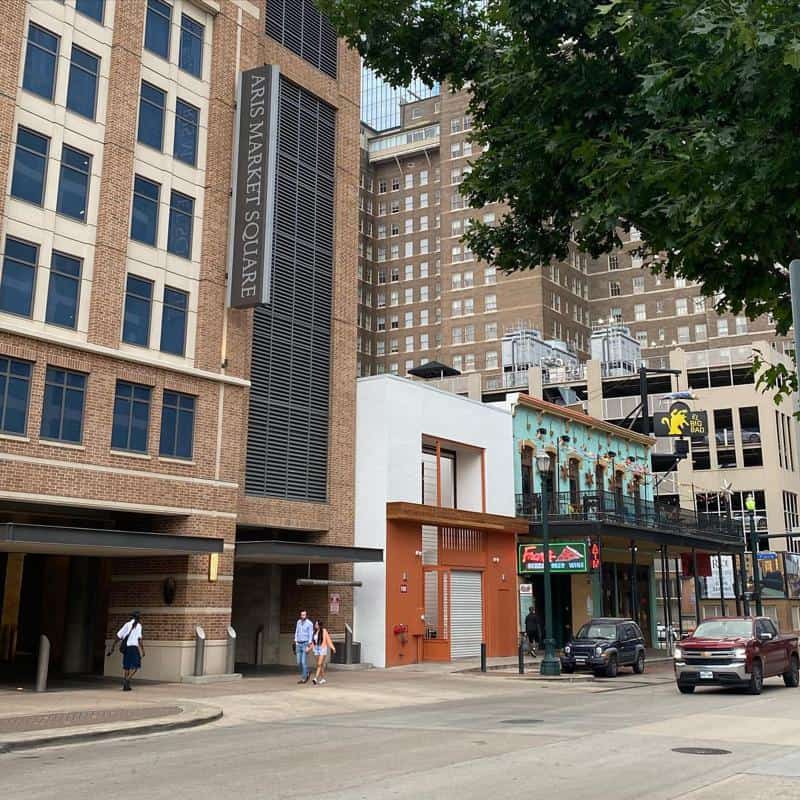 Address: 419 Travis Street, Houston, TX 77002
Phone: 713 229 8181
Known for: handcrafted tequila infusions
Specials: Happy Hour Monday to Friday with $5 house margaritas
El BIG Bad is famously known as one of the most exquisite places to get a perfect margarita and their special handcrafted tequila infusions. It is a bar & kitchen open for private dining where they offer in-house dining and off-site catering options.
Every Monday is steak night from 6 pm, with one free house margarita on every steak purchased. The affair runs from 6 pm till the food runs out, you need to bring your workmates here after a long day. In case that is not up to your speed, then jump onto the Taco Tuesdays to dine on the dipping tacos and shrimps with garlic butter.
The rooftop patio gives you a glance of the Historic District from the Market Square Area to the Theatre region. Architecture is at its finest with the pastel walls and captivating bright art pieces. Soak in the great breeze from high up as you take down some tortilla soups or street tacos.
Buffalo Bayou Brewing Company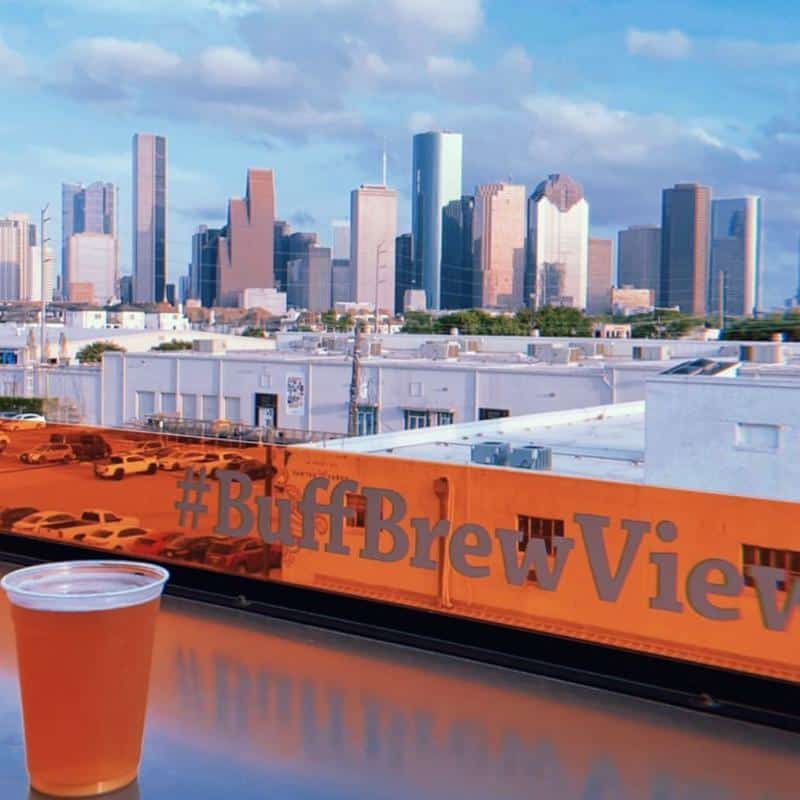 Address: 2101 Summer St, Houston, TX 77007
Phone: 713 714 3335
Known for: Exciting brews.
Specials: Happy Hour from Monday to Thursday from 3 pm to 6 pm, crush your summer BBQ menu from 2 pm till they sell out on Saturday
Buffalo Bayou covers three floors with a rooftop area on the third floor. It is located in the Arts District, where you can visit to get the most exciting brews Houston has to offer. The vibrant and energetic venue has an incredible view of Houston.
Get to see the amazing night sky of this upbeat city from the rooftop terrace while taking a bite of the special menu. Taste the smoked Birria nachos or the smoked wangs made from slow-smoked Jumbo Chicken Wings.
Also Read: Best Rooftop Restaurants & Bars in Dallas
Electric FeelGood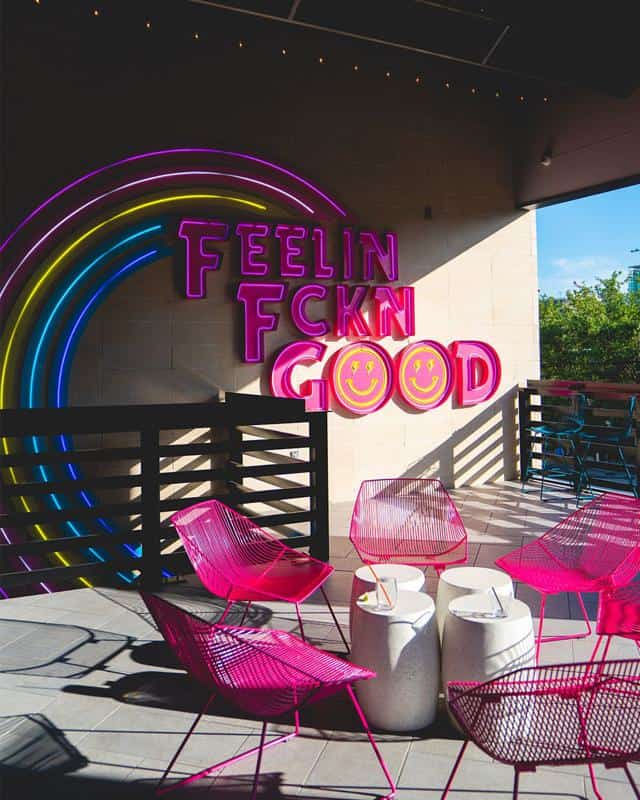 Address: 2416 Brazos St, suite a, Houston, TX 77006
Phone: 713 637 4581
Known for: Vibrant party scene
Specials: Taco Tuesday with $1 Fajita Tacos
If you find 77 degrees is full, you need to visit the Electric FeelGood; it is bound to make you feel good. The colorful and upbeat bar has a rooftop terrace that shines Houston with its rich colors and bright décor.
Do not miss out on the special Taco Tuesday when you can eat Shrimp Tacos for just $2 or $6 for Rumple Minze, Deep Eddy, and Jager. Wednesdays are the days to take advantage of the half-priced wine menu, and Thursdays are the fun night for the $4 drafts.
Lawless Spirits & Kitchen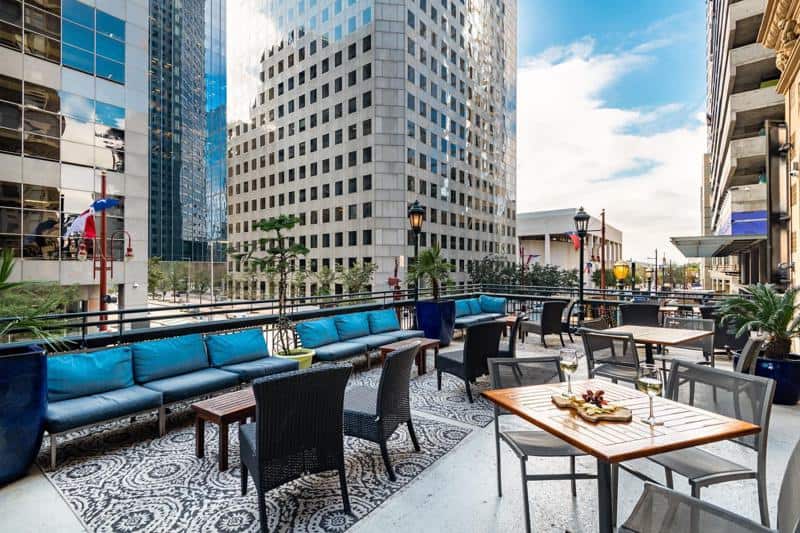 Address: 909 Texas Avenue, Suite 2A, Houston, TX 77002
Phone: 281 823 8600
Known for: Creative cocktails
Specials: Friday features the Fireball Shot cocktails, Happy Hour from 4 pm: Monday to Saturday
Lawless lives up to its name on top of the famous Rice Hotel. This comfy wine and dining location is known for its creative craft cocktails. The most famed cocktail on the list is the signature Lawless Sunset, bound to dusk your day with the mix of Rye whiskey, lemon juice, and red wine.
You can also opt for the scrumptious Starry Night with its mix of Empress gin, blue curacao, and blended lemon, syrup, and orange juice. The drinks go well with the sharable plates of tasty items, including the $14 Buffalo chicken sliders that have crispy buffalo chicken with Gorgonzola and are served on a pretzel bun.
The Grove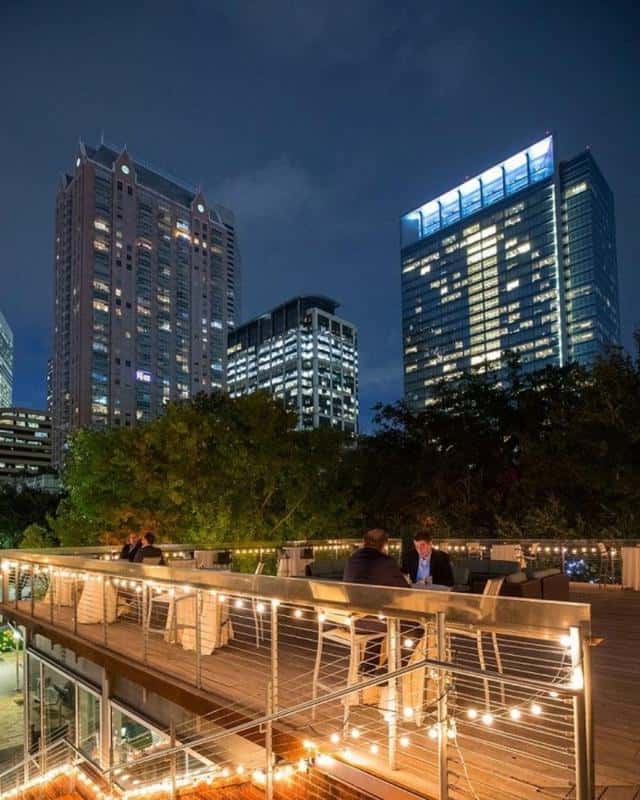 Address: 1611 Lamar Street, Houston, TX 77010
Phone: 713 337 7321
Known for: All-glass design with a must-be-seen dining experience
Specials: $41 blue crab mac & cheese with jumbo lump crab
The list had to end with Houston's favorite glass building, The Grove. This iconic building features a modern and urban design that has walls made of glass from side to side.
It is a must-be-seen place to dine with a gorgeous rooftop garden designed to absorb heat and cool the building more effectively. Wine and dining on the rooftop is a breathtaking experience as you get to soak in the fresh air and greenery.
The garden has herbs that are actually used to make the food in the restaurant. Menu items include raw & chilled options like the salmon Crudo with avocado, corn tortilla chips, salsa macha, and cucumber. There is also the shrimp & melon ceviche and oysters on the half shell.
Read More:
Final Thoughts
Texas is one of the most culturally diverse cities in the United States; the amount of spectacular rooftop dining places with high culinary tastes is not short.
If our list does not meet your needs, please check out these other great rooftop restaurants and bars in the area: Grand Prize Bar, Sunset, Captain Foxheart's Bad News Bar & Spirit Lounge, Upstairs, B&B Butchers & Restaurant, and La Carafe.