Houston might not be the first name that comes to mind when planning a romantic date night with your beau, but we urge you not to underestimate the amorous swagger of The Big Heart.
Setting the perfect ambiance with interiors to match your mood, dishes to satiate your tastebuds and unmatched Southern hospitality, these romantic restaurants in Houston are ideal for anniversaries and date nights. Pick from our list of 15 best date night spots and see the sparks flying yourself!
Best Overall Romantic Restaurant: Masraff's
Best Affordable Romantic Restaurant: Nobie's
Best Romantic Restaurant with Bar: Artisans
Best Romantic Restaurants in Houston
Masraff's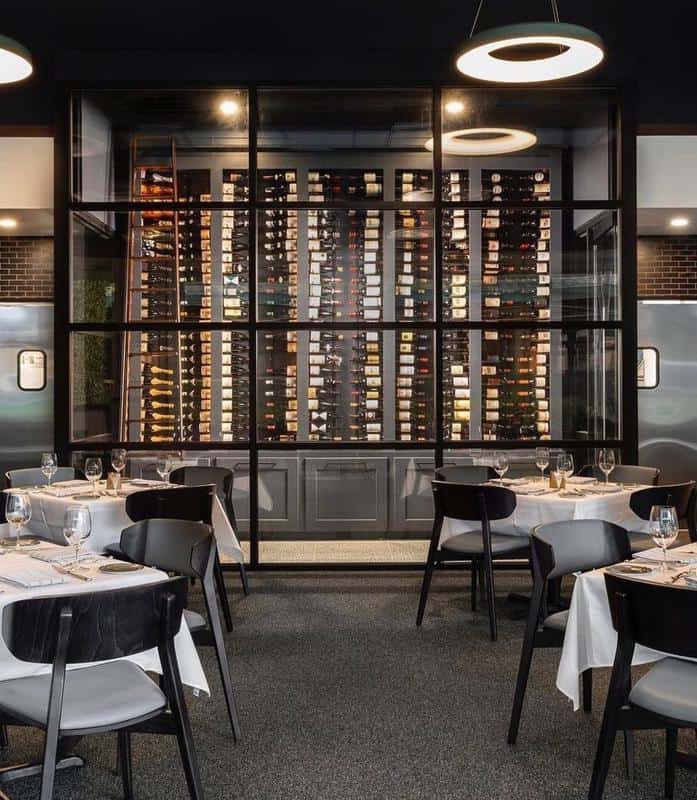 Location: 9655 Katy Fwy Suite 190, Houston, TX 77024
Facing a stunning waterfall in uptown, Masraff's tops the list of best date night restaurants in Houston. It is recognized by Wine Spectator for its impressive wine collection and honored for its fine dining, crafted cocktails, and rare spirits.
The contemporary Euro-American menu is spiked with global influences which makes dining here a memorable experience. The beautiful candlelight setting elevates every celebration. Start with the aphrodisiacs from their raw bar with a daily selection of fresh oysters.
Their Diver Scallops and Duck confit Pappardelle with whipped ricotta and herb cognac cream is mind-blowing, but we suggest the Filet Mignon or Prime Ribeye for sharing. Not to forget, their sticky toffee pudding is a big crowd pleaser.
Reserve a spot for the three-course special Valentine's Day dinner, and call to request a seat alongside the waterfall, especially if you're planning to get down on one knee!
Highlights
Beautiful set up against a waterfall.
Ambitious Euro-American cuisine.
Award-winning selection of wines and cocktails.
Nobie's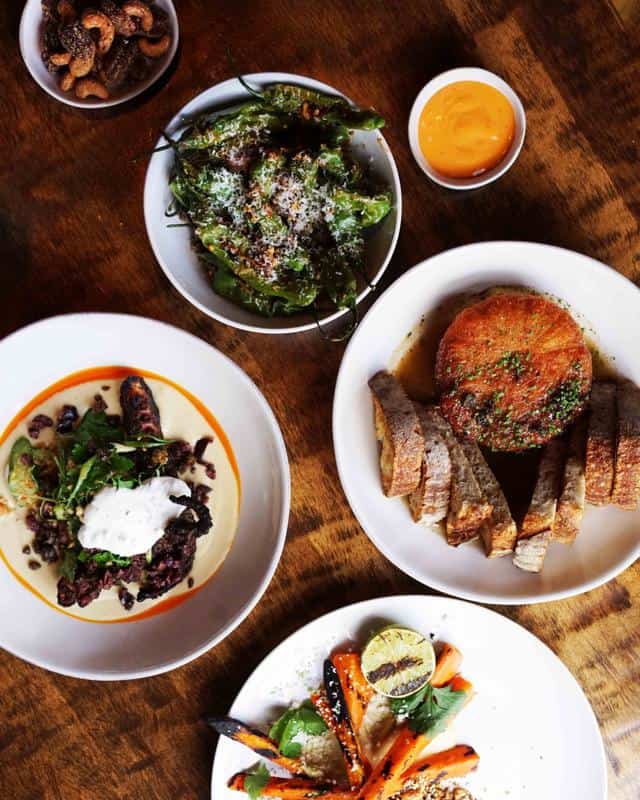 Location: 2048 Colquitt St, Houston, TX 77098
Dreamers, music lovers, introverts, and lovers – Welcome to Nobie's!
Take solace in the warm and welcoming, homely ambiance of Nobie's. The place is lit up not only with gleaming lights but a mix of vinyl to transport you to the golden era. The owner and chef Martin Stayer shares his vinyl collection with the guests, opening up an intimate piece of his life with them.
The romantic ambiance is heightened by music, potted plants, and a breezy outdoor patio. Their appetizer menu receives special love, particularly the ricotta stuffed dates and Texas tartare.
The crown jewel of their menu, however, is Nonna's Paste made with scrumptious Bolognese and parmesan in handmade tagliatelle.
They also have a good collection of spirits and wines to pair with your meals. It is a lovely little spot for dates and doesn't put a dent in your wallet!
Highlights
Cozy and warm ambiance.
Vinyl records playing in the background.
Appetizing Italian cuisines at affordable rates.
Artisans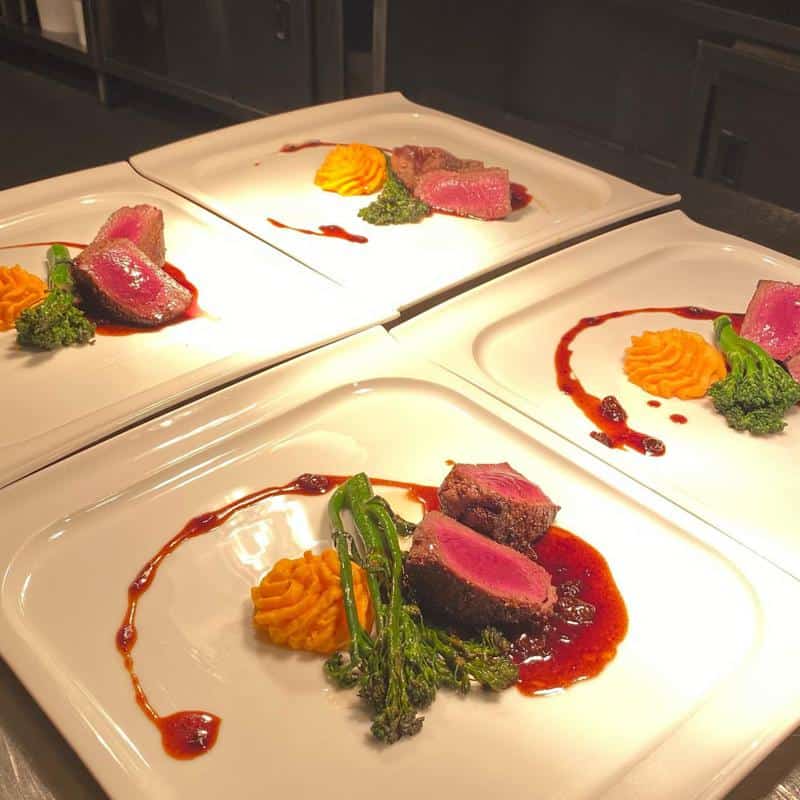 Location: 3201 Louisiana St, Houston, TX 77006
Have a magical date night at Artisans with a picture-perfect setting to impress your beau. Large picture windows welcome you to a fascinating candlelit layout with dim lights and soft music.
We love the options available for couples, from the imperial tufted leather chairs in the graceful dining hall to a more relaxed chef's counter with an open kitchen. There are also small tables available for you to enjoy each other's company away from the crowd.
The inventive French cuisine is another highlight that makes Artisan a truly special place. They have a range of tasting menus from three to eight courses. The delicately prepared meals by executive chef Russell Kirkham will swipe you off your feet.
We highly recommend the La Bouillabaisse Marseillaise paired with your favorite drink. Later at night, you can head to their dimly lit bar area and enjoy cocktails and desserts for a perfect ending to a memorable night.
Highlights
Romantic ambiance with dim lighting and soft music.
Several seating options.
Delicious French cuisine.
Highlights
Romantic ambiance with dim lighting and soft music.
Several seating options.
Delicious French cuisine.
Potente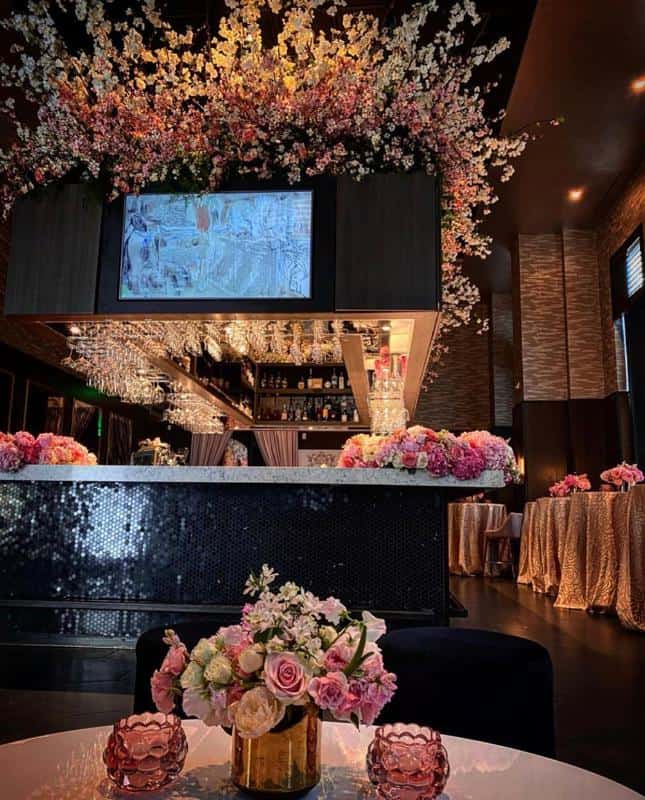 Location: 1515 Texas Ave, Houston, TX 77002
Lose yourself in the luxurious yet dark and mysterious Potente oozing panache and classiness with a fascinating contemporary Italian villa setting. It is one of the most elegant restaurants in Houston with a fancy menu and regal vibes.
The dedication to high quality and standards is admirable, as the restaurant promotes fine dining and pairs it brilliantly with its sophisticated setting.
The dishes are meticulously prepared from locally sourced ingredients and the award-winning chefs pour their heart and soul into every dish. We suggest you bring your appetites and give the Prime Porterhouse for two a chance.
Chef Danny lovingly prepares a romantic prix fixe Valentine's Dinner for special evenings. Enjoy their variety of steaks, pasta, and seafood, and finish it strong by sharing a divine Amaretto Crème Brulee.
Highlights
Alluring Italian villa setup with lavish interiors.
High-end Italian dishes and desserts.
Great variety of cocktails.
Etoile Cuisine Et Bar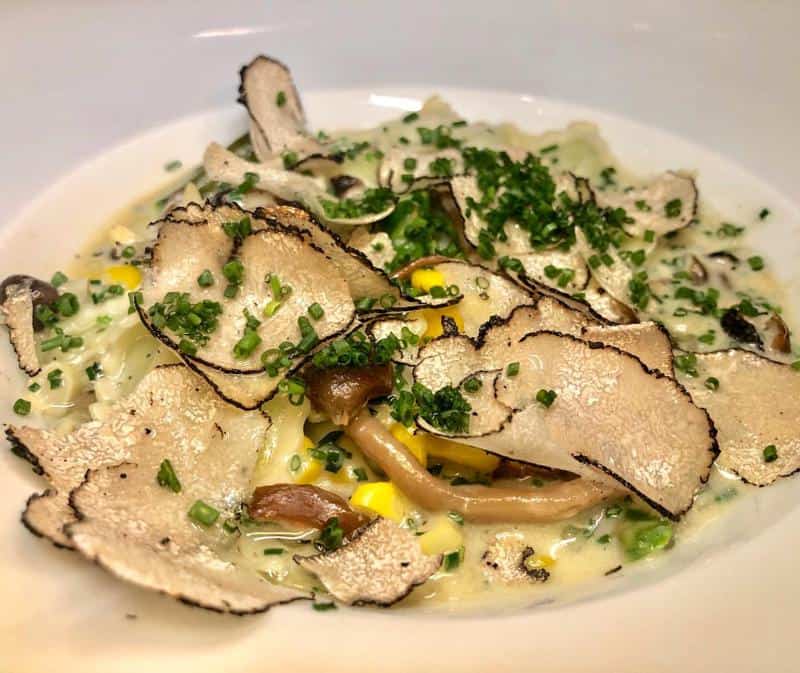 Location: 1101-11 Uptown Park Blvd, Houston, TX 77056
As the name suggests, Etoile is a quaint little spot offering a variety of French cuisines to satiate your cravings. Nestled in Uptown Park, the beautiful interiors and delicate presentations of their food make it a great spot for anniversary dinners in Houston.
The interiors have a rustic feel to them, with comfortable seating areas and elegant décor to match their menu. High ceiling rafters and twinkling chandeliers add a graceful charm to the restaurant.
The food is paired with an astounding wine collection. Try their Patex aux Fruits de Mer which contains a heavenly combo of salmon, shrimp, and white fish in linguine drenched with lobster sauce. The restaurant also offers an exquisite four-course "Bonne Saint Valentin" on weekends and Mondays.
Highlights
Beautiful French farmhouse ambiance.
Delectable French cuisine with an incredible selection of wine.
'Bonne Saint Valentin' special menu on weekends and Monday.
Brennan's of Houston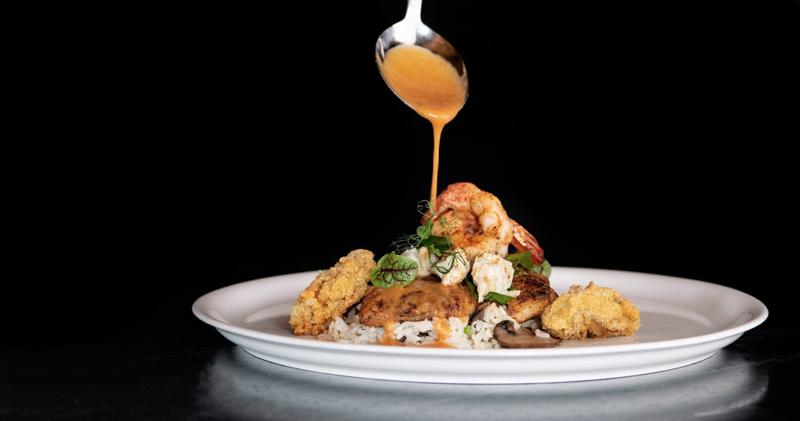 Location: 3300 Smith St, Houston, TX 77006
Celebrate your love with Brennan's, creating lasting memories with their unmatched service and excellence. Running strong since 1967, they offer the ultimate Southern hospitality with an ambitious award-winning menu and well-appointed bar.
Flaunting an imperial mansion setting, you will feel like true royalty as you escort your beau inside and dazzle them with jacket-clad servers, Chef's Premium Packages, and special events.
Their specialty is Creole cuisines, and we can't praise their indulgent Turtle Soup enough! Some dishes have a tableside preparation like the flaming Café Brulot. Pair it with your favorite wine from over 800 bottle selection, and finish the evening with a ring inside the cake!
Highlights
Astounding mansion setting.
Great variety of Creole delights and award-winning wine list.
Special events are hosted throughout the week.
Eddie V's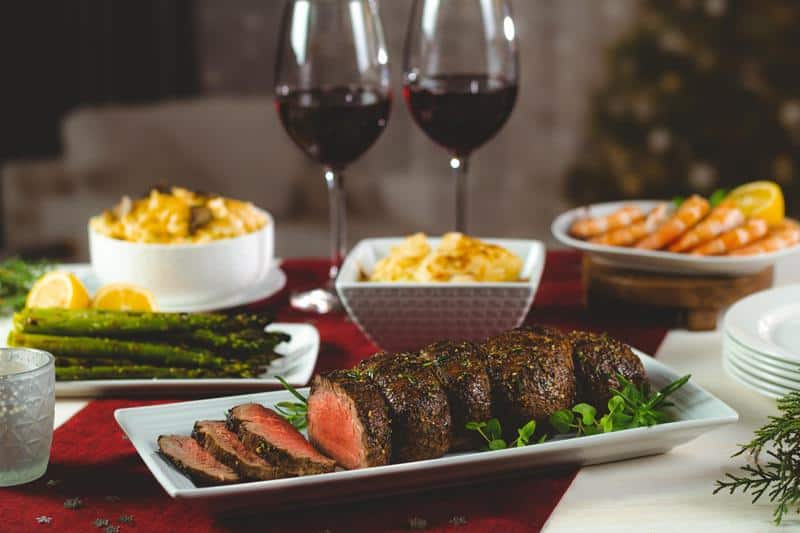 Location: 2800 Kirby Dr A100, Houston, TX 77098
Share a romantic date at the upscale and classy Eddie V's. The intimate and contemporary seafood restaurant excels in expert culinary preparations with a warm and personal touch to make date nights extra special.
The food is masterfully prepared and elegantly presented. Try their fresh oysters on ice with mignonette sauces and cocktail, or the massive Shellfish Tower with shrimps, lobster, oysters, and colossal crab. For a touch of luxury, order the Petrossian Caviar for the table along with their prime seafood menu and premium hand-cut steaks.
They also have a wonderful wine selection and classic desserts like Crème Brulee and Berries and Crème that are ideal for sharing. Along with great food and ambiance, the restaurant also has nightly live music for a wholesome evening.
Highlights
Delicious seafood selection and steaks.
Huge collection of wine and cocktails.
Nightly live music.
Also Read: Best Seafood Restaurants in Houston
Sorrento Ristorante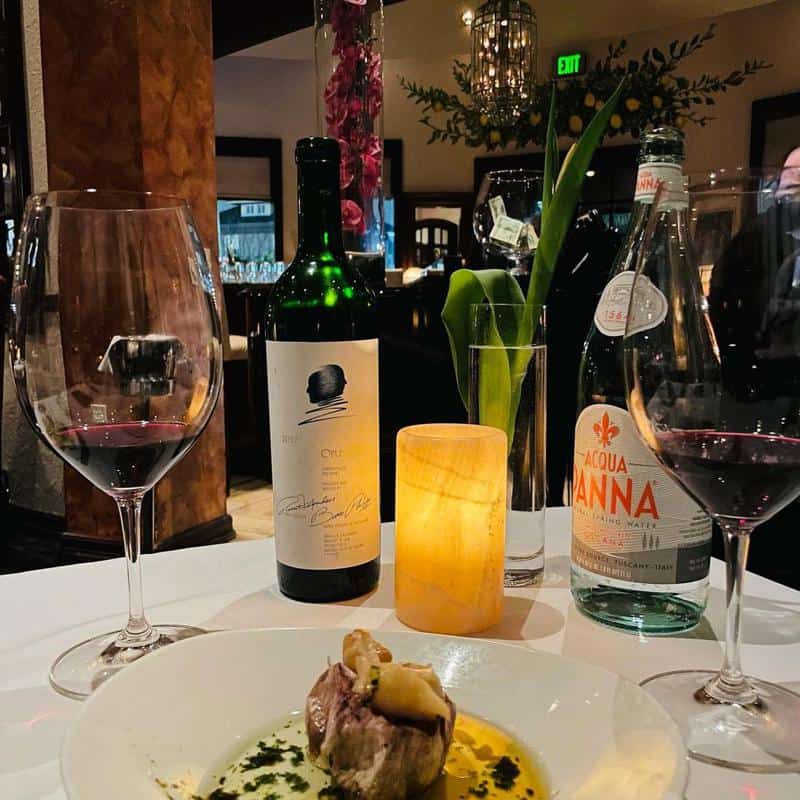 Location: 415 Westheimer Rd, Houston, TX 77006
Sticking to the classics, Sorrento is a high-end romantic restaurant in Houston bringing you a range of Italian delights to share with your beau.
The beautiful candlelit tables have a stunning backdrop of walls with murals, giving it a fairytale look. The tables are covered in white fabric and there's a live piano softly playing at the back to tug at your heartstrings.
The restaurant provides the perfect ambiance for a romantic evening. They have a bread basket on every table that instantly uplifts any meal you order.
The incredible Italian menu includes wild mushroom ravioli and butternut squash soup along with filet mignon and other variety of dishes. Pair it with your favorite drink and don't forget to order gelato for dessert!
Highlights
Classic romantic setup and ambiance.
Live piano.
Delicious Italian menu.
State of Grace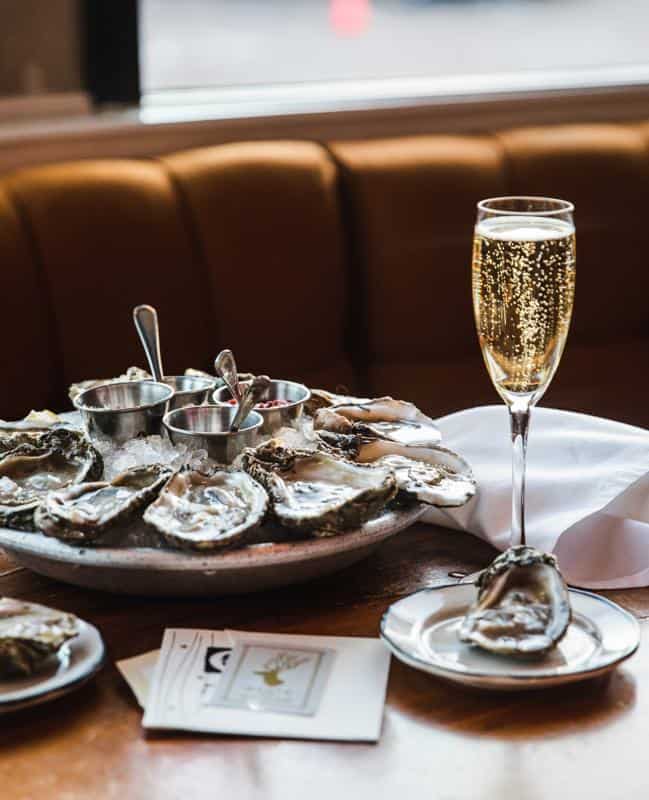 Location: 3258 Westheimer Rd, Houston, TX 77098
Bringing you an endless charm of old-school delights with a similar cozy ambiance and hearty servings, State of Grace is one of the best romantic restaurants in Houston to celebrate your love in comfort and elegance.
The restaurant is famous for its relaxed ambiance with dimly lit interiors and classic layout. The highlight of their menu is a wide selection of Oysters which, if we may add, make for an amazing aphrodisiac. The dedicated 'Oyster Room' menu features happy hour oysters, fair market oysters, and seafood towers with amazing variety.
Their main course has a dish called 'Hushpuppies' which has blue crab in steens' cane syrup butter that tastes divine. They also serve pasta and USDA prime steaks. Get your favorite cocktails to go along with some scrumptious Texas Pecan Ball drenched in hot fudge.
Highlights
Classic style with cozy ambiance ideal for date nights.
Huge variety of oysters.
Delectable American cuisines and cocktails.
MAD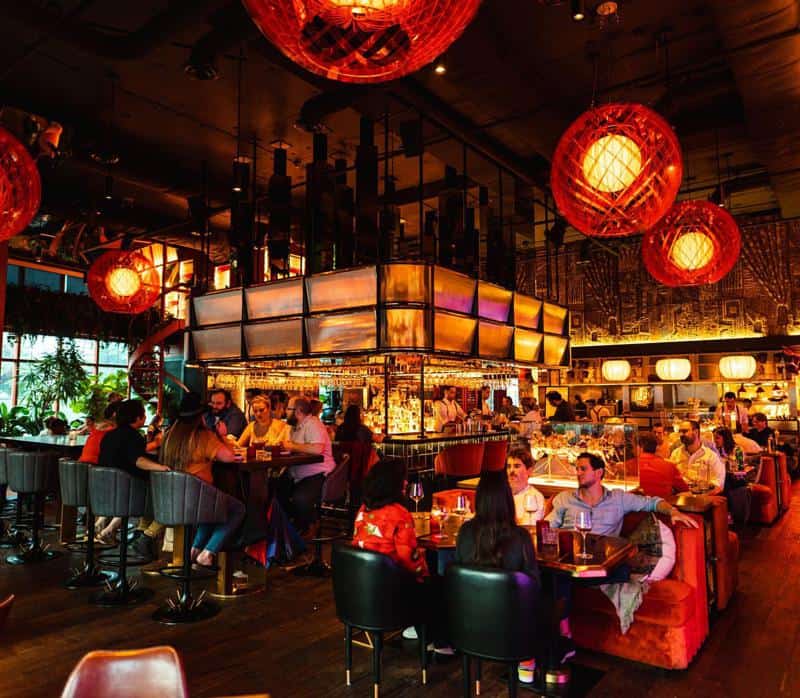 Location: 4444 Westheimer Rd Suite C180, Houston, TX 77027
Exuding sexiness and flair with its avant-garde concept, MAD is a lively Spanish restaurant perfect for rekindling that spark or impressing a new date. The eccentric décor and layout offer a unique experience for the guests to have an extraordinary time.
They have paid special attention to the lighting and ambiance, with dim lighting and tones of red shining light on the seating area for guests, creating an intimate setup.
There's also neon lighting perfectly complementing the décor. The restaurant has a great variety of Spanish delights, with tapas and mains alongside a special Prix Fixe Valentine's menu. Try gin and tonic and your favorite wine from their impeccable collection.
Highlights
Eccentric and funky yet romantic ambiance.
A variety of Spanish delights and drinks.
Perfect for dinner dates.
Savoir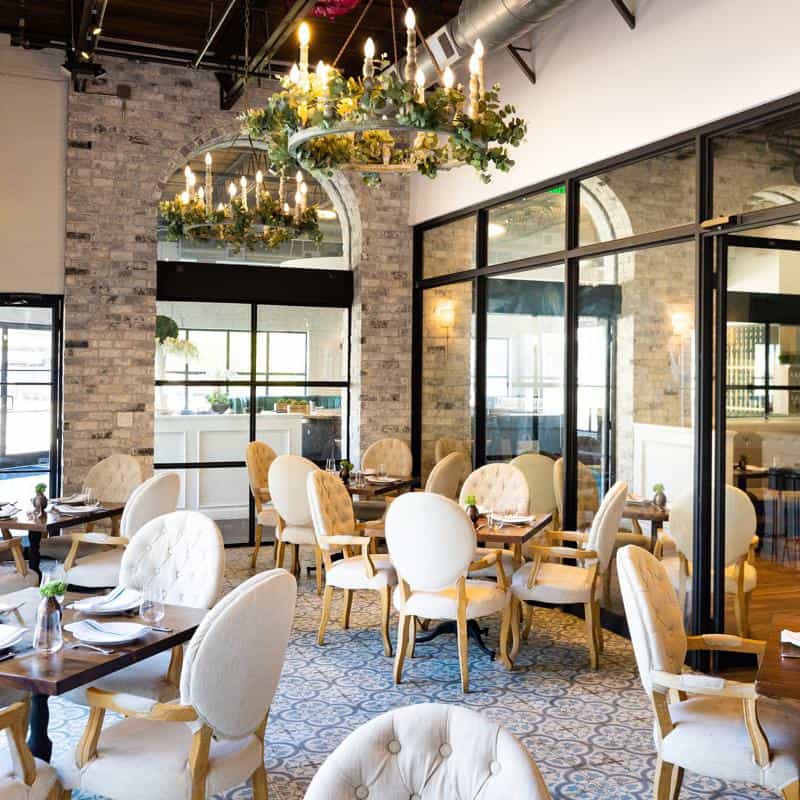 Location: 1344 Yale St, Houston, TX 77008
Brightening up a neglected warehouse with its charm and grace, Savoir is a tranquil little place with a sophisticated layout.
The elegant restaurant in Houston has a calm and relaxed ambiance with plush seats, exposed brick walls, imposing chandeliers and quaint tea light candles. The serve ware also has a rustic charm about it with an old-world style silhouette.
The dishes are thoughtfully prepared with ingenious chef-driven menus, fresh produce and special seasonal delights. The restaurant has a wide range of New American dishes including a range of salad and soups, pizzas and pasta, and fine dining options.
Get the delectable Duck Risotto or Seafood Bouillabaisse; you can't go wrong with ordering at Savoir. They also have an exceptional wine list, craft cocktails, and top-shelf spirits.
Highlights
Elegant layout with industrial chic interiors.
Mouthwatering American cuisine and drinks.
Relaxed atmosphere ideal for date night.
Rainbow Lodge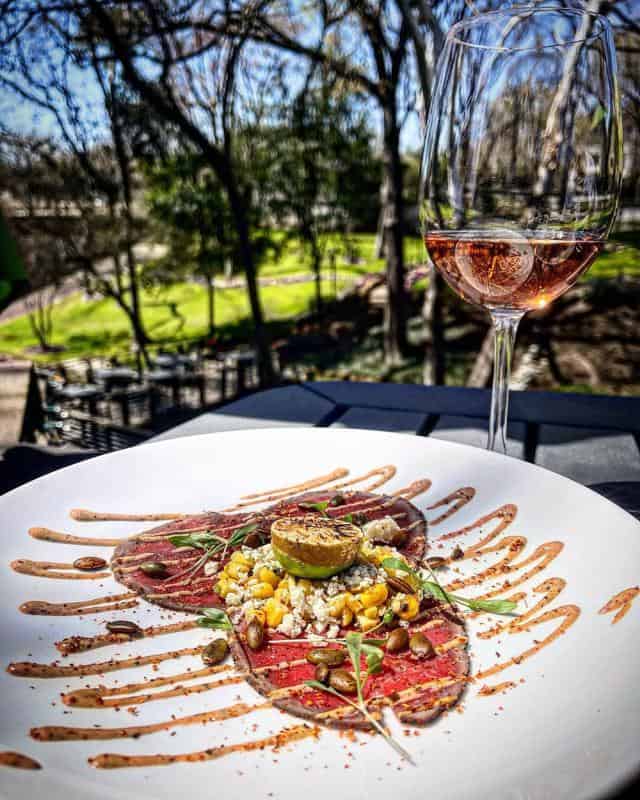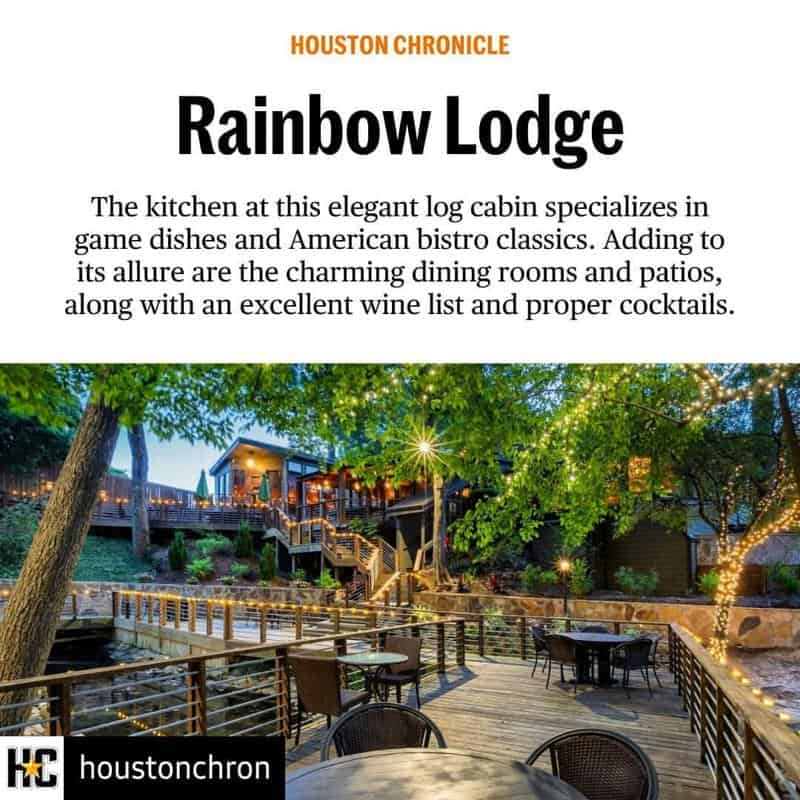 Location: 2011 Ella Blvd, Houston, TX 77008
Boasting a lot of personality and charm with its unique layout, Rainbow Lodge goes by the tagline "Sophisticated, not stuffy."
Repurposing a century-old log cabin and incorporating all of its rustic charms in its interiors, Rainbow Lodge offers a magical night filled with Texan charm, delicious food, and a romantic ambiance.
They have plenty of actual game on their menu, including wild boar, elk, and venison, so it's a treat for the carnivore in you. It's primal in all the right ways, but the exotic meats and balanced with fine dining options like Seared Duck Breast and Lobster Risotto Diablo to keep everyone happy.
They have a multi-level patio for outdoor dining when the weather allows for it, and a landscape with a quaint babbling brook to keep you company.
Highlights
A lot of personality and charm with a lounge setup.
Delicious exotic meat.
Patio seating is available.
Also Read: Most Romantic Restaurants in Dallas
Roma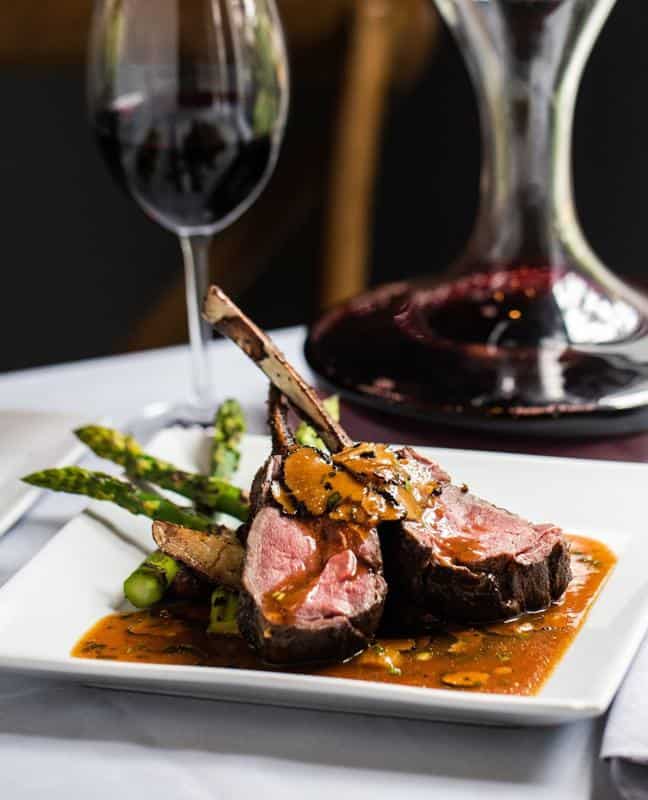 Location: 2347 University Blvd, Houston, TX 77005
Roma is known for its delectable Italian food and enjoys the title of being the best Italian restaurant in Rice Village. With recent changes and welcoming a new chef – Kevin Bryant, the restaurant still stays true to its traditions so that you can enjoy the same ambiance and staples you know and love.
The starters or antipasti feature the massive Street food Napolitano loaded with Italian delights like mini pizzas or panzerotti, Carrozza, and arancini.
The stringy handmade pasta is ideal for recreating your own Lady and the Tramp moment. We also recommend their seafood dishes, especially the succulent grilled tuna.
Highlights
Generous portions of Italian food are ideal for sharing.
Cozy and relaxed ambiance.
Great wine selection.
Indianola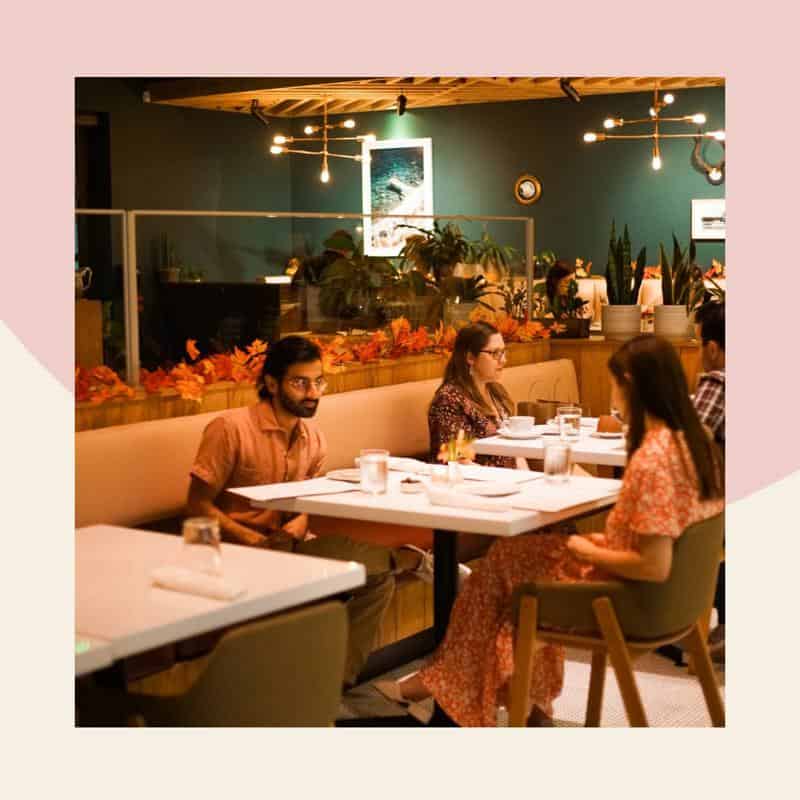 Location: 1201 St Emanuel St, Houston, TX 77003
As part of Agricole Hospitality, Indianola does very well for itself with an ambitious menu and delightful ambiance. Combined with its surrounding establishments of Miss Carousel and Vinny's, you will have the time of your life with your date.
The restaurant boasts classic Texan delights including the perfectly succulent and juicy Grass-fed Venison Steak and Blackened Gulf Shrimp Pasta.
They also serve the juiciest Sweet TX Corn Ribs, and everything tastes better when paired with their Duck Fat Potatoes and Cheesy Grits with sweet butter and smoky cheese. Get your favorite wine or cocktails and beer, and end the night with a hearty and decadent Café Tres Leches Cake.
Highlights
Classic Texan hospitality.
Hearty portions.
Good selection of cocktails and wine.
Uchi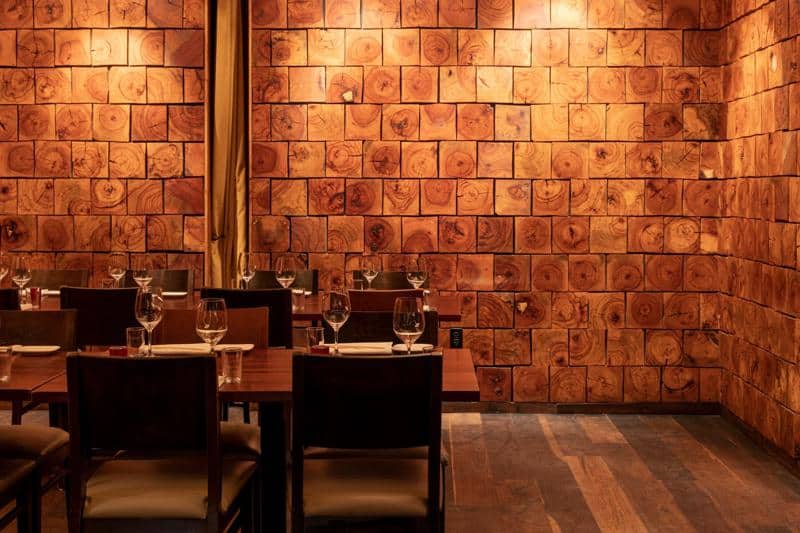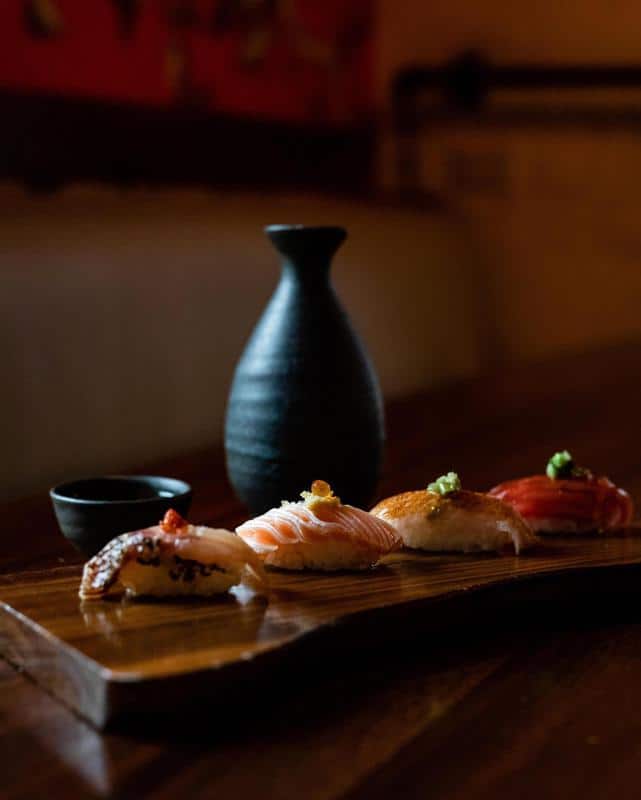 Location: 904 Westheimer Rd Suite A, Houston, TX 77006
We are finishing strong with some love and sushi from good old Uchi. With notable achievements and awards for its fine dining and scrumptious menu, couples love everything Uchi has to offer.
We love the ambiance and interiors, giving you an otherworldly feel with its startling dimly lit booths. The high-end contemporary Japanese menu has a wide range of sushi and seafood.
While you can get all the ahi tuna and sushi rolls you like, you have the option of 'omakase' which translates to "I leave it up to you." Book in advance and enjoy this appetizing chef's tasting menu which comes in 6-10 courses.
Highlights
Beautiful interiors with booths.
Highly acclaimed Japanese menu.
'Omakase' option.
Also Read:
Conclusion
Houston has a lot of captivating charisma and allure; all it takes is a little bit of digging till you strike gold! The restaurants on our list are the perfect little spot to enjoy with your beau and celebrate your love without comprising on luxuries and taste.