Houston is widely known for its incredible Texas Grills. However, there's a diverse culinary scene in Texas and many stunning restaurants specializing in culinary mastery outside the local norms. For one, the Japanese culinary scene has swept in and set up roots, bringing something unique to the plate.
Sushi has become a global sensation and has morphed into the wants and needs of its Western fan base in a big way. Houston offers an exciting and diverse range of Sushi Bars that whisk their diner's palates off to another country.
We've scouted for the best sushi Houston has to offer! Each brings its own triumphs and are ranked in no particular order. The diner, after all, decides in their heart (and stomach) which holds the top spot.
Our Top Picks
Most interesting fusions: Nobu
Best entertainment value: Kuu
Most unique venue: Uchi
Best Sushi In Houston
Nobu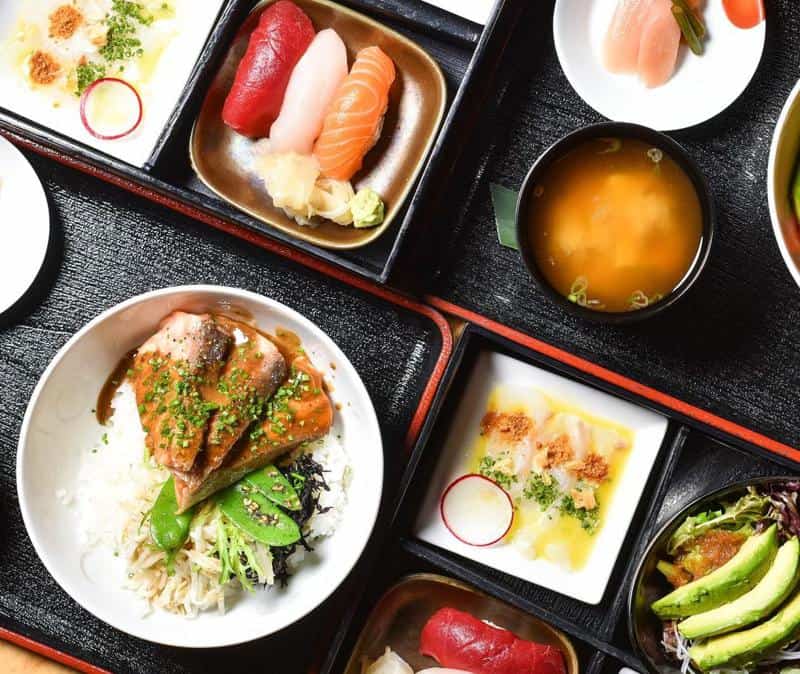 Nobu Houston is one of 50 different locations across the Globe founded by Nobu Matsuhisa, an esteemed celebrity chef, who dabbles in culinary fusion, bringing you the finest Japanese dining with ‌Peruvian ingredients. America is host to about 15 of the renowned Nobu chains, and each one of them thrives from their unique cultures.
The signature dish, Black Cod Miso, is a key feature of Nobu's Houston menu, nestled amongst the options for delectable Omakase and Octopus Sashimi. The menu boasts options for caviar, shellfish, salmon, and tuna to the finer options of kinmedai and snow crab.
Not a big seafood fan? Don't worry; you have options, such as wagyu beef and prime ribeye, prepared with a Nobu twist.
The restaurant has a simplistic and comfortable layout, with plenty of room to disperse the diners and create a sense of privacy within the space.
The atmosphere is warm and vibrant, with windows to view food preparation, which offers a little more for your dining experience. There is a sweeping terrace for those who want to dine in the open air and a private function space for those special occasions.
Kuu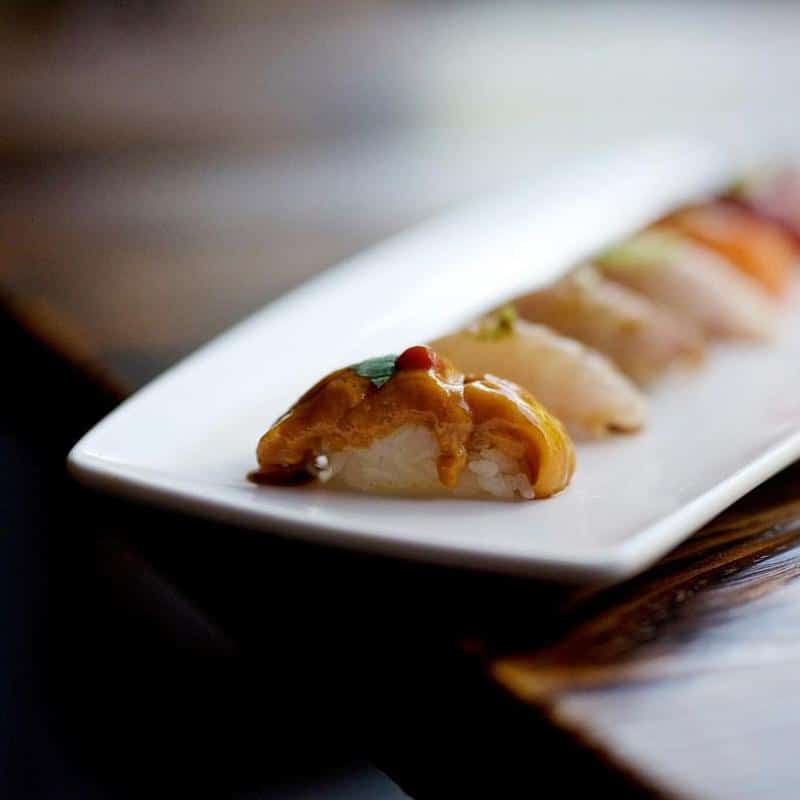 Kuu is highly acclaimed, and not only because of the award-winning chefs in the kitchen. Alison Lee created an inviting and esteemed sushi paradise back in 2014, which has had food critics hanging on with bated breath ever since. It also has a surprising link to one of the other contenders on this list since Alison Lee used to be a former Nobu chef.
Its menu features dishes like mouth-watering hommaccio and crunch shrimp maki. It may not be as extensive as the other restaurants on this list, but don't let it fool you. Their small menu packs a powerful punch. Speaking of punch, their signature Lycheetini has everything you could ask for.
Food and beverages aside, let's not forget the stunning outdoor dining area and a luxurious indoor area with a large sushi bar as a central focus point. If you're interested in watching them craft the masterpiece on your plate, you'll be able to pick up front-row seats to all the action.
The bustling atmosphere boasts a social and vibrant air with events, live music, and public celebrations for all the best special occasions of the year. Everything you could want is all wrapped in one convenient hub.
Uchi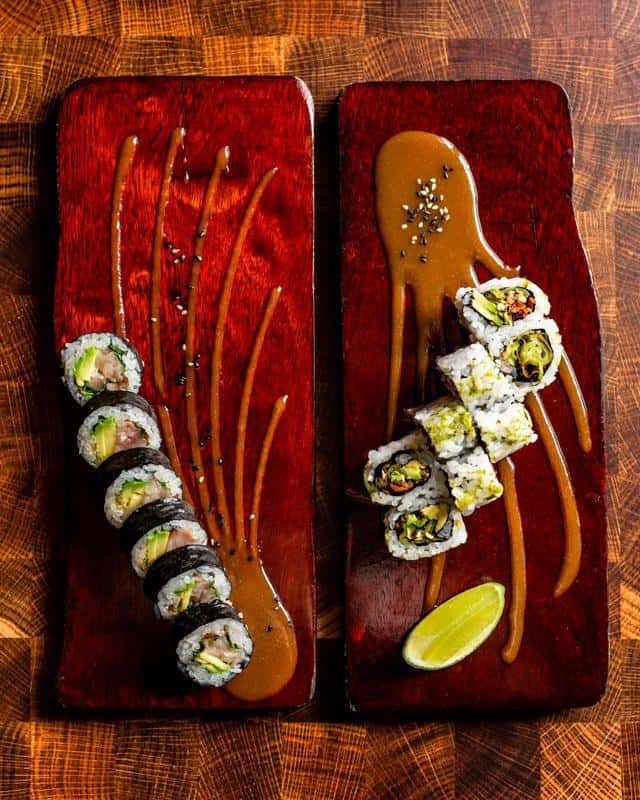 Uchi is the Japanese word for "Home," and considering they're celebrating their 10th year of being open, Uchi Restaurant sure doesn't seem like it's going anywhere. Opened in 2012, it has become a comforting and thriving part of its community. It has taken its title proudly to establish the innovative culinary experience that it has.
Combining multiple different flavor profiles to create something beautifully sensational and unique to their establishment. The idea of mixing fresh fish, vegetables, and Japanese fruits is a masterful craft, and the Uchi chefs should be applauded for their fine work.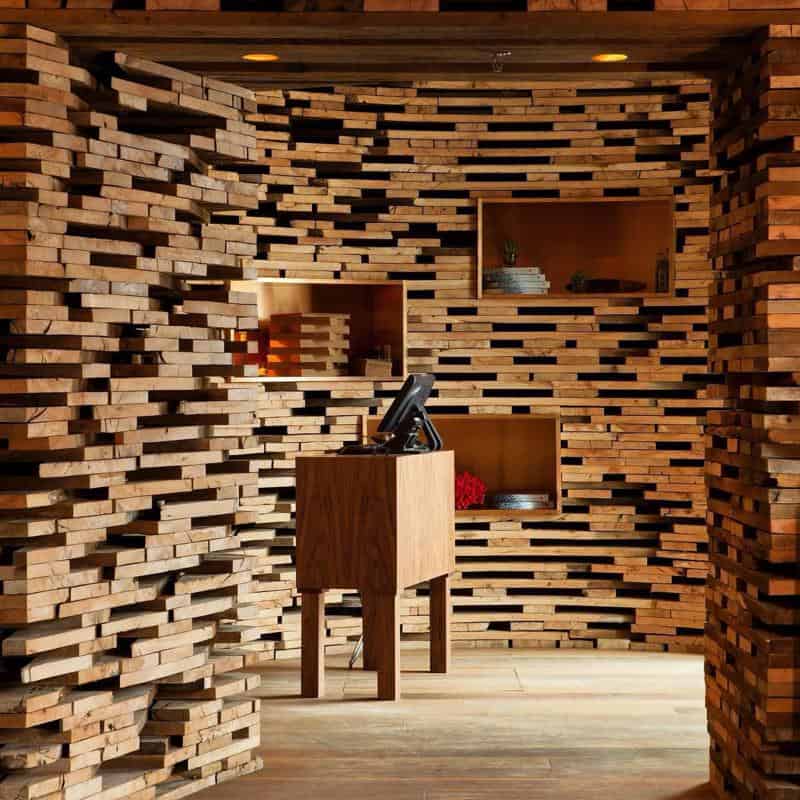 As for the venue, its intimidating shell holds a spectacular surprise. From the doors to the decals, the whole place breathes sophistication and not only links so perfectly to their take on food but creates high expectations as you walk through the door. From the abstract walls and use of otherwise ordinary goods.
Their entire establishment is almost untouchable in terms of class and exclusivity, but while this may sound intimidating, don't worry. They are a family venue, and the warm, welcoming interior sucks you into their atmosphere and settles you right in.
Read More: Best All You Can Eat Sushi in Houston
Kanau Sushi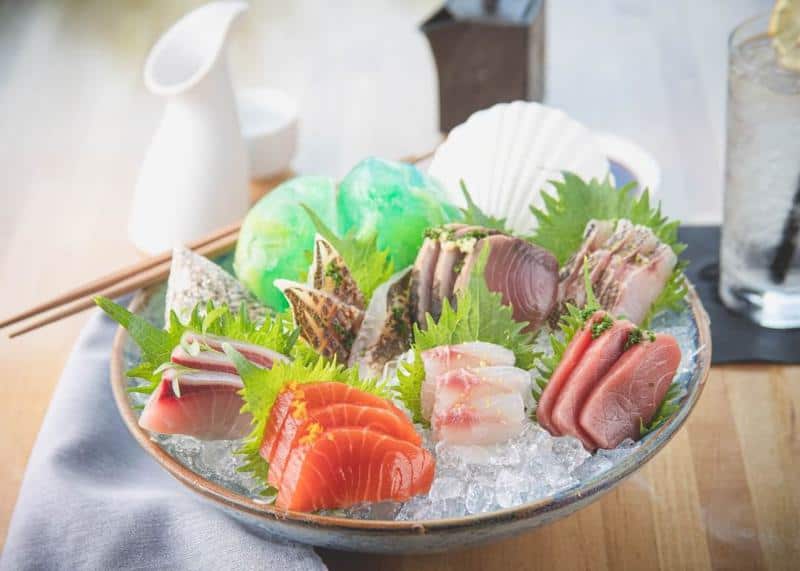 Location: 2850 Fannin St #400, Houston, TX 77002
Website: kanausushi.com
Price: $$$$
Opened by Chef Mike Lim in 2020, Kanau sushi has risen to great heights despite being so young. Based in midtown Houston, it breathes an aura of upscale Japanese dining into the area. Serving an array of Japanese dishes, Kanau doesn't forget where it's from.
Certain dishes pay homage to its Western roots, like the Texan Roll, which adds a little Texas flair to an overall mouth-watering dish. Tucked between its menu, you'll find various options such as maki, nigiri, and sashimi.
Spoiled for choice is an understatement when you look through your options. If you're feeling overwhelmed or peckish for a bit of everything, Kanau has your back. They offer a selection of tasting platters and seasonal tasting menus.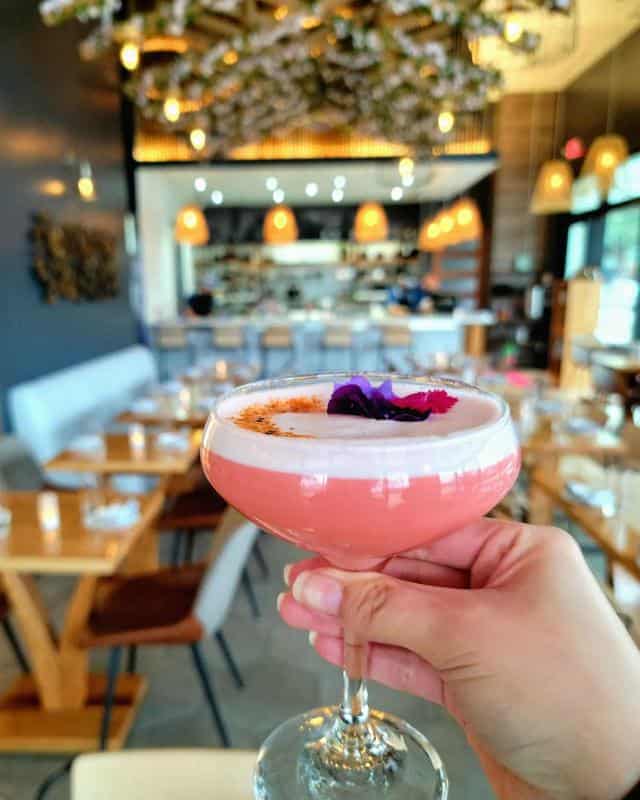 As for the venue, it's stylish and bleeds charisma in the Japanese-themed details that sweep you off your feet. It's a hub for social activity, with cocktails and a vibrant and lively atmosphere to boot. A fantastic function venue for your next party that makes the entire process stress-free and enjoyable.
MF Sushi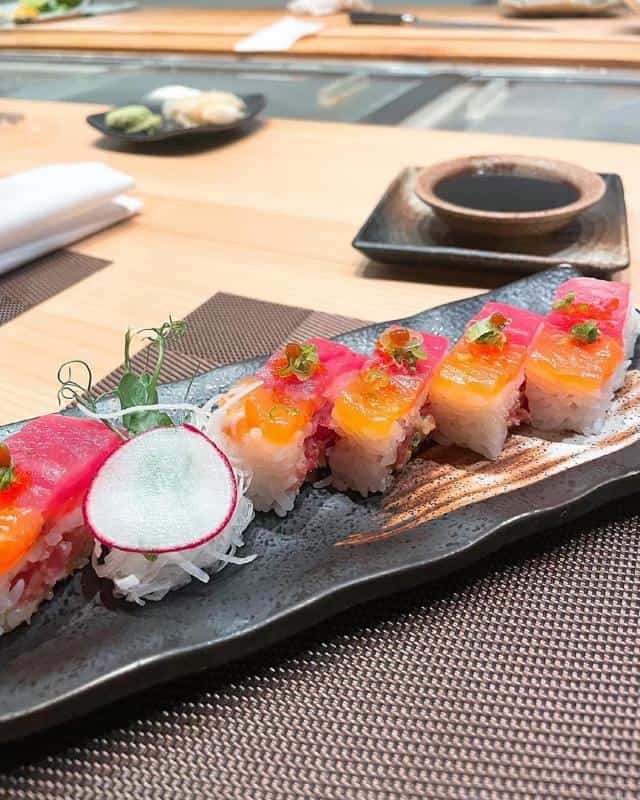 Location: 1401 Binz St #100, Houston, TX 77004
Website: None
Price: $$$
Chris Kinjo is the revolutionary behind the MF Sushi empire, and despite various setbacks since its initial opening in 2012, Kinjo has kept a fervent following when he revamped and reopened it in the Museum District in 2015.
The menu is artistry at its finest, keeping an immense focus on sushi and the impeccable experience it brings. Specialty sushi in the form of rolls, maki, and nigiri makes for an extensive menu that appeals to sushi lovers of all kinds with its ingredients and finesse. It's no wonder Chris Kinjo was a guest chef in so many esteemed venues, blessing adoring diners with his Osamake.
Pristine decal creates an intriguing, modern twist to Traditional Japanese styles, with a light-up feature wall that's bound to catch your eye. Thanks to its use of wooden finishes so adored in Japanese homes, it creates a cozy and inviting atmosphere.
It's intimate and beautiful, making for a perfect place to partake in a classy date night. After completing your incredible dining experience, don't forget to take a trip past the museums located in this prime location.
Aka Sushi House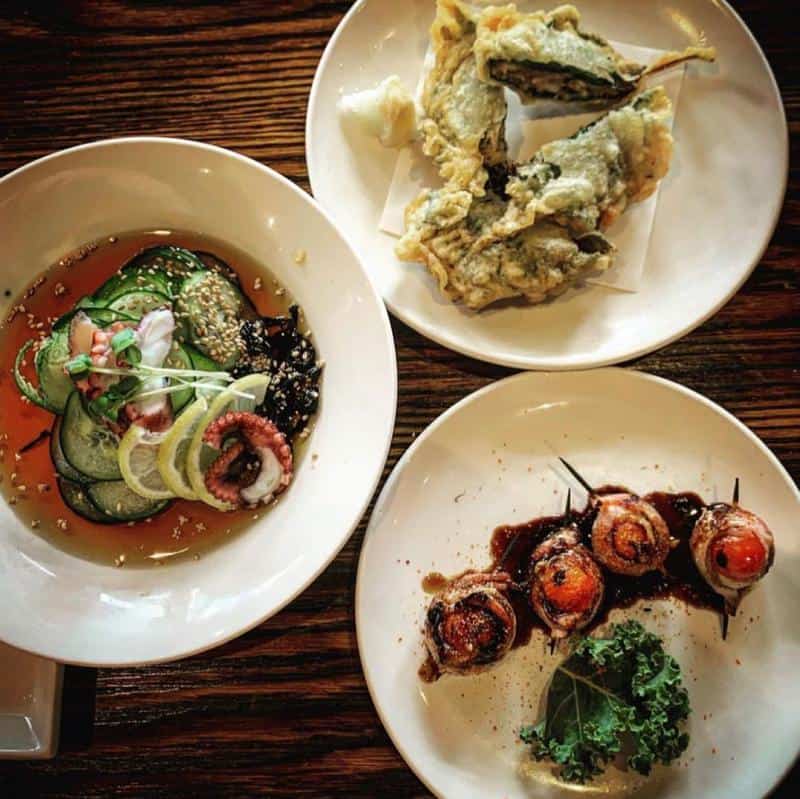 Location: 2390 W Alabama St, Houston, TX 77098
Website: www.akasushi.com
Price: $$
AKA Sushi House takes a more traditional western approach to Sushi, but in doing so remains extraordinary compared to others of similar caliber. With extremely talented young sushi chefs like Jason Liao, don't expect anything below incredible when taking this convenient little sushi spot into consideration.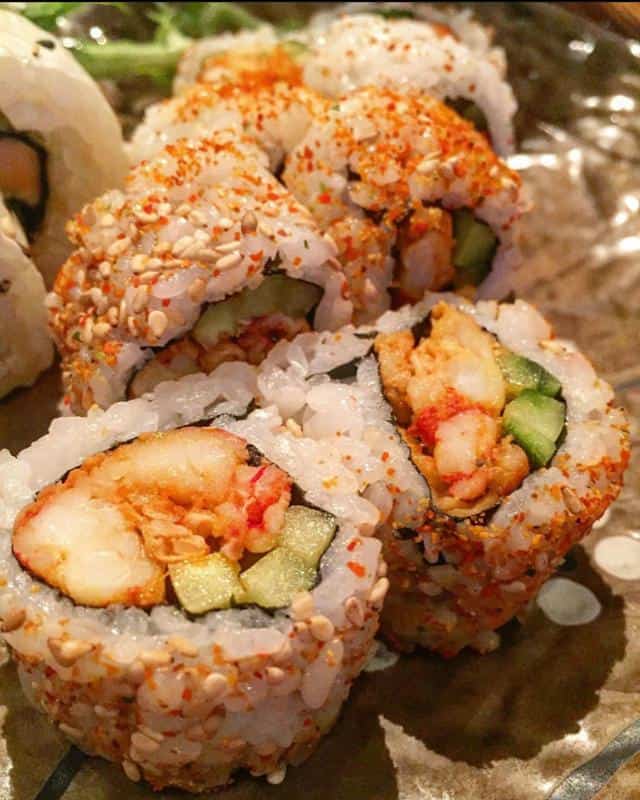 Your meal can comprise a beautifully concocted mix of fish, vegetables, fruit, and traditional sauces, fusing multiple worlds in tantalizing dishes. Combined, these ingredients create a meal that melts into one perfectly wrapped bundle of sushi that excites the senses.
Aka Sushi House's simplistic, dark, and romantic interior breeds a comfortable approach to the dining experience that feels casual yet fancy and high-class at the same time. Its intimate yet airy, open dining approach allows you to enjoy your meal while watching the chefs perfect their art form, which means you're getting dinner and a show for the price of one.
Also Read: Best Romantic Restaurants in Houston
Roka Akor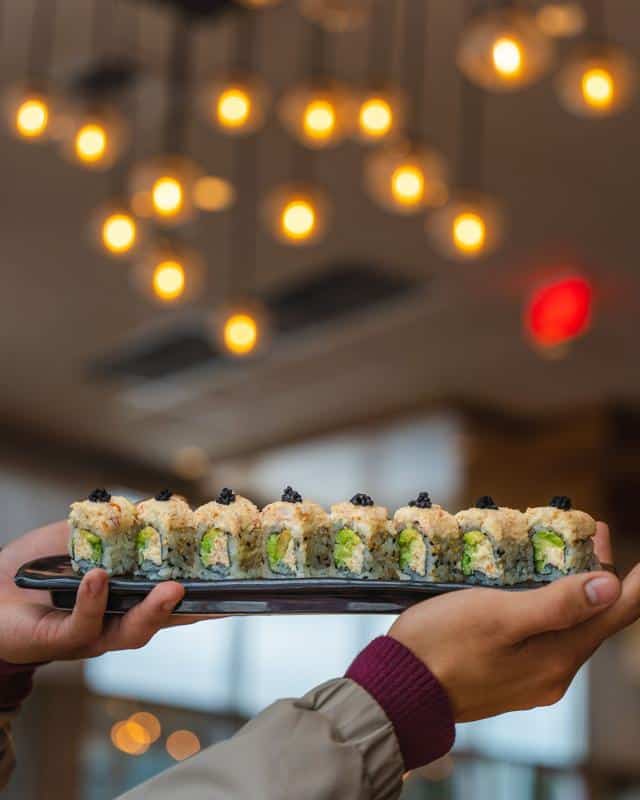 Location: 2929 Weslayan St, Houston, TX 77027
Website: www.rokaakor.com
Price: $$$
Roka Akor is a contemporary sushi joint built on a Japanese Steakhouse principle, with an ever-expanding chain comprising over 6 restaurants in 6 different locations. It has earned quite the reputation for the start of a culinary empire.
All locations bring something unique and exquisite, and Houston is no exception. It's definitely the place to be, with incredible food, a vibrant atmosphere, and a little something for everybody.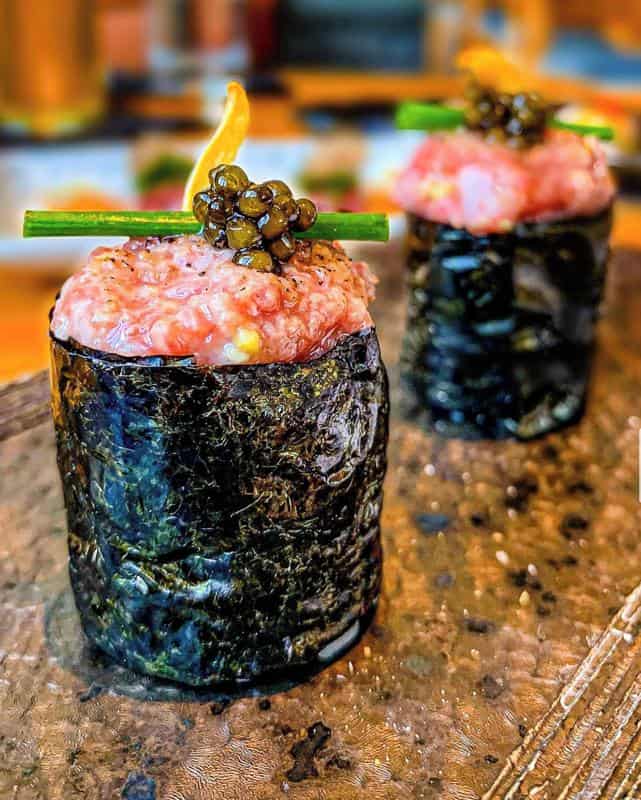 There is an array of choices on their sushi menu, ranging from salmon to sea urchins in various styles that perfectly accentuate the flavors of each of the various kinds of seafood. You can also find the likes of home-grown and imported steaks and seafood options to die for. And if you're overwhelmed, why not trust the chef and order yourself some Omakase.
The venue boasts a sushi bar, bar, and beautiful terrace, spoiling you for choice in terms of seating in this contemporary, sleek, and wood-finished restaurant. With fountains outside the front door, walking in feels like the epitome of class and luxury, but with the added comfort of a family-friendly environment, eager-to-please staff, and food that will blow your mind.
Also Read: Best Seafood Restaurants in Houston
Kata Robata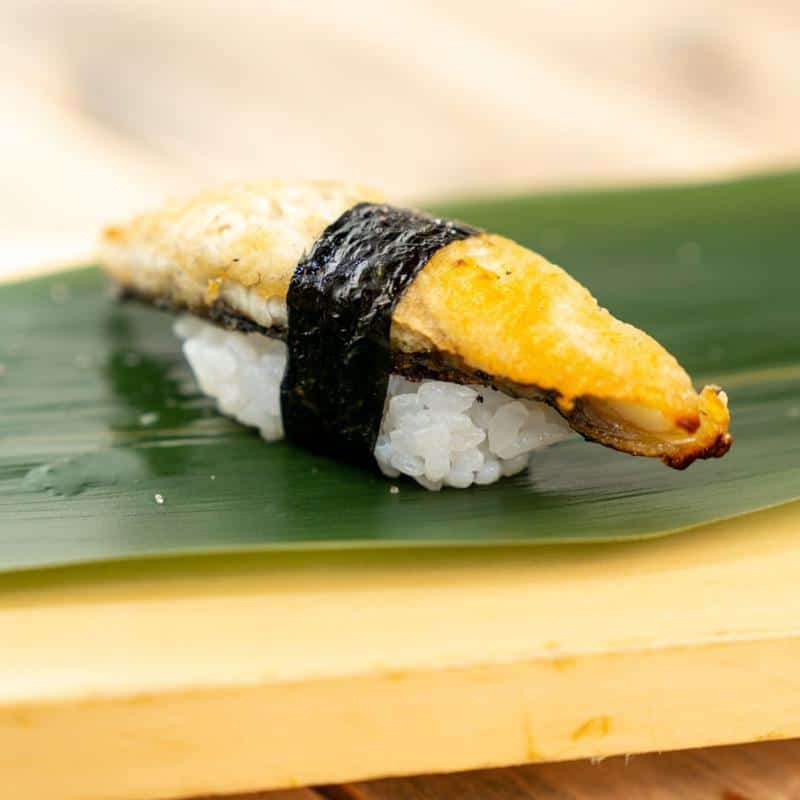 This charming restaurant is a breath of fresh air all bundled into a small and welcoming little spot in Houston. Kata Robata has a lot to offer, attracting attention on all fronts for its beautiful interior and award-winning chefs behind the wheel of the kitchen. With excellent food, service, quality, and a warm and comfortable environment to entice the senses, this is definitely a place to try!
Food is a passion for the Kata Robata staff, they weren't placed in Houston's Top 100 restaurants for nothing. From seafood, sushi, and a few grill options, you'll find yourself something appealing in no time. They even allow for platter options for you to try a little bit of everything, which is always highly recommended.
The warm wooden finish to the restaurant makes for an extremely cozy environment in which to enjoy your meal with family and loved ones, leaving room for casual foot traffic. Still, enough class to impress during important lunch meetings.
And the atmosphere is always lively and vibrant, with Kata Robata playing host to events every so often to allow for entertainment and fun, all while filling your bellies.
Nippon Sushi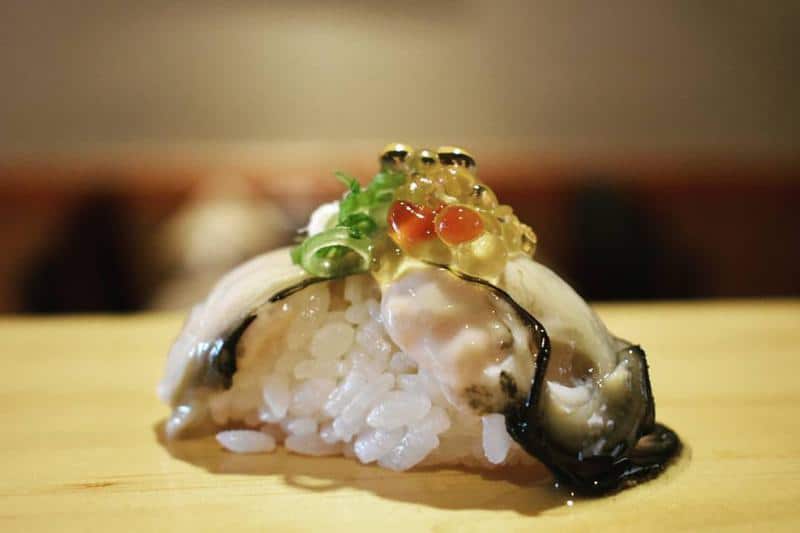 Nippon sushi caters to familiarity with Japanese food that's bordering wholesome and doesn't skimp on the entire experience. From the menu to the restaurant decor, you'll feel transported visually and sensually through their cuisine and venue! From cozy and comforting light wood finishes, you'll feel as if you've stepped into an old-style Japanese home and the food.
With a delectable range of traditional and signature sushi dishes that are bound to capture your tastebuds and cause lifelong cravings. You'll fall in love with the classy restaurant that's got an altogether friendly environment, from the charisma of the staff to the charming interior. You'll feel right at home at Nippon.
Uptown Sushi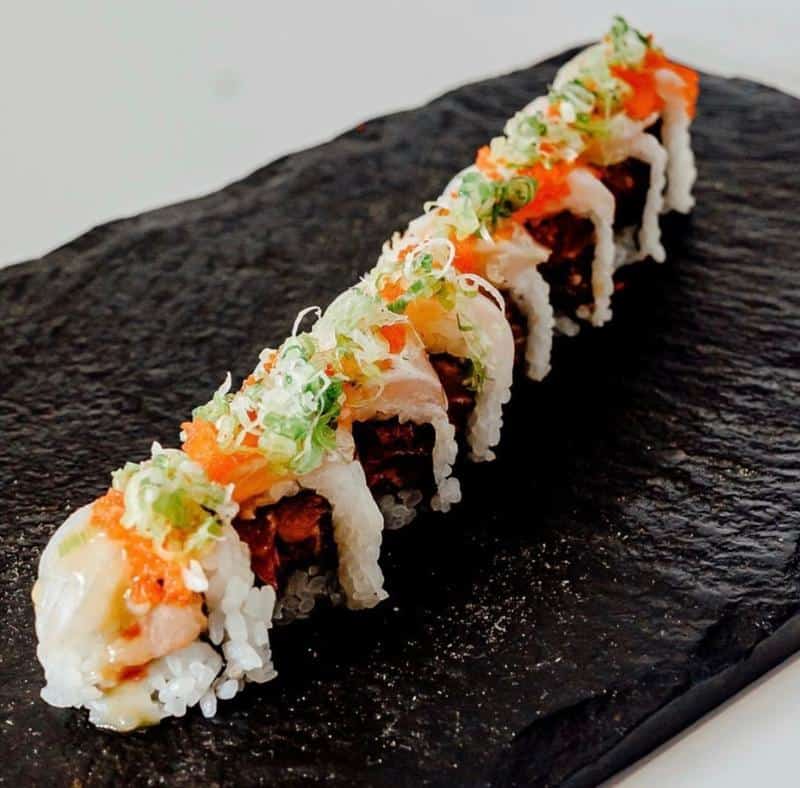 Uptown Sushi presents itself with an air of class that is suited to upper-class dining, despite being a Japanese restaurant, you'd be surprised by the decor and aura of the place but not at all disappointed in the caliber of food that presents itself on the menu.
Sushi Galore, one might say, with options to tantalize the tastebuds of high-class palettes! Exquisitely prepared fresh nigiri, sensational sashimi, and mouth-watering maki all making a much-deserved appearance on the list of Japanese cuisine adorning the menu.
A fantastic establishment to take your family for an upper-class taste of some of the best sushi around, with an expansive venue that allows privacy to spend time with your loved ones but doesn't remove you from the bustling atmosphere.
Osaka Sushi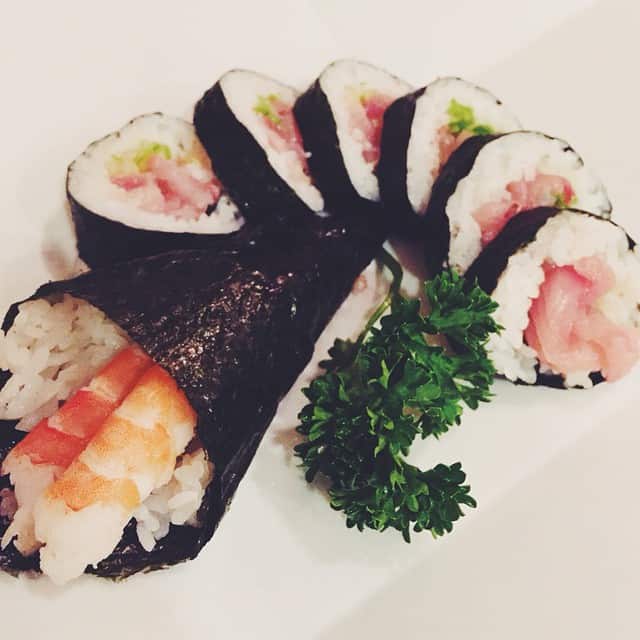 Location: 500 Westheimer Rd, Houston, TX 77006
Website: osakahouston.com
Price: $$ – $$$
Osaka is in a word, mesmerizing, a beautifully established Japanese eatery with branches across Houston and why not? When you're a fan favorite you might as well sell on your fame! And who wouldn't want to feast upon a beautifully executed hand roll? Or any of their other rolls for that matter, which form a fantastic fusion of flavors!
Taking a page from traditional Japanese decor, it's hard to miss the lively homely atmosphere that seems to embed itself in everything, and what better way to sit and indulge in the world's most intricate comfort food than feeling completely and utterly like you belong.
Top Sushi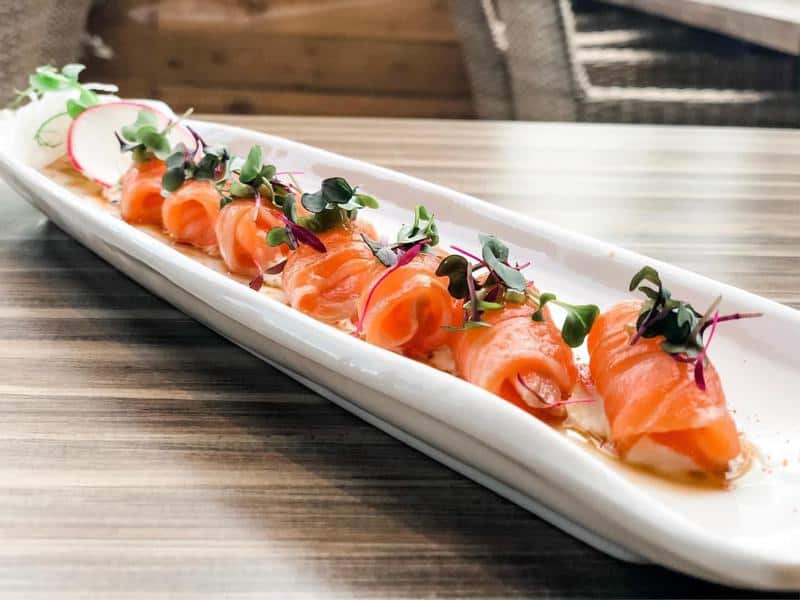 Beautifully presented food entices the eyes in Top Sushi Houston, and with contenders on Westheimer Road in abundance, they've made their stance clear with fighter worthy name and menu to boot.
Their dishes are a gorgeous fusion of Japanese and global ingredients that are a delight to behold. With truffle salmon sashimi and an unbeatable fusion of tuna and orange, they provide nothing but top-tier food to suit their Top Sushi name.
Their approach to sushi may sound a little abstract, and their decor pays homage to this unique attribute, including only the best of modern Japanese styling to accentuate your dishes with a beautiful ambiance. It's warm and delightful, an experience for all ages that has a little something for everyone.
Also Read: Best Rooftop Restaurants in Houston
Conclusion
Houston is host to many amazing cuisine types. With a little digging, you'll find some gorgeous hidden gems tucked away, ready to defy expectations and add to your new favorite restaurant's list!
It's a beautiful city, with so much hustle and bustle. Still, it's always good to ‌look at what else might be on offer that goes against your usual picks, expand your horizons and treat your tastebuds. With such a vibrant and diverse culinary scene in Houston, you might find yourself drawn into a whole other-worldly taste experience.